London's Pseudo-epidemic
Kathy Gyngell has written a cracking piece in Conservative Woman responding to the threat of Tier 3 restrictions for London (a decision on which is expected next Wednesday, though it is being trailed as inevitable) on the basis that an "expert", Professor John Ashton, said they were needed.
The growing body of evidence on the shortcomings of the super-labs set up to process hundreds of thousands of PCR (polymerase chain reaction) tests every day must have passed him by. Even the BBC was forced to report 'Hundreds get wrong results due to Covid test error' in the week preceding this latest round of Covid scaremongering.

That report is but the tip of the PCR iceberg. A week ago, research published in Clinical Chemistry confirmed what Dr Mike Yeadon believes, that laboratory contamination is a major cause of false positive COVID-19 tests.

Yet once again it is not wise scientists like Yeadon the government heeds but fanatics like Ashton.

You have only to stop and consider the number of people who've been told to self-isolate unnecessarily, to stay off work, avoid any human contact, who've been taken away from their front line duties; you have only to consider the number of hospital patients unnecessarily and dangerously placed on a COVID-19 ward (where they really run a risk of catching it) to marvel at the insouciance with which these 'experts' call for more closing down of society and the economy.
Kathy notes a new report on the mass testing of 9,453 Cambridge students that last week found just positives in 10 pools of students, 100% of which turned out on re-testing to be false.
Undeterred, Health Secretary Matt Hancock has announced mass Covid testing for secondary schools in the worst-affected London boroughs to try to curb rising "cases" in the capital. To be fair, these are lateral flow tests (LFT) not PCR tests, which are more accurate, though will still give false positives and false negatives, particularly if handled incorrectly.
But is London really in the grip of a deadly second wave of coronavirus that would rage uncontrolled if we do not maintain and even tighten the ruinous restrictions? PCR testing might give you that impression.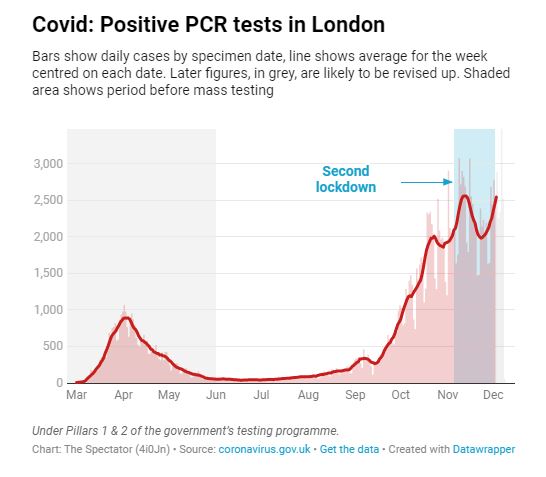 But what do other data show? Here's London ICU occupancy.
This shows that only about 80% of ventilation beds are occupied, which is below average for the time of year. While it's true that absolute numbers of ICU patients are a little above average in London at the moment, as far as hospital capacity is concerned that is not the crucial issue as long as hospitals are within their surge capacity, which they are.
What about 111 calls for potential Covid?
Nothing troubling there. This graph is also a close match in shape to hospital attendances for respiratory illnesses (like Covid and flu), which are still trending below the baseline. So where is this epidemic hiding? It must be somewhere. Perhaps there's a clue here. This is the UK PCR "cases" graph.
And this is the ZOE app graph of estimated UK symptomatic Covid (which relies on reported symptoms so avoids most of the PCR false positive problems).
Not exactly the same shape – where's the recent rise in cases? The ZOE team estimate there are currently around 311,000 cases of symptomatic Covid across the UK, a figure that has been in continuous decline since November 4th, before the last lockdown began. Yet this is not the picture our "gold standard" PCR testing is giving us.
So I ask again – where is the runaway epidemic, or even the beginnings of one, that could justify the kinds of life-limiting, job-destroying restrictions we continue to be forced to live under? Nowhere that I can see.
Stop Press: Sweden's PCR "cases" continue to rise, but its ICU admissions fell last week, according to new figures published yesterday.
Perhaps that's why the no-lockdown country still has no excess mortality this autumn, and falling fast.
Stop Press 2: The Welsh Government is planning a second firebreak lockdown from December 28th. The inexorable lockdown logic strikes again.
"I've Literally Kept My Parents Locked Up Since March" – Conservative MP
Speaking on the BBC's Politics Live on Monday, Conservative MP and former minister Caroline Nokes said:
I've kept my parents locked up since March. Literally locked up. I've done all of their shopping for them, run every errand, and at one point parked my car over their driveway so they couldn't get out, because I am absolutely determined they are not going to increase the burden on our brilliant health service. Our brilliant frontline workers have been working incredibly hard over months and are exhausted, so to take unnecessary risks with the NHS now strikes me as being extremely foolhardy. That's why I supported the measures last week. I've seen my area go into Tier 2, where there are still restrictions on the way people can go about their lives.
She later claimed her remarks were "lighthearted". But there's nothing lighthearted about the thousands of surgeries cancelled, cancers missed and lives lost through people trying not to burden our "brilliant" health service.
Read the full report in the Mail.
Hospital Hotspot
The Telegraph reports on the shocking case of Tameside hospital in Greater Manchester, where emergency patients were not tested on admission and Covid and non-Covid patients were routinely mixed.
Tameside hospital in Greater Manchester admitted Jean Hale, 79, as an emergency patient in June and put her on a ward with COVID-19 sufferers without swabbing her first.

By that point in the pandemic, NHS hospitals had been instructed to give coronavirus tests to all "non-elective" patients that required an overnight stay.

Tameside and Glossop Integrated Care NHS Foundation Trust accounted for a third of the 52 COVID-19 deaths in England's hospitals in the week to September 10th. It reported 18 deaths at the hospital, up from six a week earlier.

Meanwhile, Telegraph analysis this week found that at least 100 of its 453 coronavirus patients since the start of August (equivalent to 22%) caught the disease whilst they were in hospital.

Sources have blamed the high number of deaths at the hospital on high rates of COVID-19 infections, as well as demographic factors, and have insisted that the hospital has rigorous infection controls in place.

However, it seems not all the rules were followed.
Where are the fever hospitals when you need them?
Stop Press: Another Telegraph exclusive from its sterling investigative work. The newspaper counted more than 10,000 patients who caught COVID-19 while being treated in hospital. Since August more than 16% of people treated for COVID-19 in hospital caught it whilst there, rising to nearly 40% in Hampshire Hospitals NHS Foundation Trust.
A Cockupspiracy
Political theorist James Alexander has penned some "sceptical theses" on the Covid crisis for Lockdown Sceptics, in which he elegantly summarises the development of the sceptical standpoint over the course of the year. Here's a flavour from the introduction.
I think we have to distinguish COVID-19 from Polis–20. COVID-19 is a disease caused by a novel coronavirus, which emerged in 2019. Polis-20 is the universal political response by governments, aided and abetted by the information, opinion and speculation establishments of various media, medical and scientific institutions in the year 2020 to perpetuate a triple policy which deliberately seeks to dehumanise and desocialise us through the use of masks, distancing and lockdown and has the unintended but certainly well understood triple consequence of damaging the economy as a whole, ruining our lives by constraining our economic and social activities and causing us to suffer more from deaths for other reasons (whether the reasons are economic, social or indeed medical). Polis-20 is also novel: indeed, entirely unprecedented. It is also foolish and evil: foolish because of its triple unintended consequence, and evil because of the nature of the triple policy itself.
It has a permanent place on the right-hand menu.
Worth reading in full.
A Postcard From the Maldives
Lockdown Sceptics readers Millicent and Nigel have written us a postcard from their terrifying trip to the Maldives, where everyone just wasn't doing enough to keep them Covid safe.
Our journey to the Maldives began with sufficient Covid safe measures in place. Heathrow was a Covid friendly delight with strict social distancing and mask wearing enforced. We were comforted by our airline mandating full face visors over our masks, alongside gloves for all passengers. Prior to boarding all passengers temperature was taken causing me a great deal of anxiety being in the midst of menopause. Mercifully I passed and was relieved to see all stewards sensibly dressed in outfits suitable for a modern operating theatre.

However I did nearly withdraw my carbon offset payment when I noticed a fellow passenger removing his visor mid flight. He may have been inside his own cubicle in business class, but Nigel and I felt it reckless in the midst of a global pandemic.
Very funny. Worth reading in full.
Santa's Got Covid! New Low For NHS Project Fear
The NHS has released a spectacularly distasteful Christmas charity ad that portrays Father Christmas catching Covid and being given oxygen before being nursed back to health. The Mail has given it a syrupy write-up, which seems to miss the mood of its readers if the comments below the line are any indication.
It's the stuff of nightmares for children, as Father Christmas is rushed into hospital and nursed back to health in an emotional new appeal advert from NHS Charities Together.

The touching film, entitled The Gift, which celebrates NHS staff and volunteers, features a dramatic opening, with a very poorly Santa wheeled into a medical ward by paramedics and given oxygen.

It appears to be touch and go, with machines beeping and staff in full PPE as they do their best to resuscitate the elderly gentleman.

Thankfully he pulls through and over the coming days is nursed back to health by the caring ward staff. …

NHS Charities Together is a collective experience [you what?] representing, supporting and championing the work of the NHS' official charities.

The advert, set to the track People Help The People by British singer Birdy, was posted as part of the Gifts That Give Back Campaign, where people are asked to send gifts to NHS staff after such a challenging year.

In a social media post, the charity said: "We're delighted to share our Christmas campaign and video, which has been made possible thanks to generous brand partners. We adore the ad and dedicate it to all NHS workers who've given everything to care and keep us safe."

Many people admitted the advert brought them to tears, with one social media user tweeting: "I absolutely love this Christmas film! Thank you to everyone involved."

Another wrote on Facebook: "Made me cry in a good way! So beautiful."
The comments BTL in MailOnline were not so complimentary. There were over 1,000 upvotes for "Disgusting manipulative nonsense" and nearly 800 for "How horrible to show Santa unwell, like kids aren't worried enough." "This is disgusting," came in third with nearly 700, and fourth place continued the theme with "NHS Propaganda nonsense. Disgusting."
Quite.
If you'd like to complain about the ad to the Advertising Standards Authority, click here.
Theme Tunes Suggested by Readers
Three today: "Will You" by Hazel O'Connor, "Count me out" by Lil Tecca and "Evil is going on" by Willie Dixon.
Love in the Time of Covid
We have created some Lockdown Sceptics Forums, including a dating forum called "Love in a Covid Climate" that has attracted a bit of attention. We have a team of moderators in place to remove spam and deal with the trolls, but sometimes it takes a little while so please bear with us. You have to register to use the Forums, but that should just be a one-time thing. Any problems, email the Lockdown Sceptics webmaster Ian Rons here.
Sharing Stories
Some of you have asked how to link to particular stories on Lockdown Sceptics so you can share it. To do that, click on the headline of a particular story and a link symbol will appear on the right-hand side of the headline. Click on the link and the URL of your page will switch to the URL of that particular story. You can then copy that URL and either email it to your friends or post it on social media. Please do share the stories.
Social Media Accounts
You can follow Lockdown Sceptics on our social media accounts which are updated throughout the day. To follow us on Facebook, click here; to follow us on Twitter, click here; to follow us on Instagram, click here; to follow us on Parler, click here; and to follow us on MeWe, click here.
"Mask Exempt" Lanyards
We've created a one-stop shop down here for people who want to buy (or make) a "Mask Exempt" lanyard/card. You can print out and laminate a fairly standard one for free here and it has the advantage of not explicitly claiming you have a disability. But if you have no qualms about that (or you are disabled), you can buy a lanyard from Amazon saying you do have a disability/medical exemption here (takes a while to arrive). The Government has instructions on how to download an official "Mask Exempt" notice to put on your phone here. You can get a "Hidden Disability" tag from ebay here and an "exempt" card with lanyard for just £1.99 from Etsy here. And, finally, if you feel obliged to wear a mask but want to signal your disapproval of having to do so, you can get a "sexy world" mask with the Swedish flag on it here.
Don't forget to sign the petition on the UK Government's petitions website calling for an end to mandatory face masks in shops here.
A reader has started a website that contains some useful guidance about how you can claim legal exemption.
If you're a shop owner and you want to let your customers know you will not be insisting on face masks or asking them what their reasons for exemption are, you can download a friendly sign to stick in your window here.
And here's an excellent piece about the ineffectiveness of masks by a Roger W. Koops, who has a doctorate in organic chemistry. See also the Swiss Doctor's thorough review of the scientific evidence here.
The Great Barrington Declaration
The Great Barrington Declaration, a petition started by Professor Martin Kulldorff, Professor Sunetra Gupta and Professor Jay Bhattacharya calling for a strategy of "Focused Protection" (protect the elderly and the vulnerable and let everyone else get on with life), was launched in October and the lockdown zealots have been doing their best to discredit it ever since. If you googled it a week after launch, the top hits were three smear pieces from the Guardian, including: "Herd immunity letter signed by fake experts including 'Dr Johnny Bananas'." (Freddie Sayers at UnHerd warned us about this the day before it appeared.) On the bright side, Google UK has stopped shadow banning it, so the actual Declaration now tops the search results – and Toby's Spectator piece about the attempt to suppress it is among the top hits – although discussion of it has been censored by Reddit. The reason the zealots hate it, of course, is that it gives the lie to their claim that "the science" only supports their strategy. These three scientists are every bit as eminent – more eminent – than the pro-lockdown fanatics so expect no let up in the attacks. (Wikipedia has also done a smear job.)
You can find it here. Please sign it. Now over three quarters of a million signatures.
Update: The authors of the GDB have expanded the FAQs to deal with some of the arguments and smears that have been made against their proposal. Worth reading in full.
Update 2: Many of the signatories of the Great Barrington Declaration are involved with new UK anti-lockdown campaign Recovery. Find out more and join here.
Update 3: You can watch Sunetra Gupta set out the case for "Focused Protection" here and Jay Bhattacharya make it here.
Update 4: The three GBD authors plus Prof Carl Heneghan of CEBM have launched a new website collateralglobal.org, "a global repository for research into the collateral effects of the COVID-19 lockdown measures". Follow Collateral Global on Twitter here.
Judicial Reviews Against the Government
There are now so many JRs being brought against the Government and its ministers, we thought we'd include them all in one place down here.
First, there's the Simon Dolan case. You can see all the latest updates and contribute to that cause here.
Then there's the Robin Tilbrook case. You can read about that and contribute here.
Then there's John's Campaign which is focused specifically on care homes. Find out more about that here.
There's the GoodLawProject's Judicial Review of the Government's award of lucrative PPE contracts to various private companies. You can find out more about that here and contribute to the crowdfunder here.
The Night Time Industries Association has instructed lawyers to JR any further restrictions on restaurants, pubs and bars.
And last but not least there's the Free Speech Union's challenge to Ofcom over its 'coronavirus guidance'. A High Court judge refused permission for the FSU's judicial review yesterday, but the FSU may appeal the decision. Check here for updates.
Stop Press: Update from Simon Dolan in Conservative Woman: "Our lockdown fight goes on".
Samaritans

If you are struggling to cope, please call Samaritans for free on 116 123 (UK and ROI), email jo@samaritans.org or visit the Samaritans website to find details of your nearest branch. Samaritans is available round the clock, every single day of the year, providing a safe place for anyone struggling to cope, whoever they are, however they feel, whatever life has done to them.
Quotation Corner
We know they are lying. They know they are lying, They know that we know they are lying. We know that they know that we know they are lying. And still they continue to lie.

Alexander Solzhenitsyn
It's easier to fool people than to convince them that they have been fooled.

Mark Twain
Men, it has been well said, think in herds; it will be seen that they go mad in herds, while they only recover their senses slowly, one by one.

Charles Mackay
They who would give up essential liberty to purchase a little temporary safety, deserve neither liberty nor safety.

Benjamin Franklin
To do evil a human being must first of all believe that what he's doing is good, or else that it's a well-considered act in conformity with natural law. Fortunately, it is in the nature of the human being to seek a justification for his actions…

Ideology – that is what gives the evildoing its long-sought justification and gives the evildoer the necessary steadfastness and determination.

Alexander Solzhenitsyn
No lesson seems to be so deeply inculcated by the experience of life as that you never should trust experts. If you believe the doctors, nothing is wholesome: if you believe the theologians, nothing is innocent: if you believe the soldiers, nothing is safe. They all require to have their strong wine diluted by a very large admixture of insipid common sense.

Robert Gascoyne-Cecil, 3rd Marquess of Salisbury
Nothing would be more fatal than for the Government of States to get into the hands of experts. Expert knowledge is limited knowledge and the unlimited ignorance of the plain man, who knows where it hurts, is a safer guide than any rigorous direction of a specialist.

Sir Winston Churchill
If it disagrees with experiment, it's wrong. In that simple statement is the key to science.

Richard Feynman
Of all tyrannies, a tyranny sincerely exercised for the good of its victims may be the most oppressive. It would be better to live under robber barons than under omnipotent moral busybodies. The robber baron's cruelty may sometimes sleep, his cupidity may at some point be satiated; but those who torment us for our own good will torment us without end for they do so with the approval of their own conscience.

C.S. Lewis
The welfare of humanity is always the alibi of tyrants.

Albert Camus
We've arranged a global civilization in which most crucial elements profoundly depend on science and technology. We have also arranged things so that almost no one understands science and technology. This is a prescription for disaster. We might get away with it for a while, but sooner or later this combustible mixture of ignorance and power is going to blow up in our faces.

Carl Sagan
Political language – and with variations this is true of all political parties, from Conservatives to Anarchists – is designed to make lies sound truthful and murder respectable, and to give an appearance of solidity to pure wind.

George Orwell
The object of life is not to be on the side of the majority, but to escape finding oneself in the ranks of the insane.

Marcus Aurelius
Necessity is the plea for every restriction of human freedom. It is the argument of tyrants; it is the creed of slaves.

William Pitt the Younger
If you tell a lie big enough and keep repeating it, people will eventually come to believe it. The lie can be maintained only for such time as the State can shield the people from the political, economic and/or military consequences of the lie. It thus becomes vitally important for the State to use all of its powers to repress dissent, for the truth is the mortal enemy of the lie, and thus by extension, the truth is the greatest enemy of the State.

Joseph Goebbels (attributed)
The whole aim of practical politics is to keep the populace alarmed (and hence clamorous to be led to safety) by menacing it with an endless series of hobgoblins, most of them imaginary.

H.L. Mencken
I have always strenuously supported the right of every man to his own opinion, however different that opinion might be to mine. He who denies to another this right, makes a slave of himself to his present opinion, because he precludes himself the right of changing it.

Thomas Paine
Shameless Begging Bit
Thanks as always to those of you who made a donation in the past 24 hours to pay for the upkeep of this site. Doing these daily updates is hard work (although we have help from lots of people, mainly in the form of readers sending us stories and links). If you feel like donating, please click here. And if you want to flag up any stories or links we should include in future updates, email us here. (Don't assume we'll pick them up in the comments.)
And Finally…
The satirical news site Babylon Bee has run a story about the new "cowboy hat mandate" in Texas.
Texas Governor Greg Abbott was heard yelling, "Yee-haw!" while firing two revolvers in the air – the traditional way to announce a new Texas law. This law is a new public safety mandate requiring all citizens to wear a cowboy hat when leaving their homes.

"This bill has been a long time coming," said Abbott. "We need to flatten the curve of people being a bunch of Californians. That means everyone needs to wear a proper hat at all times and be a true Texan. Yee-haw!"

With this bill, anyone seen out in public without a cowboy hat will be approached by a Texas Ranger, who will say, "You ain't from around here, are ya?" before tossing the offender across the state line.

The bill was mainly met with wide support. "Anytime you see someone near you without a cowboy hat, you feel unsafe," said Tex Brewer, a Texan. "You wonder what that guy is up to. Is he going to raise my taxes or take my AR-15? I don't cotton to that."

The bill did receive some pushback, though. "Hat's itchy," said one man.

There will be some exceptions to the cowboy hat mandate, such as if your hat was just shot off your head in a showdown. There is also a mask mandate, but that only applies when you are robbing a train.