Have yourself a Merry Little Lockdown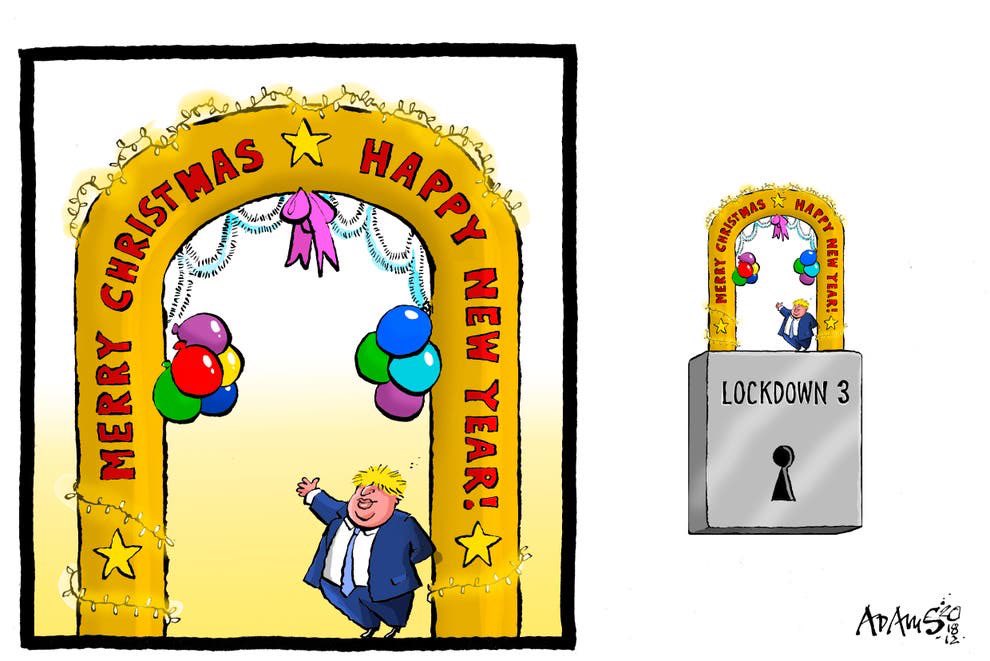 The Prime Minister warned yesterday that he could not rule out a new lockdown and we do appear to be heading that way. The Telegraph has more.
Boris Johnson has put the country on notice that a third lockdown could be on its way in January as several Government scientific advisers warned restrictions could need to be tougher than before. While the Prime Minister said he hoped to avoid joining Wales and Northern Ireland in imposing new lockdowns after Christmas, he warned that "the reality is that the rates of infection have increased very much in the last few weeks".

Speaking on a trip to Bolton, he also signalled that decisions on COVID-19 restrictions in the new year would depend on how people approach the five-day window when social distancing rules are relaxed…

It came as new estimates released by Sage showed the R number has risen from 0.9-1.0 to between 1.1 and 1.2, suggesting the virus is at risk of growing exponentially again.

In a statement, the Sage sub-committee SPI-M also warned that modelling suggesting that "additional mixing" during the Christmas period may have a "large impact on post-Christmas prevalence", including a "slight shift towards a higher proportion of cases in older and more vulnerable age groups."
One idea for avoiding Lockdown 3 appears to be calling it something else, the Daily Mail reports:
Shops could be shut and commuters ordered to work from home under a draconian Tier 4 regime. The plans are being drawn up as a way of avoiding a third national lockdown – but would contain curbs as tough as those seen in previous shutdowns.

A Government source last night told the Mail the proposal was back on the table. "The Department of Health is pulling out the folder marked Tier Four," the insider said. "We are not there yet but we are clearly in a worrying situation. It probably starts with closing non-essential retail and strengthening the work from home message.

But there are lots of things you could add to that, it's still early days." Other sectors likely to be considered for closure in Tier Four include gyms, swimming pools and hairdressers.
Yesterday evening, it was reported in the Telegraph that London and Kent may not be in Tier 3 for very long – although it's not good news.
An emergency toughening of COVID-19 restrictions could be announced as soon as Saturday after Boris Johnson was handed alarming new evidence of the transmissibility of a mutant strain of the virus.

The Prime Minister called an unscheduled meeting of senior ministers on Friday night to discuss how to contain the new variant, which has so far been largely confined to London and the South East.

Travel restrictions are among the measures under discussion, with one source suggesting the Government could even restrict travel between the South East and other parts of the country.

An alternative would be to ban commuters from travelling into London, after the mutant strain, which originated in Kent, spread rapidly to London and then the home counties.

Much of the South East was put into Tier 3 by the Government only on Thursday, but the new information about the transmissibility of the mutant strain was so worrying that ministers fear they may have to act immediately.

Government scientists at the Porton Down laboratory in Wiltshire have been conducting experiments on the new strain, and have confirmed ministers' fears about it being far more infectious than the original strain of the virus.

One source in the scientific community said there were "concerns in Government" about the new strain after the evidence was presented to ministers on Friday afternoon.

"The evidence that the new strain of the virus more easily transmits from one person to another has hardened up," said the source.

The meeting of ministers was expected to continue late into the night, with Whitehall sources refusing to rule out a press conference on Saturday to announce additional restrictions.
Mutant new strain? As Dr Mike Yeadon has pointed out, there are at least 10,000 variants of the dozens of respiratory viruses we refer to as the common cold. It's completely normal for new variants of these sorts of viruses to emerge, dominate for a while, and then recede.
Meanwhile, the ONS produced a new report, which estimated that the virus surged by 86,000 in the week ending December 12th, suggesting the effect of Lockdown 2 wore off just days after it ended. MailOnline reports:
The Office for National Statistics today estimated that 567,300 people in England were infected with the virus by December 12th, up from 481,500 a week earlier.

The number marked the first time in a month that infections had risen after restrictions were tightened across the country to try and control the second wave.

These rules worked for a while, with ONS figures showing that total infections plummeted by almost 200,000 in the space of a month from a peak of 654,000, but cases are now rising again in the run-up to Christmas.
Tim Spector's ZOE survey App, which counts symptomatic people testing positive, presents a less alarming picture, estimating that there 302,652 infected people in the whole of the UK on December 12th, representing 0.45% of the population.
Tim Spector is unsure why this should be.
Stop Press: Dr Clare Craig has summed up the story of Lockdown 2 in a single tweet.
Has the Evidence of Asymptomatic Spread been Overstated?
Dr Clare Craig, a pathologist and regular contributor to Lockdown Sceptics, and her colleague Dr Jonathan Engler have examined the research evidence behind the claim that COVID-19 can by transmitted by asymptomatic individuals. They have written an important paper on the subject which we are publishing today. They have summarised their findings as follows:
Harmful lockdown policies and mass testing have been justified on the assumption that asymptomatic transmission is a genuine risk. Given the harmful collateral effects of such policies, the precautionary principle should result in a very high evidential bar for asymptomatic transmission being set. However, the only word which can be used to describe the quality of evidence for this is woeful. A handful of questionable instances of spread have been massively amplified in the medical literature by repeatedly including them in meta-analyses that continue to be published, recycling the same evidence base.
There are three types of evidence for asymptomatic spread: studies showing people test positive while asymptomatic (the bulk of the work); studies measuring viral load and concluding from it that people with no symptoms can transmit virus; and studies showing actual transmission.
The first two are not proper evidence that spread can occur.
It is important to carefully distinguish purely asymptomatic (individuals who never develop any symptoms) from pre-symptomatic transmission (where individuals do eventually develop symptoms). To the extent that the latter phenomenon, which has in fact happened only very rarely, is deemed worthy of public health action, appropriate strategies to manage it (in the absence of significant asymptomatic transmission) would be entirely different and much less disruptive than those actually adopted.
Many early studies which purported to demonstrate the phenomenon of asymptomatic transmission were from China, yet the fact that Chinese studies are only published following Government approval must bring their reliability into question. Nevertheless, the high volume of these studies spawned significant salience of the issue within the medical community, and an assumption of the likelihood of asymptomatic transmission being an important contributory factor. There then followed a number of meta-analyses examining the issue of asymptomatic transmission which tended to aggregate and give equal weight to studies regardless of origin or quality. In this way, these meta-analyses, given undue credibility by their association with reputable universities, amplified minimal evidence of asymptomatic spread to an importance the data did not warrant.
A review of the literature has been submitted to the BMJ and is included here as a preprint. In it the papers most frequently cited in support of the existence of asymptomatic transmission were examined. Despite our criticisms of the sources of the data above, we did in fact find only six case reports of viral transmission by people who throughout remained asymptomatic, and this was to a total of seven other individuals. However, all of these were in studies with questionable methodology. These were: In Italy, two asymptomatic cases allegedly passing the virus onto two others, in Brunei, two asymptomatic cases allegedly passing the virus onto three others, and in China, two asymptomatic cases allegedly passing the virus onto two others
In all these studies, confirmation of "cases" was made via PCR testing without regard to the possibility that any of the cases found might be false positives. The case numbers found, are in any event extremely small and certainly not sufficient to conclusively determine that asymptomatic transmission is a major component of spread.
It is also notable that, in what would seem to represent an abrupt volte face by the CCP, a further (presumably Government-approved) study from China was recently published which entirely contradicts the earlier conclusions regarding the phenomenon of asymptomatic transmission, which had been driven by Chinese data in particular, early in the pandemic.
Some might conclude that that study lacks the credibility one might expect for a paper published in Nature; it is claimed, for example, that they PCR-tested 92% of Wuhan's population (~10m individuals) over a 19-day period at the end of May, and found just 300 positive PCR tests, implying a false positive rate of no greater than 0.003%. Further, it is claimed that while 100% of the 300 PCR positive cases were asymptomatic, there were zero symptomatic PCR positive cases out of ~10m tested during a period only a few weeks after the epidemic had peaked in Wuhan.
If this seems incredible, then surely that has serious implications for the way in which earlier studies from China – data from which formed a significant part of the worldwide evidence base for asymptomatic transmission – should be regarded.
You can read the paper here.
Children Should Not be Demonised
Today we're publishing a contribution by Arabella Hastie. As well as being a regular reader of Lockdown Sceptics, Arabella is member of the child and clinical psychology group in UsforThem, a group which has actively campaigned to keep schools open, functional and free of masks. She writes of the devastating impact social distancing rules can have on children.
"Don't Kill Granny" was the eye-catching phrase used by Preston Council to scare young people into sticking to the regulations back in August. Young people knew that the risk to themselves was almost non-existent. They had complied with five months of lockdown – missing out on education, exams and social development to help flatten the curve – and now they wanted to see friends in the sun. The Council and then the Health Secretary used this phrase as a deliberate policy to scare and guilt-trip our children and young people into compliance. More frighteningly, it marked a moment in the pandemic when children and young people have become the scapegoats for any increase in transmission rates. The Government has admitted that increasing fear in the general public was central to their strategy to ensure compliance. Still, it is low when this is targeted directly at children in a way that could scar them for life.

The calling by unions and local councils to close schools early or restart them later increases the sense that children are to blame. Indeed, Sadiq Khan was explicitly saying "if the government isn't careful, these children will pass on the virus to vulnerable people because the rules are relaxed". If Granny dies or is not able to visit because you have to isolate – then it is all your fault.
Worth reading in full.
Sweden Tightens the Rules
There was sad news from Sweden yesterday, with the Government announcing its toughest COVID-19 restrictions yet. They remain, however, lighter than Tier 3 and notably light on enforcement. The Spectator's Fraser Nelson has more.
Big news in Sweden this afternoon where Stefan Löfven, the Prime Minister, has just tightened COVID-19 restrictions. Still no lockdown, but there's now a rule of four for restaurants (it had previously been six) and an 8pm curfew on the sale of alcohol in bars and restaurants (it had been 10pm). A cap is to be placed on numbers in shops, gyms and swimming pools: universities and sixth-forms will switch to remote learning until January 24th. But beyond that there are no new laws (or restrictions for private property). Löfven said he still has faith that Swedes will respond to his voluntary approach. "I hope and believe that everyone in Sweden understands the seriousness," he said.
Anders Tegnell was notable by his absence at the press conference where the new rules were announced. The Prime Minister was joined instead by Johan Carlson, the chief of the Public Health Agency. There was new guidance on the use on masks:
From January 7th, face masks will be recommended on public transport, albeit only at certain times. Given Sweden's status as pretty much the only country in the Western world not to recommend masks, this is quite a turnaround. In the press conference, journalists sought to tease out what Johan Carlson, director of the Public Health Agency, made of the u-turn. "There are no sanctions, just recommendations," he said. He went on to restate his problem with masks: they can give a false sense of security and not much protection and discourage social distancing he said. Asked if he now believed there was scientific evidence for them, he said: in hospitals, yes. But outside of them, "we don't think it will have a big effect. It might have a positive effect." The problem, he said, is that wearing a face mask is easy; social distancing is hard. If you end up with more people travelling on crowded buses, feeling that the masks protect them, "then that's not the outcome we want".
Fraser Nelson's article is worth reading in full.
Perhaps the King of Sweden has intervened behind the scenes. The Financial Times reported on Thursday that King Carl XVI Gustaf has branded the country's COVID-19 approach a failure:
Sweden's king has admitted that the Scandinavian country has failed with its coronavirus strategy, which has left it with a far higher death toll from the pandemic than its Nordic neighbours. Carl XVI Gustaf told Swedes in his annual Christmas address that the country had suffered "enormously in difficult conditions" and that it was "traumatic" that many relatives of the almost 8,000 people to die with COVID-19 had not been able to say goodbye to them. "I think we have failed. We have a large number who have died and that is terrible. It is something we all have to suffer with," the king added, in comments released on Thursday and due to be broadcast in full on Monday.
The royal court later clarified that the king was not criticising Sweden's coronavirus strategy but was referring "to the whole of Sweden and the whole society. He is showing empathy for all those affected."
Anders Tegnell declined to comment on the King's remarks, but did defend his approach.
Asked by the Financial Times if he should have done more to reduce the spread, Mr Tegnell said that many countries with strict lockdowns had had high infection rates, and that the situation was "very complicated". He added: "In Sweden we do the same as all other countries: we do our best to keep the spread as low as possible. We can see countries using a lot of different measures, and we cannot see any clear correlation between measures and the stop of the spread."
Worth reading in full.
Indeed. Where is the correlation between the severity of the restrictions imposed and the containment of the virus?
The Hills Are Alive With the Sound of Panic
A few days ago, tagesschau reported that Austria's mass-testing programme has failed to attract the masses.
The COVID-19 situation in Austria remains tough. In order to get the numbers under control, the Government has provided rapid testing, but there was limited uptake. The testing essentially came to an end in five of Austria's nine federal states last Sunday, but participation fell short of expectations. In Vienna, just 14% of the population took part, in Salzburg around 20% and in lower Austria under 38%. The Government has expected 60% of the country to take part…

In response to the relatively low level of participation in rapid testing, the Government is considering incentives to encourage a greater participation in the next round. The Ministry for Health is considering an incentive system. Residents of Tyrol could have themselves tested free of charge from December 19th until the New Year, Governor Günther Platter has said. Upper Austria also wants to extend testing.
Yesterday, it was announced that Austria is to re-enter lockdown on Boxing Day, but with an eventual get-out-jail-free card. The Local.at has the story.
Austria announced on Friday it will enter its third coronavirus lockdown on December 26th, but those who take part in a planned series of mass testing programme in January will be allowed more freedoms. Austrian Chancellor Sebastian Kurz announced on Friday evening that Austria would enter a three-phase lockdown process in order to "return to normal".

"We have decided that we will spend Christmas as planned, but then tighten the measures again," said Kurz. The goal is to likely to achieve a seven-day incidence of less than 100 cases per 100,000 residents and then keep the numbers low through mass tests, Kurz said. Currently, Austria's seven-day incidence is at 205 per 100,000 residents.

Austria relaxed lockdown measures somewhat on December 7th, but case numbers and fatalities have remained high. The measures were "the only possible way to re-open tourism, cultural life, restaurants and cafes during the pandemic and at the same time avoid numbers exploding again", Kurz said.

Movement outside the home will once again be restricted to purposes such as buying food or taking exercise. The lockdown measures include distance learning in all schools when they return on January 7th, with face-to-face lessons again allowed from January 18th. The big request is, from December 26th on, don't meet anyone again, said the Chancellor…

There will however be another round of mass tests from January 16th to 18th, with those who test negative allowed to go shopping and meet people again. "For all those who are not willing to be tested, the lockdown rules apply for a week longer," said the Chancellor.

Hotels and cultural venues will be expected to check test results on arrival, while the police will carry out random checks in other areas, Kurz said…

Those who do not take part in the mass tests will also have to wear FFP 2 masks where otherwise a simpler face covering would suffice, for example while at work or buying food. Rules surrounding how and whether to allow outdoor sports, including skiing, will be left for local authorities to determine.
Worth reading in full.
Round-up
Theme Tunes Suggested by Readers
Five today: "Nowhere to Run" by Martha and the Vandellas, "The End" by the Doors, "Road to Nowhere" by the Talking Heads, "Benjamin Britten's The Turn of The Screw" by Opera North and "Pointless", the theme tune to the TV quiz show.
Love in the Time of Covid
We have created some Lockdown Sceptics Forums, including a dating forum called "Love in a Covid Climate" that has attracted a bit of attention. We have a team of moderators in place to remove spam and deal with the trolls, but sometimes it takes a little while so please bear with us. You have to register to use the Forums, but that should just be a one-time thing. Any problems, email the Lockdown Sceptics webmaster Ian Rons here.
Sharing Stories
Some of you have asked how to link to particular stories on Lockdown Sceptics so you can share it. To do that, click on the headline of a particular story and a link symbol will appear on the right-hand side of the headline. Click on the link and the URL of your page will switch to the URL of that particular story. You can then copy that URL and either email it to your friends or post it on social media. Please do share the stories.
Social Media Accounts
You can follow Lockdown Sceptics on our social media accounts which are updated throughout the day. To follow us on Facebook, click here; to follow us on Twitter, click here; to follow us on Instagram, click here; to follow us on Parler, click here; and to follow us on MeWe, click here.
Woke Gobbledegook
We've decided to create a permanent slot down here for woke gobbledegook. Today, from News 1130, the announcement of an all new and inclusive policy at the Provincial Court of British Columbia.
In an effort to be more inclusive of transgender people, the Provincial Court of British Columbia has created a new policy asking lawyers to provide pronouns when introducing themselves and their clients in court. While some lawyers have already started including pronouns in their introductions, the court will now expect everyone to share how they wish to be referred to.

In a press release, the provincial court provided an example of such an introduction: "My name is Ms Jane Lee, spelled L-E-E. I use she/her pronouns. I am the lawyer for Mx Joe Carter who uses they/them pronouns."

The court said the policy change will improve the experiences of gender diverse people in the legal system and would help avoid confusion and the need for corrections when someone is misgendered.

"Using incorrect gendered language for a party or lawyer in court can cause uncomfortable tension and distract them from the proceedings that all participants should be free to concentrate on," the press release said.

"I think it's a fantastic development for the court system in B.C.," said Lisa Nevens, a Vancouver-based civil litigator who is gender non-binary and uses they/them pronouns. Nevens said they already introduce themself with pronouns and the "Mx" title, but this new policy will take the onus off people who may be more likely to be misgendered.

Having a practice where everyone just does it, you don't have to make assumptions, you don't have to stand out in order to be properly addressed in court. It will make the system more inclusive for everyone and more accessible for lawyers and witnesses and other participants alike," they said. They said the courts still have more work to do, including moving away from gendered titles for judges such as "my lord" and "my lady".

Wednesday's policy change is a step in the right direction, according to barbara findlay, a queer feminist lawyer with more than four decades of experience who does not capitalize her name. "Up until now, courts, like everybody else, have judged the gender of counsel either by how counsel looks or by the kind of name they have: a boy name or a girl name," she said. "First of all, those judgments are often wrong – and second, male and female do not exhaust the categories."

Findlay said she has seen judges misgender lawyers in court, creating a "difficult situation" in which the individual doesn't want to contradict the judge but also doesn't want the mistake to remain on the record uncorrected.

"So, really the only way for a court – or for anybody – to know what someone's gender is, is to ask," findlay said.
Worth reading in full.
Stop Press: On Thursday, Woman and Equalities Minister Liz Truss gave an address at the Centre of Policy studies to announce the Government's new equality agenda. She tore into identity politics.
Today, I am outlining a new approach to equality in this country. This will be founded firmly on Conservative values. It will be about individual dignity and humanity… not quotas and targets, or equality of outcome. It will reject the approach taken by the Left … captured as they are by identity politics, loud lobby groups and the idea of "lived experience". It will focus fiercely on fixing geographic inequality… addressing the real problems people face in their everyday lives… using evidence and data.

Study after study has shown that unconscious bias training does not improve equality, and in fact can backfire by reinforcing stereotypes and exacerbating biases. That's why this week we announced we will no longer be using it in Government or civil service. Whether it's "affirmative action"… forced training on "unconscious bias"… or lectures on "lived experience"… the Left are in thrall to ideas that undermine equality at every turn. The absurdity was summed up just this week by the Mayor of Paris being fined for employing so many female managers she had breached a quota.
Worth reading in full.
The speech got good reviews from Fraser Nelson in the Telegraph and Brendan O'Neil in the Spectator.
"Mask Exempt" Lanyards
We've created a one-stop shop down here for people who want to buy (or make) a "Mask Exempt" lanyard/card. You can print out and laminate a fairly standard one for free here and it has the advantage of not explicitly claiming you have a disability. But if you have no qualms about that (or you are disabled), you can buy a lanyard from Amazon saying you do have a disability/medical exemption here (takes a while to arrive). The Government has instructions on how to download an official "Mask Exempt" notice to put on your phone here. You can get a "Hidden Disability" tag from ebay here and an "exempt" card with lanyard for just £1.99 from Etsy here. And, finally, if you feel obliged to wear a mask but want to signal your disapproval of having to do so, you can get a "sexy world" mask with the Swedish flag on it here.
Don't forget to sign the petition on the UK Government's petitions website calling for an end to mandatory face masks in shops here.
A reader has started a website that contains some useful guidance about how you can claim legal exemption. Another reader has created an Android app which displays "I am exempt from wearing a face mask" on your phone. Only 99p, and he's even said he'll donate half the money to Lockdown Sceptics, so everyone wins.
If you're a shop owner and you want to let your customers know you will not be insisting on face masks or asking them what their reasons for exemption are, you can download a friendly sign to stick in your window here.
And here's an excellent piece about the ineffectiveness of masks by a Roger W. Koops, who has a doctorate in organic chemistry. See also the Swiss Doctor's thorough review of the scientific evidence here.
Stop Press: There is a story in both the Irish Times and RTE of a man given two months in jail for failing to wear his mask properly while on public transport, shortly after it became mandatory in Ireland. LifeSite, meanwhile, says the individual concerned was convicted for failing to give his name and address to the police officer and an additional charge of using "threatening, abusive or insulting words or behaviour" was considered.
The Great Barrington Declaration
The Great Barrington Declaration, a petition started by Professor Martin Kulldorff, Professor Sunetra Gupta and Professor Jay Bhattacharya calling for a strategy of "Focused Protection" (protect the elderly and the vulnerable and let everyone else get on with life), was launched in October and the lockdown zealots have been doing their best to discredit it ever since. If you googled it a week after launch, the top hits were three smear pieces from the Guardian, including: "Herd immunity letter signed by fake experts including 'Dr Johnny Bananas'." (Freddie Sayers at UnHerd warned us about this the day before it appeared.) On the bright side, Google UK has stopped shadow banning it, so the actual Declaration now tops the search results – and Toby's Spectator piece about the attempt to suppress it is among the top hits – although discussion of it has been censored by Reddit. The reason the zealots hate it, of course, is that it gives the lie to their claim that "the science" only supports their strategy. These three scientists are every bit as eminent – more eminent – than the pro-lockdown fanatics so expect no let up in the attacks. (Wikipedia has also done a smear job.)
You can find it here. Please sign it. Now over three quarters of a million signatures.
Update: The authors of the GDB have expanded the FAQs to deal with some of the arguments and smears that have been made against their proposal. Worth reading in full.
Update 2: Many of the signatories of the Great Barrington Declaration are involved with new UK anti-lockdown campaign Recovery. Find out more and join here.
Update 3: You can watch Sunetra Gupta set out the case for "Focused Protection" here and Jay Bhattacharya make it here.
Update 4: The three GBD authors plus Prof Carl Heneghan of CEBM have launched a new website collateralglobal.org, "a global repository for research into the collateral effects of the COVID-19 lockdown measures". Follow Collateral Global on Twitter here.
Judicial Reviews Against the Government
There are now so many JRs being brought against the Government and its ministers, we thought we'd include them all in one place down here.
First, there's the Simon Dolan case. You can see all the latest updates and contribute to that cause here. Alas, he's now reached the end of the road, with the Supreme Court's refusal to hear his appeal. Dolan has no regrets. "We forced SAGE to produce its minutes, got the Government to concede it had not lawfully shut schools, and lit the fire on scrutinizing data and information," he says. "We also believe our findings and evidence, while not considered properly by the judges, will be of use in the inevitable public inquires which will follow and will help history judge the PM, Matt Hancock and their advisers in the light that they deserve."
Then there's the Robin Tilbrook case. You can read about that and contribute here.
Then there's John's Campaign which is focused specifically on care homes. Find out more about that here.
There's the GoodLawProject's Judicial Review of the Government's award of lucrative PPE contracts to various private companies. You can find out more about that here and contribute to the crowdfunder here.
The Night Time Industries Association has instructed lawyers to JR any further restrictions on restaurants, pubs and bars.
And last but not least there's the Free Speech Union's challenge to Ofcom over its 'coronavirus guidance'. A High Court judge refused permission for the FSU's judicial review last week, but the FSU may appeal the decision. Check here for updates.
Samaritans

If you are struggling to cope, please call Samaritans for free on 116 123 (UK and ROI), email jo@samaritans.org or visit the Samaritans website to find details of your nearest branch. Samaritans is available round the clock, every single day of the year, providing a safe place for anyone struggling to cope, whoever they are, however they feel, whatever life has done to them.
Quotation Corner
We know they are lying. They know they are lying, They know that we know they are lying. We know that they know that we know they are lying. And still they continue to lie.

Alexander Solzhenitsyn
It's easier to fool people than to convince them that they have been fooled.

Mark Twain
Men, it has been well said, think in herds; it will be seen that they go mad in herds, while they only recover their senses slowly, one by one.

Charles Mackay
They who would give up essential liberty to purchase a little temporary safety, deserve neither liberty nor safety.

Benjamin Franklin
To do evil a human being must first of all believe that what he's doing is good, or else that it's a well-considered act in conformity with natural law. Fortunately, it is in the nature of the human being to seek a justification for his actions…

Ideology – that is what gives the evildoing its long-sought justification and gives the evildoer the necessary steadfastness and determination.

Alexander Solzhenitsyn
No lesson seems to be so deeply inculcated by the experience of life as that you never should trust experts. If you believe the doctors, nothing is wholesome: if you believe the theologians, nothing is innocent: if you believe the soldiers, nothing is safe. They all require to have their strong wine diluted by a very large admixture of insipid common sense.

Robert Gascoyne-Cecil, 3rd Marquess of Salisbury
Nothing would be more fatal than for the Government of States to get into the hands of experts. Expert knowledge is limited knowledge and the unlimited ignorance of the plain man, who knows where it hurts, is a safer guide than any rigorous direction of a specialist.

Sir Winston Churchill
If it disagrees with experiment, it's wrong. In that simple statement is the key to science.

Richard Feynman
Of all tyrannies, a tyranny sincerely exercised for the good of its victims may be the most oppressive. It would be better to live under robber barons than under omnipotent moral busybodies. The robber baron's cruelty may sometimes sleep, his cupidity may at some point be satiated; but those who torment us for our own good will torment us without end for they do so with the approval of their own conscience.

C.S. Lewis
The welfare of humanity is always the alibi of tyrants.

Albert Camus
We've arranged a global civilization in which most crucial elements profoundly depend on science and technology. We have also arranged things so that almost no one understands science and technology. This is a prescription for disaster. We might get away with it for a while, but sooner or later this combustible mixture of ignorance and power is going to blow up in our faces.

Carl Sagan
Political language – and with variations this is true of all political parties, from Conservatives to Anarchists – is designed to make lies sound truthful and murder respectable, and to give an appearance of solidity to pure wind.

George Orwell
The object of life is not to be on the side of the majority, but to escape finding oneself in the ranks of the insane.

Marcus Aurelius
Necessity is the plea for every restriction of human freedom. It is the argument of tyrants; it is the creed of slaves.

William Pitt the Younger
If you tell a lie big enough and keep repeating it, people will eventually come to believe it. The lie can be maintained only for such time as the State can shield the people from the political, economic and/or military consequences of the lie. It thus becomes vitally important for the State to use all of its powers to repress dissent, for the truth is the mortal enemy of the lie, and thus by extension, the truth is the greatest enemy of the State.

Joseph Goebbels (attributed)
The whole aim of practical politics is to keep the populace alarmed (and hence clamorous to be led to safety) by menacing it with an endless series of hobgoblins, most of them imaginary.

H.L. Mencken
I have always strenuously supported the right of every man to his own opinion, however different that opinion might be to mine. He who denies to another this right, makes a slave of himself to his present opinion, because he precludes himself the right of changing it.

Thomas Paine
Shameless Begging Bit
Thanks as always to those of you who made a donation in the past 24 hours to pay for the upkeep of this site. Doing these daily updates is hard work (although we have help from lots of people, mainly in the form of readers sending us stories and links). If you feel like donating, please click here. And if you want to flag up any stories or links we should include in future updates, email us here. (Don't assume we'll pick them up in the comments.)
And Finally…
As Christmas is likely to look a bit different this year, Spectator Life has published Santa's guide to staying safe by Andy Shaw.
Letter to Santa

Due to age and obesity, Santa has been deemed 'at risk' and has been shielding with a support bubble of elves for most of the year. As part of his mission to save Christmas, Boris Johnson is rumoured to have let Saint Nick jump the queue for a vaccine.

Nevertheless, letters sent to Santa are screened for pathogens by elves retrained as Covid wardens. Non lick envelopes are requested wherever possible.

Santa has binned all requests for board games (SAGE stipulates that sharing dice and cards could be lethal). Likewise balls and equipment for team sports have been scrupulously crossed off lists. Father Christmas is keeping a close eye on the next round of government regulations in case they include a quota for the number of presents allowed per household.

Santa's visit

Santa used to love visiting poorly children in hospital and old people in care homes. This year, he fears becoming known as Santa The Super Spreader, St. Nicholas of Covid or Father Christ-All-Mighty Keep Your Distance.

Santa may land his sleigh on your roof, but he won't venture down your chimney. Touching stockings or consuming mince pies prepared by those outside his bubble is strictly forbidden. However, it is hoped that the elfish Matt Hancock is left out for Santa to take with him back to the North pole. He can make up for his appalling behaviour by packing presents for next year's Christmas.
Very funny and worth reading in full