Tier Drops? No Chance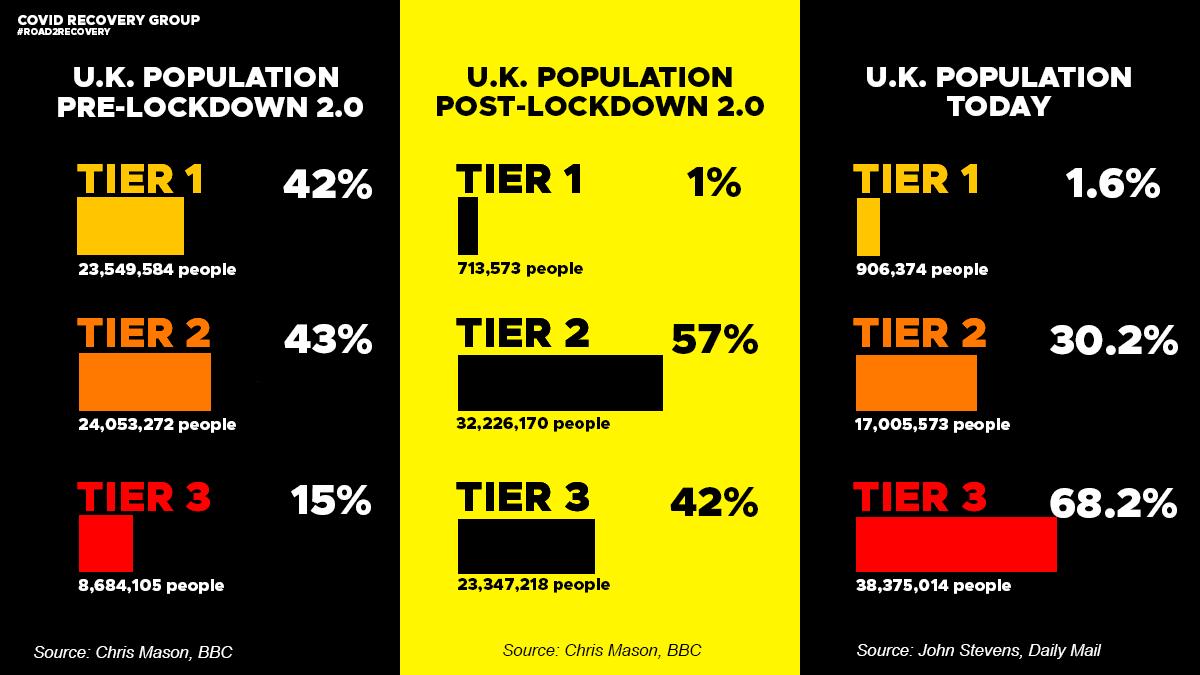 Matt Hancock unveiled updated tier allocations yesterday, following the first "review" of the tier system. MailOnline has the story.
Matt Hancock faced fury today as he plunged another swathe of Tory home counties heartlands into draconian coronavirus restrictions and denied a downgrade to Manchester, leaving 38 million people facing the toughest Tier 3.

Announcing the review of the tiers in the House of Commons, he said large parts of the South East will go into Tier 3, including Bedfordshire, Buckinghamshire, Berkshire, Peterborough, the whole of Hertfordshire, Surrey with the exception of Waverley, Hastings and Rother on the Kent border of East Sussex, and Portsmouth, Gosport and Havant in Hampshire. He also dashed hopes that restrictions could be eased on Manchester, the Tees Valley and parts of the Midlands, in what local leaders branded a "kick in the teeth".

Mr Hancock did say Bristol and North Somerset will be moved down to Tier 2 in a glimmer of good news. Herefordshire is also being shifted to Tier 1 from midnight on Saturday morning. But it means around 38 million people, or 68% of the population, will now be subject to the top bracket – including the Queen at Windsor Castle.
Writing for the Telegraph, Ross Clark explains why the outcome of the "review" is so frustrating for so many:
Residents of Dorset (45 cases per 100,000 in the week to December 11th) and South Hams (34), where cases are lower even than in Herefordshire (55), could be forgiven for feeling a bit cheated: they will stay in Tier 2. More aggrieved still are people in the Derbyshire Dales (72 cases per 100,000) who stay in Tier 3 even though their levels of infection suggest they ought to be a candidate for going down to Tier 2, or possibly Tier 1. Most cheated of all, though, are the residents of Copeland on the Cumbrian coast. They stay in Tier 2 in spite of having the lowest rate of new infections of any English district, just 18 per 100,000 in the week to December 12th…

The biggest losers from the tier reshuffle are those in rural areas of the Home Counties. In some places Hancock has separated rural districts from the surrounding council – he has spared most of East Sussex, for example, from the Tier 3 restrictions he has placed on Hasting and the Rother. Yet in other areas he hasn't. The people of West Berkshire (174 cases per 100,000) and Windsor and Maidenhead (153) have been punished by their association with Reading (245)… Hertfordshire, too, has been treated harshly, the whole county going into Tier 3 when it is only the southern districts which seem to justify it.

Manchester also seems to have been picked out for harsh treatment by being kept in Tier 3. That's Mayor Andy Burnham's punishment, perhaps, for resisting Tier 3 status before the second national lockdown. Then, of course, there is London, all of which was placed in Tier 3 on Monday, even though central boroughs such as Westminster (168) and Kensington and Chelsea (173) would seem to qualify them for Tier 2 status.
Worth reading in full.
The results of the "review" provoked an immediate political backlash. Andy Burnham pointed out that Greater Manchester – still in Tier 3 – currently has lower rates than Liverpool and London did when they entered Tier 2.
Steve Baker, the MP for Wycombe and deputy chair of the Covid Recovery Group, responded to his Wycombe constituency being moved up to Tier 3 saying:
Of course I know case rates in our town are above the average for England but I am disappointed that today the Health Secretary announced that Wycombe constituency has been moved from Tier 2 to Tier 3. We have no choice now but to comply with the measures and to work hard to look after one another. Overall, there is insufficient evidence to show this is a proportionate and effective response to the reality of the situation in Wycombe. The harm of these restrictions will be plain but it is not clear they will work or do more good than damage. That's why I voted against the system in the Commons. After a full and damaging national lockdown, millions more people and businesses across the country are heading into tougher restrictions. The Government must urgently clarify what the criteria are for moving areas between, and especially down, the tiers. Finally, Government must now show how they will lift restrictions as the vaccine rolls out.
And William Wragg, MP for Hazel Grove, said:
Keir Starmer responded to the "review" while visiting residents and flood victims in Doncaster:
"My concern about the Tier system is that it's just not strong enough to control the virus and we've been seeing the numbers going in the wrong direction across the country in the last seven days in particular… There are many areas that are going to stay in Tier 3 and they will be asking themselves how on earth do we get out of this situation. I'm not going to pretend this is easy because we do need restrictions… but we had a tier system before lockdown, that didn't work. We're in another Tier System and its not doing the work that the Prime Minister promised it would do.
Justifying the outcome of the "review" in the House of Commons, Hancock said:
Mr Speaker, as we enter the coldest months we must be vigilant and keep this virus under control. Yesterday, 25,161 cases were reported and there are 18,038 people in hospital with coronavirus in the UK. We must keep supressing this virus. And this isn't just a matter for Government or for this House. It's a matter for every single person. And these are always the most difficult months for people's health – and for the NHS…

At the weekend, we held an emergency review for London, Essex and parts of Hertfordshire where cases are accelerating fast. Yesterday, we held the first formal review. And I must report to the House that across the world cases are rising once more…

No one wants tougher restrictions any longer than necessary. But where they are necessary, we must put them in place to prevent the NHS from being overwhelmed and protect life. Mr Speaker, even in a normal year, this is the busiest time for the NHS. As Chris Hopson, the Chief Executive of NHS Providers, reminded us this morning: "controlling infection rates is about limiting patient harm". And this is a moment when we act with caution…

Until the great endeavour of vaccine deployment reaches enough people to make this country safe, we must keep doing what it takes to protect our NHS – and protect those we love. That means all of us doing our bit. Following the rules and taking personal responsibility to help contain the spread of the virus so we can get through this safely, together.
The BBC's Health Correspondent Nick Triggle, however, pointed out that it may not be necessary to wreck the economy to "protect our NHS" because it's in no danger of being overwhelmed.
The latest hospital occupancy data has been published in England. It shows in the week ending December 13th, 89% of beds were occupied, leaving 10,500 empty beds. That means hospitals were actually busier this time last year, when 95% of beds were occupied. Ideally hospitals would operate at only 85% capacity, so the right beds are available when patients need them, but in recent years it has been consistently above that level.

They have just over 89,000 beds in total, down 8,000 on last year, reflecting the fact infection control and social distancing have meant some beds have been taken out of the system. The national figure does mask some real hotspots in some areas where hospitals are close to being full. But it does show there is some wriggle room overall. What we don't know is at what cost this has come.
Stop Press: Why does the Health Secretary sit down like Woody in Toy Story when a human enters the room? Really quite odd.
Furlough Forever
Alongside the review of the tier system, there was the ominous announcement yesterday that the furlough scheme will be extended until April. Does this mean 68% of the English population will be stuck in Tier 3 – or worse – until then? The Telegraph has more:
Rishi Sunak will extend the Coronavirus Job Retention Scheme for another month to support the economy while the Government rolls out its mass vaccination programme against COVID-19. The scheme will continue to pay 80pc of salaries, despite hints that this level might be reviewed in the new year. As of the end of October, 2.4 million jobs were still furloughed, with 1.4 million fully furloughed and just short of 1 million using the scheme on a part-time basis. Accommodation and food services accounted for the largest share at just over 600,000 as swathes of the hospitality industry remain under tight restrictions. The Treasury is also extending its business loan guarantee schemes until the end of March, making it easier for companies to borrow to get through the economic downturn.

More than £68 billion has been lent through the Treasury's initiatives, with the Office for Budget Responsibility predicting about a third of the loans will not be repaid by firms. At the same time, the Bank of England said it would pump more cheap funds into banks to encourage SME lending, while keeping interest rates on hold at 0.1%.

Peter Cheese, Chief Executive of the Chartered Institute of Personnel and Development, said: "Setting out a clear plan to extend the CJRS to the end of June would boost business confidence and mitigate the numerous uncertainties firms are facing as a result of the pandemic, as well as any challenges they may face arising from the end of the Brexit transition and over the timing of economic recovery."
Worth reading in full.
A disappointing announcement after the Chancellor said in an interview in the Christmas edition of the Spectator that he regards excessive Government borrowing as immoral.
Over his ten months in the job, the Chancellor has borrowed more than Gordon Brown did in nine years. When we mention this to him, he appears taken aback. "It's the first time someone has put it to me that way," he says, but adds that there are very different types of borrowers. And Chancellors. He is unusually interested in finance, and worked in a hedge fund during the 2008 crash. "I kind of sat there, watching things evaporate in front of my screen on a daily basis with very large sums of money just disappearing," he says. The Covid crisis involved an element of déjà-vu. "It was like being back where I came from. Everyone was working night and day, around the clock. But I have never felt better supported…"

"It is clearly not sustainable to borrow at these levels. I don't think morally, economically or politically it would be right," he says. "Running a structural deficit years into the future, with debt rising? That's not building up the resilience you need to deal with the future shock that will come along, and someone else will be sitting in my chair…"

This is Sunakism: a belief that it's suicidal for any government to depend on high borrowing and low interest rates, because those rates could surge at any time.
Worth reading in full.
Blessed are the Prophylactic Givers for They Shall Inherit the Earth
Long-standing Lockdown Sceptics contributor Freddie Attenborough, author of several brilliant pieces in the right-hand menu, has tried his hand at fiction and written an hilarious piece of dystopian satire in the same mould as 1984. It's about a future in which the healthy remain locked down, the unhealthy are slaughtered and everyone lives under the thumb of a merciless tyrant called "the Sage". Here are the opening few paragraphs:
"What did you do during the Great Reset, Grandad?" she squealed excitedly, the words tripping off her tongue in fluent Mandarin.

In the centre of the cage stood an ornate, candle-lit altar. Its upper panels had been cut in triptych form and each panel bore a letter from the old western alphabet: N, H and S. Behind it hung a gilded reredos depicting a coronavirus, its central protein spike outstretched, imparting the spark of life to the reclining Sage, whose fingers could be seen reaching out, but never quite touching, the spike. Running in European style, from left-to-right across the bottom of the image, was a slightly amended excerpt from the Sage's translation of the New PCR-Testament. Embossed in a plain, puritanical font it read: "The Lord Coronavirus, He who delivered us from The Temptations, creating the Sage (Genesis 24:6.1)."

At its foot knelt an old man, evidently in prayer. Though he faced the altar, his eyes had strayed towards the impenetrable darkness beyond their cage. Out there lay the wilderness. The crucible of The Temptations. Hazy, half-forgotten memories still lingered. They came bubbling up now from that most dangerous of personal traitors, his unconscious. The greasy, voluptuous joy of it all. Unadulterated, untrammelled, rollicking, infective, glorious, filthy human life… biological proximity, dirt, penetration, tongues, sex, risk, sweat, uncertainty, sex… laughter… sex…

"Grandad!"

The sound of her voice dragged him back from the volcano's edge. Shaking, dripping with sweat, appalled at this lapse into unholy reverie, he wrenched his dilated pupils back to the reredos and set to mumbling his prayers once more, now with renewed vigour.
As with all Freddie's pieces, this one is worth reading in full.
"Draconian but Necessary": Northern Ireland Locks Down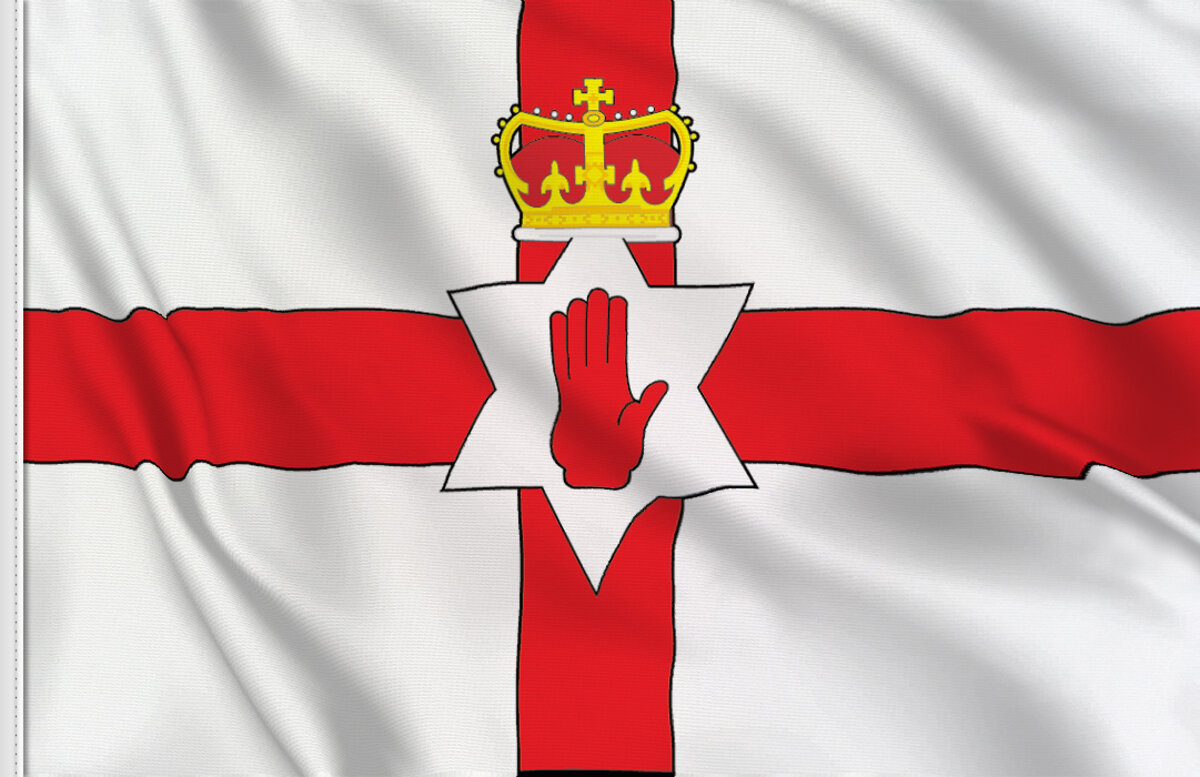 Following the five-day relaxation of COVID-19 restrictions agreed for the Christmas period there will be a six-week lockdown, according to the Northern Ireland Executive. Details from rte.
Northern Ireland will enter a six-week lockdown on 26th December, according to Deputy First Minister Michelle O'Neill. Under the agreement, reached by the Northern Ireland Executive, all non-essential retail will be closed.

An overnight curfew will be put in place, with people being told not to visit other households after 8pm. Health Minister Robin Swann said: "From 8pm to 6am from 26th December… we don't see mixing in households except for the households themselves.

"For the essential businesses that are open for the rest of the six weeks – they will actually close over that time.

"That's really to send a signal this is how serious this has to be taken, this is how much we're asking of the people of Northern Ireland – when we're curtailing people's ability to meet in each other's homes after 8pm."

Ms O'Neill described the situation as "quite dire": "It's very clear from the positive cases we're seeing every day that an urgent intervention was required."

Stormont ministers agreed to close non-essential retail and contact services, as well as restricting the hospitality sector to takeaway only, from December 26th. No sporting events will be permitted, with an overarching message to the public to stay at home.

However, the festive bubbling arrangements will be permitted.

The first week of the intervention will include an 8pm curfew for essential shops. The measures are set to be reviewed after four weeks.

"There will also be financial supports put in place, so the current measures which we have had over previous restrictions will be rolled over to support businesses through this very challenging time," Ms O'Neill said.

For those who had chosen to form a family bubble over the Christmas period, she said they would be allowed to go ahead. Ms O'Neill said Northern Ireland is in a "worse position" than it has been throughout the pandemic. "I think the health service would be completely crushed in January if we didn't intervene now," she added.

"Whilst this is draconian in many ways, it's necessary, and this is about saving lives, this is about saving the health service and this is about taking some pressure off the health care staff," she added. Ms O'Neill described what ministers have agreed as a "longer and deeper intervention".

"That's been a collective position from the executive that has been arrived at this evening," she said.

Dog grooming will also be open, but car washes will be closed.
Worth reading in full.
Stop Press: John Swinney, Deputy First Minister for Scotland, has warned Scots that a New Year's lockdown is a "possibility" in the face of a "rising tide of COVID-19". The Scottish Cabinet will meet again on Tuesday to review the guidance and lockdown levels.
Stop Press 2: Downing Street has refused to rule out a third lockdown if placing 68% of the population in Tier 3 doesn't stem the rising tide of "cases".
School's Out For Winter
Having fought to keep schools open until yesterday, it looks like Gavin Williamsom will be delaying their opening in the New Year. MailOnline has the story.
Millions of secondary school pupils in England will have their return to school delayed by up to a week after the Christmas holidays amid a Covid crisis in the classroom. Downing Street confirmed that the planned January 4th and 5th restart would now be "staggered" with the use of online lessons, with full face-to-face learning beginning on January 11th.

It came as figures showed more than half of schools in England had coronavirus cases during the first two weeks of November's lockdown and those aged 12-18 have the highest infection rate of any age group.

The Prime Minister's official spokesman said: "The start of the term won't be delayed but what we are doing is asking secondary schools and colleges to operate a staggered return supported by full-time remote education during the first week of term with in-person teaching in full starting on January 11th. Students in exam year groups, vulnerable children, children of key workers, will attend school or college in person from the start of term as well as students in primary, special and alternative provision schools and colleges."

The staggered return will coincide with an increase in on-site testing, according to the announcement. Schools and colleges will be able to establish testing to offer students two rapid tests three days apart, with positive results confirmed by a lab-based PCR test.

Gavin Williamson said: "This targeted testing round will clamp down on the virus as students return from the Christmas break and help stop the spread of COVID-19 in the wider community. Building on the fantastic actions that schools and colleges have already taken to be as safe as possible, this additional testing will catch those who have the virus but are not showing symptoms to help schools and colleges stay in control of the virus throughout the spring term."
What Williamson neglected to mention, perhaps because this hasn't been fully worked out yet, is how much support teachers will get to carry out this "additional testing". Will the Army be drafted in, as it was in Liverpool? Or will teachers be expected to carry out the tests themselves? Can't see anything going wrong there!
Another question Williamson failed to address is why it was so essential for children to stay in school for the last week of this term, but inessential for them to be in school for the first week of next term?
The announcement comes, reports the BBC, as an analysis by Public Health England, the Office for National Statistics and the London School of Hygiene and Tropical Medicine shows that COVID-19 cases in schools reflect the rate of infection in the community, suggesting school closures are pointless.
COVID-19 cases in schools reflect virus levels in the local community, a study of 100 schools across England suggests. In tests on nearly 10,000 staff and pupils in November, 1.24% of pupils and 1.29% of staff tested positive for coronavirus in schools. The researchers suggest school closures have only a temporary effect on cases. And they add driving down infections in wider society is the best way to keep schools open and safe.

Dr Shamez Ladhani, the study's chief investigator and a consultant at Public Health England, said: "While there is still more research to be done, these results appear to show that the rate of infection among students and staff attending school closely mirrors what's happening outside the school gates."

Data from PHE so far suggests infections in school year groups are being introduced from different sources rather than being spread between pupils in schools, but genetic analysis of virus strains is needed to confirm this. After schools reopened in the autumn, Dr Ladhani said the rate of infections in all year groups had been rising every week, with older pupils seeing the biggest increases.

He explained that lockdowns have a greater impact on adult infection rates rather than children's, but there is often a delayed effect in children a week later than seen in adults. Closing schools would only have a "temporary effect", Dr Ladhani added.
Human Rights Abuses Committed in 60 Countries
Amnesty International has published a new report suggesting that law-enforcement agencies in 60 countries have breached human rights under the pretext of controlling the Pandemic. The Telegraph has the story:
The abuses include accounts of people being shot for breaking curfew, the violent suppression of protests, arbitrary arrests, and assaults on individuals not wearing masks – in countries from Angola to Chechnya.

In some cases, the abuses actually may have worsened the impact of COVID-19, for example by detaining people in crowded, unsanitary jails, the report added.

"The horrific abuses committed on the pretext of fighting COVID-19 include Angolan police shooting a teenage boy in the face for allegedly breaking curfew, and police in El Salvador shooting a man in the legs after he went out to buy food," said Patrick Wilcken, Deputy Director of Amnesty International's Global Issues Programme.

While the role of law-enforcement at this moment is vital to protect people's health and lives, the over reliance on coercive measures to enforce public health restrictions is making things worse. The profound impact of the pandemic on people's lives compounds the need for policing to be carried out with full respect for human rights," he added.

The report, COVID-19 Crackdowns: Police Abuse and the Global Pandemic, also found that 85,000 people in the Dominican Republic were detained for not complying with curfews in just three months, from May – July.

In Iran, several were killed and injured when security forces reportedly used live ammunition and tear gas to suppress protests over the COVID-19 risk in prisons.

In the first five days of a curfew in Kenya earlier this year, seven people were killed and 16 hospitalised "as a result of excessive police operations", according to the report.

In Chechnya, video footage showed police assaulting and kicking a man for not wearing a mask, and in South Africa, police fired rubber bullets at people "loitering" on the streets on the first day of lockdown.

In Turkey, 510 were reportedly detained for questioning for "sharing provocative coronavirus posts" on social media.
Worth reading in full.
The Amnesty International Report is available here.
A Lockdown Funeral
One of the Lockdown Sceptics moderators attended a funeral earlier this week. Here's her account of it.
I attended a funeral of a friend who died in a road traffic accident. It was held in a well known town about an hour from London. The county is in Tier 2 but adjacent to Tier 3 areas – or was then. It's since been placed in Tier 3. When we arrived at the crematorium, rather early, the only other people in the car park were guests at our function. It was very quiet in the surrounding cemetery, which we thought was strange in the middle of a deadly pandemic supposedly killing thousands and thousands. There was no funeral booked that day after ours either.

Around 100 people attended, but only close family were allowed inside the Chapel. Chairs were set out in spaces so only those from the same household could sit together. This was in spite most of the guests in the Chapel having arrived together in groups in their cars. It made the Chapel look very stark and empty. We had a family funeral there once before so we're able to compare. The waiting room outside the Chapel was closed. Luckily, the rain held off. Plenty of the close family were left outside after 30 were admitted into the Chapel.

There was a live link so people could watch proceedings on their phones if they were not allowed in. Only a tiny minority of the total guests were masked and people seemed to think that on this occasion hugs were more needed than social distancing. The watchers outside congregated in the covered courtyard where the flowers were laid out. There was quite a lot of mingling but on the whole people stayed in their family groups. Several of the watchers noted an elderly relative crying on her own in the Chapel and mentioned how it was a disgrace that people were being told to keep apart at a time when human contact would be such a comfort. Even the few masked people were not fussy about it. One shared her phone with me so I could watch. The service was quite long, nearly an hour, but no hymns were allowed, just recorded music in between eulogies.

There were lots of very beautiful flowers in bright colours which previously would have all been taken to local hospitals and homes if not removed by the family. Now they just get thrown away in case they are "contaminated". I thought this was a great shame. How much of a risk could they be? One of the quests, whom I have met before, is a nurse of 30 years experience at a major London hospital. Currently in A&E, but having considerable skills, she can be deployed to several different departments. She said her hospital was busy during the first wave but is now probably quieter than usual for the time of year. Less people going out means less stabbings apparently!

Many of the guests remarked on the lack of activity at the cemetery considering how many excess deaths there are supposed to be. Some were quite surprised by this. There was a wake at a local pub, which was as normal as those things are these days. I would say certainly more than 30 in attendance at that. Overall, the feeling seemed to be that restrictions on funerals were out of order. I think several of the guests were quite surprised to reach this conclusion, having been quite accepting of the rules until they encountered the reality of them.
Bob Moran Wins 'Covid Cartoon of the Year'.
The results of the Ellwood Atfield 'Political Cartoon of the Year' awards are in and Bob Moran won 'Covid Cartoon of the Year'. Well done Bob! And a hat-tip to the Free Speech Union who intervened when Bob was initially prevented from entering by the competition's organiser, a bug-eyed lockdown enthusiast. After the FSU had a quiet word with the sponsors, who were unaware of the ban, Bob was allowed to compete.
Watch his moving acceptance speech here, and take a look at the other winning entries here. His cartoon in today's Telegraph is a cracker too!
Toby's Christmas Story in the Spectator
Toby has a longer-than-usual column in the Spectator's Christmas triple issue. It's about a curious episode in the history of his wife's family.
As I gaze at my four children on Christmas morning, clambering on to the bed with their stockings, I will think of one particular person to whom, in a roundabout way, they owe their lives. He was a colonel in the first world war and, had it not been for his generosity, my children, their mother, her brothers and sisters, their children, their aunts, uncles and cousins – the entire Bondy clan, in fact – would not exist.
The story begins in 1918, as the conflict was nearing its end. Karel Bondy, my wife's paternal grandfather, was a young Czech officer in the Austro-Hungarian army who had miraculously survived heavy fighting in Albania. He was on his way back to barracks from the front line one evening when he encountered a drunk German colonel, slumped in the saddle of his horse. Karel did the decent thing and asked the officer if he could be of any assistance. Turned out he was lost. Could Karel help him find his quarters? Karel took the horse's bridle and steered the colonel to his tent.

When they arrived, Karel tried to take his leave but the Oberst wouldn't hear of it. He sat Karel down and insisted they have a drink together. One drink led to another, and at the end of the night the colonel decided to reward Karel for his act of kindness. He reached for a small wooden box under his bed, pulled out an Iron Cross and pinned it to Karel's tunic.

"This is for you, in recognition of your outstanding gallantry," he said.

Naturally, Karel protested, but to no avail. Not only did the colonel stop him giving it back, he reached into the box again and pulled out a certificate which he completed and handed to him.

"Now it's official," he said.
After the war ended, placed the Iron Cross in his bottom draw and thought nothing more about it. He established a successful legal practice in Prague, got married and had two boys. But it proved a life-saver after the Nazi's invaded and he and his family had to leave in a hurry. Karel applied for exit visas so they could leave for England, but these could only be issued if the Nazis rubber-stamped them and one day the Bondy family received a visit from the Gestapo.
Karel was accused of being a British spy, and he and Frania looked on in horror as the officers ransacked their home looking for secret documents. They broke precious knick-knacks, smashed the children's toys and started emptying the contents of their drawers on the floor. Karel thought he and his family were done for.

Then, what should spill out of the bottom drawer of his desk but the envelope containing the Iron Cross. One Gestapo officer tore it open and discovered the medal.

"How did you get this?" he demanded.

"I was given it for gallantry during the first world war," Karel replied.

The officer didn't believe him – how could a Jew have been awarded such a high distinction? – but Karel told him to examine the certificate and, sure enough, there was his name in black ink. The officer summoned his colleague over and together they marvelled at the medal that they both longed for.

"How much do you want for it?" one of them demanded.

At this point, Karel had to think on his feet. Should he use the Iron Cross to bribe them to authorise the exit visas?

"I'm sorry," he said, striding over and taking the medal back. "I cannot part with it. I was proud to serve my country and I accepted that on behalf of the men in my unit, many of whom were not as fortunate as I. Some things in life just aren't for sale."

This speech impressed the Gestapo officers – they were clearly dealing with a bona fide war hero. Their demeanour began to change and they even made a half-hearted effort to clean up the mess they'd made. They explained, almost apologetically, that there were British spies in Prague and they were just doing their job. Rubber stamps and ink pads were quickly produced and the exit documents authorised.
Worth reading in full.
Round-up
Theme Tunes Suggested by Readers
Four today: "Whose Turn Is It Now" by Robert Childs, "Who Will Rise Up" by Southland Worship, "Do You Hear What I Hear" by Orla Fallon, "You Can't Stop Christmas (Not This Year)" by Dalígalä
Love in the Time of Covid
We have created some Lockdown Sceptics Forums, including a dating forum called "Love in a Covid Climate" that has attracted a bit of attention. We have a team of moderators in place to remove spam and deal with the trolls, but sometimes it takes a little while so please bear with us. You have to register to use the Forums, but that should just be a one-time thing. Any problems, email the Lockdown Sceptics webmaster Ian Rons here.
Sharing Stories
Some of you have asked how to link to particular stories on Lockdown Sceptics so you can share it. To do that, click on the headline of a particular story and a link symbol will appear on the right-hand side of the headline. Click on the link and the URL of your page will switch to the URL of that particular story. You can then copy that URL and either email it to your friends or post it on social media. Please do share the stories.
Social Media Accounts
You can follow Lockdown Sceptics on our social media accounts which are updated throughout the day. To follow us on Facebook, click here; to follow us on Twitter, click here; to follow us on Instagram, click here; to follow us on Parler, click here; and to follow us on MeWe, click here.
Woke Gobbledegook
We've decided to create a permanent slot down here for woke gobbledegook. Today, a report from the Telegraph on the Royal Collection's new labelling of the 1880 painting 'The Defence of Rorke's Drift':
Fewer than 200 British soldiers held off 3,000 Zulu warriors at the Rorke's Drift mission in 1879 and earned 11 Victoria Crosses for the defence, which has since been immortalised on screen. A Royal Collection painting hanging in St James's Palace which depicts the battle has now been relabelled to reflect connections to "colonialism and violence".

It is one of 62 royally-owned artworks reviewed to unearth and present links to empire and slavery as part of a project launched in August following Black Lives Matter protests. Depictions of ­Winston Churchill's ancestor, the Duke of Marlborough, and philosopher John Locke are among those critiqued for links to the slave trade.

The move to amend the 1880 work 'The Defence of Rorke's Drift' has been ­criticised by historians for branding ­British defenders as imperialist when they were simply fighting for survival.

New display information for the work by 19th Century artist Lady Butler, ­commissioned by Queen Victoria, states the painting is "connected to colonialism and imperialism".

The oil painting depicts a handful of the 150 or so troops who defended Rorke's Drift, including Lieutenant Chard and Lieutenant Bromhead, played by Stanley Baker and Sir Michael Caine in the 1964 film Zulu.

Dr Spencer Jones, a military historian and lecturer, has criticised the decision, saying the painting's "connection to colonialism and imperialism seems superfluous". He added: "Although the war was an imperial struggle, British soldiers and Zulu warriors at Rorke's Drift fought for survival rather than abstract ideas of imperialism. There was tremendous courage and determination shown by both sides."

A spokesman for the Royal Collection said the governing Trust "has an ongoing programme of activities to research, ­display, loan and publish detailed records of objects in the Royal Collection, in order for a wide range of audiences to learn about the Collection and its history".
Worth reading in full.
"Mask Exempt" Lanyards
We've created a one-stop shop down here for people who want to buy (or make) a "Mask Exempt" lanyard/card. You can print out and laminate a fairly standard one for free here and it has the advantage of not explicitly claiming you have a disability. But if you have no qualms about that (or you are disabled), you can buy a lanyard from Amazon saying you do have a disability/medical exemption here (takes a while to arrive). The Government has instructions on how to download an official "Mask Exempt" notice to put on your phone here. You can get a "Hidden Disability" tag from ebay here and an "exempt" card with lanyard for just £1.99 from Etsy here. And, finally, if you feel obliged to wear a mask but want to signal your disapproval of having to do so, you can get a "sexy world" mask with the Swedish flag on it here.
Don't forget to sign the petition on the UK Government's petitions website calling for an end to mandatory face masks in shops here.
A reader has started a website that contains some useful guidance about how you can claim legal exemption.
Another reader has helpfully produced an Android App "Face Off" which displays the message "I am exempt from wearing a face mask message". It is only 99p and is available here.
If you're a shop owner and you want to let your customers know you will not be insisting on face masks or asking them what their reasons for exemption are, you can download a friendly sign to stick in your window here.
And here's an excellent piece about the ineffectiveness of masks by a Roger W. Koops, who has a doctorate in organic chemistry. See also the Swiss Doctor's thorough review of the scientific evidence here.
Stop Press: The World Health Organisation's Europe Office has released new guidance recommending the use of masks at social gatherings inside homes with friends and families over the festive season. Warning that "COVID-19 transmission across the European Region remains widespread and intense," and that "there is a high risk of further resurgence in the first weeks and months of 2021", the guidance states:
Indoor gatherings, even smaller ones, can be especially risky because they bring together groups of people, young and old, from different households, who may not all be adhering to the same infection prevention measures. Gatherings should be held outside if possible, and participants should wear masks and maintain physical distancing. If held indoors, limiting group size and ensuring good ventilation to reduce exposure risk are key.

It may feel awkward to wear masks and practise physical distancing when around friends and family, but doing so contributes significantly to ensuring that everyone remains safe and healthy.
MailOnline points out that this advice comes despite the WHO's guidance on mask use issued on December 1st:
At present there is only limited and inconsistent scientific evidence to support the effectiveness of masking of healthy people in the community to prevent infection with respiratory viruses, including SARS-CoV-2.
The Great Barrington Declaration
The Great Barrington Declaration, a petition started by Professor Martin Kulldorff, Professor Sunetra Gupta and Professor Jay Bhattacharya calling for a strategy of "Focused Protection" (protect the elderly and the vulnerable and let everyone else get on with life), was launched in October and the lockdown zealots have been doing their best to discredit it ever since. If you googled it a week after launch, the top hits were three smear pieces from the Guardian, including: "Herd immunity letter signed by fake experts including 'Dr Johnny Bananas'." (Freddie Sayers at UnHerd warned us about this the day before it appeared.) On the bright side, Google UK has stopped shadow banning it, so the actual Declaration now tops the search results – and Toby's Spectator piece about the attempt to suppress it is among the top hits – although discussion of it has been censored by Reddit. The reason the zealots hate it, of course, is that it gives the lie to their claim that "the science" only supports their strategy. These three scientists are every bit as eminent – more eminent – than the pro-lockdown fanatics so expect no let up in the attacks. (Wikipedia has also done a smear job.)
You can find it here. Please sign it. Now over three quarters of a million signatures.
Update: The authors of the GDB have expanded the FAQs to deal with some of the arguments and smears that have been made against their proposal. Worth reading in full.
Update 2: Many of the signatories of the Great Barrington Declaration are involved with new UK anti-lockdown campaign Recovery. Find out more and join here.
Update 3: You can watch Sunetra Gupta set out the case for "Focused Protection" here and Jay Bhattacharya make it here.
Update 4: The three GBD authors plus Prof Carl Heneghan of CEBM have launched a new website collateralglobal.org, "a global repository for research into the collateral effects of the COVID-19 lockdown measures". Follow Collateral Global on Twitter here.
Judicial Reviews Against the Government
There are now so many JRs being brought against the Government and its ministers, we thought we'd include them all in one place down here.
First, there's the Simon Dolan case. You can see all the latest updates and contribute to that cause here. Alas, he's now reached the end of the road, with the Supreme Court's refusal to hear his appeal. Dolan has no regrets. "We forced SAGE to produce its minutes, got the Government to concede it had not lawfully shut schools, and lit the fire on scrutinizing data and information," he says. "We also believe our findings and evidence, while not considered properly by the judges, will be of use in the inevitable public inquires which will follow and will help history judge the PM, Matt Hancock and their advisers in the light that they deserve."
Then there's the Robin Tilbrook case. You can read about that and contribute here.
Then there's John's Campaign which is focused specifically on care homes. Find out more about that here.
There's the GoodLawProject's Judicial Review of the Government's award of lucrative PPE contracts to various private companies. You can find out more about that here and contribute to the crowdfunder here.
The Night Time Industries Association has instructed lawyers to JR any further restrictions on restaurants, pubs and bars.
And last but not least there's the Free Speech Union's challenge to Ofcom over its 'coronavirus guidance'. A High Court judge refused permission for the FSU's judicial review last week, but the FSU may appeal the decision. Check here for updates.
Samaritans

If you are struggling to cope, please call Samaritans for free on 116 123 (UK and ROI), email jo@samaritans.org or visit the Samaritans website to find details of your nearest branch. Samaritans is available round the clock, every single day of the year, providing a safe place for anyone struggling to cope, whoever they are, however they feel, whatever life has done to them.
Quotation Corner
We know they are lying. They know they are lying, They know that we know they are lying. We know that they know that we know they are lying. And still they continue to lie.

Alexander Solzhenitsyn
It's easier to fool people than to convince them that they have been fooled.

Mark Twain
Men, it has been well said, think in herds; it will be seen that they go mad in herds, while they only recover their senses slowly, one by one.

Charles Mackay
They who would give up essential liberty to purchase a little temporary safety, deserve neither liberty nor safety.

Benjamin Franklin
To do evil a human being must first of all believe that what he's doing is good, or else that it's a well-considered act in conformity with natural law. Fortunately, it is in the nature of the human being to seek a justification for his actions…

Ideology – that is what gives the evildoing its long-sought justification and gives the evildoer the necessary steadfastness and determination.

Alexander Solzhenitsyn
No lesson seems to be so deeply inculcated by the experience of life as that you never should trust experts. If you believe the doctors, nothing is wholesome: if you believe the theologians, nothing is innocent: if you believe the soldiers, nothing is safe. They all require to have their strong wine diluted by a very large admixture of insipid common sense.

Robert Gascoyne-Cecil, 3rd Marquess of Salisbury
Nothing would be more fatal than for the Government of States to get into the hands of experts. Expert knowledge is limited knowledge and the unlimited ignorance of the plain man, who knows where it hurts, is a safer guide than any rigorous direction of a specialist.

Sir Winston Churchill
If it disagrees with experiment, it's wrong. In that simple statement is the key to science.

Richard Feynman
Of all tyrannies, a tyranny sincerely exercised for the good of its victims may be the most oppressive. It would be better to live under robber barons than under omnipotent moral busybodies. The robber baron's cruelty may sometimes sleep, his cupidity may at some point be satiated; but those who torment us for our own good will torment us without end for they do so with the approval of their own conscience.

C.S. Lewis
The welfare of humanity is always the alibi of tyrants.

Albert Camus
We've arranged a global civilization in which most crucial elements profoundly depend on science and technology. We have also arranged things so that almost no one understands science and technology. This is a prescription for disaster. We might get away with it for a while, but sooner or later this combustible mixture of ignorance and power is going to blow up in our faces.

Carl Sagan
Political language – and with variations this is true of all political parties, from Conservatives to Anarchists – is designed to make lies sound truthful and murder respectable, and to give an appearance of solidity to pure wind.

George Orwell
The object of life is not to be on the side of the majority, but to escape finding oneself in the ranks of the insane.

Marcus Aurelius
Necessity is the plea for every restriction of human freedom. It is the argument of tyrants; it is the creed of slaves.

William Pitt the Younger
If you tell a lie big enough and keep repeating it, people will eventually come to believe it. The lie can be maintained only for such time as the State can shield the people from the political, economic and/or military consequences of the lie. It thus becomes vitally important for the State to use all of its powers to repress dissent, for the truth is the mortal enemy of the lie, and thus by extension, the truth is the greatest enemy of the State.

Joseph Goebbels (attributed)
The whole aim of practical politics is to keep the populace alarmed (and hence clamorous to be led to safety) by menacing it with an endless series of hobgoblins, most of them imaginary.

H.L. Mencken
I have always strenuously supported the right of every man to his own opinion, however different that opinion might be to mine. He who denies to another this right, makes a slave of himself to his present opinion, because he precludes himself the right of changing it.

Thomas Paine
Shameless Begging Bit
Thanks as always to those of you who made a donation in the past 24 hours to pay for the upkeep of this site. Doing these daily updates is hard work (although we have help from lots of people, mainly in the form of readers sending us stories and links). If you feel like donating, please click here. And if you want to flag up any stories or links we should include in future updates, email us here. (Don't assume we'll pick them up in the comments.)
And Finally…