Christmas Cancelled?
As London and Essex wake up to Tier 3 this morning – the end of nights out at your favourite pub or restaurant (or should that be, the end of your favourite pub or restaurant?) – talk has turned to whether the Government will stand by its promise of a Christmas lockdown amnesty, made by Boris Johnson just last week.
Labour leader Sir Keir Starmer has written to the PM urging him to rethink the five-day loosening of restrictions. Sky News has the details.
In a letter to Boris Johnson, Sir Keir said that while he understood that people will want to spend time with their loved ones after an "awful year", the situation has "clearly taken a turn for the worse since the decision about Christmas was taken".

"It serves no-one for politicians to ignore this fact," the Labour leader said.

"It is my view that you should now convene COBRA in the next 24 hours to review whether the current relaxation is appropriate given the rising number of cases."

It comes after two prominent medical journals said ministers should "follow the more cautious examples of Germany, Italy and the Netherlands" and not ease COVID-19 restrictions over the festive period.
The public health establishment also piled in.
In a rare joint editorial, the British Medical Journal and Health Service Journal said the government should "reverse its rash decision to allow household mixing and instead extend the tiers over the five-day Christmas period".

They said this would "bring numbers down in the advance of a likely third wave".

The Government is "about to blunder into another major error that will cost many lives", the journals went on to warn.

"When Government devised the current plans to allow household mixing over Christmas it had assumed the COVID-19 demand on the NHS would be decreasing. But it is not, it is rising, and the emergence of a new strain of the virus has introduced further potential jeopardy."
Labour Mayor of London Sadiq Khan joined the clamour:
What I'd say to the Government is I'm not sure you've got it right, in fact I'm sure you haven't got it right in relation to the relaxations over Christmas. If they don't change the rules, my message to your viewers is we're under no obligation to do all that's allowed, there's no reason you have to kiss or hug an older relation.
The inevitable quote from Professor Devi Sridhar appeared:
Mixing at Christmas is a terrible idea and that should be the message. We're going to pay for this at some point. It's not like it can just happen and that we won't bear the consequences in January and February.
Even Chief Secretary to the Treasury Steve Barclay poured some cold mulled wine on the festivities:
We don't want to criminalise people for coming together as family over Christmas. But, it is important that people do the minimum that is possible.
Barclay did add though that "people will be making their own judgments", and Health Secretary Matt Hancock said "no" when asked if Christmas could be cancelled. But haven't we heard that before?
Katy Balls in the Spectator had an evening update.
After various scientific advisers warned the UK Government against going ahead with its planned five day relaxation of the rules (which would see three household permitted to gather together), representatives for the four nations discussed the policy on a call this evening.

The result? No decision as of yet. As things stand, there has been no agreed change to the rules. Instead one source on the call tells the BBC:

"There was broad recognition commitment has been made to people and they will expect us to honour it – but there is a need to be stronger and clearer in guidance and messaging."

Talks are expected to continue tomorrow – and there is a chance that a unified approach is scrapped in favour of different rules for different parts of the United Kingdom.

Ministers in Westminster are reluctant to change the rules after Johnson told the public about the relaxation weeks ago. Instead, their preferred approach is a toughening of the rhetoric around the rules and a focus on individual responsibility to act sensibly and cautiously.
The Telegraph went further.
Boris Johnson is determined to push ahead with plans to allow families to meet this Christmas, but will urge people to self isolate before joining up with other households, The Telegraph understands.

The Government is expected to issue stronger guidance about what people can do over the festive period in the coming days, but stop short of changing the rules which say three households can meet for five days from December 23rd to 27th.

It is understood that No 10 was concerned that if Christmas plans were cancelled, it could lead to lower compliance with the rules in January and later in the winter. For months, ministers have promised a relaxation over Christmas if the public followed waves of new rules including a lockdown and the introduction of tiers.

There are also growing fears over mental health if families planning to meet up were now forced to spend time alone.
Locking down London and potentially cancelling Christmas to protect the NHS from its annual winter crisis? Must be 2020, when all proportion is out the window. Here as a reminder is what admissions for respiratory conditions normally look like.
In other words, there is always a big spike in December. Best not to panic then, eh?
Locking Down London Makes No Sense
Sceptical stalwart Dr John Lee penned a scorching piece in the Daily Mail yesterday criticising the Government for its ineffective, authoritarian response to the virus, and in particular for its latest vandalism to the capital.
No one can predict the number of people who will lose jobs, suffer poor mental health or who will have life-saving operations postponed until too late.

All we can say with any certainty is that all these things will happen, and not to a few isolated people. The harms caused by these new restrictions, like those caused by the previous over-reactions, will be immense.

Yet the Government seems oblivious to all this, gripped by a new puritanism that places no value on quality of life. All that appears to matter is the headline figure on a weekly death chart. It is bureaucratic insanity.
You don't have to be a conspiracy theorist, he says, to sense the Government is withholding important information from us that might give some context to the scary stats.
For example, when Matt Hancock announced the latest restrictions yesterday, there was no mention of the fact that, according to the latest data on the Government's online Covid tracker, the weekly average number of Covid deaths in the capital is just over a tenth of what it was at its peak in April.

Nor did he highlight that weekly average Covid admissions to London's hospitals are a quarter of what they were in the spring. Crucially, that disparity is equally large for the number of severely ill Covid patients using mechanical ventilation beds.

Instead of addressing this reality, each day the Government insists on only telling us how many people have died after testing positive for COVID-19, implying that they were killed by the virus.
What's missing is a proper sense of proportion, and a response targeted at the vulnerable.
What the Government cannot disguise is that the initial hysteria over this pandemic was irrational. This disease is not like Spanish flu, or the plague. It does not sweep away young and old indiscriminately. In fact, many younger people – now more likely to catch Covid – will have it without even being aware. They will be infected but not affected.

That is why the average age of people dying with a Covid infection is 82 years and four months – 14 months more than the average life expectancy in Britain.

That goes a long way to explaining why in November the total number of deaths in London was very little different to the average over the past five years.

And so it should be obvious that the correct response to this virus is targeted support: to help the vulnerable shield, not to wreck the lives of everyone, whatever their age or health status.

Yet instead we endure a dictatorial insistence that we must all stand a metre or two metres apart, when Covid is a respiratory virus that spreads on the wind. Just look at the leaves blowing around – that's what viral particles do when we walk past each other.

And cloth or woven paper masks are no barrier to this tiny virus either, as shown by the world's only controlled study, from Denmark, which found that they only made a small, "non-statistically-significant" difference. Our breath escapes (as it must, or we would suffocate) and the virus escapes with it.
Worth reading in full.
Stop Press: Today's Covid ZOE app report shows new symptomatic infections in London flat since yesterday across most age groups – the rise among people in their 20s, 40s and 50s of the last few days didn't continue today. True, it's only one day, but it shows you can't necessarily predict what's going to happen next and that there are no real signs of a runaway epidemic.
"No Plans For Mass Asymptomatic Testing"
In a letter from Lord Bethell to Bill Wiggin MP, the Government appears to have confirmed that it has abandoned plans to mass test everybody whether or not they have symptoms.
We are not currently planning mass asymptomatic testing; swab testing people with no symptoms is not an accurate way of screening the general population, as there is a real risk of giving false reassurance. Widespread asymptomatic testing could undermine the value of testing, as there is a risk of giving misleading results. Rather, only people with COVID-19 symptoms should get tested.
This seems to be largely motivated by the supposed high false negative rates of the rapid LFT tests. However, there may be a tacit acknowledgement that PCR tests may not always get it right either.
Read the letter in full below.
Unemployment Rising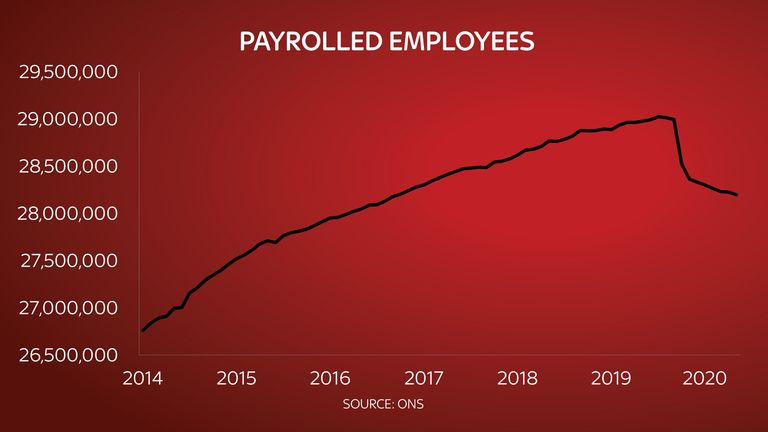 Jobs and livelihoods continue to be among the chief victims of this crisis as unemployment slopes upwards. Sky News has more.
The latest job statistics show 819,000 fewer people in payrolled employment since the start of the coronavirus crisis in the UK – with the hospitality sector accounting for a third of the figure.

The Office for National Statistics (ONS) said the estimated total, using PAYE (pay as you earn) data from HM Revenue and Customs, covered November as England entered its second national lockdown amid tougher COVID-19 restrictions UK-wide.

Its wider figures also showed a rise in the jobless rate to 4.9% in October from 4.8% the previous month – less than the 5.1% economists had expected – as the clock ticked down to the original conclusion of the Government's furlough scheme.

The Job Retention Scheme was extended at the end of October, with the chancellor later confirming that wage support would continue until the end of March 2021.

The ONS said the pace of redundancies slowed in October but still hit a new record quarterly high of 370,000.

The hospitality sector – pubs, restaurants, hotels, nightclubs – has argued that it is worthy of additional Government help and has urged Rishi Sunak to channel over £2 billion in business rates relief…
Still, employment is holding up better than one might have expected given the mammoth scale of the hit to the economy. Ross Clark in the Spectator takes a closer look.
The employment rate stands at 75.2%, 0.9% down on a year ago, and the unemployment rate is 4.9%, up 1.2%. Still, this is pretty low by historic standards: unemployment peaked at 8% in 2011, following the 2008/09 recession, at 10% in 1993 and at 12% in the early 1980s. Considering that the economy has shrunk by 8% this year, blowing previous recessions out of the water, employment has held up extraordinarily well – albeit at the cost of record Government borrowing.

Pay, too, is remarkably strong. Payrolled employees who have managed to stay in work have seen median monthly earnings rise 4.6% over the past 12 months, well ahead of inflation (the Government's preferred measure, CPIH, currently stands at 0.9%). It is not a case of high earners benefitting at the expense of the poor: the highest rise in median pay was at the 10th percentile level (5.7%) and lowest at the 75th percentile (3.3%). This is an extraordinary change from the stagnation in real pay of much of the last decade – all the more odd given it has happened during the deepest recession in modern times. Employees in the finance sector have been doing especially well, with median earnings up 6.5% – so much for predictions that Brexit would hollow-out the sector. Unsurprisingly, it is a different story in the accommodation and food industries, where median pay is down 4.1%.

Today's figures confirm how public sector employees have been able to sail through the crisis: public sector employment was up 2.6% in the year to September, while it is down 1.5% in the private sector. No wonder there has been so little resistance in some quarters to lockdowns, even though they have devastated other industries.
Worth reading Ross's piece in full.
Stop Press: Ofsted has released a report detailing another aspect of the huge collateral damage of lockdown: the welfare of children. The report, written following nearly 2,000 visits to education and social care providers during the autumn, finds that "many children are thought to be at least six months behind where they should be".
The impact on children with special needs has been particularly severe.
In children's social care, the need to isolate had a more detrimental impact. When children arrive at secure children's homes, they are required to self-isolate for 14 days, which in effect creates a form of solitary confinement. This had a negative impact on many children's well-being. In some cases it also undermined the child's safety, and that of others in the home, because the child's anxieties resulted in self-harm or physical attacks on staff.

Elsewhere, inspectors found that children with SEND often struggled with the restrictions placed on them. Many were not attending school full time. Remote education was a challenge for some of these children, particularly if their parents were unable to support them. And when vulnerable children are not at school and are out of sight, they may be at risk of abuse or neglect.
This treatment of vulnerable children in the UK in 2020 is almost unbelievable, particularly when you consider how little risk this virus poses to children.
Stop Press 2: The i reports that staff at Excluded UK, the campaign group set up to support the millions of people unable to access the Government's COVID-19 support package, "have been given training in how to deal with suicide after eight of its members took their own lives".
How often do we hear about these hidden victims of the lockdowns? Never in the Downing Street briefings and rarely from the broadcast media. In 2020 it seems only Covid deaths are tragic.
Stop Press 3: Don't forget that the good folks from the GBD and CEBM have set up Collateral Global as "a global repository for research into the collateral effects of the COVID-19 lockdown measures". One to bookmark.
The Risk to Granny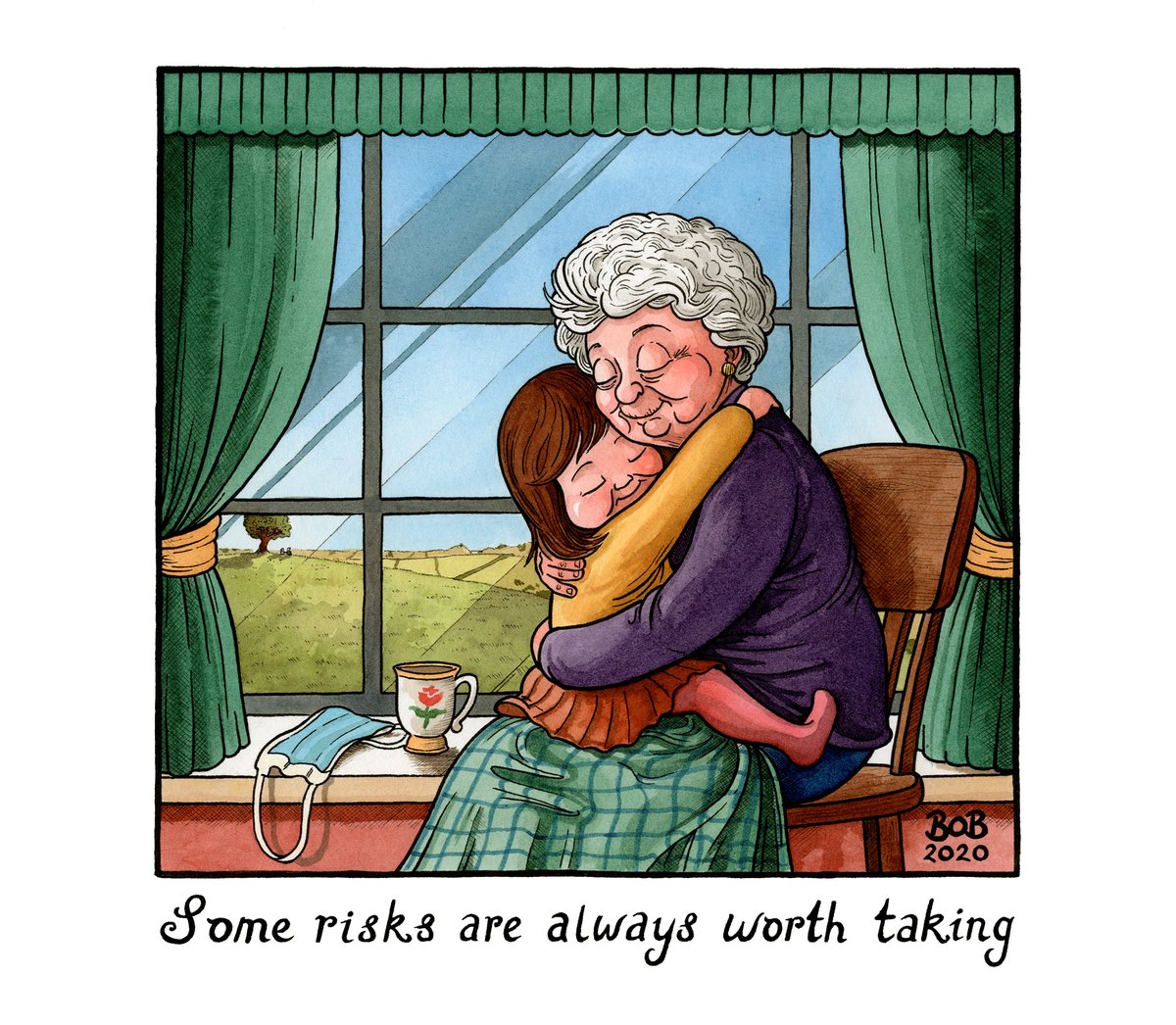 Today we're publishing the latest piece from Lockdown Sceptics regular and statistical whizz Guy de la Bédoyère, looking at how much risk "Granny" is really at from COVID-19 compared to other hazards. The essential point, he says, is very simple: "Granny – being an old lady – has a much higher risk of dying from something else." The question is how much risk any individual wants to take – though Government control and hysteria have made it very hard for people to make those judgements and act on them.
Do you risk seeing Granny at Xmas? Or do you keep away and risk her dying from something else before you get to see her again? And what does she feel about it? When this is all over, if it ever is, there will be families breathing a sigh of relief in six to nine months' time, once more able to resume normal family relations. There will be other families tormented by the discovery that death caught up with their elderly female relative – especially if she had a serious underlying health condition already – before they were able to see her again. That, sadly, is the way it is. No-one in any individual instance can know what will happen. One thing is always certain: life is a series of difficult and sometimes tragic choices, but a properly informed choice is always going to be a better one.
Worth reading in full.
Inflating the Covid Death Statistics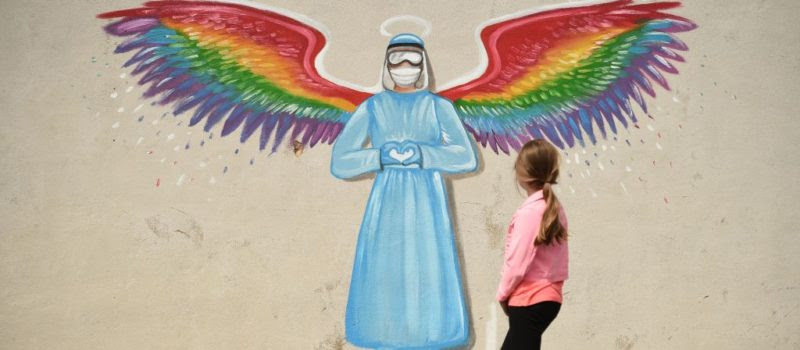 What follows is a guest post by Professor David Livermore, Professor of Medical Microbiology at the University of East Anglia.
Guy de la Bédoyère argued on Monday, and last week, that COVID-19 was being over-estimated as a cause of death. Put simply, his assertion is that if one subtracts deaths attributed to COVID-19 from weekly mortality totals then the remaining "non-COVID-19" deaths are improbably few compared with previous years.
It follows that many "COVID-19 deaths" must really be deaths that would have occurred anyway.
This view is supported by two graphs that the ONS publish and update weekly.
The left hand panel is for COVID-19 and the right hand for influenza and pneumonia. Dark blue is "died due to" and light blue is "disease was a contributing factor to death" or, as the ONS footnote puts it:
We use the term "due to COVID-19" or "due to Influenza and Pneumonia" when referring only to deaths where that illness was recorded as the underlying cause of death. We use the term "involving COVID-19" or "involving Influenza and Pneumonia" when referring to deaths that had that illness mentioned anywhere on the death certificate, whether as an underlying cause or not.
It is immediately obvious that over 90% of the deaths among patients with COVID-19 are recorded as "due to" the virus, whereas over 90% of the deaths among patients with influenza or pneumonia are recorded with infection as "contributory".
This would be just about plausible if, like the Spanish 'Flu of 1918, COVID-19 frequently killed the young and otherwise healthy whereas other pneumonias afflicted those whose chances were already minimal. But we know this is not the case. Around half the COVID-19 deaths have been care home residents who, sadly, are in the last few years of their lives. Median survival after entering a care home is 462 days. More generally, the median age at death is 82 years with COVID-19 and most deaths are in people with underlying illness.
90% direct mortality isn't tenable in these populations.
But what really gives the lie is the April/May spike of deaths in the influenza/pneumonia panel on the right. This exactly coincides with the spring peak of COVID-19 and, since no other respiratory plague was circulating concurrently it follows that it too comprises COVID-pneumonia deaths, but without the virus directly demonstrated. Yet here, without a formal diagnosis, physicians rarely recorded pneumonia as the underlying cause of death, noting it only as a contributory factor. The pattern recurs, on a smaller scale, in the autumn.
The inescapable conclusion is that confirmation of SARS-CoV-2 is a strong prompt to write "COVID-19" on the death certificate as the underlying cause of death. This puts the death into the "due to" category, leading to the distortion that Guy de la Bédoyère describes.
And, not just here. This (via Google Translate) from Sweden is instructive:
The Östergötland region has examined all deaths that have died at home or in special housing with confirmed COVID-19. Records from 122 people have been reviewed, which is 51% of the 240 people who had died in the county when the review was done.

The cause of death on the death certificate is COVID-19, but the review shows that other diseases may have contributed or been the decisive cause of death – for example, heart disease, lung disease or dementia.

111 of the deceased outside the hospital had extensive comorbidity and 11 moderate comorbidity. Half were 88 years or older.

COVID-19 was estimated to be the direct cause of death in 15% of deaths. For a majority of the deceased – as many as 70% – COVID-19 was a contributing factor rather than a direct cause. In 15% the cause of death was judged to be other diseases, most often heart disease.

In some cases, COVID-19 may have contributed to the death occurring earlier than it otherwise would have done. The review shows that very many of those who died with COVID-19 outside the hospital were not expected to survive for long.
The consequence of over-attribution is to inflate country death counts and apparent infection fatality rates.
SARS-CoV-2 is an unpleasant virus, without a doubt, but we live with the consequences of this exaggeration, which must be obvious to the (not stupid) people compiling the statistics.
Stop Press: OffGuardian has a new report on the inflation of UK and US Covid death data: "The COVID-19 Data is a 'Travesty'".
A Pandemic of Fear – the Psychology of Emotional Contagion
Fear is perhaps the defining emotion of 2020, driving so much of all that has happened. But is there a way to control it better so it does not become our master and our enemy?
Today we're publishing a piece examining this question by psychologist and Lockdown Sceptics reader Galina Gardiner, who is studying for an MSc at Arden School of Psychology.
Fear of Coronavirus has led to extreme personal and governmental responses, from panic-buying and social distancing to school closures and lockdown. In Spring 2020, such measures appeared necessary. Their long-term effects – recession, neglected health, damage to education – were considered a price worth paying, though subsequent research indicates that the damage caused by lockdown may exceed that of COVID-19 itself .

The impact of fear on society should not be underestimated – studies have shown it to be the biggest predictor of compliance with new measures, over and above moral or political leanings. Understanding fear – how, and why, it rips through society – is vital if we are to react proportionately to global events such as COVID-19.
Worth reading in full.
Another Victory For The Free Speech Union
Last month, several student organisations at McGill University in Montreal published an open letter asserting that the school is "built on a history of oppression" and that it owes its existence to "the labour of enslaved and marginalised peoples." The groups asked the University to overhaul its Statement on Academic Freedom so students and professors were prohibited from committing "acts of rhetorical violence against marginalised communities" that threaten the "safety, security, and wellbeing of people of colour". The letter also called for Emeritus Professor Philip Carl Salzman to be stripped of his title and privileges because he's written articles about the Middle East and the BLM movement that allegedly make Muslims and people of colour feel "unsafe".
In response, the Free Speech Union started a petition calling on McGill to affirm its commitment to academic free speech and assure Prof Salzman that his Emeritus Professorship was not in jeopardy.
Yesterday afternoon, Professor Christopher Manfredi, McGill's Provost and Vice-Principal, responded to the petition, doing exactly what it asked. He affirmed McGill's commitment to academic freedom and made it clear that Professor Salzman's status as an Emeritus Professor will not be revoked.
Chalk this one up to the good guys.
Theme Tunes Suggested by Readers
Two today: "Last Orders Please" by the Faces and "Let's Shake Hands" by The White Stripes.
Love in the Time of Covid
We have created some Lockdown Sceptics Forums, including a dating forum called "Love in a Covid Climate" that has attracted a bit of attention. We have a team of moderators in place to remove spam and deal with the trolls, but sometimes it takes a little while so please bear with us. You have to register to use the Forums, but that should just be a one-time thing. Any problems, email the Lockdown Sceptics webmaster Ian Rons here.
Sharing Stories
Some of you have asked how to link to particular stories on Lockdown Sceptics so you can share it. To do that, click on the headline of a particular story and a link symbol will appear on the right-hand side of the headline. Click on the link and the URL of your page will switch to the URL of that particular story. You can then copy that URL and either email it to your friends or post it on social media. Please do share the stories.
Social Media Accounts
You can follow Lockdown Sceptics on our social media accounts which are updated throughout the day. To follow us on Facebook, click here; to follow us on Twitter, click here; to follow us on Instagram, click here; to follow us on Parler, click here; and to follow us on MeWe, click here.
"Mask Exempt" Lanyards
We've created a one-stop shop down here for people who want to buy (or make) a "Mask Exempt" lanyard/card. You can print out and laminate a fairly standard one for free here and it has the advantage of not explicitly claiming you have a disability. But if you have no qualms about that (or you are disabled), you can buy a lanyard from Amazon saying you do have a disability/medical exemption here (takes a while to arrive). The Government has instructions on how to download an official "Mask Exempt" notice to put on your phone here. You can get a "Hidden Disability" tag from ebay here and an "exempt" card with lanyard for just £1.99 from Etsy here. And, finally, if you feel obliged to wear a mask but want to signal your disapproval of having to do so, you can get a "sexy world" mask with the Swedish flag on it here.
Don't forget to sign the petition on the UK Government's petitions website calling for an end to mandatory face masks in shops here.
A reader has started a website that contains some useful guidance about how you can claim legal exemption.
If you're a shop owner and you want to let your customers know you will not be insisting on face masks or asking them what their reasons for exemption are, you can download a friendly sign to stick in your window here.
And here's an excellent piece about the ineffectiveness of masks by a Roger W. Koops, who has a doctorate in organic chemistry. See also the Swiss Doctor's thorough review of the scientific evidence here.
The Great Barrington Declaration
The Great Barrington Declaration, a petition started by Professor Martin Kulldorff, Professor Sunetra Gupta and Professor Jay Bhattacharya calling for a strategy of "Focused Protection" (protect the elderly and the vulnerable and let everyone else get on with life), was launched in October and the lockdown zealots have been doing their best to discredit it ever since. If you googled it a week after launch, the top hits were three smear pieces from the Guardian, including: "Herd immunity letter signed by fake experts including 'Dr Johnny Bananas'." (Freddie Sayers at UnHerd warned us about this the day before it appeared.) On the bright side, Google UK has stopped shadow banning it, so the actual Declaration now tops the search results – and Toby's Spectator piece about the attempt to suppress it is among the top hits – although discussion of it has been censored by Reddit. The reason the zealots hate it, of course, is that it gives the lie to their claim that "the science" only supports their strategy. These three scientists are every bit as eminent – more eminent – than the pro-lockdown fanatics so expect no let up in the attacks. (Wikipedia has also done a smear job.)
You can find it here. Please sign it. Now over three quarters of a million signatures.
Update: The authors of the GDB have expanded the FAQs to deal with some of the arguments and smears that have been made against their proposal. Worth reading in full.
Update 2: Many of the signatories of the Great Barrington Declaration are involved with new UK anti-lockdown campaign Recovery. Find out more and join here.
Update 3: You can watch Sunetra Gupta set out the case for "Focused Protection" here and Jay Bhattacharya make it here.
Update 4: The three GBD authors plus Prof Carl Heneghan of CEBM have launched a new website collateralglobal.org, "a global repository for research into the collateral effects of the COVID-19 lockdown measures". Follow Collateral Global on Twitter here.
Judicial Reviews Against the Government
There are now so many JRs being brought against the Government and its ministers, we thought we'd include them all in one place down here.
First, there's the Simon Dolan case. You can see all the latest updates and contribute to that cause here. Alas, he's now reached the end of the road, with the Supreme Court's refusal to hear his appeal. Dolan has no regrets. "We forced SAGE to produce its minutes, got the Government to concede it had not lawfully shut schools, and lit the fire on scrutinizing data and information," he says. "We also believe our findings and evidence, while not considered properly by the judges, will be of use in the inevitable public inquires which will follow and will help history judge the PM, Matt Hancock and their advisers in the light that they deserve."
Then there's the Robin Tilbrook case. You can read about that and contribute here.
Then there's John's Campaign which is focused specifically on care homes. Find out more about that here.
There's the GoodLawProject's Judicial Review of the Government's award of lucrative PPE contracts to various private companies. You can find out more about that here and contribute to the crowdfunder here.
The Night Time Industries Association has instructed lawyers to JR any further restrictions on restaurants, pubs and bars.
And last but not least there's the Free Speech Union's challenge to Ofcom over its 'coronavirus guidance'. A High Court judge refused permission for the FSU's judicial review last week, but the FSU may appeal the decision. Check here for updates.
Samaritans

If you are struggling to cope, please call Samaritans for free on 116 123 (UK and ROI), email jo@samaritans.org or visit the Samaritans website to find details of your nearest branch. Samaritans is available round the clock, every single day of the year, providing a safe place for anyone struggling to cope, whoever they are, however they feel, whatever life has done to them.
Quotation Corner
We know they are lying. They know they are lying, They know that we know they are lying. We know that they know that we know they are lying. And still they continue to lie.

Alexander Solzhenitsyn
It's easier to fool people than to convince them that they have been fooled.

Mark Twain
Men, it has been well said, think in herds; it will be seen that they go mad in herds, while they only recover their senses slowly, one by one.

Charles Mackay
They who would give up essential liberty to purchase a little temporary safety, deserve neither liberty nor safety.

Benjamin Franklin
To do evil a human being must first of all believe that what he's doing is good, or else that it's a well-considered act in conformity with natural law. Fortunately, it is in the nature of the human being to seek a justification for his actions…

Ideology – that is what gives the evildoing its long-sought justification and gives the evildoer the necessary steadfastness and determination.

Alexander Solzhenitsyn
No lesson seems to be so deeply inculcated by the experience of life as that you never should trust experts. If you believe the doctors, nothing is wholesome: if you believe the theologians, nothing is innocent: if you believe the soldiers, nothing is safe. They all require to have their strong wine diluted by a very large admixture of insipid common sense.

Robert Gascoyne-Cecil, 3rd Marquess of Salisbury
Nothing would be more fatal than for the Government of States to get into the hands of experts. Expert knowledge is limited knowledge and the unlimited ignorance of the plain man, who knows where it hurts, is a safer guide than any rigorous direction of a specialist.

Sir Winston Churchill
If it disagrees with experiment, it's wrong. In that simple statement is the key to science.

Richard Feynman
Of all tyrannies, a tyranny sincerely exercised for the good of its victims may be the most oppressive. It would be better to live under robber barons than under omnipotent moral busybodies. The robber baron's cruelty may sometimes sleep, his cupidity may at some point be satiated; but those who torment us for our own good will torment us without end for they do so with the approval of their own conscience.

C.S. Lewis
The welfare of humanity is always the alibi of tyrants.

Albert Camus
We've arranged a global civilization in which most crucial elements profoundly depend on science and technology. We have also arranged things so that almost no one understands science and technology. This is a prescription for disaster. We might get away with it for a while, but sooner or later this combustible mixture of ignorance and power is going to blow up in our faces.

Carl Sagan
Political language – and with variations this is true of all political parties, from Conservatives to Anarchists – is designed to make lies sound truthful and murder respectable, and to give an appearance of solidity to pure wind.

George Orwell
The object of life is not to be on the side of the majority, but to escape finding oneself in the ranks of the insane.

Marcus Aurelius
Necessity is the plea for every restriction of human freedom. It is the argument of tyrants; it is the creed of slaves.

William Pitt the Younger
If you tell a lie big enough and keep repeating it, people will eventually come to believe it. The lie can be maintained only for such time as the State can shield the people from the political, economic and/or military consequences of the lie. It thus becomes vitally important for the State to use all of its powers to repress dissent, for the truth is the mortal enemy of the lie, and thus by extension, the truth is the greatest enemy of the State.

Joseph Goebbels (attributed)
The whole aim of practical politics is to keep the populace alarmed (and hence clamorous to be led to safety) by menacing it with an endless series of hobgoblins, most of them imaginary.

H.L. Mencken
I have always strenuously supported the right of every man to his own opinion, however different that opinion might be to mine. He who denies to another this right, makes a slave of himself to his present opinion, because he precludes himself the right of changing it.

Thomas Paine
Shameless Begging Bit
Thanks as always to those of you who made a donation in the past 24 hours to pay for the upkeep of this site. Doing these daily updates is hard work (although we have help from lots of people, mainly in the form of readers sending us stories and links). If you feel like donating, please click here. And if you want to flag up any stories or links we should include in future updates, email us here. (Don't assume we'll pick them up in the comments.)
And Finally…
All is not at ease between Toby and James. Donald Trump has come between them, it appears. Toby spills the beans in his latest piece for Spectator USA.
"You're a cuck, Tobes, an absolute cuck." My friend James Delingpole was furious. "Honestly, I thought I could depend on you of all people, but you've surrendered, just like every other right-wing commentator I know. I can't begin to describe how disappointing this is. I would have expected it from some – Dan Hannan, Jonah Goldberg, the editors of the National Review – all bloody cucks, the lot of them. But not you, Tobes. I'm alone in the foxhole."

This outburst would have been hard to listen to under normal circumstances, but it occurred on air during our weekly podcast on Ricochet. Needless to say, we were discussing the presidential election and James is 100% convinced that Donald Trump was the victim of a massive electoral fraud. He's reached the final stage of the five stages of grief – and I'm not talking about Elisabeth Kübler-Ross's stages, but those of die-hard Trumpers: denial, anger, paranoia, grievance and incandescent rage.
Toby does not share James's view of how Biden beat Trump.
"Look, mate, I'm not claiming everything about the election was completely above board," I said. "I dare say some unsigned postal votes for Trump were declared invalid in some districts and some unsigned postal votes for Biden were counted when they shouldn't have been. But the opposite probably happened in other districts. Yes, some votes got lost and, yes, quite a lot came in at the last minute. But do you know for certain that Biden was the beneficiary in every case or even the majority of cases? And even if there was a pro-Biden bias in the way these things fell out, do you really think that accounts for his entire margin of victory? We're not talking Bush v. Gore here, James. Biden beat Trump by more than six million votes. That's 6,173,445 ballots getting lost down the back of the sofa."

There was a pause and for a second I thought I was making some headway.

"James, are you still there?"

"Sorry, Tobes, I was just picking my jaw up off the floor."
James buys into a lot of the Gates-Schwab-Great-Reset conspiracy stuff and Toby, well, not so much.
But can they still be friends? Toby thinks so, but James isn't so sure:
"That's the cucks' manifesto, that is. 'I won't stand beside you when the going gets tough, I'll abandon you to fight that battle on your own, but after it's over and you've been beaten half to death I hope we can still be friends.' It's not really on, is it Tobes?"
Worth reading in full.
Me? I tend to think the American public is turning a blind eye to a whole lot of electoral fraud because it doesn't want to do the unthinkable which is to overturn the result and rerun the election.
Stop Press: Toby and James continue their argument on this week's London Calling podcast, "Fighting our Dystopian Future", now available.