A Scandal Brewing in Germany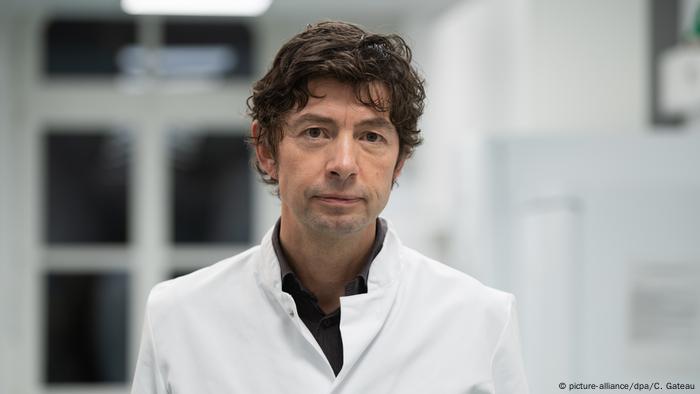 Global Research has published an article about the growing pressure on the scientific journal Eurosurveillance to retract the critical paper by Christian Dorston entitled "Detection of 2019 novel coronavirus by real-time RT-PCR", which laid the groundwork for the use of PCR tests to detect COVID-19.
First, it reports on the criticisms of the original study, levelled by Dr Mike Yeadon, among others:
To begin with, as the critical scientists reveal, the paper that established the Drosten PCR test for the Wuhan strain of coronavirus that has subsequently been adopted with indecent haste by the Merkel government along with WHO for worldwide use – resulting in severe lockdowns globally and an economic and social catastrophe – was never peer-reviewed before its publication by Eurosurveillance. The report's critics point out that: "the Corman-Drosten paper was submitted to Eurosurveillance on January 21st 2020 and accepted for publication on January 22nd 2020. On January 23rd 2020 the paper was online."

The critics point out that Drosten and his co-author Dr Chantal Reusken, did not disclose a glaring conflict of interest. Both were also members of the editorial board of Eurosurveillance. Further, as reported by BBC and Google Statistics, on January 21st there were a world total of six deaths being attributed to the Wuhan virus. They ask, "Why did the authors assume a challenge for public health laboratories while there was no substantial evidence at that time to indicate that the outbreak was more widespread than initially thought?" Another co-author of the Drosten paper that gave a cover of apparent scientific credibility to the Drosten PCR procedure was head of the company who developed the test being marketed today, with the blessing of WHO, in the hundreds of millions, Olfert Landt, of Tib-Molbiol in Berlin, but Landt did not disclose that pertinent fact in the Drosten paper either.

Certainly nothing suspicious or improper here, or? It would be relevant to know if Drosten, the Merkel chief scientific advisor for COVID-19, Germany's de facto "Tony Fauci," gets a percentage for each test sold by Tib-Molbiol in their global marketing agreement with Roche.
But the criticisms of the paper are not the only problem facing Dr Drosten.
According to Dr. Markus Kühbacher, a specialist investigating scientific fraud such as dissertation plagiarism, Dr Drosten's doctor thesis, by law must be deposited on a certain date with academic authorities at his University, who then sign a legal form, Revisionsschein, verified with signature, stamp of the University and date, with thesis title and author, to be sent to the University archive. With it, three original copies of the thesis are filed.

Kühbacher charges that the Goethe University is guilty of cover-up by claiming, falsely, Drosten's Revisionsschein was on file. The University spokesman later was forced to admit it was not filed, at least not locatable by them. Moreover, of the three mandatory file copies of his doctor thesis, highly relevant given the global importance of Drosten's coronavirus role, two copies have "disappeared," and the remaining single copy is water-damaged. Kühbacher says Drosten will now likely face court charges for holding a fraudulent doctoral title.
Separately, there is another legal process about to begin brought by Dr Wolfgang Wodarg and his lawyer Dr Reiner Fuellmich.
Whether that is to pass, it is a fact that a separate legal process has been filed in Berlin against two people responsible for a German media site, Volksverpetzer.de, for slander and defamation, brought by a well-known and critical German medical doctor, Dr Wolfgang Wodarg. The court case demands of the defendants €250,000 in damages for defamation of character and material damages to Wodarg by the accused in their online site, as well as in other German media, claiming they viciously and without proof, defamed Wodarg, calling him a "covid-denier," falsely calling him a right-wing extremist (he is a life-long former parliament member of the Social Democratic Party) and numerous other false and damaging charges

The attorney for Dr Wodarg is a well-known German-American attorney, Dr Reiner Fuellmich. In his charges against the defendants, Fuellmich cites in full the charges against the Drosten test for coronavirus of Dr Pieter Borger et al noted above. This is in effect forcing the defendants to refute the Borger paper. It is a major step on the way to refute the entire WHO COVID-19 PCR testing fraud.

.
The report is worth reading in full and the story is definitely worth keeping an eye on. Eurosurveillance has said it is "seeking further expert advice", but claims the paper was peer-reviewed. Pretty fast turnaround, given that it was submitted on January 21st and published on January 22nd.
Mass PCR Testing an Expensive Blunder
Dr Tom Jefferson has a terrific piece in today's Mail on Sunday, based on research recently published in Clinical Infectious Diseases (Oxford University Press), on the mania for mass testing.
For the past few weeks I have received a stream of unsettling letters and emails from members of the public. They are all complete strangers, people I've never met. They decided to get in touch out of what I can only describe as desperation.

They are at their wits' end because they are testing positive for COVID-19 despite having recovered from their symptoms. Some never had symptoms in the first place but are still being told they have the virus long after any possible infection. They are anxious and confused. Their lives are on hold.

One family tells me how their mother caught COVID-19 in hospital in October but continues to test positive. "This is starting to cause problems with her receiving treatment for cancer," they write, "so we're trying to prove she's not still infectious." Another man complains of losing his sense of smell two months ago, his only symptom. Yet his test results continue to be positive. When will he eventually be negative, he wants to know.
After detailing some of the failings in the way the test is used, and the critical fact that the this simple yes/no test cannot tell us if the individual is still sick, or capable of infecting others, he writes:
Last Friday, however, an academic journal reported that almost a quarter (24%) of infected staff and patients at the John Radcliffe Hospital in Oxford were still testing positive for COVID-19 a full six weeks after the start of an illness that normally runs its course within 14 days.

If that were in any way representative, I'd have to conclude that the official coronavirus figures have been grossly overstated, with all the damage that entails.

As Newcastle University's Professor Allyson Pollock said recently, the PCR tests were never designed to be used across entire populations. The manufacturer's instructions, she says, make it clear that they are no more than a tool to help with diagnosis and they are "not to be used on healthy people with no symptoms".

I believe that Britain's new-found testing mania is a retreat from properly conducted clinical medicine as well as from common sense. And that we are witnessing a triumph of herd thinking, an expensive one at that. Most PCR kits still cost more than £100 to obtain privately, for example, and the Government says it is now delivering 500,000 a day. But even these figures are dwarfed by the £100 billion the Prime Minister is prepared to spend on a "moonshot" dream of supplying the population with tests more or less on demand.

All precision has been sacrificed and instead we are blundering through, imprisoning people in their homes, further crippling the economy long after the infection has vanished. This is why we must treat the Government's daily tally of cases, often in five figures, with a huge dose of salt. And why we must restrict the reporting of positive coronavirus diagnoses to those who are infectious to others. These are the people who matter in a pandemic.
Perhaps in recognition, at least in part, of the of the unreliability of the PCR test, the Government's emphasis is switching to the lateral flow test. Sky News reports that from Monday 1.6 million of these tests, which use similar technology to the pregnancy test and have a quicker turnaround, will be deployed in over 100 local authority areas. A reader wrote in yesterday, with this to say:
I am an NHS registered nurse and my hospital trust is now strongly encouraging twice weekly lateral flow tests for all its frontline staff (which I have politely declined). Interesting though how they use lateral flow tests for health carers (which has a low false positive rate) but continue to use PCR for the public (which has a high false positive rate). Its a win win for the government – less health workers requiring to isolate, whilst still maintaining a case-demic that justifies Tier 3 restrictions. Clever.

It is well known that the PCR generates high numbers of false positives (low specificity) due to high cycle thresholds. The Government is very tight lipped about what cycle thresholds are used, although cycles of 35-40 have been stated in the literature which likely only pick up old viral fragments. Surprisingly, even the fear mongering Anthony Fauci admitted that cycles this high would only pick up "dead nucleotides".

I suspect that there might be a gradual move towards LFT testing in place of PCR, sold to the public for reasons of finance, speed (results within 30 minutes), convenience and accuracy. Maybe the change over to lateral flow testing will be one of the mechanisms to shift the narrative once the vaccines are rolled out over the coming months (read David Mackie article "How Will the Fiction be Sustained?"). Mass vaccination followed by a gradual switch from PCR to LFT (with its low false-positive rate) seems to be a plausible strategy that Boris will use to get out the hole he has dug himself. The question is, will the public notice the sleight of hand?
Stop Press: The University of Surrey and the National Measurement Laboratory have published an article in Clinical Chemistry on laboratory contamination, a key cause of PCR false positives. There is a good summary available here.
Lack of Hindsight on RNA vaccines
Professor Eric Caumes, the Head of the Department for Infectious and Tropical Diseases at the Pitié-Salpêtrière Hospital in Paris, caused a bit of a stir last week with his comments on RNA vaccines. LifeSite news reports:
Professor Eric Caumes is part and parcel of the fear game around COVID-19, favouring France's second lockdown that became effective at the end of October and promising a "third wave" of infections and disease if "barrier gestures" are not observed and people do not limit the amount of family dining together at Christmas.

He has clearly stated that he will take a COVID-19 vaccine as long as it is not an RNA vaccine like those being distributed in the United Kingdom now. RNA vaccines are expected to start in France in January with the residents of care homes for the elderly.

Caumes has voiced concerns regarding these vaccines. He complained earlier about the lack of available scientific data from their results and side effects, saying he would never blindly trust the vaccine industry merely on their press releases

On Wednesday, Caumes went much further in an interview he gave to the French daily Le Parisien. After seeing a report on the Pfizer vaccine from the American Food and Drug Administration on Tuesday evening, the data used by Pfizer to obtain marketing authorization turned out to be a shock.

Caumes measured his words, saying, "As I read the 53 pages, something struck me. I have never seen such a high frequency of adverse events for a vaccine. Apart from minor injection reactions such as local redness and pain, other side effects occur at relatively high rates, especially in young people and after the second dose. Take the example of fever. It can occur transiently after an injection; it is classic. But here, 15.8% of 18 to 55 year-olds had a fever of 38 degrees Celsius or higher within seven days after the second injection. And 45% had to take medication for fever or pain. 55% had headaches and 62% were tired. No, really, that's much too much, perhaps there's a problem… " Caumes said.

Nevertheless, Caumes would still advise elderly people most at risk from getting severe forms of COVID-19 and dying to take the Pfizer or Moderna RNA vaccines because of what he considers to be a favourable benefit-risk balance. But he did not advise young or healthy people to do so. "Not only is there a lack of information, but these injections based on genetic material (messenger RNA) have never passed the commercialization stage until now," Caumes said. "Perhaps they are revolutionary, but I want proof of their reliability, otherwise it is tantamount to placing blind trust in industry."

His condemnation of the rush to obtain Pfizer and Moderna vaccines was already seen as an obstacle to France's vaccine policy. French Health minister Olivier Véran immediately reacted, saying that Caumes "sometimes speaks nonsense".

But Caumes repeated his critique to Le Parisien, stating, "Pfizer and Moderna simply announced their success in a press release. In my career as a physician, I've never seen anything like this before. You have to realize there is still no trace of scientific publication.
The LifeSite news report is worth reading in full. The interview with LeParisien, for anyone who reads French, is available here. People under 50 with no underlying health conditions are not currently included within the vaccine roll-out.
Stop Press: The United States has given the Pfizer vaccine the go-ahead. The Food and Drug Administration commissioner Stephen Hahn has assured the American public of the vaccine's safety.
Health and Care Professions Council on the Vaccine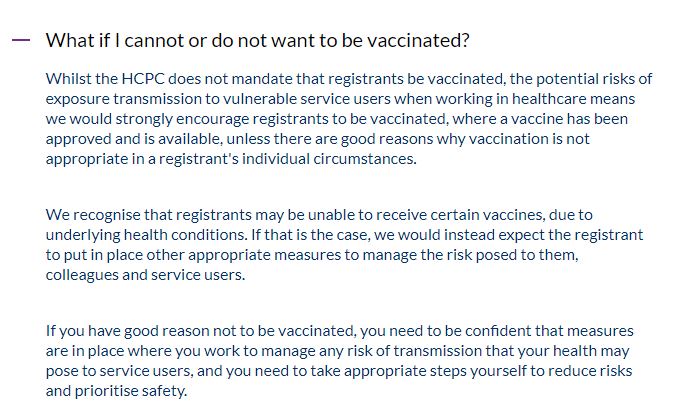 Following last Thursday's post on the GMC pressuring doctors into taking the vaccine, a concerned reader has brought our attention to a similar statement from the Health and Care Professions Council, in its FAQs related to the COVID-19 vaccine. Our correspondent writes:
I noted your post on the GMC view on the COVID-19 vaccine and the HCPC (paramedic regulator amongst others) haven't taken a much friendlier stance. The HCPC state that we are "strongly encourage(d)" to take the vaccine unless there are "good reasons". I am slightly reassured by this but there seems to me at least to be a degree of arm-twisting there especially as they go on to state that "appropriate steps" need to be taken to reduce transmission if un-vaccinated. This to me suggests masks, gowns, etc. unless you've been vaccinated. As the PPE that we are made to wear is widely loathed by both staff and patients this seems like more pressure to go along if we don't want our lives to be made miserable.
Coca-Cola Tests Positive for Coronavirus
As reported in yesterday's Lockdown Sceptics, an Austrian MP gave a speech in which he tested some cola using a lateral flow test to prove just how unreliable it is. Sure enough, it was positive. You can watch the speech here.
Round-up
Theme Tunes Suggested by Readers
Three today: "Candy Castle" by Glass Candy, "Crime of the Century" by Supertramp and "If Everyone Was Listening" also by Supertramp
Love in the Time of Covid
We have created some Lockdown Sceptics Forums, including a dating forum called "Love in a Covid Climate" that has attracted a bit of attention. We have a team of moderators in place to remove spam and deal with the trolls, but sometimes it takes a little while so please bear with us. You have to register to use the Forums, but that should just be a one-time thing. Any problems, email the Lockdown Sceptics webmaster Ian Rons here.
Sharing Stories
Some of you have asked how to link to particular stories on Lockdown Sceptics so you can share it. To do that, click on the headline of a particular story and a link symbol will appear on the right-hand side of the headline. Click on the link and the URL of your page will switch to the URL of that particular story. You can then copy that URL and either email it to your friends or post it on social media. Please do share the stories.
Social Media Accounts
You can follow Lockdown Sceptics on our social media accounts which are updated throughout the day. To follow us on Facebook, click here; to follow us on Twitter, click here; to follow us on Instagram, click here; to follow us on Parler, click here; and to follow us on MeWe, click here.
Woke Gobbledegook
We've decided to create a permanent slot down here for woke gobbledegook. Today, we bring you the Office of the American Secretary of the Rhodes Trust – the organisation that chooses Rhodes Scholars – and its commitment to diversity. First, from the press release announcing the election of the class of 2020 (pdf):
Elliot F. Gerson, American Secretary of the Rhodes Trust, describing this year's class said: "This year's American Rhodes Scholars reflect the remarkable diversity that characterises and strengthens the United States. Twenty-one of the 32 are students of colour, 10 are black, equal to the greatest number ever elected in one year in the United States. Fifteen are first-generation Americans or immigrants and one is a Dreamer with active DACA status. Seventeen of the winners are women, 14 are men, and one is non-binary. These young Americans will go to Oxford next October to study in fields broadly across the social, biological and physical sciences, the humanities and public policy.
Discussing the American Rhodes Scholar Class of 2020 in the Times, Gerard Baker can only come to one conclusion: "Rhodes scholars are a study in woke ideology."
If you think diversity goes beyond skin colour, gender, sexuality or migrant status, think again. A brief look at the interests and intellectual pursuits of the 32 suggests a crushing uniformity of ideological outlook. By my count, only a handful of the 32 honourees do not boast an explicit background in social activism or an association with progressive causes.

To be clear: I'm sure these are all highly talented, principled and conscientious young people. Nor is there anything intrinsically wrong in giving under-represented minorities a leg-up in this way, though it has been standard academic practice in the US for decades. The issue is not with the students themselves. It's with the cultural engineers who, by selecting them, are extending their purge of any dissenting political and ideological views from the commanding heights of society.

This year's list of Rhodes Scholars reads, in fact, like a list of academics at leading institutions in the Soviet Union. In order to get preferment in Russia in those days, you had to include some babble about using research to advance the interests of the proletariat and to hasten the collapse of global capitalism, whatever discipline you happened to be studying.
Gerard Baker's remarks are worth reading in full.
To convey just how woke it is, the Rhodes Trust has been tweeting some genuinely bizarre homages to former Rhodes Scholars. A bottle of champagne to anyone who can translate it into plain English.
Stop Press: Have you ever been faced with an Angry Wokester and been unsure how to deal with him/her/them? Never fear, Phil Shannon has written a comprehensive guide in Quadrant for the next time this occurs. Herewith the first of his 10 top tips for social interaction with angry woke liberals:
1. George Orwell and the Two Minutes Hate

When an angry woke liberal launches into the ritual denunciation of the political object of woke loathing de jour, intervene with a comment along the lines of "I see that it's time for the scheduled Two Minutes Hate again". Any liberal worth their literary salt will get the reference to Emmanuel Goldstein, the officially-designated 'Enemy of the People', the ersatz Trotsky-figure from Orwell's Nineteen Eighty-Four, whose image and memory all good and loyal citizens are daily required to curse and spit upon as a sign of their virtue and fealty to "correct" political thought. The woke like to imagine themselves as tolerant and liberal, and will not want to be compared to thought-totalitarians whipping up fear and hatred of an approved enemy. Angry woke liberals do not like to be Orwell-ed.
The guide is worth reading in full.
"Mask Exempt" Lanyards
We've created a one-stop shop down here for people who want to buy (or make) a "Mask Exempt" lanyard/card. You can print out and laminate a fairly standard one for free here and it has the advantage of not explicitly claiming you have a disability. But if you have no qualms about that (or you are disabled), you can buy a lanyard from Amazon saying you do have a disability/medical exemption here (takes a while to arrive). The Government has instructions on how to download an official "Mask Exempt" notice to put on your phone here. You can get a "Hidden Disability" tag from ebay here and an "exempt" card with lanyard for just £1.99 from Etsy here. And, finally, if you feel obliged to wear a mask but want to signal your disapproval of having to do so, you can get a "sexy world" mask with the Swedish flag on it here.
Don't forget to sign the petition on the UK Government's petitions website calling for an end to mandatory face masks in shops here.
A reader has started a website that contains some useful guidance about how you can claim legal exemption.
If you're a shop owner and you want to let your customers know you will not be insisting on face masks or asking them what their reasons for exemption are, you can download a friendly sign to stick in your window here.
And here's an excellent piece about the ineffectiveness of masks by a Roger W. Koops, who has a doctorate in organic chemistry. See also the Swiss Doctor's thorough review of the scientific evidence here.
Stop Press: A technologically savvy reader has helpfully produced an Android App which displays the message "I am exempt from wearing a face mask message". It is only 99p and is available here.
The Great Barrington Declaration
The Great Barrington Declaration, a petition started by Professor Martin Kulldorff, Professor Sunetra Gupta and Professor Jay Bhattacharya calling for a strategy of "Focused Protection" (protect the elderly and the vulnerable and let everyone else get on with life), was launched in October and the lockdown zealots have been doing their best to discredit it ever since. If you googled it a week after launch, the top hits were three smear pieces from the Guardian, including: "Herd immunity letter signed by fake experts including 'Dr Johnny Bananas'." (Freddie Sayers at UnHerd warned us about this the day before it appeared.) On the bright side, Google UK has stopped shadow banning it, so the actual Declaration now tops the search results – and Toby's Spectator piece about the attempt to suppress it is among the top hits – although discussion of it has been censored by Reddit. The reason the zealots hate it, of course, is that it gives the lie to their claim that "the science" only supports their strategy. These three scientists are every bit as eminent – more eminent – than the pro-lockdown fanatics so expect no let up in the attacks. (Wikipedia has also done a smear job.)
You can find it here. Please sign it. Now over three quarters of a million signatures.
Update: The authors of the GDB have expanded the FAQs to deal with some of the arguments and smears that have been made against their proposal. Worth reading in full.
Update 2: Many of the signatories of the Great Barrington Declaration are involved with new UK anti-lockdown campaign Recovery. Find out more and join here.
Update 3: You can watch Sunetra Gupta set out the case for "Focused Protection" here and Jay Bhattacharya make it here.
Update 4: The three GBD authors plus Prof Carl Heneghan of CEBM have launched a new website collateralglobal.org, "a global repository for research into the collateral effects of the COVID-19 lockdown measures". Follow Collateral Global on Twitter here.
Stop Press: Ex-Fox News anchor Megyn Kelly did a great interview for her podcast recently with Dr Jay Bhattacharya and Dr Martin Kulldorff as well as Dr David Dowdy. The discussion covers the declaration and much else. Worth giving it a listen on Spotify.
Judicial Reviews Against the Government
There are now so many JRs being brought against the Government and its ministers, we thought we'd include them all in one place down here.
First, there's the Simon Dolan case. You can see all the latest updates and contribute to that cause here. Alas, he's now reached the end of the road, with the Supreme Court's refusal to hear his appeal. Dolan has no regrets. "We forced SAGE to produce its minutes, got the Government to concede it had not lawfully shut schools, and lit the fire on scrutinizing data and information," he says. "We also believe our findings and evidence, while not considered properly by the judges, will be of use in the inevitable public inquires which will follow and will help history judge the PM, Matt Hancock and their advisers in the light that they deserve."
Then there's the Robin Tilbrook case. You can read about that and contribute here.
Then there's John's Campaign which is focused specifically on care homes. Find out more about that here.
There's the GoodLawProject's Judicial Review of the Government's award of lucrative PPE contracts to various private companies. You can find out more about that here and contribute to the crowdfunder here.
The Night Time Industries Association has instructed lawyers to JR any further restrictions on restaurants, pubs and bars.
And last but not least there's the Free Speech Union's challenge to Ofcom over its 'coronavirus guidance'. A High Court judge refused permission for the FSU's judicial review yesterday, but the FSU may appeal the decision. Check here for updates.
Samaritans

If you are struggling to cope, please call Samaritans for free on 116 123 (UK and ROI), email jo@samaritans.org or visit the Samaritans website to find details of your nearest branch. Samaritans is available round the clock, every single day of the year, providing a safe place for anyone struggling to cope, whoever they are, however they feel, whatever life has done to them.
Quotation Corner
We know they are lying. They know they are lying, They know that we know they are lying. We know that they know that we know they are lying. And still they continue to lie.

Alexander Solzhenitsyn
It's easier to fool people than to convince them that they have been fooled.

Mark Twain
Men, it has been well said, think in herds; it will be seen that they go mad in herds, while they only recover their senses slowly, one by one.

Charles Mackay
They who would give up essential liberty to purchase a little temporary safety, deserve neither liberty nor safety.

Benjamin Franklin
To do evil a human being must first of all believe that what he's doing is good, or else that it's a well-considered act in conformity with natural law. Fortunately, it is in the nature of the human being to seek a justification for his actions…

Ideology – that is what gives the evildoing its long-sought justification and gives the evildoer the necessary steadfastness and determination.

Alexander Solzhenitsyn
No lesson seems to be so deeply inculcated by the experience of life as that you never should trust experts. If you believe the doctors, nothing is wholesome: if you believe the theologians, nothing is innocent: if you believe the soldiers, nothing is safe. They all require to have their strong wine diluted by a very large admixture of insipid common sense.

Robert Gascoyne-Cecil, 3rd Marquess of Salisbury
Nothing would be more fatal than for the Government of States to get into the hands of experts. Expert knowledge is limited knowledge and the unlimited ignorance of the plain man, who knows where it hurts, is a safer guide than any rigorous direction of a specialist.

Sir Winston Churchill
If it disagrees with experiment, it's wrong. In that simple statement is the key to science.

Richard Feynman
Of all tyrannies, a tyranny sincerely exercised for the good of its victims may be the most oppressive. It would be better to live under robber barons than under omnipotent moral busybodies. The robber baron's cruelty may sometimes sleep, his cupidity may at some point be satiated; but those who torment us for our own good will torment us without end for they do so with the approval of their own conscience.

C.S. Lewis
The welfare of humanity is always the alibi of tyrants.

Albert Camus
We've arranged a global civilization in which most crucial elements profoundly depend on science and technology. We have also arranged things so that almost no one understands science and technology. This is a prescription for disaster. We might get away with it for a while, but sooner or later this combustible mixture of ignorance and power is going to blow up in our faces.

Carl Sagan
Political language – and with variations this is true of all political parties, from Conservatives to Anarchists – is designed to make lies sound truthful and murder respectable, and to give an appearance of solidity to pure wind.

George Orwell
The object of life is not to be on the side of the majority, but to escape finding oneself in the ranks of the insane.

Marcus Aurelius
Necessity is the plea for every restriction of human freedom. It is the argument of tyrants; it is the creed of slaves.

William Pitt the Younger
If you tell a lie big enough and keep repeating it, people will eventually come to believe it. The lie can be maintained only for such time as the State can shield the people from the political, economic and/or military consequences of the lie. It thus becomes vitally important for the State to use all of its powers to repress dissent, for the truth is the mortal enemy of the lie, and thus by extension, the truth is the greatest enemy of the State.

Joseph Goebbels (attributed)
The whole aim of practical politics is to keep the populace alarmed (and hence clamorous to be led to safety) by menacing it with an endless series of hobgoblins, most of them imaginary.

H.L. Mencken
I have always strenuously supported the right of every man to his own opinion, however different that opinion might be to mine. He who denies to another this right, makes a slave of himself to his present opinion, because he precludes himself the right of changing it.

Thomas Paine
Shameless Begging Bit
Thanks as always to those of you who made a donation in the past 24 hours to pay for the upkeep of this site. Doing these daily updates is hard work (although we have help from lots of people, mainly in the form of readers sending us stories and links). If you feel like donating, please click here. And if you want to flag up any stories or links we should include in future updates, email us here. (Don't assume we'll pick them up in the comments.)
And Finally…