Masks to Continue into 2022 – Vallance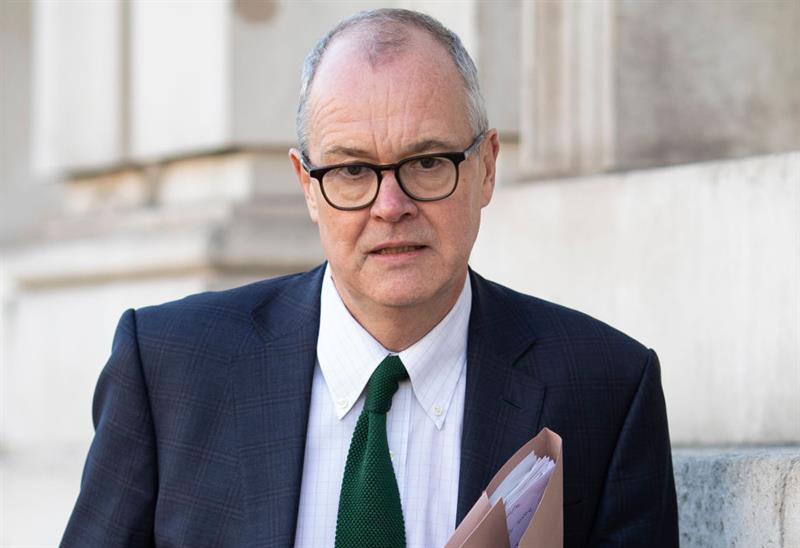 The Government's Chief Scientist, Sir Patrick Vallance, has said that people should still expect to be wearing masks next winter. The Telegraph has the details.
The public may have to wear masks for another year, despite a "watershed moment" beginning Britain's national vaccination programme, Sir Patrick Vallance has said.

As hospitals across the country began administering jabs to the most vulnerable, the chief scientific adviser suggested that restrictions may remain in place long after its full rollout. …

Sir Patrick said: "It may be that next winter even with vaccination we need measures such as masks in place; we don't know yet how good all the vaccines are going to be at preventing the transmission of the virus."

The Government scientist also said it would take "quite a long time" to make sure everyone in priority groups receives their jabs, urging the public to "stick to the rules".

Sir Patrick said that the public could not afford to "let our guard down" as the vaccine is rolled out.
What he doesn't explain is why, once the vulnerable who wish to be are vaccinated, it is so important to prevent transmission of a virus that will hardly kill anyone or make them unwell. Begs the question: At what point will the scientific and medical advisers recognise that it is more important to let people get on with their lives and jobs?
Mark Harper, chairman of the Covid Recovery Group (CRG) of Conservative MPs, yesterday urged the Government to set out how freedoms would be restored to those who were vaccinated.
"It's really positive news that those most vulnerable to Covid-19 are now starting to get vaccinated," he told The Telegraph.

"They will be wondering, once they've had their second doses and are fully protected, how quickly they can start seeing their children and grandchildren and getting back to normal. It would be a real benefit if the Government could set that out as soon as possible."
Harper put similar points to the Health Secretary Matt Hancock in the Commons, who replied:
The House might be relieved to know that (Mr Harper) and I agree with each other on the need to ensure that as the vaccine is rolled out to vulnerable groups, so we therefore monitor the impact of the vaccine on reducing cases, reducing hospitalisations and reducing the number of people who sadly die from this disease, and taking that basis for the judgment of how soon we can lift the restrictions. He and I want to lift the restrictions as soon as is safely possible and the question of that judgment of how safely is one that we will have to monitor and debate in this House over the coming weeks and months.
This is similar to what he said on talkRADIO in the morning. He told Julia Hartley-Brewer that the Government could ease Covid restrictions once all of the most vulnerable people have received the vaccine, rather than waiting until everyone has been vaccinated.
So which is it? Lifting restrictions once the most vulnerable are vaccinated, or keeping it all going just in case? Given how it's all gone since March we can probably guess what the Government will be pushed towards by its over-cautious advisers. Do we have any confidence ministers will have the courage and presence of mind to resist their "reasonable worst case" whisperings, backed up with shonky models and dodgy data? At least we can be grateful the CRG can bring something stronger than persuasion.
More Dodgy Data For Lockdown II
In another embarrassing revision of the data that backed up the Government's lockdown case in October, the ONS infection survey which at the time indicated a spike in infections has now had its modelled estimate for the period revised to show an almost flat line. Ross Clark in the Spectator has more.
Each week, the ONS has produced two graphs: one showing the 'officially reported estimates' for the number of new daily infections per 100,000 people over the past seven days. Beside that, it also publishes a graph of 'modelled estimates' – which are adjusted for such things as false positives and false negatives and show a smoothed-out line of how the ONS thinks infections have changed day by day. Until last week, the two graphs broadly agreed with each other, as you can see from this edition published on October 30th.

I choose this edition because it is the latest one which would have been available when the Prime Minister and cabinet made their decision to place England in a second lockdown, a decision made the following day.

Both graphs show the infection rate doubling in the two weeks to October 17th, the latest date for which data was then available. The government has been criticised for basing its decision on the 'dodgy graph' which claimed that deaths could rise to 4,000 a day by December – an estimate which was already out of date by the end of October. But the ONS data could, on its own, have been used to justify a second lockdown.

However, look at the latest edition of the ONS' infection survey, published last Friday, December 4th, and something very off seems to have happened. The two graphs – the 'officially-reported estimate' and the 'modelled estimate' no longer agree.

In fact, they show a very different picture. The modelled estimate now suggests that infection rates in October were much lower than previous thought – indeed, it suggests that the infection rate hardly changed throughout the whole month.

While the graph published on October 30th could be used to argue for an immediate lockdown, that published on December 4th suggested there was no emergency and that the Tier system might have been given more time to work. As it happened, the next edition, published on November 6th, showed that new cases had begun to fall even before lockdown was enacted.
Ross notes that this shows "modelling can be just as unreliable when it is used to try to tell what has already happened" as when predicting the future.
The new estimate may still be some way out, however, as it disagrees significantly with the King's College ZOE app, which is perhaps the most reliable of the surveys, being the only one to rely on reported symptoms and not just PCR tests. The ZOE app shows the infection peak on November 4th, just before lockdown, and falling since, unlike the (current) ONS modelled estimate which puts the peak a week or so later.
Hard to follow "the Science" when the compass needle never stops moving.
No Excess Deaths in Sweden This Year – Study
A team of researchers from the Clinical Effectiveness Research Group at the University of Oslo in Norway has looked at all-cause mortality for Sweden for the past five years (July to July) and found that it barely increased in 2019-20 despite the coronavirus epidemic in the spring. The pre-print study compared the no-lockdown country to its neighbour (and home country of the research team) Norway.
Our study shows that although Covid-19 associated mortality rate was almost 15-fold higher in Sweden than in Norway during the epidemic, all-cause mortality was not higher in Sweden compared with three of the four preceding years. An increase in all-cause mortality was only observed in comparison to the immediately preceding period (2018/19), because mortality was lower than in the previous years. The excess mortality was confined to individuals older than 70 years. In contrast, mortality rates were lower than expected for all ages in Norway and individuals younger than 70 years in Sweden. …

Our study shows that all-cause mortality was largely unchanged during the epidemic as compared to the previous four years in Norway and Sweden, two countries which employed very different strategies against the epidemic. Excess mortality from Covid-19 may be less pronounced than previously perceived in Sweden, and mortality displacement might explain part of the observed findings.
Most significantly they found that the mortality rate among over 80s in Sweden rose only slightly in 2019-20 on the five-year average, from 201 to 204 per 100,000 people, which is a ratio of just 1.01. In other age groups it was at the average rate or below.
1.01 mortality ratio among the over 80s – that, my friends, is all the difference Covid made in a country that stayed open and free with few restrictions on daily life. And in a way that's the only number that matters in this whole debate. Not exactly worth crippling an economy over and destroying millions of lives and livelihoods.
Read the full study here. News Medical covered the findings here.
More Evidence of a Pseudo-epidemic?
The latest ONS figures out yesterday show total deaths in England and Wales in week 48 (ending November 27th) down by 79 compared with the previous week. However, Covid deaths are up by 343. Meanwhile, non-Covid deaths are right down at 941 below average. This mismatch between Covid deaths (up) and overall deaths (down) and the sharp reduction in deaths attributed to other causes are classic signs of a pseudo-epidemic resulting from mass PCR testing, as described by Dr Mike Yeadon for Lockdown Sceptics here.
It's important to appreciate while digesting this counter-narrative which, unlike the official line, is at least internally consistent, that the only data suggesting a 'second wave' is upon us are PCR results. Everything is dependent on this. A "case" is a positive PCR test. No symptoms are involved. A "COVID-19 admission" to a hospital is a person testing positive by PCR before, on entry or at any time during a hospital stay, no matter the reason for the admission or the symptoms the patient is presenting. A "COVID-19 death" is any death within 28 days of a positive PCR test. If there is any doubt about the reliability of the PCR test, all of this falls away at a single stroke. …

The pandemic was over by June and herd immunity was the main force which turned the pandemic and pressed it into retreat. In the autumn, the claimed "cases" are an artefact of a deranged testing system, which I explain in detail below. While there is some COVID-19 along the lines of the "secondary ripple" concept explained above, it has occurred primarily in regions, cities and districts that were less hard hit in the spring. Real COVID-19 is self-limiting and may already have peaked in some Northern towns. It will not return in force, and the example again is London. Even here, certain boroughs, e.g. Camden and Sutton, have had minimal positive test results. I've explained a number of times how this happened – the prominent role of prior immunity is often ignored or misunderstood. The extent of this was so large that, coupled with the uneven spread of infection, it needed only a low percentage of the population to be infected before herd immunity was reached.

That's it. All the rest is a PCR false positive pseudo-epidemic.
What's the evidence for this?
The key sign of a PCR false positive pseudo-epidemic is the relative paucity of excess deaths equal to the deaths claimed to be occurring as a result of the lethal infective agent. This key sign is present.
It all comes back to the questions sceptics have been asking throughout this epidemic: How many "Covid" deaths are actually caused by the disease? How many "cases" are genuine infections?
Read Mike's brilliant piece here if you missed it last week.
US Senator Rand Paul: Why Aren't We Using Proven Covid Treatments?
At a US Senate hearing yesterday on "Early Outpatient Treatment: An Essential Part of a COVID-19 Solution" before Senator Rand Paul and the Senate Homeland Security and Governmental Affairs Committee a number of doctors advocated the use of various treatments that studies and clinical practice have shown to be effective. They included Vitamin D, Ivermectin and HCQ.
Fox News posted this video from the hearing showing Dr Pierre Kory, Associate Professor of Medicine at St. Luke's Aurora Medical Centre, titled "'I CAN'T KEEP DOING THIS': Doctor pleads for review of data during COVID-19 Senate hearing". A report on Dr Kory's contribution from Newswise is here.
The resistance to the use of cheap and proven safe and effective therapeutics such as Vitamin D, Ivermectin and HCQ in this epidemic has been one of numerous mysteries that has cost many lives. Still the Government is not following the evidence on this.
A comprehensive overview of the scientific and clinical studies relating to Ivermectin, Vitamin D and other treatments can be found here. The Swiss Doctor's page on recommended treatment is here.
Theme Tunes Suggested by Readers
Four today: "Come And Get It" by Badfinger, "You Can Have Mine" by Augustana, "Someone told a lie" by Steppenwolf and "If You Tolerate This Your Children Will Be Next" by Manic Street Preachers.
Love in the Time of Covid
We have created some Lockdown Sceptics Forums, including a dating forum called "Love in a Covid Climate" that has attracted a bit of attention. We have a team of moderators in place to remove spam and deal with the trolls, but sometimes it takes a little while so please bear with us. You have to register to use the Forums, but that should just be a one-time thing. Any problems, email the Lockdown Sceptics webmaster Ian Rons here.
Sharing Stories
Some of you have asked how to link to particular stories on Lockdown Sceptics so you can share it. To do that, click on the headline of a particular story and a link symbol will appear on the right-hand side of the headline. Click on the link and the URL of your page will switch to the URL of that particular story. You can then copy that URL and either email it to your friends or post it on social media. Please do share the stories.
Social Media Accounts
You can follow Lockdown Sceptics on our social media accounts which are updated throughout the day. To follow us on Facebook, click here; to follow us on Twitter, click here; to follow us on Instagram, click here; to follow us on Parler, click here; and to follow us on MeWe, click here.
Woke Gobbledegook
We've decided to create a permanent slot down here for woke gobbledegook. Today, we bring you a branch of the Chicago Teachers Union (CTU), which tweeted on Sunday (and subsequently deleted) a tweet that read: "The push to reopen schools is rooted in sexism, racism and misogyny." Breitbart has the story.
Director of School Choice at the Reason Foundation Corey DeAngelis noted Monday CTU "filed a request for an injunction to stop in-person instruction that is supposed to start January 11th" – the day after it deleted its tweet condemning the reopening of schools.
DeAngelis further observed the "reopening" scheduled for January 11th in Chicago is "only for 'students in pre-K and cluster programs.'"

Elementary and middle school students are scheduled to return to in-person instruction in February.

He continued that, while CTU quoted Dr. Anthony Fauci in its request for an injunction, it omitted Fauci's quote in which he stated, "The default position should be to try as best as possible within reason to keep the children in school […] the spread among children & from children is not really big at all."
On this issue at least the CDC appears to be taking a sensible line.
On Wednesday, Dr. Robert Redfield, director of the Centers for Disease Control and Prevention (CDC) also repeated his call for schools to open for in-person learning, stating that schools are not a major cause of coronavirus contagion.

"[W]e now have substantial data that shows that schools' face-to-face learning can be conducted in K-12, and particularly in the elementary and middle schools in a safe and responsible way," Redfield said.

The CDC director explained infections that do occur among teachers and students are largely due to the spread of the virus within communities or in homes.

"We're not seeing intra-school transmission," Redfield affirmed, adding: "I just think it's healthy for these kids to be in school. That said, they got to do it safely and they've got to do it responsibly. And when this was started over the summer, no one really knew for certain. They thought that these public health measures would work."

"But now the data clearly shows us that you can operate these schools in face-to-face learning in a safe and responsible way," the CDC director said.
"Mask Exempt" Lanyards
We've created a one-stop shop down here for people who want to buy (or make) a "Mask Exempt" lanyard/card. You can print out and laminate a fairly standard one for free here and it has the advantage of not explicitly claiming you have a disability. But if you have no qualms about that (or you are disabled), you can buy a lanyard from Amazon saying you do have a disability/medical exemption here (takes a while to arrive). The Government has instructions on how to download an official "Mask Exempt" notice to put on your phone here. You can get a "Hidden Disability" tag from ebay here and an "exempt" card with lanyard for just £1.99 from Etsy here. And, finally, if you feel obliged to wear a mask but want to signal your disapproval of having to do so, you can get a "sexy world" mask with the Swedish flag on it here.
Don't forget to sign the petition on the UK Government's petitions website calling for an end to mandatory face masks in shops here.
A reader has started a website that contains some useful guidance about how you can claim legal exemption.
If you're a shop owner and you want to let your customers know you will not be insisting on face masks or asking them what their reasons for exemption are, you can download a friendly sign to stick in your window here.
And here's an excellent piece about the ineffectiveness of masks by a Roger W. Koops, who has a doctorate in organic chemistry. See also the Swiss Doctor's thorough review of the scientific evidence here.
Stop Press: A sharp-eyed reader spotted that in the Scottish Government's fatuous "COVID Guide to Etiquette" that we highlighted yesterday the woman shown on page five isn't wearing her mask over her nose – contrary to official guidance.
Sloppy graphic design and an own goal from the mask zealots.
The Great Barrington Declaration
The Great Barrington Declaration, a petition started by Professor Martin Kulldorff, Professor Sunetra Gupta and Professor Jay Bhattacharya calling for a strategy of "Focused Protection" (protect the elderly and the vulnerable and let everyone else get on with life), was launched in October and the lockdown zealots have been doing their best to discredit it ever since. If you googled it a week after launch, the top hits were three smear pieces from the Guardian, including: "Herd immunity letter signed by fake experts including 'Dr Johnny Bananas'." (Freddie Sayers at UnHerd warned us about this the day before it appeared.) On the bright side, Google UK has stopped shadow banning it, so the actual Declaration now tops the search results – and Toby's Spectator piece about the attempt to suppress it is among the top hits – although discussion of it has been censored by Reddit. The reason the zealots hate it, of course, is that it gives the lie to their claim that "the science" only supports their strategy. These three scientists are every bit as eminent – more eminent – than the pro-lockdown fanatics so expect no let up in the attacks. (Wikipedia has also done a smear job.)
You can find it here. Please sign it. Now well over 700,000 signatures.
Update: The authors of the GDB have expanded the FAQs to deal with some of the arguments and smears that have been made against their proposal. Worth reading in full.
Update 2: Many of the signatories of the Great Barrington Declaration are involved with new UK anti-lockdown campaign Recovery. Find out more and join here.
Update 3: You can watch Sunetra Gupta set out the case for "Focused Protection" here and Jay Bhattacharya make it here.
Update 4: The three GBD authors plus Prof Carl Heneghan of CEBM have launched a new website collateralglobal.org, "a global repository for research into the collateral effects of the COVID-19 lockdown measures". Follow Collateral Global on Twitter here.
Judicial Reviews Against the Government
There are now so many JRs being brought against the Government and its ministers, we thought we'd include them all in one place down here.
First, there's the Simon Dolan case. You can see all the latest updates and contribute to that cause here.
Then there's the Robin Tilbrook case. You can read about that and contribute here.
Then there's John's Campaign which is focused specifically on care homes. Find out more about that here.
There's the GoodLawProject's Judicial Review of the Government's award of lucrative PPE contracts to various private companies. You can find out more about that here and contribute to the crowdfunder here.
The Night Time Industries Association has instructed lawyers to JR any further restrictions on restaurants, pubs and bars.
And last but not least there's the Free Speech Union's challenge to Ofcom over its 'coronavirus guidance'. You can read about that and make a donation here.
Samaritans

If you are struggling to cope, please call Samaritans for free on 116 123 (UK and ROI), email jo@samaritans.org or visit the Samaritans website to find details of your nearest branch. Samaritans is available round the clock, every single day of the year, providing a safe place for anyone struggling to cope, whoever they are, however they feel, whatever life has done to them.
Quotation Corner
We know they are lying. They know they are lying, They know that we know they are lying. We know that they know that we know they are lying. And still they continue to lie.

Alexander Solzhenitsyn
It's easier to fool people than to convince them that they have been fooled.

Mark Twain
Men, it has been well said, think in herds; it will be seen that they go mad in herds, while they only recover their senses slowly, one by one.

Charles Mackay
They who would give up essential liberty to purchase a little temporary safety, deserve neither liberty nor safety.

Benjamin Franklin
To do evil a human being must first of all believe that what he's doing is good, or else that it's a well-considered act in conformity with natural law. Fortunately, it is in the nature of the human being to seek a justification for his actions…

Ideology – that is what gives the evildoing its long-sought justification and gives the evildoer the necessary steadfastness and determination.

Alexander Solzhenitsyn
No lesson seems to be so deeply inculcated by the experience of life as that you never should trust experts. If you believe the doctors, nothing is wholesome: if you believe the theologians, nothing is innocent: if you believe the soldiers, nothing is safe. They all require to have their strong wine diluted by a very large admixture of insipid common sense.

Robert Gascoyne-Cecil, 3rd Marquess of Salisbury
Nothing would be more fatal than for the Government of States to get into the hands of experts. Expert knowledge is limited knowledge and the unlimited ignorance of the plain man, who knows where it hurts, is a safer guide than any rigorous direction of a specialist.

Sir Winston Churchill
If it disagrees with experiment, it's wrong. In that simple statement is the key to science.

Richard Feynman
Of all tyrannies, a tyranny sincerely exercised for the good of its victims may be the most oppressive. It would be better to live under robber barons than under omnipotent moral busybodies. The robber baron's cruelty may sometimes sleep, his cupidity may at some point be satiated; but those who torment us for our own good will torment us without end for they do so with the approval of their own conscience.

C.S. Lewis
The welfare of humanity is always the alibi of tyrants.

Albert Camus
We've arranged a global civilization in which most crucial elements profoundly depend on science and technology. We have also arranged things so that almost no one understands science and technology. This is a prescription for disaster. We might get away with it for a while, but sooner or later this combustible mixture of ignorance and power is going to blow up in our faces.

Carl Sagan
Political language – and with variations this is true of all political parties, from Conservatives to Anarchists – is designed to make lies sound truthful and murder respectable, and to give an appearance of solidity to pure wind.

George Orwell
The object of life is not to be on the side of the majority, but to escape finding oneself in the ranks of the insane.

Marcus Aurelius
Necessity is the plea for every restriction of human freedom. It is the argument of tyrants; it is the creed of slaves.

William Pitt the Younger
If you tell a lie big enough and keep repeating it, people will eventually come to believe it. The lie can be maintained only for such time as the State can shield the people from the political, economic and/or military consequences of the lie. It thus becomes vitally important for the State to use all of its powers to repress dissent, for the truth is the mortal enemy of the lie, and thus by extension, the truth is the greatest enemy of the State.

Joseph Goebbels (attributed)
The whole aim of practical politics is to keep the populace alarmed (and hence clamorous to be led to safety) by menacing it with an endless series of hobgoblins, most of them imaginary.

H.L. Mencken
Shameless Begging Bit
Thanks as always to those of you who made a donation in the past 24 hours to pay for the upkeep of this site. Doing these daily updates is hard work (although we have help from lots of people, mainly in the form of readers sending us stories and links). If you feel like donating, please click here. And if you want to flag up any stories or links we should include in future updates, email us here. (Don't assume we'll pick them up in the comments.)
And Finally…
Stop Press: The polls are now open for the best political cartoon of the year. But one cartoonist found he'd been left out of the party: the Telegraph's Bob Moran, a lockdown sceptic whose work regularly features on this site. He took to Twitter to highlight this injustice.
Toby has already been in contact to ask Bob if he'd like the Free Speech Union to take up his case, but he is too gracious to pursue it. Shame. If he was allowed to enter he would surely win the competition hands down.