The Vaccine Priority List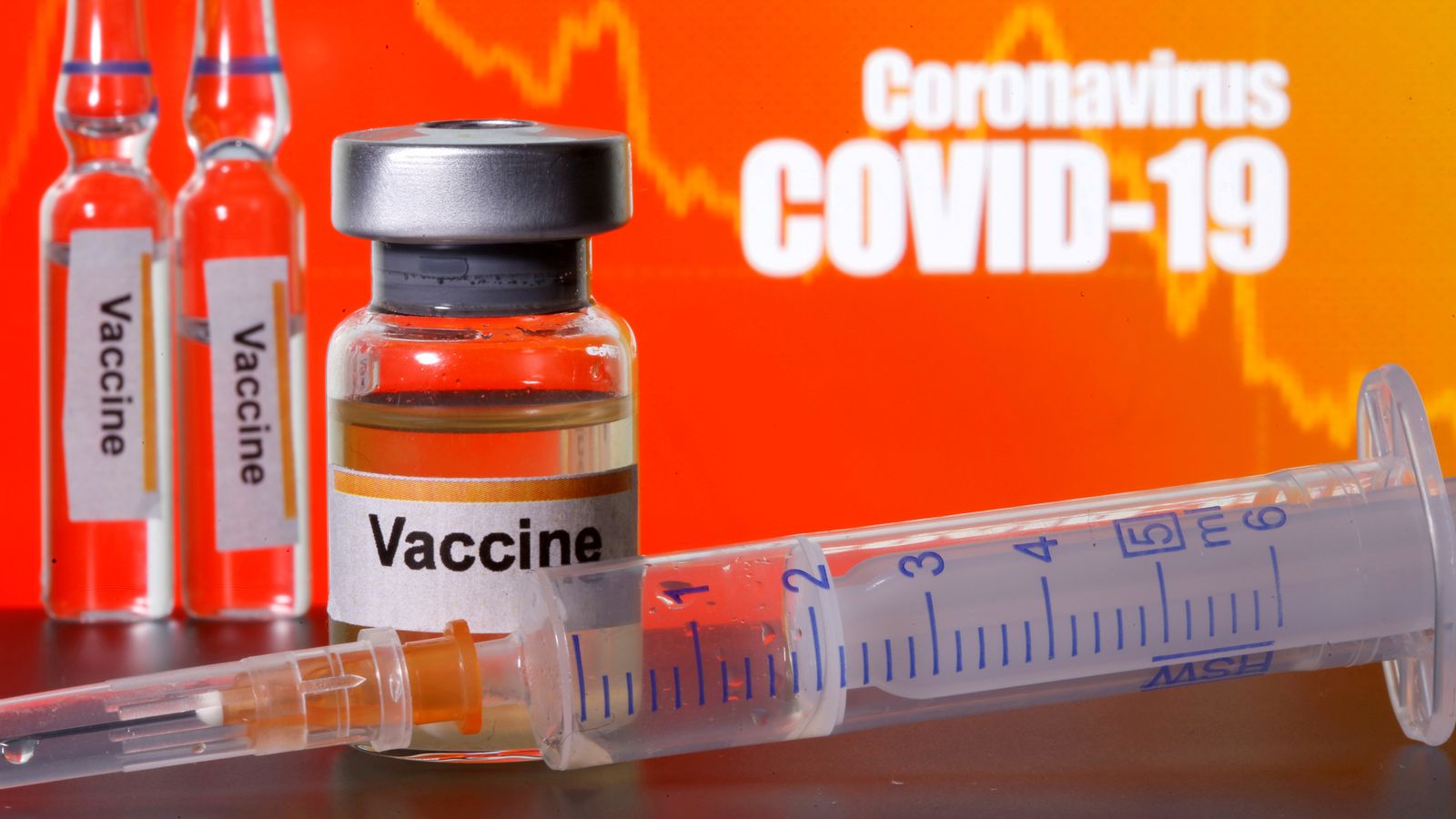 Pfizer has dispatched the first batch of the the 40 million vaccine doses ordered by the Government and hospitals around the country have started accepting deliveries. The Telegraph carries details of the plans for the roll-out and the order of priority advised by the Joint Committee on Vaccination and Immunisation:
Chris Hopson, the chief executive of NHS Providers, said that an initial 800,000 doses "could be the only batch we receive for some time". NHS England has told GP surgeries they must be ready to administer 975 doses to priority patients within three-and-a-half days of the vaccines being delivered on December 14th. Business Secretary Alok Sharma said the "bulk" of vaccine rollout would take place in 2021, with the Oxford/AstraZeneca version likely to considerably boost supply.

The Joint Committee on Vaccination and Immunisation (JCVI), which advises ministers, had recommended that the vaccine should be prioritised for the the elderly and health workers. The group have published their list of who they believe should get the vaccine first. Explaining the priorities for who will get the vaccine, chairman of the JCVI Professor Wei Shen Lim said: "Vaccines are offered to protect people who are most at risk from dying of COVID-19, as well as to protect health and social care services, because by doing so we also protect lives."

Professor Lim said age was the single most important factor in the estimated risk of mortality, and everyone in the country older than 50 will be vaccinated by the end of phase one. The Deputy Chief Medical Officer, Professor Van-Tam, suggested the priority list for vaccinations will cover 99% of COVID-19 related deaths, meaning restrictions may then begin to come to an end.
The order of priority advised by the JCVI, for the first phase of the roll-out, is: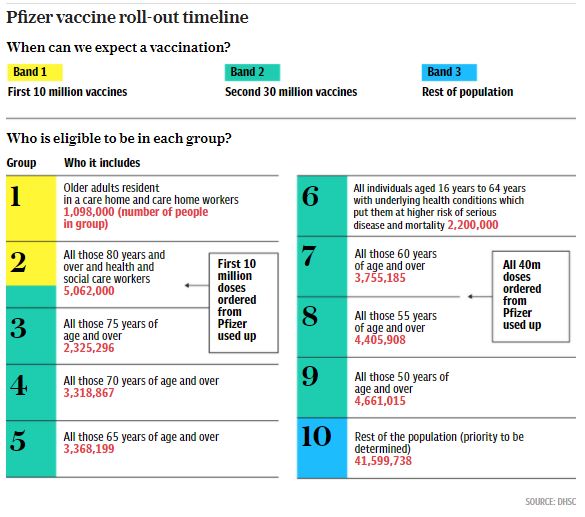 The Telegraph report is worth reading in full.
The second phase of the roll-out, in the JCVI view, should focus on preventing further hospitalisation, and could prioritise those who are at increased risk of exposure due to their occupation, such as "first responders, the military, those involved in the justice system, teachers and public service workers essential to the pandemic response".
For comment, we turn to our own Dr Mike Yeadon, who yesterday tweeted:
Pleased to see Government policy does not include offering the vaccine to those younger than 50 years unless picked up in the category of severe, chronic illness. I'd be greatly relieved if that was the end of it. It's calculable roughly how many doses needed and time to get this done. The nation, society, and sovereign currency might have collapsed by then but so long as we extend the life of an 84 year-old by three months (even though they've not been asked if that's what they wanted and most regret having seen far less, if any at all, of their families for the last 10 months) that's a result.
Meanwhile, the Mirror has news of the card that will be given to patients once they have had the jab.
The UK Government has offered the first glimpse at the vaccination card that will be given to patients who receive the jab. Britain is poised to lead the world in rolling out the first COVID-19 vaccine to the public within the next 48 hours. A picture of a card for people to keep as a record of their vaccination was also released. The card issued by the NHS and pictured for the first time on Sunday encourages users to carry it in their purse or wallet. The blue-hued card carries space for the date and batch number for the two jabs the Pfizer shot recipients will get. Vaccination records are commonly used in health-care as a way for medics and patient to track jabs, especially those that require boosters down the track. The NHS vaccine card is likely to spark interest in how it could be used as debate continues over how a vaccine could shape the world in the new post-pandemic era.
We're Still Nervous
A Christmas market opened in Nottingham on Saturday – and was soon forced to close because too many people went to it. The MailOnline has more.
An outdoor Christmas market in Nottingham has been forced to shut after just 24 hours due to overcrowding, as thousands of shoppers ignore social distancing rules on the first weekend after the second national lockdown. Shocking pictures showed hundreds of people rammed together in Old Market Square, in the centre of the city which is in Tier 3, for the first day of the Christmas markets on Saturday. It has now been shut after organisers were criticised for a lack of social distancing.

The Mellors Group, which runs the event in conjunction with Nottingham City Council, said: "In light of the unprecedented high footfall seen up and down the country for retail nationally, we have decided to temporarily close the Christmas market today. The pent-up demand for a city centre offer was far higher than normal and we feel this is the most appropriate way forward."

Nottinghamshire Police said officers were at the market all day to provide visible presence and to break up large crowds in the area. The market was set to run from 10am to 9pm every day until Christmas Eve.

The original decision for the market to go ahead came as similar events in other cities were cancelled including in Birmingham and Manchester. It comes on what is the second non-working day since lockdown ended on December 2nd, where shoppers were out in force in the hope of snapping up Christmas deals.

One visitor, aged 24, from The Meadows area of Nottingham, said there were at least a couple of hundred people at the market, describing it as "crazy". He said: "I was on the outskirts of the market as there were so many people on the inside, many people were not wearing any masks at all and there was definitely no two-metre distancing. I was highly uncomfortable being there so we literally went home after five minutes."
To be clear, what we have here is the first day of a Christmas market on the first weekend after the lockdown was lifted. It was outdoors – thus reasonably safe, COVID-19-wise – and legal, even under the restrictions imposed by Tier 3. Far from shocking, it was entirely normal and predictable. The report continues:
With less than three weeks until Christmas, shoppers are being urged to shop locally in a push to save small businesses from financial ruin. But despite a festive flurry on the first Saturday since the second national lockdown was lifted, retail industry figures show around a third fewer people visited English high streets compared to this time last year. Data from retail analysts ShopperTrak shows footfall was down 29% year-on-year as many erred on the side of caution despite non-essential shops being allowed to reopen from Wednesday.

Andy Sumpter, retail consultant at the consumer analytics firm, said retailers will be hoping "pent-up demand" will continue through until the last Saturday before Christmas – dubbed Super Saturday – on December 19th, if shops are to have any hope of a decent Christmas.

While Saturday did see shopper traffic increase by 193% nationally week-on-week, Mr Sumpter said "many are still keenly feeling the impact of lockdown. Instilling confidence in physical shopping journeys and reassuring consumers that stores are safe will be the cornerstone to ensuring shoppers keep returning, not just to support shops, but also their local communities that rely on the high street".
Worth reading in full.
As if to underline the point, MailOnline has a poll which suggests that a great many Britons are still living in fear of contracting COVID-19 and think that December 2nd was too soon to end the lockdown.
Half of Britons say they will not be meeting relatives indoors over Christmas despite the "bubble" loosening.

A poll for MailOnline found just a third are planning to take advantage of the exemption from COVID-19 restrictions to mix indoors during the festive season.

The results of the survey by Redfield & Wilton Strategies underline the continuing nerves among the public about the pandemic. Some 45% say they are "actively scared" about contracting the disease every time they go outside – and half thought the England-wide lockdown ended too soon on December 2nd.

The research for MailOnline, conducted last week, found that just 34% were planning to meet people from another household indoors during the period of loosening. Half said they definitely would not be doing so. Some 16% said they were not sure. A third would be less likely to vote for a political party at a future election if it advocated dropping lockdowns altogether – as some Tory MPs would prefer.
Meanwhile the Telegraph has details of a similarly disturbing poll by Orb international
Mask wearing is here to stay, according to a poll, as half of Britons say they are likely to carry on wearing them after vaccination. Some 25% (512) of those surveyed will stop covering their face when they have had the vaccine, according to a poll of more than 2,000 people by ORB International. However, 50% (1,042) don't want to throw away their masks immediately and think we could be wearing them for at least another year.

The ORB poll also revealed that only 17% of people (358) believe the spread of COVID-19 in the UK is under control, compared with 70% (1,460) who do not. Most Britons want to be vaccinated, with 69% (1,446) happy to sign up when possible, the data shows. Anxiety around travelling abroad persists, according to the poll, with only a third (27%, 571 people) saying going on a family holiday in 2021 is a priority.
Even making the usual allowances for the shortcomings of opinion polls, this makes for disturbing reading. A testament to how effective the Government's propaganda has been.
Immunity Passports: An Idea Gaining Ground
As countries look to ease restrictions, the idea of an "immunity passport" is gaining ground. Travelpulse has more.
It might seem counterintuitive that, instead of needing a negative COVID-19 test to cross international borders, you could offer proof that you'd previously tested positive? Yet these so-called "immunity passport" policies already exist in certain countries, operating on the assumption that, having been infected and recovered, a person can't contract or carry the virus again. It's the premise for a new testing and quarantine exemption rule in Iceland that will go into effect on December 10the. Under standard requirements, international travellers entering Iceland must either complete 14 days of quarantine or take two COVID-19 tests, the second administered five days after arrival, and test negative both times to be released from isolation. Under the new provision, foreign visitors will be exempt from these requirements if they can provide proof that they've already had COVID-19 and recovered. According to CNN Travel, Iceland border authorities will accept documented evidence of a positive COVID-19 PCR test that's at least 14 days old or an ELISA test (which measures antibody levels) that's issued by an approved European lab.

CNN reports that Hungary had adopted a similar exemption back in September, although the country hasn't released any information about the success or failure of the policy, what science its decision was based on, or the pros and cons it might've weighed before implementing it. Hungary also seems an unlikely candidate to have authorised such an unusual loophole, considering that its borders remain closed to nearly everyone, including its European neighbours, and its Government openly demonstrates hostility toward migrants. However, reports indicate that the "immunity passport" exemption doesn't seem to be much utilized and hasn't been widely talked about even within Hungary.
There is obvious potential for momentum to grow behind the idea, not least as the International Air Transport Association announced not so long ago that it is in the final development stages of its mobile app, the IATA travel pass, which is designed to enable flyers to display their COVID credentials when asked. It is good that the proposal accepts that people can be immune without having had the vaccine and any loosening of travel restrictions should be welcomed. But the idea has a few obvious drawbacks. For one, it's a violation of our civil liberties – we shouldn't have to show anything other than our actual passports in order to travel. Another is spelt out in the CNN report on Iceland's scheme:
Experts in several leading medical journals have also warned that immunity passports could incentivize otherwise healthy people to wilfully seek out infection. It's unclear if anyone has actually become infected on purpose in order to enter Hungary, but University of Oxford ethicist Rebecca Brown finds it hard to believe. "It would be quite an extreme thing to do. And I think, in all likelihood, the vast majority of people wouldn't," she says, explaining that COVID-19 can come with long-term effects even in some young, healthy people.
Yeah, we're not so sure about that Rebecca. If this scheme takes off, we can imagine a black market sprinting up in which young, healthy people can purchase a dose of COVID-19 so in return for a couple of days of bed rest they can secure an immunity passport. Could be safer than getting vaccinated…
More Travel Madness
Just in from a reader: Avoid layovers in Doha
Having decided to escape the madness and support the failing travel industry, we found ourselves forced to fly via Doha to our fancy winter destination as the direct British Airways flight was cancelled.

Our destination required us to have a PCR test (taken in a disused church in Fulham by a man who clearly had zero clinical training (but that's another issue) and then upload our 'fit-to-fly' certificate along with various other statements to a Government website 24 hours before departure. Knowing the inaccuracy of the test, it was hard to look forward to our holiday.

On the first leg of the flight we were forced to wear face masks with visors on top. Obviously, this led to lots of steamed-up bespectacled passengers tripping up all over the place.

Imagine our surprise when, following the other Brits to our connecting flight in Doha, we were told we had to have another thin swab shoved into our brains through the nasal passage and wait 15 minutes for the results of a lateral flow test before boarding. Apprehension became horror as we witnessed an airport employee march up to the young couple next to us and announce that one of them had tested positive and both of them would be required to isolate in a government hotel for two weeks before being sent back to Blighty.

So much for the dream holiday/honeymoon.
The Boris Menu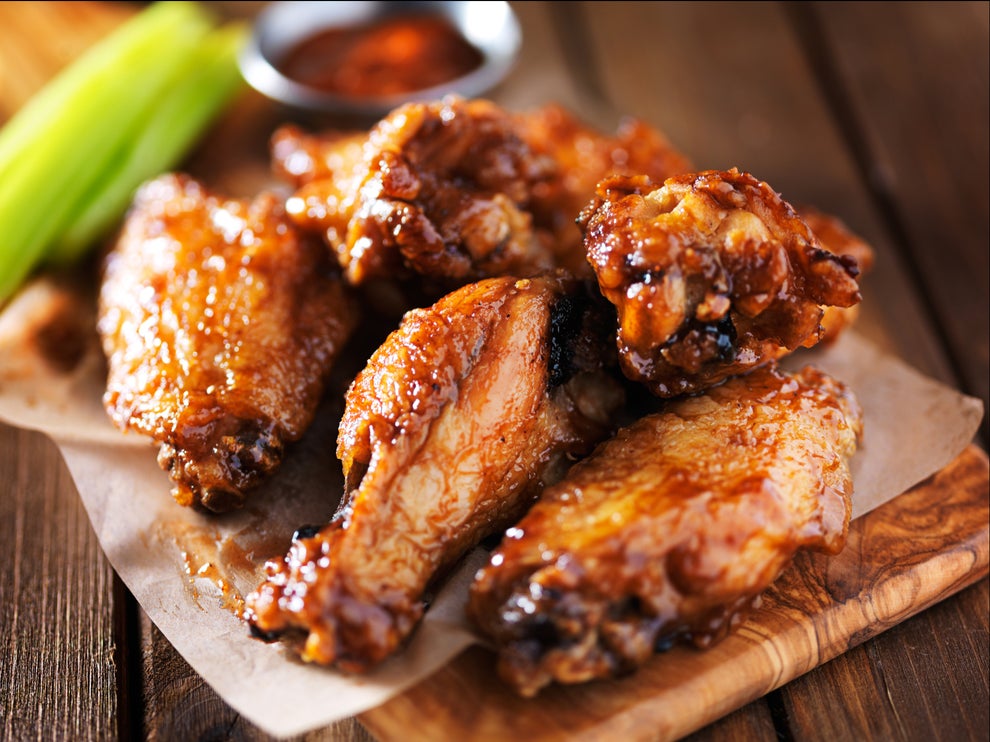 Bureaucracies regulate and entrepreneurs make things happen: behold the Boris Menu! From the Independent.
A hot dog and chips for a mere £1.99 is the best-selling item on the Castle Inn pub's "Boris Menu" – launched by owner Kerry Hills to stay in line with the government's latest COVID-19 regulations. Pubs under Tier 2 restrictions in England that primarily sell drinks can only operate if they serve a "substantial meal" with orders of alcohol. But what constitutes a substantial meal remains murky, with Government ministers themselves seemingly unclear on whether or not a Scotch egg would constitute a starter or a main.

In order to get through the ongoing restrictions, "wet-led" establishments like the Castle Inn in Tring, Hertfordshire, have begun offering cheap food and snacks in a bid to stay open.

Ms Hills tells the Independent: "90% of my customers are tradesmen who come in after work for two or three pints on their way home. They do not want anything to eat bar a bag of peanuts as they have dinner at home with their families."

The pub's "Boris Menu" includes starters of garlic bread and soup for 99p, main courses or baked beans on toast, hot dog and chips, or tomato and mozzarella pizza bread for £1.99, and 99p desserts.

"I needed to make the menu as cheap as possible so as not to deter them from coming in at all. Due to the limited kitchen facilities at the pub, I also needed quick, simple dishes," she says.

"The customers have responded really well and so far the hot dog and chips has been the winning dish by far."
Full marks to that landlady. The story is worth reading in full, as it explains how a number of pubs have worked out their way around the regulations – from serving bottomless chicken wings and chips to providing handy visuals to show punters how many drinks they could get in in the time the dish takes to serve and eat – laying bare just how daft these rules are.
Round-up
Theme Tunes Suggested by Readers
Just one today: "What A Fool Believes" by The Doobie Brothers
Love in the Time of Covid
We have created some Lockdown Sceptics Forums, including a dating forum called "Love in a Covid Climate" that has attracted a bit of attention. We have a team of moderators in place to remove spam and deal with the trolls, but sometimes it takes a little while so please bear with us. You have to register to use the Forums, but that should just be a one-time thing. Any problems, email the Lockdown Sceptics webmaster Ian Rons here.
Sharing Stories
Some of you have asked how to link to particular stories on Lockdown Sceptics so you can share it. To do that, click on the headline of a particular story and a link symbol will appear on the right-hand side of the headline. Click on the link and the URL of your page will switch to the URL of that particular story. You can then copy that URL and either email it to your friends or post it on social media. Please do share the stories.
Social Media Accounts
You can follow Lockdown Sceptics on our social media accounts which are updated throughout the day. To follow us on Facebook, click here; to follow us on Twitter, click here; to follow us on Instagram, click here; to follow us on Parler, click here; and to follow us on MeWe, click here.
Woke Gobbledegook
We've decided to create a permanent slot down here for woke gobbledegook. Today, from the Mail on Sunday, Bernado's strays from its charitable objects:
Britain's biggest children's charity was at the centre of a storm last night after it suggested parents and grandparents should teach children about white privilege. Barnardo's was reported to the official charity regulator after Tory MPs claimed that its political activism could be incompatible with its charitable status. The attack came from a dozen MPs, including ex-Tory Cabinet Minister Esther McVey who spent four years in a Barnardo's home.

But the charity hit back yesterday, with vice-president Dr David Barnardo saying the organisation could not be "colour blind", and that "black, Asian and minority ethnic children face additional challenges".

The row centres on new guidance from Barnado's entitled White privilege: A guide for parents. Posted online a few weeks ago, it says: "We believe educating children about white privilege is a part of [teaching them about the world], and so is talking to them about how to be actively anti-racist."

It adds: "You might have heard the phrase white privilege before. It's very common across the pond in the US. You might also think that it doesn't exist in the UK. But racism is very real here too."

More than a dozen Tory MPs, including Sir John Hayes, chairman of the Common Sense group at Westminster, wrote to Barnardo's Chief Executive Javed Khan warning that they had asked Charity Commission chairman Baroness Stowell to investigate whether this departure into political activism is compatible with Barnardo's noble purpose and charitable status.

Barnardo's said in a statement last night that throughout its 154-year history it had "constantly raised awareness of the plight of the most vulnerable children in society" and that it "wasn't political activism to remove barriers for the most vulnerable children".

But it added: "We certainly don't believe Britain is racist or that anyone should feel guilt about being from a particular background."
Worth reading in full.
Stop Press: David Goodhart, himself an old Etonian, has written a good piece for Unherd on "The trouble with woke Etonians", a pattern he has encountered across the independent school sector.
The schools no longer think of themselves as conservative institutions training a ruling class to preserve a national heritage. They are now academic forcing houses attracting and producing a global elite of the "brightest and best". They think of themselves as academic meritocracies, albeit with a bias towards the affluent, and are often in the vanguard of the most fashionable pedagogical and social trends.

Contemporary race-and gender-based progressivism is therefore no threat at all to the people running the schools, indeed it is positively welcomed by them. One can observe this in the kerfuffle surrounding the Eton master who has been sacked for explaining, and at least partially defending, the concept of patriarchy – it was the Eton authorities who intervened, not an uprising of radical pupils, and some parents and pupils have actually been protesting against the sacking. But in my experience of speaking at London private day schools and knowing plenty of young people who have emerged from them in recent years, progressive groupthink is the norm.
"Mask Exempt" Lanyards
We've created a one-stop shop down here for people who want to buy (or make) a "Mask Exempt" lanyard/card. You can print out and laminate a fairly standard one for free here and it has the advantage of not explicitly claiming you have a disability. But if you have no qualms about that (or you are disabled), you can buy a lanyard from Amazon saying you do have a disability/medical exemption here (takes a while to arrive). The Government has instructions on how to download an official "Mask Exempt" notice to put on your phone here. You can get a "Hidden Disability" tag from ebay here and an "exempt" card with lanyard for just £1.99 from Etsy here. And, finally, if you feel obliged to wear a mask but want to signal your disapproval of having to do so, you can get a "sexy world" mask with the Swedish flag on it here.
Don't forget to sign the petition on the UK Government's petitions website calling for an end to mandatory face masks in shops here.
A reader has started a website that contains some useful guidance about how you can claim legal exemption.
If you're a shop owner and you want to let your customers know you will not be insisting on face masks or asking them what their reasons for exemption are, you can download a friendly sign to stick in your window here.
And here's an excellent piece about the ineffectiveness of masks by a Roger W. Koops, who has a doctorate in organic chemistry. See also the Swiss Doctor's thorough review of the scientific evidence here.
The Great Barrington Declaration
The Great Barrington Declaration, a petition started by Professor Martin Kulldorff, Professor Sunetra Gupta and Professor Jay Bhattacharya calling for a strategy of "Focused Protection" (protect the elderly and the vulnerable and let everyone else get on with life), was launched in October and the lockdown zealots have been doing their best to discredit it ever since. If you googled it a week after launch, the top hits were three smear pieces from the Guardian, including: "Herd immunity letter signed by fake experts including 'Dr Johnny Bananas'." (Freddie Sayers at UnHerd warned us about this the day before it appeared.) On the bright side, Google UK has stopped shadow banning it, so the actual Declaration now tops the search results – and Toby's Spectator piece about the attempt to suppress it is among the top hits – although discussion of it has been censored by Reddit. The reason the zealots hate it, of course, is that it gives the lie to their claim that "the science" only supports their strategy. These three scientists are every bit as eminent – more eminent – than the pro-lockdown fanatics so expect no let up in the attacks. (Wikipedia has also done a smear job.)
You can find it here. Please sign it. Now well over 700,000 signatures.
Update: The authors of the GDB have expanded the FAQs to deal with some of the arguments and smears that have been made against their proposal. Worth reading in full.
Update 2: Many of the signatories of the Great Barrington Declaration are involved with new UK anti-lockdown campaign Recovery. Find out more and join here.
Update 3: You can watch Sunetra Gupta set out the case for "Focused Protection" here and Jay Bhattacharya make it here.
Update 4: The three GBD authors plus Prof Carl Heneghan of CEBM have launched a new website collateralglobal.org, "a global repository for research into the collateral effects of the COVID-19 lockdown measures". Follow Collateral Global on Twitter here.
Judicial Reviews Against the Government
There are now so many JRs being brought against the Government and its ministers, we thought we'd include them all in one place down here.
First, there's the Simon Dolan case. You can see all the latest updates and contribute to that cause here.
Then there's the Robin Tilbrook case. You can read about that and contribute here.
Then there's John's Campaign which is focused specifically on care homes. Find out more about that here.
There's the GoodLawProject's Judicial Review of the Government's award of lucrative PPE contracts to various private companies. You can find out more about that here and contribute to the crowdfunder here.
The Night Time Industries Association has instructed lawyers to JR any further restrictions on restaurants, pubs and bars.
And last but not least there's the Free Speech Union's challenge to Ofcom over its 'coronavirus guidance'. You can read about that and make a donation here.
Samaritans

If you are struggling to cope, please call Samaritans for free on 116 123 (UK and ROI), email jo@samaritans.org or visit the Samaritans website to find details of your nearest branch. Samaritans is available round the clock, every single day of the year, providing a safe place for anyone struggling to cope, whoever they are, however they feel, whatever life has done to them.
Quotation Corner
We know they are lying. They know they are lying, They know that we know they are lying. We know that they know that we know they are lying. And still they continue to lie.

Alexander Solzhenitsyn
It's easier to fool people than to convince them that they have been fooled.

Mark Twain
Men, it has been well said, think in herds; it will be seen that they go mad in herds, while they only recover their senses slowly, one by one.

Charles Mackay
They who would give up essential liberty to purchase a little temporary safety, deserve neither liberty nor safety.

Benjamin Franklin
To do evil a human being must first of all believe that what he's doing is good, or else that it's a well-considered act in conformity with natural law. Fortunately, it is in the nature of the human being to seek a justification for his actions…

Ideology – that is what gives the evildoing its long-sought justification and gives the evildoer the necessary steadfastness and determination.

Alexander Solzhenitsyn
No lesson seems to be so deeply inculcated by the experience of life as that you never should trust experts. If you believe the doctors, nothing is wholesome: if you believe the theologians, nothing is innocent: if you believe the soldiers, nothing is safe. They all require to have their strong wine diluted by a very large admixture of insipid common sense.

Robert Gascoyne-Cecil, 3rd Marquess of Salisbury
Nothing would be more fatal than for the Government of States to get into the hands of experts. Expert knowledge is limited knowledge and the unlimited ignorance of the plain man, who knows where it hurts, is a safer guide than any rigorous direction of a specialist.

Sir Winston Churchill
If it disagrees with experiment, it's wrong. In that simple statement is the key to science.

Richard Feynman
Of all tyrannies, a tyranny sincerely exercised for the good of its victims may be the most oppressive. It would be better to live under robber barons than under omnipotent moral busybodies. The robber baron's cruelty may sometimes sleep, his cupidity may at some point be satiated; but those who torment us for our own good will torment us without end for they do so with the approval of their own conscience.

C.S. Lewis
The welfare of humanity is always the alibi of tyrants.

Albert Camus
We've arranged a global civilization in which most crucial elements profoundly depend on science and technology. We have also arranged things so that almost no one understands science and technology. This is a prescription for disaster. We might get away with it for a while, but sooner or later this combustible mixture of ignorance and power is going to blow up in our faces.

Carl Sagan
Political language – and with variations this is true of all political parties, from Conservatives to Anarchists – is designed to make lies sound truthful and murder respectable, and to give an appearance of solidity to pure wind.

George Orwell
The object of life is not to be on the side of the majority, but to escape finding oneself in the ranks of the insane.

Marcus Aurelius
Necessity is the plea for every restriction of human freedom. It is the argument of tyrants; it is the creed of slaves.

William Pitt the Younger
If you tell a lie big enough and keep repeating it, people will eventually come to believe it. The lie can be maintained only for such time as the State can shield the people from the political, economic and/or military consequences of the lie. It thus becomes vitally important for the State to use all of its powers to repress dissent, for the truth is the mortal enemy of the lie, and thus by extension, the truth is the greatest enemy of the State.

Joseph Goebbels (attributed)
The whole aim of practical politics is to keep the populace alarmed (and hence clamorous to be led to safety) by menacing it with an endless series of hobgoblins, most of them imaginary.

H.L. Mencken
Shameless Begging Bit
Thanks as always to those of you who made a donation in the past 24 hours to pay for the upkeep of this site. Doing these daily updates is hard work (although we have help from lots of people, mainly in the form of readers sending us stories and links). If you feel like donating, please click here. And if you want to flag up any stories or links we should include in future updates, email us here. (Don't assume we'll pick them up in the comments.)
And Finally…
Toby recently took part in a panel discussion on free speech for the Freedom Association, along with Claire Fox and Nick Buckley, among others. You can watch it here.