Following up with Michael Gove
Our headline piece today comes from the senior doctor and regular Lockdown Sceptics contributor. He has done a fact check on Michael Gove's infamous piece in the Times, now that the hospital data for the week it was published are available.
On November 28th, Michael Gove wrote an article in the Times claiming that the NHS could soon be entirely overwhelmed with COVID-19 patients occupying every hospital bed including the overflow Nightingale Hospitals. When writing this piece, he would have been aware of the up-to-date bed occupancy figures which are sent out to all hospital CEOs on a daily basis. These figures were not available outside of NHS executive and Government circles.
Yesterday (December 3rd) the weekly NHS statistics regarding bed occupancy were published up to December 1st, so the public can now see the data which Gove was privy to when writing his article. I have summarised the highlights below.
First, the headline figure of COVID-19 positive patients in English hospitals (Graph 1). Readers can clearly see the downward trends in the North West, North East and the Midlands in the w/e November 28th and flatlining everywhere else.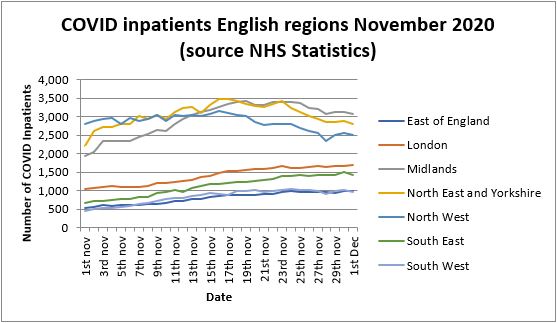 Next, ICU patients (Graph 2). Regular readers will know I favour this metric as it is harder to manipulate than most of the other figures. This shows exactly the same pattern as the inpatients. Clear downward trends in the North East, North West and the Midlands. Flatlining elsewhere with a slight rise in the South East reflecting the localised outbreak in the Medway area. Hard to square this with Mr Gove's apocalyptic warnings of imminent catastrophe – I wonder what the Conservative Party MPs persuaded by the Government's arguments last week will make of it now that they can see the real figures?
Another piece that came to my attention was in the Daily Mail on hospital admissions, claiming that up to a quarter of official COVID-19 'admissions' may be patients who caught the virus while in hospital. The Mail has probably been looking at Graph 3. The important bit is the gap between the blue and yellow curves – this is almost certainly the number of patients catching COVID-19 in hospital. Professor Heneghan and I have repeatedly commented on this phenomenon and speculated as to its significance, but it appears to have evaded the attention of the NHS in their public briefings.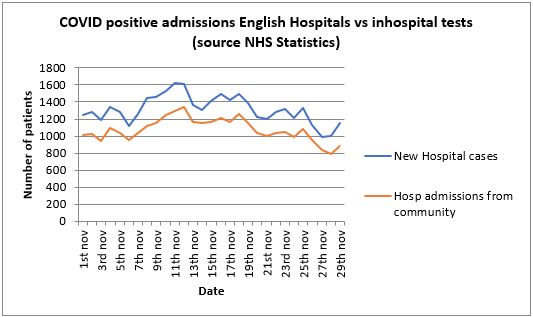 The Mail did ask NHS England about the figures for in-hospital infections. An NHS spokesperson said:
As the ONS has repeatedly made clear, when infections in the community are high, NHS staff and patients are more likely to be affected. While hospitals are asked to rigorously follow regularly updated guidance on infection prevention and control, the best way to reduce infection rates in hospitals is to reduce them in the wider community.
It's not clear to me what that actually means. Is it an acknowledgement that NHS staff spread COVID-19 from the community into hospitals? Or an oblique acceptance that hospital infection control measures are inadequate to prevent nosocomial viral spread? A simple 'yes' or 'no' to a direct question would be preferable – it's a matter of legitimate public concern.
The spokesperson might want to have a look at the graph of new COVID-19 patients admitted to hospital for the English regions (Graph 4). I have added in trendlines to show that once again, the trend is downward in the North of England and the Midlands and virtually flat elsewhere. And yet the gap between patients diagnosed in hospital and admitted with COVID-19 remains stubbornly between 15% and 20%. Why could that be?
I now move on to bed occupancy levels. On average, 87.7% of available beds were occupied across the country in the week ending November 22nd, compared with 94.9% in the same week 2019. This figure does not include extra capacity at Nightingale hospitals, or the thousands of beds rented from the private sector. One senior NHS executive said that national occupancy data was "not a good guide to how pressured hospitals are". I wonder whether he has told Simon Stevens, who used exactly those type of metrics to bolster the Government's case ahead of the lockdown vote on November 5th?
The Government is about to embark on a mass vaccination programme with a series of drugs manufactured, tested and approved by regulatory bodies with impressive speed. Trust and confidence of the public will be paramount if mass uptake is to be achieved. In light of the figures released yesterday, would Mr Gove wish to comment on how the Government's track record in interpreting and providing access to data on COVID-19 should inspire the trust and confidence of the British people?
Stop Press: The same doctor reports that there was a conference call on Wednesday night for the heads of NHS trusts with Simon Stevens, the Chief Executive of the NHS, about the role the NHS would be playing in the much-heralded vaccination programme. Lots of logistical problems were discussed: hiring extra staff, setting up marquees, working out how to bus in thousands of older people, etc. But there is a problem: while we've ordered 40 million doses of the Pfizer/BioNTech vaccine, there are actually only 400,000 available (1%). Not clear when the rest will arrive. Simon Stevens thinks "this is a good problem to have" (direct quote). The doctor writes: "So in essence they pushed out the vaccine fanfare on Wednesday for political PR reasons – probably to deflect attention from the CRG rebellion, knowing that they couldn't deliver the vaccines and are now trying to spin their way out of it. They must have known about this for several days but kept it from the grunts on the ground."
Where England's COVID-19 Response Went Wrong
A recent article in Science Direct considers why, despite billions of pounds spent, a test-and-trace system established, and much other activity, the Government still ended up with a second, economically ruinous national lockdown. While the article accepts many of the nostrums about COVID-19 that lockdown sceptics would not, it is worth highlighting as it is a reminder of why the national response has been so damaging.
On the failure to prepare:
At the system level, pandemic planning focused on the threat of pandemic flu rather than other equally plausible pandemic pathogens. There was a focus on the traditional healthcare settings, with planning and preparations for the wider health and care sector rudimentary at best. Pandemic exercises had previously been carried out, such as Exercise Cygnus in 2016. Whilst health stakeholders may have rehearsed these scenarios, little was carried out to implement learning or action on issues identified from these exercises
On the fixation with centralised testing and tracing:
Initially, the narrative given was that contact tracing was not worth doing as the outbreak phase had moved from containment to mitigation as of March 17th 2020. The reality was that testing and contact tracing could not be performed on a large scale as there was no capacity to do this. After considerable criticism from the public, academics and public health bodies, there was a shift in Government policy. Belatedly, more than £12 billion was spent on a centralised testing and tracing system. For context, this staggering sum is more than the combined budget for all of primary care and public health in England. Glaringly, the leadership for this initiative lacked significant public health expertise
On narrow, hospital-centric perspectives:
Much of the preparedness was healthcare centric and built around hospital response. This can have serious consequences when it ignores the wider ramifications of decisions made in the interests of the hospital sector. For example, to create hospital surge capacity in the early part of the pandemic, there were large-scale discharges from hospitals of infected patients back to care homes, where infection control measures were suboptimal. This was a recipe for disaster and unwittingly seeded infections into these vulnerable settings.
On expertise gaps in the scientific advice:
For health emergencies, the UK Government receives its scientific advice from a committee of scientists, Scientific Advisory Group for Emergencies (SAGE). Whilst SAGE had expert modellers, behavioural psychologists, infectious disease physicians and researchers, there was a crucial weakness: the surprising lack of technical expertise and experience of communicable disease control and outbreak management. There were no practicing Directors of Public Health or consultants in communicable disease control.
On the politics:
Politics has certainly compromised public health responses. There has been disproportionate political focus on mass testing in the hope that it is the magic bullet solution to the pandemic. Much focus has been placed on England's faltering, publicly funded, private sector-delivered test and trace system. Even if it had been operating perfectly, transmissions may already have taken place by the time people were tested and traced. There is no perfect test or test system that will detect all cases.
On the lack of strategy:
Finally, there is the lack of a clear national strategy for managing the pandemic. It is not clear if the Government's aim is for "zero-COVID-19" elimination, suppression to near zero levels or accepting the virus will become endemic and opting for mitigation. Sadly, the current Government seems to have adopted what some might describe as a "hope for the best" stratagem
And in conclusion:
If there is one key lesson from the pandemic thus far, it is the need for a well-resourced public health agency focused on biosecurity that is well prepared and able to scale up its response to pandemic threats. It is vital that this public health agency is independent and able to provide credible and trusted scientific and technical expertise and advice to both the Government and the public without fear or favour.
Worth reading in full. Apart from the plea for more mask-wearing, it is a sane analysis.
Stop Press: On a similar note, the All-Party Parliamentary Group on Coronavirus has just released a report that considers the Government's reaction to COVID-19. It completely buys into the 'second wave' narrative, which is a shame. It recommends a "Covid-Secure UK plan" which involves bringing the reproduction rate below one, minimising transmission and obtaining widespread immunity through vaccination.
Tier Patrol
It's started. A report, from the MailOnline on the efforts of North Yorkshire Police to police travel between tiers:
A police force has been compared to the Gestapo after guarding its borders using number plate recognition cameras to stop drivers leaving Tier 3. North Yorkshire Police said it is using Automatic Number Plate Recognition (ANPR) technology to monitor vehicles and track people who might try to leave Tier 3 to go to pubs or restaurants in neighbouring Tier 2 areas.

The force warned people could face "enforcement action" under public health regulations if they are caught making non-essential journeys into and out of the county – including £200 fines, doubling for further offences up to £6,400. But the move has sparked a fierce public backlash as furious Twitter users compare the local police force to the Gestapo, the official secret police of Nazi Germany and in German-occupied Europe. Privacy campaign group Big Brother Watch called the police behaviour "totalitarian" and warned of a "growing surveillance state and a civil liberties landslide" with director Silkie Carlo telling MailOnline: "This is not policing by consent."
Meanwhile, over in the Telegraph, we read:
Police have been criticised for their "overzealous" enforcement of the new rules on pubs, after landlords reported officers arguing over whether Scotch eggs were a substantial meal and threw out customers who had finished eating. Pub bosses in Tier 2 areas said police had visited their premises to argue over the regulations, insisting that Scotch eggs cannot be considered a "substantial" meal that allows punters to order alcohol.

Patrick Dardis, chief executive of Young's, said officers in London on Wednesday also told customers to leave pub premises as soon as they had finished their meals, preventing them from ordering more drinks. "As if we haven't got enough to contend with we have had some overzealous officials going into pubs unnecessarily and it's a bit intimidating for customers," Mr Dardis said.

"This whole petty argument about a Scotch egg, whether it is or whether it isn't [a substantial meal] is not relevant. What it actually means is a table meal, a substantial meal, is just made up nonsense.
Daft rules, seemingly made up by the Government on the hoof, are leading to overzealous enforcement by authoritarian police forces. When's this nonsense going to end?
Questions about the Vaccine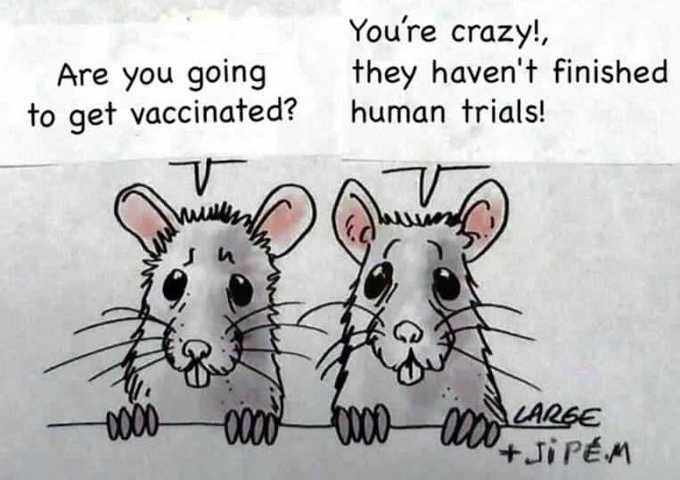 With the roll-out of the Pfizer/BioNTech vaccine set to begin early next week, after it received temporary authorisation from the Medicines and Healthcare Products Regulatory Agency, Kit Knightly has some burning questions to ask over at Off-Guardian. I quote from the piece and add some other sources:
Does it work?
The claim is that they are "95% effective", but where did this come from:
The Pfizer vaccine trial included nearly 44,000 people. Half getting their vaccine, half getting a placebo. In total, from the 44,000 people, 170 were later recorded as having become 'infected with COVID-19'. 162 of them were in the placebo group, eight of them in the vaccine group. The vaccine is therefore credited with preventing 154 cases of COVID-19… or 95%. This implies that the entire trial of 44,000 people is deemed a success based on the potentially multi-variant outcome from less than 4% of those involved. The details of the trial are hard to come by, so we have yet to find out how these 170 people were even diagnosed with COVID-19. Was it a clinical diagnosis based on symptoms? Or PCR test? Either method would raise serious questions about accuracy… Does it work? We have no idea.
The article Kit Knightly links to, by Peter Doshi in the BMJ, is worth reading on this. He writes that:
First, a relative risk reduction is being reported, not an absolute risk reduction, which appears to be less than 1%. Second, these results refer to the trials' primary endpoint of COVID-19 of essentially any severity, and importantly not the vaccine's ability to save lives, nor the ability to prevent infection, nor the efficacy in important subgroups (e.g. frail elderly).
Peter Doshi recommends full, open and independent scrutiny of the underlying trial data in order to build confidence in its results and in the vaccine's efficacy. It is hard to disagree. It is also worth remembering that Matt Hancock, one of the vaccine's foremost advocates, conceded yesterday that it is not known how long immunity derived from the Pfizer/BioNTech vaccine will last.
Is it safe?
The potential for complications down the line certainly exists. Further, the vaccine is based on new technology – an mRNA vaccine, which injects viral genetic material to generate an immune response. The technology has been in development for years, but this would be the first mRNA vaccine actually put to use. So, "is it safe?" is "we don't know".

However, the vaccine pushers and manufacturers clearly have doubts about its safety, since they have gone out of their way to guarantee they have total legal indemnity from prosecution or civil suits should something go wrong. Not a confidence booster that.
You can find more information about mRNA vaccines from Horizon Magazine here and from Pfizer's explainer here.
Yesterday, a number of readers flagged up a newly-released Government document – "Reg 174: Information for Healthcare Professionals on Pfizer BioNTech COVID-19 vaccine"(pdf) – which contains some indications of how much about the vaccine is still unknown.
Summary of safety profile: "The most frequent adverse reactions in participants 16 years of age and older were pain at the injection site (> 80%), fatigue (> 60%), headache (> 50%), myalgia (> 30%), chills (> 30%), arthralgia (> 20%) and pyrexia (> 10%) and were usually mild or moderate in intensity and resolved within a few days after vaccination."

Paediatric population: "The safety and efficacy of COVID-19 mRNA Vaccine BNT162b2 in children under 16 years of age have not yet been established".

Incompatibilities: "In the absence of compatibility studies, this medicinal product must not be mixed with other medicinal products."

Pregnancy: "Animal reproductive toxicity studies have not been completed. COVID-19 mRNA Vaccine BNT162v2 is not recommended during pregnancy. For women of childbearing age, pregnancy should be excluded before vaccination. In addition, women of childbearing age should be advised to avoid pregnancy for at least two months after their second dose."

Fertility: "It is unknown whether COVID-19 mRNA Vaccine BNT162b2 has an impact on fertility."
Not a confidence-booster that, either. Do read the full document.
Who will get it?
First on the docket are the elderly and NHS workers. We don't know who will be excluded. Immunocompromised people were excluded from the efficacy study, so presumably they'll also be excluded from taking the vaccine. If not, that's a potential disaster waiting to happen (although they have legal protection, so I guess that doesn't matter).
The question of the hour is: Who will take it first on live TV? Boris Johnson or Matt Hancock? Both are game, apparently, though of course neither wants to "jump the queue". According to the Telegraph, care home residents will get the vaccine first. The Guardian reports that the staff of the NHS are no longer first in the queue.
Will it become mandatory?
It's certainly a possibility here in the UK. A few months ago a group of scholars submitted written evidence to the UK Parliament that mandatory vaccinations would be defensible on a human rights basis, and that there was already legal precedent for this action in UK legislation (specifically, treating mental health patients who may be a danger to themselves).

In the end, and this is purely my speculation, I doubt the vaccine will ever be literally legally mandatory. Parliament will reject the "expert advice" suggesting COVID-19 vaccines be forced on people. This will accomplish two goals at once: a) It will give the Government a veneer of "libertarianism", a thin façade to cover its tyrannical nature. And b) It will allow a potential "third wave" of COVID-19 to be blamed on "vaccine hesitancy".
Mandatory vaccination and its ugly twin sister, the vaccine passport, are being talked up by a number of 'think tanks', most recently by the Tony Blair Institute for Global Change, which yesterday released a report – "How the Government Should Call the Shots: Getting the UK Vaccine-Ready". Among other things, it recommended :
Urgently approve a digital platform for a health passport that can draw on vaccine and testing data to enable individuals to live freely and safely alongside COVID-19. This platform should also have a paper-based version.
No Tony. Just no.
A reader has been in touch about the ethics of the vaccination drive and the "warped behavioural logic" that underlies it. I'll leave you with a few snippets from this correspondent's remarks:
I feel that the Government is deliberately ramping up lockdowns and the fear factor, and will continue doing so probably at least until June, to worry as many people as possible so that they will rush for a vaccine and not ask too many questions. Whereas minor behavioural modification ("nudging") might occasionally be desirable, inducing mass panic/hysteria (basically terrorising the public, as they have been doing since March) is unethical in the extreme and people should be called to account for it.  

Whitty recently said don't hug a relative at Christmas "if you want them to survive to be hugged again", i.e., touch a relative and they will die. This for a virus that is as dangerous as a bad flu? SAGE gave the advice that people should not play board games at Christmas. This for a virus that is as dangerous as a bad flu? People are being told to wear masks because, if you walk past someone, you will kill them (remember the policeman on TV earlier in the pandemic screaming at a man walking down the road "You are killing people! You are killing people!"). How can you really make an informed choice after being bombarded in this way? 

Is it ethical to push people into having an experimental COVID-19 vaccine that will not provide them with any benefit, for an illness which is no more dangerous than a bad flu? I'm sure that the Government will say that vaccination is necessary, to protect the older and more vulnerable. However, many in this group would die of something else if not COVID-19. You can't stop people dying. You cannot justify mass vaccination on the grounds that it will save people who will die shortly anyway. 

I will not have the vaccine if offered. My view may change in the future. Unlike the Government, I am open to other viewpoints. But I can see nothing in the current situation that justifies the mass vaccination of people, with an experimental vaccine, who are at little or no risk whatsoever – for a virus that is no more dangerous than a bad flu. 
Stop Press: The MHRA has released the list of ingredients of the Pfizer/BioNTech vaccine. Along with the guidance for health care professionals referenced above, it is available here (scroll down for links and references).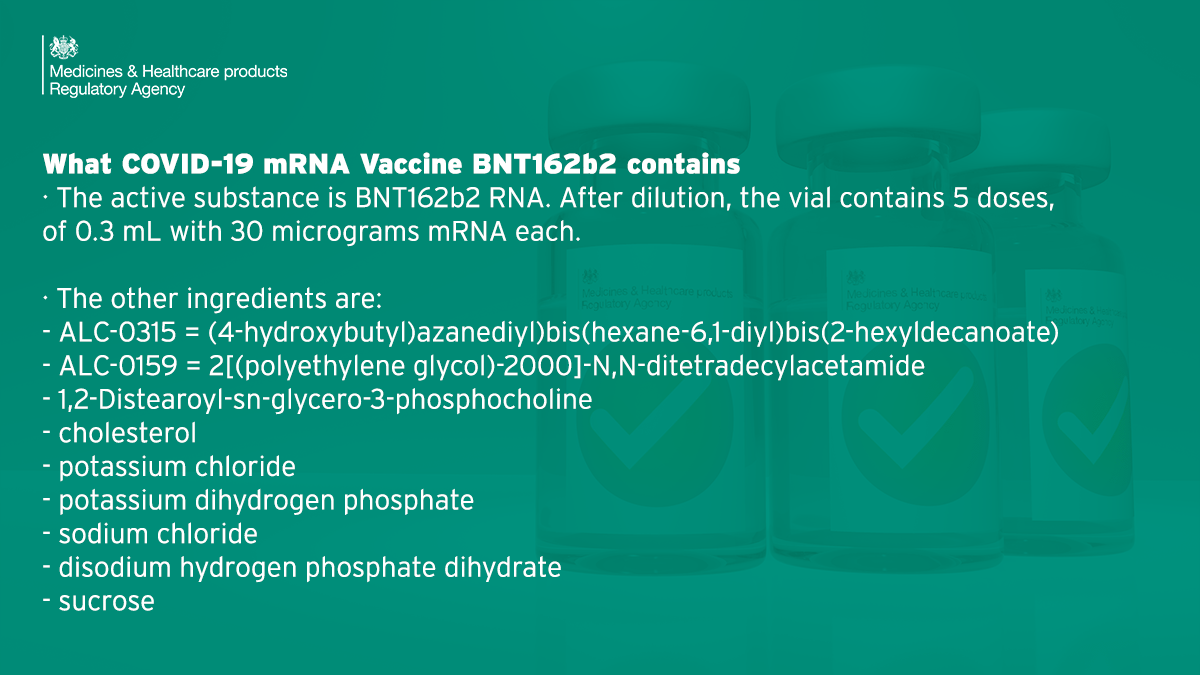 A Postcard from France
Reader Jane Norman has sent us a postcard from France. Lockdown scepticism looks a little different there, but her report touches on many issues relevant to the UK – the ongoing debate about the effectiveness of hydroxychloroquine and remdesivir, scare stories in the press, and… vaccines.
Sceptics in France have a different perspective on COVID-19 from sceptics in Britain. There it is all about statistics, dodgy PCR tests, and lockdowns versus the Great Barrington Declaration. Here it is about treatment. The face of treatment is Professor Didier Raoult. Didier Raoult has become a household name in France. Some people think he's wonderful, others distrust him, a man with long white hair and a beard, but absolutely everybody knows about him.

As well as being head of IHU Méditerranée, the huge university hospital in Marseilles, and a world-renowned expert in infectious diseases, he is also a member of the scientific council round Emmanuel Macron, the French equivalent of SAGE. Right at the start he walked out, slamming the door behind him, because he couldn't work with such a bunch of charlatans. He didn't call them that in so many words, but that is what he implied. He also mentioned their conflicts of interest with Big Pharma. Raoult is no maverick carping from the side lines. It's as though someone like Chris Whitty or Patrick Vallance had gone rogue. It's even better, because Raoult is a hospital doctor. He still wears a white coat.

Raoult and his colleagues at the IHU put out videos several times a week. Some of these have over a million views. So even though he is never invited to speak as an expert on mainstream media and even though the so-called experts are doing everything they can to try to discredit him, his voice is heard.

What does he say? COVID-19 is a new illness. (Not just a bad cold or hyped-up flu then.) The genome has been sequenced. (So, you do have something to work with, despite what some sceptics say.) You must use PCR tests. (Raoult is a great believer in the PCR test, properly administered up to 35 cycles.) You isolate positive cases and treat them with a combination of hydroxychloroquine (to reduce viral load), and azithromycin (to reduce the risk of cytokine storm). This was what he was doing back in March. He has subsequently added zinc to the protocol.
Jane's postcard from France is worth reading in full and Professor Didier Raoult's videos are available on the IHU Méditerranée-Infection YouTube Channel.
Round-Up
Theme Tunes Suggested by Readers
Five today: "Needle and The Damage Done" by Neil Young, "Shot in the Dark" by Ozzy Osbourne, "And What If I Don't" by Herbie Hancock, "Under My Skin" by Steps and "Taxman" by The Beatles.
Love in the Time of Covid
We have created some Lockdown Sceptics Forums, including a dating forum called "Love in a Covid Climate" that has attracted a bit of attention. We have a team of moderators in place to remove spam and deal with the trolls, but sometimes it takes a little while so please bear with us. You have to register to use the Forums, but that should just be a one-time thing. Any problems, email the Lockdown Sceptics webmaster Ian Rons here.
Sharing Stories
Some of you have asked how to link to particular stories on Lockdown Sceptics so you can share it. To do that, click on the headline of a particular story and a link symbol will appear on the right-hand side of the headline. Click on the link and the URL of your page will switch to the URL of that particular story. You can then copy that URL and either email it to your friends or post it on social media. Please do share the stories.
Social Media Accounts
You can follow Lockdown Sceptics on our social media accounts which are updated throughout the day. To follow us on Facebook, click here; to follow us on Twitter, click here; to follow us on Instagram, click here; to follow us on Parler, click here; and to follow us on MeWe, click here.
Woke Gobbledegook
We've decided to create a permanent slot down here for woke gobbledegook. Today, the BBC's all new "woke dictionary". From the Daily Mail:
BBC staff will be given a language guide to help them avoid offending viewers and listeners. The move is part of plans to increase staff diversity and improve the portrayal of under-represented groups on screen.

Director-general Tim Davie said the initiative was "mission-critical" and decisions about the use of language needed to be made by "a diverse group of people". June Sarpong, BBC Director of Creative Diversity, said the language guide would be published in January "offering our creative teams support".

She added: "It's not in any way saying they have to use this terminology, but it's offering them support in terms of the kind of language that doesn't cause offence." Mr Davie said the BBC needed a "rewiring of the core" so that it would be "overt and direct that we are an anti-racist organisation".

A new panel, including external members, will help the BBC ensure it gives an authentic portrayal of disability. There will also be investment in programmes aimed at progressing the careers of diverse talent, on and off screen.

Mr Davie has previously said the broadcaster must achieve diversity targets for BAME (black, Asian and minority ethnic) employees of 20% and a 12% representation for disability in the workforce. A gender balance target of 50:50 was already in place. He said: "It's a bold number, but it is not that bold because that's where Britain's going to be very quickly. If you are not moving at that kind of speed, we have got a problem." He added: "We do need targets and, by the way, the BBC can sometimes be a bit tough on itself. We have seen real progress in certain areas. On screen there's been outstanding work."

The BBC has committed to spending £100million of its commissioning budget from April 2021 on diverse programming.
Worth reading in full.
"Mask Exempt" Lanyards
We've created a one-stop shop down here for people who want to buy (or make) a "Mask Exempt" lanyard/card. You can print out and laminate a fairly standard one for free here and it has the advantage of not explicitly claiming you have a disability. But if you have no qualms about that (or you are disabled), you can buy a lanyard from Amazon saying you do have a disability/medical exemption here (takes a while to arrive). The Government has instructions on how to download an official "Mask Exempt" notice to put on your phone here. You can get a "Hidden Disability" tag from ebay here and an "exempt" card with lanyard for just £1.99 from Etsy here. And, finally, if you feel obliged to wear a mask but want to signal your disapproval of having to do so, you can get a "sexy world" mask with the Swedish flag on it here.
Don't forget to sign the petition on the UK Government's petitions website calling for an end to mandatory face masks in shops here.
A reader has started a website that contains some useful guidance about how you can claim legal exemption.
If you're a shop owner and you want to let your customers know you will not be insisting on face masks or asking them what their reasons for exemption are, you can download a friendly sign to stick in your window here.
And here's an excellent piece about the ineffectiveness of masks by a Roger W. Koops, who has a doctorate in organic chemistry.
Stop Press: A reader has spotted an opportunity to pressure MPs:
I've heard Jonathan Van-Tam has recently said that it's a "good thing" that we'll have to wear masks and socially distance for many years to come.

In the same way that the great Peter Hitchens called for sceptics to write to MPs about the tiered system vote, I wondered if you'd consider pointing out to readers that the requirement for masks has to be reviewed by the Secretary of State "before the end of the period six months after they came into force". They came into force on July 24th, so by my reckoning they need to be reviewed by January 23rd.

This is less than two months away so perhaps this is something we should start writing to MPs about before it quietly gets renewed without debate.
Not a bad thought…
The Great Barrington Declaration
The Great Barrington Declaration, a petition started by Professor Martin Kulldorff, Professor Sunetra Gupta and Professor Jay Bhattacharya calling for a strategy of "Focused Protection" (protect the elderly and the vulnerable and let everyone else get on with life), was launched last month and the lockdown zealots have been doing their best to discredit it ever since. If you Googled it a week after launch, the top hits were three smear pieces from the Guardian, including: "Herd immunity letter signed by fake experts including 'Dr Johnny Bananas'." (Freddie Sayers at UnHerd warned us about this the day before it appeared.) On the bright side, Google UK has stopped shadow banning it, so the actual Declaration now tops the search results – and Toby's Spectator piece about the attempt to suppress it is among the top hits – although discussion of it has been censored by Reddit. The reason the zealots hate it, of course, is that it gives the lie to their claim that "the science" only supports their strategy. These three scientists are every bit as eminent – more eminent – than the pro-lockdown fanatics so expect no let up in the attacks. (Wikipedia has also done a smear job.)
You can find it here. Please sign it. Now over 700,000 signatures.
Update: The authors of the GDB have expanded the FAQs to deal with some of the arguments and smears that have been made against their proposal. Worth reading in full.
Update 2: Many of the signatories of the Great Barrington Declaration are involved with new UK anti-lockdown campaign Recovery. Find out more and join here.
Update 3: You can watch Sunetra Gupta set out the case for "Focused Protection" here and Jay Bhattacharya make it here.
Update 4: The three GBD authors plus Prof Carl Heneghan of CEBM have launched a new website collateralglobal.org, "a global repository for research into the collateral effects of the COVID-19 lockdown measures". Follow Collateral Global on Twitter here.
Judicial Reviews Against the Government
There are now so many JRs being brought against the Government and its ministers, we thought we'd include them all in one place down here.
First, there's the Simon Dolan case. You can see all the latest updates and contribute to that cause here.
Then there's the Robin Tilbrook case. You can read about that and contribute here.
Then there's John's Campaign which is focused specifically on care homes. Find out more about that here.
There's the GoodLawProject's Judicial Review of the Government's award of lucrative PPE contracts to various private companies. You can find out more about that here and contribute to the crowdfunder here.
The Night Time Industries Association has instructed lawyers to JR any further restrictions on restaurants, pubs and bars.
And last but not least there's the Free Speech Union's challenge to Ofcom over its 'coronavirus guidance'. You can read about that and make a donation here.
Samaritans

If you are struggling to cope, please call Samaritans for free on 116 123 (UK and ROI), email jo@samaritans.org or visit the Samaritans website to find details of your nearest branch. Samaritans is available round the clock, every single day of the year, providing a safe place for anyone struggling to cope, whoever they are, however they feel, whatever life has done to them.
Quotation Corner
We know they are lying. They know they are lying, They know that we know they are lying. We know that they know that we know they are lying. And still they continue to lie.

Alexander Solzhenitsyn
It's easier to fool people than to convince them that they have been fooled.

Mark Twain
Men, it has been well said, think in herds; it will be seen that they go mad in herds, while they only recover their senses slowly, one by one.

Charles Mackay
They who would give up essential liberty to purchase a little temporary safety, deserve neither liberty nor safety.

Benjamin Franklin
To do evil a human being must first of all believe that what he's doing is good, or else that it's a well-considered act in conformity with natural law. Fortunately, it is in the nature of the human being to seek a justification for his actions…

Ideology – that is what gives the evildoing its long-sought justification and gives the evildoer the necessary steadfastness and determination.

Alexander Solzhenitsyn
No lesson seems to be so deeply inculcated by the experience of life as that you never should trust experts. If you believe the doctors, nothing is wholesome: if you believe the theologians, nothing is innocent: if you believe the soldiers, nothing is safe. They all require to have their strong wine diluted by a very large admixture of insipid common sense.

Robert Gascoyne-Cecil, 3rd Marquess of Salisbury
Nothing would be more fatal than for the Government of States to get into the hands of experts. Expert knowledge is limited knowledge and the unlimited ignorance of the plain man, who knows where it hurts, is a safer guide than any rigorous direction of a specialist.

Sir Winston Churchill
If it disagrees with experiment, it's wrong. In that simple statement is the key to science.

Richard Feynman
Of all tyrannies, a tyranny sincerely exercised for the good of its victims may be the most oppressive. It would be better to live under robber barons than under omnipotent moral busybodies. The robber baron's cruelty may sometimes sleep, his cupidity may at some point be satiated; but those who torment us for our own good will torment us without end for they do so with the approval of their own conscience.

C.S. Lewis
The welfare of humanity is always the alibi of tyrants.

Albert Camus
We've arranged a global civilization in which most crucial elements profoundly depend on science and technology. We have also arranged things so that almost no one understands science and technology. This is a prescription for disaster. We might get away with it for a while, but sooner or later this combustible mixture of ignorance and power is going to blow up in our faces.

Carl Sagan
Political language – and with variations this is true of all political parties, from Conservatives to Anarchists – is designed to make lies sound truthful and murder respectable, and to give an appearance of solidity to pure wind.

George Orwell
The object of life is not to be on the side of the majority, but to escape finding oneself in the ranks of the insane.

Marcus Aurelius
Necessity is the plea for every restriction of human freedom. It is the argument of tyrants; it is the creed of slaves.

William Pitt the Younger
If you tell a lie big enough and keep repeating it, people will eventually come to believe it. The lie can be maintained only for such time as the State can shield the people from the political, economic and/or military consequences of the lie. It thus becomes vitally important for the State to use all of its powers to repress dissent, for the truth is the mortal enemy of the lie, and thus by extension, the truth is the greatest enemy of the State.

Joseph Goebbels
Shameless Begging Bit
Thanks as always to those of you who made a donation in the past 24 hours to pay for the upkeep of this site. Doing these daily updates is hard work (although we have help from lots of people, mainly in the form of readers sending us stories and links). If you feel like donating, please click here. And if you want to flag up any stories or links we should include in future updates, email us here. (Don't assume we'll pick them up in the comments.)
And Finally…