Sturgeon Makes Masks Mandatory in Schools – Boris Urged to Follow Suit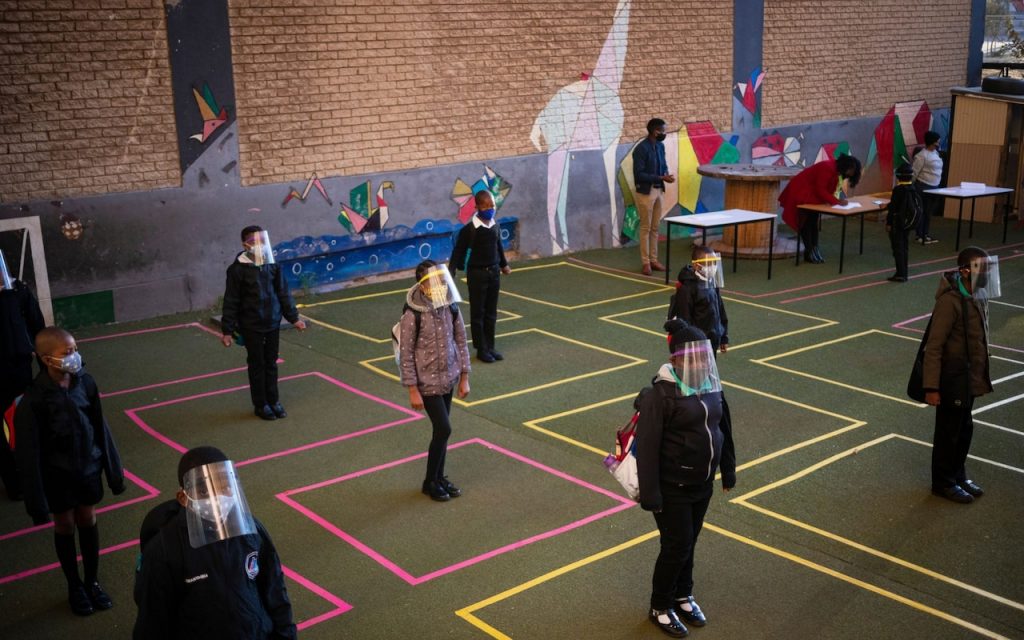 Nicola Sturgeon has made face masks mandatory in Scottish secondary schools and now Boris is facing calls to do the same. The Telegraph has more.
Boris Johnson is under fresh pressure to introduce face masks in schools after Nicola Sturgeon signalled over-12s will be made to wear them in Scotland.

Teaching unions called on the Government to review its guidance on face coverings, which currently says they should not be worn in schools, although ministers said they had no plans to do so.

It came after the World Health Organisation and the UN children's agency Unicef advised that children aged 12 and over should wear face coverings in the same conditions as adults, particularly where they cannot guarantee at least a one metre distance from others.

Ms Sturgeon, the First Minister of Scotland, launched an immediate review of practices in Scotland (where the school term has already started) and is expected to announce that over-12s will have to wear coverings in corridors and other communal spaces.

The Association of School and College Leaders immediately said Mr Johnson should follow suit, putting the union on a collision course with the Government just days before children in England return to their classrooms.
Let's hope Boris withstands this pressure. Sage member Professor Rusell Viner said on Newsnight last night that if children wear masks they're more likely to pass on the virus.
If you don't fancy the idea of your child being muzzled in the classroom, please sign this petition by UsForThem. Although if you make your signature public there's a risk that LBC's bedwetting shock jock James O'Brien will hold you personally responsible for any child that dies of COVID-19 after returning to school. On his LBC show yesterday, O'Brien told a listener who was arguing for the re-opening of schools in full next month, "When a child dies it's on you." Even Piers Morgan thought that was over the top.
Stop Press: Headteachers say they won't fine parents who don't send their children back to school next month. Heads have the power to impose fines of £120 per parent, cut to £60 if paid within 21 days, for their children's non-attendance. But Paul Whiteman, General Secretary of the National Association of Head Teachers, has said he will be advising his members not to fine parents. "We think fines will be counterproductive now," he said. "Where families have deep concerns about coming back, we hope that through engaging with schools, their fears are allayed."
Simon Dolan Launches #BackToSchool Campaign, Writes Exclusively For Lockdown Sceptics
Anti-lockdown campaigner Simon Dolan has written a piece for today's Lockdown Sceptics about his #BackToSchool campaign.
Whether it be the largest restriction on personal freedoms in a generation, or the ludicrous decision to mandate face masks, this Government has proven time and time again that it is not up to the job.

If the Government's handling of this year's A-Level results day did not fill you with confidence, then I am certain that you will be concerned about the prospect of children returning to school in the coming weeks. With the Scottish Government today announcing that they will be mandating facemasks in schools, we are rapidly watching another wave of restrictions wash over the UK.

A poll for Keep Britain Free suggests that over three quarters of parents are perfectly happy to send their children back to school. So why is this Government being pressurised into preventing them from doing so and ensuring that the few that do are required to wear face masks and prevented from interacting with their friends.

We cannot allow Gavin Williamson to pander to the trade unions and Nicola Sturgeon, we must stand up for our children and ensure that they all return to school as normal in the coming weeks.

That is why I have launched the #BackToSchool Campaign, calling on the Government to display some rarely seen fortitude and ensure that children return without social distancing, face masks or blended learning. Join me on Facebook and Twitter and let the Government know that we will not be cowed, and our children will return to school as they are intended to.

It's vital for the physical, mental and economic health of future generations that our children get back to learning as soon as possible. Let's get our kids back to school and life back to normal."
Fightback Against Kim-Jong Dan Begins
A freedom fighter in Australia sent me a photo of this box of leaflets that has just been delivered to his home in Melbourne.
I wanted to send you the image of my letterbox flyers that I have just had printed x 2,000 (yesterday) and another 3,000 to come today. I have enlisted a number of neighbourhood walkers to letterbox their "permitted zone" (the ludicrous 5km radius from one's front door).

I love your Lockdown Sceptics website and have been reading this along with listening to James Delingpole and you on the London Calling podcast well before us muted-Melbournians were plunge into a previously unthinkable holding-pattern of fatuous-fright.
Meanwhile, the Premier of Victoria, Dan Andrews – known to locals as Kim-Jong Dan – announced yesterday that the State of Emergency would be extended by 18 months. This is in spite of the fact that the state recorded its lowest rise in infections in seven weeks with 116 additional cases on Monday. To see what the State of Emergency means for ordinary Victorians, take a look at this shocking YouTube video.
Defund the BBC
The Mail leads on the BBC's crackpot decision to ban Rule Britannia – although after this provoked a backlash, BBC mandarins have now said it will be played but not sung, which has of course provoked another backlash.
Laurence Fox today led calls to strip the BBC of its licence fee funding over the bungled decision to play Land of Hope and Glory and Rule Britannia at the Last Night of the Proms but not sing the "racist" words to avoid offending left-wing critics.

Critics accused the BBC of "erasing history" and caving in to "woke morons", while others mocked the corporation for its suggestion that singing the songs would be too risky due to the Covid pandemic, noting that the National Anthem will still be sung by a lone voice.

Fox tweeted this morning: "Defund this shameful, Britain-hating organisation and start again. The lunatics are in charge of the asylum #Defund the BBC."
There's plenty more in this vein, not least from the redoubtable Richard Littlejohn.
I weighed in yesterday on Julia Hartley-Brewer's TalkRadio show (see above).
And you can sign the petition created by my friend Christopher Silvester urging the BBC not to scrap Rule Britannia and Land of Hope and Glory here.
French Riot Police Storm Bar
The French riot police stormed a bar last night and assaulted a group of football fans watching the Champions League final because they weren't observing proper social distancing rules. This is what a police state looks like. Shocking.
Why Are Doctors Exempt From Quarantine?
A reader emails with a story that reveals just how nonsensical the quarantine rules for returning holidaymakers are.
A colleague of my mine just returned from a quarantined country. He mentioned the usual stuff that the entry form takes over 45 minutes to complete but then no one even looked at it when he came back.

However, his wife is a hospital doctor. Hospital doctors are exempt. Seriously. So, she goes straight back to work and they wanted her back. Apparently, she suggested getting tested and they will do that in a few days! But please come back to work anyway.

To state the obvious: if any of this made any sense then surely doctors would be the most likely occupation to have in the most secure quarantine we could dream up, given that they deal with the most vulnerable people? Of course, this approach makes zero sense. Strongly suggests that the people who really understand the risks agree that this is all nonsense and are quietly ignoring it.
Stop Press: Apparently, NHS staff were exempt from having to quarantine in England but haven't been since July 31st.
Cui Bono?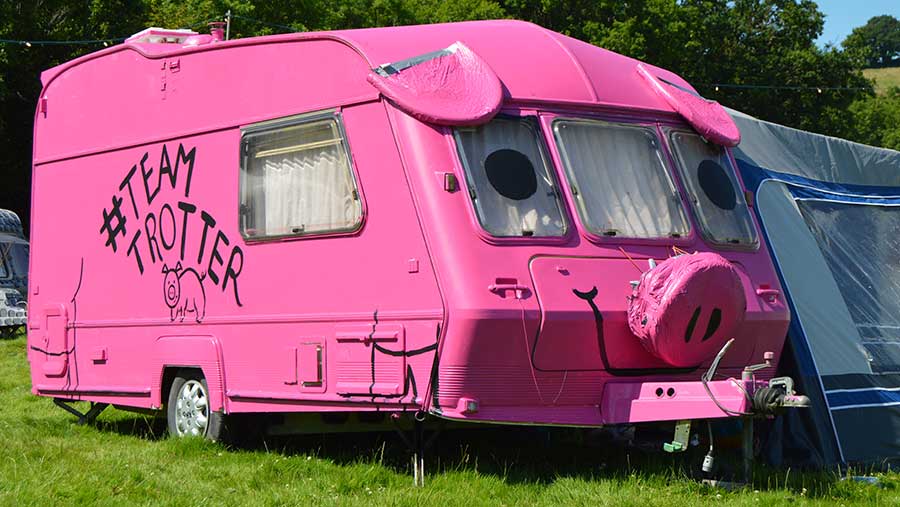 Sitting round the dinner table with my children a couple of nights ago, we tried to cheer each other up by listing the people and companies who've done well out of lockdown. Not recommended. It didn't work.
Amazon
Google
Microsoft
Apple
Facebook
Twitter
Tesla
PayPal
Zoom
Roche
AstraZeneca
Imperial College
Netflix
T-Mobile
BT Broadband
Bicycle shops
But here's one we didn't think of: Caravans and motorhomes. I received a press release today from MHB Corporation, the owner of Robinson's Caravans:
One of the UK's largest caravan companies has reported a sharp increase in the sale of caravans and motorhomes during the Coronavirus crisis, and new research reveals a huge spike in people taking caravan holidays this year – many of whom are first-timers. In June and July 2020, Robinsons Caravans, based in Brimington, Chesterfield, saw sales of new and used fixed caravans increase by 9% and 14% respectively when compared to the same period last year. For motorhomes, it exceeded sales targets by 250% in June alone.
A Scientist Writes…
Yesterday, I urged readers to submit evidence to the APPG on Coronavirus, although there's something a bit odd about that APPG. The website hosting it is linked to an anti-Brexit campaigning site. I daresay it's all part of Layla Moran's leadership campaign. (Is using an APPG to promote a leadership bid within the rules?) Nonetheless, I imagine the evidence still gets through to the APPG. And today I received an email from a scientist emphasising how important it is for sceptics to participate in this inquiry.
May I please urge any scientists, researchers or university academics who read Lockdown Sceptics and who have had their work disrupted by the stupid lockdowns to submit to that APPG link as a "scientist/public health expert/other relevant expert" and make criticisms of how delays and cancellation of research have cost lives. There are good arguments to be made here that had we stuck to the herd immunity strategy and kept on as normal Britain would have got many more months of science done, and be months closer to having, for example:

* new anti-cancer drugs (if you're in cell biology),

* new radiation therapies (if you're in particle physics),

* new abilities to foresee and stop political crises and wars (if you're a historian),

* safer aircraft which need less regular maintenance overhauls (if you do metallurgy that could apply to turbine blades),

* better body armour to save soldier's lives (if you're in ceramic materials science),

* wearable medical devices to monitor conditions like diabetes (if you do electronic sensors or novel battery chemistries),

* faster emergency responses to remote regions (if you do satellite communication related work)…

There is also the "UK PLC" argument – that the UK could be making months more profit by having these new scientific developments ready months earlier and hence, some day in the future, however long it takes from research to application, being that many months earlier to market for export.

If you're involved in a randomised controlled trial of a drug your views might carry more weight still.
He thinks submissions from sceptical scientists will be particularly valuable because Layla Moran is the MP for Oxford West and Abingdon and many of her constituents will be scientific researchers whose work has been torpedoed by the lockdown.
You can submit your evidence here.
Round-Up
Theme Tunes Suggested by Readers
Two today, both by Chris Brown: "Tell Me What To Do" and "Wet the Bed".
Love in the Time of Covid
We have created some Lockdown Sceptics Forums that are now open, including a dating forum called "Love in a Covid Climate" that has attracted a bit of attention. We've also just introduced a section where people can arrange to meet up for non-romantic purposes. We have a team of moderators in place to remove spam and deal with the trolls, but sometimes it takes a little while so please bear with us. You have to register to use the Forums, but that should just be a one-time thing. Any problems, email the Lockdown Sceptics webmaster Ian Rons here.
Small Businesses That Have Re-Opened
A few months ago, Lockdown Sceptics launched a searchable directory of open businesses across the UK. The idea is to celebrate those retail and hospitality businesses that have re-opened, as well as help people find out what has opened in their area. But we need your help to build it, so we've created a form you can fill out to tell us about those businesses that have opened near you.
Now that non-essential shops have re-opened – or most of them, anyway – we're focusing on pubs, bars, clubs and restaurants, as well as other social venues. As of July 4th, many of them have re-opened too, but not all (and some of them are at risk of having to close again). Please visit the page and let us know about those brave folk who are doing their bit to get our country back on its feet – particularly if they're not insisting on face masks! If they've made that clear to customers with a sign in the window or similar, so much the better. Don't worry if your entries don't show up immediately – we need to approve them once you've entered the data.
"Mask Exempt" Lanyards
I've created a permanent slot down here for people who want to buy (or make) a "Mask Exempt" lanyard/card. You can print out and laminate a fairly standard one for free here and it has the advantage of not explicitly claiming you have a disability. But if you have no qualms about that (or you are disabled), you can buy a lanyard from Amazon saying you do have a disability/medical exemption here (now showing it will arrive between Oct 3rd to Oct 13th). The Government has instructions on how to download an official "Mask Exempt" notice to put on your phone here. You can get a "Hidden Disability" tag from ebay here and an "exempt" card with lanyard for just £3.99 from Etsy here.
Don't forget to sign the petition on the UK Government's petitions website calling for an end to mandatory face nappies in shops here (now over 30,500).
A reader has started a website that contains some useful guidance about how you can claim legal exemption.
And here's a round-up of the scientific evidence on the effectiveness of mask (threadbare at best).
Shameless Begging Bit
Thanks as always to those of you who made a donation in the past 24 hours to pay for the upkeep of this site. Doing these daily updates is a lot of work (although I have help from lots of people, mainly in the form of readers sending me stories and links). If you feel like donating, please click here. And if you want to flag up any stories or links I should include in future updates, email me here. If you want me to link to something, don't forget to include the HTML code, i.e. a link.
And Finally…
In the latest episode of London Calling, my weekly podcast with James Delingpole, we rage against the fact that progressive Year Zero types are using the pandemic as an excuse to cancel everything we hold dear, including city centres, live sport, fast cars, air travel and now Rule Britannia. You can listen on iTunes here. Don't forget to subscribe!