Three Quarters of a Million Jobs Lost During Lockdown
According to the Office for National Statistics, UK payrolls fell 2.5% from March to July of this year, amounting to the loss of 730,000 jobs. The Telegraph has more.
Meanwhile, the number of people claiming benefits climbed to 2.7m in July, up 116.8% since March.

The ONS also found that nominal pay growth – unadjusted for inflation – from April to June was negative for the first time since records began in 2001, weighed down by lower bonuses and furloughed workers on reduced earnings.

However, the official unemployment rate is not rising because to be counted among the unemployed, workers need to be actively looking for a new job, which many have decided not to do yet, the ONS said.

Jonathan Athow of the ONS said there was also a large number of people who said they were working no hours and getting no pay.

"The falls in employment are greatest among the youngest and oldest workers, along with those in lower-skilled jobs," he added. "Vacancies numbers began to recover in July, especially in small businesses and sectors such as hospitality, but demand for workers remains depressed."
What Accounts for the UK's Unusually High Death Toll?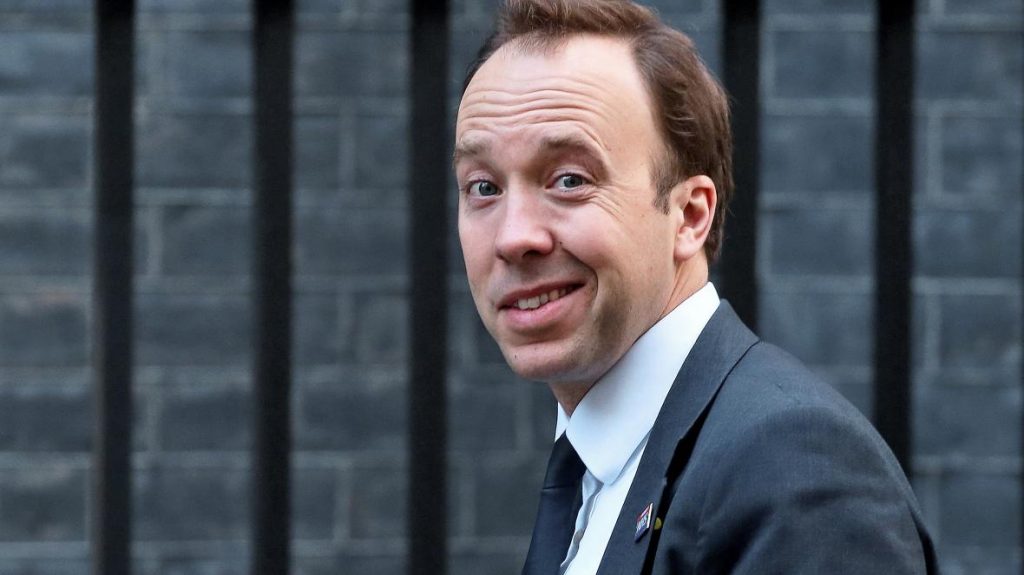 There's an interesting blog post by Jason Oke and Carl Heneghan on the Centre for Evidence-Based Medicine website, speculating as to what could account for the UK's high Covid death toll over the past three weeks. They note that the UK is an outlier when compared to every other European country.
Analysing deaths since mid-July the UK is a clear outlier with a Case Fatality Rate (CFR) of 6.57. Every other European country has a CFR for this period less than three, and Spain is as low as 0.15.

Spain has reported over 60,000 cases, but only 94 deaths; Germany has 21,000 cases compared to the UK's 26,500 cases but reports 93% fewer deaths (129 versus 1,744), and Russia has nearly ten times as many cases as the UK but only twice the deaths.

The difference in the UK is so stark that the primary explanation has to be in the current recording and reporting of deaths. We are expecting the UK numbers to be revised this week to bring them, somewhat, in line with the rest of Europe.
Meanwhile, the Telegraph is reporting that the official daily death toll could be scrapped, following an investigation into the reporting anomalies flagged up by Yoon Loke and Carl Heneghan in a CBEM blog post three weeks ago.
Stop Press: Matt Hancock's crack army of contract tracers are sitting on their hands doing nothing, according to report done by Independent SAGE. The group said the army of up to 25,000 staff had reached 51,524 close contacts of people who've tested positive for coronavirus between the end of May and the end of July. That amounts, on average, to two successful contacts per employee across the period. The Telegraph has more:
The criticism chimes with comments from staff employed by NHS Test and Trace which have emerged since its launch at the end of May.

One, a trained clinician, said the job was akin to being "paid to watch Netflix". Others spoke of being members of a WhatsApp group called the Mouse Movers Club, which they use to remind each other to move their computer mouse every 15 minutes to avoid being locked out of the system.
The latest "fix" of this fiasco is to turn over responsibility for contact tracing to local authorities. What could possibly go wrong?
Does PHE's New Study Show Schools Are Safe to Re-Open or Not?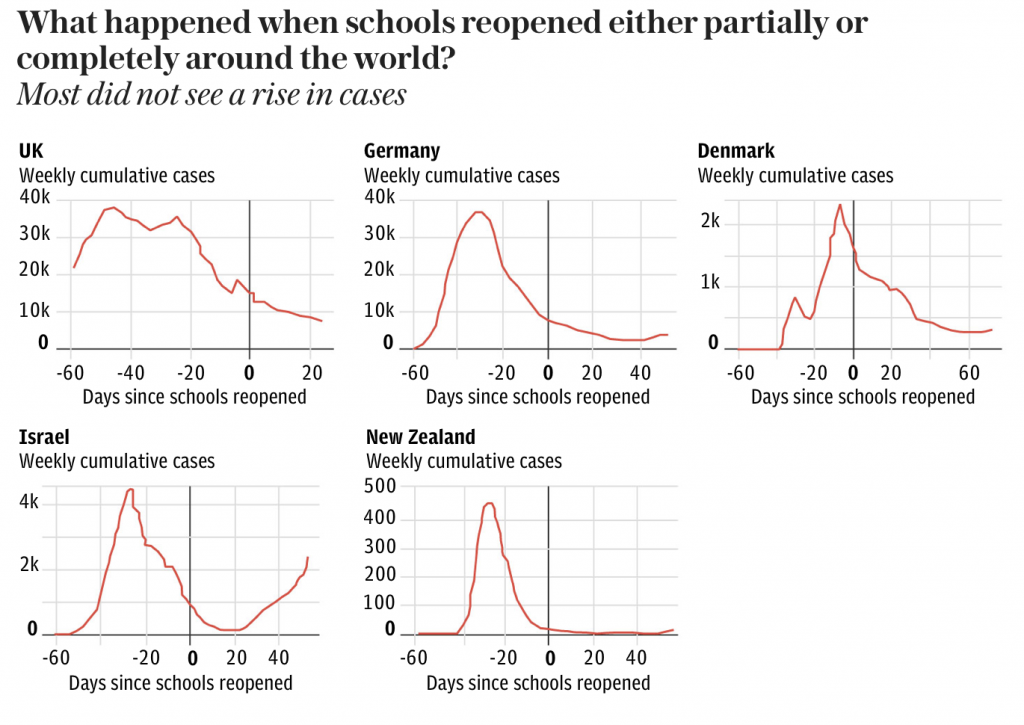 The Sunday Times published a leaked report by Public Health England (PHE) two days ago that purportedly shows there is little or no evidence that the virus is transmitted in schools. About 20,000 pupils and teachers in 100 schools across England were tested as part of the study to monitor the spread of the disease up to the end of the summer term.
According to a Professor Russell Viner, president of the Royal College of Paediatrics and Child Health and a member of SAGE: "A new study that has been done in UK schools confirms there is very little evidence that the virus is transmitted in schools. This is some of the largest data you will find on schools anywhere. Britain has done very well in terms of thinking of collecting data in schools."
However, the Times has run a story on its front page today saying its sister paper's summary of the forthcoming report is inaccurate. According to the Times, PHE has studied those aged 10 and under and those over 10 and while there's little evidence that the first group spreads the virus, the second group doesn't fare so well.
Secondary school pupils are likely to transmit coronavirus as easily as adults, according to official research used by ministers to argue that it is safe for all children to return to class next month.

Scientists at Public Health England (PHE) believe that tougher rules are likely to be needed for older children, despite finding that primary pupils do not seem to pass the virus to each other.

Gavin Williamson, the education secretary, said yesterday that a study being conducted by PHE of thousands of pupils who returned to schools in June showed that there was little risk in government plans for all children to be back in the classroom for the new academic year next month.

However, the Times understands that researchers working on the study are unhappy with the way ministers have used the findings, which have not been fully analysed. The preliminary results do suggest that primary schools pose little danger, with only six positive tests out of 9,000 tested so far. These cases were not linked to each other and contact tracing suggested that the children had caught the virus from their parents or other carers outside school.
It's impossible to assess this data without seeing it, but the evidence from European countries that have re-opened schools – including secondary schools – is that doing so has had no discernible impact on the spread of the virus (see graphic above).
Is Boris worried that the PHE data will be used by the teaching unions to justify continuing to obstruct the Government's attempts to re-open schools next month? Apparently so, because according to the Telegraph he has asked Chris Whitty to carry out a review of the evidence on the transmission of coronavirus in educational settings in an attempt to show schools are safe to re-open.
Professor Chris Whitty is being asked to carry out a rapid evaluation of the research on schools in order to provide parents with more reassurance before the new term starts next month.

One study, to be published later this week, will show that, despite 60 clusters and outbreaks in schools and nurseries during June and July, not a single child has been hospitalised.

Preliminary results from a larger study by Public Health England (PHE) next week are expected to confirm that there is little evidence that the virus is transmitted in schools.
Vicstapo Officer Chokes Woman For Not Wearing Mask
There have been a number of horrific videos in the past 24 hours of police in Melbourne brutally assaulting young women for not wearing masks. Some people naively clung to the hope that the police in Victoria wouldn't enforce the illiberal policies of state premier Daniel Andrews, known locally as Kim-Jong Dan. But history suggests that if authoritarian, power-crazed leaders ask the police to force people to comply with their loony, draconian diktats they are more than happy to do so. Awful. (If you have the stomach for it, there's another video here.)
Postcard From Stockholm
A reader has emailed to let me know about his experience holidaying in Sweden.
I wanted to get in touch with you to tell you about my recent short break to Stockholm, it made a wonderful change from old Blighty.

Stockholm was a marvel to behold – upon arriving we instantly felt transported into another world. It all felt very normal with life carrying on as I remember it. There are some modest precautions in place with sanitiser available (but never forced) and some extent of social distancing. There isn't a hint of the infantilism we see at home – no markings on the floor, no barked announcements, no yellow and black hazard tape marking social distancing and no marshals outside shops. The population are treated as adults and trusted to behave accordingly. There were plenty of people out and about with many office workers out buying lunch, friends meeting up, business meetings taking place in cafes and restaurants and lots of Swedes on staycations.

One thing I was highly skeptical about has been our media coverage of Anders Tegnell. According to our media, the Swedes all think he's a raving lunatic. I spoke to about 30 Swedes at our hotel who all agreed with his strategy and felt that he'd made the right choices for Sweden. They were all happy with his leadership and felt he was the right man for the job. This "anger" as I believe the BBC described the feeling towards Tegnell in Sweden is simply non-existent, indeed, we walked past a bakery in Gamla Stan which had named a cake after him!

All in all, it was a lovely break in a beautiful city with wonderful food, hospitable people and endless things to do. I'd highly recommend a holiday in Stockholm to anyone who wants a break from this tyrannical pantomime our country has become. If anyone needs additional persuasion – buffet breakfasts are still very much the order of the day in Sweden!
Postcards From Around England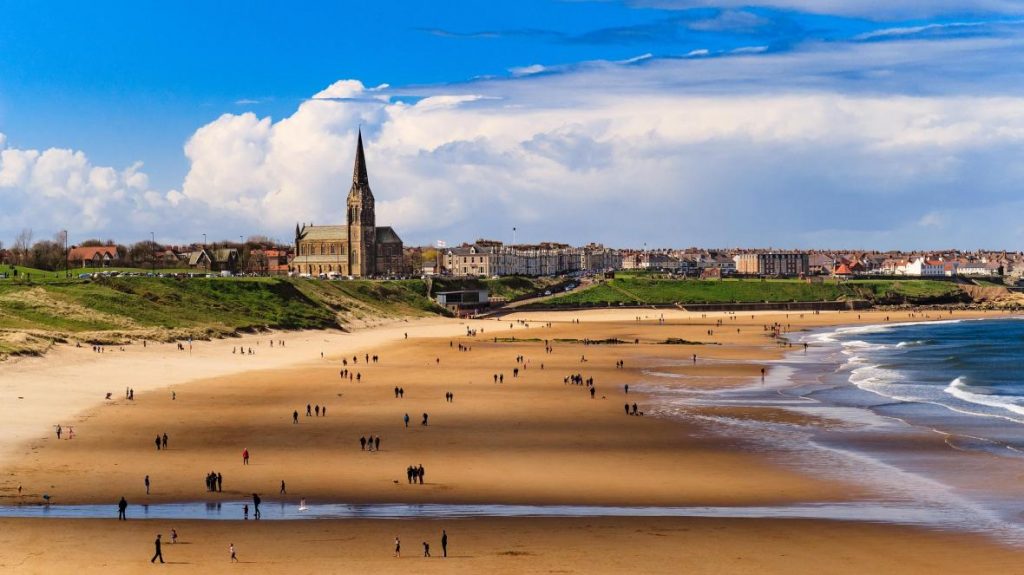 Several readers have been in touch to tell me about their staycation experiences. Nearly all were positive.
First, a postcard from the North East.
I've just returned home from a few days in the North East, exploring the coastline north between Tynemouth and Bamburgh.

Local families and holidaymakers were enjoying the good weather and the beaches, which were not crowded.

In the streets people were easily able to keep a sensible distance without obsessive two metre paranoia. Dinner in two restaurants was relaxed and pretty normal. Tables were well spaced and sanitiser available. Staff wore no face coverings and there was no pressure on customers to provide contact details.

It was uplifting to see groups of teenagers enjoying swimming, diving, and paddle boarding and two Geordie lasses sitting on a rock with their feet in a rock pool singing their hearts out.
And here's another happy camper just back from Wales.
We've just been to Pembrokeshire for a short family break and the absence of masks and people crab-stepping around one another was a wonderful relief, the most 'normal' we've felt for months.

Roads, beaches, shops and restaurants were busy and the atmosphere generally very relaxed. Indeed, we only had one restaurant stipulate that masks were to be worn on entering the building, which could then be removed at the table. Needless to say, we ate elsewhere.
Has Northern Ireland Created a New Criminal Offence by Accident?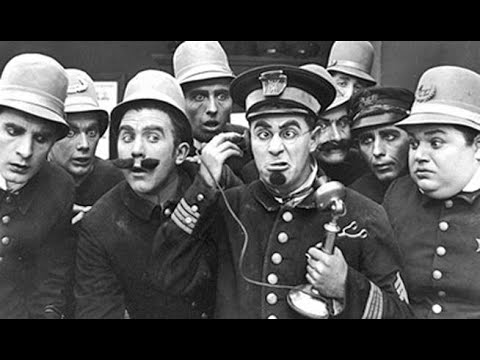 An eagle-eyed reader has spotted that the Northern Ireland Executive may have created a new, wide-ranging criminal offence by accident in its rush to push through new regulations making the wearing of face coverings in shops compulsory.
I believe that the Northern Irish Department of Health has accidentally created a criminal offence, using essentially the same regulation-making power which has been used in England to enforce the shutdown and wearing of face coverings.

Yesterday, the Health Protection (Coronavirus, Wearing of Face Coverings) (Amendment) Regulations (Northern Ireland) 2020 (SR 2020 No. 164) came into effect. They amend the Health Protection (Coronavirus, Wearing of Face Coverings) Regulations (Northern Ireland) 2020 (SR 2020 No. 151).

The intended purpose of the Regulations is to make it an offence to fail without reasonable excuse to wear a face covering in a relevant place (i.e. shops, etc.)

They do this by providing, in regulation 4A(1), "A person shall not, without reasonable excuse, enter or remain within a relevant place without wearing a face covering."

Regulation 7(1) then provides, "A person who, without reasonable excuse, contravenes a requirement in regulation 4 or 4A commits an offence."

However, paragraph (3) of regulation 4A states: "A person shall temporarily remove a face covering when requested to do so for identification purposes by a relevant person, a person responsible for a relevant place or an employee of that person acting in the course of their employment."

This is a requirement – the use of the word "shall" is unequivocal and identical to the use of the word in paragraph (1). Therefore, in my view, regulation 7(1) makes it an offence to fail to comply with it.

In other words, the Regulations (apparently accidentally) mean that, if a person tries to buy a 6 pack of beer and is asked to remove his face covering so that the shop assistant can check his ID, he commits a criminal offence if he refuses to do so. There is not even a "reasonable excuse" exception, as there is with regulation 4A(1).

Further evidence is that regulation 5, which gives some examples of reasonable excuses not to wear a face covering, gives the following as such an example: "where a person responsible for a relevant place or an employee of that person acting in the course of their employment, has asked that the face covering be removed for identification purposes."

It appears that this is a mistake, but it appears nonetheless that sloppy drafting has meant that a new, wide-ranging criminal offence has been created by accident and is currently in force in Northern Ireland.

I have brought this to the attention of Francis Hoar, who is involved with Simon Dolan's judicial review of some of the UK Government's "health protection" regulations, and he agrees with me about my interpretation of the apparent effect of the Regulations.
Sounds like my correspondent should bring a Judicial Review. If he decides to do that, I'll link to the crowdfunder here.
New Zealand Prime Minister Orders Second Lockdown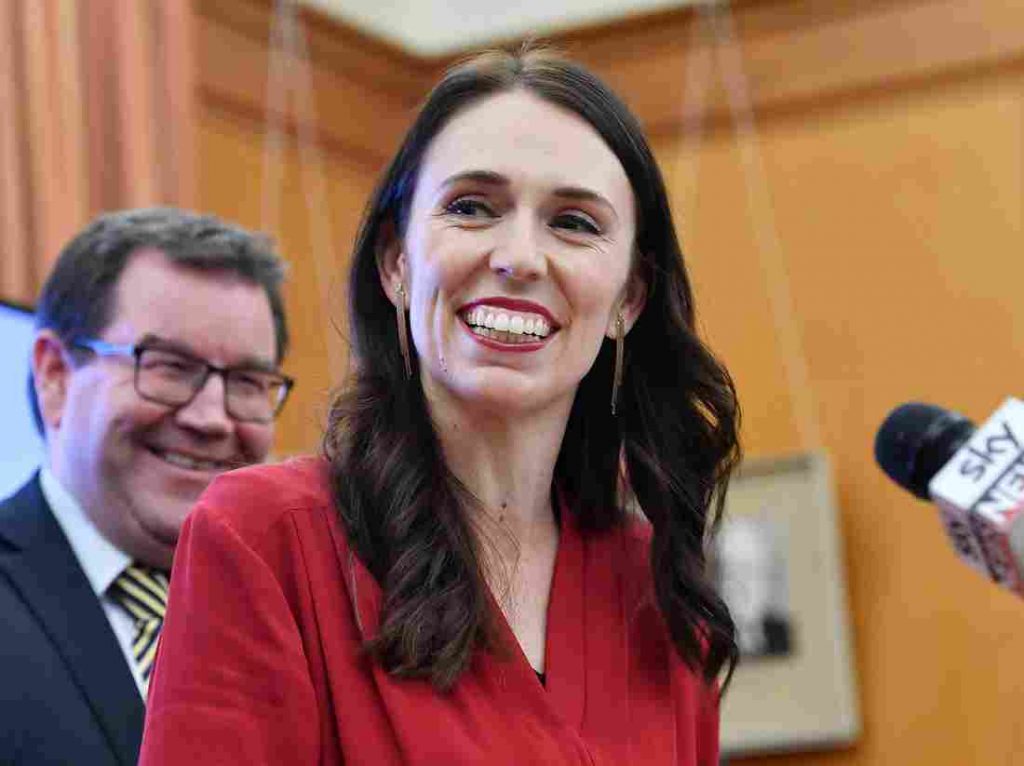 A reader in New Zealand has been in touch to let me know that Jacinda Arden has decided to impose a second lockdown.
It pains me to write this, but Queen Covid – she of the illustrious teeth, who shall be revered across the world as an example of leadership – has just announced Auckland will be going back into Level 3 restrictions tomorrow (schools closed, etc.), and the rest of NZ into Level 2.

Yep, we have cases! All four of them. Who'd have predicted that maintaining pristine isolation of NZ from the rest of the world couldn't be maintained forever? Announced at 9pm tonight and enacted by midday tomorrow. Precisely and exactly as bizarre and arbitrary as the recent flip-flops in UK policy.
My correspondent isn't exaggerating when he says this has been prompted by four new cases. Not deaths, cases, the country's first in 102 days. And remember Jacinda Arden is held up by woke nincompoops as an example of how female leaders have managed the coronavirus crisis more effectively than male leaders! FOUR NEW CASES!
The second lockdown should give added urgency to the one-day conference organised by Plan B, a group of lockdown sceptics in New Zealand. It has lined up a stellar array of speakers, including Oxford's Professor Sunetra Gupta and Standford's Professor Jay Battacharya. It's scheduled to be broadcast live from the NZ Parliament on August 17th. If you'd like a free ticket, you can RSVP here, although they may all be gone by now.
Round-Up
Small Businesses That Have Re-Opened
A couple of months ago, Lockdown Sceptics launched a searchable directory of open businesses across the UK. The idea is to celebrate those retail and hospitality businesses that have re-opened, as well as help people find out what has opened in their area. But we need your help to build it, so we've created a form you can fill out to tell us about those businesses that have opened near you.
Now that non-essential shops have re-opened – or most of them, anyway – we're now focusing on pubs, bars, clubs and restaurants, as well as other social venues. As of July 4th, many of them have re-opened too, but not all (and some of them are at risk of having to close again). Please visit the page and let us know about those brave folk who are doing their bit to get our country back on its feet – particularly if they're not insisting on face masks! Don't worry if your entries don't show up immediately – we need to approve them once you've entered the data.
Love in the Time of Covid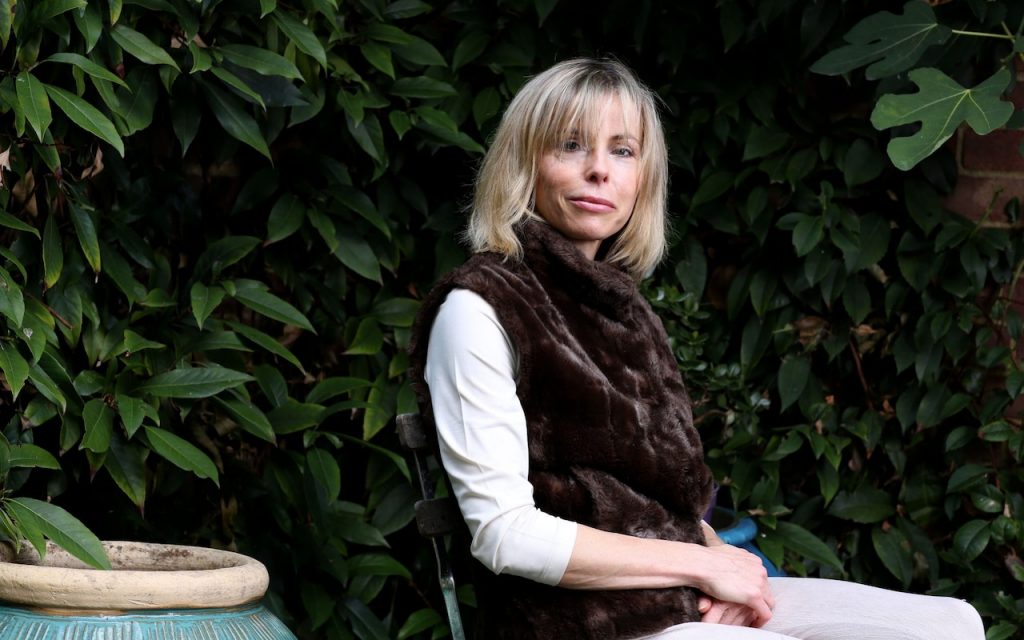 We have created some Lockdown Sceptics Forums that are now open, including a dating forum called "Love in a Covid Climate" that has attracted a bit of publicity. We have a team of moderators in place to remove spam and deal with the trolls, but sometimes it takes a little while so please bear with us. You have to register to use the Forums, but that should just be a one-time thing. Any problems, email the Lockdown Sceptics webmaster Ian Rons here.
Julia Stephenson, a Brexiteer and lockdown Sceptic, has written a piece in the Telegraph today saying she's "thrilled" we've started a new dating forum.
I'm thrilled to hear that Toby Young has added a new dating thread to the forum on his 'Lockdown Sceptics' website. I have long thought a Brexit dating bureau was long overdue. If you are a Brexiteer you are often on the same page regarding many other issues, including lockdown, so it is a shortcut to finding someone with whom you're compatible.

Brexiteers make up the majority of this country (51.89 per cent, to be precise) but you'd never know this to look at most dating sites which are rampant with virtue-signalling latte drinkers. It's as if only left-wingers deserve to find love.
Welcome to the forum, Julia. Worth reading in full.
"Mask Exempt" Lanyards
I've created a permanent slot down here for people who want to buy (or make) a "Mask Exempt" lanyard/card. You can print out and laminate a fairly standard one for free here and it has the advantage of not explicitly claiming you have a disability. But if you have no qualms about that (or you are disabled), you can buy a lanyard from Amazon saying you do have a disability/medical exemption here (now showing it will arrive between Sept 25th to Oct 5th). The Government has instructions on how to download an official "Mask Exempt" notice to put on your phone here. You can get a "Hidden Disability" tag from eBay here and an "exempt" card that looks like as if it's been issued by the NHS for just £2.79 from Etsy here.
Don't forget to sign the petition on the UK Government's petitions website calling for an end to mandatory face nappies in shops here (now almost 28,000). If you need an additional incentive to sign, check out this study from Duke University which shows that some masks increase the risk of transmission.
A reader has started a website that contains some useful guidance about how you can claim legal exemption.
And if you want a laugh, take a look at this skit from a satirical Indian TV show showing self-appointed mask-enforcers becoming a little too enthusiastic.
Shameless Begging Bit
Thanks as always to those of you who made a donation in the past 24 hours to pay for the upkeep of this site. If you feel like donating, however small the sum, please click here. And if you want to flag up any stories or links I should include in future updates, email me here.
And Finally…
You can listen to the latest episode of London Calling, my weekly podcast with James Delingpole, here. This week we discuss the need to re-open schools and whether Boris can "do a Ronald Reagan" and fire teachers who don't show up for work (he can't), as well as the new Lockdown Sceptics dating site and Dawn Butler's unconvincing attempt to cast herself as the victim of racial profiling. If you enjoy our weekly whinges, don't forget to subscribe to London Calling on Apple Podcasts.