Another Computer Simulation, Another Alarmist Prediction
Last week, a paper was published in the Lancet saying that re-opening schools would cause a tsunami-like second wave of Covid deaths unless the Government improved its test-and-trace programme. Based on a similar computer simulation to that used by Neil Ferguson et al, the paper generated headlines across the mainstream media, such as this one in the Sun: "'NOT GOOD ENOUGH' Reopening schools in September risks 2nd virus wave unless test & trace improves as ministers say: 'There's more to do'." The story began:
SCHOOL children returning to class in September risks triggering a devastating second wave of COVID-19 unless test and trace improves, a major new study today says.

Scientists said the UK's test and trace system needed to be drastically improved as ministers today admitted there was "more to do" on making it work better.

IF the low numbers of contact tracing continue, it could result in another peak in December.

The crisis could be avoided, however – with pubs remaining open and no draconian lockdowns needed – if testing is ramped up and the track and trace system is improved.

The study says reopening schools must therefore be combined with a high-coverage test-trace-isolate strategy.
But how reliable is this study? I asked Sue Denim, the Lockdown Sceptics contributor who has written extensively about the flaws in Neil Ferguson's modelling, to take a look at this paper for us. Regular readers won't need reminding that Sue Denim is the pseudonym of a senior ex-Google engineer. Not surprisingly, Sue is unimpressed.
The paper argues that the level of testing, tracing and quarantining must be much higher than it is now in order to "avert a large number of COVID-19 cases and deaths" once schools have re-opened. In this case, a "large number" means a second wave of about 2-2.5x the size of the first, ending in about 320,000 cumulative deaths. That's the worst case they simulate which still assumes a fairly aggressive contact tracing programme.

This number of predicted deaths is in the same sort of range as the ~500,000 predicted by Ferguson et al, which is no surprise given what the model does. The lower value comes from applying a reduction from some fraction of unlucky PCR-positive people being quarantined.

We already know this modelling approach doesn't work because it failed to predict the course of the epidemic in Sweden. There is no mention in the paper of having identified any flaw in prior models that led to incorrect predictions, or even any recognition that agent-based simulations have yielded incorrect predictions before.

Sweden kept their schools open the entire time and saw no higher rate of infections amongst children than neighbouring Finland.

As we've come to expect from a group of epidemiologists, the papers do not perform this kind of cross-check against real world observed outcomes nor attempt to explain prior failures. There is no feedback loop.
I've published Sue's latest article on the right-hand side as another sub-page of "How Reliable is Imperial College's Modelling?", beneath the three other pieces he/she's written for us. Please comment beneath that page, not this one. Worth reading in full.
Stop Press: One of the largest studies in the world on coronavirus in schools was carried out in 100 institutions in the UK. According to Professor Russel Viner, President of the Royal College of Paediatrics and Child Health and a member of SAGE. "A new study that has been done in UK schools confirms there is very little evidence that the virus is transmitted in schools," Professor Viner tells the Sunday Times. "This is the some of the largest data you will find on schools anywhere. Britain has done very well in terms of thinking of collecting data in schools." The study, done by Public Health England, is due to be published later this year.
Re-Open Schools, says Harvard Professor of Medicine
The Spectator has published an excellent piece by Martin Kulldorff, a Professor of Medicine at Harvard Medical School who studies infectious disease outbreaks and vaccine safety. He says the way to defeat the virus is to aim for herd immunity and points out that such a strategy poses very little risk to children.
With passionate discussions about opening schools, it is good to step back, take a deep breath, and examine what science tells us. To know the effect of smoking, we study smokers. To know the effects of vaccines, we study those vaccinated. Similarly, to know the effects of keeping schools open during the COVID-19 pandemic, we must study the one place that kept their schools open during the height of the pandemic. That place is Sweden.

Sweden never closed day-care centres or schools for its 1.8 million children ages one to 15. Of these children, zero died from COVID-19. The total number of cases is unknown, but the reported number is 468, which is 25 per 100,000. Of these 468 children, eight were hospitalised in an intensive care unit. This means that, whether schools are open or not, children are less at risk from COVID-19 than from influenza, which kills an average of 40-50 children in England and Wales each year. In contrast to influenza, schools are not driving the Covid-19 pandemic, and in Sweden, teachers had the same COVID-19 risk as the average risk among other professions.
Worth reading in full.
Meanwhile, some bedwetting headteachers are telling parents they'll only be able to educate their children for half days. Give me strength.
Love in a Covid Climate
I got an interesting email from a reader yesterday:
Am thinking of getting back onto the dating apps, having recently become single. It made me realise that a key criterion for meeting someone like-minded is that they absolutely must be a lockdown sceptic. If they are pro-mask or pro-antisocial distancing, they will be instantly binned. As I begin my journey back into the dating pool, I will be expressing openly my lockdown views and Covid scepticism on my dating profile. I genuinely think that if I can find a girl as sceptical as me, she must therefore be marriage material! That's how important (and sadly divisive) this issue has now become. I could never date (let alone build a relationship) with a lockdown zealot, such is my disdain for these virtue-signalling bedwetters!
That reminded me that I'd flagged up the idea of creating a Lockdown Sceptics dating site a few weeks ago. Well, we haven't done that exactly, but we have decided to devote a page in the Forums to people looking for romance. It's called "Love in a Covid Climate" and you can find it at the bottom here.
Postcard From Whitby
A reader has got in touch to say he and his wife had a pleasant stay in Whitby. A beacon of common sense amidst all the hysteria, as you'd expect in North Yorkshire.
Whitby was the last place my wife and I visited pre-lockdown so we were determined to go back as soon as we were able. A few days before we went we came across a photo doing the rounds on social media showing hundreds of people swarming across Whitby's famous swing bridge accompanied by the now familiar comments – "Covidiots", "terrified locals", etc. I admit, it made us a little uneasy and we're both arch sceptics!

When we arrived at the B&B we were pleased to find sensible but not ridiculous precautions in place: breakfast sittings spread out a little more, trays outside the rooms to replenish anything we'd used, lots of hand sanitiser available, and so on. I asked the owners about the photos we'd seen and they were disgusted. The photo of the bridge had been taken immediately after the bridge had been shut to let a boat pass, giving a false impression of overcrowding. Other photos in circulation were not from this year at all but from busy days on previous years! The B&B had actually had cancellations on the back of this stuff. They assured us that Whitby wasn't like that and, if anything, was quieter than usual for the time of year.

Venturing into the town, we found that they were right. Yes, there were plenty of people about but it was easy to keep your distance if you felt that way inclined (though it was refreshing to see most people making the eminently sensible judgement that fleeting contact outdoors on a sunny day was fairly low risk). Walking around the town in the morning or late afternoon/evening was fine and at no point did we see locals leaping into the road in terror.

That night we ate at a very famous fish and chip restaurant and found, again, sensible precautions balanced with an awareness that a meal out needs to be at least a vaguely enjoyable customer experience. So – the tables had been spaced out a little more (actually creating a more intimate atmosphere), card payments were preferred but not insisted on, some staff chose to wear masks, others didn't, and a separate entrance/exit had been set up. Otherwise, everything was very relaxed and laid back. Not so much the 'new normal' more the old normal with a few adjustments. And that was the theme of our whole weekend: grown-up people taking grown-up decisions and behaving in a grown-up way. After six months of hysterical death porn it gave me just a flicker of hope that common sense will eventually win out. We even booked again for October. Though given that I turn 50 before then I guess there's a fair chance that Boris might have me in solitary confinement; still, at least the wife should enjoy herself.
Face Nappies To Become Mandatory in Northern Ireland
Bad news for the people of Northern Ireland: face nappies will become mandatory in shops from tomorrow. A reader has the story:
A few weeks ago, the local Executive said that they wanted to encourage people to wear masks in shops rather than force them to. Their aim was to achieve 80% voluntary compliance. They proposed reviewing the situation on August 20th and if there wasn't sufficient mask use then they would make it mandatory.

The "take-up" of mask use since the initial announcement has been fairly poor from the Executive's point of view. From being out and about I would guess about 10% of people in shops were wearing them.

So the public here have been largely unimpressed with the arguments for mask wearing and decided there's not much point in doing so.

However, rather than thinking that the judgement of the people is something they should consider, the Executive brought forward the date for re-consideration and announced that due to the poor voluntary use of masks they will become compulsory in shops from this coming Monday August 10th.

Another example of a government in this crisis having tunnel vision about a particular course of action and not being able to contemplate anything different despite what the people think.
Lockdown Protests Across the UK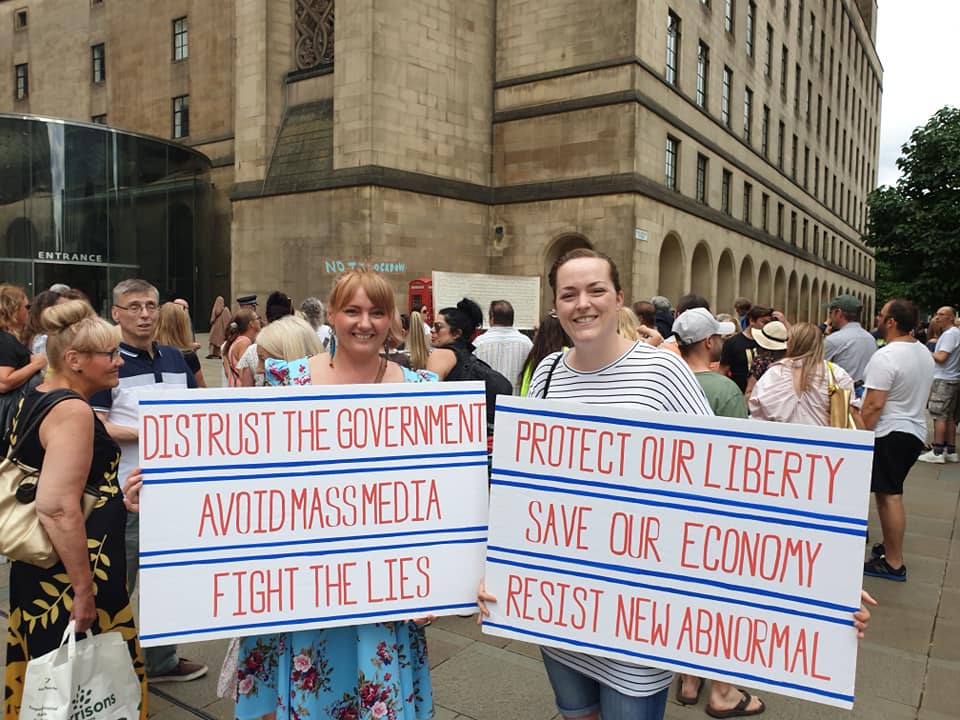 Lockdown protests took place in London, Plymouth, Brighton, Norwich, Cardiff, Belfast, Southampton, Bristol, Liverpool, Newcastle, Birmingham, Nottingham, Leeds, Edinburgh, Glasgow, Aberdeen and Manchester yesterday. They were organised by an outfit called "Save Our Rights UK".
A reader reports from the protest in Manchester:
Our turnout in Manc was around 200, which was matched or surpassed in most other locations. It was very uplifting to partake in a microcosm of the best bits of the old normal with hugs and handshake physical greetings, no social distancing and looking out to a sea of unmasked friendly faces! We had no problems with the police (in fact they were quite friendly). Some of the public we passed were receptive to our messages, and a couple even joined in the march!
Croatian Advice
A reader has got in touch to reassure the anxious Americans who emailed yesterday, worried about their forthcoming trip to Croatia. Doesn't sound too bad.
Currently in croatia you have to fill a form in before departure which they don't check on arrival. Masks worn in shops and public transport but quite lax. Don't see anyone wearing masks outside those settings.
Another reader points out that Gabriel Traveler, the YouTuber and travel journalist, is currently in Croatia and having a fine time. You can view his daily updates here.
Round-Up
Theme Tune Suggestions by Readers
It's a beach bonanza today: "Beach Death" by Car Seat Headrest, "Menace Beach" by Dom Kennedy, "On Evil Beach" by Duran Duran, "I Want To Go To The Beach" by Iggy Pop and "The Beach Is Free" by Billy Bragg.
Small Businesses That Have Re-Opened
A couple of months ago, Lockdown Sceptics launched a searchable directory of open businesses across the UK. The idea is to celebrate those retail and hospitality businesses that have re-opened, as well as help people find out what has opened in their area. But we need your help to build it, so we've created a form you can fill out to tell us about those businesses that have opened near you.
Now that non-essential shops have re-opened – or most of them, anyway – we're now focusing on pubs, bars, clubs and restaurants, as well as other social venues. As of July 4th, many of them have re-opened too, but not all (and some of them are at risk of having to close again). Please visit the page and let us know about those brave folk who are doing their bit to get our country back on its feet – particularly if they're not insisting on face masks! Don't worry if your entries don't show up immediately – we need to approve them once you've entered the data.
Forums Back Up and Running
I enjoy reading all your comments and I'm glad I've created a "safe space" for lockdown sceptics to share their frustrations and keep each other's spirits up. But please don't copy and paste whole articles from papers that are behind paywalls in the comments. I work for some of those papers and if they don't charge for premium content they won't survive.
We have created some Lockdown Sceptics Forums that are now open. Initially, they became a spam magnet so we temporarily closed them. However, we've found a team of people willing to serve as moderators so the Forums are back up and running. And we've added a new dating section – "Love in a Covid Climate". Any problems, email the Lockdown Sceptics webmaster Ian Rons here.
"Mask Exempt" Lanyards
I thought I'd create a new permanent slot down here for people who want to buy (or make) a "Mask Exempt" lanyard/card. You can print out and laminate a fairly standard one for free here and it has the advantage of not explicitly claiming you have a disability. But if you have no qualms about that (or you are disabled), you can buy a lanyard from Amazon saying you do have a disability/medical exemption here (now showing it will arrive between Sept 23rd to Oct 2nd). The Government has instructions on how to download an official "Mask Exempt" notice to put on your phone here. You can get a "Hidden Disability" tag from eBay here and an "exempt" card that looks like as if it's been issued by the NHS for just £2.79 from Etsy here.
Don't forget to sign the petition on the UK Government's petitions website calling for an end to mandatory face nappies in shops here (now over 27,000).
A reader has started a website that contains some useful guidance about how you can claim legal exemption.
Meanwhile, the public health authorities in Denmark are maintaining that there's no need to wear masks. This prompted Berlingske, the country's oldest newspaper, to complain recently that Danes had positioned themselves "to the right of Trump". Danish health officials responded by reminded the paper that there's little conclusive evidence that face masks are an effective way to limit the spread of respiratory viruses. Zero Hedge has more.
Shameless Begging Bit
Thanks as always to those of you who made a donation in the past 24 hours to pay for the upkeep of this site. If you feel like donating, however small the sum, please click here. And if you want to flag up any stories or links I should include in future updates, email me here.
And Finally…