Sunseekers Ignore Official Guidance on Britain's Hottest Day of the Year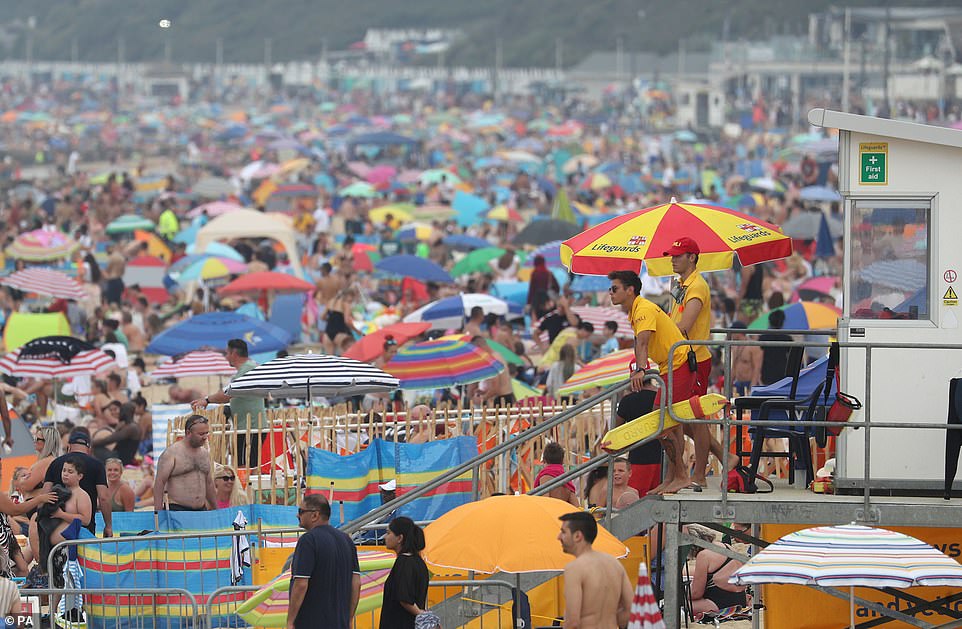 Seeing pictures like this of the beach in Bournemouth yesterday, it's hard to believe the opinion polls about the extent of public support for continuing lockdown restrictions. Looks to me as though the great British public is aware that the virus has all but disappeared and their chances of catching it outside is virtually zero.
The Mail has compiled a handy round-up of comments from paranoid bedwetters.
Beaches across the south coast were already packed by mid-morning on Friday, further stoking fears among police and local councils that tourists will ignore coronavirus social distancing rules and cram onto packed seafronts.

The scenes could be repeated on Saturday and Sunday, with the scorching weather set to continue.

Furious critics took to social media to slam beach-goers and accuse them of 'undoing the hard work of lockdown'.

One wrote: 'Here they are again, all the idiots on Brighton beach putting all of us at risk, they just keep on coming.'

A second said: 'Government: 'Stay away from beaches today. It's hot, but no amount of heat is surely enough to risk your health and the health of loved ones by breaking social distancing rules, and undoing all the hard work of the last 4 months of lockdown.'

While a third added: 'My worst nightmare, even before COVID. Too many people. We will never get over this virus if people are this stupid. Just because it's hot doesn't mean you should all pack a beach & not socially distance.'
Update of Elusive Government Report on Collateral Lockdown Damage
Readers will recall that on July 21st I asked them for help in tracking down an elusive Government report. This was the analysis done by the Department of Health and Social Care (DHSC), Office for National Statistics (ONS), Government Actuary's Department (GAD) and the Home Office (HO) of the collateral damage of the lockdown. Eventually, I tracked it down – it was published with absolutely no fanfare here. The only reason it came to public attention is because Sir Patrick Vallance referred to it in passing when testifying before the House of Commons Science and Technology Committee on July 16th.
Well, yesterday the Government published an update entitled "Direct and Indirect Impacts of COVID-19 on Excess Deaths and Morbidity"– and, thankfully, it was picked up by the Telegraph (see today's front page above). This update was presented to SAGE on July 23rd, but it was only published yesterday.
The headline news is that the lockdown killed two people for every three that died of COVID-19 by the beginning of May. However, when you take into account the age of those who died from coronavirus, as well as their underlying health conditions, the loss of life as measured in Quality Adjusted Life Years, or Qalys, for those who died as a result of the lockdown was greater than it was for those who died of COVID-19. This is how the authors of the report put it:
The direct COVID-19 deaths account for the majority of all excess deaths. However, when morbidity is taken into account, the estimates for the health impacts from a lockdown and lockdown induced recession are greater in terms of QALYs than the direct
COVID-19 deaths. Much of the health impact, particularly in terms of morbidity, will be felt long after the pandemic is assumed to last…
According to Sarah Knapton, the Science Editor of the Telegraph:
The estimates show that 16,000 people had died through missed medical care by May 1st, while coronavirus killed 25,000 in the same period.

The figures include 6,000 people who did not attend A&E at the height of lockdown because of fears they might catch the virus and the feeling they should remain at home because of the "Stay Home, Protect the NHS, Save Lives" message.

Likewise, 10,000 people are thought to have died in care homes due to early discharge from hospital and not being able to access critical care.
The article includes some choice quotes from the President of the Royal Society of Surgeons:
Professor Neil Mortensen, the President of the Royal College of Surgeons of England, warned that the health service "must never again be a coronavirus-only service".

"We have to deal first with the most clinically urgent patients, and then as soon as possible with those who have been waiting the longest," he said. "The period through August and September is vitally important in making progress before routine winter pressures emerge."
Pretty damning, but before you pop the champagne corks with cries of "finally!", a caveat. The authors of the report claim that the Covid death toll in an "unmitigated scenario", i.e. a scenario in which the Government did nothing to encourage social distancing and people carried on as normal, would have been a whopping 1.5 million!
It should be noted that the health impacts modelled here represent a scenario with mitigations in place. Without mitigations, a far larger number of people would have died from COVID-19 such that the QALY impact from COVID-19 deaths would be more than three times the total QALY impact of all the categories (mortality and morbidity impacts) for the CSS mitigated scenario presented here. A comparison with an unmitigated scenario 3 is provided in Annex G and shows that mitigation have prevented up to 1.5m direct COVID-19 deaths.
Total balls, obviously. The relevant counter-factual is not this fantastical "unmitigated scenario", but a continuation of the mitigation strategy put in place by the Government on March 16th in which people were encouraged to observe modest social distancing measures, with quarantining restricted to the infected, the elderly and the vulnerable. As even Chris Whitty now admits, this strategy proved effective and the number of daily cases was falling before the full lockdown was imposed on March 23rd. The real question is "Did the full lockdown prevent more loss of life than it caused?" and, thanks to this report, we can conclude with some confidence that it didn't.
Thousands Wiped Off Official Covid Death Toll
Thousands are likely to be wiped off Public Health England's official Covid death toll following Yook K Loke and Carl Heneghan's blog post in which they drew attention to the fact that PHE was counting anyone who'd tested positive for COVID-19 and then died as having died from novel coronavirus, even if their death occurred months afterwards and clearly had no connection to the virus. As they pointed out, this meant that all 290,000+ Britons who've tested positive for COVID-19 would eventually be classified as having died from the virus, even if some of them don't die for another 60 years.
According to the Sun, PHE's official figures will now be revised downwards.
Matt Hancock will now step in and bring the figures in line with Scotland and Northern Ireland, who only count a death as Covid-related if it occurs 28 days after a person tests positive.

A second weekly measure, which records fatalities within 60 days of infection, will also be established.

An official announcement on the new approach is expected by the end of the week.

It could see England's official coronavirus death toll of 41,686 reduced by around as much as 10 per cent – or 4,170.
Latest ONS Infection Survey Shows Infections Falling
The ONS's latest weekly infection survey found that just 53 people tested positive in the last week of July, equating to an estimated one in 2,200 people in Wales and one in 1,900 in England. That's down from one in 1,500 last week. In addition, the number of people estimated to be infected in the community in England last week was 35,700; this week it's 28,300. So back down to 0.05% of the population, which is where it's been since June 21st (see above).
Worth remembering that last week's infection survey was widely cited by members of the Government to justify imposing a second lockdown on four-and-a-half million in the North West and "squeezing the brake" on the easing of restrictions across the rest of the country.
Does the fact that the ONS now thinks infections are back to where they've been for the last six weeks mean that the Northern lockdown can now be scrapped and we can get on with re-opening casinos, bowling alleys and skating rinks? Didn't think so.
Stop Press: Preston is the latest victim of the mask-wearing lockdown mob, having been forced to undergo a second lockdown after a "spike" in infections.
Request For Help From Croatia-Bound Yanks
An American reader has asked for advice about a forthcoming visit to Croatia. Can anyone help? If you can, email me here and I'll pass it on.
Would you or your readers kindly help advise on a possible September trip to Croatia for my husband and me? Trouble is Covidmania. Croatia is currently one of the few countries allowing visitors from the US, sans quarantine. That is, if one can produce a negative PCR test within three days of arrival.

Ideally, we would be tested here in the US the day before we travel, but I'm unsure if we would get the results back in time. Conversely, we could pay to be tested upon arrival in Croatia, but would be under house arrest until results are returned, with the possibility of false positives and enduring two weeks of punishment. Sheesh! Just putting this into words, I'm realizing what a conundrum we're in.

In addition, can anyone shed light on our likely experiences regarding face masks, Perspex, and NORMALCY! How we crave normalcy. We don't care about level of cleanliness or frequency of disinfectant procedures. We want real life and dirt. We did read the recent "Postcard from Croatia" in the Telegraph, but it looked slightly heavy on reassurances for those who fear to venture out, and we're firmly not in that category.
Round-Up
Theme Tunes Suggested by Readers
Just one today: "We Are Normal" by the Bonzo Dog Doo Dah Band.
Small Businesses That Have Re-Opened
A couple of months ago, Lockdown Sceptics launched a searchable directory of open businesses across the UK. The idea is to celebrate those retail and hospitality businesses that have re-opened, as well as help people find out what has opened in their area. But we need your help to build it, so we've created a form you can fill out to tell us about those businesses that have opened near you.
Now that non-essential shops have re-opened – or most of them, anyway – we're now focusing on pubs, bars, clubs and restaurants, as well as other social venues. As of July 4th, many of them have re-opened too, but not all (and some of them are at risk of having to close again). Please visit the page and let us know about those brave folk who are doing their bit to get our country back on its feet – particularly if they're not insisting on face masks! Don't worry if your entries don't show up immediately – we need to approve them once you've entered the data.
Forums Back Up and Running
I enjoy reading all your comments and I'm glad I've created a "safe space" for lockdown sceptics to share their frustrations and keep each other's spirits up. But please don't copy and paste whole articles from papers that are behind paywalls in the comments. I work for some of those papers and if they don't charge for premium content they won't survive.
We have created some Lockdown Sceptics Forums that are now open. Initially, they became a spam magnet so we temporarily closed them. However, we've found a team of people wiling to serve as moderators so the Forums are back up and running. Any problems, email the Lockdown Sceptics webmaster Ian Rons here.
"Mask Exempt" Lanyards
I thought I'd create a new permanent slot down here for people who want to buy (or make) a "Mask Exempt" lanyard/card. You can print out and laminate a fairly standard one for free here and it has the advantage of not explicitly claiming you have a disability. But if you have no qualms about that (or you are disabled), you can buy a lanyard from Amazon saying you do have a disability/medical exemption here (now showing it will arrive between Sept 23rd to Oct 2nd). The Government has instructions on how to download an official "Mask Exempt" notice to put on your phone here. You can get a "Hidden Disability" tag from eBay here and an "exempt" card that looks like as if it's been issued by the NHS for just £2.79 from Etsy here.
Don't forget to sign the petition on the UK Government's petitions website calling for an end to mandatory face nappies in shops here (now over 27,000).
A reader has started a website that contains some useful guidance about how you can claim legal exemption.
Shameless Begging Bit
Thanks as always to those of you who made a donation in the past 24 hours to pay for the upkeep of this site. If you feel like donating, however small the sum, please click here. And if you want to flag up any stories or links I should include in future updates, email me here. I may not be able to manage an update every day over the next few days as I'm in Wales doing some walking in the Brecon Beacons.
And Finally…
Sky News Australia's Alan Jones demolishes the case for lockdown in his typically blunt, no-bullshit style. Includes an interview with arch-sceptic Professor James Allan. Watch it here.