Fatties – You Don't Need to Worry About Dying From Coronavirus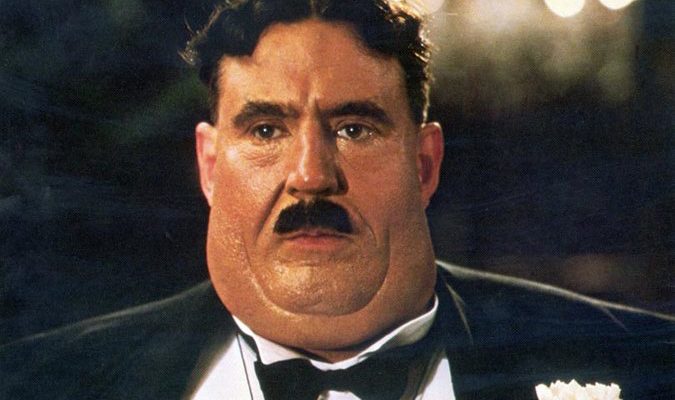 Matt Hancock has written an article for the Telegraph today in which he warns people who are "morbidly obese" that they are at a higher risk of dying from COVID-19.
Obesity is one of the greatest long term health challenges that we face as a country.

It not only puts a strain on our NHS and care system, but it also piles pressure on our bodies, making us more vulnerable to many diseases, including of course coronavirus.

The latest research shows that if you have a BMI of between 30 and 35 your risk of death from coronavirus goes up by at least a quarter.

And that nearly 8 per cent of critically ill patients with coronavirus in intensive care are morbidly obese compared at around 3 per cent of the country as a whole.
He concludes:
If everyone who is overweight lost five pounds it could save the NHS over £100 million over the next five years. And more importantly, given the link between obesity and coronavirus, losing weight could be lifesaving.
So just how great is the risk of dying from coronavirus if you're a fatty?
According to the latest ONS infection survey data, about one in 2,300 people had COVID-19 in England in the week of July 6th to 12th. Now, that's not very reliable because the false positive rate for the antigen test could easily be one in 2,300, so to confirm this the ONS would need to re-test anyone testing positive to confirm the result – which it hasn't done, obviously. Nevertheless, let's assume that's correct – that the number of people infected with coronavirus in England is 1/2,300 or about 24,350 (56,000,000/2,300). We know that the number of new cases is declining because the R is less than one, but for the sake of argument let's assume that after 14 days, when those 24,350 people have either died or recovered, they've each passed it on to one other person. So that means the total number of people infected in England over the course of a year is ~633,100 (24,350 x 26). Again, a huge overestimate, but let's give the bed-wetters the benefit of the doubt. So if you're an Englishman, your chances of contracting the virus over the course of the next 12 months is 633,100 in 56,000,000 or 1.13%.
Now what are your chances of dying from COVID-19 if you're unlucky enough to get it? It varies with age, obviously, but let's assume an IFR of 0.26%, the last-but-one CDC estimate which I suspect was a little high. Again, benefit of the doubt. That means the average chance of an Englishman catching and then succumbing to the virus are ~0.0029%. Let's add Matt Hancock's 25% – the increase in your chances of catching COVID-19 and dying if you have a BMI of between 30 and 35 – and it comes to ~0.0036% or one in ~27,777.78. That's remarkably similar to your chances of dying in a road traffic accident in the UK – and remember, that's all ages, so if you just look at under-65 year-olds your chances of dying from COVID-19 are far, far lower than your chances of dying in a road traffic accident, even if you're morbidly obese.
Don't worry, Mr Creosote. I think you've got room for one more wafer thin mint.
Teaching Unions Demand Compulsory Muzzles in Schools
It was inevitable. The General Secretary of the National Union of Bed-Wetters – I mean, the NASUWT – has called for face coverings to be mandatory in schools and colleges. The Telegraph has the story.
Patrick Roach, the General Secretary of the NASUWT teachers' union, said: "The Government's guidance for schools is now out of step with wider public health guidance and guidance to other employers where it is recognised that, where physical distancing cannot be assured, face masks should be worn.

"Teachers and other staff working in schools also want to be assured that, when they return to the workplace in September, they will be afforded the same level of protection as other workers, and that the guidance for schools will be brought into line with guidance for other workplaces."

Mr Roach noted that Government advice means children over the age of 11 are required to wear coverings when they visit "a range" of facilities such as shops and banks. He said: "So there is a strong argument that face masks should also be made compulsory for children when they return to secondary schools in September."
The teaching unions must know that only four children under the age of 15 have died from COVID-19 in the whole of the UK and no one has been able to document a single case of a child infecting an adult anywhere in the world. So why the insistence of face nappies? I can only assume it is to make it even harder for schools to re-open in September so the unions' dues-paying members can extend their six-month holiday.
Stand firm on this one, Gavin Williamson. Make it clear that face masks won't be required in schools and any teacher refusing to turn up for work in September will be sacked.
In the meantime, you can sign this petition started by Them For Us.
Stop Press: Some US colleges are insisting on painful nasal swab tests for all students every other day.
Track and Trace Programme is Unlawful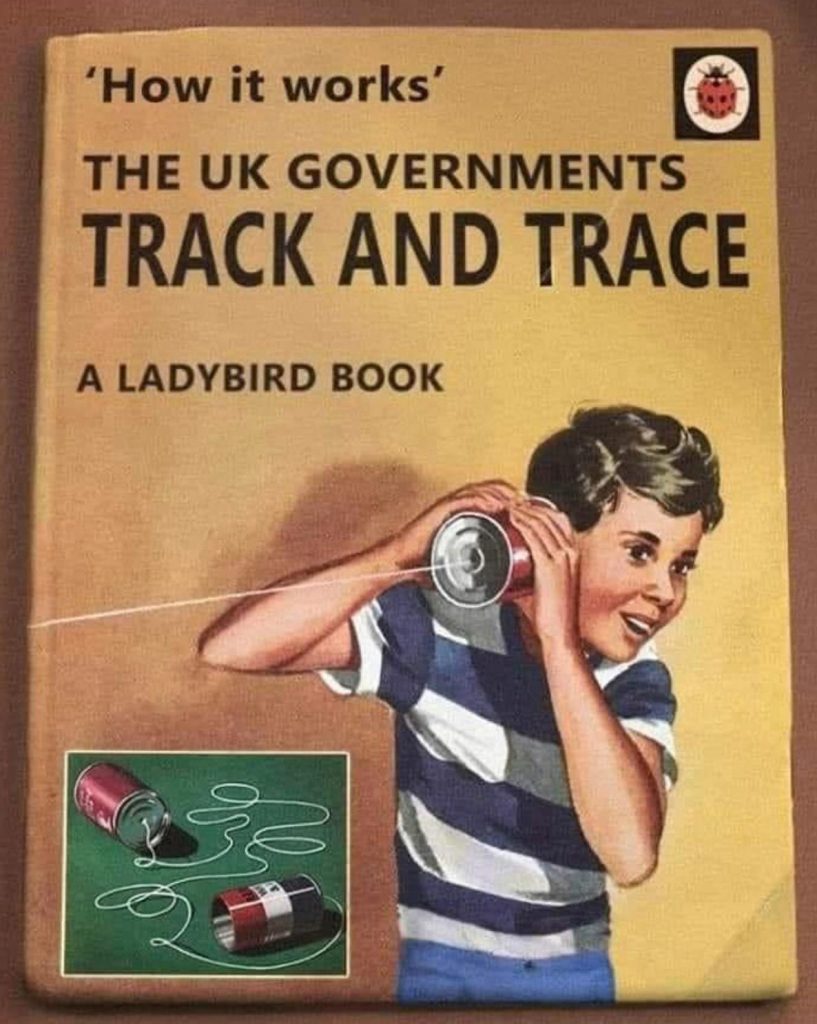 Lockdown Sceptics has a special correspondent who's been following the slow-motion car crash that is Matt Hancock's track-and-trace programme since it was first unveiled. Here's his latest report.
The UK Government has conceded that its flagship contact tracing programme has been operating unlawfully since its May 28th launch.

Digital rights campaigners at the Open Rights Group (ORG) have forced the Government to admit that its track-and-trace programme has been operating unlawfully. The programme was not subject to a full Data Protection Impact Assessment (DPIA) as required under GDPR. If only they had paid attention to Lockdown Sceptics on May 28th, when we warned of precisely this risk. Apparently, the Government developed the scheme "at such pace and scale" that it was not a primary focus. So going at things in a rush is now a defence?

But who cares about DPIAs and GDPR? It's not as if contact tracers are sharing patients' data on social media. Oh wait, what's this? Coronavirus contact tracers have been sharing patients' data on WhatsApp and Facebook.

Where is our indomitable UK regulator in all this? It appears the Information Commissioners Office (ICO) see themselves as "a critical friend" of the Government providing guidance and advice. Well that's nice, but if it is not too much trouble could they please do their job and take meaningful action on behalf of UK citizens?
Cut-Out-And-Keep "Mask Exempt" Cards
A reader has got in touch to point out that "Mask Exempt" cards are available for free from this medical centre's website. Just download the PDF and print it out. The site even provides a handy dotted line so you can cut out the card and laminate it yourself. And the upside is, you are only claiming you have a "reasonable excuse" for not wearing a face nappy and not falsely claiming to have a specific disability.
Further to your post on lanyards today, I would like to contribute my experience.

I have so far been in three big chain shops since Friday, including Co-op, Waitrose and Currys. In each case I was, depressingly, the only mask dissenter.

I am uneasy with claiming a disability when there is no such reason at all for me to not wear a mask. I was therefore pleased to find the this PDF which I printed out and placed in a holder I had in a drawer. The wording of the dark blue ones is wonderfully appropriate – I have many very reasonable excuses! And my conscience is clear in not claiming disability. Perhaps it's worth drawing this link to the attention of our friends?
Round-Up
Here's a round-up of all the stories I've noticed, or which have been been brought to my attention, in the last 24 hours:
Theme Tunes Suggested by Readers
Just one today: "No More Heroes" by the Stranglers.
Small Businesses That Have Re-Opened
A couple of months ago, Lockdown Sceptics launched a searchable directory of open businesses across the UK. The idea is to celebrate those retail and hospitality businesses that have re-opened, as well as help people find out what has opened in their area. But we need your help to build it, so we've created a form you can fill out to tell us about those businesses that have opened near you.
Now that non-essential shops have re-opened – or most of them, anyway – we're now focusing on pubs, bars, clubs and restaurants, as well as other social venues. As of July 4th, many of them have re-opened too, but not all. Please visit the page and let us know about those brave folk who are doing their bit to get our country back on its feet – particularly if they're not insisting on face masks! Don't worry if your entries don't show up immediately – we need to approve them once you've entered the data.
Note to the Good Folks Below the Line
I enjoy reading all your comments and I'm glad I've created a "safe space" for lockdown sceptics to share their frustrations and keep each other's spirits up. But please don't copy and paste whole articles from papers that are behind paywalls in the comments. I work for some of those papers and if they don't charge for premium content they won't survive.
We created some Lockdown Sceptics Forums, but they became a magnet for spam (apologies for mixed metaphor) so we've temporarily closed them. However, we can open them again if some readers volunteer to be moderators. If you'd like to do this, please email Ian Rons, the Lockdown Sceptics webmaster, here – and thanks to those who've already volunteered. We'll be re-opening the Forums soon.
Shameless Begging Bit
Thanks as always to those of you who made a donation recently to pay for the upkeep of this site. If you feel like donating, however small the sum, please click here. And if you want to flag up any stories or links I should include in future updates, email me here.
And Finally…
Handy guide to what wearing a mask says about you, as compiled by American cartoonist Ben Garrison.