Anti-Mask Rally in Hyde Park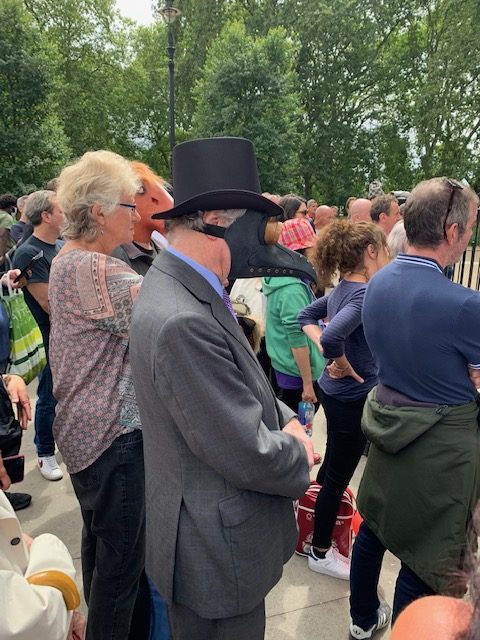 The Mail headline was "'I will be not be masked, tested, tracked or poisoned': Hundreds of anti-mask activists march on London's Hyde Park to protest the mandatory use of face coverings in shops from Thursday", but judging from a reader who attended yesterday's rally there were no more than 250 there. It was organised by Keep Britain Free, Simon Dolan's fledgeling political organisation, but Dolan himself wasn't there. However, James Delingpole was and I will get a full download from him on the next episode of London Calling, mine and James's weekly podcast, available later today.
We're All Thought Criminals Now
In my latest column for Spectator USA, I pay tribute to the people who've been ringing the alarm bells about cancel culture in America, including the 153 signatories of the Harper's letter, and Bari Weiss, who recently resigned from the New York Times. (You can read the Harper's letter here and Bari's resignation letter here.) And I wrote this before the conservative columnist Andrew Sullivan was sacked by New York magazine. (You can read his farewell here.)
The Social Justice Left has, of course, rejected the suggestion that it has cancelled, or tried to cancel, any of its critics. How dare they?!? Pankaj Mishra, the Indian essayist, wrote a riposte in Bloomberg Opinion, arguing that the "privileges" of the whistleblowers invalidated their complaints.
Could it be that increasingly diverse voices and rich conversations are a threat to their free speech — more accurately, the prerogative of famous and powerful people to speak at length on all sorts of things without interruption or disagreement?
This is a standard counter-argument, but it's an easy one to rebut. The Harper's letter writers weren't complaining about their own speech rights being endangered… but those of nonconformists in general. They were using their platform to highlight a problem afflicting people less well protected than they, particularly in the media, the academy and the arts. "Editors are fired for running controversial pieces; books are withdrawn for alleged inauthenticity; journalists are barred from writing on certain topics; professors are investigated for quoting works of literature in class; a researcher is fired for circulating a peer-reviewed academic study; and the heads of organizations are ousted for what are sometimes just clumsy mistakes," they wrote.
The other counter-argument, this one a bit more sophisticated, is that these public defenestrations aren't an assault on the norms of a liberal society; rather, they're an example of democracy in action. When the storm troopers of the left mobilise to get someone fired, they're exercising their right to free speech. If the person does end up losing their livelihood, that's just an example of them being held accountable for their views.
There are numerous problems with that position. First, the justice being meted out to these thought criminals is mob justice, with little or no due process. If someone is accused of being racist or transphobic, their employer rarely gives them a chance to defend themselves. Second, being held accountable often involves more than just losing your job. Was Professor Allison Stanger, who tried to prevent Charles Murray being no-platformed at Middlebury College and ended up in the emergency room, being held accountable? And third, canceling someone for having the wrong opinions, even if it just involves publicly shaming them, is not within the acceptable boundaries of conventional liberal discourse, however you dress it up. It stifles dissent, shuts down conversations and creates a climate of self-censorship.
I end by revealing that I'm setting up a US branch of the Free Speech Union – which is clearly much needed – and urge anyone who want to get involved to contact me here.
Worth reading in full.
Round-Up
No time for a proper update today, but here's a round-up of all the stories I've noticed, or which have been been brought to my attention, in the last 24 hours (and a special thanks to Mitesh Kariah who has been tirelessly flagging up stories for me for months):
Theme Tune Suggestions by Readers
Only one today: "No Hope" by the Vaccines.
Small Businesses That Have Re-Opened
A couple of months ago, Lockdown Sceptics launched a searchable directory of open businesses across the UK. The idea is to celebrate those retail and hospitality businesses that have re-opened, as well as help people find out what has opened in their area. But we need your help to build it, so we've created a form you can fill out to tell us about those businesses that have opened near you.
Now that non-essential shops have re-opened – or most of them, anyway – we're now focusing on pubs, bars, clubs and restaurants, as well as other social venues. As of July 4th, many of them have re-opened too, but not all. Please visit the page and let us know about those brave folk who are doing their bit to get our country back on its feet – particularly if they're not insisting on face masks! Don't worry if your entries don't show up immediately – we need to approve them once you've entered the data.
Note to the Good Folks Below the Line
I enjoy reading all your comments and I'm glad I've created a "safe space" for lockdown sceptics to share their frustrations and keep each other's spirits up. But please don't copy and paste whole articles from papers that are behind paywalls in the comments. I work for some of those papers and if they don't charge for premium content they won't survive.
Gone Fishin'
Thanks as always to those of you who made a donation in the last 24 hours to pay for the upkeep of this site. If you feel like donating, however small the sum, please click here. I'm in Italy until Saturday, July 25th and won't be doing much work on this site for a week (although I will try and do a rudimentary daily update). If you want to flag up any stories or links I should include in tomorrow's update, email me here.
Salem 2.0
I thought I'd give my readers something to chew on while I'm on holiday: Salem 2.0: The Return of the Religious Police to the Public Square. This is a book about cancel culture that I've been working on for a while now, but which took a back seat during the coronavirus crisis. Hoping to get back to it as the crisis recedes – although that's happening more slowly than any of us hoped. It's a work in progress, so don't expect too much.