The Observer drops the second shoe in the Cummings scandal on its front page – the news that he visited his parents in Durham again in the middle of April after staying with them at the end of March. How do they know this? Thanks to an eagle-eyed member of the public:
Robin Lees, 70, a retired chemistry teacher from [Barnard Castle], says he saw Cummings and his family walking by the Tees before getting into a car around lunchtime on 12 April.

Lees said: "I was a bit gobsmacked to see him, because I know what he looks like. And the rest of the family seemed to match – a wife and child. I was pretty convinced it was him and it didn't seem right because I assumed he would be in London."

He added: "I went home and told my wife, we thought he must be in London. I searched up the number plate later that day and my computer search history shows that."
I find it incredible that this man is so unashamed about being a tell-tale he actually flaunts the fact that he plugged Cummings's number plate into Google on his computer. If Mr Lees had been born in East Germany rather than England, I have little doubt about which state agency he would have worked for.
Keir Starmer has now stuck the boot in, but I don't think Boris will budge on this one.
Stay Alert, Stay Safe
Great spot by Andrew Mahon, the brilliant journalist who came up with the Crimson Tide metaphor about our handling of the crisis. (He thinks governments around the world behaved like the panicky nuclear submarine commander played by Gene Hackman in the 25 year-old Cold War thriller, rather than his level-headed second-in-command played by Denzil Washington.) A campaign aimed at children in Canada dating back to the early 90s with the slogan "Stay Alert/Stay Safe."
Andrew has another great piece in Hector Drummond Magazine, this one about "our" NHS.
You Can Register a Death, But Not a Birth
Got an interesting email from a reader:
Our daughter was born at St Thomas's hospital in London on February 18th and we cannot get a birth certificate for her as councils have stopped all registrations other than deaths.

I understand we have bigger issues with what is going on but my husband and I are feeling increasingly stressed and irritated by this. Without a birth certificate we cannot get our daughter a passport. It does leave us feeling quite trapped! We have plans to attend a wedding in Chicago in August – which is of course unlikely to happen – however if flights do go ahead and we are left unable to go due to a lack of passport for one of our children we are likely to incur the cost of the trip. However, the money isn't the main issue but the continued lack of freedom that has become our way of life. It feels extremely claustrophobic to think we couldn't travel once restrictions are lifted – potentially for many months whilst waiting for the certificate.

Has anyone else has raised this with you? Surely thousands of babies will have been born in lockdown and others must be impacted by this. Lambeth council have told me they are unlikely to start to register births until September – that is over seven months of babies with no birth certificates – followed by what I expect to be a long wait with the passport office. I understand the same is true of weddings – however as individuals they could still travel with ease and flexibility.
I wonder if Boris and Carrie are also waiting for a birth certificate for Wilfred? Or is it one rule for them and… etc., etc.
Facebook Censors Sci-Fi Drawing
Last week, I posted a picture a reader had sent me of a drawing that had appeared in an Italian magazine in 1962 depicting life in 2022 because it seemed eerily prescient. The reader had discovered it in a Facebook group dedicated to sci-fi memorabilia, but don't try and repost it on Facebook because the moderators won't let you. A reader in Germany tells me he got the above message when he tried to do that, informing him it was "Partially wrong information. Tested by independent fact checker." It included a link to an article on a Turkish website by Ali Osman Arabaci, presumably the "independent fact checker" being referred to. Arabaci writes:
It is not possible to say that the image depicts the quarantine in 2022. The visuals are made with city traffic and ideas to reduce it… In the box titled, it is stated that the traffic problem can be solved with vehicles similar to small transportation vehicles that are considered as scooters today…

In other words, it is also possible to qualify the claim as a disconnection from the wrong types of information.
Not sure Google Translate has got that last bit quite right, but you get the general idea. That's something the artist failed to anticipate – in the future people won't be allowed to see his depictions of the future because it might lead to wrongthink.
Lockdown Land
Guy de la Bédoyère has written another superb essay for this site about the psychological state the lockdown has left people in. It's called "Lockdown Land" and I urge you to read it. Here are the concluding two sentences:
Not long before the virus crisis took hold my three-year-old granddaughter was supposed to be going out for a walk. "I'm not ready," she said. It soon transpired that this was not a statement about not having her coat or shoes on but a more metaphysical observation of her state of mind. "I'm not ready" meant she was not disposed to going out at all. Ever. She would therefore never be ready.

I am reminded by that every time I hear someone saying "I'm not going back to work until I feel safe", or "I'm not sending my child back to school until it is safe to do so". Such sentiments are conveniently couched in rational terms but in reality cloak an emotional reluctance ever to return. Right now they represent this country's biggest obstacle to recovery. The world has changed and we can never go back to where we were, but whatever we do we have to face up to the realities Lockdown Land has closed so many people's eyes to and not hide beneath the bedclothes where we might suffocate instead.
Another Hatchet Job
Philip Ball, a science journalist, has written a piece in Prospect attacking lockdown sceptics that, even by his standards, is quite breathtakingly pompous. He has form here – he wrote a piece in the New Statesman a couple of years ago that got a bunch of stuff about me wrong (although he also got some things right, to be fair). Prior to this, he got some things about Dominic Cummings wrong, too, and Dom responded in his usual bracing style. I wrote about both those incidents, and corrected Ball's errors, in a blog post for the Spectator.
In this piece, Ball argues that sceptics like me – and Hitchens and Delingpole – are part of an "infodemic". That word was coined by the World Health Organisation (WHO) back in February to describe the spread of fake news about SARS-CoV-2 on social media. Indeed, the WHO urged the tech giants to remove any suspect content about Covid and, as we know, both Facebook and YouTube have done precisely that (see above). Ball is wholly supportive of this censorship
Andrew Pattison, the WHO's Digital Business Solutions Manager, met with representatives from Google, Apple, Airbnb, Lyft, Uber and Salesforce, among others, at Facebook's headquarters in Silicon Valley and urged them to remove any "misinformation", by which he meant any content the WHO disapproves of. And he expressed the hope that all material that isn't "responsible", not just content about Covid, would be removed from social media in future. "I think what would be very exciting is to see this emergency changed into a long-term sustainable model, where we can have responsible content on these platforms," he said.
You would think that as a journalist Ball would disapprove of rich and powerful men deciding what the public can and can't read, but no. He thoroughly approves of the WHO's "responsible" approach, overlooking the fact that the WHO itself has disseminated more "fake news" and "misinformation" about the virus than David Icke. Remember that famous tweet saying there was "no human to human transmission"? That's the tip of the iceberg.
Ball thinks anyone who dissents from official Covid orthodoxy – or, rather, whatever the WHO decides is the "responsible" thing to say, even though it changes its mind about that from one day to the next –  is guilty of trafficking in "fake news" that will undermine public confidence in science and medicine, such as the hypothesis that "the virus originated in a Chinese laboratory". He neglects to mention that that particular "conspiracy theory" – he calls it that – is believed by Dr Luc Montagnier, joint winner of the 2008 Nobel Prize for Medicine, and is currently under investigation by multiple intelligence agencies. Ball says such "falsehoods" can be "literally lethal" – that is, people reading an article on Lockdown Sceptics raising doubts about the scientific basis of the two-metre rule might end up neglecting social distancing rules, catch Covid and die. I suppose that's possible – although, as John Ioannidis pointed out, if you're under-65 you're more likely to die in a road traffic accident than from COVID-19 and, as I pointed out yesterday, if you're under-15 you're more likely to be struck by lightning – four times more likely, in fact.
But the real problem with this argument isn't that it exaggerates the risk of dying from Covid, but that it underplays the risks of following the advice pumped out by public health authorities and other organs of the state. For instance, the "Guidance for social or community care and residential settings" published by Public Health England on February 25th that assured people it was "very unlikely that anyone receiving care in a care home or the community will become infected". As we now know, about a third of all deaths from COVID-19 have occurred in care homes. Indeed, if I had to sum up the Government's approach to managing this pandemic in a one-sentence slogan, I'd say: "Protecting the healthy, endangering the vulnerable." If more people had been sceptical about this and other official advice – if journalists hadn't felt inhibited by finger-wagging colleagues like Philip Ball – there'd be fewer Covid deaths, not more.
As the Supreme Court Justice Louis Brandies put it: "If there be time to expose through discussion the falsehood and fallacies, to avert the evil by the process of education, the remedy to be applied is more speech, not enforced silence."
Ball's article is called 'The Epidemiology of Misinformation'. If only Facebook would ban the use of laboured coronavirus metaphors, that might actually be a useful service.
New Poster From NHS Puts People in Wrong Place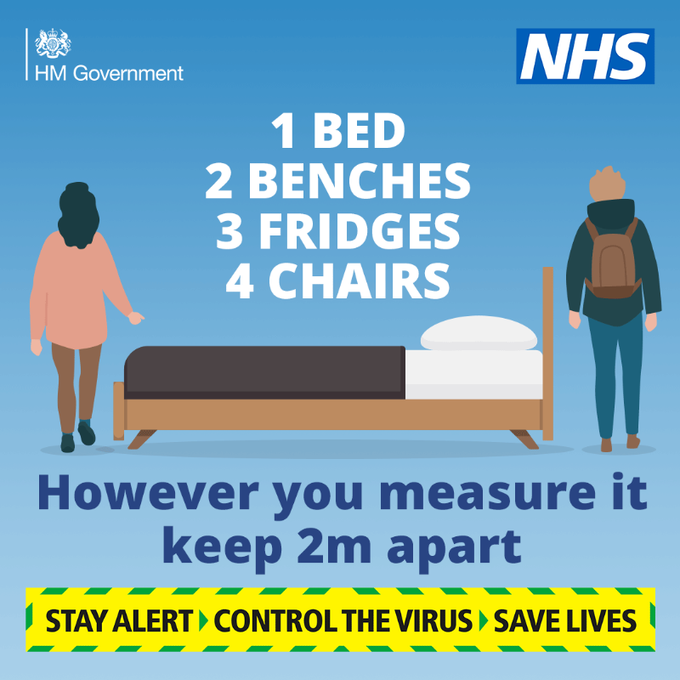 Shouldn't those people be under the bed?
Theme Tune Suggestions
Some more suggestions for theme songs from readers: "Breaking the Law" by Judas Priest, "I fought the law" by the Clash, "Caught by the Fuzz' by Supergrass, "Jailbreak" by Thin Lizzy and "Gallows Pole" by Led Zeppelin
Small Businesses That Have Reopened
Last week, Lockdown Sceptics launched a searchable directory of open businesses across the UK. The idea is to celebrate those retail and hospitality businesses that have reopened, as well as help people find out what has opened in their area. But we need your help to build it, so we've created a form you can fill out to tell us about those businesses that have opened near you. Please visit the page and let us know about those brave folk who are doing their bit to get our country back on its feet.
Shameless Begging Bit
Apologies that Lockdown Sceptics is a bit shorter than usual today. Drank a little too much wine last night and am now going to try to walk off my hangover. Thanks as always to those of you who made a donation in the last 24 hours to pay for the upkeep of this site. It still takes me about nine hours a day, what with doing these updates, moderating your comments and commissioning original material. If you feel like donating, please click here. And if you want to flag up any stories or links I should include in tomorrow's update, email me here.