Today's Telgraph says a majority of the Cabinet want Boris to accelerate the timetable for ending the lockdown.
Boris Johnson is under pressure to ease the lockdown restrictions causing "massive damage" to the economy, with the majority of the Cabinet understood to support a major "back to work" drive next month.

Rishi Sunak, the Chancellor, is among ministers who have expressed concerns about the long-term "scarring" to the economy being caused by the coronavirus pandemic.

Provided there is no unexpected increase in the rate of virus infections over the next 10 days, they want the Prime Minister to allow as many businesses as possible to reopen in order to get the country moving again.
According to Gordon Raynor, the Telegraph's political editor, the three most hawkish members of the Cabinet – remember, in the current vernacular hawkish means cautious, not bold – are Matt Hancock, Michael Gove and the Prime Minister. But the doves seem to be gaining ground. Conservative peers Baroness Noakes and Lord Dobbs have both chastised the Government for being over cautious, with Dobbs saying "lockdown means poverty".
The former Tory work and pensions minister Baroness Buscombe urged the Government to be "proportionate" in a House of Lords debate yesterday and reduce the social distancing rule to one metre, calling for schools to reopen "to free up the workforce and to stem the tide of this, frankly, with respect, cultural and economic suicide".
Meanwhile, the Times reports that the Treasury borrowed more last month than in the whole of last year (£62.1 billion). According to the Office for National Statistics, the Government hasn't borrowed that much in a single month since records began.
Public Inquiry-Induced Paralysis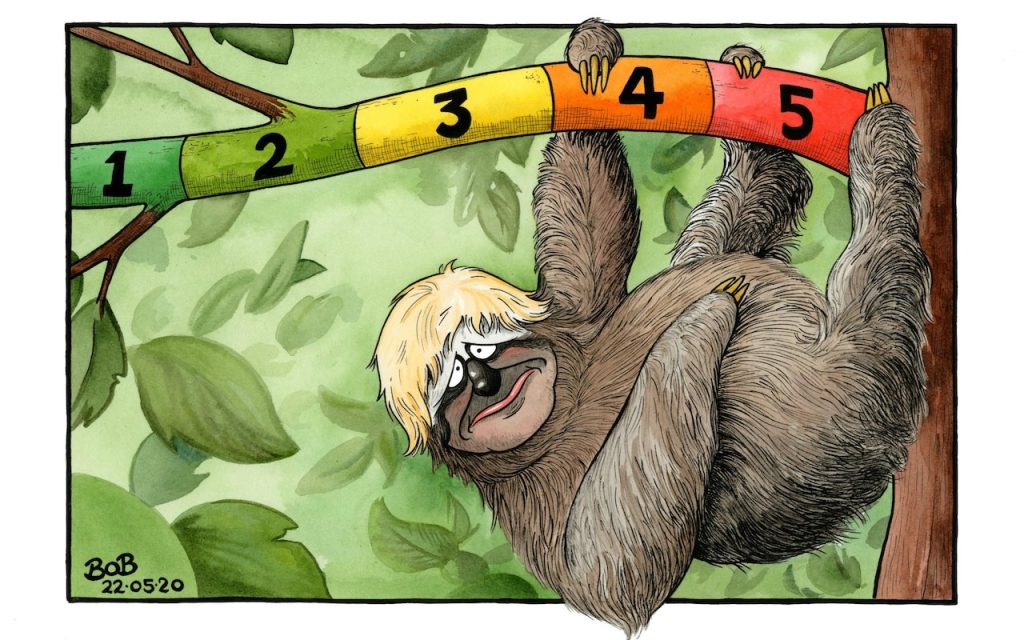 According to Fraser Nelson's column in today's Telegraph, a new joke is going round Whitehall:
When an awkward question about Covid comes up, someone will say: "Well, tell that to the inquiry."
But as Fraser points out, this isn't funny. On the contrary, the paranoia gripping members of the Government and the Civil Service about how they're likely to judged in the forthcoming inquiry is preventing them from taking decisive action in case it has adverse consequences and they end carrying the can. "I know one Cabinet member who is keeping meticulous, exculpatory notes of his actions with a dateline starting in January," writes Fraser.
Normally, we'd expect the Prime Minister to be the one mobilising the English language to stirring national effect but instead he's starting to look like the most cautious leader in Europe. Perhaps he is stung by the failure of the lockdown to limit deaths and thinks he cannot afford another political risk, especially if he plans a high-stakes Brexit gambit. Perhaps he worries an early move to reopen the economy would be too divisive – contravening his pledge to reconcile a country torn by the referendum.

The Prime Minister tells colleagues that they'll be forgiven for mistakes going into this crisis, but not for mistakes coming out. He's right. But if he's late out of lockdown, he will be walking straight into that second mistake.
YouTube's Red Pen
Yesterday, when linking to Freddie Sayers's interview with Sunetra Gupta on UnHerd, I said, "Watch it before YouTube takes it down." That was intended as a joke – surely, YouTube wouldn't take down an interview with the Professor of Theoretical Epidemiology at Oxford, however much she dissented from Covid orthodoxy?
But then I discovered that YouTube had removed Freddie's interview with Professor Karol Sikora, Dean of Buckingham University Medical School. According to Freddie, the video "violated" YouTube's "guidelines" and his appeal for it to be reinstated was rejected. Freddie tweeted about this last night, several people weighed in to criticise YouTube's decision (including me), and the video has now been reinstated.
Will the interview with Professor Gupta be removed? You'll recall that she made news back in March when her team at Oxford – long-standing rivals to Neil Ferguson's team at Imperial College – published a preprint arguing that many more people could have been infected than we previously thought and herd immunity might be achievable without paying the price that Ferguson's team claimed, i.e. 250,000+ Covid fatalities. At the time, this was summarised as "coronavirus may have infected half of UK population" – and widely scoffed at – but that isn't what the paper said. Rather, it hypothesised a range of estimates, of which that was one.
In the interview, Gupta doesn't defend the 50% figure, but stands by the idea that herd immunity can be achieved without hundreds of thousands of deaths:
In almost every context we've seen the epidemic grow, turn around and die away — almost like clockwork. Different countries have had different lockdown policies, and yet what we've observed is almost a uniform pattern of behaviour which is highly consistent with [our] model. To me that suggests that much of the driving force here was due to the build-up of immunity. I think that's a more parsimonious explanation than one which requires in every country for lockdown (or various degrees of lockdown, including no lockdown) to have had the same effect.
She is careful not to directly criticise Ferguson and his team. Rather, the Government was at fault for acting as it did based on the team's prediction:
The Government's defence is that this [the Imperial College model] was a plausible worst case scenario. I agree it was a plausible — or at least a possible — worst case scenario. The question is, should we act on a possible worst case scenario, given the costs of lockdown? It seems to me that given that the costs of lockdown are mounting, that case is becoming more and more fragile.
In the most controversial section of the interview, Professor Gupta says she thinks the long-term harm caused by social distancing will outweigh the benefits. Why? Because protecting ourselves from exposure to pathogens in our day-to-day life makes us more vulnerable to killer viruses, not less.
Remaining in a state of lockdown is extremely dangerous from the point of view of the vulnerability of the entire population to new pathogens. Effectively we used to live in a state approximating lockdown 100 years ago, and that was what created the conditions for the Spanish Flu to come in and kill 50 million people.
Does that mean she's in favour of dispensing with social distancing altogether and just returning to normal? She doesn't quite say so, but that appears to be what she thinks.
I think it is very dangerous to talk about lockdown without recognising the enormous costs that it has on other vulnerable sectors in the population.
Great stuff, obviously, and history will almost certainly look more kindly on Professor Gupta than Professor Ferguson. But I'm not going to make her 'Sceptic of the Week' because, it turns out, she's wary of being lumped in with libertarian types like me.
So I know there is a sort of libertarian argument for the release of lockdown, and I think it is unfortunate that those of us who feel we should think differently about lockdown have had our voices added to that libertarian harangue. But the truth is that lockdown is a luxury, and it's a luxury that the middle classes are enjoying and higher income countries are enjoying at the expense of the poor, the vulnerable and less developed countries. It's a very serious crisis.
Infection Fatality Rate is 0.26% – CDC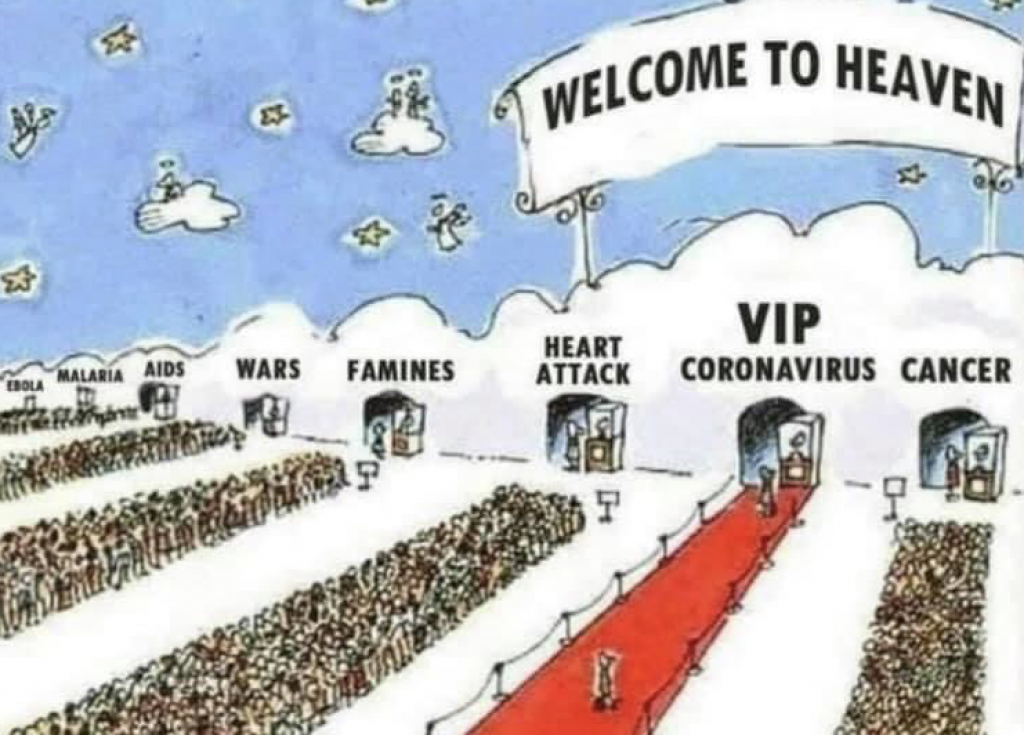 Regular readers will know that I've been tracking the infection fatality rate (IFR) throughout the crisis, convinced that it's far lower than the 0.9% estimated by Neil Ferguson and way, way lower than the 3.4% estimated by the WHO. My prediction has long been that it will turn out to be slightly higher than the IFR of seasonal flu, which is 0.1% in an average year and 0.2% in a bad year. Although I've never been quite as bullish as Sunetra Gupta, who told Freddie she thinks it is somewhere between 0.1% and 0.01%.
On May 15th, the Center for Disease Control (CDC) in the US published its official estimate – 0.26%, although it doesn't come right out and say it. Rather, it estimates the case fatality rate (CFR) for different age groups:
0-49 year-olds: 0.05%
50-64 year-olds: 0.2%
65+ years-old: 1.3%
Mean CFR: 0.4%
The CDC estimates that 35% of people who've been infected are asymptomatic, so to get the IFR from the CFR you have to multiply it by 0.65 – 0.4 x 0.65 = 0.26%.
Hats off to the Ethical Skeptic, the anonymous Twitter account which estimated the IFR at 0.26% more than two weeks ago. Using data from seroprevalence studies, he calculated that 32,768,000 Americans had been infected up to May 8th and divided that by the number of US fatalities, which was 86,469 at that point. That gave an IFR of 0.26%.
On May 15th, I discussed a New York Times article that criticised lockdown sceptics for circulating the Santa Clara serological study and highlighting its IFR estimate of 0.17%. According to the Times, the signal boost the study received from anti-lockdown wing-nuts on Twitter led to "a surge of misinformation". Trouble is, that "misinformation" has turned out to be more accurate than the IFR estimates of the WHO and Professor Ferguson.
Incidentally, John Ioannidis, Professor of Medicine at Harvard and the lead author of the Santa Clara study, has a new preprint out in which he estimates the IFR by looking at 12 seroprevalence studies in which the population sample size >500. His conclusion is that it's "in the same ballpark as seasonal flu", i.e. between 0.1% and 0.2%. Daniel Horowitz, a senior editor at the Conservative Review, says the mean IFR estimate based on these seroprevalence studies is 0.2%. "That is 17 times less deadly than what the WHO originally predicted and 4.5 times less deadly than the Imperial College study," he writes.
So it's official, folks: We've imprisoned over a billion people in their homes, laying waste to the global economy and causing untold misery and death in the process, to mitigate the impact of a virus that's no deadlier than a bad bout of seasonal flu.
Did the New York Times Smear the German Anti-Lockdown Movement?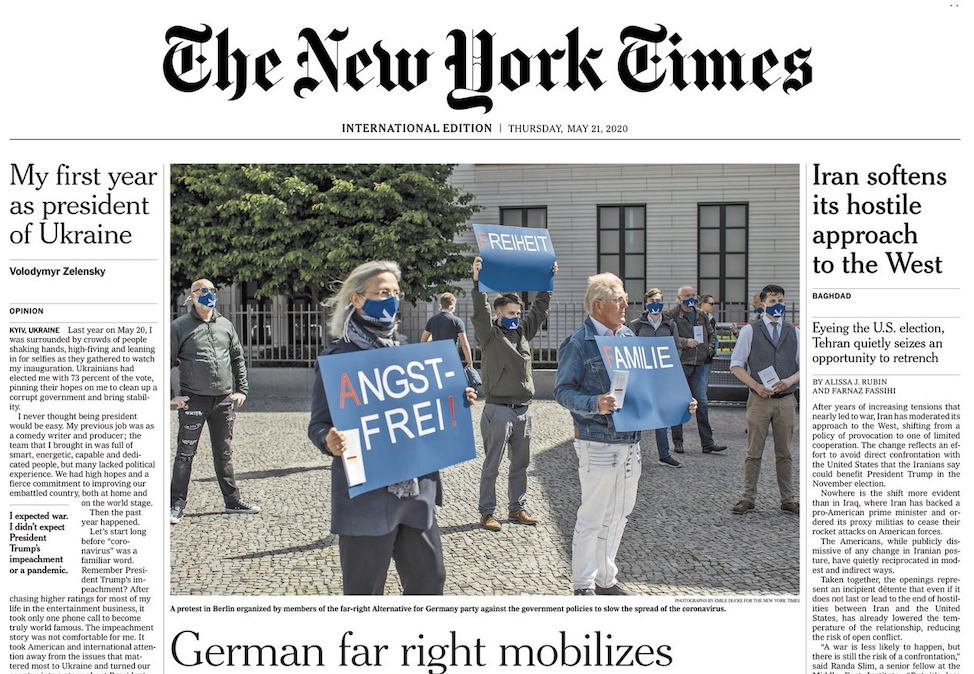 While we're on the subject of "misinformation" pumped out by the New York Times, I asked my German-speaking correspondent to look into the Times's front-page story claiming the anti-lockdown movement in Germany is being manipulated by the AfD. This was his verdict:
The German media also treats the protest movement against lockdown restrictions in Germany as being driven by various fringe groups that are increasingly influenced by "the right" and AfD usually gets a mention. In a commentary on May 19th, the Frankfurter Allgemeine Zeitung describes the protests against lockdown restrictions literally as a "festival of delusional slogans". The demos are described as colourful gatherings that attract all sorts of esoteric types, anti-vaxxers, left-wing extremists and anti-capitalists – and "increasing numbers of right-wingers". The reporter Thomas Holl is bemused by the seeming contradictions at play – while international virologists and epidemiologists praise Merkel's successful handling of the crisis and Germany's relatively low death toll, there seems to be a stronger anti-lockdown protest movement in the country than elsewhere. Like the New York Times, Holl points the finger at AfD – the right-wing party's showing in the polls dipped in April and the assertion is that they are looking to exploit the protests to recover lost ground.

I couldn't see anything about AfD's influence in Bild, but it carries an emotional story together with a video from the German network TV station ARD that pits a younger protestor against an older gentleman, Alfons Blum, who attended a protest in Gera. The pensioner is there because of how he has been personally affected – he has been unable to visit his wife who lives in a home for the past eight weeks and he breaks down in tears in the interview. A younger participant gets mixed up in how his emotional story is being exploited to distract from the bigger picture and starts shouting at Blum, citing earlier flu epidemics that claimed far more lives and that he should not allow the mainstream media to "make fun" of him on television. "If you listen to the network channels you will have practically lost control over your life!" he tells Blum. The commentary concludes by contrasting the two: "[C]itizens like pensioner Alfons Blum are suffering because of the measures – others believe that the media and the Government are being oppressive."
Incidentally, there's now a 7,000-word English summary of the leaked document written by the senior civil servant in the Ministry of the Interior. The translation is by Paul Gregory, a German-to-English translator.
More Praise for Governor DeSantis
USA Today ran a piece yesterday by opinion columnist Glenn Harlan Reynolds criticising New York Governor Andrew Cuomo and praising Florida Governor Ron DeSantis:
It's interesting to compare Cuomo's approach, in which infected (and infectious) patients were deliberately sent to nursing homes, with Florida Gov. Ron DeSantis's policy of protecting nursing homes first.

As the Palm Beach Post notes, DeSantis forbade the discharge of infected patients to nursing homes and long-term care facilities. As a result, only 3.5 per 100,000 nursing home residents in Florida contracted the disease, compared to 27 out of 100,000 in New York.
Thanks to Cuomo's mishandling of the crisis "more than 5,300 nursing home patients in New York have died from COVID-19, and as an Albany Times Union account notes, critics blame this policy," says Reynolds.
These mistakes led to a giant "Cuomo Killed My Mom" sign being erected off an overpass in upstate New York. Possibly unfair but certainly indicative of how some New Yorkers feel.
Round-Up
And on to the round-up of all the stories I've noticed, or which have been been brought to my attention, in the last 24 hours:
Theme Tune Suggestions
Some more suggestions for theme songs from readers: "Trying to Survive" by Harvey Scales and the Seven Sounds, "The Whole Damn World is Going Crazy" by John Gary Williams and "Madness They Call It Madness" by Madness.
Small Businesses That Have Reopened
Last week, Lockdown Sceptics launched a searchable directory of open businesses across the UK. The idea is to celebrate those retail and hospitality businesses that have reopened, as well as help people find out what has opened in their area. But we need your help to build it, so we've created a form you can fill out to tell us about those businesses that have reopened near you. Please visit the page and let us know about those brave folk who are doing their bit to get our country back on its feet.
The list of shops and services that can reopen may be longer than people imagine. On May 13th, the Government issued revised guidance and it's now permissible for the following retail businesses to reopen (this is in addition to those we already know about, such as garden centres and rubbish dumps):
Dental services, opticians, audiology services, chiropody, chiropractors, osteopaths and other medical or health services (including physiotherapy and podiatry services), and services relating to mental health
Bicycle shops
Homeware, building supplies and hardware stores
Veterinary surgeries and pet shops
Agricultural supplies shops
Off-licences and licensed shops selling alcohol, including those within breweries. Come on, Majestic. What are you waiting for?
Laundrettes and dry cleaners
Car repair and MOT services
Shameless Begging Bit
Thanks as always to those of you who made a donation in the last 24 hours to pay for the upkeep of this site. If you feel like donating please click here. And if you want to flag up any stories or links I should include in tomorrow's update, email me here. The site's total page views have now passed one million and it's averaging 54,000 visitors a day. We're making an impact!
And Finally…
It's another shameless plug I'm afraid, this time for my latest column in Spectator USA. In this one, I blame China for unleashing this pandemic/panic on the world, although WHO Director-General Tedros Adhanom Ghebreyesus is a close second. My argument is that if the Chinese Communist authorities hadn't silenced the Wuhan doctors who raised the alarm at the end of December, the virus might never have made it out of Wuhan:
Would the emergence of a novel coronavirus in Wuhan at the end of December have led to a global pandemic if the Chinese authorities had acted more quickly? Almost certainly not. A group of researchers at the University of Southampton looked at what difference it would have made if the travel ban and other non-pharmaceutical interventions had been put in place three weeks earlier, as soon as the doctors raised the alarm. They concluded that cases would have been reduced by 95 percent. In all likelihood, the virus would never have made it out of Hubei.

No doubt China will be judged to have mismanaged this crisis in a number of ways when the official inquiries get under way. There are already a flurry of lawsuits seeking compensation from the Chinese government, including one launched by Missouri Attorney General Eric Schmitt, who claims the state has suffered tens of billions of dollars in economic losses as a result of China's negligence.

But perhaps China's biggest sin was to stop those Wuhan doctors exercising their right to free speech. Had they been allowed to raise their concerns in the public arena, instead of being silenced and publicly shamed, it's likely that hundreds of thousands of people across the world would now still be alive. At the time of writing, there have been 4.1 million confirmed cases of COVID-19 and 283,000 deaths from the disease.