The press is having fun today about the apparent "confusion" in Boris's exit plan, with some papers flagging up new rules which weren't included in his speech on Sunday. For instance, he originally said we could play sports from tomorrow, but only with members of our own household. That's now been amended to one person from another household as well. Matt Lucas did an amusing impression of Boris getting in a bit of a muddle that went viral. (Are we still allowed to use that word?)
Boris's response to all the noise about this, as set out on the front page of the Telegraph, is to urge people to use their common sense. This plumber interviewed by Channel 4 News last night seems to have got the point. "Boris is leaving it up to us a little bit," he said. "What do you want, a full handbook to tell you what to do?" The editor of the programme must have spat out his almond milk latte when he heard that.
Needless to say, much of the mainstream media thinks Boris is being wildly reckless, accusing him of putting our lives at risk. He's running down the mountain like Julie Andrews in The Sound of Music, not inching his way down like an experienced climber. (If only!) The Mirror, for instance, urges the Prime Minister to "protect the workers", although doesn't explain how destroying the UK economy would achieve this. The Guardian has a piece by David Hunter, Professor of Epidemiology and Medicine at the University of Oxford, flagged on the front page, that predicts "the virus spread will increase, there will be super-spreader events and local or regional lockdowns will have to be reconsidered".
Much of the criticism focuses on the risk that the sacred two-metre rule might be breached, particularly on public transport. Worth bearing in mind, then, that the distance we're supposed to keep from each other varies from country to country:
WHO recommendation – 1 metre
USA – 6 feet
Germany – 1.5 metres
Australia – 1.5 metres
France – 1 metre
Italy – 1 metre
Sweden – Use your common sense
As William Sullivan points out in American Thinker, social distancing rules are snake oil, not science.
The same "we're-all-doomed" line was taken by Anthony Costello, ex-Director of the WHO and a member of the 'alternative' advisory group shadowing the Strategic Advisory Group for Emergencies that's due to publish its first report tomorrow. As Guido Fawkes pointed out, this group is packed to the gills with pro-Labour boffins and Costello is no exception. in a long long Twitter thread posted last night he poured scorn on the Boris's exit strategy, predicting a second spike in infections. "In short, the Government plans will lead to the epidemic returning early, cases rising, further preventable deaths, and no guarantee that herd immunity will ever occur," he concluded.
He urges the Government to instead follow the advice the WHO has issued, which he quoters as follows: "governments refocus the whole of government on suppression and containing COVID-19". By "suppression" I think the WHO means keeping the lockdowns in place, although given how hugger-mugger the organisation is with the Chinese Communist authorities it's hard to be sure. Does this mean the WHO has now decided the Swedish approach was wrong after all? Readers will recall that a senior panjandrum at the WHO gave a press conference two weeks ago in which he praised Sweden as a "model" that the rest of the world should follow. This was after the WHO said exactly the same thing about China a few weeks before that. Makes you feel almost sorry for the moderators at YouTube, given that the company's CEO has said any content dissenting from the WHO's official recommendations will be removed. Must be a full time job keeping track of the WHO's constantly-changing positions.
It's quite helpful that these lockdown zealots are nailing their colours to the mast, predicting armageddon if we emerge from under our beds and venture outside. It means that when they're proved wrong, as I suspect they will be, any future advice they might have for the Government can be safely ignored. Then again, the reputations of various climate change alarmists haven't been damaged in the slightest by their failed predictions, many of them based on similar computer models to that used by Professor Neil Ferguson and his crystal-ball gazers at Imperial. A quick reminder of what some of these soothsayers got wrong:
Paul Ehrlich, author of the 1968 bestseller The Population Bomb. "We must realise that unless we are extremely lucky, everybody will disappear in a cloud of blue steam in 20 years," he told the New York Times in 1969. Ehrlich also predicted America would be subject to water rationing by 1974 and food rationing by 1980. Ehrlich's "bomb" failed to explode, but his career didn't. He's now the Bing Professor of Population Studies at Stanford and the president of Stanford's Center for Conservation Biology.
Peter Wadhams, Cambridge professor. Interviewed in the Guardian in 2013, he predicted Arctic ice would disappear by 2015 if we didn't mend our ways. It hasn't, obviously.
Gordon Brown, former UK Prime Minister. He announced in 2009 that we had just 50 days to save the Earth.
George Monbiot, Guardian columnist. He predicted a "structural global famine" in as little as 10 years' time if we didn't start eating less meat — this was in 2002. No such famine has materialised, although it probably will now thanks to the global lockdowns.
Prince Charles, future king. He predicted we had eight years to save the plant 11 years ago.
In foreign news, the Times says on its front page that single French women are happy with the lockdown – the headline is 'No hook-ups, Merci!' "Not only have they discovered that they are able to survive on their own, but many have come to the conclusion that they are better off than their counterparts lumbered with menfolk and children at home," reports Adam Sage.
The always-reliable Professor Carl Heneghan of Oxford's Centre for Evidence-Based Medicine has just finished a piece of work showing that the coronavirus crisis is not technically an epidemic. The latest data from the Office for National Statistics (ONS) suggests that just 0.24 per cent of adults – approximately 136,000 people – currently have the virus and the Royal College of GPs puts it at even less – about 0.037%. The official definition of an epidemic is a disease that infects 40 per 10,000, but the new figures suggest it is between four and 24 in 10,000. The Telegraph has more.
The ONS also released data this morning about registered deaths in England and Wales in Week 18 (April 25th – May 1st). All deaths are down, including those involving COVID-19. You can see the year-to-date trend lines in the ONS graph below: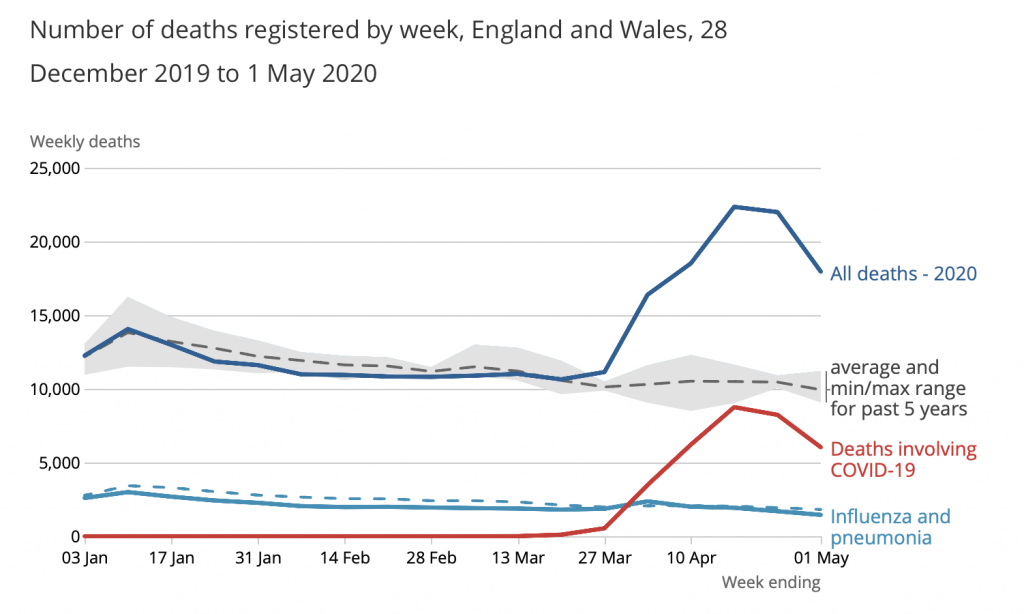 The total number of deaths in Week 18 – 17,953 – is lower that the previous week but still 8,012 more than the five-year average. 6,035 of the deaths mentioned "novel coronavirus", meaning 1,977 excess deaths in that week weren't from COVID-19, at least not according to the doctors who signed the death certificates – and, remember, they don't even need a positive test result to write down "novel coronavirus" as the cause of death.
So why did these people die? When he appeared on Marr on May 3rd, Sir Ian Diamond, head of the Government's Statistical Service, said the ONS had looked into the cause of non-Covid excess deaths since the beginning of the year and would publish its findings "in the next few days". Evidently, he was nobbled because that piece of work has yet to see the light of day. Here's a transcript of what he said on Marr:
The last week we had records for the excess was approaching 12,000 deaths of which, I would suggest, between eight and 9,000 were Covid and the rest were what we call indirect deaths. Those could be for example people who would normally have gone into hospital for some reason but the beds were not available. Just give you an example: in my late mother's last couple of years of her life she went into hospital and back out again a few times. Had she not been able to go in one of those times she may well have died a little earlier than she did. So I think it's important to recognise there are indirect deaths as well as the Covid-related deaths. We have a piece from the Office of National Statistics that we've done jointly with the Government Actuaries Department, the Home Office and Department of Health coming out in the next few days which will show also a third group which will come out over the next few years where changes in the prioritisation of the Health Service, for example, reductions in cancer screening, will lead to deaths over the next few years.
One reason the publication of this data has been delayed – indefinitely? – may be because the Government doesn't want to face the kind of scandal that's currently blowing up in Germany about the disastrous impact of the lockdown on public health. Roland Tichy, the editor of Tichys Einblick, a right-of-centre German magazine, has obtained a leaked impact assessment from the Ministry of the Interior saying that the lockdown is causing more more harm than good. The author of the paper is identified as "K", reminiscent of the central character in The Trial by Franz Kafka. I couldn't find any stories about this on any English-language mainstream media sites, although there are a few on the fringes, like this one. So I've published one myself. I got hold of the Tichys Einblick press release about the story, which someone has kindly translated into English, and you can read the whole thing here. This is the opening paragraph:
The lockdown and the measures taken by the German federal and central governments to contain the coronavirus apparently cost more lives, for example of cancer patients, than of those actually killed by it. This is the result of an internal analysis by the Protection of Critical Infrastructures"unit in the Federal Ministry of the Interior, which has been made available to members of the Ministry's crisis team and leaked to Tichys Einblick magazine. The 86-page paper with its critical evaluations for example of the data submitted by the Robert Koch Institute, has in the meantime already been dismissed by the Ministry as the expression of an "isolated individual opinion". According to information from Tichy's Einblick, the paper's author, a senior official at the Ministry, has by now been suspended.
The same German-speaking reader who helped me do a bit of digging yesterday on Widerstand2020 Deutschland has flicked through some German newspapers to find out more:
The official reaction to the story has been damning and defensive – the author is reported in some places as having massively overstepped his brief, and the paper is alleged to contain the author's private view, rather than an official one. The author is seen as having acted particularly irresponsibly because the report is on official headed paper, giving it what the Government is saying is spurious authenticity. I don't think there can be any doubt that the report is genuine, and the real issue is how damning it is, and the obviously pretty cack-handed cover up that is underway. The report apparently criticises the Robert Koch Institute data and other data sources as confused and inaccurate.

Tichys' view is that there was a massive failure to understand the situation in a clear and sober way and the leadership failure extends to the Chancellor who relied exclusively on flawed data. Couldn't see anything in Bild about it. Was surprised to see nothing in the Sueddeutsche either.
This won't come as a surprise to readers of Lockdown Sceptics because we've already crunched the numbers twice and come to the same conclusion: the ONS has confirmed that NHS workers, listed below as "Health Professionals", face a lower-than-average risk of dying from COVID-19 than other workers. The BBC ran a story on this, pointing out that the most vulnerable group in the UK are, in fact, security guards.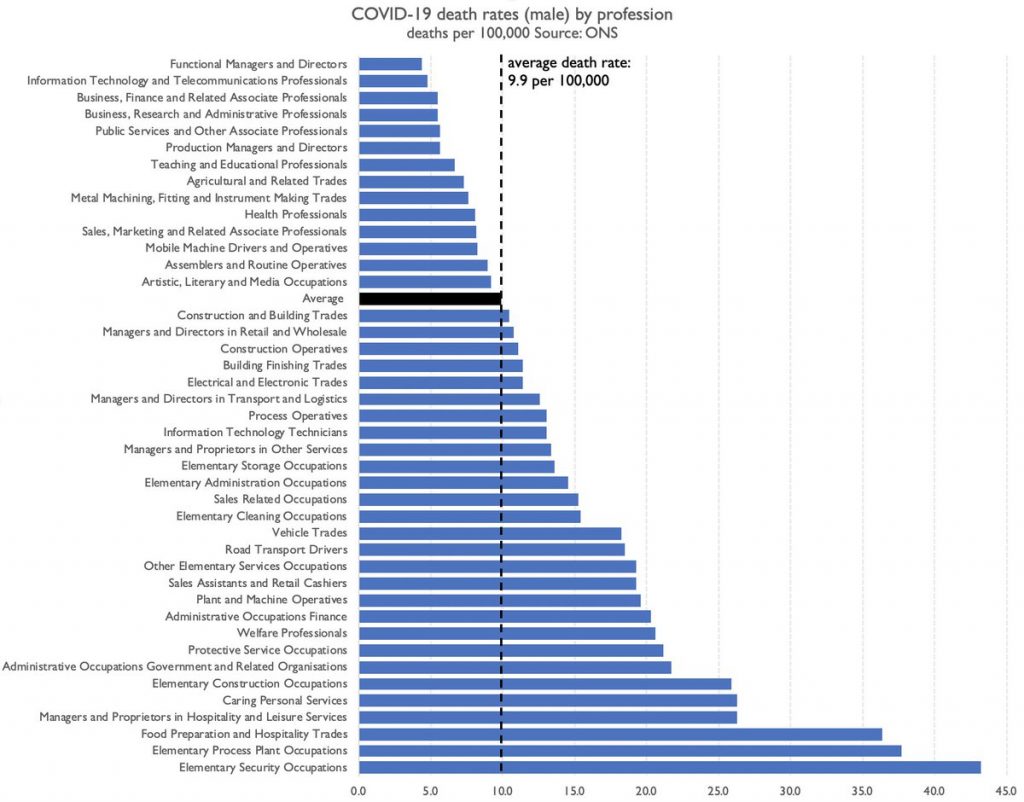 There's a great little guest post on Hector Drummond's blog by Andrew Mahon, celebrating the 25th anniversary of Crimson Tide. As he points out, the plot of this film is extremely relevant to the predicament we find ourselves in now, involving a fight between a panicky submarine commander (Gene Hackman) threatening to over-react to incomplete information about a potential disaster and his more sober-minded second-in-command (Denzel Washington) who wants a few more facts before – literally, in this case – pushing the nuclear button. I recommend you read the entire post, but here's the kernel of the argument:
The formula is as follows: a real but perhaps exaggerated crisis demands a response, but the information upon which decisive action can be justified is incomplete, so the dilemma becomes either to take action based on incomplete information, which may be premature, or to delay that action in favour of seeking out more information, which could come too late. Delaying action may mean catastrophe, but on the other taking action too quickly may mean a wholly different catastrophe.

In the current coronavirus lockdown this basic formula has just unfolded globally, although very little time was spent on the dilemma before Gene Hackman got his way in almost every country in the Western world. Coronavirus poses a crisis to be sure, but it is and has been exaggerated. The chosen response of lockdown – admittedly not quite a nuclear holocaust – has been based on the worst case predictions, notably those out of Imperial College London, which Nobel Prize-winning biologist Professor Michael Levitt of Stanford has claimed were off by a factor of ten. Other scientists, including those out of Stanford and Oxford Universities offered alternative findings, all of which ought to have been taken together to yield a comprehensive assessment of the threat. But instead most governments have ignored Denzel Washington's caution, taking instead the incomplete and unreliable apocalyptic modelling as the justification for a premature and disproportionate lockdown.
Good news about Simon Dolan's lawsuit. His crowdfunder has now raised over £100,000 – pretty good, considering it was only launched 10 days ago. Apparently, donations surged after Boris's speech on Sunday night, which doesn't surprise Dolan. "Boris Johnson has flapped and fumbled instead of leading Britain out of the disaster of lockdown," he says. "Just two days after we celebrated VE Day and the freedoms it secured, millions of families tuned in on Sunday evening hoping for the Prime Minister to deliver decisive action – instead we got more garbled messages of surrender." Anyone who wants to contribute to the crowdfunder can do so here.
Got an amusing email from a dissident academic who's finding life under lockdown a bit of a struggle:
I'm a Senior Lecturer at a UK higher education institution currently stuck doing remote working amongst a group of typical identitarian, fair-trade, falafel-munching academics. It probably won't surprise you to learn that my colleagues really don't want this magic-money-tree-fuelled piss-about to end. They chirrup along quite happily to each other on Microsoft Teams about how it might bring down the "Tory Scum" Government and thus also cancel "racist Brexit". Part of the ongoing appeal of the lockdown for them is the opportunity to spend all day safe at home baking Nordic-inspired loaf cakes, knocking out virtue-signalling blogs about sustainable living (whilst simultaneously planning their next foreign holiday, of course) and angrily taking to social media to demand more white deaths from COVID-19 as a form of reparation for colonial injustices. Okay, I might have made that last one up, but you get the idea. This has become a middle-class wet dream of what the revolutionary overthrow of capitalism would look like.
No doubt these wastrels will be delighted to learn that Rishi Sunack has extended the furlough scheme until October.
My correspondent attached a short essay about the use of the word "impatient" across various media outlets to describe those who want the lockdown to end. Boris used the word in his speech on April 27th and the BBC have also picked it up recently – see Jenny Hill's 'analysis' here. It's a way to position sceptics as childlike or unreasonable, one of the more subtler methods of sidelining us. I have published the essay on this site and given it pride of place on the right-hand menu under 'Are Sceptical Voices Being Suppressed?' It's called 'COVID-19 and the infantilisation of dissent'. The byline is "Wilfred Thomas", but that's a pseudonym for obvious reasons. "As you probably know, higher education is a genuinely scary place if you're thoughts are non-orthodox," he says. Sounds like he should join the Free Speech Union.
An expat living in Spain has been in touch to ask if I'd be interested in publishing a short piece he's written about life under lockdown which has been even more severe than ours. It's evidently been quite tough-going, with this Spanish study estimating that the mental health of 46% of the population is at risk. I have published his 'Postcard From Spain' here.
A reader has emailed me to say he thinks my correspondent in Bexhill-on-Sea, whose message I published yesterday, was very wise not to publish a sceptical post in his local Facebook group. He incautiously did just that and reaped the whirlwind:
I've just read the latest newsletter and was pleased to note the comments by the reader from Bexhill-on-Sea. His wife and daughter were right to restrain him from posting on the local Facebook page. I live in the Forest of Dean and this morning responded to a post from a man in which he railed against concessions for exercise because it would mean folk coming to the Forest from elsewhere. I mildly enquired whether he was concerned for the loss of the peace and quiet we've been enjoying recently or worried about plague-bearers, suggesting that the threat of the virus was a little exaggerated. Having just read the hate storm I unwittingly called up I am now literally shaking – good grief! No doubt you get more than your fair share of abusive comment but I was a naive virgin. I checked my post again and no, I hadn't inadvertently suggested selling off the village children as sex slaves!
Another reader has asked whether there's any Lockdowns Sceptics merchandise he could buy, like a T-shirt or a face mask – although it would take a brave soul to publicly declare his allegiance to this cause in the current climate. Having said that, the tide will turn and we might as well get out ahead of it. I've had a brief look and there are lots of merchandise companies that will do the heavy lifting. All I have to do is submit the designs. Any designers out there who might be able to help? Might be able to pay you a modest amount. If so, please email me here.
Yesterday, I asked what had happened to the much-ballyhooed Porton Down antibody survey. Today, a reader has forwarded an email from a friend of his about an official survey. This may provide a clue about why the Porton Down results have been delayed:
We are one of the 20,000 household supposedly being tested for Covid 19 by Government scientists because we took part in a national ONS study last year and agreed to take part in future studies. We had to register by phone by April 29th – after about 47 phone calls I managed to do that by April 27th, and was offered an appointment on April 30th, with the promise of a phone call in advance of the visit. Guess what? No phone call and no visit. Numerous attempts to call them – got callbacks – carrying two phones around the house 24 hours a day so as not to miss a call – finally got through – to be told they hadn't received the testing kits!!
I received a press release from the V&A this morning informing me it has put out a call for people to donate homemade signs and rainbow drawing celebrating "our NHS" so it can add these artworks to the Museum's permanent collection. "The V&A is seeking signs that have been created by individuals and communities in response to the current isolation measures," it says.
The possibilities to have fun with this are almost limitless, but I thought I'd confine myself to this photograph sent to me by a reader in Birmingham. It's located outside the Art Department of Birmingham City University.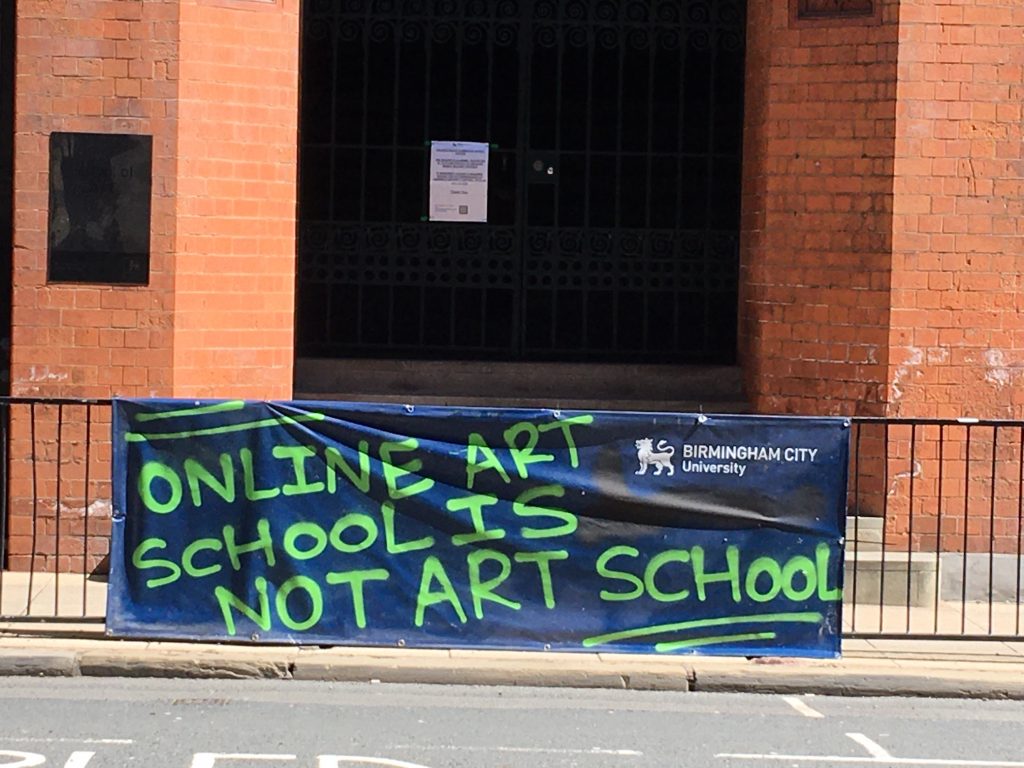 And on to the round-up of all the stories I've noticed, or which have been been brought to my attention, in the last 24 hours:
Yesterday, Lockdown Sceptics launched a searchable directory of open businesses across the UK. The idea is to celebrate those retail and hospitality businesses that have reopened, as well as to help people find out what has opened in their area. But we really need your help to build it, so we've created a form you can fill out to tell us about those businesses that have reopened near you. Should be fairly self-explanatory – and the owners of small businesses are welcome to enter their own details. Please visit the page and let us know about those courageous entrepreneurs who are doing their bit to get the country moving again.
Some more suggestions for theme songs from readers: 'Just Keep Me Hangin' On' by The Supremes, 'Bedsitter Images' by Al Stewart and 'Won't Get Fooled Again' by The Who. Keep 'em coming.
Thanks as always to those who made a donation in the last 24 hours to pay for the upkeep of this site. It's a Sisyphean task, let me tell you. If you feel like donating, you can do so by clicking here. (Every little helps!) And if you want to flag up any stories or links I should include in tomorrow's update, email me here.
I'll leave you with the latest episode of London Calling, mine and James Delingpole's weekly podcast. Only one topic, obviously. And apologies in advance for the fact that we both get a little overheated at times.