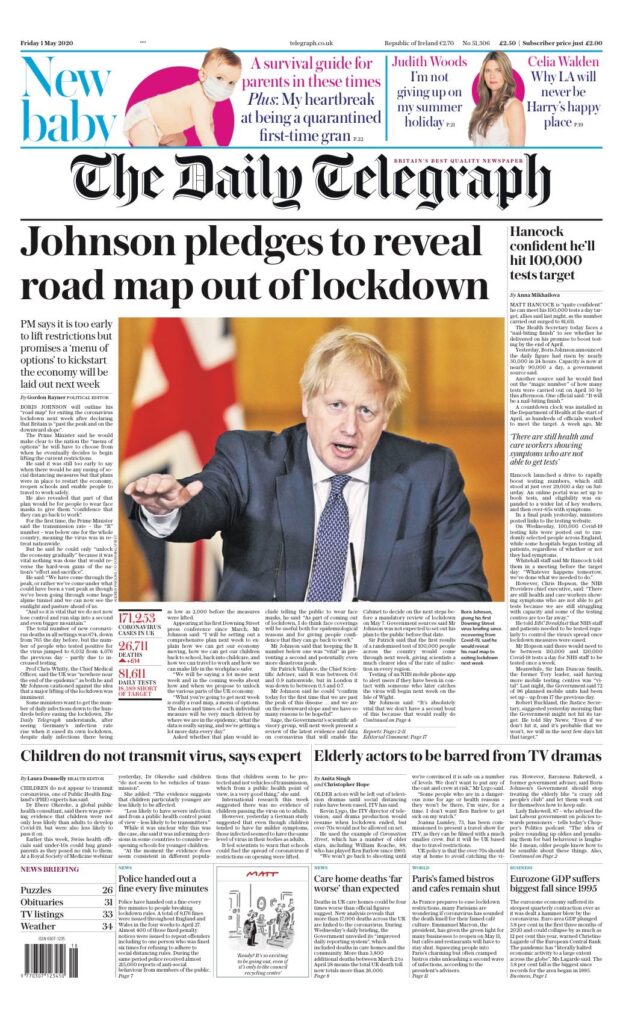 The Telegraph leads with Boris's announcement at yesterday's Downing Street press briefing that we are now "past the peak" and he will set out a "road map" next week on restarting the economy and reopening schools. (Robert Peston has more details.) In his first briefing since his return to work, the Prime Minister said the UK was "on the downward slope", but emphasised the country must not "risk a second spike". Further on in the same story the paper reveals that some ministers want to wait until the daily number of new infections falls into the hundreds before easing restrictions "after seeing Germany's infection rate rise when it eased its own lockdown". In fact, the infection rate hasn't gone up in Germany since it eased its lockdown last week. On Monday it ticked up to just under 1, but it has since declined and using a one-day rise to claim easing has triggered a second wave of infections is misleading, to put it mildly. The latest R0 number in Germany is 0.76 according to the Robert Koch Institute.
The Cambridge statistician David Spiegelhalter has a good piece in the Guardian, outlining some of the difficulties involved in counting the total number of COVID-19 deaths and comparing the death rates of different countries. In Europe, the UK currently has the third-highest number of deaths per million (388), behind Belgium (632) and Italy (452), but such comparisons are bedevilled by different methods of recording deaths from COVID-19 in different countries. And even if we could reliably compare countries using that metric it still wouldn't be a fair way of judging the performance of those who've been tasked with managing the outbreak because the death rate is affected by several things beyond their control, such as population density, median age and climate. Professor Spiegelhalter says he's not going to reach a conclusion about any of this until the ONS publishes its data about all-cause mortality at the end of the year, giving us an indication of how many excess deaths there have been. He points out that this is how the impact of seasonal flu is calculated: "The effects of seasonal flu are not based on tests or death certificates, but at looking at the total number of deaths over the winter, seeing how many extra there are than a baseline, allowing for climate, and assuming these excess deaths were linked to flu. On average, over the last 10 years this has come to about 8,000 flu-related deaths, rising to 26,400 in 2017-2018 and 28,300 in 2014-15." But the lockdown muddies the waters of this method because, as we know, some of the excess deaths in the year to date have been related to the lockdown – non-COVID-19 patients not being hospitalised, for instance – and the total number of deaths from some other causes, such as road traffic accidents, has fallen. It's not even clear what the relevant counter-factual is. All we know for sure is that people are going to be arguing about this for years.
One fear the Government has, says the Times, is that people won't actually leave their homes and return to work if the lockdown is eased. It has whipped up the public into such a frenzy of blanket-clutching fear, aided and abetted by the hysteria of the mainstream media, that a significant percentage may not dare venture outside for non-essentials. According to polling by Ipsos Mori, more than 60% of people would feel uncomfortable going to bars and restaurants or using public transport after the lockdown is over, more than 40% would be reluctant to go shopping or send their children to school and more than 30% are worried about going to work or meeting friends.
If you have children under 10, not sending them to school would be deeply silly. To date, only one child under 10 has died of the virus in the UK and children under 10 do not transmit it, according to Dr Ebere Okereke, a consultant in global public health for Public Health England. So no risk of children passing it on to their teachers – or their parents or their grandparents. Dr Obereke is basing this on a recent review of the evidence done by the Royal College of Paediatrics (RCP), but there's corroborating evidence from the China/WHO joint commission which hasn't uncovered a single instance of transmission from a child to an adult. Among the cases studied by the RCP is that of a nine-year-old English boy who contracted coronavirus in the French Alps but did not pass it on, despite having contact with more than 170 people at three schools.
Does this mean Boris will announce that primary schools can reopen next week without a pointless and unenforceable insistence that pupils should remain two metres apart? We can but hope.
Another bit of good news is that South Korean experts have concluded that patients who were feared to have been 'reinfected' with the virus, casting doubt on the possibility of an effective vaccine as well as making herd immunity look all-but impossible, were just false positives. Live Science has the story.
On the subject of testing, did Matt Hancock meet his target of carrying out 100,000 in a single day by April 30th? We're due to find out at shortly.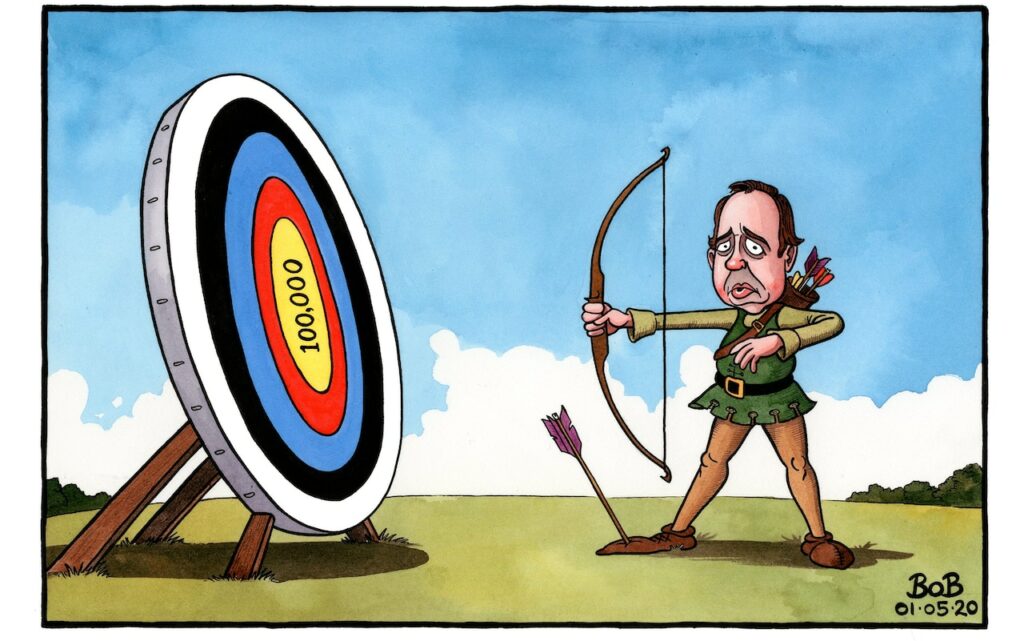 The Office of Budget Responsibility has estimated the cost of the measures Rishi Sunack has introduced so far to protect the economy from the impact of the crisis: £100 billion. The big ticket items are as follows:
£39 billion on the furlough scheme to pay 80% of staff wages.
£16 billion of extra spending on public services.
£15 billon on grants for small businesses.
£13 billion for increased business rate relief.
£10 billion on the support system for the self-employed.
£1.2 billion on changes to the "off-payroll" system for freelancers and contractors, known as IR35.
£1 billion in sick pay.
£800 million for charities.
£500 million to local authorities for vulnerable people.
An application to challenge some of Ireland's coronavirus laws will heard shortly, according to the Irish Times. An application by John Waters and Gemma O'Doherty for permission to bring a challenge against laws introduced due to the Covid-19 pandemic is due to be heard before a High Court judge next week.
And a similar challenge is being launched in the UK, it was announced today. Businessman Simon Dolan is seeking a Judicial Review over the Government's emergency measures. His lawyers have delivered a 'Letter Before Action' on his behalf to the Government, giving it until May 7th to respond. Mr Dolan is seeking to challenge the Government on three main points:
Whether lockdown is unlawful because the Government implemented regulations under the Public Health Act 1984 instead of the Civil Contingencies Act 2004 or the Coronavirus Act 2020.
The legality of the continuation of lockdown regulation, and whether the tests are too narrow, failing to take account of the economic and social impacts of lockdown.
If the restrictions brought in by the Government contravene the European Convention of Human Rights, which cover the right to liberty, family life, education and property.
He's also seeking to persuade the Government to make three key policy changes that will restore some of our freedoms and get the economy moving again:
Allow gatherings of up to 100 people.
Reopen schools.
Review the lockdown restrictions every two weeks.
In addition, Dolan wants the Government to disclose the scientific evidence that ministers and civil servants have been relying on to make policy decisions. (Does this mean his barrister will have a chance to cross-examine Neil Ferguson about his March 16th modelling?) He's also seeking clarity over who sits on the Scientific Advisory Group for Emergencies (SAGE) and wants the Government to publish the minutes from SAGE meetings. (You can read the minutes of NERVTAG meetings here.)
Needless to say, Dolan is a lockdown sceptic – and from the points he makes in the press release, its sounds like he's a regular reader of this site. Here are some of his quotes:
Small businesses continue to be badly affected. Businesses have been forced to shut, furlough staff and make cuts just in an attempt to survive.

Lockdown is also taking a huge toll on mental health and family life. Calls to the National Domestic Abuse helpline are up 49%. Referrals for cancer tests have fallen by 76%. It is estimated that 18,000 more people with cancer could die because of the disruption.

We are depriving children of a proper education and instead teaching them to hide away from uncertainty rather than to confront it.

It is now universally accepted that the lockdown will cause enormous long-term damage to both the economy and the general health of the population. No-one will be untouched by its effects, but the poorest in society will be by far the most affected
Simon Dolan is hoping to pay for this challenge via a crowdfunder. (He's like a sound version of Jolyon Maugham!) Readers who wish to contribute can do so by clicking here.
ITV reports that the police have been handing out fines to people flouting social distancing rules – or wrongly suspected of doing so – like traffic wardens on Dexedrine. The National Police Chiefs' Council says 8,877 fixed penalty notices (FPNs) were recorded by forces in England between March 27th and April 27th, while 299 were issued in Wales over the same period – a total of 9,176. 397 were for repeat offenders, with one person fined six times. (Give that man a Blue Peter badge!) The FPNs are for £60, but like parking tickets are reduced to half that if paid within two weeks. Meanwhile, the Guardian reports that police have received 200,000 calls notifying them of people who are flouting the rules. What became of freeborn Englishman? We've become a nation of informants.
The sceptical case is beginning to gain traction. Bloomberg ran a comment piece yesterday entitled 'Lockdown Critics May Have Some Valid Points' – gee thanks, guys – and Elon Musk, the Tesla creator, has come out as a hard sceptic. "If some­body wants to stay in their house, that's great. They should be al­lowed to stay in their house and they should not be com­pelled to leave," he told stock-market an­a­lysts in a call on Wednes­day. "But to say that they can­not leave their house, and they will be ar­rested if they do, this is fas­cist. This is not de­mo­c­ratic. This is not free­dom. Give peo­ple back their god­damn free­dom."
Tesla posted a surprise first-quarter profit on Monday – go Elon!
For those who still aren't convinced, Iain Davis in Off-Guardian has compiled a summary of the data demolishing the case for lockdowns.
According to a long piece for the BBC's website, the disproportionately high death toll among BAME people may be due to "the accumulated physiological burden from the stresses caused by racism and race-related disadvantage, such as the frequent secretion of stress hormones". We're going to be hearing a lot of this unscientific gobbledegook as the post-mortem into BAME deaths gets underway, but my money is on the fact that people with darker skin produce less Vitamin D, with more and more papers being published on this every day.
Guy de la Bédoyère, the author of a book on the polio vaccine who's made several excellent contributions to this site, has sent me his thoughts about Vitamin D and why the lockdown could be killing people:
If a lack of Vitamin D is a contributory factor affecting BAME people and their susceptibility to severe symptoms, then there is also a rather glaringly obvious link to care homes. Most residents, regardless of ethnicity, spend all day indoors, adding to their general suite of ailments and sheer age, get little sunlight and probably a lot less now. My 99-year-old mother-in-law (who soldiers on – she was in the year below 'Colonel' Tom Moore at Keighley Grammar) is extremely unusual at her care home in having a two-room garden apartment where she can sit outside on warm days. In the three years we've been visiting her we have scarcely ever seen anyone else sitting outside. We chose the home because all the others we inspected involved living in rooms indoors. I imagine the same consideration applies to people with existing medical conditions who can't go out much – and unless I'm very much mistaken the UK is the most northerly of the most seriously affected countries and is only now emerging out of winter. the lockdown is going to have a potentially serious impact on vitamin D levels in everyone from babies to centenarians. The lockdown is particularly condemning the over-70s to their homes (although many are visibly ignoring it now), terrorising them out of enjoying the outdoors. Is this another factor that's going to result in the lockdown increasing their susceptibility?
Could Vitamin D be the reason why Florida's death rate is only six per 100,000? The Governor of Florida declined to impose a lockdown, leaving the residents of his state free to go out and enjoy the sunshine.
I hear a lot of anecdotes about cancer patients being sent to the back of the queue, with COVID-19 patients taking priority – or, rather, priority being given to notional COVID-19 patients because, of course, half of all hospital beds are empty. Here's one reader's personal experience of this neglect:
I recently underwent bowel cancer surgery which was a success; I'm now fully recovered and back at work – I was discharged the very day the first coronavirus media reports appeared. The 'fly in the ointment' for me was that I had a coincidental finding of a suspicious lesion on a kidney – so they needed to bring me back to have it biopsied, then removed. I attended for the biopsy only to be told that all cases were being deferred for three months because of coronavirus – so I was sent home with no biopsy and no prospect of having the lesion removed in the near future. It is somewhat ironic that I make a great recovery from the first cancer, owing to the excellent NHS care I received, only to now find myself under house arrest, possibly along with tens of thousands of other cancer patients, waiting for a low stage cancer to become a high stage cancer. What do you think the take-up would be if those in my position organised a Friday evening clap-in at 8pm each week for all those heroes who will probably die due to their treatment being withdrawn to keep empty beds free 'just in case'? At least they would know their sacrifice was appreciated while they were still alive.
More suggestions for theme tunes for this site have come in: 'Aint it Grand to be Blooming Well Dead' by Leslie Sarony, 'I'll Never Get Out of This World Alive' by Hank Williams and 'Ghost Town' by the Specials.
Some readers have submitted their suggestions for Tarantino-esque movie titles for a film about the rivalries of epidemiologists, the best of which is Public Health Fiction. And thanks to RDawg for designing this poster featuring Neil Ferguson and Johan Giesecke squaring up in the ring:
As always, a big thanks to those who donated to pay for the upkeep of this site yesterday. Maintaining it – and doing these daily updates – now takes up about three-quarters of my day, so if you feel like donating you can do so by clicking here. And if you want to flag up any stories or links I should include in the site, or have points you think I should make, you can email me here. We've now passed 250,00 page views so I like to think the message is gradually getting through.