Last winter's energy crisis was much less bad than many had predicted – thanks in large part to unusually warm weather. Indeed, 2022-23 was Europe's "joint-second warmest winter on record", so demand for natural gas was much lower than it might have otherwise been.
However, it was still cold and people still had to heat their homes. Yet according to the Economist, high gas prices discouraged many Europeans from doing so, leading to 68,000 excess deaths across the continent. The magazine had actually predicted that this would happen and was proven correct – or so it claims.
How did its analysts get to the figure of 68,000? They begin by noting that there were 149,000 excess deaths between November 2022 and February 2023 – which is 8% higher than the five-year average from 2015-2019. About 60,000 were officially recorded as Covid deaths, so these were subtracted from the total.
They then looked to see whether energy prices were correlated with the non-Covid excess deaths rate across European countries, and found that they were – as shown in the chart below.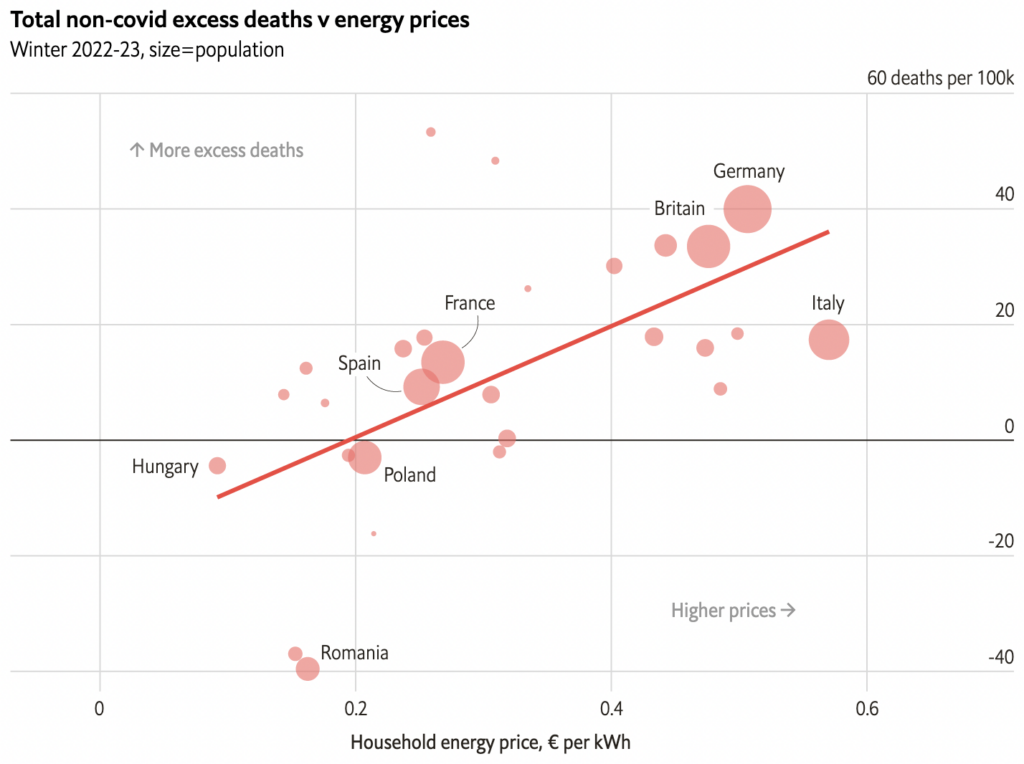 There's a strong positive association between energy prices and non-Covid excess deaths per 100,000. Note that Britain had among the highest energy prices and among the highest non-Covid excess deaths.
The Economist ran a model controlling for various factors, and found that "a price rise of around €0.10 per kwh" was associated with "an increase in a country's weekly mortality of around 2.2%". Which implies that if energy prices had not risen, there would have been 68,000 fewer deaths in Europe.
Now, I have one quibble with their methodology: they appear to have used the absolute number of excess deaths per 100,000 as their outcome measure – which doesn't really account for ageing and 'rewards' countries with lower birth rates. However, the biases aren't huge, and it's unlikely to have seriously affected their analysis. (The true figure might be 10-15% lower.)
Incidentally, they also estimate how many lives were saved by energy subsidies, and come up with a figure of 26,600. Given that subsidies were on the order of €600 billion, that works out to around €25 million per life saved – well-above standard estimates of the 'value of a statistical life'.
The rise in energy prices last year was partly due to uncertainty sparked by Russia's invasion, and was therefore probably inevitable. However, it was also due to Europe's self-imposed sanctions on Russian energy, along with Russia's decision to cut gas supplies (before the Nord Stream sabotage).
As the Spectator noted in a recent editorial, the sanctions on Russia have largely failed. They haven't stopped Russia waging war let alone "turned the rouble to rubble". And they've helped the Chinese, our supposed rivals, who've been able to buy energy at a discount.
On top of all that, it seems, they got elderly Europeans killed.