To mark the third anniversary of the first U.K. lockdown, the excellent Allison Pearson has an interview in today's Telegraph with Anders Tegnell, the heroic Swedish state epidemiologist who single-handedly saved Sweden from following the world into lockdown and, in doing so, gave us all a crucial example of what would really happen if the alarmist advice was not followed. Here's an excerpt.
In March 2020, as, one by one, every country in the Western world succumbed to panic and imposed a lockdown on its population, Sweden's state epidemiologist held his nerve and stuck to the plan. The Swedish people would be given sensible advice and told to work from home wherever possible, but apart from a ban on gatherings of over 50 people and a few rules for restaurants, any Covid measures were entirely voluntary. Anders Tegnell simply didn't think the evidence supported a lockdown. A veteran of the swine flu pandemic who had worked with the deadly Ebola virus, the 63-year-old doctor wasn't going to do something unproven or plain stupid because a lot of over-heated people were yelling at him to do it.

This was Sweden's first piece of good luck. Years earlier, Tegnell had been talent-spotted by Johan Giesecke, who then held the title of state epidemiologist himself. Giesecke singled out the young medic for his character, which he praised as "apolitical – one of those people who did what they were supposed to without reflecting too much on what was expedient or politically viable at the time" (A sort of anti-Matt Hancock). Tegnell possessed the same cool detachment that made his fellow Swede, Björn Borg, a great champion. He even shared the tennis star's match-winning mantra: "Ice in the stomach."

Such qualities were to prove invaluable on the lonely and hugely controversial course that Tegnell charted through the COVID-19 pandemic. It was to become known as the "Swedish Experiment". Reviled internationally, Tegnell was accused of playing Russian roulette with his population. He was a eugenicist who "doesn't care if people die". The New York Times actually ran a headline calling Sweden a pariah state. But, as a quietly modest but firmly unrepentant Anders Tegnell told me when we met recently at the university in his home town of Linkoping, it wasn't Sweden that had opted for a vast experiment called lockdown

"If you go back to the Spanish flu (1918-19), you can find instances when they tried to lock things down," Tegnell says, "But in all the pandemic plans we have been discussing during the last decades, closing down a society has never even been on the agenda." Shutting down could be of benefit for a short while, he concedes. "I mean, if you know that your healthcare system needs a few weeks to ramp up the ICU and so on, there are instances when such things can be a solution."

Normally, though, you wouldn't go down that route because an airborne respiratory virus was going to sweep through the population anyway. The best you could hope for was to slow it down while protecting the vulnerable. Weighing things up with his team at the Public Health Agency in Stockholm, Tegnell reckoned that the cost of lockdown – to the economy, children, education, general health and wellbeing – would be horrifyingly high. So why does he think the other countries went for it?

Anders (with charming Shwedish sibilance it's pronounced "Andoosh") reckons it was the brutal Chinese crackdown in Wuhan that inspired Western governments. "China is, of course, a state where [draconian] things like that can be done," Tegnell says, "And it did work to a certain extent. So, for a while, there was an idea that we should have very strict measures like a hammer coming down. Bam! Bring the hammer down hard and then take the hammer away and then sort of let it slowly build up again and then, bam! But that never worked."

Tegnell's craggy visage – it has been described as a relief map of Chile – cracks a rueful smile. "We learn quite soon that it's easy to start having different kinds of restrictions, but it's very difficult to stop having them."

It sure is, when you know the virus will come roaring back. That was one problem lockdown advocates failed to foresee. To a remarkable extent, frightened people (the British were deliberately and professionally frightened by Government psychologists, remember) fell in love with their corona captivity. And that, in a nutshell, is how every country in Europe ended up suffering from Stockholm Syndrome while, in Stockholm, life went on. Things were quieter, definitely, but there were no billboards with scary pictures of Covid patients, no masks, no street furniture of fear.

Tegnell points proudly to mobile phone records which indicate that Swedes chose to restrict travel and social activities which were criminalised elsewhere. Could it have worked here in the U.K. without our fundamental freedoms being confiscated by emergency powers? Brits had already started to modify their behaviour before lockdown. If Tegnell was right, and it was fine for family members to see each other, for children to run around in playgrounds, were the British people victims of wrongful imprisonment?

Today, Thursday March 23rd, seems a good day to ask those big questions. It is exactly three years since the then Prime Minister made a solemn TV announcement telling the British people "You must stay at home". In contravention of every freedom-loving fibre in his body, Boris Johnson said that we would be banned from leaving our houses unless it was "shopping for essentials" or "one form of exercise a day".

What exactly was "the science" behind only being allowed outside once a day? (Meanwhile Swedes were being told it was safest to be outdoors, especially for the elderly who wanted to mix. Swedish national parks had never had so many visitors, Tegnell says.) Few dared ask. The scientists who broadly agreed with the Swedish approach, like Professor Sunetra Gupta and Professor Carl Heneghan, were disgracefully either slandered or silenced.

"Three weeks to flatten the curve" turned into months of restrictions, some horribly cruel, others incomprehensibly potty as Boris's imaginative account this week of Number 10's breach of the rules reminds us.

Sweden became hugely important to those of us who thought lockdown was bound to do more harm than good. The name Anders Tegnell acquired an almost talismanic power. Like Aslan in the Chronicles of Narnia, Tegnell represented a figure of unique moral resolve, resistant to the tyranny into which our own dear country had tumbled.

So, in some strange way, my visit to Sweden felt more like a pilgrimage than an assignment, carrying with me a clutch of messages from Telegraph readers that I planned to read to him. The one from Lyn was typical: "Please tell Anders he was a beacon of hope for millions of people in the UK who wished our government had followed his sensible, science-based approach."

By the end of the first week of March 2020, as restrictions deepened across the world, Tegnell's stoical, light-touch approach came under fire at home from other scientists and senior figures in the media. The political editor-in-chief of Dagens Nyheter, Sweden's newspaper of record, tweeted that children being told to go back to the classroom after the February break was "incomprehensible". The pressure mounted when neighbouring Denmark and Norway closed all schools on March 11th and 12th respectively. Still, Tegnell resisted. Over-16s and university students would move to remote learning, he agreed, but younger kids should be in class as normal. That was Tegnell's red line.

In the early morning of March 13th, Johan Giesecke sent his protégé an email containing a single line of Latin. "An nescis, mi fili, quantilla prudentia mundus regatur?" (Don't you know, my son, with how little wisdom the world is governed?)

The two veteran epidemiologists were privately aghast. "The world has gone mad," Tegnell told colleagues. They were surprised, he says, by how quickly the politics took over in other countries. "We haven't really seen that in major health threats for a long, long time. And the fact that the politicians then went as far as they did with so little evidence about what kind of effects they would get… In Sweden, it's even written into the law that the health care should be driven by evidence-based medicine and that was so quickly left behind in other places."

This was Sweden's second stroke of luck, I think. The country's constitution forbids politicians from making public health decisions and gives all the power to Folkmyndigsheten (the Public Health Agency). Stefan Lofven, Sweden's prime minister, was kept in the loop along with other ministers, but they played no part in the 2pm daily press briefings. Those were led by Anders Tegnell, who rapidly acquired the status of national hero. That craggy face was printed on T-shirts; the young even sported Tegnell tattoos.
Definitely worth reading in full.
Sweden did not have a 'voluntary lockdown' of course, as some now assert in order to salvage their lockdownism. As the chart below, based on mobile phone data, shows, during spring 2020 Swede's only increased the time in their homes by about 10% and reduced their time in workplaces, shops, restaurants etc. by less than 25%. Even public transport use only dropped by 35%.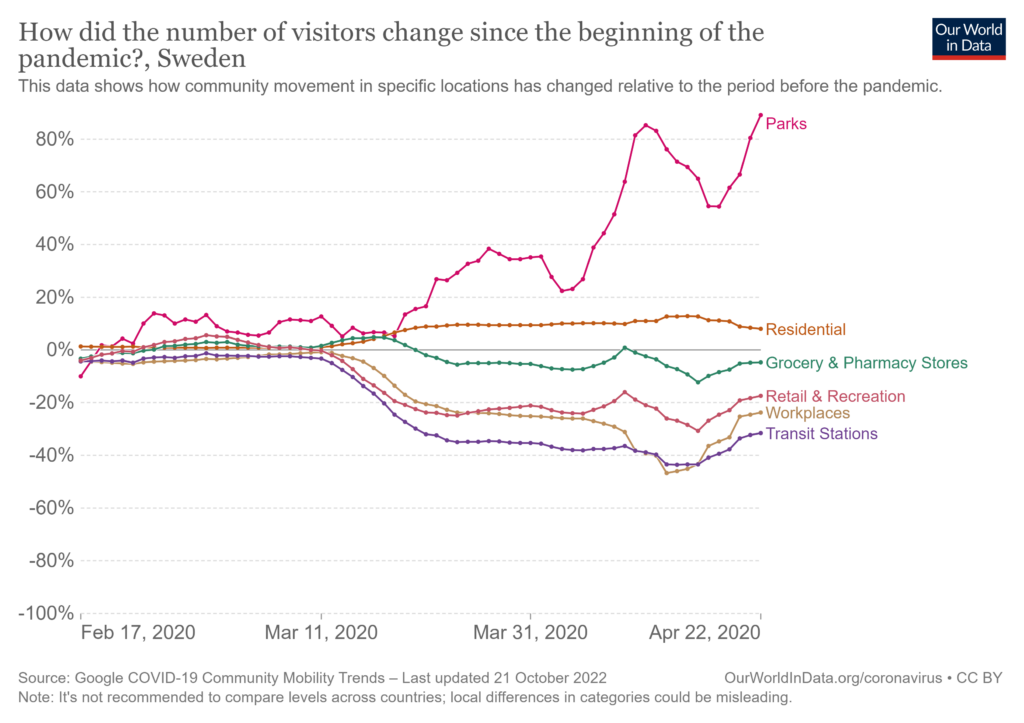 This contrasts with lockdown U.K., where use of workplaces dropped by 66% and use of shops, restaurants etc. by 77%. Residential use increased 25%.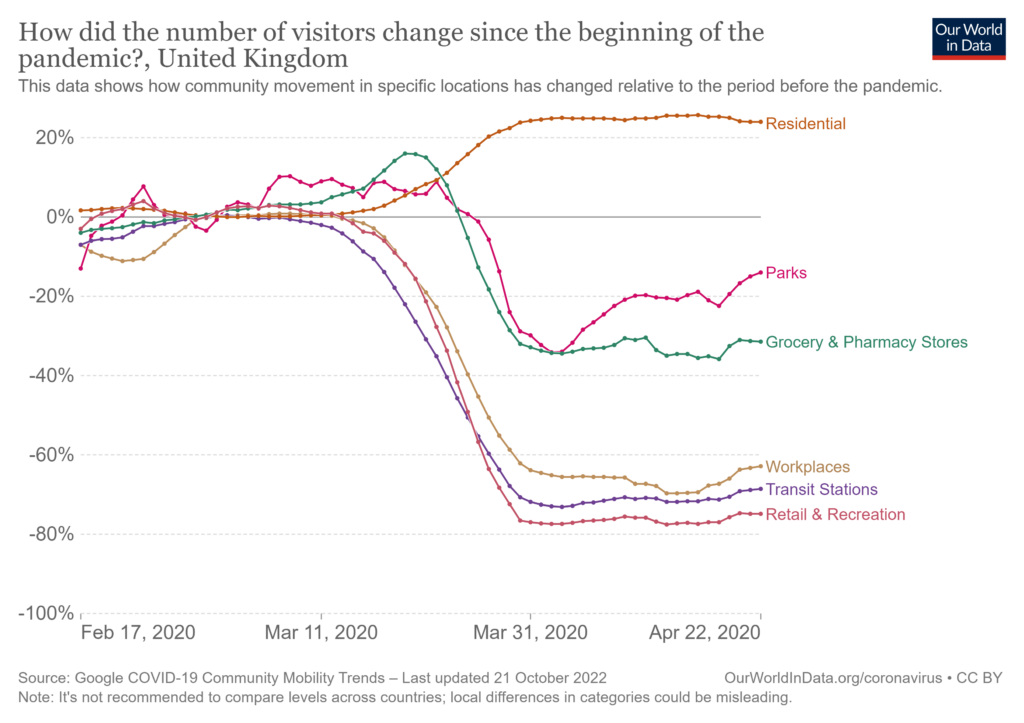 Sweden was a beacon, of course, and Anders is a hero. In spring 2020 the country was the only clear control group that would allow us to verify the extraordinary claims of the lockdowners about what would happen if we didn't follow their advice. And it proved those claims were very wrong – the more so as time went on.
However, giving such credit where it's due doesn't mean we need to pretend Sweden is the perfect model for how to do things next time. Sweden did much, much better than almost any other country in resisting restrictions. But it still imposed a number of measures that sceptics would not want to endorse. It closed education for those over 16 from March to September 2020 and banned gatherings over 50, prohibiting sports crowds, concerts, theatre audiences, large religious gatherings and so on. It kept this ban in place throughout 2020, something which Tegnell credited for preventing a summer rise in infections. In November 2020 it banned gatherings over eight people and the Prime Minister told Swedes: "Don't go to gyms, don't go to libraries, don't host dinners. Cancel" – though this hard measure was notably not at the request of public health officials. The gathering limits were only lifted during summer 2021 – to be replaced by vaccine passports that winter. All restrictions finally came to an end in February 2022, two years after the first were imposed.
The lesson of Sweden, however, is not that these are the measures to imitate, but that no such measures are necessary or ultimately effective in response to an airborne respiratory virus. Studies of real-world data consistently fail to find any significant differences in outcomes from pandemic measures taken.
Tegnell is a legend whose place in history is assured. But even Sweden did not get everything right.