NHS England guidance promoting universal masking in healthcare settings was quietly dropped on June 1st as part of the government's 'Living with Covid' plans. So how is it that some hospitals and clinics seem to be making their own policies, with some mask-free and others aggressively insisting on masking both staff and public?
The reason is that the new guidance made masking policies a matter for local discretion. As a result, national COVID-19 guidance can be trumped by so-called 'local COVID-19 prevalence'. But how consistent are local responses? By what set of rules are decisions to reintroduce masks made? And, most importantly, who is responsible for determining the rules and making decisions?
A return to masking?
Early in October, mainstream news outlets were reporting on the 'return of the mask'. Between the Mail and the Sun's accounts, eight different NHS Trusts were reintroducing a range of Non Pharmaceutical Interventions (NPIs), prominent among which were mask mandates for patients and visitors.
In all cases, these measures were apparently being introduced as a result of 'Covid's resurgence' with "surveillance data suggesting Covid is on the rise in England".
Just a month on from these heavily publicised reintroductions of mask 'requirements', the picture had changed somewhat. Table 1 shows the current status of mask requirements for the public. In some cases, the trusts who saw the need for restrictions have relaxed them, but they remain in full force for others.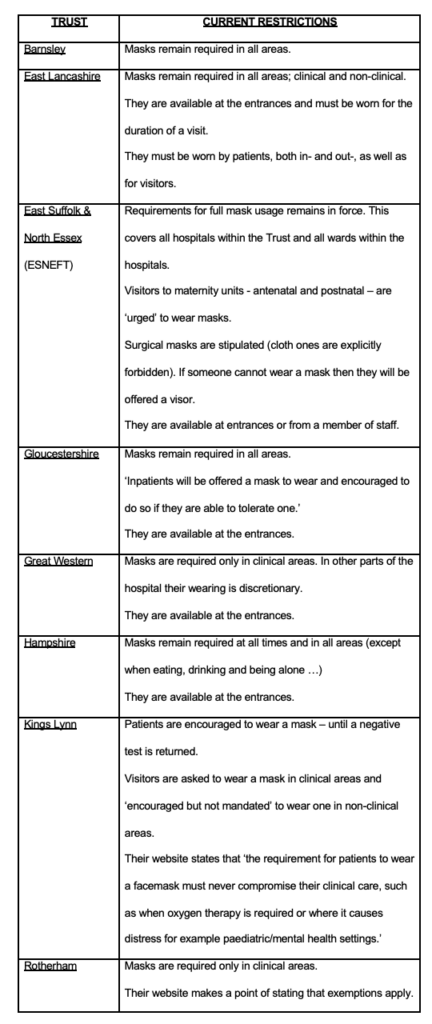 It is clear from the hotchpotch above that not all NHS Trusts are acting the same. Perhaps 'local prevalence' of COVID-19 can explain why we are seeing these differences? To test this hypothesis we can look at the infection 'case' rates in each of the domains covered by the Trusts, as documented in Table 2.
We should expect those Trusts imposing mask mandates to be in areas of above-average Covid prevalence. But, certainly at a high level, this appears not to be the case. Instead, there is no discernible pattern and, in fact, some discrepancies. For example, Barnsley, with continuing significant restrictions, has a catchment area with the lowest daily new cases per 100,000 people; while Swindon and its surrounding areas in Wiltshire, served by the Great Western Trust that has reduced its mask restrictions, has the highest rate!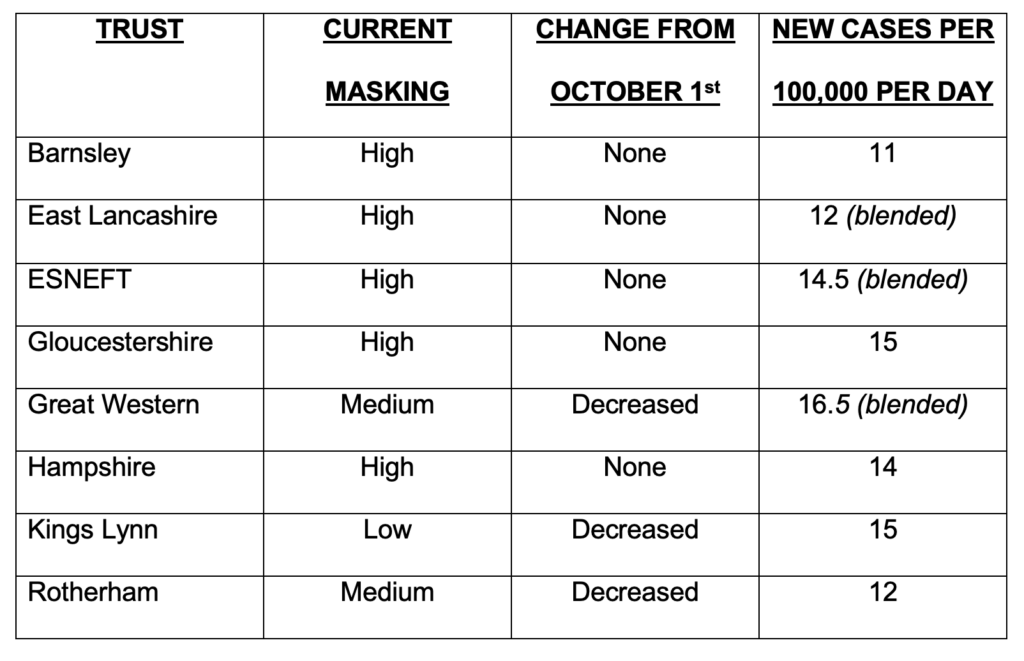 If local mask 'requirements' aren't stipulated in national guidance, and 'local prevalence' of COVID-19 doesn't explain it either, what's going on?
Essex: a case study
Draconian masking – and other NPI measures – remain in place within the East Suffolk & North Essex Foundation NHS Trust (ESNEFT). This body runs the major hospitals of Colchester and Ipswich as well as several smaller community hospitals in the surrounding areas. It is worth noting that within ESNEFT's bailiwick lie some of the most deprived areas of the entire country which also have some of the highest suicide rates.
In addition to ESNEFT, three Trusts provide healthcare services in Essex. Each Trust runs multiple hospitals and covers specific geographic areas. How, in terms of mask mandates, does the ESNEFT Trust compare to the others? Table 3 documents the face covering requirements at the health establishments run by the other three Trusts operating in the county and reproduces the rules at ESNEFT.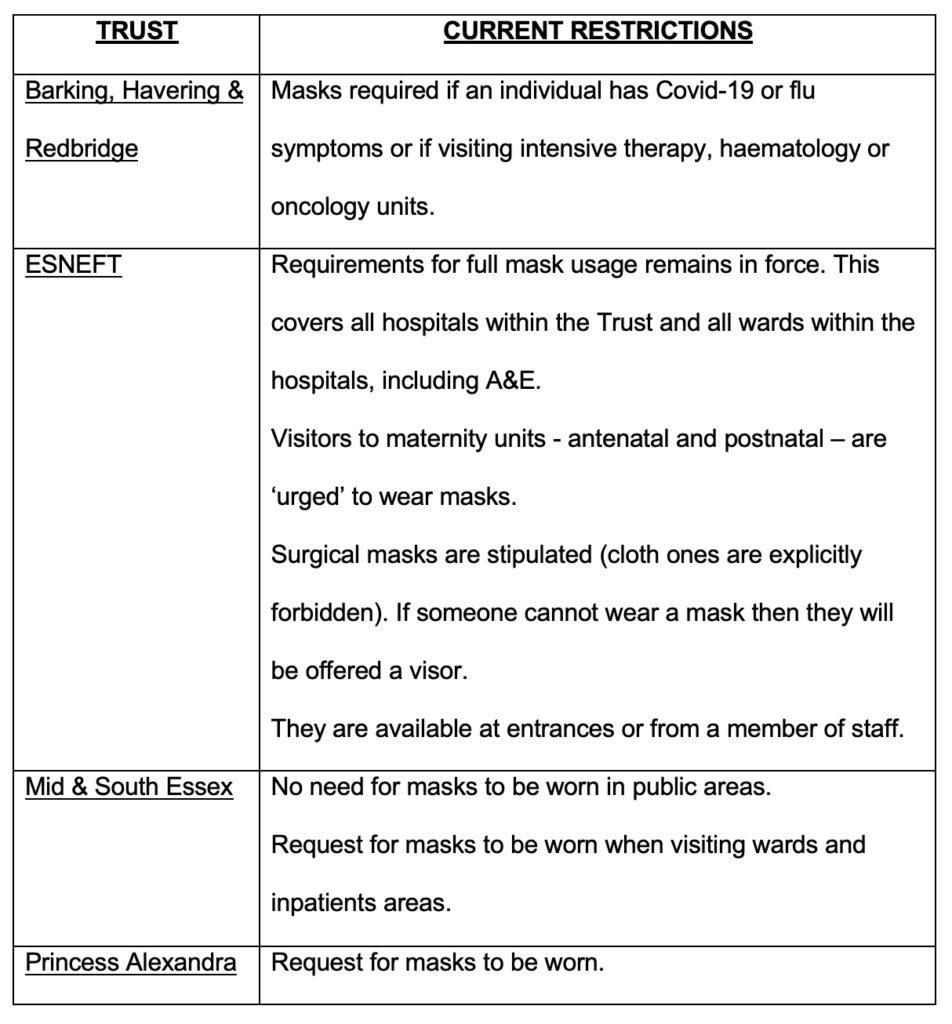 The profile of a masking decision-maker
The man responsible for ESNEFT ratcheting the restrictions upwards is Giles Thorpe, Chief Nurse and Director of Infection Prevention & Control (IPC).
Doctor Thorpe is not a medical doctor, rather he is a "senior nurse leader" and an "honorary professor", with a professional doctorate in health service management awarded by the University of Essex in September of this year. If you were uncharitable you might say he was an NHS bureaucrat. "Once you accept that some part of you might be racist, you may then need to accept your white privilege," Thorpe is quoted as saying in an NHS website article entitled "From bystanders to activists". Indeed, sensitivity to racism appears high on the agenda at ESNEFT. In 2019 Thorpe's boss, Trust Chief Executive Nick Hulme, went on record to declare that the region his Trust provides health services to was "probably the most homophobic, racist, awful place in some senses to live in the country"; his track record as an actual administrator of health services meanwhile appears somewhat chequered.
When it comes to countering COVID-19, Dr. Thorpe is an earnest observer of infection rates within the Trust's catchment and a firm proponent of NPIs in general, and masking in particular. For example:
● June 2021: In his first IPC annual report, without supplying any evidence to back up his assertion, Thorpe noted that "causes of COVID-19 outbreaks in the hospital wards" were, in part, due to "lack of offering patients to wear masks (sic), and lack of uptake by patients to wear a mask";
● December 2021: just in time for New Year, ESNEFT suspended visiting rights for their health venues. Dr. Thorpe was quoted in the press as saying that "by keeping a close eye on community COVID-19 infection rates and the number of people in our hospitals with the virus, this is action we really need to take now";
● January 2022: Due, according to Thorpe, to "a rise in positive coronavirus tests among pregnant people (sic)", new rules restricting visits to maternity units in east Suffolk and north Essex were put in place;
● March 2022: Faced with rising infection rates, visitors were banned completely from ESNEFT venues, with Dr. Thorpe commenting that the Trust was "committed" to reinstating some ward visiting "as quickly and as safely as possible";
● April 2022: Notwithstanding falling COVID-19 community infection rates, the Trust kept visiting restrictions in place, although Dr. Thorpe said: "We did manage to open some visiting for patients who have been in hospital for more than seven days before the Easter weekend."
Given the lack of robust evidence to support mask-wearing, and the known harms, particularly in healthcare settings, the Smile Free campaign recently wrote to Dr. Thorpe, posing the following questions:
● What robust, real-world evidence are you drawing on to support the re-imposition of mask requirements?
● Do you believe that the evidence for masks significantly reducing viral transmission is sufficiently strong to justify insisting all staff, patients and visitors wear them?
● Given the wide range of potential physical, social and psychological harms associated with habitual masking, have you conducted a comprehensive risk/benefit assessment addressing the likely consequences of this policy decision?
● Including both the wholesale cost of the surgical masks, together with the salary of the monitors at the hospital entrances, how much is your Trust spending each year on implementing your mask requirement? Given the huge financial pressure the NHS is under, do you believe that this is optimal use of tax-payers money?
● It is admirable that you recognise the importance of "patient experience". But what's the likely impact of mass masking on the experience of a confused, elderly, hard-of-hearing person in one of your medical wards or a frightened child, in acute pain, attending your Accident & Emergency Department?
● It is admirable that you seek to give a voice to the "lesser heard groups" and to ensure that the "stay silent" groups are heard. But in re-imposing your mask requirement have you listened to your autistic patients, or those with histories of physical and/or sexual abuse, or those with recurrent panic attacks, many of whom suffer extreme levels of distress as a direct consequence of face coverings?
Dr. Thorpe replied, without answering any of the substantive questions. Confusingly, he said "we support and respect anyone's decision to wear a face mask, or not, while they are in our hospitals", while in the same email confirming universal masking had never gone away in "A&E, our urgent treatment centres, and assessment areas (and) areas where we treat immunocompromised patients", and saying "we reintroduced mask wearing for visitors to our wards in September".
No doubt Dr. Thorpe believes he's doing the right thing. It's just a shame that the 10,000 patients reportedly seen every day at ESNEFT are still being subjected to safety theatre with no evidential backing, going into a third year of the Covid saga, seemingly driven by a very small and unaccountable infection control team, if not in reality the whims of one man. If your local healthcare setting is still insisting on masks, find your 'Giles Thorpe' and ask him or her or they the same set of questions.
Perhaps we should not be surprised, because the over-valuation of masks goes to the very top of the NHS. As recently as October 4th, Dame Ruth May, Chief Nursing Officer and national lead for infection control at NHS England, was justifying mask advice to hospitals with "highly uncertain" computer modelling linked to Professor Neil Ferguson's Imperial College that is literally labelled "Should not be used to inform clinical practice" on page one.
As Smile Free wrote in June when the NHS guidance changed, "two years after the imposition of masking in English hospitals, it is most regrettable that NHS England and the authors of this latest guidance (Professor Stephen Powis and Duncan Barton) could not simply have signalled a clean break and consigned this unprecedented, poorly-evidenced, and ultimately failed policy to history. Since they have chosen not to, by far the most likely outcome is that masking in English hospitals will now become a 'postcode lottery' based on the whims of local staff."
And so it has come to pass.
Stop Press: A new RCT has concluded that N95 masks are no more effective at stopping transmission of the virus than 'regular' medical masks. The Brownstone Institute has more.