For roughly three hundred years, the Western world – meaning Western Europe and its former colonies – has dominated the world.
The European powers (notably Britain, France and Spain) were dominant from the early 1700s to the early 1900s. And the U.S. has been dominant for most of the 20th century. Western power reached its apogee in the year 1990, with the collapse of the Soviet Union. Two years later, Francis Fukuyama could refer to the "end of history".
Yet the era of Western hegemony may now be coming to an end.
This is not because the West suffered some obvious strategic defeat. It is simply the inevitable result of population growth and economic development in other parts of the world.
As the populations of non-Western countries have grown, and as their economies have developed, their share of global GDP has risen. In 1990, the West accounted for 60% of global GDP. Over the last two decades, the West's share has fallen to around 45%. And it will decline further over the next two decades.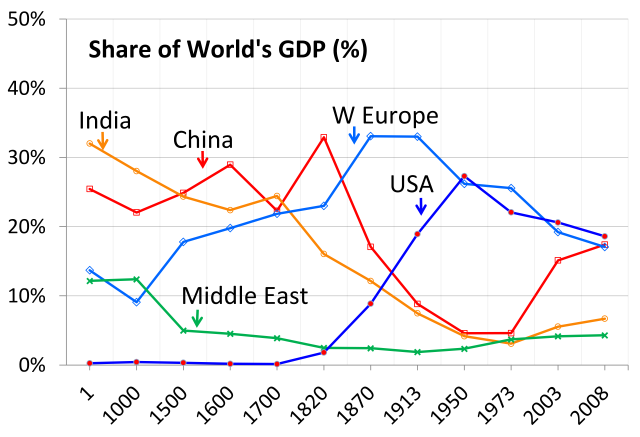 Why does this matter?
Although some countries punch above or below their weight, a country's power can be roughly approximated by its share of global GDP. The U.S. and China have by far the largest economies, and they are the two most powerful. Large economies can afford to spend more on their armed forces, thereby projecting greater military power. They also have more leverage in the economic sphere, where sanctions and trade deals are the tools of statecraft.
Liechtenstein may have the highest standard of living, but it doesn't get a major say in world affairs because its overall economy is tiny.
This year, challenges to Western hegemony have been more apparent than in any year since the end of the Cold War. Russia's invasion of Ukraine is the most obvious example. But there was also China's response to Nancy Pelosi's "provocative" trip to Taiwan, and Iran's decision to supply Russia with attack drones for use in Ukraine.
Just as revealing as what these three 'revisionist' powers have done, is what most other countries around the world have not done, namely sanction Russia. Despite considerable diplomatic pressure from the U.S., they've opted to maintain normal economic relations with Moscow.
Meanwhile, the BRICS alliance has sought to expand its membership, as it develops an alternative reserve currency to rival the dollar. And OPEC openly defied the U.S. by announcing oil production cuts at precisely the moment that benefits Russia.
The challenge facing the U.S. and its Western allies is illustrated in a recent report by Roberto Foa and colleagues. Using data from several international surveys, these researchers examined public perceptions of Russia, China and the U.S. in different countries around the world.
Their main finding was as follows. Although most countries have favourable views of the U.S., outside the West most countries also have favourable views of Russia and China. This finding is shown in the chart below.
Developing countries – which account for roughly half of global GDP – view Russia and China just as favourably as the U.S. It is only among developed countries where opinion of Russia and China has grown substantially less favourable.
Given how difficult it proved for the U.S. and its allies to isolate Russia (a declining power), isolating China will be all but impossible. Most countries simply don't want to pick sides. As China's economy grows, it will therefore be increasingly able to challenge Western hegemony.
The world, it seems, is returning to multipolarity. And Western countries may just have to live with it.