Assuming that Daily Sceptic readers survived the 'extreme heat' of yesterday, where temperatures hit a record summery 38.1°C in Suffolk (is it possible to survive that kind of extreme?), we're inviting readers once again to send in readings from outdoor thermometers (in the shade) during the afternoon. As before, you can either put them in the comments below or email us here. If you know what the forecast was for your area then mention that as well so we can compare, and don't forget to include your location. If you don't have a thermometer you could use the current reading (not the forecast) from your phone weather app (though if it's from an app rather than a thermometer do mention this).
Yesterday didn't quite live up to the promise. While a scorcher (for England), it had been so hyped as a 'red alert' deadly 40°C record-buster that when it only got to 38° it felt like a let-down. Daily Sceptic readers' thermometer readings showed that in most places it missed the forecasts by around 2° or more, though some were closer.
One reader wrote:
I placed my thermometer outdoors on Sunday, July 17th. The forecast said 29 degrees for Adel in north Leeds and the highest temperature reached on Sunday was exactly 29 degrees. Good job, Met Office! However, today (Monday July 18th), the Met office forecast said 34 degrees, but the garden thermometer strangely never rose above 31 degrees. Let's see what tomorrow brings. Met office says 37°C for Adel. I'll believe it when I see it!
It has to be asked: if weather forecasts can't predict the temperature a day in advance, or even on the day itself, how are climate models supposed to be able to foresee what the temperature is going to be 100 years from now?
Today is supposed to be even hotter, hitting 43°C in some areas – though last night's forecasts have this morning already been revised down to 41° – before the cooler weather rolls in by Wednesday (gone so soon? Not so much a heatwave as a heat waft). So will it live up to the hype today before the ever-fleeting British summer melts away into the drizzle once again?
With the help of Daily Sceptic readers, let's find out.
The forecast here in Warwickshire is for 39° max today, though the hourly forecast already has that down to a maximum of 38° at 3pm. Yesterday's maximum reading was 37° (according to my weather app) after a forecast of 39°. So today is shaping up to come in below expectations again. Let's see.
Stop Press: A temperature of 40.2°C has been recorded, the first above 40° for the U.K. It was, of course, at Heathrow airport, where tarmac and jet engines raise the temperature above the surrounding areas. A reader near Heathrow says his thermometer only hit 39°C today maximum. The new national record is 40.3°C, measured at 5pm at RAF Coningsby – another airport. It was certainly a hot one today, particularly in certain areas (and airports), but once again the forecasts were way high. 43°C was forecast, 3° above the actual maximum. This is even further out than yesterday, where a forecast of 40°C was missed by almost 2°. In Warwickshire, my phone app read 39° in the middle of the afternoon but never hit 40°. The cause of the unusual heat is not related to climate change, of course – it is a freak weather phenomenon linked to the June heatwave in Europe. To quote Wikipedia: "The June heat wave was due to an interaction between the high pressures that generate atmospheric stability and Storm Alex, the strong sunshine of the boreal summer, and an air mass coming from North Africa, which entered the Iberian Peninsula loaded with suspended dust (that caused haze in the center and south of the peninsula)." The Wikipedia page about the U.K. heatwave omits this information for some reason, but does include a little section about the "misinformation" that this heatwave is not caused by climate change. The global temperature in June was no higher than normal, despite the European heatwave.
Stop Press 2: One reader in Yorkshire wonders why the Met Office's forecasts for today are a full 5°(!) hotter than the BBC's…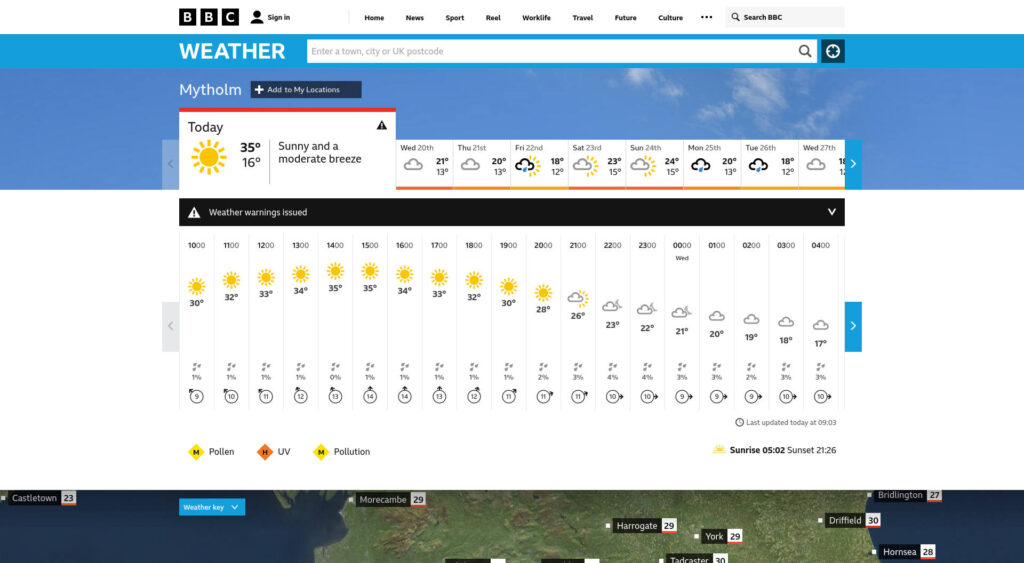 Some replies by email:
"Interesting where some of the highest temperatures were recorded today: RAF Northolt, RAF Coningsby, Heathrow, Charlwood (village right next to Gatwick runway)."
"Max temperature in the City of London on Tuesday 19th 35c, BBC forecast 38C."
"East Hertfordshire. Max 34.5C. My phone app informed that the local temperature went up to 39C but that was clearly not the case."
"Letchworth Garden City, Herts. Forecast high of 39C. Actual reading: Peaked at 35.6C."
"London Hampstead. Max 39 at 3pm. Forecast 41."
"Temp peaked in Sidcup, Kent at 34.6c at around 430pm."
"Daventry again, 39 forecast, dropped to 37 forecast mid morning, highest temperature touched was 36."
"Telford Max 30 degrees centigrade (Met Office forecast 35)."
"Stevenage high 39.5 3pm. This was as predicted."
"Northampton. Met office forecast max at 1500 of 102F (38.9), my reading at 1500 96.6F (35.9C)."
"Bolton on outside thermometer on shaded wall at 1.0pm 34.5C, now at 3.30pm 32C. Strong wind has sprung up and dissipating the heat. Met Office forecast 37C."
"Temperature 39 degrees in the shade in West Suffolk at 2pm."
"Teddington, Middlesex, 35.5C actual – 1pm. Forecast, 41C."
"Tiptree, Essex. BBC forecast 37 currently. Reality is 30.7. 12.33 Tuesday."
"Bedford. Forecast: 39 C. My mid-day reading: 34."
"In Owslebury, Hampshire, 12:30, it's 28 degrees according to wall thermometer. Unremarkable."
"Here in Buckingham it's currently [noon] 34degrees and even the BBC is forecasting that it won't get above 36 degrees. We managed 38 degrees yesterday, according to the temp gauge on my car."
"34.8 in Stroud. 12:20. Temperature taken in the shade."
"Here in Norwich 11am 35C by calibrated thermometer – forecast was for 38C."
"In cloudy Plymouth Devon at 10.45am the outside temperature is 25.5C, it's raining (so I don't have to water the garden), there's thunder an lightning and we about to get hit by the mother of all storms by the look of the sky."