As infections (a.k.a. colds) rise once again, the UKHSA is encouraging over-75s to make sure they've had a jab in the last six months. UKHSA Chief Medical Adviser Professor Susan Hopkins said:
It is clear that the increasing prevalence of Omicron BA.4 and BA.5 are significantly increasing the case numbers we have observed in recent weeks.

We have seen a rise in hospital admissions in line with community infections but vaccinations are continuing to keep ICU admissions and deaths at low levels.

Our data also show that 17.5% of people aged 75 years and over have not had a vaccine within the past six months, putting them more at risk of severe disease. We urge these people in particular to get up to date.
The latest ONS infection survey figures, released Friday, show that the BA.4 and BA.5 wave appears to be slowing down in England and Wales (though not in Scotland) but has not yet (as of week ending June 18th) peaked.
Genomic data suggest BA.2 is largely on the way out and and the new variants are to blame.
But how protective really are the vaccines against death from Covid? We're told around 90%. However, as Dr. Noah Carl has pointed out, it's hard to reconcile that with all the highly vaccinated countries which have experienced waves of excess deaths during Covid surges since mid-2021. Perhaps the biggest surprise has been the excess deaths associated with Omicron waves in highly vaccinated countries, despite Omicron being shown to be as much as 90% less deadly.
Many countries – including Israel, the U.S., Norway, Denmark, Finland, Netherlands, Iceland, Australia, New Zealand, Hong Kong, Singapore, Malaysia, South Korea, Japan and Chile – have seen large and even record excess death peaks during Covid waves since the vaccine rollout.
These are highly vaccinated places.
But take a look at their excess deaths. Iceland and Chile hit new peaks during Omicron in 2022.
Northern European countries Finland, Norway, Denmark and the Netherlands had substantial excess deaths since mid-2021. Not all the excess deaths are Covid deaths, but apart from Denmark, these countries experienced significant excess deaths during the Omicron waves.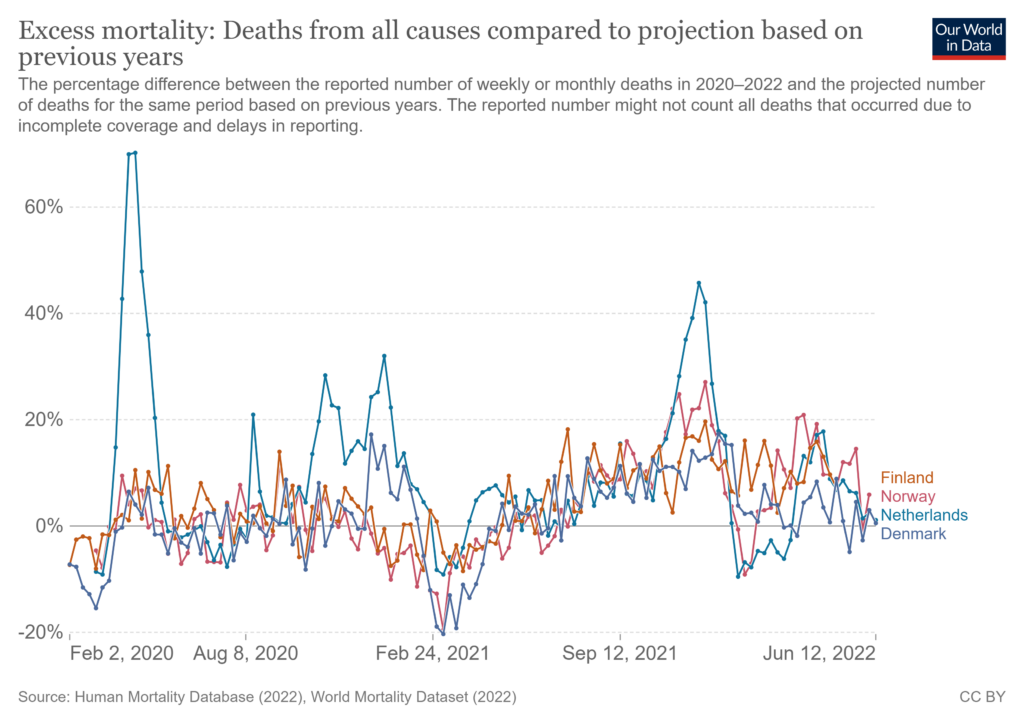 Former Zero Covid fortresses Australia and New Zealand have also not found that vaccination and the mildness of Omicron have prevented a considerable wave of excess deaths during the Omicron waves.
The most striking examples are the East Asian countries of Hong King, Singapore, Malaysia, South Korea and Japan, where the waves of deaths during the pandemic did not even appear until post-vaccination, and in the case of Hong Kong, South Korea and Japan, not until Omicron. For Hong Kong you might blame it on the low vaccine take-up in the elderly, but that doesn't apply across the board. Is there some kind of innate susceptibility difference that has caused such striking discrepancies between world regions over the course of the pandemic?
Israel also hit a new record peak in excess deaths, while the U.S. had large post-vaccine peaks including one during Omicron.
South Africa, on the other hand, has not fared significantly worse despite having far lower vaccination rates.
In the face of data like these, it's hard to credit claims of 90% effectiveness against death. What's going on? Is it because those older people most at risk from the virus are the ones the vaccines protect least well? Vaccine injuries will be playing a part in excess mortality, but many of these waves of excess deaths coincide with Covid waves.
It would be nice to think someone would eventually do a study that tests this question properly and finds out what's really going on. But there's no sign of that yet.