There follows a guest post by a Daily Sceptic reader, who wishes to remain anonymous, who, being pregnant, was following closely the advice and studies concerning pregnant women. However, her own analysis of the reports on the deaths of pregnant women with COVID-19 suggested that the alarming statistics about Covid in pregnancy she was being provided with did not stack up.
As a pregnant woman, I have been following advice and studies that concern this group closely. Unfortunately, it is becoming increasingly difficult to find any balanced information amongst the blatant propaganda. I am so sick of being told at every turn that ICU is full of unvaccinated pregnant women. Below is an example of the stuff that gets shared online by my local maternity team.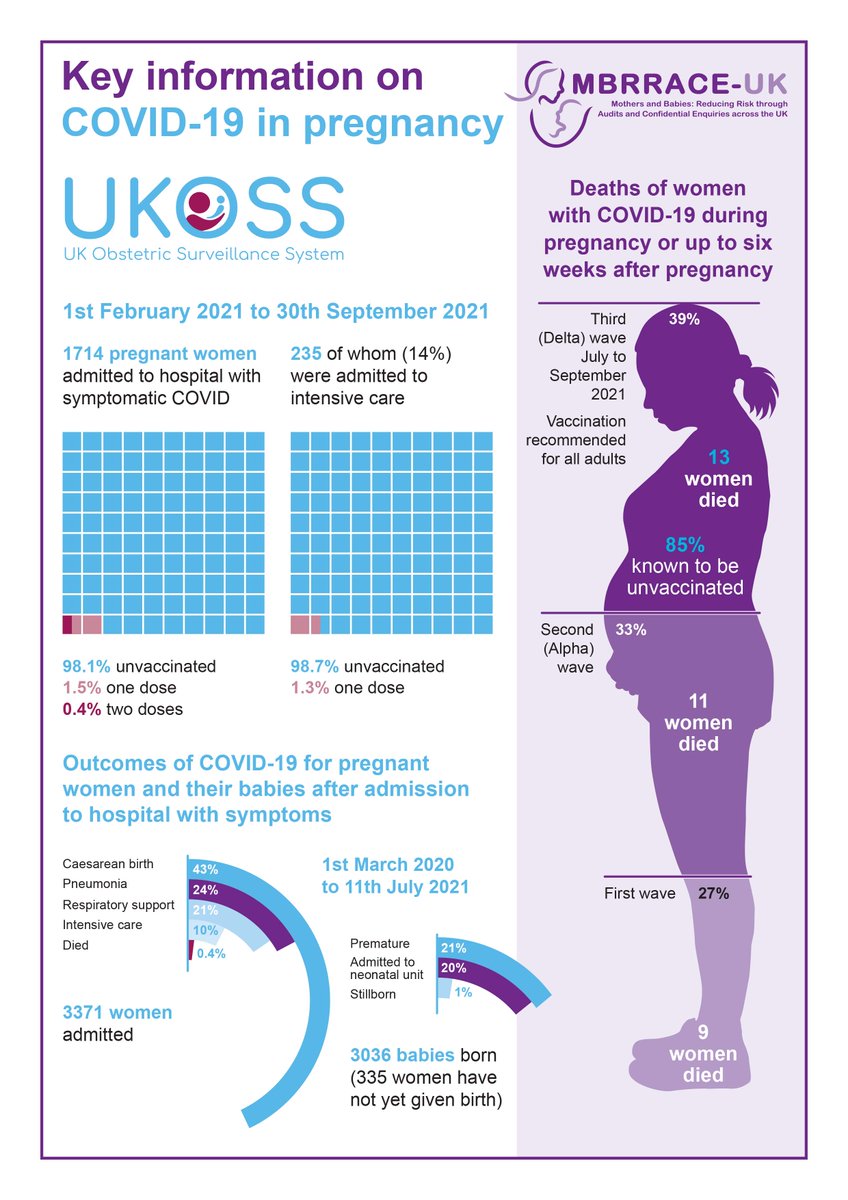 So I thought I would look at what stats MBRRACE had released lately. They have two reports that caught my eye in particular: one on maternal Covid deaths March-May 2020 (10 women) and another covering the period June 2020-March 2021 (17 women).
Despite being such a small group of people, I feel that each case is a fascinating story that paints a dramatically different picture to that portrayed by the media and the NHS. Here are some points that stood out to me from each report
March-May 2020 (10 deaths)
None of the women who died received any actual treatment, just support.
Three of the ten women died because they were too scared to go to hospital.
Four women died of suicide and not being able to access help was a factor (I don't think they were included in the ten deaths, but the insinuation is that Covid restrictions contributed to their deaths).
Two women were murdered by their partners, with health services already knowing they were at risk (again, I don't think they were included in the ten, but the insinuation about restrictions is there again).
The quote "pregnancy [sic] and postpartum women do not appear to be at higher risk of severe COVID-19 than non-pregnant women" seems telling.
Only two women were classified as having received "good care".
June 2020-March 2021 (17 deaths)
Three women did not even have Covid but died as a result of the side effects of restrictions.
Four women tested positive but died of unrelated causes – two of these women received poor care because of their Covid status.
60% of the women who actually died from Covid were obese and a further 20% were overweight.
50% had pre-existing mental health conditions (personally I believe that this both prevents women from being able to speak up for themselves and creates a stigma that they are 'difficult patients').
One woman died at home of a urinary tract infection because no translator was available for her telephone appointment.
Four women died because they were too scared to go to hospital – one of these women sought no antenatal care at all and died after giving birth at home.
One woman died after being given painkillers for backache – she was only seen remotely by a GP so he or she couldn't see she was both heavily pregnant and had sepsis.
Another woman died of sepsis from a miscarriage because doctors assumed she just had (asymptomatic) Covid.
A woman died of obvious kidney/liver problems shortly after birth because again, doctors bizarrely assumed she was actually suffering from Covid following a positive routine test.
90% of the women who died had "care" that was not managed by the RCOG guidelines.
One woman was not given treatment despite poor clinical indications, as she did not "look sick".
Three women who were very poorly and were considered for ECMO were denied this despite not having any contraindications.
One woman died from a pulmonary embolism at home after her GP's online triage system did not recognise either her Covid status or recent pregnancy as risk factors and didn't give her an urgent appointment.
Only 10% of the women received "good care", and in 70% improvements in care may have meant they survived.
The reports are heartbreaking and I do not wish to diminish the pain that these women's families must be suffering, but it is abundantly clear that very few of these women died from actual Covid – many appear to be victims of the restrictions and fear – and the handful that did had significant confounding factors.