Lockdown "to Continue Until Cases Drop Below 1,000 a Day"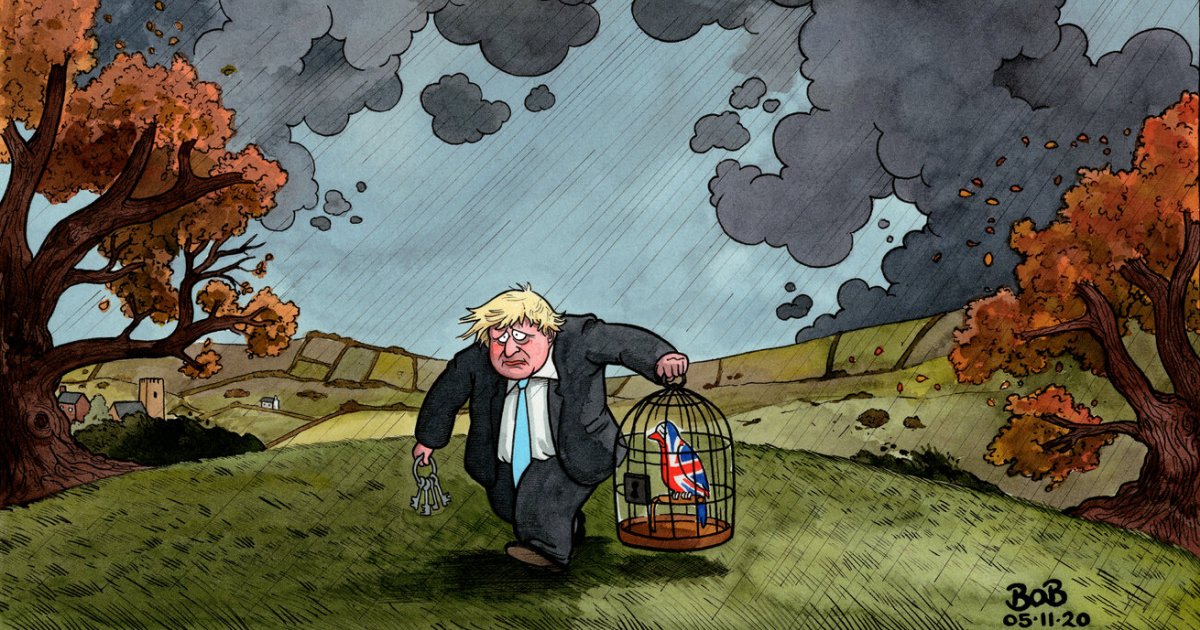 Three weeks ago Government Minister Nick Gibb told Parliament that the criteria for easing lockdown included "hospitalisation rates, mortality, the rate of vaccination, and the challenge of the new variants". He did not mention raw case numbers.
Today, the Telegraph reports that despite the successful vaccination programme that is expected to reduce hospital admissions and deaths to a fraction of their peak levels, the Government will not end the lockdowns until positive case numbers are below 1,000 a day.
Lockdown is unlikely to be eased significantly until daily Covid cases are in the hundreds, compared with more than 10,000 a day now, the Telegraph understands.

Boris Johnson is due to publish a roadmap out of the restrictions next week, beginning with the reopening of schools from March 8th.

But the plan is unlikely to commit to a clear timetable for the coming months, instead promising a series of reviews which would see the reopening of shops, pubs and restaurants deferred until cases reach a low not seen since August.

Covid cases have fallen significantly in recent weeks and could reach less than 1,000 a day by early April if they continue to decline at the current rate. However, this is likely to be delayed by the impact of the return of schools.

A senior Whitehall source said: "For any significant relaxation of lockdown, household mixing and reopening pubs, case numbers have to be in the hundreds, not thousands.

"The numbers are coming down quite fast, but the plan is likely to be high level and set out the tests that have to be met for restrictions to be released. There is real reluctance about committing to specific dates without knowing what the case numbers are doing."
1,000 a day is about 1.5 per 100,000 population. This is well below the threshold of 10 per 100,000 for lifting lockdown that even Zero Covid proponents call for. It is in other words a Zero Covid strategy, and an extreme version of it at that.
Last summer, the UK was only below 1,000 cases a day in the seven day running average between June 14th and August 7th, about seven weeks. Since then the number of tests per day has quadrupled from around 160,000 to 640,000. Many suspect that most of the summer "cases" were false positives – 0.63% would be a pretty respectable operational false positive rate for PCR tests. If this were so we could now expect in the region of 4,000 cases a day purely from false positives. The greater reliance on lateral flow tests may reduce this figure, though equally the greater volume of PCR tests may increase the operational false positive rate (through contamination, for example).
There are signs that the cases curve is beginning to level off already at just under the 10,000 level. Is it even possible to get below 1,000 positive cases a day when carrying out as many tests as we are? Is the Government setting itself an impossible target? Why is it appearing to buy in to the Zero Covid framework, when the point of vaccinating the vulnerable at high speed was so that we could "cry freedom", as Matt Hancock claimed in January, and stop spending billions locking people up?
Ross Clark in the Telegraph rightly criticises the Government's lamentable refusal to capitalise on the vaccine programme success.
How ironic if we won the race to be the first country to vaccinate all adults – and yet went on to become the last country to reopen society. It is, though, an all-too-likely scenario. If anyone was expecting the see an upbeat Boris Johnson at Monday's press briefing, forecasting a cheery future after achieving his target of vaccinating 15 million over-70s and other priority groups by the middle of February, they were quickly disappointed.

What he had to offer us wasn't so much a roadmap to freedom as one of those malfunctioning satnavs which sends you down an unmade track straight into the river.

"We want this lockdown to be the last," the Prime Minister told us. "And we want progress to be cautious, but also irreversible." One way to ensure that this lockdown will be the last, of course, would be to ensure that it never ended.

It is gradually dawning on people that in spite of the rapid rollout of vaccines, this summer could turn out to be less free than the last. We may look back to the golden summer of 2020 as a time when the pubs were open, we could book a self-catering holiday and even – at times – visit France and Spain without having to shut ourselves away at home for a fortnight on our return.

The faster the vaccine roll-out advances, the swifter new infections subside, the further the promise of freedom seems to recede. Until January 4th schools weren't going to close at all. Then they were going to close but reopen in the middle of February. Then it was March 8th and now that looks in doubt, too. We were persuaded to delay family Christmas until Easter, but now the PM declines to answer whether family gatherings will be possible in April.
Worth reading in full.
Dr John Lee in the Mail wonders why the Government is playing its winning hand so badly.
Because Britain is so far ahead with its vaccine programme, compared with the EU, we are in a strong position to restart our economy and steal a march on the rest of the West.

The pound has hit a three-year high against the dollar in expectation of restrictions being eased. Last week in the Daily Mail, Bank of England chief economist Andy Haldane described Britain's economy as being like a "coiled spring" ready to release vast amounts of "pent-up financial energy".

Our scientists have given us a miraculous head start to unleash that energy – it would be a tragedy to waste it. If the Government understood this, I believe policy would change. Curbs would be lifted sooner. It is just because No. 10 is listening to a small number of advisers that we face more months of lockdown.

I am the lead pathologist for the Health Action and Recovery Team [HART], which advocates a multidisciplinary approach to data, much wider than that used currently by the Cabinet. Like everyone else, HART is committed to saving lives and boosting health, while protecting the NHS. We're all on the same side here.

And I certainly do not wish to be reckless or dismissive about the dangers. But the roadmap being suggested now is ultra-cautious, so timid that it will harm far more people than it helps. If the reopening of pubs is delayed until May, for instance, many of them will have gone under by then: six in 10 pubs are already on the brink. And if family gatherings are really to be restricted to six people outdoors until June, millions of loving grandparents, aunts and uncles will be in utter despair.

These restrictions cannot be justified, when it is expected that half the population will have vaccine protection long before then. We have to come to terms with the ugly fact that this disease will continue to be endemic in our population, and it will continue to evolve new variants. Regrettably, we might have incubated these variants, by locking down instead of allowing the milder variants to circulate.

The immune system has evolved over 600 million years, since the beginning of multi-cellular animal life. We ought to trust it more. And we ought to trust the vaccines, which are delivering excellent levels of protection.

The science behind fighting Covid is multi-layered, and politicians need all the help they can get to interpret it correctly. But the message hiding in the figures could not be simpler. There is no good scientific reason to continue the lockdown as the Government plans. The rescinding of restrictions should start as soon as possible.
Worth reading in full.
Stop Press: An additional 1.7 million people have been told by the Government to "shield" due to being at greater Covid risk, even if they've had the disease or been vaccinated, the Times reports. Yet more signs that excessive caution is now ruling Government policy and the road out of lockdown threatens to be a long one.
Stop Press 2: The Mail reports on the "roadmap out of lockdown" that will "take until July". The Government is working on a "blueprint for UK's pubs, restaurants and hotels" that "would see curbs eased at four-weekly intervals starting with 'limited' Easter holidays". Pubs, bars and restaurants will have to wait until early May and then it will be a maximum of two households allowed to sit together indoors and rule of six. Even in July there will still be social distancing. The Government is set to unveil another slogan: "Are you ready? Get testing. Go".
"There is No Evidence to Suggest that Kids Should Do Anything Else Other than Be in School"
A Lockdown Sceptics reader has kindly transcribed a powerful statement delivered yesterday by Ron DeSantis, the Governor of Florida, on why Florida has kept schools open throughout the winter and has no intention of changing that, whatever the CDC may say.
Florida schools are open for in-person instruction. Every single parent in this state has a right to send their kid to in-person instruction. We have done it the right way; we are not going to turn back. What the CDC put out five o'clock on a Friday afternoon – I wonder why they would do it then – was quite frankly a disgrace. It would require, if you actually followed that, closing 90% of schools in the United States.
We have been open, they will remain open, and we are not turning back. We've been open the whole time since August. We had kids doing camps and athletics and all that over the summer, and we've been in-person as much as anybody in the country, and yet we're 34th out of 50 states and [Washington] D.C. for COVID-19 cases on a per capita basis for children. 33 states have more cases per capita than Florida, for children per capita, and many of those don't have a lot of in-person instruction in school; and so there is no evidence to suggest that kids should do anything else other than be in school. This has been clear for months and months and months.
We followed the data when we worked to – get the kids – give the parents the option to send their kids back, because we had looked at what happened in Europe, places like Sweden and all these other places, and it does not require another hundred billion dollars.
The school re-opening plan that makes the most sense, if you want to open schools? Open them. Open the door. Let them come in and let them learn. And the only reason that that is not happening across this country, like it is in Florida, like it is in a handful of other states, it's one reason, and one reason only: because the Democratic party puts the interests of education unions and special interests ahead of the well-being of our children and of our families.
These kids have been out of school in parts of this country for almost a year. If you follow that CDC guidance, they will not go back in this school year, and they may not even go back in the fall. That is a disgrace. That is not science. That is putting politics ahead of what's right for kids; that is putting politics and special interests ahead of what the evidence and observed experience says.
So we're better off as a result of giving parents and kids that opportunity. I can tell you I cannot go out without a parent coming up to me saying how much better it is that their child's able to go to school. And so we're not looking back; we're going to continue going forward.
If the world was sane, the experience of Florida and other states that haven't closed their schools would be more than enough proof that closing schools is unnecessary. But in Covid world, it seems the prophecies of failed models count for more than simple hard evidence of what actually happens.
Stop Press: Jennifer Cabrera in Rational Ground writes "Florida's COVID-19 response has outperformed lockdown states on excess deaths, education, and the economy".

Failure of the Lockdown Models
There follows a guest post by mathematics student Glen Bishop, who wrote for Lockdown Sceptics last week about the lack of seasonality in Neil Ferguson's models.
On the original SAGE cost benefit analysis for lockdown, this is a real jokers' manual
This SAGE cost benefit analysis was done on the 520,000 deaths prediction. It estimated Covid deaths would be reduced to around 50,000 with their measures. It estimated average quality life years lost from Covid deaths of 9.1. These are both overestimates: the average age of death with coronavirus is 80.5, and while it's true that the average 80 year-old is estimated by actuaries to have around nine years left to live, elderly victims of COVID-19 are often particularly frail (around 40% of all victims in spring were residents of nursing homes, who on average live only one to two years), so 9.1 years is way out. It also includes the joke that, in addition to 520,000 Covid deaths, more than one million people would have died because hospitals were busy. One million is twice our yearly deaths – because hospitals would have been very busy for three or four months? The SAGE members who signed that one million figure off as good advice must be in dream world. It also includes estimates that tens of thousands of life-years would be saved thanks to lower pollution levels. Make of that what you will.
120,000 have died already, far greater than 50,000, so the effectiveness of the lockdown strategy has been overestimated massively. At this time, they were using higher estimates of Covid fatality rates, so if anything, deaths should have been lower than estimated. Nowhere in the world has seen even one third the death rate needed for 520,000 UK deaths, let alone the one million figure for additional non-Covid deaths.
Estimated total quality adjusted life years (QALYs) saved from lockdown was put at a net value of around three million from people not dying of coronavirus (ignoring the stupid one million figure which leads to an extra eight million QALYs saved). I think there is a good argument to say that all 67 million people in the country have lost one quality year of life each. That makes 67 million QALYs lost between the living which is far greater than the three million QALYs benefits estimated from avoided Covid deaths even with all the overestimates. These are the hidden effects of lockdowns. Unfortunately, the quality of life of those who do not die and the millions yet to be born, who will have reduced quality of life in the future, is not valued in these analyses. Nor is the effect on those living in developing countries, millions more of whom will be pushed towards starvation and poverty because the west became insular. When you're starving and don't have clean drinking water, you'd be forgiven for thinking Covid is a First World problem.
2) Ferguson's Imperial predictions
Imperial College's Professor Neil Ferguson told a Parliamentary Select Committee on March 25th (time of quote: 10:37:10): "Fatalities would probably be unlikely to exceed 20,000." We are at 120,000 deaths after three lockdowns. As I pointed out before, lack of seasonality and proper population heterogeneity assumptions in models lead to over-estimation of the effectiveness of lockdowns. A reminder of how wrong the experts have been with their models and how far we have come.
Imperial predicted 2.1 million deaths for the USA. South Dakota never locked down, hospitals were able to cope, and Imperial's prediction would assume 5,632 deaths within months for a population of South Dakota's size. It has been a year with only 1,803 deaths and very few daily deaths now, so the total death toll is less than a third of Imperial's projection and South Dakota has lower death rates than many states that locked down heavily (though admittedly it is more rural than some of them).
Ferguson's Swine Flu modelling predicted a reasonable worst-case scenario of 67,000 deaths in 2009 and Ferguson advocated school closures then. Luckily for me the Government at the time ignored this advice. There were 457 deaths.
Now Imperial is predicting a massive summer wave with 130,000 more deaths, even with vaccinations going well, a large build-up in population immunity from prior infection and restrictions easing at a snail's pace. Last summer cases flatlined across all of Europe, northern US states, Canada, etc. Next to the table of projected deaths, there is a self-congratulatory table of deaths averted, estimated at around 400,000. To arrive at this number they must be assuming that without the measures about 1% of our country would have died. The worst hit places in the world like New York don't have a quarter of that death toll.
3) Warwick modelling team
Last year this team predicted a massive summer surge of coronavirus cases once restrictions were eased after the first lockdown. It never happened. In the same paper, Warwick failed to predict the winter surge we just had.
This year the same team is again predicting a massive summer surge, even with the large build-up in immunity in the population from prior infection, the vaccination programme going well, and restrictions being eased gradually until finally being lifted fully on July 31st.
The new paper does give "a note of optimism": if we take Option 6 and steadily reduce restrictions to Tier 1 and keep Tier 1 forever, we can keep the virus supressed indefinitely. If that is their "note of optimism", I can optimistically suggest a place they can shove it.
4) Professor Edmunds and London School of Hygiene and Tropical Medicine team (generally more sensible modelling estimates)
This paper estimates that Tier 2 and Tier 3 restrictions have produced 2% and 10% reductions in R-value respectively compared to Tier 1 restrictions. This is a very minimal benefit for all the damage the increased restrictions did to pubs, hospitality, mental health, etc. I specifically point this out as Professor Edmunds has been suggesting the Rule of 6 and other restrictions must remain for the whole of this year and some indefinitely, which implies Tier 2 or 3 remaining – yet his own paper estimates very little benefit to Tiers 2 and 3!
5) Trying to bring the problem into proportion, a thought experiment
Imagine if you lived in a village with 500 people and had to make a choice:
Option 1: All 500 of you spend the next 12 months living just as you have for the last 12 months. Constant lockdowns and restrictions on your lives and liberties and all the consequences that brings to businesses, jobs, schooling, current and future quality of life. Locking children in houses, exposing some to abuse. The burdening of children and grandchildren who aren't born yet with debt. The serious harm to the vulnerable in the developing world.
Or Option 2: One or two out of the 500 of you dies four years earlier than you otherwise would have and many of you get a rather unpleasant illness, but from which most of you recover easily and all else stays normal, with your civil liberties remaining.
This, in a nutshell, is the question of lockdowns put into perspective without big numbers our brains are not built to comprehend. Professor Ferguson might protest that it should be a room with 200 people, or another SAGE member might say it needs to be five years not four years to represent the average length of life lost to Covid. But essentially this is the question of the day in layman's terms. I would personally pick the four years if I were alone in the village let alone with 500 people. I am fairly sure one year in my 20s is worth four years in my 80s or 90s. I think practically everyone would agree on Option 2. The best points in my life have been when on a motorbike or in the mountains so maybe I'm just not risk averse, but do we really want to turn into a society that engages in massive sacrifices to quality of life for hundreds in the (vain) hope of slightly increasing the longevity of one? Certain catastrophic long-term harm to society in return for an uncertain benefit.
This is how SAGE should lay out these problems to ministers who are largely innumerate. If Boris had been given this question, put like this, would he seriously have made the decisions he has?
Last year SAGE and governments across the world selected Option 1 and most have not even managed to avoid the costs of Option 2. This year they seem intent on repeating the failed experiment.
Left and Right Should Unite to Fight Lockdown
We're publishing an original piece today by Professor Ramesh Thakur, a former Assistant Secretary-General of the United Nations and a Lockdown Sceptics contributor. Describing himself as "a centrist on some issues, right-of-centre on others and left-of-centre on still others", he explores the strange politics of Covid.
Who'd have thought the left would champion censorship by profiteering Big Tech and cheer Big Pharma, enthusiastically endorsing the privatisation of profits as governments competed to sign multi-billion dollar contracts in advance at guaranteed prices; and the socialisation of risks as drug companies were granted immunity from liability for vaccines going wrong like thalidomide? On December 23rd, Forbes published a list of 50 doctors, scientists and healthcare entrepreneurs who became new pandemic billionaires in 2020 – including nearly three dozen in China.

Remember the class action case in Australia in 2009? Court documents revealed US drug giant Merck had prepared a 'hit list' of doctors who criticised Vioxx for its deadly cardiovascular side-effects, with the labels 'discredit', 'neutralise' or 'neutralised' against their names. You'll be shocked, I'm sure, to learn that on February 4th, Merck – which makes patent-free low profit Ivermectin and has been selling it for years – released a statement questioning both its efficacy and safety. Liberal progressives fall in dutifully behind Government efforts to protect and maximise pharmaceutical profits through vaccines by banning doctors from recommending hydroxychloroquine, ivermectin, zinc, azithromycin and Vitamin D for prophylaxis and early outpatient treatment.
Worth reading in full.
Tribute to Local Shops that Have Died of Covid
Lockdown Sceptics reader Suzi Warren is mourning the local high street victims of the Covid lockdowns.
I'm grieving the loss of shops and cafes that haven't made it through this. My area has lost vitality and I want to mark the passing of vibrant stores which were small beating hearts on my streets.

I laid this floral tribute last week decorated with flowers made from unused shop bags. This place used to be where I'd buy supplies for great Friday film nights with friends. It's now been gutted which is how I feel about it.
We love this idea. If readers want to send us pictures of their favourite shops that have closed forever as a result of the lockdowns, along with a short tribute, email us here.
More on Gibraltar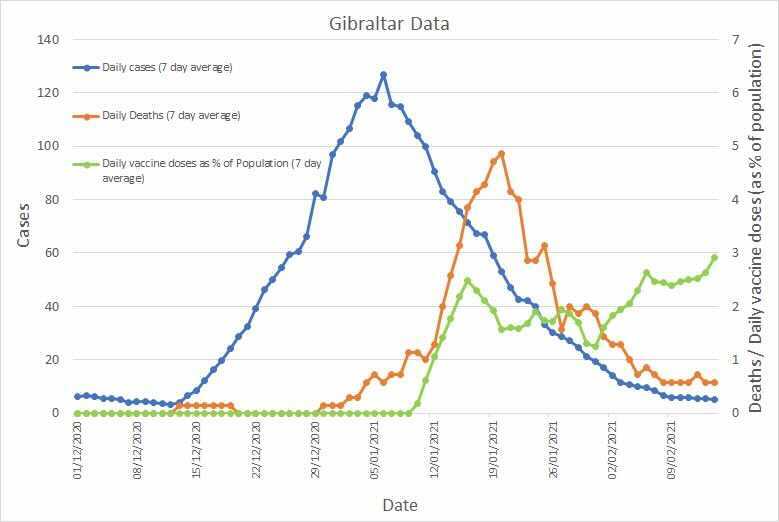 Following our guest post by a reader yesterday about the surging death toll in Gibraltar and asking whether it might have any link to the vaccine rollout, the First Minister of the territory pointed us to this Reuters "fact check". It concludes there is "no evidence whatsoever that these deaths are linked to the roll out of the vaccine".
The increase appears to be part of an upward trend that started before the first vaccine dose was administered.

On January 27th, the Government said in a statement that out of the more than 11,000 people who had been vaccinated, six had died for unrelated reasons (here).

"The Gibraltar Health Authority can confirm that there is no evidence at all of any causal link between these six deaths and the inoculation with the Pfizer vaccine", the press release said. "Statements to the contrary on social media are entirely untrue."

According to the Government, these six people appear to have caught COVID-19 before they were vaccinated.

"Despite testing for COVID-19 before vaccination, the infection had not been detected in them at the time they were vaccinated, but in the days immediately after."

These people were all aged between 70 and 100, the Government said.
While it's true that deaths were heading up before the vaccine rollout began, if you look at the above graph you can see a sharp acceleration in deaths beginning around January 13th, as the vaccination programme got going. Again, this could be coincidence. But note the Government itself says that six people died with Covid after having the vaccine despite testing negative beforehand: "Despite testing for COVID-19 before vaccination, the infection had not been detected in them at the time they were vaccinated, but in the days immediately after."
Norway has already said the frail elderly should not receive the Pfizer vaccine after worries about linked deaths. Maybe the country is just being over-cautious, and maybe the "signals" are just coincidences because the vaccine is being rolled out in winter. But what if they're not? Rather than smearing anyone who raises the question as an anti-vaxxer, maybe people should start looking into the matter properly, if only to rule it out.
What's Your Lockdown Personality?
A psychologist and Lockdown Sceptics reader has created a lockdown personality quiz as part of some research he's doing and he's asked us to share it with you.
This lockdown personality quiz tells you which one of five "lockdown personality types" fits you best, and gives you a few "lockdown survival" tips based on your results. The research itself is looking at how lockdown attitudes and behaviours cluster together into groups, and how they're linked to personality. The insights could help explain why some people are more sceptical while others are stubbornly pro-lockdown, and what psychological processes are responsible for changing people's minds. To be successful, the research needs to collect data from non-sceptical people too, so please feel free to share it with your friends and family!
If you'd like to participate in this research, you can complete a personality questionnaire here.
Poetry Corner
Young and Social
by Mike Smelt
When do they get their social lives back?
It's critical they get them back on track.
The young need their friends, it's plain to see,
It's hard to find any that disagree.
The landlords need to open their pub,
Without a substantial meal, or dodgy grub.
What is the issue with going for a drink?
Forget the zealots creating an irrational stink.
Let the young ones have a rave,
It's pointless telling them how to behave
They are unaffected by this disease,
It is fought off with incredible ease
Let them go out and dance in a club,
Whether it be house, or grime or dub.
They cannot be denied of living free lives
Or possibly meeting their future wives
All this time without going on dates
Or meeting up and seeing their mates.
It simply cannot go on any longer,
Their feelings of isolation getting stronger
Watching live music, going to gigs,
Rather than staying in solitary digs
It's simply unfair and completely pointless
Remembering the good times with increasing fondness
Travelling stopped, the missing gap year,
Meeting new friends over a beer.
None of this was necessary, it has to stop,
The challenge is convincing those at the top.
Theme Tunes Suggested by Readers
Eight today: "Stuck In A Moment You Can't Get Out Of" by U2, "The Changingman" by Paul Weller, "What'cha Gonna Do About It" by the Small Faces, "So much trouble in the world" by Bob Marley, "Divide and Rule" by Wailing Souls, "Down to Zero" by Joan Armatrading and "Holding On" and "Still in the Game" by Steve Winwood.
Love in the Time of Covid
We have created some Lockdown Sceptics Forums, including a dating forum called "Love in a Covid Climate" that has attracted a bit of attention. We have a team of moderators in place to remove spam and deal with the trolls, but sometimes it takes a little while so please bear with us. You have to register to use the Forums as well as post comments below the line, but that should just be a one-time thing. Any problems, email Lockdown Sceptics here.
Sharing Stories
Some of you have asked how to link to particular stories on Lockdown Sceptics so you can share it. To do that, click on the headline of a particular story and a link symbol will appear on the right-hand side of the headline. Click on the link and the URL of your page will switch to the URL of that particular story. You can then copy that URL and either email it to your friends or post it on social media. Please do share the stories.
Social Media Accounts
You can follow Lockdown Sceptics on our social media accounts which are updated throughout the day. To follow us on Facebook, click here; to follow us on Twitter, click here; to follow us on Instagram, click here; to follow us on Parler, click here; and to follow us on MeWe, click here.
Woke Gobbledegook
We've decided to create a permanent slot down here for woke gobbledegook. Today, following on from Toby's report yesterday on the FSU's victory over snake oil Unconscious Bias training, the Mail reports on similar problems at other Oxford colleges.
More Oxford colleges and departments are forcing students and staff to have "unconscious bias training" to root out hidden racist behaviour – even though there's no evidence that it works.

The Government insists that the training "does not achieve its intended aims", could make discrimination issues worse, and should be axed by the public sector.

Yet the courses remain popular, including at Somerville, Margaret Thatcher's former Oxford college, where students were ordered to pass a test in which they had to concede that a black lecturer would be more unpopular than white colleagues.

Following an outcry, Somerville's principal, Lady Royall, said students would no longer be compelled to take the course, but other colleges are still insisting undergraduates and dons complete the often "poor quality and ineffective" training.

Yesterday, a prominent Oxford historian accused universities of "dismal failure" over free speech, saying they were guilty of "cynically" backing diversity campaigns at the expense of real debate.

Professor Selina Todd, who has been hounded for criticising transgender activists who stifle debate, told Radio 4 that Oxford's commitment to freedom of speech "completely conflicted" with its diversity policy.

She said: "Things have got a lot worse for academics and students. Many get in touch with me anonymously to say how frightened they are to speak out."

The Cabinet Office says of unconscious bias training: "A strong body of evidence has emerged that shows that such training has no sustained impact on behaviour and may even be counter-productive. Instructions to suppress stereotypes may not only activate and reinforce unhelpful stereotypes, they may provoke negative reactions and actually make people exacerbate their biases."

However, Christ Church, Oxford's grandest college, said "key priorities" this year include "compulsory enhanced training on topics such as cultural competency, unconscious bias, and race equality to all students… as well as for non-academic and academic staff".

Balliol College, alma mater of Boris Johnson, Ted Heath and Harold Macmillan, said last year it was "expanding the mandatory programme of unconscious bias/tackling race bias training to include all academic staff".

Oxford's Nuffield Department of Medicine also offers "mandatory" unconscious bias training for all staff, to help them minimise the "destructive impact" of discriminatory attitudes. The Radcliffe Department of Medicine says staff must complete similar training.

The University of Cambridge also offers unconscious bias training, but it is only compulsory for those involved in staff recruitment, a spokesman said.
Worth reading in full.
Sounds like another job for FSUperman…
Stop Press: Madeleine Kearns in Law & Liberty writes that the Scottish government's proposed "Hate Crime and Public Order Bill" is a new blasphemy law for woke orthodoxy.
Scotland's new established religion — the Church of Equality, Diversity, and Inclusion — is indistinguishable from government which it uses as the arm of enforcement. It is fittingly ironic, then, that the same bill that would formally abolish the Nineteenth Century offence of blasphemy, would formally institute a new one, "fit for purpose in the 21st century".
Worth reading in full.
Stop Press 2: The redoubtable Heather Mac Donald points out a glaring contradiction in woke orthodoxy on Tucker Carlson: on the one hand, the wokesters decry America as an endemically racist country where small children of colour can't leave their homes without being shot by the police; but on the other, they want to open America's borders to as many people of colour as possible so they can make their homes in this racist hell-hole. Eh?
"Mask Exempt" Lanyards
We've created a one-stop shop down here for people who want to obtain a "Mask Exempt" lanyard/card – because wearing a mask causes them "severe distress", for instance. You can print out and laminate a fairly standard one for free here and the Government has instructions on how to download an official "Mask Exempt" notice to put on your phone here. And if you feel obliged to wear a mask but want to signal your disapproval of having to do so, you can get a "sexy world" mask with the Swedish flag on it here.
A reader has started a website that contains some useful guidance about how you can claim legal exemption. Another reader has created an Android app which displays "I am exempt from wearing a face mask" on your phone. Only 99p.
If you're a shop owner and you want to let your customers know you will not be insisting on face masks or asking them what their reasons for exemption are, you can download a friendly sign to stick in your window here.
And here's an excellent piece about the ineffectiveness of masks by a Roger W. Koops, who has a doctorate in organic chemistry. See also the Swiss Doctor's thorough review of the scientific evidence here and Prof Carl Heneghan and Dr Tom Jefferson's Spectator article about the Danish mask study here.
Stop Press: The European Centre for Disease Prevention and Control has issued an update to its guidance on masks in which it admits there is no good evidence for their effectiveness.
The evidence regarding the effectiveness of medical face masks for the prevention of COVID-19 in the community is compatible with a small to moderate protective effect, but there are still significant uncertainties about the size of this effect. Evidence for the effectiveness of non-medical face masks, face shields/visors and respirators in the community is scarce and of very low certainty.
The Great Barrington Declaration
The Great Barrington Declaration, a petition started by Professor Martin Kulldorff, Professor Sunetra Gupta and Professor Jay Bhattacharya calling for a strategy of "Focused Protection" (protect the elderly and the vulnerable and let everyone else get on with life), was launched in October and the lockdown zealots have been doing their best to discredit it ever since. If you googled it a week after launch, the top hits were three smear pieces from the Guardian, including: "Herd immunity letter signed by fake experts including 'Dr Johnny Bananas'." (Freddie Sayers at UnHerd warned us about this the day before it appeared.) On the bright side, Google UK has stopped shadow banning it, so the actual Declaration now tops the search results – and Toby's Spectator piece about the attempt to suppress it is among the top hits – although discussion of it has been censored by Reddit. In February, Facebook deleted the GBD's page because it "goes against our community standards". The reason the zealots hate it, of course, is that it gives the lie to their claim that "the science" only supports their strategy. These three scientists are every bit as eminent – more eminent – than the pro-lockdown fanatics so expect no let up in the attacks. (Wikipedia has also done a smear job.)
You can find it here. Please sign it. Now over three quarters of a million signatures.
Update: The authors of the GBD have expanded the FAQs to deal with some of the arguments and smears that have been made against their proposal. Worth reading in full.
Update 2: Many of the signatories of the Great Barrington Declaration are involved with new UK anti-lockdown campaign Recovery. Find out more and join here.
Update 3: You can watch Sunetra Gupta set out the case for "Focused Protection" here and Jay Bhattacharya make it here.
Update 4: The three GBD authors plus Prof Carl Heneghan of CEBM have launched a new website collateralglobal.org, "a global repository for research into the collateral effects of the COVID-19 lockdown measures". Follow Collateral Global on Twitter here. Sign up to the newsletter here.
Judicial Reviews Against the Government
There are now so many legal cases being brought against the Government and its ministers we thought we'd include them all in one place down here.
The Simon Dolan case has now reached the end of the road. The current lead case is the Robin Tilbrook case which challenges whether the Lockdown Regulations are constitutional, although that case, too, has been refused permission to proceed. There's still one more thing that can be tried. You can read about that and contribute here.
Then there's John's Campaign which is focused specifically on care homes. Find out more about that here.
There's the GoodLawProject and Runnymede Trust's Judicial Review of the Government's award of lucrative PPE contracts to various private companies. You can find out more about that here and contribute to the crowdfunder here.
Scottish Church leaders from a range of Christian denominations have launched legal action, supported by the Christian Legal Centre against the Scottish Government's attempt to close churches in Scotland for the first time since the the Stuart kings in the 17th century. The church leaders emphasised it is a disproportionate step, and one which has serious implications for freedom of religion." Further information available here.
There's the class action lawsuit being brought by Dr Reiner Fuellmich and his team in various countries against "the manufacturers and sellers of the defective product, PCR tests". Dr Fuellmich explains the lawsuit in this video. Dr Fuellmich has also served cease and desist papers on Professor Christian Drosten, co-author of the Corman-Drosten paper which was the first and WHO-recommended PCR protocol for detection of SARS-CoV-2. That paper, which was pivotal to the roll out of mass PCR testing, was submitted to the journal Eurosurveillance on January 21st and accepted following peer review on January 22nd. The paper has been critically reviewed here by Pieter Borger and colleagues, who also submitted a retraction request, which was rejected in February.
And last but not least there was the Free Speech Union's challenge to Ofcom over its 'coronavirus guidance'. A High Court judge refused permission for the FSU's judicial review on December 9th and the FSU has decided not to appeal the decision because Ofcom has conceded most of the points it was making. Check here for details.
Samaritans

If you are struggling to cope, please call Samaritans for free on 116 123 (UK and ROI), email jo@samaritans.org or visit the Samaritans website to find details of your nearest branch. Samaritans is available round the clock, every single day of the year, providing a safe place for anyone struggling to cope, whoever they are, however they feel, whatever life has done to them.
Shameless Begging Bit
Thanks as always to those of you who made a donation in the past 24 hours to pay for the upkeep of this site. Doing these daily updates is hard work (although we have help from lots of people, mainly in the form of readers sending us stories and links). If you feel like donating, please click here. And if you want to flag up any stories or links we should include in future updates, email us here. (Don't assume we'll pick them up in the comments.)
And Finally…