Boris Shifts the Goalposts – Again
The Prime Minister gave a depressing press conference in Downing Street yesterday in which he changed the rules of the game yet again. The Daily Mail has more.
Boris Johnson was accused of shifting the goalposts again on lockdown after he said that infection rates must fall to "really, really low" levels before restrictions could be lifted.

The Prime Minister had previously said that the level of Covid deaths, vaccine rollout, new variants and pressure on hospital beds were the main determinants.

Speaking at the Downing Street press conference, the PM said he said: "We want this lockdown to be the last. And we want progress to be cautious, but also irreversible."

And even as the number of new cases fell to its lowest level since early October, he warned that the easing of lockdown could be delayed if there is a resurgence.

While he said he could not give a 'cast-iron guarantee' that this would be the final lockdown, he stressed his belief that science was "in the ascendancy".

Asked about his plans to lift restrictions on a visit to a vaccination clinic in south London yesterday, Mr Johnson told Sky News: "We will want to see those rates really, really low. Because the risk is if you have a large volume of circulation, if you've got loads of people, even young people, getting the disease a couple of things happen.

"First you have a higher risk of new variants, of mutations. Secondly there will also be a greater risk of the disease spreading out into the older groups again.

"No vaccination programme is 100 per cent effective, so when you have a large volume circulating, inevitably, the vulnerable will suffer. So that's why we want to drive it right down, keep it right down."

Speaking about next Monday's announcement of his 'road map' for relaxing lockdown measures, Mr Johnson added: "The dates we will be setting out will be the dates by which we hope we can do something at the earliest. It's the target date.

"If, because of the rate of infection, we have to delay for a little bit, we won't hesitate."
Hard to believe this is the fun-loving libertarian I voted for.
Why is the number of infections per 100,000 now the all-important metric? After all, the vaccines won't prevent people catching COVID-19 or passing it on, they'll just mean very, very few people will require hospitalisation or die from the disease. Surely, once the most vulnerable have been vaccinated – which they have – and enough time has elapsed for the vaccine to protect them from the disease – which it will have done by March 8th – why does it matter how many people get the disease? Listening to the Prime Minister yesterday, it was as if the only thing that counts is the R number, with the 15 million people who've been vaccinated now forgotten.
Worth reading in full, but only if you don't suffer from high blood pressure.
Stop Press: An epidemiologist from Imperial called Professor Azra Ghani popped up on ITV News last night to warn that a new model she's helped develop forecasts a significant wave of deaths by summer 2021 if restrictions are eased in July – even with a successful vaccine rollout. Give me strength.
Lord Sumption: The Greatest Casualty of Lockdown is Liberal Democracy
Jonathan Sumption has written a humdinger of an op ed in today's Telegraph in which he argues that our liberal democracy may never recover from these catastrophic lockdowns. It depends for its survival on imposing limits on the power of the state, but these limits largely take the form of conventions rather than laws – and if those conventions are eroded, as they have been in the past 11 months, the state may just continue to expand. Sobering.
The biggest casualty of the lockdown will not be the closed pubs, restaurants and shops and the crippled airlines. It will not be our once-thriving musical, theatrical and sporting culture. It will not even be the wreckage of our economy. These are terrible things to behold. But the biggest casualty of all will be liberal democracy.

Liberal democracy is a remarkable but fragile achievement. It is an attempt to meet the challenge of making governments answerable to the people, while protecting personal freedom. This is hard to do. People crave security and look to the state to provide it. To do this, the state needs extensive powers over its citizens. This is why, in democracies across the world, the power of the state has continually increased. It is also why liberal democracy is the exception rather than the rule. Democracies are easily subverted and often fail.

What makes us a free society is that, although the state has vast powers, there are conventional limits on what it can do with them. The limits are conventional because they do not depend on our laws but on our attitudes. There are islands of human life which are our own, a personal space into which the state should not intrude without some altogether exceptional justification.

Liberal democracy breaks down when frightened majorities demand mass coercion of their fellow citizens, and call for our personal spaces to be invaded. These demands are invariably based on what people conceive to be the public good. They all assert that despotism is in the public interest.

The problem is perfectly encapsulated in a recent interview with Professor Neil Ferguson, whose projections were used to justify the first lockdown last March. Before that, as Prof Ferguson related in that interview, Sage had concluded that the Chinese lockdown had worked but was out of the question in Europe. "It's a communist, one-party state, we said. We couldn't get away with it in Europe, we thought. And then Italy did it. And we realised we could… If China had not done it, the year would have been very different."

China is not a liberal democracy. It is a totalitarian state. It treats human beings as so many tools of state policy. There is no personal space which the state cannot invade at will. Liberal democracies have good reasons of political morality for not wishing to be like China. Considering this issue only in terms of whether lockdowns are effective against pandemics, and whether governments can "get away with it", serves to reduce liberty from a major principle to a mere question of expediency.

We have to assume, since the Government took his advice, that ministers agreed with Prof Ferguson. Certainly that was the position of the senior minister who recently told me that liberal democracy was an unsuitable model for dealing with a pandemic. Something more "Napoleonic" was needed, said he.
Worth reading in full.
Stop Press: The Countryside Alliance has launched a campaign to save rural pubs – by allowing them to reopen. Just enter your postcode into the magic box and it will fire off a letter to your MP. I've already done it.
Opening Schools Will Not Increase the R Rate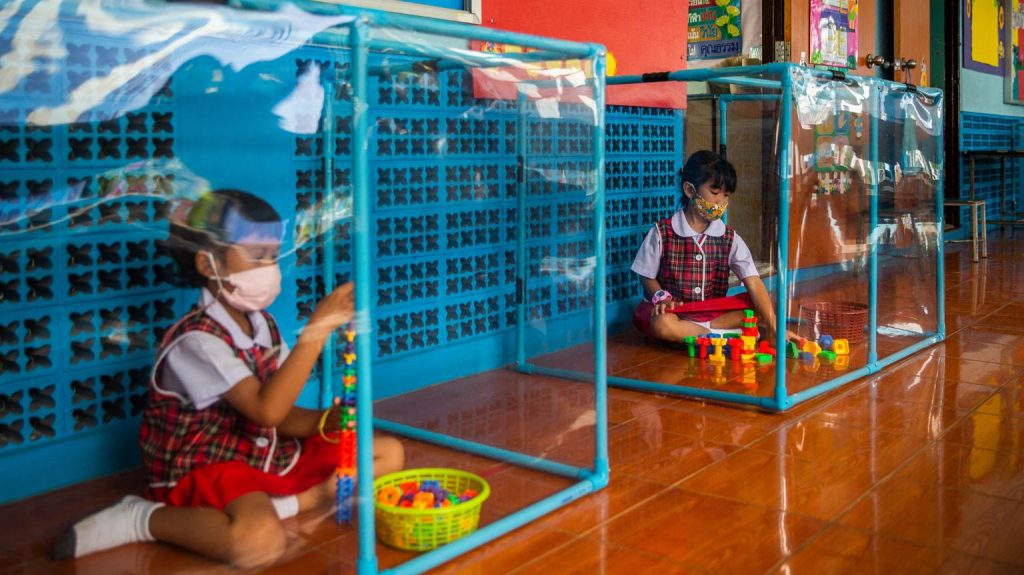 A new paper by two academics from the University of Warwick has found no evidence that schools were responsible for spreading Covid. A separate study by Professor Russell Viner has warned of the catastrophic effect school closures have on children's psychological wellbeing. Sarah Knapton, Science Editor of the Telegraph, has more.
There is no data to show that schools are driving the spread of coronavirus but mounting evidence that keeping them closed is damaging children, two reports by government advisers have found.

Next week, the Government is expected to announce that schools will reopen on March 8, but Boris Johnson suggested on Monday that the return could be staggered, with year groups coming back at different times.

Pressure to get children back into classrooms as quickly as possible is growing amid increasing realisation of the damage that being away is doing to education, health and wellbeing.

A new study by Dr Mike Tildesley and Dr Edward Hill, from the University of Warwick – who sit on the Children's Task and Finish Working Group (TFC) advising the Government on transmission in schools – said they had found no evidence that schools were responsible for spreading Covid.

After looking at school absences due to the virus between September and December, they found that schools actually lagged cases in the community, suggesting infections were linked to growth in the wider environment.

Dr Tildesley said it was necessary to balance the importance of school with the risk of rising infections, adding: "Any epidemiologist will advise you that everyone stays in lockdown until we have herd immunity. Of course in reality we can't do that – we need to weigh up risk with the benefits of gradually reopening society.

"Children have been out of education for a really long time, which is damaging for well-being and damaging for their long-term educational needs, and it's really really hard for parents who are having to engage in home schooling.

"We're in a situation where cases are now coming down and have been for a number of weeks, the pressure is slowly easing up in hospitals and the number of deaths are going down. Hopefully by the March 8 we'll be in a position to cautiously start to relax things."

The study showed that the number of absences caused by Covid in primary schools was low, and that although there were more secondary school infections they fell in the second half of the November lockdown despite schools staying open, suggesting the case rates were linked to community transmission.

The proportion of teachers absent in primary schools was very similar to that in secondary schools despite fewer pupil infections, again suggesting that children were not driving the spread.

A separate review, authored by Professor Russell Viner, of University College London (UCL), who also sits on the TFC, found school closures to be "associated with considerable harms to children and young people's health and well-being".

The review looked at 72 studies from 20 countries that had experienced lockdowns and school closures and found that between 18 and 60 per cent of youngsters scored above risk thresholds for distress, particularly anxiety and depressive symptoms.

There were also marked rises in screen time and social media use and reductions in physical activity. Child protection referrals fell between 27 and 39 per cent, with a halving of the expected number of referrals originating in schools.
Worth reading in full.
More on the Surging Covid Death Toll in Gibraltar
Following our recent piece by Neville Hodgkinson on the high death toll in Gibraltar that has coincided with the vaccine roll out, a reader called John Church has sent us some further reflections on this, asking, like Neville, whether there could be any connection with Gibraltar's vaccination programme. I should say that I'm not a vaccine sceptic – I think the vaccine roll out is our quickest route out of lockdown, or it will be if Boris grows a backbone – but that doesn't mean I'm a vaccine zealot either. So happy to publish the occasional piece flagging up what, on the face of it, looks like some pretty alarming data.
I am sure you have been following the dynamics of the global cases and mortality over the last few weeks, particularly since vaccination has begun. At a time when global cases are in free fall, having dropped 50% in the last five weeks, there have been the strange anomalies of countries with high vaccination rates not leading this trend. If anything, arguably the opposite. The high mortality rates in the UK through January have stood in stark contrast (three times higher) to those in the normally comparable countries of Spain, Italy and France, at a time when we have rolled out vaccinations at a rate four times faster than they have. And concern about care homes deaths is again being voiced, having seen rises in Covid mortality three-to-four times what was occurring before vaccination started.

And there are other examples. While Israel has achieved 75 doses per 100 people and vaccinated (with two doses) nearly 80% of its over-60s population, the actual mortality rate has only declined by a third, and strangely hospital and ICU admissions have only come down by 25%, raising the obvious question as to where these new admissions are coming from, given the media reports that there is almost zero illness amongst anyone who has received the Pfizer double dose.

The UAE, now on the UK's travel red list, has achieved 50 doses per 100, and yet its mortality has risen five fold since the start of its campaign. And the small principality of Monaco, having only suffered three deaths in the whole of 2020, now has seen an increase to 21, all during its aggressive vaccination campaign since the start of 2021.

In each of these examples, cases have also risen and it could just be a coincidence that these countries with such rapid vaccination progress happen to have had surges of Covid infection at the same time.

But it is the example of Gibraltar which really must make one wonder if something is going on. At the end of 2020, Gibraltar had suffered only seven Covid deaths in total. It is now on 87, again an increase which has almost all occurred since vaccinations started on Jan 9th. This doesn't sound much, but we must pause to consider these numbers. There are only 34,000 people in Gibraltar. A death toll like that in just the last month is equivalent to the UK suffering 160,000 Covid deaths. And it has occurred at rate of about three times the normal 'all cause' total mortality rate. When comparing deaths and cases, the CFR (case fatality rate) has jumped five fold compared to the deaths last year. Gibraltar has just overtaken Israel as the global leader in vaccination with 75 doses per 100 people, but now also finds itself with the unenviable statistic of the highest global mortality at over 2500 deaths per million. There were three more Covid deaths yesterday. That's like an extra 6000 occurring in the UK. In just one day!

Now, I would be the first to say that correlation is not necessarily causation, but one must ask the question: What is going on here? We know that the vaccines were not properly tested on the old and vulnerable, and we know that concerns were raised about Antibody Dependant Enhancement (ADE), a mechanism whereby the vaccine can have a negative effect on a person with a Covid infection. Is it just possible that vaccinating the elderly and the vulnerable during a surge in the epidemic is like pouring an accelerant onto a fire? Whatever the reason, it is very important that these situations are properly analysed and audited to understand the vaccine history of those that have died of Covid during these last few weeks.
Stop Press: The First Minister of Gibraltar has been in touch, claiming there is no connection between recent deaths in Gibraltar and its vaccination programme. He referred me to this recent Reuters fact check, which concludes that "there is no evidence that the increase in COVID-19 deaths in Gibraltar are in anyway linked to the vaccine".
[T]here is no evidence whatsoever that these deaths are linked to the roll out of the vaccine.

The increase appears to be part of an upward trend that started before the first vaccine dose was administered.

On Jan. 27, the Government said in a statement that out of the more than 11,000 people who had been vaccinated, six had died for unrelated reasons (here).

"The Gibraltar Health Authority can confirm that there is no evidence at all of any causal link between these six deaths and the inoculation with the Pfizer vaccine", the press release said. "Statements to the contrary on social media are entirely untrue."

According to the Government, these six people appear to have caught COVID-19 before they were vaccinated.
Worth reading in full.
No More "Competitive Victimhood"
Dr Alberto Giubilini, a Research Fellow in Bioethics at Oxford, has replied to Guy de la Bédoyère's response to his original piece in Lockdown Sceptics arguing that the burden of lockdown is borne more heavily by the young than the old. Here are the first few paragraphs.
I suspect Guy de la Bédoyère and I might be more in agreement than his reply might suggest.

It would probably not be too helpful to engage in a point-by-point response to his criticism, pretty much for the same reason why he thinks my original article (in which I claimed that lockdown is unfair towards young generations) was not helpful: it creates an unnecessary contrast between groups – an indulgence in "competitive victimhood", as he says – when in fact a strong case can be made that every age group has been negatively affected by lockdown.

I agree it might not be helpful to create divisions across age groups when we all want the same, reasonable thing: a comprehensive argument as to why lockdown should be lifted.

My aim was not to be helpful in this sense, to be honest. It was just to highlight one aspect around intergenerational justice that I think is too often overlooked: lockdown is unfair towards the young.

What de la Bédoyère brings are additional reasons why lockdown should be lifted, but these are not related to unfairness. They are about the burdens on the elderly and how they have been denied their freedom. His points and my points are perfectly consistent, as I see it: that the young are unfairly burdened does not mean that the elderly are not burdened. But it means that the reasons for lifting lockdown are different if we look at the issue from the point of view of the young rather than of the elderly.
Worth reading in full.
Another Victory For the Free Speech Union
Not anything to do with coronavirus, but I can't resist telling you about the latest victory of the Free Speech Union – we've persuaded the Principal of Somerville College, Margaret Thatcher's alma mater, to do a U-turn on mandatory unconscious bias training.
I'll let today's Daily Mail tell the story.
Every student at Margaret Thatcher's old Oxford college was ordered to take a course in "unconscious bias" to expose innate "racism, homophobia, transphobia and disability discrimination".

Baroness Royall of Blaisdon, principal of Somerville College, instructed students to complete the online class by this Friday, and told them they must "achieve a mark of 100 per cent" in a final test.

In her message the Labour peer, 65, who served in Ed Miliband's shadow cabinet, also claimed there was "irrefutable evidence" that injustices in society were being fanned by "individual unconscious biases that many or all of us have".

Her claims were in conflict with the Government's belief that trendy "unconscious bias" training, which is aimed at rooting out unintentional discrimination, "does not achieve its intended aims" and should be phased out of use in the public sector. Other research suggests it could even make such problems worse.

During the test used by Somerville College, seen by the Daily Mail, students must admit that they are "susceptible to bias" and need to "accept responsibility for monitoring our own behaviours".

They are also forced to admit to suffering from the bizarrely-named "mini-me syndrome", because they "automatically favour" people like themselves.

In one section, students must concede that a black lecturer would be more likely to be disliked by students than her white colleagues.

In another section, they are also told that thinking their tutor "doesn't look smart" and is "a bit unprofessional" may not be appropriate.

Lady Royall's letter and the accompanying test prompted the Free Speech Union (FSU) campaign group to warn that her orders could be a breach of both the Human Rights Act and the Equality Act.

FSU general secretary Toby Young said the organisation had been contacted by a student who was "understandably anxious that if they refuse to take this training course, or if they score less than 100 per cent in the assessment at the end of the course, they may face disciplinary action".

He added that evidence suggests that such courses do not lead to "a reduction in real-world discriminatory behaviour and can lead to an increase in such behaviour".

Last night friends of Lady Thatcher, who studied chemistry at the then women-only college in the 1940s, said the training flew in the face of her libertarian beliefs.

Sir Bernard Ingham, the former PM's long-time press secretary, commented: "I think it is entirely in keeping with the university that refused her an honorary degree. The best way to deal with them is to laugh at them.

"She would have thought the country had gone mad. She believed in freedom, these people don't, they believe in dictatorship. To hell with them!"

Last night, Somerville College backed down in the face of the FSU challenge, with Lady Royall saying she should have "thought further" about her order that all students must score 100%.

She wrote in reply to the FSU: "On reflection, it has been agreed that completing the test with less than 100% will be seen as the opportunity for a chat about the issues involved, nothing more."

After initially telling students they were "required to complete this course", Lady Royall also said she was "happy to confirm that there was never even the slightest question of disciplinary action following a student not completing the test or scoring less than 100%."

Defending the ideology behind the course, she said it was "clearly incontestable that a plethora of systemic injustices exist in our society". She emphasised the college's commitment to free speech.

Responding to Somerville's U-turn, Mr Young said: "I am pleased Baroness Royall has backed down on her insistence that students have to score 100% on the test.

"But she still says students who score less than 100 per cent will have to come in for a chat, which sounds ominous."

The row comes as many universities and student unions are being accused of trying to enforce Left-wing 'woke' values across supposedly impartial institutions.

Today Education Secretary Gavin Williamson will unveil his plans for a 'free speech champion', who will work to fight censorship on campus and stick up for academics who find themselves vilified.

The tsar will work within universities regulator the Office for Students, now chaired by former Tory MP Lord Wharton of Yarm.

Recent examples of cancel culture include students at Clare College, Cambridge, trying to force a porter out of his job after he declined to support a pro-trans motion in his role as a city councillor.

Former Home Secretary Amber Rudd was also 'no-platformed' by an Oxford University society last year. The society was later banned.
I would say "worth reading in full", but that's the whole piece.
However, if you want to read my letter to Baroness Royall – and her reply – you can find them on the FSU's website.
Stop Press: Showbiz reporter Michael Cieply has come up with a good idea: free speech insurance. "Good free speech coverage would pay if you are fired, suspended, banned from professional status or otherwise deprived of income or community standing for voicing a thought that bothers someone else," he writes in Deadline. It's tongue-in-cheek, but it's not a million miles away from the Free Speech Union. Perhaps I should tell Mr Cieply that we're about to launch a U.S. branch.
Postcard From London
James Allan, the Garrick Professor of Law at the University of Queensland, was in London recently to see his two children. He has now returned to Australia, where he and his wife are holed up in a quarantine hotel, but he has written an account for Lockdown Sceptics of his seven-week stay in our capital. We've filed it under our ever-growing "Around the World in 80 Lockdowns" section on the right-hand side. It's a corker – one of the best postcards we've published so far. Prof Allan, who writes regularly for Spectator Australia, isn't just a common-or-garden sceptic – he's a raging sceptic. I know I occasionally pour scorn on Australians – not so much the descendants of convicts as the descendants of turnkeys, given how they've acquiesced to lockdowns – but that's nothing compared to Prof Allan's reaction to the supine compliance of Londoners. Here's an extract.
A few things struck me quite powerfully. The first was how eerily empty London was as we walked around each day. We wondered when the great city of London last looked so deserted – not during WWII's Blitz, not during WWI or the Spanish Flu, not at any point going back at least to the 17th Century. And for what? For a virus that in no-lockdown Sweden has led to 5,000 excess deaths for the year. Tops. And that's if you don't correct for population growth or an ageing population. For a virus that has a fraction of a soupcon of the lethality of the Spanish Flu, and all that it has concentrated on the elderly and vulnerable (who one might think should be the overwhelming focus of concern and action).

Next there was all the propaganda everywhere. The BT tower made me want to vomit – "Stay inside. Stay safe. Protect the NHS." I always thought health services were there to protect citizens, not the other way round. (Leave aside that for someone like me who has lived and worked in a lot of countries the NHS product is one of the worst I've ever experienced, perhaps marginally better than the health service in my native Canada but miles worse than Australia's, New Zealand's, and even Hong Kong's.) Meanwhile the orchestrated clapping was nauseating. Can you imagine our ancestors clapping for the Battle of Britain pilots? Or those pilots wanting this to be done?

And let's not forget all the posters on bus shelters, straight out of some authoritarian government's propaganda handbook. "Look him in the eye and tell him you can't work at home." Or "won't wear a mask". Or "It's not that serious a disease." These slogans ran below a photo of some deathly ill looking chap with an oxygen mask. Again, leave aside the subtle manipulation here that is involved in showing photos of actors far below 83 years old, that being the median death age from Covid. It is also dishonest because it presents only one side of the equation. The young are being decimated not by the virus – for them it is less risky than the flu – but by the Government's response to it. Same for many workers in the private sector – though not, obviously, politicians and bureaucrats who will come out of these lockdowns that they themselves imposed better off materially than they went in. Where are the bus shelter posters of students who've lost a year of their schooling, or the many tens of millions in the Third World who are now newly in poverty, or those who've lost businesses and family homes with the slogans "Look them in the eye and tell them these lockdowns were necessary"?

I also noticed that defenders of Boris's supposed libertarian instincts had less and less plausibility as time went on during my seven weeks in Britain. If Boris Johnson is a South Dakota or Florida Governor-type libertarian, with a whole-hearted commitment to civil liberties and freedom and a willingness to make tough decisions in their defence, then I'm a marsupial. Any backbone the Prime Minister had has been slowly dissolved away by his SAGE advisers, the panic-mongering press, and his Cabinet in his transmogrification into an invertebrate. Go back and read what he used to say about Remainers and see how much applies to him now.

At any rate, I came away from a seven week trip into the home of "the scary new Covid variant" with a sense that in two generations Britain had gone from the people who stood up to, and defeated, Hitler to the people who largely cowered in their homes, masks in place, because their Government told them to do so. Because of a virus that over 99% of those who catch it would survive!
This one is very much worth reading in full.
Theme Tunes Suggested by Readers
Twelve today: "I Count the Days (aka Lonely Man)" by Dave Barker & The Techniques All Stars, "It's The Same Old Song" by The Four Tops, "Sick and Tired" by Fats Domino, "Panic" by The Smiths, "World Destruction" by Time Zone, "Disorder" by Joy Division, "Subvert City" by Subhumans, "If I Ever Leave This World Alive" by Flogging Molly, "It Ain't Over Til It's Over" by Lenny Kravitz, "Isolation" by John Lennon, "I'm So Tired" by Fugazi and "I've Been Waitin' for Tomorrow (All of My Life)" by The The.
Love in the Time of Covid
We have created some Lockdown Sceptics Forums, including a dating forum called "Love in a Covid Climate" that has attracted a bit of attention. We have a team of moderators in place to remove spam and deal with the trolls, but sometimes it takes a little while so please bear with us. You have to register to use the Forums as well as post comments below the line, but that should just be a one-time thing. Any problems, email Lockdown Sceptics here.
Sharing Stories
Some of you have asked how to link to particular stories on Lockdown Sceptics so you can share it. To do that, click on the headline of a particular story and a link symbol will appear on the right-hand side of the headline. Click on the link and the URL of your page will switch to the URL of that particular story. You can then copy that URL and either email it to your friends or post it on social media. Please do share the stories.
Social Media Accounts
You can follow Lockdown Sceptics on our social media accounts which are updated throughout the day. To follow us on Facebook, click here; to follow us on Twitter, click here; to follow us on Instagram, click here; to follow us on Parler, click here; and to follow us on MeWe, click here.
Woke Gobbledegook
We've decided to create a permanent slot down here for woke gobbledegook. Today, we're bringing you a good news story for once: Parler is back online. The Telegraph has more.
The conservative social network Parler is running again more than one month after Amazon suspended the site from its web hosting services.

The company, which bills itself as "free speech social media", had previously used a Russian company called DDOS-Guard to reboot its website but was not able to bring its service fully online.

On Monday, however, Parler said that it had found a new web host that did not rely on Big Tech and was now back up, also claiming that it now has 20 million users.

Amazon, Apple and Google all booted Parler from their respective services in January after a large number of its users took part in the storming of the US Capitol, driving it from number one in the US iPhone store to a cause célèbre for supporters of President Donald Trump.

Amazon cited Parler posts which called for the killing of Democrats, journalists and Black Lives Matter activists, while Apple and Google removed Parler from their app stores, saying that it had broken their rules by failing to police its users.

Mark Meckler, Parler's new interim chief executive, said: "When Parler was taken offline in January by those who desire to silence tens of millions of Americans, our team came together, determined to keep our promise to our highly engaged community that we would return stronger than ever.

"We're thrilled to welcome everyone back. Parler is being run by an experienced team and is here to stay. We will thrive as the premier social media platform dedicated to free speech, privacy and civil dialogue."

The company added that Parler is now built on "robust, sustainable, independent technology". The Telegraph confirmed that the service is back online, although it will not accept new users until next week.
Worth reading in full.
Stop Press: Ben Kew has written a great piece in the Critic about his efforts to stop his old public school succumbing to the woke cult. Needless to say, he has been completely unsuccessful.
"Mask Exempt" Lanyards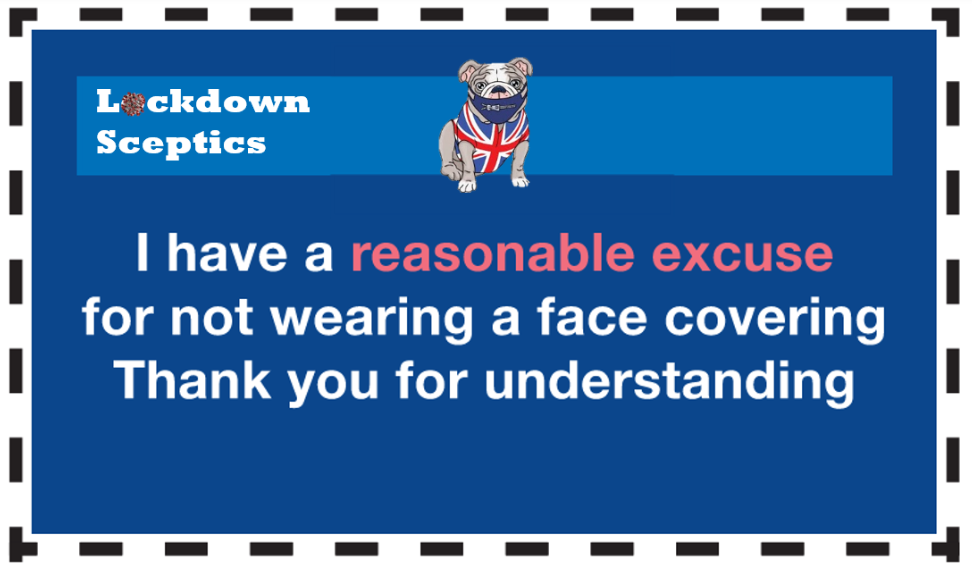 We've created a one-stop shop down here for people who want to obtain a "Mask Exempt" lanyard/card – because wearing a mask causes them "severe distress", for instance. You can print out and laminate a fairly standard one for free here and the Government has instructions on how to download an official "Mask Exempt" notice to put on your phone here. And if you feel obliged to wear a mask but want to signal your disapproval of having to do so, you can get a "sexy world" mask with the Swedish flag on it here.
A reader has started a website that contains some useful guidance about how you can claim legal exemption. Another reader has created an Android app which displays "I am exempt from wearing a face mask" on your phone. Only 99p.
If you're a shop owner and you want to let your customers know you will not be insisting on face masks or asking them what their reasons for exemption are, you can download a friendly sign to stick in your window here.
And here's an excellent piece about the ineffectiveness of masks by a Roger W. Koops, who has a doctorate in organic chemistry. See also the Swiss Doctor's thorough review of the scientific evidence here and Prof Carl Heneghan and Dr Tom Jefferson's Spectator article about the Danish mask study here.
Stop Press: The US National Institute of Health has found that mask-induced humidity can reduced the risk of severe COVID-19, reports MailOnline
Stop Press 2: Fast Company has a very silly article lambasting the Swedish authorities for not imposing mask mandates. It concludes by saying Sweden is "on the brink of a third wave". Eh? Clearly, the journalist hasn't looked at the latest data on daily deaths in Sweden.
The Great Barrington Declaration
The Great Barrington Declaration, a petition started by Professor Martin Kulldorff, Professor Sunetra Gupta and Professor Jay Bhattacharya calling for a strategy of "Focused Protection" (protect the elderly and the vulnerable and let everyone else get on with life), was launched in October and the lockdown zealots have been doing their best to discredit it ever since. If you googled it a week after launch, the top hits were three smear pieces from the Guardian, including: "Herd immunity letter signed by fake experts including 'Dr Johnny Bananas'." (Freddie Sayers at UnHerd warned us about this the day before it appeared.) On the bright side, Google UK has stopped shadow banning it, so the actual Declaration now tops the search results – and Toby's Spectator piece about the attempt to suppress it is among the top hits – although discussion of it has been censored by Reddit. In February, Facebook deleted the GBD's page because it "goes against our community standards". The reason the zealots hate it, of course, is that it gives the lie to their claim that "the science" only supports their strategy. These three scientists are every bit as eminent – more eminent – than the pro-lockdown fanatics so expect no let up in the attacks. (Wikipedia has also done a smear job.)
You can find it here. Please sign it. Now over three quarters of a million signatures.
Update: The authors of the GBD have expanded the FAQs to deal with some of the arguments and smears that have been made against their proposal. Worth reading in full.
Update 2: Many of the signatories of the Great Barrington Declaration are involved with new UK anti-lockdown campaign Recovery. Find out more and join here.
Update 3: You can watch Sunetra Gupta set out the case for "Focused Protection" here and Jay Bhattacharya make it here.
Update 4: The three GBD authors plus Prof Carl Heneghan of CEBM have launched a new website collateralglobal.org, "a global repository for research into the collateral effects of the COVID-19 lockdown measures". Follow Collateral Global on Twitter here. Sign up to the newsletter here.
Judicial Reviews Against the Government
There are now so many legal cases being brought against the Government and its ministers we thought we'd include them all in one place down here.
The Simon Dolan case has now reached the end of the road. The current lead case is the Robin Tilbrook case which challenges whether the Lockdown Regulations are constitutional, although that case, too, has been refused permission to proceed. There's still one more thing that can be tried. You can read about that and contribute here.
Then there's John's Campaign which is focused specifically on care homes. Find out more about that here.
There's the GoodLawProject and Runnymede Trust's Judicial Review of the Government's award of lucrative PPE contracts to various private companies. You can find out more about that here and contribute to the crowdfunder here.
Scottish Church leaders from a range of Christian denominations have launched legal action, supported by the Christian Legal Centre against the Scottish Government's attempt to close churches in Scotland for the first time since the the Stuart kings in the 17th century. The church leaders emphasised it is a disproportionate step, and one which has serious implications for freedom of religion." Further information available here.
There's the class action lawsuit being brought by Dr Reiner Fuellmich and his team in various countries against "the manufacturers and sellers of the defective product, PCR tests". Dr Fuellmich explains the lawsuit in this video. Dr Fuellmich has also served cease and desist papers on Professor Christian Drosten, co-author of the Corman-Drosten paper which was the first and WHO-recommended PCR protocol for detection of SARS-CoV-2. That paper, which was pivotal to the roll out of mass PCR testing, was submitted to the journal Eurosurveillance on January 21st and accepted following peer review on January 22nd. The paper has been critically reviewed here by Pieter Borger and colleagues, who also submitted a retraction request, which was rejected in February.
And last but not least there was the Free Speech Union's challenge to Ofcom over its 'coronavirus guidance'. A High Court judge refused permission for the FSU's judicial review on December 9th and the FSU has decided not to appeal the decision because Ofcom has conceded most of the points it was making. Check here for details.
Stop Press: The Independent reports that international law firm PGMBM is to launch a calling for a judicial review of the quarantine hotel policy:
PGMBM believes that the enforced quarantine of people without knowing whether they or not they have Covid-19, and therefore could pass it on to others, could breach human rights law.

Tom Goodhead, managing partner of PGMBM, said his company appreciated the seriousness of the global pandemic.

"This does not, however, mean that policies which constitute extraordinary violations of traditional liberties and human rights should not face careful judicial examination," he said.

"It is time for lawyers to take a stand and ensure that the government, which has shown scant regard for parliamentary scrutiny of COVID-19 legislation and regulations, is held to account."
Samaritans

If you are struggling to cope, please call Samaritans for free on 116 123 (UK and ROI), email jo@samaritans.org or visit the Samaritans website to find details of your nearest branch. Samaritans is available round the clock, every single day of the year, providing a safe place for anyone struggling to cope, whoever they are, however they feel, whatever life has done to them.
Shameless Begging Bit
Thanks as always to those of you who made a donation in the past 24 hours to pay for the upkeep of this site. Doing these daily updates is hard work (although we have help from lots of people, mainly in the form of readers sending us stories and links). If you feel like donating, please click here. And if you want to flag up any stories or links we should include in future updates, email us here. (Don't assume we'll pick them up in the comments.)
And Finally…