Captain Sir Tom Moore Dies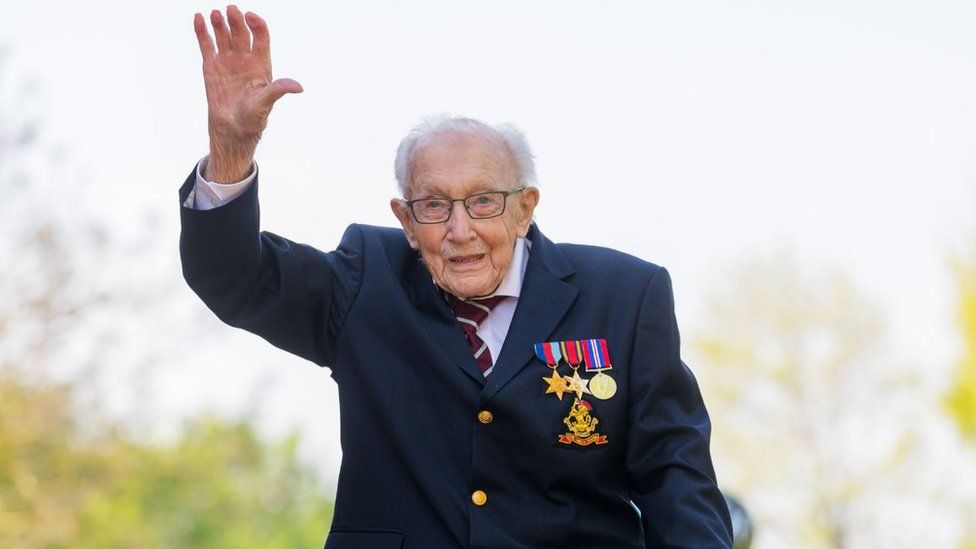 Captain Sir Tom Moore, the 100 year-old World War II veteran who gained fame last year when he raised almost £33m for NHS charities by walking laps of his garden, died yesterday of pneumonia following a positive Covid test.
Sir Tom appears to have contracted Covid in hospital, after being admitted for non-Covid pneumonia. Yahoo! News has the details.
Captain Sir Tom Moore tested negative for coronavirus after returning from his trip to Barbados, his family have said.

The Second World War veteran died on Tuesday after a short battle with Covid and pneumonia.

Captain Tom and his family flew to Barbados on December 11th shortly before his hometown of Bedford was placed in Tier 3 – a holiday which was criticised by some online commenters.

He remained in Barbados until January 6th when he flew back to the UK and his family revealed on Tuesday that he only tested positive for Covid two weeks after he returned from the Caribbean.

A statement released by his family revealed that he had been tested regularly for COVID-19 between December 9th and January 12th and each test returned negative.

"He was admitted to hospital on January 12th," the statement read, "Whilst in hospital he received a pneumonia diagnosis. In addition, as with other patients, he was tested regularly for COVID-19.

"On January 22nd, Tom was discharged from hospital back to the family home where he felt most comfortable. Unfortunately he was left still fighting pneumonia and tested positive for COVID-19 that day.

"He remained at home, cared for by family and medical professionals, until he needed additional help with his breathing. He was taken by ambulance to Bedford Hospital on Sunday January 31st.

"Tom was able to have visitors to say goodbye to him at the end of his life. Yesterday evening his daughter Hannah and grandchildren Benjie and Georgia were able to be by his side and his daughter Lucy was able to speak to him on FaceTime."
A hero of our nation's darkest hour in the 1940s who became an inspiration to many during a tough year. May he rest in peace.
Stop Press: Some confusion has arisen as to whether Sir Tom had received the first dose of the vaccine. Reports yesterday stated he had not, but videos were circulating on social media of earlier reports saying he had. If any Lockdown Sceptics readers are aware of any reports from the time saying he had been vaccinated please email us here so this mystery can be solved.
Vaccine Update
The Russian vaccine Sputnik V, which no one is quite sure they can trust, has been found to have "91.6% efficacy against COVID-19" and to be "well tolerated in a large cohort", according to trial results published yesterday in the Lancet. The BBC has more.
Russia's Sputnik V coronavirus vaccine gives around 92% protection against Covid-19, late stage trial results published in the Lancet reveal.

It has also been deemed to be safe – and offer complete protection against hospitalisation and death.

The vaccine was initially met with some controversy after being rolled out before the final trial data had been released. But scientists said its benefit has now been demonstrated.

It joins the ranks of proven vaccines alongside Pfizer, Oxford/AstraZeneca, Moderna and Janssen.

The Sputnik vaccine works in a similar way to the Oxford/AstraZeneca jab developed in the UK, and the Janssen vaccine developed in Belgium. It uses a cold-type virus, engineered to be harmless, as a carrier to deliver a small fragment of the coronavirus to the body. Safely exposing the body to part of the virus's genetic code in this way allows it to recognise the threat and learn to fight it off, without risking becoming ill. After being vaccinated, the body starts to produce antibodies specially tailored to the coronavirus. This means the immune system is primed to fight coronavirus when it encounters it for real.

It can be stored at temperatures of between 2 and 8C degrees (a standard fridge is roughly 3-5C degrees) making it easier to transport and store. But unlike other similar vaccines, the Sputnik jab uses two slightly different versions of the vaccine for the first and second dose – given 21 days apart. They both target the coronavirus's distinctive "spike", but use different vectors – the neutralised virus that carries the spike to the body. The idea is that using two different formulas boosts the immune system even more than using the same version twice – and may give longer-lasting protection.
Dr Julian Tang, a clinical virologist at the University of Leicester, suggested the rollout of the vaccine in Russia before the trial was complete had now been "justified" by the subsequent results. This seems to misunderstand how safety trials work, in that getting lucky doesn't mean you were right to take the risk. Tang said:
Despite the earlier misgivings about the way this Russian Sputnik V vaccine was rolled out more widely – ahead of sufficient Phase 3 trial data – this approach has been justified to some extent now. Such pandemic-related vaccine rollout compromises have, to be fair, been adopted in the UK vaccination programme also – with the extended intervals between the first and second doses. So we should be more careful about being overly critical about other countries' vaccine designs.
In this likening of Britain's approach to Covid vaccines to Russia's, Tang seems inadvertently to agree with European Commission President Ursula von der Leyen, who has accused Britain and other quick-off-the-mark countries of compromising on safety and efficacy:
Some countries started to vaccinate a little before Europe, it is true. But they resorted to emergency, 24-hour marketing authorisation procedures. The Commission and the member states agreed not to compromise on the safety and efficacy requirements linked to the authorisation of a vaccine. So, yes, Europe left it later, but it was the right decision. I remind you that a vaccine is the injection of an active biological substance into a healthy body. We are talking about mass vaccination here. It is a gigantic responsibility.
In other developments, there is fresh news on the Oxford vaccine, which appears to be more effective than early results suggested, particularly when doses are given 12 weeks apart. Ross Clark in the Spectator has the update on the ongoing trials.
The study found that after two doses, efficacy increased in line with the gap between those doses. When there were fewer than six weeks between doses efficacy was just 54.9%. But when the two doses were given at or more than 12 weeks apart, efficacy rose to 82.4%. The 54.9% figure does raise the question: does a second dose actually damage the working of the vaccine if given too early? Or could some other factor be at play? Further research will be needed to answer that question.

No participants in the trial who were given the vaccine were hospitalised, while 15 in the control group suffered hospitalisation. Overall the results are likely to be taken by the Government as justification for its current vaccination regime: giving two doses of the Oxford-AZ vaccine 12 weeks apart. What this study couldn't tell us, of course, is whether a 12-week gap is equally appropriate for the Pfizer vaccine – for which the manufacturers recommend a three-week gap. Questions will also be raised about mixing the results from trials in the UK and Brazil, given that different variants have been found to be circulating in both countries. On the positive side, if Brazil were ravaged by a vaccine-resistant variant of the virus, it would presumably have shown up in this study.
The study also suggested the vaccine reduces transmission by 67% after the first jab (not really surprising given the rarity of asymptomatic transmission). It means those who have been vaccinated are unlikely to infect those yet to receive the jab, paving the way for the early lifting of restrictions.
A new pre-print study has been published suggesting those who have previously been infected with COVID-19 should only have one dose of the mRNA vaccine, to help it go further. This is because the antibody response from someone previously infected and who has had one vaccine dose turned out to be stronger than the response from someone never infected who has had two doses. Be interesting to see if the Government takes this helpful finding on board.
The Telegraph is reporting that Barchester Healthcare, a leading care home provider, is refusing to hire new staff who decline vaccination, announcing that it "will not hire someone who has refused to have the vaccine on non-medical grounds". This unwelcome development, which is contrary to the recent Council of Europe Parliamentary Assembly resolution on non-discrimination, may be linked to the news this week that about half of the staff at the UK's largest care home provider, HC-One, which operates 20,000 beds, have not yet received a Covid vaccine. Some independent homes reported last week that up to 80% of their staff had not received vaccination. There are concerns that this is due to cultural objections and other sources of vaccine hesitancy.
Stop Press: Comedian Josh Berry has produced a very funny video about someone choosing to have the Oxford vaccine for snobbish reasons.
Lockdown States Suffer More Covid Deaths on Average
There were 11 states in the US which refused to lock down this autumn and winter. The doomsday models churned out by SAGE, Imperial College and others predicted that any country, region or state that declined to lockdown would face overrun hospitals and massive death tolls compared to those that did lock down, as the virus, no longer controlled by the restrictions, "ripped" through the population.
Perhaps the authors of such models would care to explain this then. The chart above shows the Covid death toll per million people up to February 1st of the no-lockdown American states in red. If the doomsday models are correct, why don't the bars for those states clearly stand out from the bars of the lockdown states in blue? Furthermore, why are the top five states for Covid deaths lockdown states?
In fact, the lockdown states on average had 5.6% more deaths than the no-lockdown states (the orange bars). If anything this suggests lockdown made things worse. At any rate there's no sign it helped.
Positive cases are now sharply in decline in the US, and no less sharply in no-lockdown states than in lockdown states. This means there is no reason to think the gap between lockdown and no-lockdown states will be closed this winter.
Isn't it time the lockdown proponents put their models to the test in the real world? Time to put up or shut up. Either their models can reproduce the outcomes of real states which don't lock down, or they can't and need to be fundamentally revised. No more hiding behind counterfactuals of "it would have happened but for lockdown". The facts are here and waiting to be explained.
Stop Press: Alexander Fiske-Harrison in the Telegraph points out that "the European countries with the strictest lockdowns have come out no better".
Update: An earlier version of this story stated that no-lockdown states had 8% more Covid deaths than lockdown states. This was due to a miscalculation that has now been corrected.
Predictions of Hospitals in London Being "Overwhelmed" Fail to Materialise
In the first week of January, hospital admissions in London and the South East were surging and some scary predictions were leaked to the press. It's worth revisiting them now to see how they aged. Here's the Mail on January 6th.
London's hospitals will be overwhelmed by COVID-19 in less than two weeks even in a 'best' case scenario, an official briefing reportedly warns.

Medical director at NHS London Vin Diwakar provided the worrying analysis to medical directors of the capital's hospital trusts over a Zoom call this afternoon.

Even if coronavirus patients grew at the lowest likely rate and capacity is increased – including opening the Nightingale – the NHS would still be short 2,000 general, acute and ICU beds by January 19th, the HSJ reports.

Three scenarios are laid out for both G&A and intensive care – 'best', 'average' and 'worse'. These account for the impact of 4% daily growth, 5% growth and 6% growth, respectively.
In fact, as the above graph shows, far from "4% daily growth" being the "best case scenario", Covid hospital admissions in London actually peaked that day, January 6th, and then fell sharply. The number of patients in hospital stopped growing five days later.
Yet another prediction from the gloomsters and doomsters that failed to materialise.
However, it is fair to recognise that ICUs are emptying only slowly.
The senior doctor who writes regularly for Lockdown Sceptics has written a comment for us.
ICU's have been massively expanded by several means:

1. Relaxing nursing ratios from the normal 1:1 to varying degrees – up to 1:6 in some places (though this is really not sustainable). The sole ICU nurse has to manage multiple ventilated patients by supervising non-ICU qualified nurses redeployed from other specialties – usually ones with some overlap such as cardiology/respiratory/anaesthesia/theatre nurses. This is incredibly stressful for the ICU nurse – it's a very technical job requiring a lot of concentration and attention to detail – trying to run three or four patients at the same time is like spinning plates.

2. Physical space expansion. Mostly the expanded beds are in operating theatres or recovery areas, normal wards converted to ICUs, putting adult patients into paediatric ICU beds, etc. It is only capable of expansion by spreading the available staff very thinly which increases the work stress and reduces the quality of care. In addition, the problems of staff absence and sickness are substantial pressures on rotas. The central London hospitals have generally had sound escalatory plans for ICU expansion in light of the spring experience – the problems have been around staff absences.

My colleagues in London say most patients in mechanical ventilation-capable beds (ICU) are being mechanically ventilated – most patients on CPAP or Venturi face mask aren't in ICUs in the most pressurised hospitals. It explains why the average age of patients in ICU (roughly 60) is lower than the mortality figures (roughly 80) – because 80 year-olds are not considered for mechanical ventilation, so they don't get admitted to ICU in the first place.

The ICU (or MV capable beds) figures have been pretty stable for the last couple of weeks despite falling admissions – this is an anticipated problem due to extended length of stays in ICU compared to general wards. It will handicap the ability of hospitals to get back to normal because the run-off in ICU will take weeks to resolve. At the same time the NHS managers will be thrashing their staff to start elective work up again, because this is a politically neuralgic point. This will exacerbate the pressure on the specialist staff – it's already happening. It's characteristic of NHS managers who will flog people in order to conceal their own culpability in planning failure and neglect in not taking reasonable anticipatory measures.

The other important point is that the stress is cumulative as staff grind on at this week after week – it's now becoming a serious problem with people getting burnt out. I'm not surprised about this – entirely predictable. There will be many nurses who will quit ICU after this episode and I don't blame them. To be frank, I don't know how some of them have kept it up for so long – its harder than being a doctor in this instance I reckon.

I think the real villains of this whole 'second wave' piece are the NHS high command and the senior executives of the London hospitals. It was entirely predictable and they failed to prepare. During the autumn they spent their time pressing the Government for more societal restrictions (which were not needed IMHO) rather than getting their ducks in a row for the winter challenge.

It was known in the spring that the rate limiting step was ICU nursing and medical staff. There was an opportunity for upskilling and preparatory training in the summer which did not happen. They didn't even bother to do the maths on the oxygen requirement, for goodness sake.

These people are experts at swerving responsibility and I expect they will get away with it again and the politicians and mainstream media will let them.
Postcard from Rwanda
A Lockdown Sceptics reader, a Brit who has lived in Rwanda with his young family since 2017, has written to us a postcard to tell us about how the African country is handling the pandemic. He's not impressed – and it's the expats that seem to be clamouring for the most restrictions.
I write this at the beginning of the third week of Rwanda's second lockdown, some eight months after the first ended. The lockdown only encompasses the capital, Kigali, as the epicentre of the rise in cases, and domestic and international tourism is still open for those wishing to see the rest of this beautiful country. We have to get police permission to leave the house even for food shopping, masks have been mandatory outdoors – and in cars – since the WHO changed their advice, and outdoor exercise is only allowed between 5am and 9am; even then we are only supposed to stay in our Umudugu, a small village within a village (ours is tiny).

The biggest cheerleaders for this latest lockdown were, predictably, the privileged expat community, those least likely to be severely affected by the closure of the Rwanda's economic centre. Rich (especially so in a context where the average salary for Rwandans is around $50 per month), mainly European and North American people have been a constant source of panic, hysteria and judgement since the very first case of COVID-19 arrived in Rwanda in early March 2020. This is expressed in the groupthink posts on the Expats in Rwanda Facebook group. In their comfortable compounds, with their gardens, their nannies, and 'house boys' and their home deliveries of food, they deride the locals for going out on the streets (the public space is where most of Rwandan life takes place), or for their wearing masks with noses out or like scarves around their necks. Emboldened by this moral superiority they rat out shopworkers to their bosses for non-compliance and swan around in their SUVs masks on, like true believers.

There is a little opposition to the received wisdom among some of the expats; those who severely doubt the efficacy or even necessity to lockdown a country where 50% of the population are under 19 and over 65s count for just 3% of the population,1 but they are shouted down or stay quiet. As a business owner (albeit non-operational given the inability to meet with my clients face-to-face for most of the past 10 months) whose clients include these expats, I would damage my sales for questioning the orthodoxy. As such the clamour for closure of schools, mask compliance and fear prevails – in that regard Rwanda does not seem to be much different from the rest of the world.

As for the locals, in the beginning there were rumours that only white people caught the virus, or that it was a rich person's disease, and even now, for the vast, vast majority there are more important things to worry about – such as obtaining food and not starving – than a disease which few Rwandans have been exposed to: even after 10 months of it circulating around the country, many of the cases have come from the expat community.
The postcard has a permanent place on our right-hand menu.
Well worth reading in full.
Gavin Newsom Recall Effort Nears Target
A Lockdown Sceptics reader stateside has sent us details of a campaign to get rid of lockdown zealot Gavin Newsom, the Governor of California. It is getting close, having reached 1.2 million signatures of the 1.5 million required.
California Governor Gavin Newsom is the subject of a recall campaign. The campaign has until March 17th in order to reach the required number of signatures to force an election. His response to Covid, along with the hypocrisy of him eating out before Christmas is one issue people are citing. Information about the campaign can be found here.

Comedian JP has given his take on it here.

If they gain enough momentum to take out Newsom in a state that is as strongly Democratic as California, that might shift momentum on the lockdown debate.
Theme Tunes Suggested by Readers
Five today: "Don't Test Me" by Skylar Stecker, "Spent the Day in Bed" by Morrisey, "Solitude" by Black Sabbath, "Torture Never Stops" by Frank Zappa and "Road to Nowhere" by Talking Heads.
Love in the Time of Covid
We have created some Lockdown Sceptics Forums, including a dating forum called "Love in a Covid Climate" that has attracted a bit of attention. We have a team of moderators in place to remove spam and deal with the trolls, but sometimes it takes a little while so please bear with us. You have to register to use the Forums as well as post comments below the line, but that should just be a one-time thing. Any problems, email Lockdown Sceptics here.
Sharing Stories
Some of you have asked how to link to particular stories on Lockdown Sceptics so you can share it. To do that, click on the headline of a particular story and a link symbol will appear on the right-hand side of the headline. Click on the link and the URL of your page will switch to the URL of that particular story. You can then copy that URL and either email it to your friends or post it on social media. Please do share the stories.
Social Media Accounts
You can follow Lockdown Sceptics on our social media accounts which are updated throughout the day. To follow us on Facebook, click here; to follow us on Twitter, click here; to follow us on Instagram, click here; to follow us on Parler, click here; and to follow us on MeWe, click here.
Woke Gobbledegook
We've decided to create a permanent slot down here for woke gobbledegook. Today, schoolteacher Ingrid Seyer-Ochi, writing in the San Francisco Chronicle, turns on Senator Bernie Sanders over his "white privilege" of wearing knitted gloves as he attends Biden's inauguration.
And there, across all of our news and social media feeds, was Bernie: Bernie memes, Bernie sweatshirts, endless love for Bernie. I puzzled and fumed as an individual as I strove to be my best possible teacher. What did I see? What did I think my students should see? A wealthy, incredibly well-educated and privileged white man, showing up for perhaps the most important ritual of the decade, in a puffy jacket and huge mittens.

I mean in no way to overstate the parallels. Sen. Sanders is no white supremacist insurrectionist. But he manifests privilege, white privilege, male privilege and class privilege, in ways that my students could see and feel.

"When you see privilege, you know it," I'd told them weeks before. Yet, when they saw Sen. Bernie Sanders manifesting privilege, when seemingly no one else did, I struggled to explain that disparity. I am beyond puzzled as to why so many are loving the images of Bernie and his gloves. Sweet, yes, the gloves, knit by an educator. So "Bernie."

Not so sweet? The blindness I see, of so many (Bernie included), to the privileges Bernie represents. I don't know many poor, or working class, or female, or struggling-to-be-taken-seriously folk who would show up at the inauguration of our 46th president dressed like Bernie. Unless those same folk had privilege. Which they don't.
Stop Press: Watch Helen Pluckrose talking to Konstantin Kisin and Francis Foster about Counterweight, the new organisation she's set up to help the victims of the Woke inquisition.
"Mask Exempt" Lanyards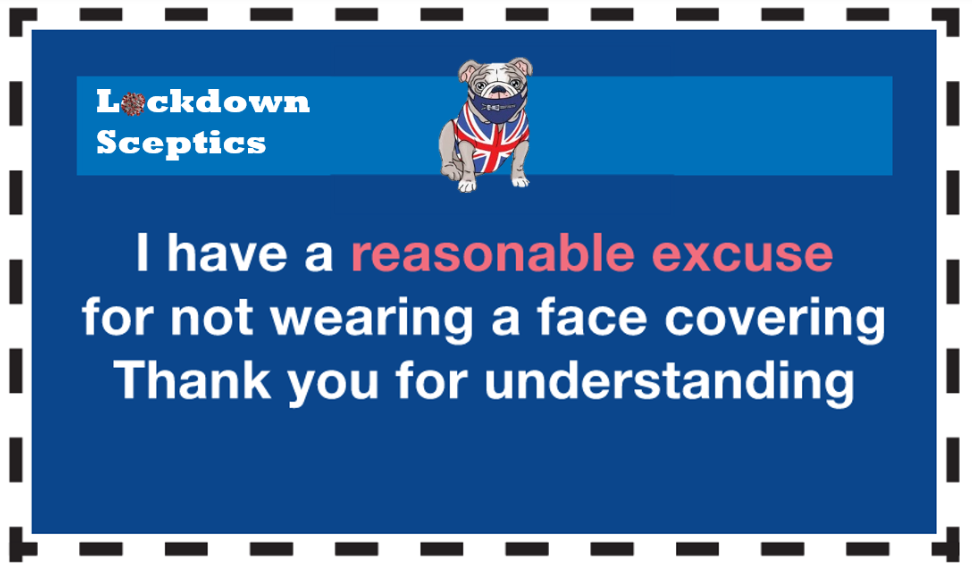 We've created a one-stop shop down here for people who want to obtain a "Mask Exempt" lanyard/card – because wearing a mask causes them "severe distress", for instance. You can print out and laminate a fairly standard one for free here and the Government has instructions on how to download an official "Mask Exempt" notice to put on your phone here. And if you feel obliged to wear a mask but want to signal your disapproval of having to do so, you can get a "sexy world" mask with the Swedish flag on it here.
A reader has started a website that contains some useful guidance about how you can claim legal exemption. Another reader has created an Android app which displays "I am exempt from wearing a face mask" on your phone. Only 99p.
If you're a shop owner and you want to let your customers know you will not be insisting on face masks or asking them what their reasons for exemption are, you can download a friendly sign to stick in your window here.
And here's an excellent piece about the ineffectiveness of masks by a Roger W. Koops, who has a doctorate in organic chemistry. See also the Swiss Doctor's thorough review of the scientific evidence here and Prof Carl Heneghan and Dr Tom Jefferson's Spectator article about the Danish mask study here.
The Great Barrington Declaration
The Great Barrington Declaration, a petition started by Professor Martin Kulldorff, Professor Sunetra Gupta and Professor Jay Bhattacharya calling for a strategy of "Focused Protection" (protect the elderly and the vulnerable and let everyone else get on with life), was launched in October and the lockdown zealots have been doing their best to discredit it ever since. If you googled it a week after launch, the top hits were three smear pieces from the Guardian, including: "Herd immunity letter signed by fake experts including 'Dr Johnny Bananas'." (Freddie Sayers at UnHerd warned us about this the day before it appeared.) On the bright side, Google UK has stopped shadow banning it, so the actual Declaration now tops the search results – and Toby's Spectator piece about the attempt to suppress it is among the top hits – although discussion of it has been censored by Reddit. The reason the zealots hate it, of course, is that it gives the lie to their claim that "the science" only supports their strategy. These three scientists are every bit as eminent – more eminent – than the pro-lockdown fanatics so expect no let up in the attacks. (Wikipedia has also done a smear job.)
You can find it here. Please sign it. Now over three quarters of a million signatures.
Update: The authors of the GBD have expanded the FAQs to deal with some of the arguments and smears that have been made against their proposal. Worth reading in full.
Update 2: Many of the signatories of the Great Barrington Declaration are involved with new UK anti-lockdown campaign Recovery. Find out more and join here.
Update 3: You can watch Sunetra Gupta set out the case for "Focused Protection" here and Jay Bhattacharya make it here.
Update 4: The three GBD authors plus Prof Carl Heneghan of CEBM have launched a new website collateralglobal.org, "a global repository for research into the collateral effects of the COVID-19 lockdown measures". Follow Collateral Global on Twitter here. Sign up to the newsletter here.
Judicial Reviews Against the Government
There are now so many legal cases being brought against the Government and its ministers we thought we'd include them all in one place down here.
The Simon Dolan case has now reached the end of the road. The current lead case is the Robin Tilbrook case which challenges whether the Lockdown Regulations are constitutional. You can read about that and contribute here.
Then there's John's Campaign which is focused specifically on care homes. Find out more about that here.
There's the GoodLawProject and Runnymede Trust's Judicial Review of the Government's award of lucrative PPE contracts to various private companies. You can find out more about that here and contribute to the crowdfunder here.
Scottish Church leaders from a range of Christian denominations have launched legal action, supported by the Christian Legal Centre against the Scottish Government's attempt to close churches in Scotland for the first time since the the Stuart kings in the 17th century. The church leaders emphasised it is a disproportionate step, and one which has serious implications for freedom of religion." Further information available here.
There's the class action lawsuit being brought by Dr Reiner Fuellmich and his team in various countries against "the manufacturers and sellers of the defective product, PCR tests". Dr Fuellmich explains the lawsuit in this video. Dr Fuellmich has also served cease and desist papers on Professor Christian Drosten, co-author of the Corman-Drosten paper which was the first and WHO-recommended PCR protocol for detection of SARS-CoV-2. That paper, which was pivotal to the roll out of mass PCR testing, was submitted to the journal Eurosurveillance on January 21st and accepted following peer review on January 22nd. The paper has been critically reviewed here by Pieter Borger and colleagues, who have also submitted a retraction request.
And last but not least there was the Free Speech Union's challenge to Ofcom over its 'coronavirus guidance'. A High Court judge refused permission for the FSU's judicial review on December 9th and the FSU has decided not to appeal the decision because Ofcom has conceded most of the points it was making. Check here for details.
Samaritans

If you are struggling to cope, please call Samaritans for free on 116 123 (UK and ROI), email jo@samaritans.org or visit the Samaritans website to find details of your nearest branch. Samaritans is available round the clock, every single day of the year, providing a safe place for anyone struggling to cope, whoever they are, however they feel, whatever life has done to them.
Shameless Begging Bit
Thanks as always to those of you who made a donation in the past 24 hours to pay for the upkeep of this site. Doing these daily updates is hard work (although we have help from lots of people, mainly in the form of readers sending us stories and links). If you feel like donating, please click here. And if you want to flag up any stories or links we should include in future updates, email us here. (Don't assume we'll pick them up in the comments.)
And Finally…