New Travel Ban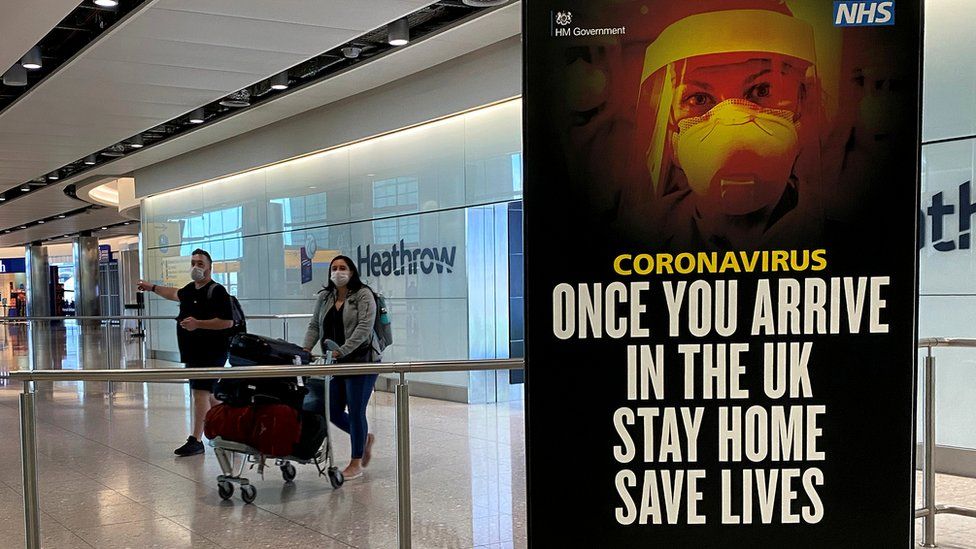 Another day, another press conference. This time the Prime Minister announced the closure of all travel corridors in order to shut out new Covid strains. The BBC has the details.
The UK is to close all travel corridors from Monday morning to "protect against the risk of as yet unidentified new strains" of Covid, the PM has said.

Anyone flying into the country from overseas will have to show proof of a negative Covid test before setting off.

It comes as a ban on travellers from South America and Portugal came into force on Friday over concerns about a new variant identified in Brazil.

Boris Johnson said the new rules would be in place until at least February 15th.

A further 1,280 people with coronavirus have died in the UK within 28 days of a positive test, taking the total to 87,291.

Speaking at a Downing Street press conference, the Prime Minister said it was "vital" to take extra measures now "when day by day we are making such strides in protecting the population".

"It's precisely because we have the hope of that vaccine and the risk of new strains coming from overseas that we must take additional steps now to stop those strains from entering the country."

All travel corridors will close from 04:00 GMT on Monday. After that, arrivals to the UK will need to quarantine for up to 10 days, unless they test negative after five days.

Mr Johnson, who said the rules would apply across the UK after talks with the devolved administrations, added that the Government would be stepping up enforcement at the border and in the country.

Travel corridors were introduced in the summer to allow people travelling from some countries with low numbers of Covid cases to come to the UK without having to quarantine on arrival.

Trade body Airlines UK said it supported the latest restrictions "on the assumption" that the Government would remove them "when it is safe to do so".

Chief executive Tim Alderslade said travel corridors were "a lifeline for the industry" last summer but "things change and there's no doubting this is a serious health emergency".

Labour leader Sir Keir Starmer said it was the "right step" but called the timing of the decision "slow again", adding that the public would be thinking "why on earth didn't this happen before".
Aside from the inevitable chaos to come as Brits abroad rush home, one might be forgiven for wondering what substantive difference the rules will make. The UK is in lockdown for who knows how long, a key element of which is a moratorium on international travel, except for "work purposes". The vast majority are not travelling, and won't be affected by the imposition of a travel ban, and it comes weeks after numerous countries closed their border to us in any case.
The Telegraph points out:
More than 50 countries deemed to have a low Covid risk are currently on the travel corridor list. However, all but nine (seven islands in the Caribbean, plus the Maldives and Bahrain) are not welcoming British holidaymakers, and most have closed their borders to all UK arrivals.

Since last month those returning from non-corridor countries have had the option of cutting their quarantine period if they take a Covid test five days after they return. From Monday, all arrivals will need to carry evidence of a negative test taken no more than 72 hours before departure, or face a £500 fine.
The Guardian has more.
Travel corridors will be axed in effect from Monday morning. The corridors, which exempted inbound travellers from the requirement to quarantine for 10 days, may make little practical difference to the airline and travel industry in the current context.

Schedules have been slashed and comparatively few people are likely to have travelled to or from the majority of the few dozen destinations remaining on the corridor list: some obscure, some no longer linked by flights to the UK, others barring British travellers. Holidays are banned; a few Caribbean destinations with longer-staying visitors are the most likely to have affected travellers, with the likes of Dubai already recently removed from the list…

While the Government will point to the emergence of new variants, questions will again be asked on the timing, coherence and implementation of the rules. Boris Johnson imposed a ban on flights from Brazil this week, almost three weeks after UK flights were barred by Brazil.
Needless to say, the travel ban isn't sufficient for Independent Sage, which recently wrote a report calling for internal travel to be restricted.
Each part of the UK should develop regional or local zones which can be used to restrict travel if required. In some parts of the UK, this can be instituted, in most cases, by using existing county boundaries.
Meanwhile, prepare for the announcement that the unwanted strains are already here.
Stop Press: The Independent reports France is outlawing the use of rapid COVID-19 tests, raising the prospect of a return of border problems in Kent. Grant Shapps said he believed there would be an exemption for lorry drivers, but only "for the time being".
Stop Press 2: Guy de la Bédoyère, a regular contributor to Lockdown Sceptics, is gloomy, fearing that we may be stuck with travel restrictions for years.
Stop Press 3: The Spectator's Steerpike points out that it might just be possible to get a two-day break without needing to get a test overseas:
Has Shapps missed a trick when it comes to the new testing regime? According to the rules, travellers will have to present a negative Covid test which has been taken three days before they arrive at the border.

But what happens if you go on a three- or two-day break? From Mr Steerpike's reading of the guidance, there is nothing to stop a traveller being tested in the UK, travelling for a weekend break, and then returning to the country using the negative result they obtained in England less than three days earlier. Which means anyone on a short break doesn't really need to provide a negative Covid test abroad at all. Anyone travelling to Belgium, for example, could pick up a test on Friday morning, travel to Brussels, and return by Monday morning without a need for another test.

While this may cut down on some of the bureaucracy currently involved with travelling, Mr S suspects that this isn't exactly what those pushing for tougher border controls had in mind. Could it possibly be that Mr Shapps' new travel rules weren't properly thought through?
That is, of course, assuming you can find a country to let you in without the need to quarantine.
Do You Know How Covid Spreads?
Writing for Unherd, King's College London lecturer Stuart Richie says that Government messaging has been too slow to squash a popular misconception on the transmission of COVID-19. According to a recent poll, 16% of the population think the main way the virus spreads is by "fomite" transmission – the technical term for touching objects or surfaces with the virus on them. But this is wrong, says Ritchie.
Dangerously wrong because, amid much uncertainty, and despite the relentless messaging on handwashing, one thing that's become very clear about the coronavirus is that it doesn't spread much by fomites. Researchers have been hard-pressed to find many examples of outbreaks that can be traced to a contaminated surface (there are only a couple of possible exceptions). The Centres for Disease Control in the US have relegated this type of transmission to near the bottom of the list on their "How Covid Spreads" page – just above "catching it from your pet".

At the beginning of the pandemic, the UK Government took up handwashing in a big way (you'll recall all the exhortations to sing Happy Birthday twice while scrubbing away). Back then, it was understandable: we were completely in the dark on how the virus spreads, and were modelling our response on diseases we knew better, like the flu. But nearly a year later, handwashing and hand sanitiser are still at the forefront of the advice, and "hands" is still the first item on Government broadcasts on posters and elsewhere. Science has downgraded the importance of fomites, so why does our messaging still feature them so prominently?…

There's still debate over the proportion of Covid cases that are due to larger droplets versus smaller, floating airborne particles (also known as "aerosols"). But the scientific consensus, and it's really been quite clear since early 2020, is that the majority of Covid cases are spread in these two ways, not by touching things. If the virus is airborne, it could defeat the strategy of staying two metres apart, since it can waft through the air to infect people much further away. Keeping rooms well-ventilated seems, in theory and in practice, to be a way to reduce risk; but the polling, as well as lots of anecdotal evidence about office workers still sitting in closed rooms with their colleagues all day, suggests that much more work is needed to get this message across.
Worth reading in full.
Lockdown sceptics won't like his comments on masks, but they'll be able to refer people to this piece who still insist on spraying their weekly shop with disinfectant.
Another Cancer Story
Responding to the cancer story we published yesterday, a reader has written in with another sad story:
The story about the woman whose cancer treatment was halted and now cannot be resumed is desperate. But sometimes the madness comes from the patients themselves, thanks to the impossible dilemma created by their condition weighed up against the risk in hospitals and the Government propaganda that has informed everyone the only risk they face is Covid. I learned yesterday that one of my daughters-in-law, a GP, spent a day earlier this week desperately trying to persuade a middle-aged female patient to agree to go to hospital to have an operation without which she will certainly die from a fatal, but currently still treatable, condition.

The patient was refusing, terrified that if she goes to hospital she will catch Covid and die from it. This epitomized to me the extent of the lunacy which has consumed us. It illustrated how the fear of Covid as the only meaningful hazard we face has become so great that it can push a person to the point where it has become impossible for them to contextualize that risk, even when their life is at stake from a more serious hazard. That patient has a legitimate concern about catching Covid in hospital, because that's a obviously a real and serious threat, but it's a bit like being on the point of drowning in the sea and refusing to get in a lifeboat in case it sinks. I feel sorry for the patient. Barracked night and day to be terrified of Covid, and egged on to avoid hospital by her equally terrified family, is it any wonder she and they have gone beyond the point of being able to deal with her crisis? Tragic. The situation remains unresolved.
Can You Sue GPs Who Refuse to Treat Patients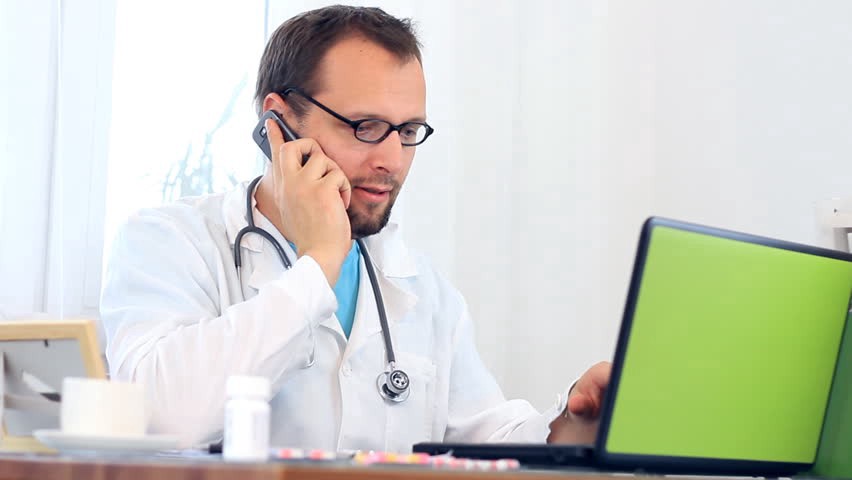 Dominic Ford, an experienced litigator, with a degree from the UCL Faculty of Law, has written in with an alternative view to the legal answer we published a few days ago in response to the question about the liability of GPs who aren't providing adequate care to their patients. Not legal advice, he stresses, but interesting nonetheless
On the question, "If basic care is to be curtailed to promote vaccination programmes, can I sue the GP practice if my elderly mum doesn't get the care she needs and then goes on to be hospitalised unnecessarily?"
I respectfully, but strongly disagree with the two previous responses posted so far.
From the outset I must state that people should never be dissuaded from bringing valid claims against the NHS. This is often the only way to achieve truth, justice and accountability – all of which are essential now more than ever. Your readers ought to be aware that evidential burdens aside, the law of negligence is decidedly pro-claimant. The objective is to compensate those who have suffered an avoidable loss. Potential claimants should also be aware that it is insurance companies, not the NHS itself, which pay the costs of such claims therefore the alleged 'hero' status should not be a deterrent. Against that background, I would like to add the following:
1. Unfortunately, Dr Fanning appears to overlook a fundamental tenet of the law of negligence: that a duty of care is owed to a particular claimant rather than to a class of individuals at large. A doctor does not owe a duty of care to her 'patients' as a collective; she owes a separate duty of care to each of her patients as individuals. It would be nonsense to say: "I treated most of my patients just not Alex, therefore I could not have been negligent towards Alex."
2. The scope of a doctor's duty of care will vary patient-to-patient, but only to the extent that her duty is more demanding, not less (cf Paris v Stepney). If Alex is having a heart attack and Beth has a bad cough, Alex will require more intensive care than Beth. However, if Beth is ignored and later dies, the doctor (or more appropriately, the hospital) will still be liable for Beth's death. My right to receive adequate medical treatment is entirely different in substance to, and is not conditional upon, yours or anyone else's. ("Stay home, protect the NHS… [from liability]")
3. The standard to which a defendant is held is notoriously strict. In Roberts v Ramsbottom, a driver who suffered a random stroke at the wheel and had injured a pedestrian was still liable to compensate the pedestrian. The distinction between 'ordinary,' 'professional' and 'clinical' negligence is merely the standard of care expected from the defendant. This standard will depend on the particular profession at hand, eg doctor, accountant, solicitor etc. We certainly do not make allowances for defendants who are inexperienced or 'busy.'
4. The two previous answers point to the so-called 'Bolam test.' This states that a doctor is not liable in negligence if she "acted in accordance with a practice accepted as proper by a responsible body of medical men skilled in that particular art" provided that her actions were 'logically defensible.'
This 'test' is widely misapplied in practice. Strictly speaking, it should only be used in situations which involve medical uncertainty, i.e., where a doctor had to make a difficult decision about how best to treat a patient. (For example: if Treatment 1 is recommended by Journal A, but Treatment 2 is recommended by Journal B, a doctor will not be liable just because she chose Treatment 2 over Treatment 1, even though it might have been the incorrect decision in hindsight.) More fundamentally though, given that a doctor is already under a duty to act in the manner described above, the Bolam test arguably amounts to little more than a tautology. It does not operate as a defence.
Applying these principles to our current scenario, if the Surgery's failure to provide basic care has caused the Claimant's (i.e., the mother's) injury, then it is highly likely that the Surgery has been negligent. The administration of a vaccine is not a medical emergency – at best, it inoculates a particular recipient against a risk of harm which may occur to that individual in future – nor is this even capable of overriding the duty of care owed to the Claimant. Inasmuch as an official policy prioritises the treatment of some patients over others irrespective of circumstance, adherence to that policy is likely negligent. I would even go as far to contend that the GP Surgery and the policy's original proponent could be additionally liable for breach of the Human Rights Act 1998.
On the broader implications
On a separate note, Dr Fanning makes an interesting point about the relationship between risk and the cost of precautions which we are all now expected to take. Contrary to popular belief, judges have always been cognizant of the need to constrain the scope of liability in order to forestall the development of 'compensation culture' (the 'floodgates' or public policy argument). In Latimer v AEC, it was disproportionate to expect a factory to shut down completely just because the floor was wet. In Tomlinson v Congleton BC, a young man who ignored the signs and dived head-first into a shallow lake was denied a claim against the council landowner.
Now imagine the following scenario: a person (A), who is an asymptomatic carrier of a virus, passes that virus onto another person (X); X then passes the virus onto someone in their 'bubble' (B); B, who is an immunocompromised centenarian, later dies or becomes ill. If at the time of transmission to X, A had been outside 'without reasonable excuse', had not been wearing a mask in a shop or on public transport, or had not been following the ever-changing guidance to the letter; then A may well be liable in negligence for B's illness or death, and possibly for X's losses too.
It is impossible that the courts would have allowed such a claim to succeed pre-2020. I fear that now there is a very real possibility that such a precedent might be set which would fundamentally alter our sensible legal system forever. Regardless of the particular virus in question.
Of course, this artificial expansion of responsibility may well backfire on the Government and public authorities catastrophically. It is basic law that if X harms B, A is not liable to compensate B for X's actions – except where A has assumed a responsibility to protect B from the very harm X has inflicted. This Government has taken it upon itself to 'protect' us from this virus with extreme zeal, via interventions that are unprecedented. (Indeed, the message to those who do not submit to the decrees has been that these deviants "have blood on their hands.") The implication is clear: infection from a respiratory virus is a harm to the citizen which the Government can and should readily prevent and control.
If by not wearing a mask in Tesco I may now owe a duty of care to a pensioner in the Hebrides, then surely it is only fair that my Government should also be liable for failing to protect me from any and all viruses now or in the future? After all, its interference with my constitutional freedoms is supposedly justified by the pursuit of this particular aim, so why should I not have the right to hold my interferer to account when it fails to achieve that aim?Traditionally, the courts have been slow to impose a duty of care in negligence upon public authorities. Fortunately there exists a similar alternative: 'positive duties' in human rights law (cf Metropolitan Police v DSD). The irony of being able to sue the Government for breach of human rights upon receiving a positive test result because lockdown had not been 'hard enough,' or because masks were not made mandatory outside and at home, or because police did not use enough force to ensure compliance; would be resounding.
I shall sign off with the prescient words of the late, great Lord Hobhouse in Congleton:
"The pursuit of an unrestrained culture of blame and compensation has many evil consequences and one is certainly the interference with the liberty of the citizen. Of course there is some risk of accidents arising out of the joie de vivre of the young, but that is no reason for imposing a grey and dull safety regime on everyone."
Israel: The Canary in the Vaccine Mine
With Israel steaming ahead in the race to vaccinate its citizens against COVID-19, it has become the country to watch. To date, ~25% of the population has had at least one dose of the Pfizer/BioNTech vaccine. It is early days, but a Lockdown Sceptics reader and former scientist has written in with some observations.
A chart showing the percentage of vaccinations completed (light green two doses, dark green one) shows a high level of coverage, especially across the elderly age groups in Israel, and a large proportion of those over 60 received their first and second doses before the end of 2020, well over two weeks ago.
And yet a chart of the daily death statistics (Worldometer) and a chart showing daily hospital data of patients severely ill with COVID-19 show levels at an all time high and still growing. Which begs the question: at what point should we start seeing some benefit of this comprehensive vaccination programme on the actual numbers of sick or dying elderly people.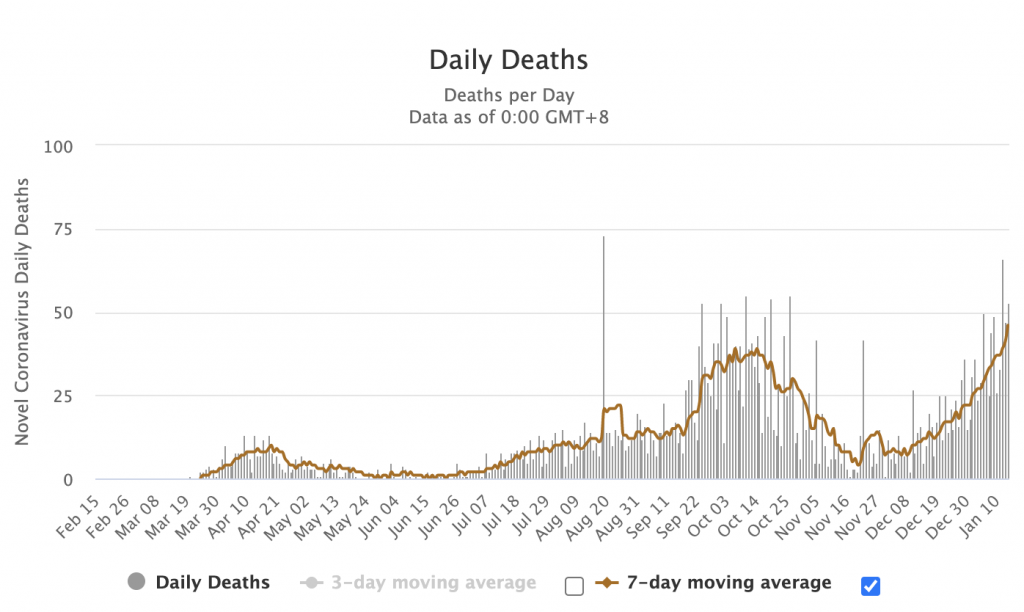 Stop Press: The Wall Street Journal reports that there is a 33% fall in infection rates among those who have been vaccinated compared with those who haven't.
Stop Press 2: The Times of Israel reports that the first Pfizer shot curbs infections by 50% after 14 days
Stop Press 3: Politico reveals that the secret behind their success in procuring the vaccine lies in the Israeli Government agreeing to hand over citizens' data to Pfizer.
Switzerland Holding Referendum on Lockdown
Giving the world an example of its famous tradition of direct democracy, Switzerland is to hold a referendum next month on stripping the Government of its legal powers to impose lockdowns. The Financial Times has the details.
Campaign group Friends of the Constitution on Wednesday handed in a petition of 86,000 signatures collected over the past three months, well in excess of the 50,000 required, to formally initiate a nationwide vote to repeal the 2020 COVID-19 Act under Switzerland's highly devolved democratic system.

The outcome will be legally binding, with a vote scheduled for as early as June.

While the pandemic has exposed social and political fractures across Europe over the rights of citizens, in Switzerland, where individuals' rights are often treated as culturally sacrosanct and Government powers are sharply proscribed by law, the strains have become particularly evident.

"In our opinion, the [Government] is taking advantage of the pandemic to introduce more control and less democracy," Christoph Pfluger, a board member of Friends of the Constitution, told the Financial Times.

He added: "The long-term problems that will arise from this kind of approach will be grave. We are a movement that says crisis management cannot be done without the will of the sovereign, the people. You cannot govern without the people."

Mr Pfluger said Switzerland would be the first and perhaps the only country to give its citizens a direct vote on coronavirus restrictions.

Until late December, Bern's governing Federal Council had been reluctant to impose restrictions during the second wave of the pandemic.

Staunch opposition from many Swiss to further curbs and dire warnings from several of the country's most powerful and influential lobbying groups about the economic consequences of another shutdown forestalled action in the run-up to Christmas, even as case numbers rocketed.

A poll conducted by Switzerland's Sotomo Research Institute for state broadcaster SRF in November found that 55% of Swiss were concerned about their individual freedoms being restricted by Government measures. The same survey found that even an 11pm curfew for bars and restaurants was considered too restrictive by a third of Swiss respondents.
Worth reading in full.
A statement on the Friends of the Constitution's website reads:
The sovereign people will be able to decide whether to legitimise the Government's management of the pandemic. Their decision will be decisive for dangerous viruses will continue to spread in Switzerland in the future. Shall we, by accepting the COVID-19 law, signal to the Government that it should react to future pandemics by destroying our livelihoods? Or shall we, by rejecting this bad law, show the Government that the sovereign people reject disproportionate and reckless management of the pandemic?

We hope that a successful referendum will enable an evidence-based debate which takes account of the devastating damage caused by measures taken by the Government. For a truly united and free Switzerland worth living in.
Bravo Friends of the Constitution.
Stop Press: Off Guardian reports on the #IOAPRO (I Am Open) campaign, which is set to see 50,000 Italian restaurant owners defy restrictions and open their restaurants in an act of civil disobedience. The #IOAPRO movement is already spreading into Poland and parts of Switzerland. Come on, England. What are you waiting for?
His Covid Materials
A reader has an interesting observation about the similarity between the current state of the United Kingdom and the universe of a well-known children's book.
I've just binge watched Season 2 of His Dark Materials and couldn't help noticing the similarities with living in the UK in 2021. We are being governed by The Magisterium, a quasi-religious cult with a strictly defined belief system dissent from which is severely dealt with. It also appears that SAGE are using an alethiometer to predict the future.
The War On Covid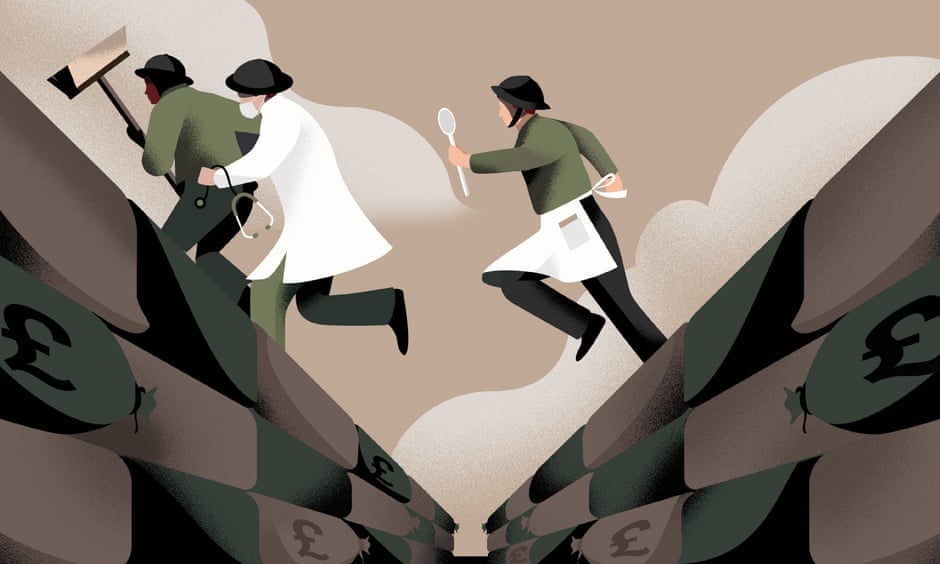 Today we are publishing a piece by a reader who has adopted the pseudonym Michael Antony about the Prime Minister's attempt to invoke the Second World War to rally the people behind his war on the virus.
All the way through the first weeks of the Covid pandemic, in March 2020, seeing himself perhaps as a Winston Churchill figure, the Prime Minister referred to – and conducted business on the basis of – Wartime. He talked about the pandemic in terms of a war that we would win, and I think saw the NHS – doctors, nurses and health workers of all kinds – as soldiers in that war.
The metaphor of the pandemic as a war has certainly been one which has struck a chord with many. A work colleague said ruefully to me in March "this is our War" – and his meaning, that we are the baby boom generation who have never had to go through deprivation as our parents did, seemed fair. For the first time in our lives we experienced deprivation in a national effort, as schools and shops closed and we all stood together.
And just as in the Second and indeed First World war, the sun shone brightly during the 'phoney war' period. Alan Bennett remarks in Forty Years On how the sun always shines at the start of a war, and so it was.
The similarities keep coming: sobering reports of casualties and the ebb and flow of success, of course. And the data! Just as schools and families are said to have listened intently to radio broadcasts in the 1940s and stuck pins on maps, so the daily data on the Government dashboard is greedily consumed, or has been until recently.
But I'd like to suggest a different angle to the metaphor, one that draws more on World War 1. Alan Clark's infamous The Donkeys was the first historical analysis to seriously criticise British war tactics. Bluntly put, our Generals only had one idea: trench warfare, inch-by-inch defence and offence, built on the premise of manpower. Men – young men – were piled to the Front, sent over the top, lost in ghastly numbers for no or little gain, then the process repeated. Just keep on doing this one thing – the only thing we know how to do – and it will work eventually.
Which it did. Eventually. As logically it must: pile enough men over the top and in the end numbers win.
In this war we have, too, made sacrifices. I believe the biggest of these has been our young people's lives. School children and students, not to mention young workers, largely unconsulted, largely willingly, but to their huge detriment, have been deprived of schooling, education and work. Each lockdown has been like another Somme: throw more livelihoods at Covid and we will eventually win.
Which I imagine we will.
No, noble though they are, the doctors and nurses are not the army: our young are. Our politicians and medical leaders, like the "gentlemen of England now a-bed" (or rather happily Working From Home) are sending the young to damage, injury and sacrifice in pursuit of victory. It may come in some form, but (to quote Bennett again) will we really know what we were fighting for?
And will we, like WW1 generals, face future criticism for bone-headed obstinacy? I fear we will.
Toby Reprimanded by Ipso
The BBC reported yesterday that a complaint to Ipso, the press regulator, about an article Toby wrote in the Telegraph in July, was upheld.
The Daily Telegraph must publish a correction over a "significantly misleading" column written by Toby Young, press regulator Ipso has ruled.

The July 2020 article claimed the common cold could provide "natural immunity" to Covid-19 and London was "probably approaching herd immunity".

But on Thursday Ipso found the paper had "failed to take care not to publish inaccurate and misleading information".

Ipso said the paper "did not accept it has breached the [Editors] Code".

It said the newspaper said that Young's comments on immunity referred to "cross-reactive T-cells" that work to combat the virus.

Immunity 'misrepresented'

However, the media watchdog sided with the complainant, James Whitehead, in its decision, who said that while these cells "may lessen the impact of COVID-19" after infection, they "would not confer 'natural immunity'"

The ruling added Young's statement "misrepresented the nature of immunity".

Ipso also found Young's suggestion that "London is probably approaching herd immunity, even though only 17% tested positive [for antibodies] in the most recent seroprevalence survey" could be misleading.

The Telegraph referred to surveys listed in an article on Young's own Lockdown Sceptics website in its defence, but the Ipso committee judged these did not accurately reflect "how herd immunity is reached and whether it exists in London".

The ruling concluded that the paper had breached accuracy standards on a topic of "public importance", but deemed a correction an appropriate sanction, given the level of "significant scientific uncertainty" at the time of publication.

Young told the BBC: "I think Ipso has been put in a difficult position because our scientific understanding of the virus is constantly evolving and there is a great deal about it that scientists still disagree about.

'Over-emphatic'

"While some of the things I wrote in that article would be contested by some scientists, they would be confirmed by others… Have we achieved herd immunity in London? I think that's an open question and the 'case' data is unreliable because of the well-documented shortcomings of the PCR test.

"I may have been over-emphatic in putting the anti-lockdown case, but it's not as if the advocates of a pro-lockdown position are any less emphatic.

"Don't forget the WHO initially estimated the global IFR [infection fatality rate] of Covid-19 at 3.4%. The consensus now is that it's less than 1% and almost certainly a lot less. Lots of journalists faithfully reported that alarmist figure. Why hasn't Ipso reprimanded them?"

Last week Young told BBC Newsnight that some of his claims from an article he wrote in June had been "wrong", where he had said a second spike of COVID-19 had "refused to materialise" and that one-metre rule is "unnecessary".

Tweets deleted 'not related to ruling'

At the start of the year, Young, an associate editor at the Spectator and general secretary of the Free Speech Union, installed an app that auto-deletes tweets more than a week old.

He said he did so to protect against "politically-motivated offence archaeologists" – a move unrelated to the Ipso ruling.

Reacting to criticism of his past comments on coronavirus from Neil O'Brien, Conservative MP for Harborough, Oadby and Wigston, after the deletion, Young then tweeted a defence of his stance against lockdowns.

"This is an important public debate to have," he wrote, "both because it helps us assess the present government's management of the pandemic and because it will help us prepare better for the next one."

The UK entered a second national lockdown last week in a bid to control spiralling virus infection rates. On Wednesday, the UK saw its biggest daily death figure since the start of the pandemic, with 1,564 deaths.
Toby says: "I think IPSO has got this one wrong. I didn't misrepresent the nature of immunity. Viruses are killed by T cells – antibodies are just markers. Some varieties of the common cold are caused by coronaviruses and having had these may provide people with some protection from SARS-CoV-2. There might not be a scientific consensus about that, but that doesn't make my article 'inaccurate' or 'misleading'."
Tomorrow we'll be publishing some defences of Toby's article by a few of the scientists who contribute regularly to Lockdown Sceptics – and if any readers with a scientific backgrounds would like to contribute their own defences, please email us here, indicating whether we can name you or you'd like your comment to be anonymous. The Telegraph has taken down the original piece, but it was summarised in Lockdown Sceptics here.
Round-up
"COVID Lockdowns May Have No Clear Benefit vs Other Voluntary Measures, International Study Shows" – Good write-up in Newsweek of the recent paper by Prof John Ioannidis, Prof Jay Bhattacharya et al.
Mike Yeadon Secures Correction and Apology From Women's Hour – Lockdown Sceptics regular Dr Mike Yeadon was slandered on Women's Hour earlier this week and has secured a swift apology
"The world needs a real investigation into the origins of COVID-19" –  Alina Chan and Matt Ridley in the Wall Street Journal argue that the WHO's current investigation into Covid is inadequate
"Assistant Editor, Gates Foundation Project" – The BBC is advertising for an Assistant Editor for a partnership between the World service and the Bill and Melinda Gates Foundation
"Covid policies will kill more than Mao, Stalin and Hitler combined" –  Jon Dobinson examines the shocking excess death figures released by the Office for National Statistics last Tuesday
"Lockdown home School, day four" –  Latest update from the Micawberist, an amusing new blog about the horror of home-schooling
"Do you know the Scientific History of Lockdowns?" – Another must-watch video from Ivor Cummins
"How powerful is big business in Britain? The answer may surprise you" – Writing for CapX, Tal Tyagi says that Brexit and the lockdown show that business lobbyists are not so powerful after all
Scotch eggs for all – Latest edition of the Planet Normal podcast with Allison Pearson and Liam Halligan features some NHS intel from their source 'George' and an interview with Lockdown Spartan and chair of the 1922 committee, Sir Graham Brady
"Chinese pupils are forced to wear full-body protective suits to stop the spread of coronavirus amid new outbreak" – MailOnline reports that pupils at a school in China have been forced to wear full-body suits to prevent the spread of Covid amid a new outbreak. How long before we follow suit?
"'Lockdown isn't working': Ford caucus member speaks out" – The Toronto Sun reports on the comments of Conservative MPP Roman Baber, a supporter of Ontario Premier Doug Ford. He says lockdown isn't working and is causing "an avalanche of suicides, overdoses, bankruptcies and divorces"
"The devastating human and industry cost of COVID-19" – South African winemaker Bruce Jack in THEBUYER says that COVID-19, lockdown, and the country's alcohol ban has badly affected his business
"First goes law, then goes democracy" – Stacey Rudin on how the social conditioning engendered by the response to Covid subverts democratic norms and creates an environment in which other agendas can be pushed
"The Petition To Stop Forced Experimental Vaccines" –  A Global petition set up by America's Frontline Doctors looking for support to prevent people from being intimidated or pressured into taking Covid vaccines
Attorney Successfully Challenges Covid Restrictions – Tom Woods speaks with Chris Ferrara, a special counsel with the Thomas More Society, who successfully challenged Covid restrictions on religious liberty grounds
Dr John Lee speaks out on COVID-19 polarisation on the Julia Hartley-Brewer Breakfast Show on talkRADIO
Theme Tunes Suggested by Readers
Seven today: "Yer Blues" by John Lennon & Plastic Ono Band, "Get Me Out" by the New Model Army, "The Coffee Song" by Frank Sinatra, "Ain't Misbehavin'" by Louis Armstrong, "My Ever Changing Moods" by the Style Council, "No Escape from the Blues" by Muddy Waters, and "Could It Be Forever" by David Cassidy.
Love in the Time of Covid
We have created some Lockdown Sceptics Forums, including a dating forum called "Love in a Covid Climate" that has attracted a bit of attention. We have a team of moderators in place to remove spam and deal with the trolls, but sometimes it takes a little while so please bear with us. You have to register to use the Forums as well as post comments below the line, but that should just be a one-time thing. Any problems, email the Lockdown Sceptics webmaster Ian Rons here.
Sharing Stories
Some of you have asked how to link to particular stories on Lockdown Sceptics so you can share it. To do that, click on the headline of a particular story and a link symbol will appear on the right-hand side of the headline. Click on the link and the URL of your page will switch to the URL of that particular story. You can then copy that URL and either email it to your friends or post it on social media. Please do share the stories.
Social Media Accounts
You can follow Lockdown Sceptics on our social media accounts which are updated throughout the day. To follow us on Facebook, click here; to follow us on Twitter, click here; to follow us on Instagram, click here; to follow us on Parler, click here; and to follow us on MeWe, click here.
Woke Gobbledegook
We've decided to create a permanent slot down here for woke gobbledegook. Today, we bring you Sciences Po University in Paris where a student has spoken out against the woke ideologies that are taking hold. Breitbart has the story which they picked up from Le Figaro.
Students at France's prestigious Sciences Po University have expressed concern over the growth of radical, woke, anti-white ideologies largely imported from the United States.

Romain, a student at Sciences Po Paris, said that he and others have noticed a surge of people at the university backing… ideologies which oppose both "white supremacy" and criticise "white fragility".

"There is such a clamour on the subject that one even wonders if it is not dangerous to talk about it, to alert people to what is going on," he told French newspaper Le Figaro.

The university has also caused controversy on the issue after releasing a suggested list of 10 books that included How to Become Anti-Racist, by Ibrahim X. Kendi, an American author who claimed that white people who adopt black children might be "racist".

"Some White colonisers 'adopted" Black children. They 'civilised' these 'savage' children in the 'superior' ways of White people, while using them as props in their lifelong pictures of denial, while cutting the biological parents of these children out of the picture of humanity," he said.

Another book suggested by Sciences Po was White Fragility, by white American author Robin DiAngelo. Last month it was revealed that DiAngelo was paid nearly double that of a black keynote speaker when she delivered her keynote speech at a diversity event hosted by the University of Wisconsin-Madison.

A group of students at Sciences Po called Beingblackatsciencespo made several demands last month, including mandatory courses for all students on "racial intersectionality, critical race theory, and decolonial thinking".

According to Antonin Ferreira, a finance student and member of the University's council, more and more teachers and students have recently promoted and defended woke ideologies.

Thomas Le Corre, the president of the Unef (National Union of Students of France) at Sciences Po, went even further, saying: "How can you want to work with people who tell you that because you are white, you do not have the right to participate in the discussion? That you cannot understand what black people are going through or those who have immigrant parents?"
Worth reading in full.
Stop Press: Pub Group Greene King has announced that it is changing the names of four of its pubs, three called 'The Black Boy', in Bury St Edmunds, Sudbury and Shinfield, as well as the 'Black's Head' in Wirksworth. The CEO said:
We have looked at pub deeds, consulted with colleagues and while the origins of these pub names are obscure what is clear is that there is a perception that they are linked with racism today and we want to make this positive change for the better.

"We know this is a decision that will attract a range of views and we're conscious of the history and heritage of pub names. We've thought long and hard and feel this is the right thing to do as it is incredibly important to us that our pubs are warm and welcoming places for everyone as we continue on our journey to become a truly anti-racist organisation.
Stop Press 2: Writing in UnHerd, Douglas Murray has criticised Antifa and their efforts to get Andy NGO cancelled.
"Mask Exempt" Lanyards
We've created a one-stop shop down here for people who want to obtain a "Mask Exempt" lanyard/card – because wearing a mask causes them "severe distress", for instance. You can print out and laminate a fairly standard one for free here and the Government has instructions on how to download an official "Mask Exempt" notice to put on your phone here. And if you feel obliged to wear a mask but want to signal your disapproval of having to do so, you can get a "sexy world" mask with the Swedish flag on it here.
Don't forget to sign the petition on the UK Government's petitions website calling for an end to mandatory face masks in shops here.
A reader has started a website that contains some useful guidance about how you can claim legal exemption. Another reader has created an Android app which displays "I am exempt from wearing a face mask" on your phone. Only 99p.
If you're a shop owner and you want to let your customers know you will not be insisting on face masks or asking them what their reasons for exemption are, you can download a friendly sign to stick in your window here.
And here's an excellent piece about the ineffectiveness of masks by a Roger W. Koops, who has a doctorate in organic chemistry. See also the Swiss Doctor's thorough review of the scientific evidence here and Prof Carl Heneghan and Dr Tom Jefferson's Spectator article about the Danish mask study here.
Stop Press: Believe it or not, people are now wondering if two masks should be worn rather than one. Witness this recent story in the New York Times:
Football coaches do it. Presidents-elect do it. Even science-savvy senators do it. As cases of the coronavirus continue to surge on a global scale, some of the nation's most prominent people have begun to double up on masks, a move that researchers say is increasingly being backed up by data.

Double-masking isn't necessary for everyone. But for people with thin or flimsy face coverings, "if you combine multiple layers, you start achieving pretty high efficiencies" of blocking viruses from exiting and entering the airway, said Linsey Marr, an expert in virus transmission at Virginia Tech and an author on a recent commentary laying out the science behind mask-wearing.
Stop Press 2: The first case of face mask discrimination was resolved with £7,000 being paid to the claimant. Kester Disability Rights has the details.
A disabled woman assisted by Kester Disability Rights has been paid £7,000 in compensation by a service provider who refused her access to a service because she was unable to wear a face mask.

The pay-out was achieved through negotiation as there was no dispute that access had been denied, or that the Claimant had a disability exemption. The only thing to be agreed was the amount of compensation, not whether it was due or not.

Refusing access to people unable to wear face coverings due to disability is direct discrimination – no different to denying access to a black or gay person for example.

Disabled people are now routinely harassed in public for not wearing face coverings – frequently given the impression that confidential medical information must be publicly disclosed to justify exemption. The fact that shops and hospitality businesses routinely display "no mask no entry" signs shows how deeply disablist attitudes are embedded in society. If premises displayed "no blacks" or "no gays" notices there would be outrage.

Fortunately the official Government position does not endorse any of this as nobody exempt from wearing a mask is expected to go around justifying themselves. Saying "I'm exempt" is enough. If the response to that can be proved to be discriminatory then compensation is due.
The Great Barrington Declaration
The Great Barrington Declaration, a petition started by Professor Martin Kulldorff, Professor Sunetra Gupta and Professor Jay Bhattacharya calling for a strategy of "Focused Protection" (protect the elderly and the vulnerable and let everyone else get on with life), was launched in October and the lockdown zealots have been doing their best to discredit it ever since. If you googled it a week after launch, the top hits were three smear pieces from the Guardian, including: "Herd immunity letter signed by fake experts including 'Dr Johnny Bananas'." (Freddie Sayers at UnHerd warned us about this the day before it appeared.) On the bright side, Google UK has stopped shadow banning it, so the actual Declaration now tops the search results – and Toby's Spectator piece about the attempt to suppress it is among the top hits – although discussion of it has been censored by Reddit. The reason the zealots hate it, of course, is that it gives the lie to their claim that "the science" only supports their strategy. These three scientists are every bit as eminent – more eminent – than the pro-lockdown fanatics so expect no let up in the attacks. (Wikipedia has also done a smear job.)
You can find it here. Please sign it. Now over three quarters of a million signatures.
Update: The authors of the GBD have expanded the FAQs to deal with some of the arguments and smears that have been made against their proposal. Worth reading in full.
Update 2: Many of the signatories of the Great Barrington Declaration are involved with new UK anti-lockdown campaign Recovery. Find out more and join here.
Update 3: You can watch Sunetra Gupta set out the case for "Focused Protection" here and Jay Bhattacharya make it here.
Update 4: The three GBD authors plus Prof Carl Heneghan of CEBM have launched a new website collateralglobal.org, "a global repository for research into the collateral effects of the COVID-19 lockdown measures". Follow Collateral Global on Twitter here. Sign up to the newsletter here.
Judicial Reviews Against the Government
There are now so many legal cases being brought against the Government and its ministers we thought we'd include them all in one place down here.
The Simon Dolan case has now reached the end of the road. The current lead case is the Robin Tilbrook case which challenges whether the Lockdown Regulations are constitutional. You can read about that and contribute here.
Then there's John's Campaign which is focused specifically on care homes. Find out more about that here.
There's the GoodLawProject and Runnymede Trust's Judicial Review of the Government's award of lucrative PPE contracts to various private companies. You can find out more about that here and contribute to the crowdfunder here.
And last but not least there was the Free Speech Union's challenge to Ofcom over its 'coronavirus guidance'. A High Court judge refused permission for the FSU's judicial review on December 9th and the FSU has decided not to appeal the decision because Ofcom has conceded most of the points it was making. Check here for details.
Samaritans

If you are struggling to cope, please call Samaritans for free on 116 123 (UK and ROI), email jo@samaritans.org or visit the Samaritans website to find details of your nearest branch. Samaritans is available round the clock, every single day of the year, providing a safe place for anyone struggling to cope, whoever they are, however they feel, whatever life has done to them.
Shameless Begging Bit
Thanks as always to those of you who made a donation in the past 24 hours to pay for the upkeep of this site. Doing these daily updates is hard work (although we have help from lots of people, mainly in the form of readers sending us stories and links). If you feel like donating, please click here. And if you want to flag up any stories or links we should include in future updates, email us here. (Don't assume we'll pick them up in the comments.)
And Finally…
In Toby's latest column in the Spectator he talks about his culinary problems. When schools closed last year, wife Caroline made sure the children were given lunch as well as supper, but she told Toby that in Lockdown 3 things would have to be different. Toby and his three sons have turned to meal kits from Gousto.
Caroline was pretty heroic during the first lockdown. She's used to having no children to deal with between the hours of 8am and 4pm, into which she crams her part-time job, food shopping, exercise classes, tennis lessons, dog walks and a hundred other things. But during our children's three-month break from school they would appear in the kitchen at 1pm and ask what was for lunch and, in spite of her other commitments, Caroline would always do her best to rustle something up. "I'm like Nigella Lawson on steroids," she said at the time.

But she has drawn the line at repeating this Stakhanovite labour during the third lockdown. "I can handle everything, but not the cooking," she said on the day that Boris announced it, with an air of finality. So the kids have been instructed to fend for themselves at lunchtime, with packets of bagels, ham, salami, lettuce and cheese left on the kitchen table, and we're all mucking in when it comes to supper.

Not that we're actually cooking anything from scratch. Rather, my three sons and I have become customers of Gousto, a company that delivers the raw ingredients for several meals in a box, complete with detailed instructions. It's like a halfway house between a recipe book and a ready meal. You still have to cook everything, but there's no weighing of ingredients and the fiddly bits for each meal are bundled together in a brown paper bag. It costs about £50 for four meals, which is pretty reasonable given that they can stretch to six people.

The instructions are supposed to be idiot-proof, but the company clearly didn't envisage that anyone could be quite as incompetent as me. I have yet to cook a single Gousto meal correctly. One difficulty is that the recipes aren't always in chronological order and you start off meticulously following the first instruction, only to discover when you get to the second that you should have begun with that one. So the chicken is already frying in the pan before you realise you should have marinated it first. The solution is to read the recipe in its entirety before you start – and to be fair, it tells you to do that at the top of the instructions. But obviously the Galloping Gourmet here imagines he's above having to do that, hence the culinary car crashes.
Worth reading in full