"SAGE is Like a Golfer With a One-Club Strategy" – IDS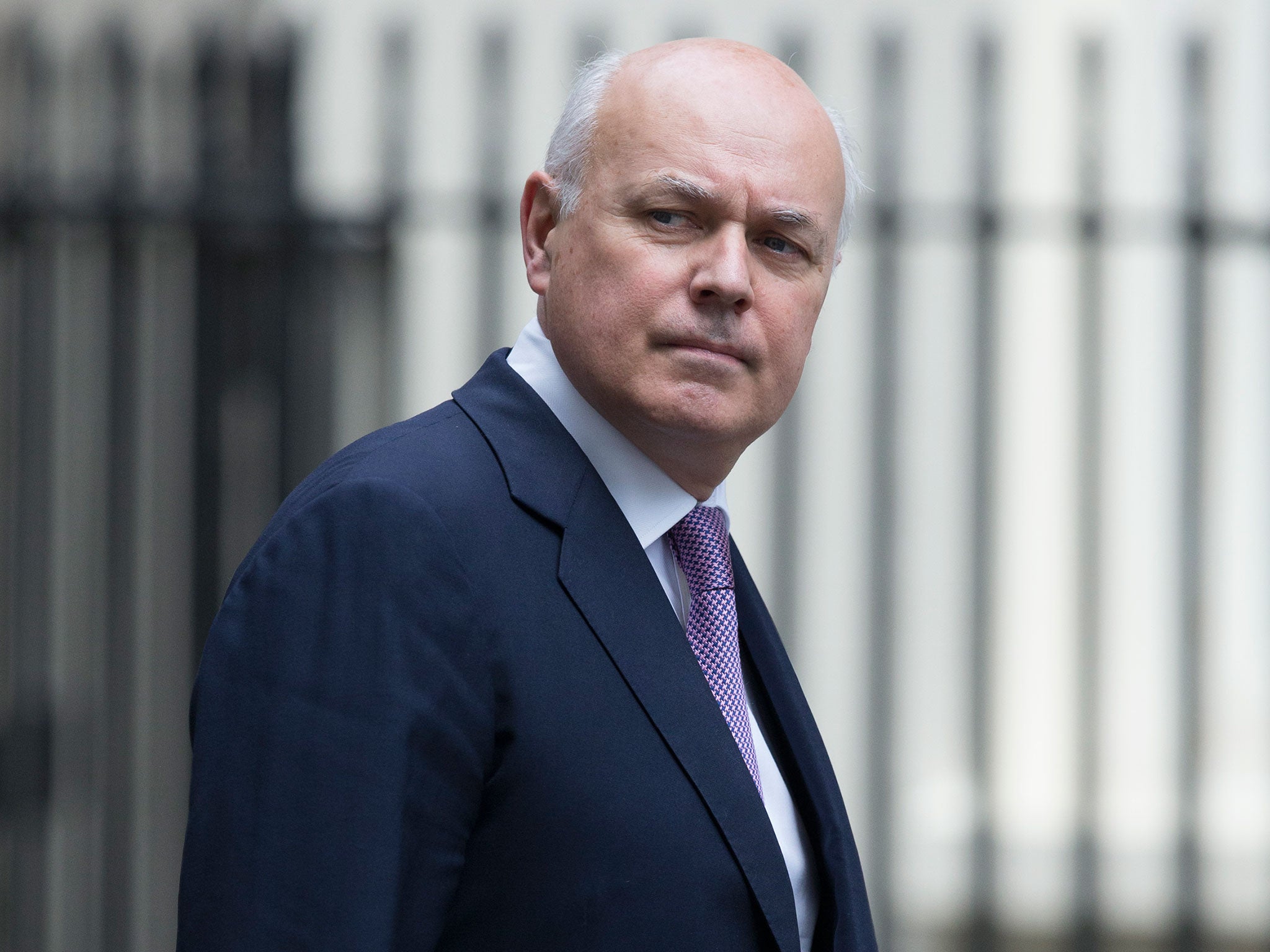 Former Conservative leader Sir Iain Duncan Smith MP has penned a withering attack on SAGE in the Telegraph, targeting its catastrophically one-dimensional handling of the pandemic.
In the midst of this sits the Scientific Advisory Group for Emergencies (Sage). The normal run of affairs is that advisors advise and ministers decide. Yet with Sage it is different. Though it is a public body, it is one which the like of I have never previously come across.

So much of the advice influencing policy that has changed our lives and livelihoods has come has come from this opaque organisation, which operates behind closed doors and whose members were only officially identified in May after a very public clamour for transparency.

Appointments to it of an estimated 100 scientists and academics appear to be made by the Chief Scientific Officer [Patrick Vallance] and the Chief Medical Officer [Chris Whitty] alone. And yet its "advice" has taken on the character of commandments written on tablets of stone – despite the fact that many of its recommendations are hotly disputed by other reputable scientists with relevant expertise. Meanwhile, when the government does not follow its advice exactly, it immediately publishes its minutes, in what appears to be a nakedly political act.

The search for a way to control the virus without severely damaging the economy and causing life-threatening delays to other vital health treatments is an entirely legitimate one. But – as one scientist put it to me – Sage has fallen prey to a form of groupthink that focuses exclusively on a drive to push down the infection rate to the exclusion of all else.

The problem is that if this one aim becomes the only thing that is discussed and advised on by Sage, we end up like a golfer with a one-club strategy – lockdown.

So, while it was gratifying to see the Prime Minister this week break ranks with the scientific technocracy over what Sage euphemistically calls a "national circuit breaker", however with London and other places now entering Tier 2 restrictions, the risk is that it could come to be seen as a national lockdown by stealth.
Why, he asks, has more not been done to promote effective treatments, such as rolling out pre-emptive antivirals as part of protecting high-risk groups?
With the average age of death from Covid-19 standing at 82, and fewer than 4% of those who have died of the virus having no known comorbidities, such a policy of prescribing antivirals to members of vulnerable groups would reduce both admissions and deaths. Such a move now could help prevent the need to lock down the economy.

Importantly, in 2012 the Government did this very thing by massively widening the prescription of antivirals in the community to combat the risk of flu.
Worth reading in full.
Stop Press: Antiviral drug remdesivir has been found to have "little or no effect" on the chances of survival of hospitalised COVID-19 patients, according to a WHO clinical trial – although the authors allow it may still work early on or as a prophylactic. According to the Swiss Doctor, the treatments with the best current evidence base are: for prophylaxis and early treatment – Zinc, Quercetin, Bromhexine, Vitamins C & D, and Aspirin (early treatment only); for ancillary treatment – Hydroxychloroquine, High-dose vitamin D, Azithromycin and LMW heparin.
Cases Fall Again
How can the Government justify bringing in new restrictions and continue to warn of "exponential" increases in cases when it is becoming clearer by the day that "cases" are barely rising in most areas? Furthermore, this flattening-off happened before the additional restrictions were put in place, just as the autumn spikes in the North appeared despite the local lockdowns. When will the Government give up its conceit of claiming to control this virus and focus on protecting the vulnerable while the rest of us get back to normal?
Lockdown is Political
We're not partisan here at Lockdown Sceptics and welcome readers from across the political spectrum. However, it's hard not to notice that lockdowns seem to have a greater attraction for people on the Left than the Right. We've known this for some time, but it's particularly apparent in the latest polling from Gallup in the USA. To illustrate: a miniscule 4% of Democrat voters say they're ready to return to normal activities right now compared to a whopping 59% of Republicans. Again: 71.5% of Democrats say they avoid going to public places compared to 34.5% of Republicans. (It's also apparent that women are much more pro-lockdown than men). Partly this will be a reflection of how partisan the issue has become in America around Trump in an election year. And, of course, Democrats tend to be richer than Republicans so are less likely to be feeling the economic damage. But it has also become increasingly clear that the Left sees the pandemic as an opportunity to drive forward some of its favourite causes, such as disfiguring inner cities with endless bicycle lanes. Something No 10 ought to keep in mind when it listens to the demands of Sage, whose members are overwhelmingly left wing.
A Top NHS Doctor Writes…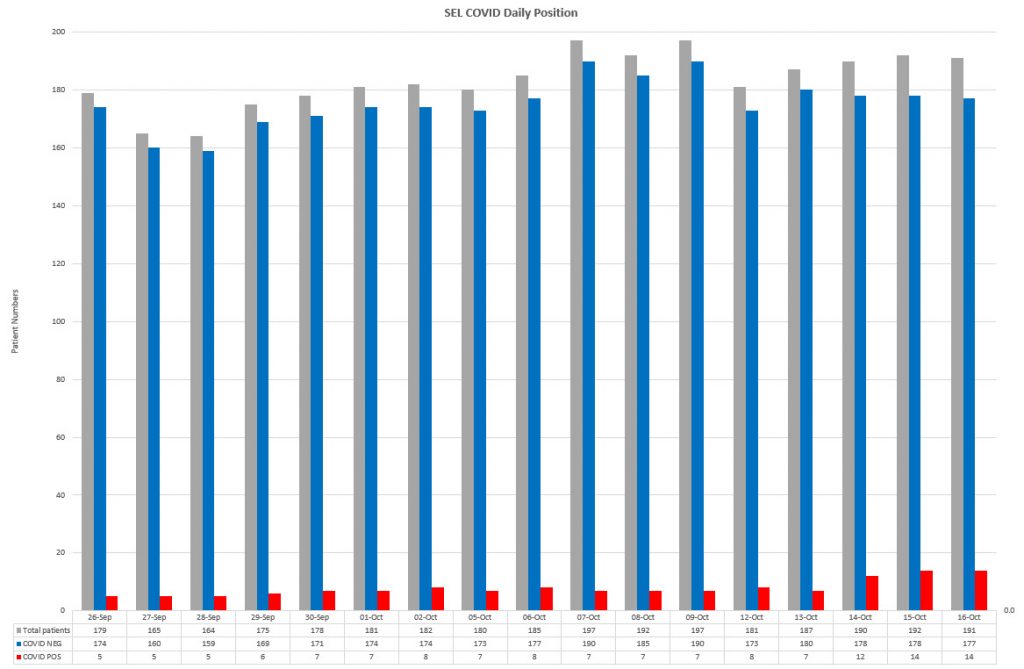 We've heard again from our friend, the top NHS doctor, whose understanding of what's going on in NHS England gets deeper by the day.
I'm beginning to understand this latest crap from the medical point of view. The ground truth is that there are very few Covid patients in London hospitals.

More in the north east sector than elsewhere (Barts/Royal London/Newham/North Middlesex, etc.) but certainly not swamped – maybe 5% to 10% of ICU beds but there is no flu around at all this year so far. So that's a normal upper respiratory case load and as we know ICU capacity can be ramped up very quickly if needed.

There were 82 patients in total in ICU in London on October 15th – half of them not intubated. We have an ICU bed stock of approx 1,500 across the capital, so well within capacity.

The problem – the reason the NHS wants tighter restrictions – relates to how the medical management have 'organised' the hospitals.

Instead of designating certain hospitals as 'dirty' ('fever hospitals') and other sites as 'clean' they have instituted a bizarre and complicated traffic light system.

Red means Covid positive; Amber means Covid suspected but swab not back or negative test with Covid clinical signs; Green means Covid negative.

Patients are mixed up all over the place and this may be one reason for the high hospital acquired rate – everyone knows you can't keep things separate when staff are coming and going or patients have to be moved about the hospital for tests, etc.

So you may be asking why has it been set up like this? Non-medical people assume that the NHS is a cohesive national system. In fact, it is a series of quasi-independent fiefdoms ruled by princelings – especially so in London. There is a vast amount of under-the-counter professional jealousy and rivalry. Essentially no one wants to be the dirty hospital – so there is vast push back, foot dragging and passive resistance to the sensible plan of isolating patients and their carers on one site.

Allied to that, Simon Stevens has decreed that all hospitals have to continue business as usual instead of scrapping non-urgent stuff – again, this is a political thing and exacerbates the problem of in-hospital transmission by having more staff and patients moving around the place.

So the pressure from the NHS for more lockdown is one of convenience not emergency. They are nowhere near approaching overload. They have had five months to sort this out and have completely failed (again).

When medical managers implement a useless plan which is clearly not working, instead of scrapping it early and starting again, they tend to double down and start blaming external factors – a bit like politicians because they are often incapable of shouldering responsibility and terrified of the personal reputational risk. Of course, they are not the ones to suffer. Salaries and final salary pension schemes are still paid by the taxpayer. Lockdown only affects doctors and NHS managers in a positive way. They get to stay at home and have less work to do but still get the same level of remuneration – what's not to like?

As Charlie Munger says – show me the incentive and I'll show you the outcome.
"It's An Absolute Shambles" – ONS Survey Nurse
The Lockdown Sceptics reader who is participating in the ONS's Covid infection survey and whom we heard yesterday has written an update.
Amazingly, I've just had a visit from a lovely nurse. She spent half an hour telling me what an absolute shambles it is. Her husband is trying to get her to give her notice because of how stressful it is. I asked if she'd let me pass on her number, but they've been instructed very firmly that they mustn't speak to anyone in the media and she didn't dare. But she did say I could tell you what she said.

Some days they're given nothing to do. Some days, they're given more than they can possibly do and she ends up working until 10 at night to finish the paperwork. Sometimes they give her some people to see at one side of her two-hour's driving area and some at the other, so it's impossible to see them all.

They get their list in the evening and have to see everyone on it they can the next day. No chance to make prior arrangements with them. They're not allowed to see people at weekends or evenings, so she keeps missing anyone who has children.

People have been promised their results, but no one has been given any at all.

It's being administered by several private companies and no one knows who's supposed to be doing what. When she emails about a problem, they never get back to her in time for the answer to be of any use; usually weeks later, always by a different person.

Lots of people, like me, have had lots of missed appointments, but they're listed on the system as having happened, even though they haven't.

In the beginning, it all worked reasonably well, but they keep taking on more and more subjects and it's getting worse and worse. She, and all the subjects are doing their best to make it work, but it's becoming impossible.

I felt really sorry for her. Whatever data, if any, is coming out of this, it just has to be a steaming pile of poo.
Best Smoked Salmon For Christmas

Bleiker's Smokehouse in Yorkshire has won the "Best Smoked Salmon for Christmas" accolade from Good Housekeeping. Well-deserved – it's Toby's favourite. And don't forget, salmon is a natural source of Vitamin D which we now know beyond doubt is an effective prophylactic against Covid. Indeed, if the Government had spent 1% of the money it has spent on NHS Track and Trace (£12 billion and counting) on buying smoked salmon from Bleiker's and distributing it to care homes, we'd likely have far fewer Covid deaths.
Order it here.
Charity Commission Censors Lockdown Sceptic
A reader has written to tell us the shocking story of the Charity Commission threatening a charity trustee who has dared to question the wisdom of lockdowns.
More evidence of attempted censorship of anti-lockdowners, but this time from the Charity Commission.

Yesterday, the Charity Commission sent a threatening email to a small local charity in Norfolk called Hey Jude, which supports people with chronic neurological diseases and cancer.

A week ago, its founder, Dr Henry Mannings, wrote an opinion piece that was published in the regional newspaper Eastern Daily Press and widely shared. In it, he essentially argues along the same lines as the GB Declaration.

The Charity Commission has alleged in its email that the article "could give the impression that Dr Mannings is writing in his capacity as charity trustee", and warned that although no action will be taken at this time this incident has now been '"saved to the charity's records", and they may "decide to proactively look into the concerns in future".

But if you read the article, there is no mention of the charity in the article at all, other than in the caption below the article's photo, which correctly states that Dr Mannings is the founder of the charity.

But even if he did mention the charity in his article, what on earth has that got to do with the Charity Commission? If it's verboten for a trustee of a charity to have a point of view on the lockdown and associated measures, why isn't the Commission censuring those who toe the Government's line?

Lastly, in case you missed it, note how pernicious the allegation actually is. It wasn't even that Dr Mannings spoke on behalf of the charity, it was that the article "could give the impression" that he did.

This is a clearly a completely unfounded warning email that has been sent to intimidate Dr Mannings and the charity – the nasty implication being "shut up or the charity may face consequences".

I would use the word unbelievable but I think I've exhausted its use over the last six months.
Round-Up
Theme Tunes Suggested by Readers
Two today: "Life Is A Risk" by Red Metafor and "Outdoors And Indoors" by The Creams.
Love in the Time of Covid
We have created some Lockdown Sceptics Forums, including a dating forum called "Love in a Covid Climate" that has attracted a bit of attention. We have a team of moderators in place to remove spam and deal with the trolls, but sometimes it takes a little while so please bear with us. You have to register to use the Forums, but that should just be a one-time thing. Any problems, email the Lockdown Sceptics webmaster Ian Rons here.
Sharing stories: Some of you have asked how to link to particular stories on Lockdown Sceptics. The answer used to be to first click on "Latest News", then click on the links that came up beside the headline of each story. But we've changed that so the link now comes up beside the headline whether you've clicked on "Latest News" or you're just on the Lockdown Sceptics home page. Please do share the stories with your friends and on social media.
"Mask Exempt" Lanyards
We've created a one-stop shop down here for people who want to buy (or make) a "Mask Exempt" lanyard/card. You can print out and laminate a fairly standard one for free here and it has the advantage of not explicitly claiming you have a disability. But if you have no qualms about that (or you are disabled), you can buy a lanyard from Amazon saying you do have a disability/medical exemption here (takes a while to arrive). The Government has instructions on how to download an official "Mask Exempt" notice to put on your phone here. You can get a "Hidden Disability" tag from ebay here and an "exempt" card with lanyard for just £1.99 from Etsy here. And, finally, if you feel obliged to wear a mask but want to signal your disapproval of having to do so, you can get a "sexy world" mask with the Swedish flag on it here.
Don't forget to sign the petition on the UK Government's petitions website calling for an end to mandatory face masks in shops here.
A reader has started a website that contains some useful guidance about how you can claim legal exemption.
And here's a round-up of the scientific evidence on the effectiveness of mask (threadbare at best).
Stop Press: A new preprint study by Dr Colleen Huber and colleagues reviews the evidence on masks and finds "mask use is not correlated with lower death rates nor with lower positive PCR tests" and that due to risks of contamination the "use of face masks will contribute to far more morbidity and mortality than has occurred due to COVID-19". Worth a read.
Woke Gobbledegook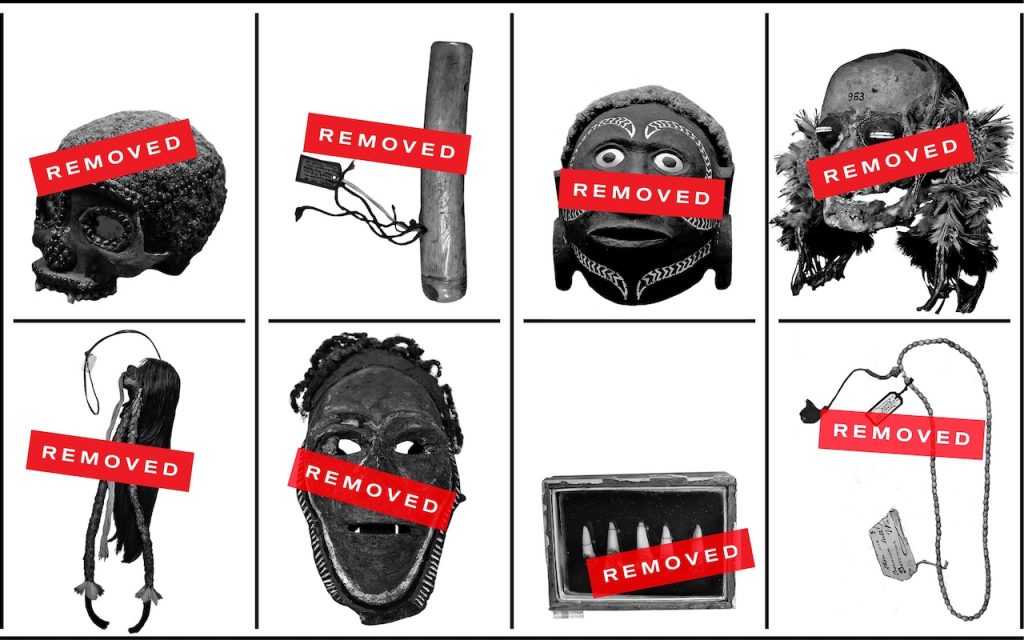 The new Belgian Director of the Pitt Rivers Museum in Oxford – which has inspired generations of students with its rag bag of fabulous oddities – doesn't seem very fond of the institution. Martin Fletcher in the Telegraph has more.
When the museum reopened for the first time since the Covid lockdown last month, visitors were greeted with brightly-coloured new signage warning that the PRM is 'a footprint of colonialism'; that its labels 'use language and imagery that is derogatory, racist and Eurocentric'; and that 'often the interpretation in the cases evades the complex and devastating circumstances in which many of the objects were collected'.

Under the leadership of Van Broekhoven, who conducted similar work in the Netherlands before her arrival in Oxford, it has conducted an 'ethical review' of its entire public collection. Displays are being systematically relabelled and 'contextualised' to explain their historical and cultural significance. Around 120 human remains, including skulls, scalps and a mummified Egyptian child, have been removed from public view and put into storage.

The PRM has even removed – from a case labelled 'Treatment of Dead Enemies' – the celebrated shrunken human heads with their sewn-up lips and eye sockets and great cascades of hair.

The Shuar and Achuar people of the Upper Amazon produced these 'tsantsas' by removing the brains and skulls before boiling the skins and filling them with hot sand and rocks to shrink them. They were allegedly a means of imprisoning the souls of enemy warriors, or possibly of honouring Shuar chiefs.

Last month the Oxford Mail called the removal of those heads 'the latest symptom of a politically motivated curatorial revisionism sweeping the land'. A Times art critic accused the museum of 'patronising' the public and observed that 'nobody will be attracted to the Pitt Rivers by the slogan: "It's the museum that won't let you see its shrunken heads"'.

But Van Broekhoven is unrepentant. 'Our audience research has shown that visitors often saw the museum's displays of human remains as a testament to other cultures being "savage", "primitive" or "gruesome". Rather than enabling our visitors to reach a deeper understanding of each other's ways of being, the displays reinforced racist and stereotypical thinking that goes against the museum's values today.'
Sounds like Van Broekhoven is aiming to close the museum altogether. First tell visitors it's a monument to white supremacy, then give away all the exhibits.
The Great Barrington Declaration
The Great Barrington Declaration, a petition started by Professor Martin Kulldorff, Professor Sunetra Gupta and Professor Jay Bhattacharya calling for a strategy of "Focused Protection" (protect the elderly and the vulnerable and let everyone else get on with life), was launched on October 5th and the lockdown zealots have been doing their best to discredit it. If you Googled it last week, the top hits you got were two smear pieces from the obscure Leftist conspiracy website Byline Times, and one from the Guardian headlined: "Herd immunity letter signed by fake experts including 'Dr Johnny Bananas'." (Freddie Sayers at UnHerd warned us about this hit job the day before it appeared). On the bright side, Google UK has stopped shadow banning it, so the actual Declaration now shows up in the search results – and Toby's Spectator piece about it is the top hit – although discussion of it has been censored by Reddit. The reason the zealots hate it, of course, is that it gives the lie to their claim that "the science" only supports their strategy. These three scientists are every bit as eminent – more eminent – than the pro-lockdown fanatics so expect no let up in the attacks. (Wikipedia has also done a smear job).
You can find it here. Please sign it. It now has more than half-a-million signatures.
Stop Press: The number of experts signing a petition doesn't have any bearing on the truth of its claims, of course. In the "hierarchy of evidence" for evaluating healthcare interventions, expert opinion is dead last. This letter in the BMJ by John Ioannidis on why petitions and open letters should be taken with a large does of salt is very good.
Samaritans

If you are struggling to cope, please call Samaritans for free on 116 123 (UK and ROI), email jo@samaritans.org or visit the Samaritans website to find details of your nearest branch. Samaritans is available round the clock, every single day of the year, providing a safe place for anyone struggling to cope, whoever they are, however they feel, whatever life has done to them.
Shameless Begging Bit
Thanks as always to those of you who made a donation in the past 24 hours to pay for the upkeep of this site. Doing these daily updates is hard work (although we have help from lots of people, mainly in the form of readers sending us stories and links). If you feel like donating, please click here. And if you want to flag up any stories or links we should include in future updates, email us here. (Don't assume we'll pick them up in the comments).
Special thanks to graphic designer and Lockdown Sceptics reader Claire Whitten for designing our new logo. We think it's ace. Find her work here.
And Finally…
Comedian Simon Brodkin thinks he's figured out how the Government picks its coronavirus policies – and it bears an uncanny resemblance to the National Lottery. Watch his latest YouTube video.