The North Forced Into Second Lockdown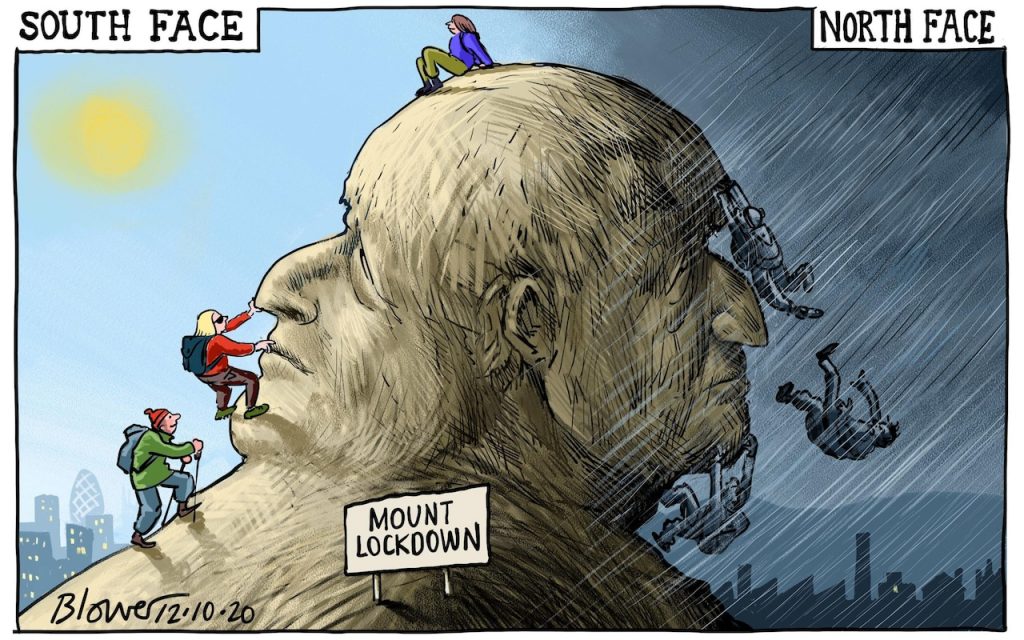 Liverpool will be among several Northern cities to be plunged into a "three tier" lockdown, with pubs, bars, bookies, casinos and gyms ordered to close. The Mail has the details.
The Prime Minister will chair a COBRA meeting on Monday morning to hammer out the final details before setting out the new nationwide three-tier system of restrictions in the Commons.

From 5pm on Wednesday, hundreds of pubs in the northwest will be closed for four weeks, the Telegraph reports, while the Sun says that overnight stays in the northern hot spots are to be banned for the same period.

Locals will only be allowed out of their areas for essential travel such as work, education or health, and must return before the end of the day, with the country divided into 'medium', 'high' and 'very high' risk sectors.
Needless to say, the rumoured announcement provoked fury in Liverpool. Mayor Joe Anderson made his displeasure clear on twitter last night.
In Manchester, politicians launched a last-ditch appeal to ministers not to shut all pubs and restaurants and instead hand them the power to only close those which are not meeting coronavirus safety restrictions. Five of the city's MPs yesterday warning Boris of the "devastating impact" of closing businesses. But these please are expected to fall on deaf ears.
Andy Burnham, the Mayor of Manchester, is no less incandescent than Joe Anderson.
"To be called to a meeting with 10 Downing Street on a Friday evening, to be effectively presented with proposals that needed to be agreed over the weekend, I mean that isn't adequate or acceptable consultation to me," he said. "That is being railroaded into a position. It's all come too late."
The Government is expected to announce these measures in spite of the fact that Britain recorded 12,872 new Covid cases yesterday, just 9% more than last Sunday's adjusted total. What happened to "doubling roughly every seven days"? 12,872 is a long way off the 50,000 new cases that Britain was predicted to reach on October 13th (see below).
According to the Telegraph, Boris is expected to announce his new "three tier" system in the House of Commons and at a television Downing Street press conference, with the measures being debated and voted on in the Commons later this week. Let's hope there's a full scale rebellion.
What Became of the Graph of Doom?
Prof Carl Heneghan and his colleagues at the Centre for Evidence-Based Medicine have been taking a look at the daily case numbers and comparing them to the prediction projection made by Chris Whitty and Sir Patrick Vallance last month. Readers will recall that in the Graph of Doom, Witless and Unbalanced warned that we could reach 50,000 daily cases by October 13th. That's tomorrow, folks. So how did the Chief Medical Officer and the Chief Scientific Officer do? The original CEBM post was written on September 28th, but the data on the graph was updated on October 11th.
Last week, Patrick Vallance, the Chief Scientist, said: 'At the moment we think that the epidemic is doubling roughly every seven days.'

We reported last week on the rule of four on how to make sense of COVID cases. The Government's data today shows that cases assessed by specimen date have not yet doubled over 21 days. On the 23 Sep they were 4,914 compared to 2,614 on 2 Sep – 88% higher, but not yet double.

Vallance said "If, and that's quite a big if, but if that continues unabated, and this grows, doubling every seven days… if that continued, you would end up with something like 50,000 cases in the middle of October per day.

We put the doubling to the test by creating a tracker of the projection. At the moment there is a significant divergence in the case data with the 49,000 cases that were projected by the 13 Oct. We will keep this tracker up to date to monitor the changes.

The seven-day moving average takes account of four days before and three days after to provide an estimate and takes into account the latest reporting – the specimen date takes five days to stabilise and therefore lags the current reporting by this amount.
It's just as well Witless and Unbalanced didn't become weather forecasters.
Stop Press: David Patton, a lockdown sceptic on Twitter, has found some data showing that in several university towns the number of daily new cases is declining.
A Senior Doctor Writes…
More from my friend who's a senior doctor at the NHS on why the so-called "second wave" isn't as bad as the first and the NHS should be able to cope. One of the points Jonathan Van-Tam is expected to make when the Government unveils its new "three tier" scheme today is that the Royal Liverpool University Hospital was on course to admit more people suffering from Covid than during the peak of the pandemic in the spring, implying that unless Liverpool is locked down local hospitals could be overwhelmed by Covid patients. But as my friend points out, Covid hospitalisations exceeding those at the peak of the pandemic isn't necessarily a cause for alarm if survival rates are going up and discharges are happening sooner.
An extract from Sarah Vine's column in the Daily Mail:

"My mother sent me this from a Facebook post by an Italian doctor – it should be required reading in the Department of Health.

"On Covid, he writes: 'The hospitalisations are growing, but fortunately also the discharges. Compared to the terrible days of last spring, we are witnessing on average shorter hospitalisations, slightly lower average age (67 years today), more manageable disease and practically zero lethality. We still have a few more complex cases, but these represent the minority.

"'We have the drugs, we know how and when to use them, and we are more confident in what we do. It is therefore necessary to avoid giving messages of terror.'"

Co-incidentally he mentions shorter hospitalisation times and more discharges in Italy – similar to the effect I noted from the PHE data released on 8th October.

An extract from a piece by a French doctor in the Spectator:

"Daphnée Gotheil, a junior doctor at the Necker Hospital in Paris, tells me that the situation is much less severe than in the spring and that, in her view, 'there is no cause for real concern yet'. And why not? 'Our hospitals are now better equipped, doctors are more knowledgeable about the virus and they have developed new techniques to treat patients. We do not ventilate patients anywhere near as much – as we know now that it is something to do only as a last resort.' Eight regions in France still have no Covid patients in ICU beds.

Critical reference to reduced proportions of ventilated patients – makes the problem a whole lot easier to manage than in April.

Despite predictions, I noted in the delayed Birthday honours list that there were no awards for Boris Johnson's carers at St Thomas's. Was that a political omission? Might this suggest Johnson has used up a substantial amount of his political capital within the Conservative parliamentary party (the current de facto opposition) to inhibit his customary self-indulgent generosity?

And finally… I read the letter from the GP published yesterday with interest. Would we have such a problem with patients getting hospital appointments if doctors were paid 'fee for service' (i.e., paid per patient they actually saw) instead of being salaried staff on the government payroll? At present they get paid the same for seeing no patients as they do for seeing a normal daily workload. Just a thought.
Stop Press: If you're wondering why all the doctors and nurses that contribute to Lockdown Sceptics do so anonymously, it's because they've been forced to sign NDAs as a condition of employment. Consequently, can I ask you to sign this petition calling on the NHS to nullify all such gagging orders when it comes to COVID-19?
Has the WHO Changed its Mind About Lockdowns?
David Nabarro, one of six Covid envoys appointed by the Director General of the WHO, was interviewed on Spectator TV on Thursday and – to everyone's astonishment – said the WHO wasn't in favour of lockdowns. News.com.au has more.
The World Health Organisation has backflipped on its original COVID-19 stance after calling for world leaders to stop locking down their countries and economies.

Dr. David Nabarro from the WHO appealed to world leaders yesterday, telling them to stop "using lockdowns as your primary control method" of the coronavirus.

He also claimed that the only thing lockdowns achieved was poverty – with no mention of the potential lives saved.

"Lockdowns just have one consequence that you must never ever belittle, and that is making poor people an awful lot poorer," he said.

"We in the World Health Organisation do not advocate lockdowns as the primary means of control of this virus," Dr Nabarro told the Spectator.

"The only time we believe a lockdown is justified is to buy you time to reorganise, regroup, rebalance your resources, protect your health workers who are exhausted, but by and large, we'd rather not do it."

Dr Nabarro's main criticism of lockdowns involved the global impact, explaining how poorer economies that had been indirectly affected.

"Just look at what's happened to the tourism industry in the Caribbean, for example, or in the Pacific because people aren't taking their holidays," he said.

"Look what's happened to smallholder farmers all over the world. … Look what's happening to poverty levels. It seems that we may well have a doubling of world poverty by next year. We may well have at least a doubling of child malnutrition."
You can watch Dr Nobarro's entire interview with Andrew Neil here.
Is this now the official position of the WHO or has Dr Nabarro gone off-piste? If it's official and the WHO has done a U-turn on lockdowns, that will have the censors at YouTube chasing their tails. Earlier this year, YouTube's CEO Susan Wojcicki said any content that "goes against" WHO guidance would be removed. Does this mean YouTube's censors will have to remove every pro-lockdown video that's been posted since last January? Or will YouTube finally acknowledge that there is no scientific consensus about how best to respond to this pandemic – no monolithic body of opinion called "the science" – and allow scientists and others to set out their stalls on the lockdowns, both for and against, in a spirit of free and open inquiry?
Edinburgh Campus Branded "World's Most Expensive Prison"
Students at Edinburgh University are getting fed up with being forced to eat out-of-date junk food, in spite of paying £8,500 a year for food and accommodation in halls of residence. The Mail has more.
A first-year economics student, Tess Bailie, 18, has started a social media campaign to protest the poor conditions her fellow undergraduates are being forced to isolate in.

Her Instagram account, The UK's Most Expensive Prison, has revealed that some students with nut allergies are being given foods with nuts in.

Another anonymous picture sent to the account shows dead mice allegedly in the pantry of one of the university's halls of residence.

One student claimed they hadn't been given food for two days while another said they had been given out of date food.
Worth reading in full.
Bedwetter Jibe to be Retired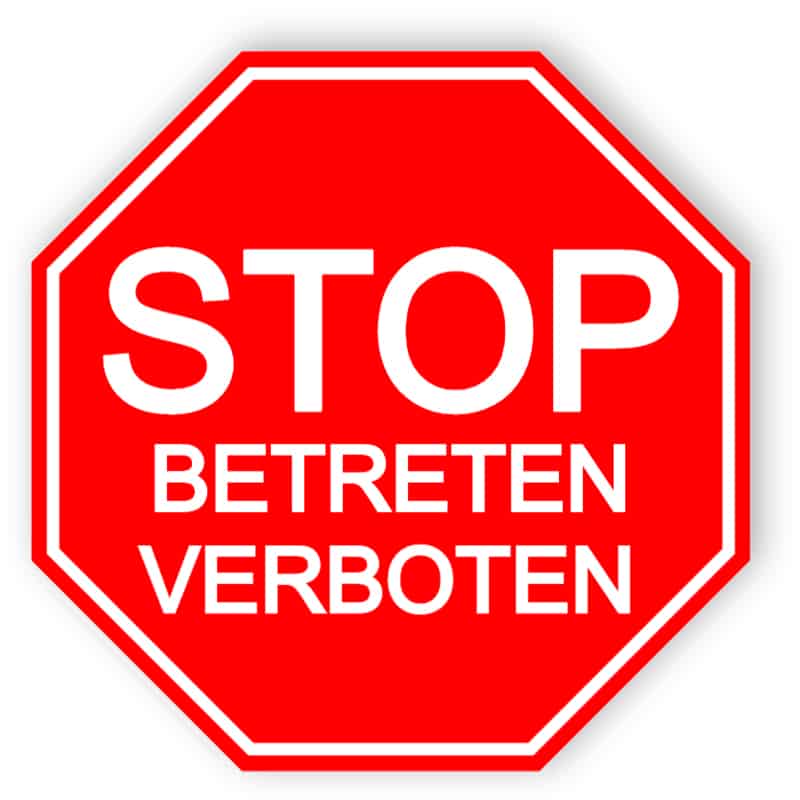 My readers have spoken. By an overwhelming majority, you think we should retire the bedwetter jibe. The feeling is that it alienates potential allies and the purpose of Lockdown Sceptics is not just to preach to the choir, but to make converts – and many of those converts will be people who, initially at least, were concerned about getting COVID-19.
Another reader made the point eloquently:
My concern is more to do with a sort of 'sectarianism' which of course we saw during the Brexit debate – Remoaners vs Gammons – where the white heat of disagreement degenerates into insults that further divide. There is a temptation to abuse one's opponent which is perfectly natural but doesn't always help to communicate with those who are neither vehemently for or against something – in fact these people can just begin to see the debate itself as childish mud-slinging. I was very much in favour of Peter Hitchens's description of masks as "face nappies" and "muzzles" because he seemed to be pitching it as a description of the government trying to infantilise us, or to shut us up. But the undertone, and possibly the intention of those who use the insult, is often actually to infantilise their fellow citizen ("Who other than a bed-wetting mask-wearer would wear a nappy?") or suggest they are just obedient dogs. I don't think that was or is Peter's intention, but that is how things have ended up.
Which immediately raises the question: what should we call those who are excessively cautious about the risk posed by the virus, as well as those that spread fear in the Government and the media? Panty-waists? Chicken Littles? Chin wobbler? Any suggestions, email us here.
Stop Press: One reader has a suggestion:
I've long since felt that bedwetter is not strong enough. The lockdown zealots have morphed from being hysterical to something much more sinister. The difficulty is finding a word that captures my disgust with the patronising immunity-deniers who think it their duty to scare the great unwashed into submission regardless of the evidence and consequences. To me the pseudo-scientific commentators, scientists and medical practitioners who chose to ignore the growing evidence – that the cure is worse than the disease – have lost their humanity so perhaps we should call them aliens.
Round-Up
Theme Tunes Suggested by Readers
Just one today: "Highly Likely – Whatever Happened to the Likely Lads" written by Mike Hugg and Ian La Frenais and sung by Tony Rivers.
Love in the Time of Covid
We have created some Lockdown Sceptics Forums, including a dating forum called "Love in a Covid Climate" that has attracted a bit of attention. We have a team of moderators in place to remove spam and deal with the trolls, but sometimes it takes a little while so please bear with us. You have to register to use the Forums, but that should just be a one-time thing. Any problems, email the Lockdown Sceptics webmaster Ian Rons here.
Sharing stories: Some of you have asked how to link to particular stories on Lockdown Sceptics. The answer used to be to first click on "Latest News", then click on the links that came up beside the headline of each story. But we've changed that so the link now comes up beside the headline whether you've clicked on "Latest News" or you're just on the Lockdown Sceptics home page. Please do share the stories with your friends and on social media.
Woke Gobbledegook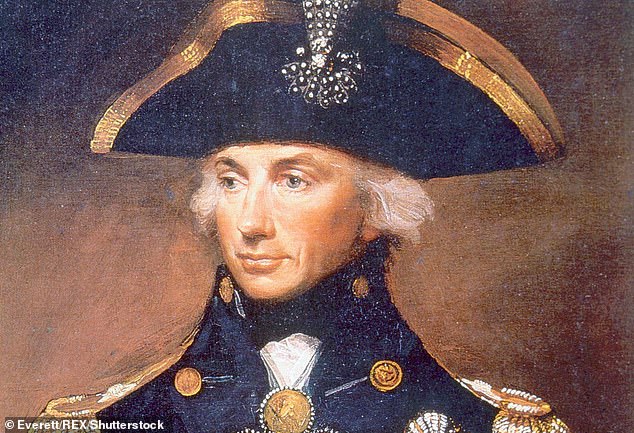 We've decided to create a permanent slot down here for woke gobbledegook. Today we bring you news that Lord Nelson's "heroic status" is to be reviewed by the National Maritime Museum. The Telegraph has more.
Horatio Nelson towers over the pantheon of British heroes, and even his nemesis Napoleon kept a bust of the admiral in admiration – but such a statue would now be suspect.

Lord Nelson's "heroic status" will be reviewed by the National Maritime Museum as part of efforts to challenge Britain's "barbaric history of race and colonialism", the Telegraph can reveal.

The admiral's legacy is enshrined at the museum in Greenwich, which holds personal effects ranging from love letters to the coat Nelson wore when he was fatally shot during the Battle of Trafalgar in 1805.

Internal documents seen by The Telegraph reveal that the museum will capitalise on the "momentum built up by the Black Lives Matter movement" to make changes at the repository of naval treasures and address "aspects of slavery relating to the Royal Navy".

Nelson displays could be subject to "wholesale changes" in future, and the "more complex" nature of his heroism will be tackled by curators re-evaluating historical events and people as part of a new strategy.

The publicly-funded museum is seeking to communicate the "often barbaric history of race, colonialism and representation in British maritime history".
Sounds like a great day out. Can't wait to take the kids.
Stop Press: Dominic Sandbrook in the Mail says the Museum's plans to review the "heroic status" of Nelson is an assault on the integrity of history itself.
"Mask Exempt" Lanyards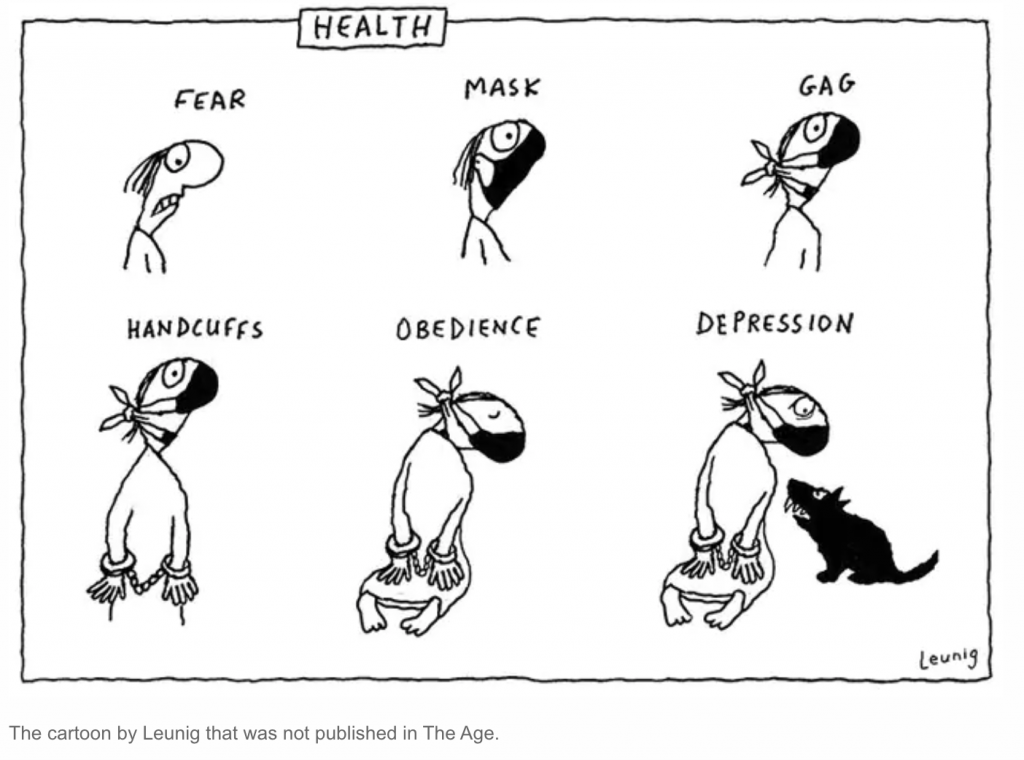 We've created a one-stop shop down here for people who want to buy (or make) a "Mask Exempt" lanyard/card. You can print out and laminate a fairly standard one for free here and it has the advantage of not explicitly claiming you have a disability. But if you have no qualms about that (or you are disabled), you can buy a lanyard from Amazon saying you do have a disability/medical exemption here (takes a while to arrive). The Government has instructions on how to download an official "Mask Exempt" notice to put on your phone here. You can get a "Hidden Disability" tag from ebay here and an "exempt" card with lanyard for just £1.49 from Etsy here. And, finally, if you feel obliged to wear a mask but want to signal your disapproval of having to do so, you can get a "sexy world" mask with the Swedish flag on it here.
Don't forget to sign the petition on the UK Government's petitions website calling for an end to mandatory masks in shops here.
A reader has started a website that contains some useful guidance about how you can claim legal exemption.
And here's a round-up of the scientific evidence on the effectiveness of mask (threadbare at best).
The Great Barrington Declaration
The Great Barrington Declaration, a petition started by Professor Martin Kulldorff, Professor Sunetra Gupta and Professor Jay Bhattacharya calling for a strategy of "Focused Protection" (offer protection to the elderly and the vulnerable and let everyone else get on with life), was launched last week and the lockdown zealots have been doing their best to discredit it. If you Google it, the top hit you get is a smear piece in the Guardian headlined: "Herd immunity letter signed by fake experts including 'Dr Johnny Bananas'." (Freddie Sayers at UnHerd warned us about this hit job the day before it appeared). On the bright side, Google UK has stopped shadow banning it, so the actual Declaration now shows up in the search results – although discussion of it has been censored by Reddit. The reason the zealots hate it, of course, is that it gives the lie to their claim that "the science" only supports a suppression strategy. These three scientists are every bit as eminent – more eminent – than the pro-lockdown fanatics, so expect no let up in the attacks.
You can find the petition here. Please sign it. Last time I checked it had over 300,000 signatories.
Stop Press: Hospitalisations and deaths in London have stabilised. Could it be because Londoners have achieved herd immunity? The latest infection survey data suggests about one in eight Londoners have got Covid antibodies, not far off the 15% that Dr Gabriela Gomes et al estimate is the average herd immunity threshold. (There is even some suggestion that widespread immunity is shielding the South of England more widely).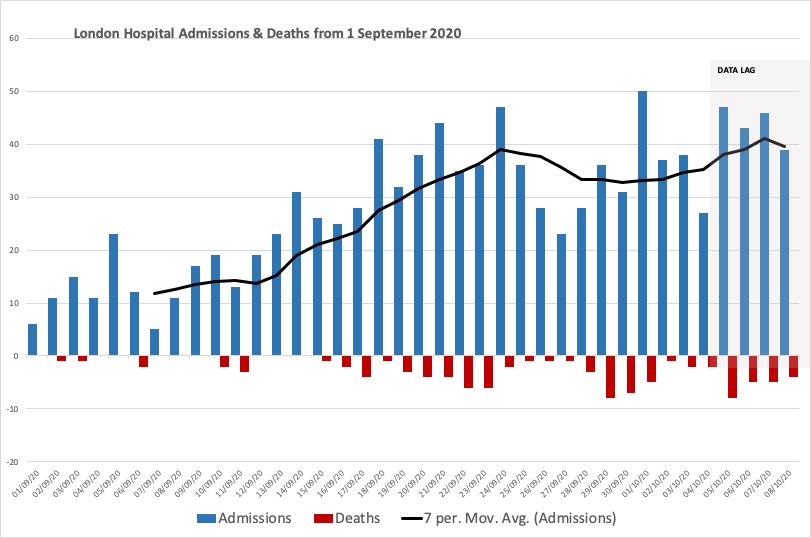 Samaritans

If you are struggling to cope, please call Samaritans for free on 116 123 (UK and ROI), email jo@samaritans.org or visit the Samaritans website to find details of your nearest branch. Samaritans is available round the clock, every single day of the year, providing a safe place for anyone struggling to cope, whoever they are, however they feel, whatever life has done to them.
Shameless Begging Bit
Thanks as always to those of you who made a donation in the past 24 hours to pay for the upkeep of this site. Doing these daily updates is hard work (although we have help from lots of people, mainly in the form of readers sending us stories and links). If you feel like donating, please click here. And if you want to flag up any stories or links we should include in future updates, email us here.
And Finally…