Boris Fiddles (With His Mask) While Britain Burns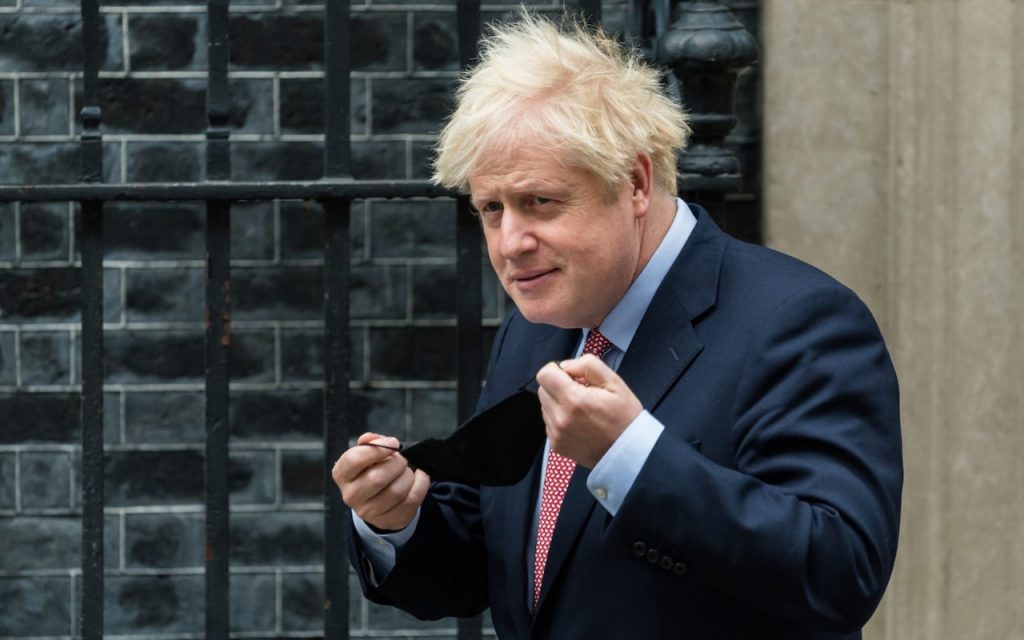 Boris gave a speech to the Conservative Party Conference yesterday in which he addressed people's concerns that our national debt now exceeds 100% of GDP, that pubs, restaurants and cinemas are vanishing from our high streets and that four million people will soon be unemployed by… talking about wind farms. He claimed that offshore wind will produce enough electricity to power every home in a decade, with Britain becoming "the Saudi Arabia of wind". Bizarre tangent to go off on and complete balls, obviously. In 2007, the Labour Government said wind energy would power every home in Britain by 2020. In reality, it's less than 20%. Boris himself said in 2013 that wind farms "couldn't pull the skin off a rice pudding".
There was also a lot of boilerplate about the brilliance of the private sector and small businesses, but as Dan Hodges said on Twitter: "Has there ever been a PM's speech where the rhetoric – small state, libertarian, entrepreneurial – has been so divorced from the reality of the policies he's actually implementing?"
Allison Pearson's verdict in the Telegraph is withering.
To be brutally honest, it was probably just as well that the PM couldn't give his speech live to the conference in Birmingham as planned. Chilly silence would have been a more likely reception than rapturous applause. The Tory faithful are not just furious with their leader, they are positively adulterous – ready to run off with any Tom, Lawrence or Nigel in protest at farcical restrictions which even ministers fail to justify. In the latest Conservative Home poll of party members, Boris Johnson got a net satisfaction rating of -10.3. The PM came 24th out of 25 Cabinet members. Only Private Pike, our dunce of an Education Secretary, scored worse.

From hero to less than zero in ten months. It's the stuff of classical tragedy. Those unimaginably dire figures for one of our best-loved communicators give some sense of the anger caused by the fact that the Conservatives, traditionally the party of the family and business, are causing immense harm to both in pursuit of an ultimately futile zero-Covid strategy. For all his fluorescent follies, at least President Trump is bold enough to level with the American people, explaining that they need to keep Covid-19 in proportion. We must, as Trump says, learn to live with it.

Far from echoing Chancellor Rishi Sunak's recent injunction to "live without fear", the PM used his keynote speech to tell the British people that their kettle will soon by powered by great gusts of offshore wind. Hardly our main concern as the tsunami of four million unemployed thunders towards us. How can Boris talk of "not contenting ourselves with a repair job" when the worst is yet to come? At such a time, we need our Prime Minister to be Alexander the Great, not Windy Miller.

A personal hero of Boris's once wrote: "Nothing would be more fatal than for the Government of States to get into the hands of experts. Expert knowledge is limited knowledge and the unlimited ignorance of the plain man, who knows where it hurts, is a safer guide than any rigorous direction of a specialist."

How right Churchill was. And how we wish the grand old man were still with us to stick Professor Neil Ferguson's little model in his cigar cutter.
Worth reading in full.
Stop Press: For a more measured take, listen to the Spectator's Katy Balls, James Forsyth and John Connolly discussing the speech for Coffee House Shots.
Governments Using Pandemic to Suppress Dissent Across the World – New Report
Many governments are using the pandemic as cover to silence dissent, stifle the free press and disrupt elections, according to a new report by Freedom House, a US-based think tank. Bloomberg has more.
At least 91 of the 192 nations cited in the report, or 47%, have "experienced restrictions on the news media as part of the response to the coronavirus outbreak," it said.

"What began as a worldwide health crisis has become part of the global crisis for democracy," said Michael Abramowitz, president of the non-profit organization. "Governments in every part of the world have abused their powers in the name of public health, seizing the opportunity to undermine democracy and human rights."

The Democracy under Lockdown report said that despite 158 countries putting new restrictions on protests, a significant demonstration had taken place in at least 90 countries since the outbreak began.

In a survey of experts, 62% of respondents said they distrust what they are hearing about the pandemic from their national government, Freedom House said.

"Democratically elected leaders alike have failed to be candid about the impact of the coronavirus," according to the organization.
The report notes that government restrictions have been imposed on free speech in 72 countries, including 25 liberal democracies. Needless to say, one of those is the United Kingdom.
Journalists covering the crisis have been arrested and targeted with violence, harassment, and intimidation. Governments have exerted control over content, revoked outlets' registrations, suspended printing of newspapers, denied press credentials, and limited independent questioning at press conferences. New legislation against spreading "fake news" about the virus has been passed, while websites have been blocked and online articles or social media posts removed. The increased public need for impartial information during a pandemic makes such varied methods of suppression particularly egregious.
The report is worth reading in full.
Scotland's "Zero-Covid" Strategy Isn't Working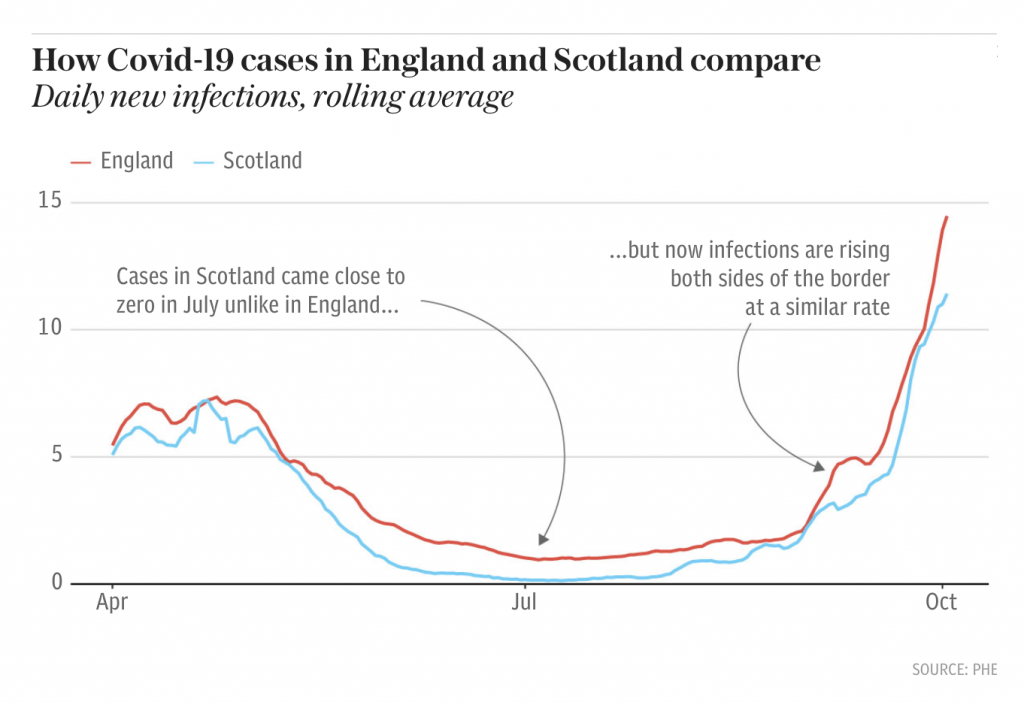 From the beginning of the pandemic, Scotland has pursued a "Zero-Covid" strategy thanks to Nicola Sturgeon's determination to have a lower Covid mortality rate than the rest of the UK. Why, given that any life years saved by Scotland's draconian suppression measures will be dwarfed by the life years lost?
Because if Scotland has fewer Covid deaths per million than the rUK, Sturgeon thinks she can use that as a killer argument for independence in the next referendum. It has been because of Sturgeon's relentless focus on winning that future battle that the Scots have had to endure a more severe lockdown that the rUK over the summer and, even now, won't allow people from two separate households to meet in private homes.
Needless to say, it hasn't worked. Scotland did manage to reduce daily new cases to single digits during the lockdown, but after restrictions began to be eased, the numbers began to tick up again, exacerbated by the return of students last month. Today, the infection rate in Glasgow is 191 per 100,000, in Edinburgh it's 119 and in Dundee it's around 101.
The sensible response to these numbers would be to switch to what Professor Sunetra Gupta (Oxford), Professor Martin Kulldorff (Harvard) and Professor Jay Bhattacharya (Stanford) call a strategy of "Focused Protection", whereby we allow those who are at minimal risk of death to live their lives normally, building up herd immunity, while better protecting those who are at highest risk. At the time of going to press, almost 5,000 doctors, scientists and public health experts and signed the Great Barrington Declaration endorsing this strategy, as well as more than 40,000 members of the public.
But, of course, when the facts change politicians don't change their minds. So instead, Sturgeon is doubling down on her "Zero-Covid" approach and is going to announce a new set of restrictions today. She's calling it a "circuit breaker", but in reality it will be a second lockdown. Cafes, bars and restaurants are all expected to be closed.
I was in Scotland last week and the personality cult around Nic Sturge-un was still strong, but there is surely only so much of this nonsense that the Scottish people can take. When it is established beyond any reasonable doubt that COVID-19 is scarcely any more deadly than seasonal flu, and the Scots survey the smouldering ruins of their economy, I suspect they may start to change their minds about Wee Krankie.
Irish Taoiseach Micheál Martin Tells Scientific Advisors to Take a Hike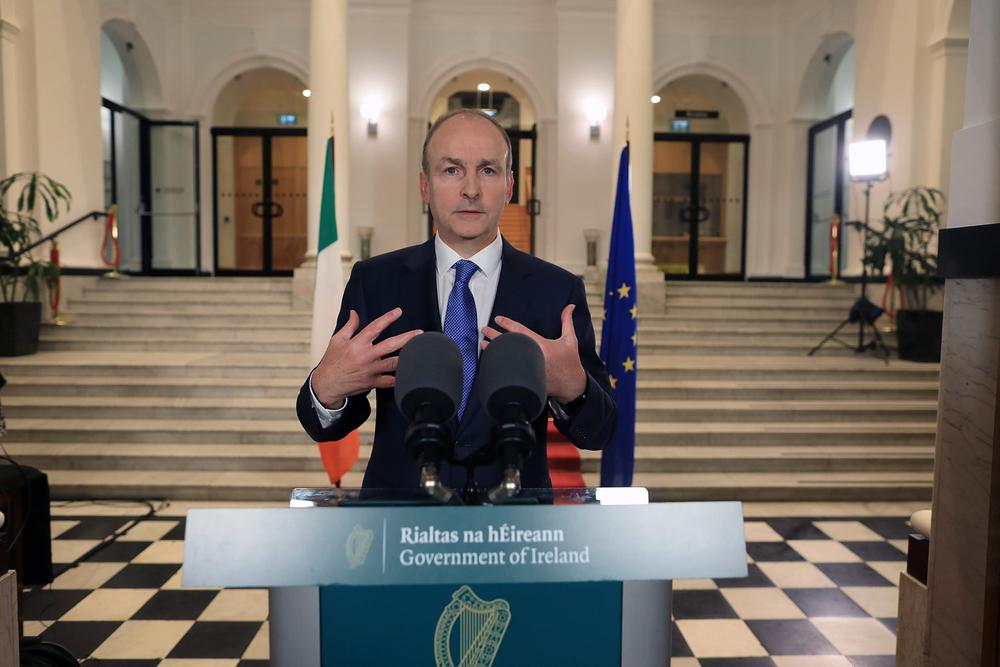 Here's a turn up for the books. The Irish Taoiseach Micheál Martin and his Government have ignored the advice of Chief Medical Officer Dr Tony Holohan and the National Public Health Emergency Team to impose a Level 5 lockdown on the entire country. The Irish Independent has more.
Trust between the Government and the National Public Health Emergency Team (Nphet) hit an all-time low as the Taoiseach faced down a shock demand to push the country into the highest level of lockdown.

During a tense meeting in Government Buildings, returning chief medical officer Dr Tony Holohan faced a barrage of criticism from senior ministers.

One well-placed source told the Irish Independent that the relationship between the Government and Nphet had "changed forever".

Dr Holohan had stunned the Cabinet late on Sunday with a recommendation to impose Level 5 restrictions on the entire country.

He was backed by medical experts who said the trajectory of the virus in Ireland could pose a threat to hospital ICU capacity within weeks.

But the bid to impose Level 5 across the nation was shot down by senior Government ministers who argued that the economy and jobs must also be a factor in the battle against COVID-19.

One minister said Dr Holohan made the Level 5 recommendation without any "prior consultation" or "thinking it through".

"It was all about protecting normal hospital activity and maybe schools and childcare, while the private sector was to be sacrificed," the minister said.

"It is easy for 40 public servants to put 400,000 people out of their jobs while they don't lose a penny," the source added.

They said the relationship between the Government and Nphet had "changed forever".
It's not all good news, however. The Taoiseach announced on Monday night that the entire country would join Dublin and Donegal at Level 3, which means face masks in shops, no indoor dining and the closure of cinemas, museums and galleries.
Not a Computer Glitch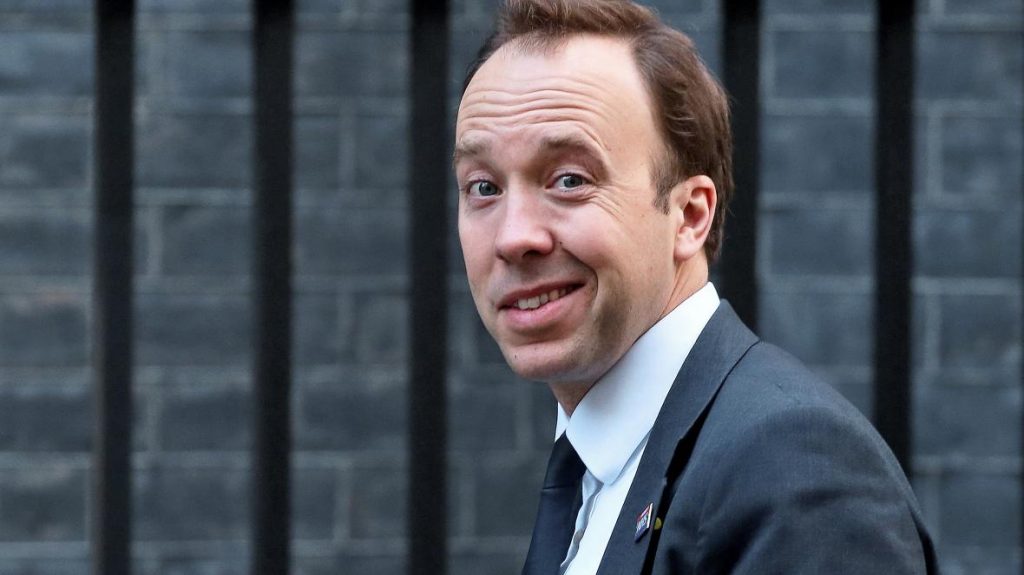 A reader with some experience of creating large databases has been in touch with his 10 cents worth on the loss of 16,000 "cases" down the back of the DHSC sofa. He's unimpressed.
This was not a computer glitch but gross, amateurish incompetence.

20 to 30 years ago I was programming Point Of Sale programs and systems. In the early days we had to write our routines for everything; dates, rubbish in filtering and crude databases. I have to say that my programming seems to have been very much better than Neil Ferguson (unfortunately, it pains me to say, from my home town)!

My programs stood the test of time; one business used a multi terminal office system of mine for 15 years without intervention or updates from me. My programs all sailed through the YK2 fiasco – I knew they would.

Then along came the likes of Visual Basic with its modular basis and easier graphics implementation at the same time, easy to use database systems. Microsoft Access was one of the best and I made a lot of use of it via the Jet Database Engine. Easy to programme and easy to interrogate using SQL, virtually unlimited number of records allowed.

I produced a number of complex Point Of Sale systems, early use of barcodes, storage of names, addresses, stocks and invoices, etc. NO WAY would anyone but an amateur use MS Excel as a serious database. This is for the office worker who doesn't know better.

I have seen a mess made in a government office where Fred was thought to be the office computer whizz and was entrusted with a simple but important database. Unfortunately, Fred used Excel so records would disappear and could not be interrogated. My advise was to train him up in Access which he rightly fell in love with!

So, to use Excel for such a use as the Track n Trace is ridiculous. 16,000 records is beyond an Excel sheet while for Access database it's peanuts. You also get solid multi-user access.

I gather that they are STILL using Excel but making smaller sheets! Amateurs!
Government Pulls Vote on 10pm Curfew, Frightened of Being Defeated
The Government were planning to have a yes/no vote in the House of Commons later today about whether to renew the 10pm curfew, but have pulled it after it became clear there was a risk of defeat. The Telegraph has more.
Dozens of Tory rebels had been threatening to vote against the order that all pubs, bars and restaurants in England must close amid claims that it is not grounded in scientific evidence.

But the 10pm curfew vote, which MPs on all sides of the House had expected on Wednesday evening, will now held early next week. Instead MPs will vote on whether to approve lockdown restrictions in the north of England.

A vote on the rule of six – which a handful of Tory MPs are expected to rebel against – went ahead as planned on Tuesday. Fourteen Conservative MPs voted against the Government.

Ministers have to ask MPs to approve coronavirus lockdown measures in simple unamendable 'yes/no' votes in the House of Commons within 28 sitting days of them coming into force.

Labour, who were also expecting the curfew vote tomorrow evening, had not said if it would vote for the measure, instead calling for ministers to publish the scientific evidence underlying it.

Sir Christopher Chope, one of the rebels, told the Telegraph that the Government was running scared.

He said: "Although they talk the talk because they want to have Parliament deciding these issues, if it looks as though Parliament is going to decide them in a way they don't like they deny Parliament the chance."

Tory MP Steve Baker, the unofficial rebels' whip, added: "It is not clear what the evidence is to support the 10pm curfew or that it is effective.

"With Hospitality UK describing the combined impact of the measures as 'devastating', the Government should think again."
If the Government's plan is to publish the "scientific evidence" underlying the curfew and then hold a vote, I'm not sure that will work. Because there isn't any.
Worth reading in full.
How Good is the PCR Test at Detecting the Virus?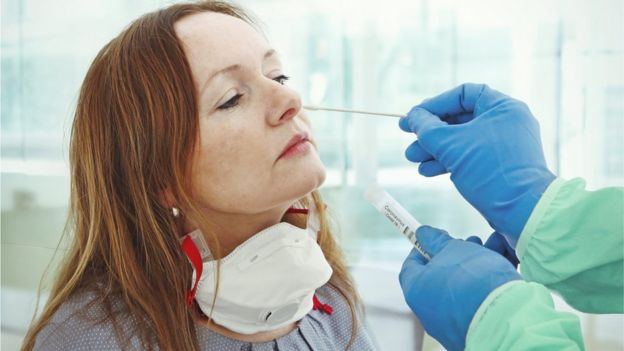 A reader has got in touch to share an interesting discovery he made while noodling around on Amazon.
I thought you might find this of interest. I was on Amazon earlier this evening looking at Viroligy textbooks. As I was leafing through this book – Principles of Virology, Volume 1: Molecular Biology – something caught my eye.

It was our old friend the PCR test. It has been experimentally demonstrated that the PCR test does not detect live virus, only viral fragments.

The first line reads: "A study of sexual transmission of Zika virus among mice demonstrates beautifully that viral nucleic acid detected by the polymerase chain reaction (PCR) is not the same as infectious virus particles."

Later it states: "Many laboratories choose to assay the presence of viral genomes by PCR. This is an acceptable technique as long as the limitations are understood – it detects nucleic acids, not infectious virus."

Someone should tell the Government!
Poetry Corner
A reader has sent me a squib about our Churchillian Prime Minister.
Please find the product of me finally losing it, with sincere apologies to Kipling. How sad he would have been to see a British Prime Minister laid so low.

IF you can keep your job when all about you
Are losing theirs and blaming it on you,
If you can trust yourself when many doubt you,
And despise their doubting too;
If you can't think – and hold in sway to experts;
Or being briefed accepting every lie,
With sixty seconds' worth of sound bites run,
To blunder on and on and on and on.

If you can deal in lies and spin deceiving
And treat those two impostors with no shame;
If you can't bear to hear a truthful token
And heed the knaves who've made a trap for fools,
Or watch the things you gave your life to, broken,
And held ensnared by sycophants and fools:
If men don't count, and bridal dreams lie broken,
Yours is the Earth and one day you'll be in it,
And – which is more – you are no man my son!
The Big Fat 'social distanced' Drive-In Indian Wedding
Devising ways to get around the lockdown, while remaining within the letter of the law, has brought out the genius in some Britons. A case in point is a wedding in Lancashire in which the happy couple invited their family and friends to a drive-in and then transmitted footage of their socially-distanced wedding onto the big screen. This is Lancashire has more.
More than two hundred guests attended the drive-in wedding of Roma Popat and her husband Vinal Patel.

No more than 15 people are permitted to attend a wedding celebration according to official guidelines. Guests were told to stay in their cars at Braxted Park, South of Colchester, and watch the ceremony on the big screen. Hampers containing snacks, anti-bacterial hand gel and bin liners for rubbish were then handed out to guests, with food served by waiters.

I-Imaani Photography posted, "What an epic event! Even during the pandemic, Roma and Vinal were able to pull off a 'drive in' cinema style wedding with all of their close family and friends, whilst maintaining all of the social distancing rules.

"It was lovely for us to be a part of the small intimate wedding that took place inside the Orangery at Braxted Park, while everyone else enjoyed the ceremony on the big screen in the open air whilst ordering hot pizzas and chips via Segways :)."
Worth reading in full.
Postcard From Lanzagrotty
A reader has sent us a postcard from Lanzarote, one of the Canary Islands. Doesn't sound much fun.
My wife and I are currently on holiday in Playa Blanca in Lanzarote. Three days after we booked it Spain was put back on the quarantine list but, having already had two holidays cancelled this year, we decided to come anyway, not least because it gives us a couple of weeks away from Mad Boris and the rest of the muppets running (or rather ruining) the country.

We have been here several times before but, sad to say, this year it is rather a miserable experience. Many of the shops, hotels and restaurants are closed, some permanently, meaning that options for eating out are limited and Playa Blanca itself, which is normally a bustling town, was virtually deserted yesterday morning when we went to do some food shopping.

Face masks are compulsory in shops, in taxis and on public transport, but officially are only required elsewhere if it is not possible to maintain a distance of at least 1.5 metres from other people. However, the Police, who are normally conspicuous by their absence, have interpreted this as meaning that you must wear a face mask if there is the slightest possibility that you might, at some point whilst you are out and about, pass within 1.5 metres of someone else and are patrolling the town, seafront and marina in large numbers in their cars and leaping out to impose on the spot fines of 150 Euros on anyone not wearing a mask, even if there is no one within hundreds of metres of them. We even saw them fining someone yesterday evening because his mask was not covering his nose and mouth, so the result is that everyone wears a mask everywhere all the time, even whilst cycling.

Masks are not required in restaurants and bars, so you have the bizarre sight of large groups of Spaniards dutifully wearing their masks until they are seated and then removing the masks and talking and laughing loudly (in that lovely way that Spaniards do) whilst seated very close together. This really is such a clever virus – it can attack you while you are walking down the street with no one else around, but then ignores you when you are seated with friends!

If any of your readers are considering a holiday in Lanzarote, I'm afraid my advice would be not to bother at the moment. The only upside is that the weather is fabulous and the BA flight was delightful, being only about a quarter full.
Round-Up
Theme Tunes Suggested by Readers
Just one today: "Check the Spreadsheet" by Klack
Love in the Time of Covid
We have created some Lockdown Sceptics Forums, including a dating forum called "Love in a Covid Climate" that has attracted a bit of attention. We have a team of moderators in place to remove spam and deal with the trolls, but sometimes it takes a little while so please bear with us. You have to register to use the Forums, but that should just be a one-time thing. Any problems, email the Lockdown Sceptics webmaster Ian Rons here.
Update: Some of you have asked how to link to particular stories on Lockdown Sceptics. The answer used to be to first click on "Latest News", then click on the links that came up beside the headline of each story. But we've changed that so the link now comes up beside the headline whether you've clicked on "Latest News" or you're just on the Lockdown Sceptics home page. Please do share the stories with your friends and on social media.
Woke Gobbledegook
We've decided to create a permanent slot down here for woke gobbledegook. Today, we're indebted to Lockdown Sceptics reader James Allan, a Law Professor at the University of Queensland, who's drawn our attention to the BLM solidarity statement by the Principal of his alma mater, Queen's University in Ontario. It's a classic of the genre.
It begins with a bit of genuflecting to Karl Marx, whom the Principal praises for his penetrating political insight, able to see into the corrupt heart of capitalism. He then goes on to hurl himself at the feet of left-wing student activists, pleading for their forgiveness.
When students are strengthened by the Black Lives Matter movement and emboldened to speak out about their experience of racism at Queen's, they are reminding us that we construct the university through the choices we make and therefore have the potential to remake it according to the principles of equity, diversity, inclusion, and Indigeneity. When Indigenous and LGBTQ+ students tell us they do not feel safe on campus, they are demanding that we think beyond CCTV cameras and heightened security – important though those things may be – and question some of the founding assumptions of our institutional being, interrogate what most of the time we accept as natural and universal.
It's a doozy and it's prompted James Allan to write an entertaining hatchet job in the National Post. Here's one of the highlights:
No one could read his remarkable mea culpa (or rather, "the university I lead's fault") and be in any doubt whatsoever about the outcome of the process he has set in motion as to whether Sir John A. Macdonald's name will be removed from the Queen's Law School that graduated me some 35 years ago. (Last month, in a non-binding but telling ballot, the school's Faculty Board voted 29 to three, with five abstentions, in favour of expunging the name of our first prime minister and the pre-eminent father of Confederation.) The principal's editorial was chock full of the language of "dominant culture", "equity", "diversity", "inclusion", "reconciliation", "economic privilege", "unconstructedness" (your guess is as good as mine on that one) and so on.

Even worse, and certainly more remarkably, it began with a sort of tribute to Karl Marx and some of "Marx's most distinctive insights". Marxist rhetoric can hardly be made of sterner stuff. I say this as a law professor who has worked around the globe, including in Hong Kong for four wonderful years before the handover, where I had to teach a small segment on Marxist legal theory. What the principal nowhere mentions are Marx's own racial views. They were orders of magnitude worse than anything Sir John A. Macdonald ever expressed. To take but one example, go and read some of Marx's letters to Engels from, say, 1862 to get a feel for his "distinctive insights" as regards Blacks and Jews. But it seems cancel culture does not extend to heroes (sorry, providers of distinctive insights) of the political Left.
Worth reading in full.
"Mask Exempt" Lanyards
We've created a one-stop shop down here for people who want to buy (or make) a "Mask Exempt" lanyard/card. You can print out and laminate a fairly standard one for free here and it has the advantage of not explicitly claiming you have a disability. But if you have no qualms about that (or you are disabled), you can buy a lanyard from Amazon saying you do have a disability/medical exemption here (takes a while to arrive). The Government has instructions on how to download an official "Mask Exempt" notice to put on your phone here. You can get a "Hidden Disability" tag from ebay here and an "exempt" card with lanyard for just £1.49 from Etsy here. And, finally, if you feel obliged to wear a mask but want to signal your disapproval of having to do so, you can get a "sexy world" mask with the Swedish flag on it here.
Don't forget to sign the petition on the UK Government's petitions website calling for an end to mandatory face nappies in shops here.
A reader has started a website that contains some useful guidance about how you can claim legal exemption.
And here's a round-up of the scientific evidence on the effectiveness of mask (threadbare at best).
Samaritans

If you are struggling to cope, please call Samaritans for free on 116 123 (UK and ROI), email jo@samaritans.org or visit the Samaritans website to find details of your nearest branch. Samaritans is available round the clock, every single day of the year, providing a safe place for anyone struggling to cope, whoever they are, however they feel, whatever life has done to them.
Shameless Begging Bit
Thanks as always to those of you who made a donation in the past 24 hours to pay for the upkeep of this site. Doing these daily updates is hard work (although we have help from lots of people, mainly in the form of readers sending us stories and links). If you feel like donating, please click here. And if you want to flag up any stories or links we should include in future updates, email us here.
And Finally…