Boris Panicked and U-Turned Over Lockdown After Seeing Neil Ferguson's Projections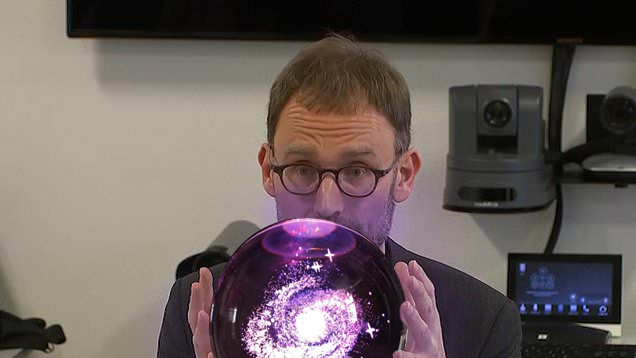 The Mail on Sunday is serialising an explosive new biography of Boris by Tom Bower that claims Boris was panicked into imposing a full national lockdown after Chris Whitty and Sir Patrick Vallance were presented with Neil Ferguson's apocalyptic predictions at a meeting of SAGE.
Bower tells how a critical meeting of the Scientific Advisory Group for Emergencies (SAGE) on February 25th was presented with the 'reasonable worst-case scenario' from Professor Ferguson under which 80% of Britons would be infected and the death-toll would be 510,000 people.

The author writes: "This was an improvement on Ferguson's earlier assessment that between 2% and 3% would die – up to 1.5 million deaths. Even with mitigation measures, he said, the death toll could be 250,000 and the existing intensive care units would be overwhelmed eight times over.

"Neither Vallance nor Whitty outrightly challenged Ferguson's model or predictions. By contrast, in a series of messages from Michael Levitt, a Stanford University professor who would correctly predict the pandemic's initial trajectory, Ferguson was warned that he had overestimated the potential death toll by 'ten to 12 times'….

The book reveals how shortly before the national lockdown, on March 16th, Ferguson forecast that one third of the over-80s who were infected would be hospitalised, of which 71% would need intensive care using ventilators.

This exaggerated prediction – that hospitals would be overwhelmed by at least eight times the usual admittance rate – made the lockdown all but inevitable.
Worth reminding people again that Professor Ferguson's estimates of the impact of previous viral outbreaks have been almost comically inaccurate. In 2001, he predicted that foot and mouth disease could kill up to 50,000 people. It ended up killing less than 200. In 2005, he told the Guardian that up to 200 million people could die from bird flu. The final death toll from avian flu strain A/H5N1 was 440. And in 2009, a Government estimate based on one of Ferguson's models estimated the likely death toll from swine flu at 65,000. In fact, it was 457.
Why did Boris take the predictions of this serial doom-monger so seriously?
BBC Not Telling Us Full Story About Covid – Matthew Parris
Lockdown sceptic Matthew Parris has written an excellent column in the Times today in which he berates the BBC for not doing its job properly in covering the coronavirus crisis.
"Coronavirus: GP letter was like a 'death warrant from grim reaper' " (BBC News); "One death every 80 seconds: Brazil reaches a grim milestone as it becomes the third worst-hit country…" (BBC News); "Grim milestone as virus cases top 25m globally" (BBC News).

Grim, grim, grim. There has been a lip-smacking quality, not only in headlines but in the reports that follow from the world's news media. All of us should be more rigorous in resisting the appeal of a ghoulish turn of phrase. But the BBC has been a serial offender.

In what follows I'm aware that, when it comes to panic-spreading, our state broadcasting corporation is only one of many miscreants among print and broadcast media. But that's because I look to the BBC to help set standards. The corporation has a particular duty to stand a little back from the noise and introduce a note of quiet balance into the national conversation.

When our politicians try to use science as propaganda, broadcasters should be rock-solid in resisting the hype. Instead, they've swallowed the government's line that "the science" is clear and unquestioned, and that the prospects, should we fail to "follow" the science, are apocalyptic.

Both are highly disputable. Science is divided. The most apocalyptic, however, are getting the loudest shout. Neither on how, nor where, nor when the virus spreads most virulently is there consensus among epidemiologists; and even if that consensus existed, broadcasters and journalists would still have a duty to remind politicians and the public that combating an illness should not elbow from national attention the equally honourable goal of saving livelihoods as well as lives.
Worth reading in full.
Unfortunately, Parris neglects to mention Ofcom's "coronavirus guidance" – published on March 23rd, the same day the full lockdown was imposed – cautioning the BBC and its other licensees to treat with extreme caution anyone criticising the advice of the "public health authorities", i.e. the NHS, the DHSC, PHE, Witless and Unbalanced and the Government more generally. I don't think this is the major cause of the BBC's dereliction of duty, but it was one factor among the others – laziness, innumeracy, group think and a deeply misguided belief that it was their public duty to amplify Downing Street's scaremongering in order to frighten people into observing the rules because that would save lives.
I don't need to remind readers of Lockdown Sceptics that the Free Speech Union is seeking the permission of the High Court to Judicially Review Ofcom's "coronavirus guidance" in the hope of having it declared an unlawful interference in free speech. You can donate to the FSU's "fighting fund" here.
Stop Press: Charles Moore has ruled himself out of running for the role of BBC Chairman for personal reasons. Shame.
Lord Gumption Says Boris is Behaving Like an Authoritarian Dictator
Jonathan Sumption wrote a blistering attack on Boris and his 'strongman' Government in the Telegraph yesterday.
Behind the spat about Parliamentary control over the Government's Covid measures, there is an older and more fundamental divide. It is the divide between an authoritarian model of government and a more deliberative and democratic model.

The authoritarians believe in the "strongman": the boss who gets things done with the aid of a team of technicians, who surmounts crises by intervening swiftly and decisively, without wasting time in argument or debate. The alternative, according to this view of the world, is a bunch of squabbling politicians picking over the entrails while the sand runs through the hourglass.

There has always been a strand of political masochism in Britain which likes this idea: the sort of people who admire dictators because they make the trains run on time. From time to time there is a more widespread move towards authoritarian government. We are experiencing one of those times now.
Worth reading in full.
Grant Shapps Gets His Sums Wrong
A sharp-eyed reader has spotted a mathematical error in Grant Shapps's attempt to defend sticking Poland on the quarantine list.
I don't know whether you picked up on Grant Shapps claiming that Poland had to be put back on the quarantine list because their "test positivity has nearly doubled, increasing from 3.9% to 5.8%". That is, of course, an increase of only 50%, not 100%.

I believe that Mr Shapps, who was formerly the Chairman of the APPG for General Aviation, still holds a Pilot's Licence. Let's hope his navigational skills are as good as his maths and the next time he goes for a flight he gets lost and we never have to see him again. If he could take Mad Boris and Nanny Hancock with him, so much the better!
BBC Reality Check Loses Touch With Reality
There's a snarky piece about Julia Hartley-Brewer under the BBC's "Reality Check" banner claiming she got her facts wrong about the False Positive Rate. In fact, the BBC journalists who've written the hatchet job – Simon Maybin and Josephine Casserly – are the ones who've got their facts wrong.
Julia's sin was to claim that nine out of 10 "cases" could be false positives. The journalists say that is categorically untrue.
Could it be true that 90% of positive results from tests in the community – that means tests not carried out in hospitals – are false? The answer is "no" – there is no way that so-called false positives have had such an impact on the figures.
Actually, there is a way "so-called false positives" could have had that impact. Suppose the true community case rate is eight in 10,000. If the false positive rate is 0.8% – as estimated by this paper submitted to SAGE – then if you test 10,000 people, you'll get 88 positive results, of which 80 are false positives and eight are true positives. Perhaps the true community case rate is now slightly higher than eight in 10,000 – the latest ONS infection study puts it at 21 in 10,000 – but even so there is certainly a plausible scenario in which 90% of the positive results from tests in the community are false.
The extraordinary thing is that these reality-checking sleuths then go on to admit this.
If you tested 1,000 people at random for COVID-19 in early September, for example, data from the Office for National Statistics (ONS) infection study suggests you should have expected one of them to actually have the virus.

With a false positive rate of 0.8% – a figure used by Ms Hartley-Brewer and within the broad range of what we think might be the actual rate for community testing – you would get eight false positives. So in that context, it's true that roughly 90% of positives would be false.
But having admitted that there is a scenario in which 90% of positives could be false, they then go on to say that it's no longer plausible because the people volunteering for community testing, as opposed to the people being sampled at random by the ONS, are much more likely to have the virus – the same point made by Tom Chivers in UnHerd and which James Ferguson comprehensively rebutted on Lockdown Sceptics.
Here's what the reality checkers think is their killer point:
Figures for late September from Public Health England show that 7% of community tests were positive. That means if 1,000 people were tested with a false positive rate of 0.8%, eight would be false positives, but 70 would be true positives – the vast majority.
But hang on. They're assuming that PHE's 7% positive rate doesn't include any false positives – hence their claim that if you test 1,000 people 70 would be true positives. But given that they've accepted there's a false positive rate of 0.8%, it's more likely that PHE is counting the false positives alongside the true positives when estimating the current rate of infection. That means that of the 70 people who test positive, eight are false positives, leaving 62 true positives.
Come on, reality checkers. If you're going to chastise another journalist for not getting her facts right – even though she did – you need to get the facts straight yourself.
Stop Press: There's an excellent letter in the Lancet by three doctors raising the alarm about false positives. I look forward to the BBC's reality checkers doing a number on them.
Teeth Deteriorate as Dentists Struggle to Reopen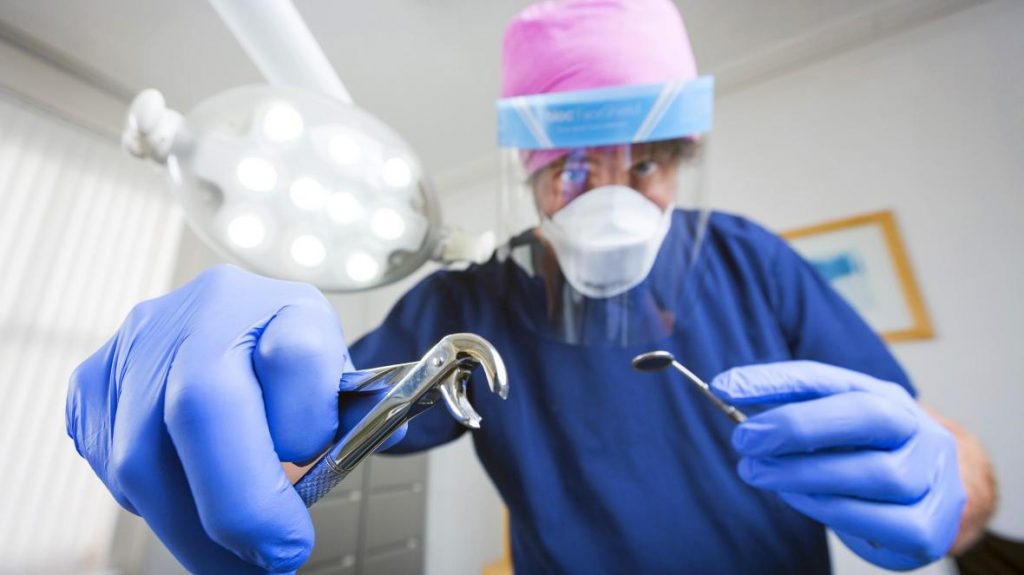 The lockdown has caused a backlog of 15 million dental appointments, leaving many patients suffering badly. The Sunday Times has more.
Patients may have to wait until next year for dental treatment because 15 million appointments have been delayed by the coronavirus.

With restrictions still in place, some dentists can see only emergency cases and are not doing routine checkups. Many are carrying out only serious procedures on patients whose teeth have deteriorated from problems "stored up" for months during the lockdown.

"I've taken more teeth out from the average patient in the past three months than at any point in my career," said Mark Green, 49, a dentist in Whitby, North Yorkshire, who has been treating patients for 22 years.

"It's like going back in time. I saw someone the other day in his twenties who needs 12 teeth out. I've removed those that are [causing] the most pain and then we're going to try and get him in again [for another appointment]."

Though surgeries were able to reopen in June, strict infection-control measures imposed by Public Health England (PHE) mean many dentists can see only a few patients a day. Before the pandemic they would see about 30 a day.
Worth reading in full.
Are Some Muslim Deaths Being Falsely Attributed to Coronavirus?
A reader has an interesting theory about why a higher percentage of Muslims have supposedly died of Covid than non-Muslims.
I was speaking with a work colleague who is a Muslim this week and he was telling me about his 85-year-old neighbour who died. His neighbour had congestive heart disease and wasn't a well man. He caught a cold and thus had to have a COVID-19 test which came back negative. A few weeks later the man died, but the Doctor wanted to perform an autopsy which would take weeks. As per the Muslim faith, his family weren't happy with this as the burial needs to occur within 24 hours, so the Doctor put COVID-19 on the death certificate so that the man could be buried without his having to do an autopsy even though he had not tested positive.

Now I remember looking back at the COVID-19 deaths by Religious group from the ONS and the COVID-19 deaths for Muslims was significantly higher than any other based on population percentage.

So, could this need for quick burial as required by the Muslim faith, and thus COVID-19 being put down as a cause of death, be an influencing factor into why BAME COVID-19 deaths are considered to be so high?
Sixty-Six GPs Urge Hancock to Do No (More) Harm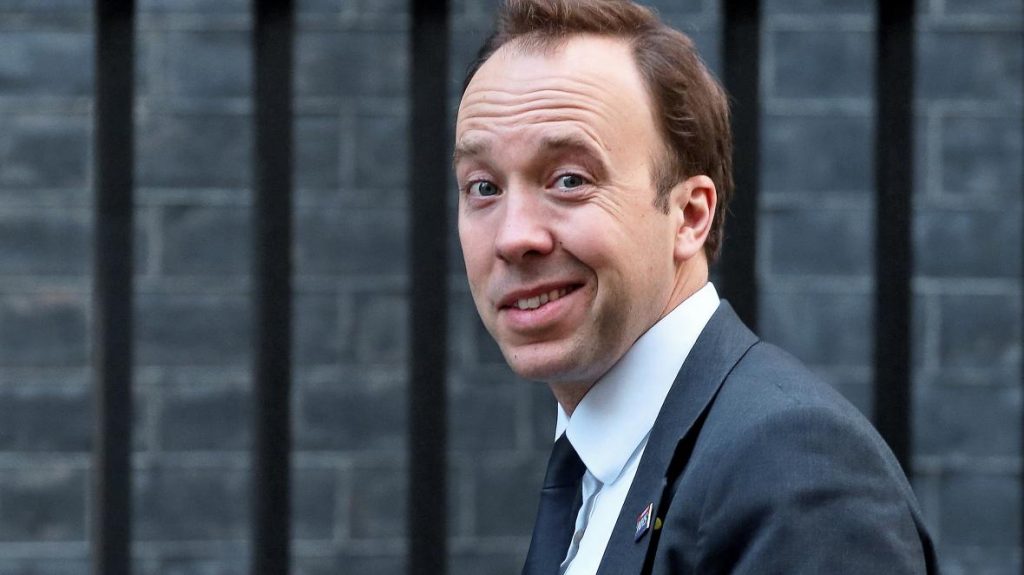 We've seen a number of anti-lockdown letters signed by doctors and medical professionals, such as this one in the US and this one in Belgium. But as far as I'm aware we haven't seen one in the UK – until now, that is. Sixty-six GPs have written to Matt Hancock urging him to consider the collateral damage being done by the ongoing restrictions, listing the tens of thousands of non-Covid excess deaths in private homes since March, the spike in cardiovascular deaths, the rise in child suicides and the problems besetting the elderly – depression, anxiety and loneliness. It's not as forthrightly sceptical as I'd like – the docs say they supported the first lockdown – but the reasonableness of its tone may end making it more effective. And the message is clear: the harm the restrictions are doing to the public's health outweighs the harm they are supposedly preventing. full text of the letter below.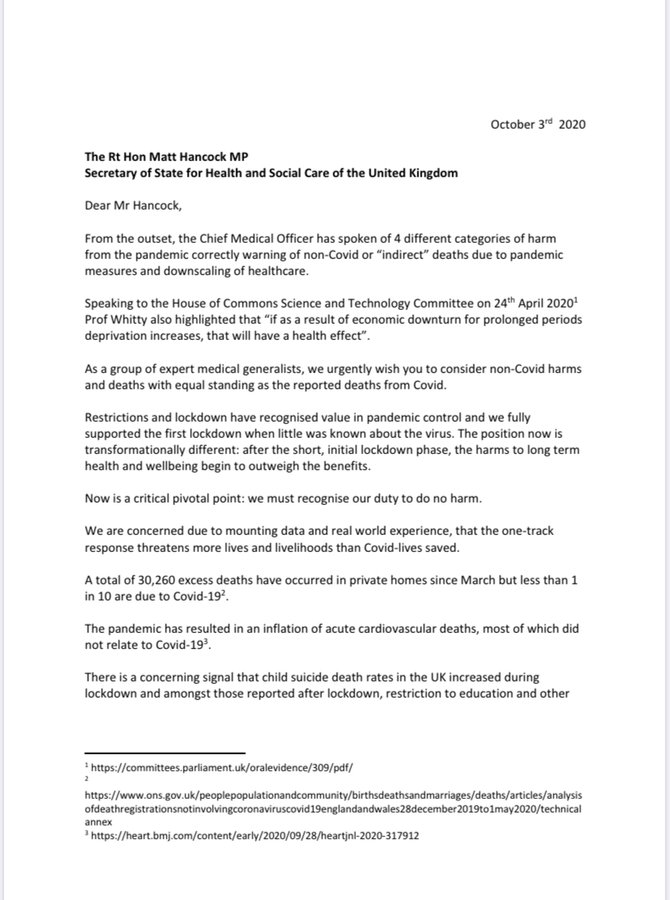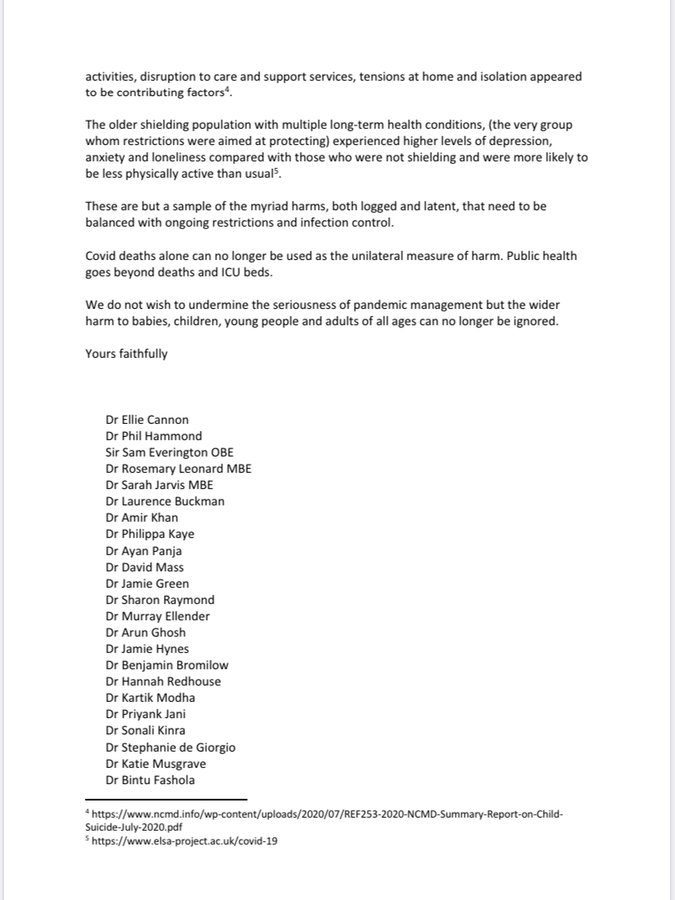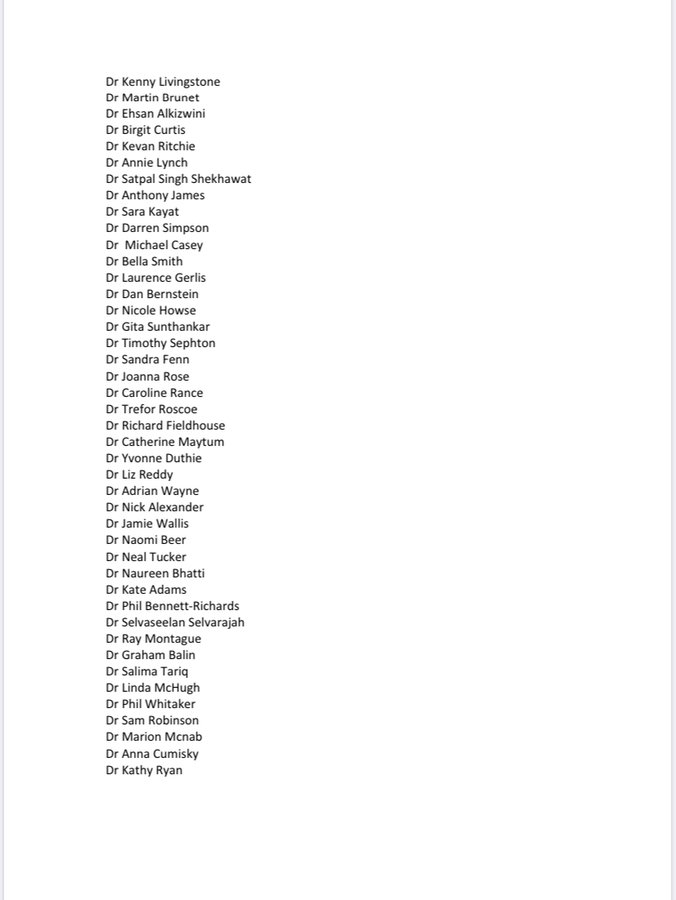 And Now For the Less Admirable GPs…
A reader was prompted by a recent GP horror story on Lockdown Sceptics to provide an anecdote of her own.
My GP surgery is based in a North Wales coastal town. A pharmacy is adjacent to it. I called in to collect a prescription but noticed a queue of six rather dispirited – young and old – people waiting outside the surgery. It was raining, cold and windy. The surgery insists that you don't turn up for your appointment nowadays until exactly the appointed time. Well, shame on these people for being too punctual. The surgery has two large waiting areas where they could wait seated probably 12 feet apart with no problems whatsoever.

Whilst I was in the pharmacy a member of surgery staff came in, I asked why these poor people were waiting outside in these conditions. She said: "That's the way it has to be at the moment." I asked what was going to happen in the winter. Her reply: "They'll have to get better clothing." Then she returned to the surgery, and presumably remained snug and dry in her little office.

Disgraceful.
Tory Constituencies Are Being Spared Second Lockdowns
The Sunday Times says that leaked emails between health officials reveal that Tory areas, such as the newly-won Red Wall seats, are less likely to have second lockdowns inflicted on them than Labour areas.
Wealthy areas, including the chancellor Rishi Sunak's parliamentary seat, are avoiding lockdown despite having higher COVID-19 rates than poorer areas that are subject to restrictions, according to leaked emails between health officials.

The Government is under growing pressure to explain why it has placed large parts of the north and Midlands under local lockdowns while overlooking areas with similar infection rates. Asked why the northwest is "treated differently" from areas such as his own seat of Uxbridge and South Ruislip in west London, Boris Johnson said on Friday: "I appreciate… people want to see an iron consistency applied across the whole country."

Matt Hancock, the Health Secretary, decides which areas to place in lockdown during weekly "gold" meetings with advisers. Yesterday, 50 councils were subject to measures such as bans on household mixing. However, there is no official COVID-19 infection rate that triggers a local lockdown.
The Sunday Times has put together a list that illustrates the scandal:
NO LOCKDOWN
West Lancashire 137 cases per 100,000
Barrow-in-Furness 112
Darlington 110
Craven 109
Newark and Sherwood 84
IN LOCKDOWN
Chorley 73 cases per 100,000
Wyre 71
Lancaster 66
Oadby and Wigston 63
Wolverhampton 56
Worth reading in full.
Round-Up
Love in the Time of Covid
We have created some Lockdown Sceptics Forums, including a dating forum called "Love in a Covid Climate" that has attracted a bit of attention. We have a team of moderators in place to remove spam and deal with the trolls, but sometimes it takes a little while so please bear with us. You have to register to use the Forums, but that should just be a one-time thing. Any problems, email the Lockdown Sceptics webmaster Ian Rons here.
Update: Some of you have asked how to link to particular stories on Lockdown Sceptics. The answer used to be to first click on "Latest News", then click on the links that came up beside the headline of each story. But we've changed that so the links now come up beside the headlines whether you've clicked on "Latest News" or you're just on the Lockdown Sceptics home page. Please do share the stories with your friends and on social media.
Woke Gobbledegook
We've decided to create a permanent slot down here for woke gobbledegook. Today, I want to draw your attention to an excellent piece in UnHerd by Helen Pluckrose entitled "Is Critical Race Theory Racist?" Helen is the co-author of Cynical Theories with James Lyndsay, an excellent primer on the woke cult. The whole piece is worth reading, but here's an extract in which she discusses the ideas of Robin DiAngelo, author of the bestselling White Fragility.
Robin DiAngelo takes a thoroughly postmodern approach. Her belief is that white people are unavoidably racist because of the ways in which they have been socialised in white supremacist countries. DiAngelo identifies America as just such a country but also much of Europe, including the UK.

For DiAngelo, "whiteness" is a system that whites perpetuate with everything they do. In White Fragility, she describes whiteness as a "constellation of processes and practices" consisting of "basic rights, values, beliefs, perspectives and experiences purported to be commonly shared by all but which are actually only consistently afforded to white people". For DiAngelo these processes are "dynamic, relational, and operating at all times and on myriad levels".

Elsewhere, she sets out a tenet of anti-racism, stating that "The question is not 'Did racism occur?' but 'How did racism manifest in that situation?'" There is no possibility of not being racist and DiAngelo's training aims to get white people to accept that they are racist — as the Trump memo claims.
"Mask Exempt" Lanyards
We've created a one-stop shop down here for people who want to buy (or make) a "Mask Exempt" lanyard/card. You can print out and laminate a fairly standard one for free here and it has the advantage of not explicitly claiming you have a disability. But if you have no qualms about that (or you are disabled), you can buy a lanyard from Amazon saying you do have a disability/medical exemption here (takes a while to arrive). The Government has instructions on how to download an official "Mask Exempt" notice to put on your phone here. You can get a "Hidden Disability" tag from ebay here and an "exempt" card with lanyard for just £1.99 from Etsy here. And, finally, if you feel obliged to wear a mask but want to signal your disapproval of having to do so, you can get a "sexy world" mask with the Swedish flag on it here.
Don't forget to sign the petition on the UK Government's petitions website calling for an end to mandatory face nappies in shops here.
A reader has started a website that contains some useful guidance about how you can claim legal exemption.
And here's a round-up of the scientific evidence on the effectiveness of mask (threadbare at best).
Stop Press: A reader with a Down Syndrome child had a bad experience when visiting the audiologists.
On Thursday my 15 year-old daughter had her long-awaited audiology appointment. She has Down Syndrome and the fact that all the faces are covered is deeply distressing to her – so she was quite stressed by the time we got to the waiting area. Passing through the main entrance we were greeted by a young man who detected our un-masked status (I was wearing my lanyard with the mask-exempt card). He helpfully dipped his hand into a box and extended his hand with two masks, saying, "Can I give you these?" I'm polite, I took them, and thanked him, as my daughter looked from my lanyard to my face with a puzzled expression. I put the masks in my bag. As we walked to the right department, I began to wonder whether the lunacy has extended to the audiologists – they who know that facial expressions as well as lip-reading are vital cues for those of us who are hard of hearing. It had. At least the loudspeaker which was used for one part of the test wasn't muzzled!
Samaritans

If you are struggling to cope, please call Samaritans for free on 116 123 (UK and ROI), email jo@samaritans.org or visit the Samaritans website to find details of your nearest branch. Samaritans is available round the clock, every single day of the year, providing a safe place for anyone struggling to cope, whoever they are, however they feel, whatever life has done to them.
Shameless Begging Bit
Thanks as always to those of you who made a donation in the past 24 hours to pay for the upkeep of this site. Doing these daily updates is hard work (although we have help from lots of people, mainly in the form of readers sending us stories and links). If you feel like donating, please click here. And if you want to flag up any stories or links we should include in future updates, email us here.
And Finally…
Danielle Matthews, aka the Bin Singer, has written a song about being stuck in Melbourne that's worth a watch. Some of her complaints will resonate with people still locked down in other parts of the world.