Getting Schoolchildren to Wear Face Masks is Impractical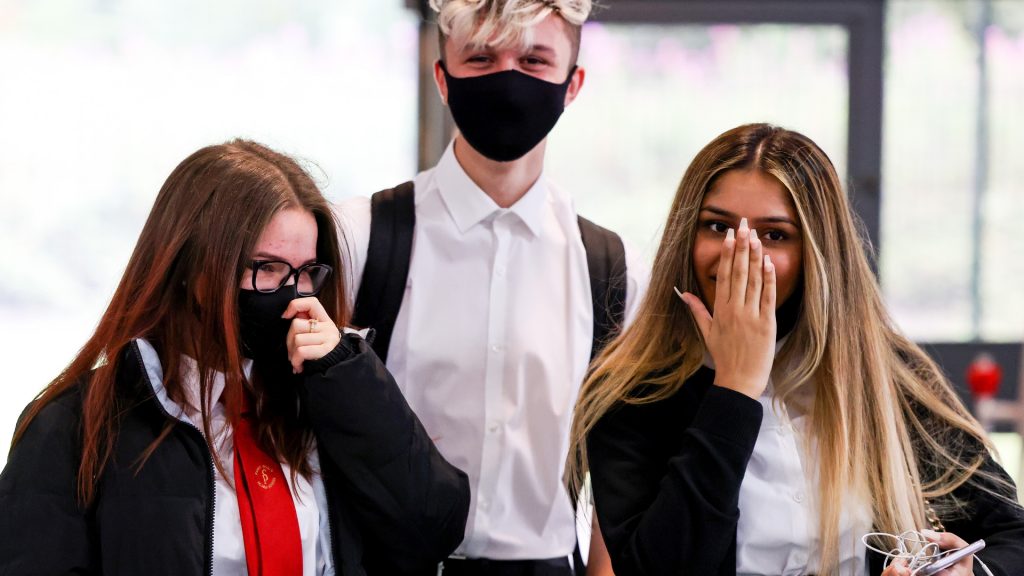 The Spectator has published a great piece by Calvin Robinson, the teacher who featured in a recent job advertisement put out by the Department for Education. He thinks it's completely impractical to get schoolchildren to wear face muzzles.
Has anyone who is recommending the use of masks in schools ever spent any significant amount of time working with young people? It seems unlikely.

Children simply will not wear their masks correctly, if at all. Girls will constantly be adjusting them; boys will be flicking them across the room and pulling each others' elastic bands. They'll all be pulling them down to their necks at break time, resulting in pieces of food and drink being spilt inside. That, and the fact that they'll be wearing them around their necks, mirroring the behaviour of adults they see on public transport, further trapping bacteria. If anything, face masks will be detrimental to the health of young people.

Of course, there is much to be debated about whether face masks are beneficial at all, with the deputy chief medical officer, Jenny Harries, recently announcing that they may, in fact, increase health risks. I'm not a medical expert; I'll leave the science to the professionals. What I do know is that masks will not work in a school environment.
Worth reading in full.
Stop Press: Camilla Tominey has written a good piece for the Telegraph about the Government's hopelessly mixed messaging around school safety
Brazil – Not the Disaster We've Been Led to Believe
Today I'm publishing a great piece about Brazil, debunking the 'disaster' narrative in the international media. In fact, the lifecycle of the epidemic in Brazil has followed the same pattern as everywhere else, provided you break it down into different regions, and in spite of the high death toll it has experienced fewer deaths per million than many European countries, including the UK, and fewer deaths per capita than neighbouring Peru, which has had one of the strictest lockdowns in the world. It's by the same person who wrote the "Postcard From Brazil", one of our best international dispatches to date. This new piece is a must read. Here's an extract:
People without a single clue between them talk like Bolsonaro could have locked down the country by decree and Brazilians would have obeyed passively like in Auckland, and we would have the same death toll as Denmark. These people have never been to Brazil. The effort it would have taken to suppress the unruly and increasingly desperate population of 207 million highly unequal people spread out from megacities to jungle tribes would have required full on martial law being reinstated in a country that was a military dictatorship until the 1960s. Even that might not have worked. Blood would have been shed for sure. Seriously, is this what the 'progressives' want? The subjugation of one of the most free spirited countries on Earth by the military? All to try, and surely fail, to snuff out a vírus so deadly you have to be tested to see if you have it? Has the world gone crazy?

Don't answer that.
The author also makes a very good point about why Brazil's public health advisors have generally been more sensible than their counterparts in the UK and the US.
Brazil has, without a doubt, some of the world's best epidemiolgists, virologists, and infectologists, and it is a pleasure to read their non-ideological takes on things. Why? I'd speculate it is because they have actually had consistent, day-in, day-out, on the ground experience dealing with real epidemics (zika, dengue, yellow fever) instead of researching them from the ivory tower. Nobody here generalises about how things might go based on the progress of the Spanish Flu, but instead rely on observation of the unfolding epidemic as it takes place. I've even read them putting forward the heretical theory that BLM protests in US states with high levels of immunity (New York, New Jersey, etc.) probably didn't contribute much to cases, while states that had 'suppressed' Covid at first (Florida, California) and had low levels of immunity saw surges as an obvious result of the massive superspreader protests. Refreshing to leave bizarro world for a while, isn't it?
This piece is highly recommended. Worth reading in full.
Australian Rules Balls
A journalist friend of mine posted this on her Facebook account yesterday. Heartbreaking.
I just spoke to my 'little' brother (39) who (like the rest of my family) is Australian; he lives in Queensland. On Aug 1st our 81 year-old mother had a severe stroke. The only reason she survived is that, miraculously, my brother and his family happened to be visiting her at her home in NSW at the time; the difference between life and death. Last week she was discharged from hospital in Wagga and so having spent the previous few weeks packing/disposing of her belongings, my brother prepared to take her back home, where he and his family have rearranged their house to accommodate her.

In order to be allowed to cross the state border from NSW to QLD both my brother and mother had to have Covid tests and the appropriate paperwork — mostly electronic — in place.

However, at the border, after a drive of nearly 800 miles, whatever the paperwork was meant to be it was not sufficiently in order and as a result my brother and mother had to spend 3 days in a (quote/unquote) 'shitty motel' waiting for some jobsworths to join the dots. At no point was anybody able/willing to join those dots sufficiently to see that detaining an 81 (she's 82 next week) year-old recovering stroke victim in a motel for several days was perhaps less than ideal, given that the alternative would simply have been to allow her to cross the border (this is a state border, remember, not another country) in a comfortable car with her son and be driven to the family home… 40 miles away.

The grotesque absurdity — not to mention irony —of forcing a frail octogenarian who had already tested negative for Covid to spend any time at all in a motel in order to protect… well, who precisely? (And from what? 'Catching' a stroke?)… is not lost on either me, my brother or indeed our mother. The only upside is that they weren't attempting to travel out of Victoria, which is now effectively a police state. Anyway, they got home eventually and while they are currently forced to self-isolate for a fortnight, my mother (and my stoic/heroic little bro) are, somewhat against the odds, doing fine. The moral of this story: THERE ARE MANY OTHER (FAR MORE POTENTIALLY LETHAL) MEDICAL ISSUES FOR THE ELDERLY BEYOND COVID-19.
Manchester Police Break Up Party For Terminally Ill Child
There's a shocking story in the Mirror about Manchester Police's over-zealous enforcement of lockdown rules.
A police chief said "we can't win" after officers were called to a terminally-ill child's birthday party amid accusations of a heavy-handed approach to people breaking lockdown rules.

Chief Constable Ian Hopkins of Greater Manchester Police, used the case as an example of the tough decisions officers are facing each day during the coronavirus pandemic.

The incident was dealt with via "a quiet word", but the Chief Constable has revealed the force has been compared to "a police state" over the way it has tried to enforce social distancing rules.
Actually, Chief Constable, there is one way you could "win". You could exercise a little discretion in your enforcement of draconian lockdown rules – or simply ignore the rule breakers altogether.
Even NHS Test and Trace Admits Cases Are Falling
Good story in the Telegraph about case numbers falling. They weren't going up according to the ONS infection survey, but now even NHS Test and Trace has conceded defeat.
The number of people testing positive for coronavirus has declined for the first time in six weeks – despite an increase in tests.

Only 6,115 positive cases were recorded by NHS Test and Trace across England between Aug 13 and 19, down from 6,616 in the previous week.

The figures were released on Thursday, as ministers decided whether to impose more local or regional lockdowns in order to suppress the virus.

Restrictions remain in place in Greater Manchester, parts of Lancashire, Leicester, Luton and Northampton.

Since the beginning of July, the statistics provided by Test and Trace had shown a steady weakly rise of positive results, outstripping the increase in the number of tests conducted.

They were used as evidence by some experts to argue for the reintroduction of lockdown measures.
Can the pointless local lockdowns now be lifted, please?
Free Speech Union is Looking For a Chief Legal Counsel
The Free Speech Union is looking for a full-time Chief Legal Counsel. Pay is £70,000 to £75,000. Please click on the job ad for more details – and if you know a lawyer who might be interested, please forward. Thanks.
Round-Up
Theme Tunes Suggested by Readers
Four today: "Don't Stop the Carnival" by Alan Price, "No Common Sense" by Yvonne, "Mixed Messages" by the Bangles, "Insult Your Intelligence" by One Inch Punch, "Brainwashed" by the Kinks and "Hook, Line and Sinker" by Frankie Swain
Love in the Time of Covid
We have created some Lockdown Sceptics Forums that are now open, including a dating forum called "Love in a Covid Climate" that has attracted a bit of attention. We've also just introduced a section where people can arrange to meet up for non-romantic purposes. We have a team of moderators in place to remove spam and deal with the trolls, but sometimes it takes a little while so please bear with us. You have to register to use the Forums, but that should just be a one-time thing. Any problems, email the Lockdown Sceptics webmaster Ian Rons here.
Small Businesses That Have Re-Opened
A few months ago, Lockdown Sceptics launched a searchable directory of open businesses across the UK. The idea is to celebrate those retail and hospitality businesses that have re-opened, as well as help people find out what has opened in their area. But we need your help to build it, so we've created a form you can fill out to tell us about those businesses that have opened near you.
Now that non-essential shops have re-opened – or most of them, anyway – we're focusing on pubs, bars, clubs and restaurants, as well as other social venues. As of July 4th, many of them have re-opened too, but not all (and some of them are at risk of having to close again). Please visit the page and let us know about those brave folk who are doing their bit to get our country back on its feet – particularly if they're not insisting on face masks! If they've made that clear to customers with a sign in the window or similar, so much the better. Don't worry if your entries don't show up immediately – we need to approve them once you've entered the data.
"Mask Exempt" Lanyards
I've created a permanent slot down here for people who want to buy (or make) a "Mask Exempt" lanyard/card. You can print out and laminate a fairly standard one for free here and it has the advantage of not explicitly claiming you have a disability. But if you have no qualms about that (or you are disabled), you can buy a lanyard from Amazon saying you do have a disability/medical exemption here (now showing it will arrive between Oct 3rd to Oct 13th). The Government has instructions on how to download an official "Mask Exempt" notice to put on your phone here. You can get a "Hidden Disability" tag from ebay here and an "exempt" card with lanyard for just £3.99 from Etsy here.
Don't forget to sign the petition on the UK Government's petitions website calling for an end to mandatory face nappies in shops here (now over 30,000).
A reader has started a website that contains some useful guidance about how you can claim legal exemption.
And here's a round-up of the scientific evidence on the effectiveness of mask (threadbare at best).
Shameless Begging Bit
Thanks as always to those of you who made a donation in the past 24 hours to pay for the upkeep of this site. Doing these daily updates is a lot of work (although I have help from lots of people, mainly in the form of readers sending me stories and links). If you feel like donating, please click here. And if you want to flag up any stories or links I should include in future updates, email me here. If you want me to link to something, don't forget to include the HTML code, i.e. a link.
And Finally…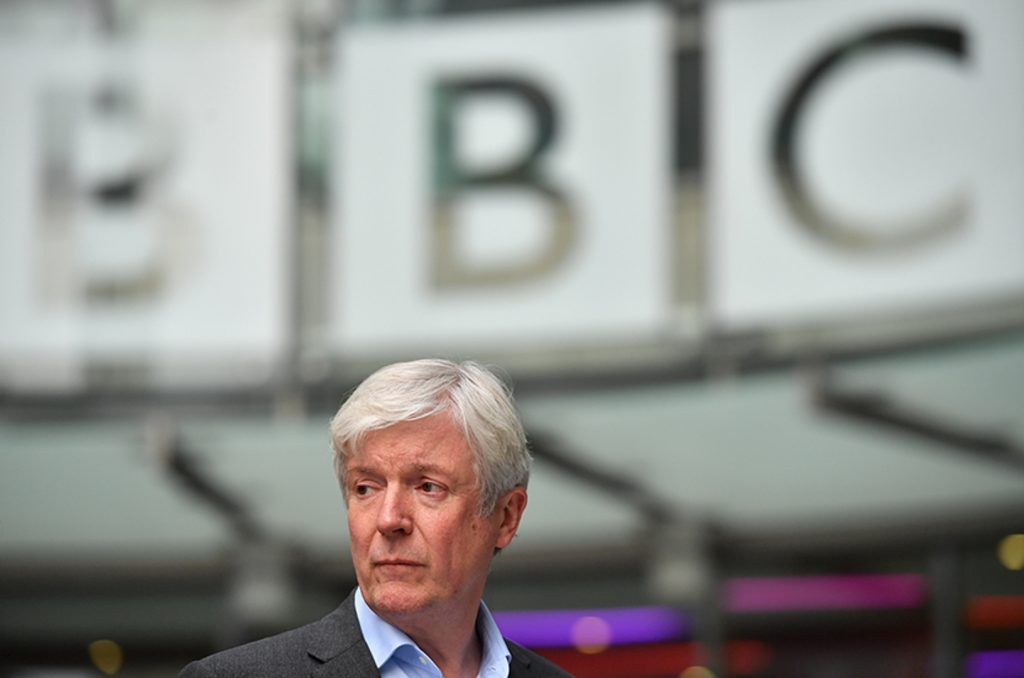 In my Spectator column today I take aim at the BBC. I wasn't impressed by Tony Hall's speech to the Edinburgh Television Festival.
Reading the speech Tony Hall gave to the Edinburgh Television Festival, I was struck by his upbeat, confident tone. The outgoing director-general of the BBC talked about how its reporting of the coronavirus crisis had brought its core mission as a public service broadcaster into sharper focus and boosted its popularity, particularly among 16- to 34-year-olds. He said his goal when he arrived at the BBC was to reach a global audience of 500 million by 2022, its centenary year, and this target has now been revised upwards to a billion by the end of the decade. "But it needs extra investment from government and that bid is with them right now," he said.

Doesn't Tony Hall realise that the BBC's future is hanging by a thread? The corporation struck a deal with the government five years ago whereby it promised to cover the cost of providing free TV licences to the over-75s in return for hiking up the licence fee, and it has now reneged on that deal. As of this month, three million pensioners will have to fork out £157.50 a year if they want to watch television — not just the BBC, but any live TV at all. In response, Oliver Dowden, the Culture Secretary, said the government would look seriously at decriminalising non-payment of the licence fee. If that happens, the BBC is toast. Who in their right mind is going to pay a voluntary fee to the BBC just for the privilege of owning a television set, particularly when they're already subscribing to Sky, Netflix, Amazon Prime, Apple TV, Disney+ and God knows what else?

Doesn't Tony Hall realise that the BBC's future is hanging by a thread?

Seemingly oblivious to this iceberg hoving into view, the cheerful captain boasted about the £100 million he has ring-fenced in the commissioning budget to pay for 'diverse and inclusive programming' and the 20 per cent 'diverse-talent target' he's put in place — as if that's going to save the ship. When Hall talks about 'diversity' you can bet your bottom dollar he doesn't mean commissioning more programmes from Brexit-supporting, Tory-voting global warming sceptics. Nor does he mean over-65s, with the exception of Sir David Attenborough. Nor, I suspect, will the BBC be including people who live in rural areas in its 'diverse-talent target', particularly if they hunt or shoot. No, he means more BAME people, even though they only make up 13 per cent of the population.
But, of course, the thing that's done the greatest harm to the BBC's reputation this year is its coverage of the coronavirus crisis.
The BBC has done colossal harm to its reputation since the beginning of the pandemic by faithfully regurgitating all the information it's been fed by the public authorities, becoming little more than a propaganda arm of 10 Downing Street. A responsible public service broadcaster would have stepped into the breach after parliament was suspended, scrutinising the big government decisions such as clearing out hospital wards, cancelling all non-emergency surgery, suspending cancer screenings, shutting down GP practices and turning the NHS into a Covid-only service.

But instead of challenging this daft strategy, the BBC did everything it could to make it seem sensible, broadcasting story after story about patients battling with the virus, kept alive by selfless and exhausted NHS staff. We'll be living with the consequences of that failure for years, with one eminent oncologist predicting we'll see 30,000 preventable deaths from cancer alone in the next decade.
Worth reading in full.