Zero Hospital Deaths in English Hospitals Yesterday
Several people tweeted out this graph yesterday, accompanied by the news that zero deaths were recorded by NHS England on August 19th. While that's true (I checked the NHS England website this morning), it isn't the first time that's happened as I've reported on Lockdown Sceptics many times before. In the past, the zero figure has subsequently been updated as recorded deaths for the day in question start trickling in. Will be interesting to see if that happens for August 19th, but I suspect it will.
Hospital Admissions Over-Counted
Must-read story in the Telegraph. According to an analysis done by SAGE, people admitted to hospital in March and April were counted as Covid admissions if they'd ever tested positive for the disease, regardless of how much time had elapsed between the test and the admissions and regardless of the actual reason they were being admitted. Science Editor Sarah Knapton has more.
An investigation for the Government's Science Advisory Group for Emergencies (Sage) found that people were being counted as Covid hospital admissions if they had ever had the virus, and were added to those being admitted directly due to it.

Government figures show that, at the peak of the pandemic in early April, nearly 20,000 people a week were being admitted to hospital with coronavirus (see graph below), but the true figure is unknown because of the problem with over-counting.

The oversight echoes recent problems with the data for Covid-19 deaths, in which it emerged that thousands of people who died of other causes were being included in coronavirus statistics if they had once tested positive.

Professor Graham Medley, of the London School of Hygiene and Tropical Medicine, asked by Sage to look into the situation, told The Telegraph: "By June, it was becoming clear that people were being admitted to hospital for non-Covid reasons who had tested positive many weeks before".

"Consequently, the NHS revised its situation report to accommodate this."

The investigation led to a readjustment of how the figures were compiled at the beginning of July.

On Thursday night, experts warned that the miscalculation was particularly concerning because the number had been used to reflect the current state of the epidemic.

Professor Carl Heneghan, the director of the Centre for Evidence-Based Medicine at the University of Oxford, said: "The admissions data is a crucial point. I'd say it is more important than the death data because it is the best marker of the impact of the disease."
Worth reading in full.
Vicar of Dibley Moment
There's a nice story in East Anglian Daily Times about a parish council that was forced to hold a meeting in a car park because four of its members can't use Zoom.
In a situation that could have come straight out of the script from the Vicar of Dibley, Tostock Parish Council decided it had to meet in the car park because four of its nine members don't have the computer equipment needed to hold a Zoom meeting. There are also fears that the broadband in the village is not good enough to host an online meeting.
Worth reading in full, although the bedwetting comments of councillors worried about catching Covid from standing in a car park for 10 minutes are a bit depressing.
SAGE Advisor Cannot Calculate Risk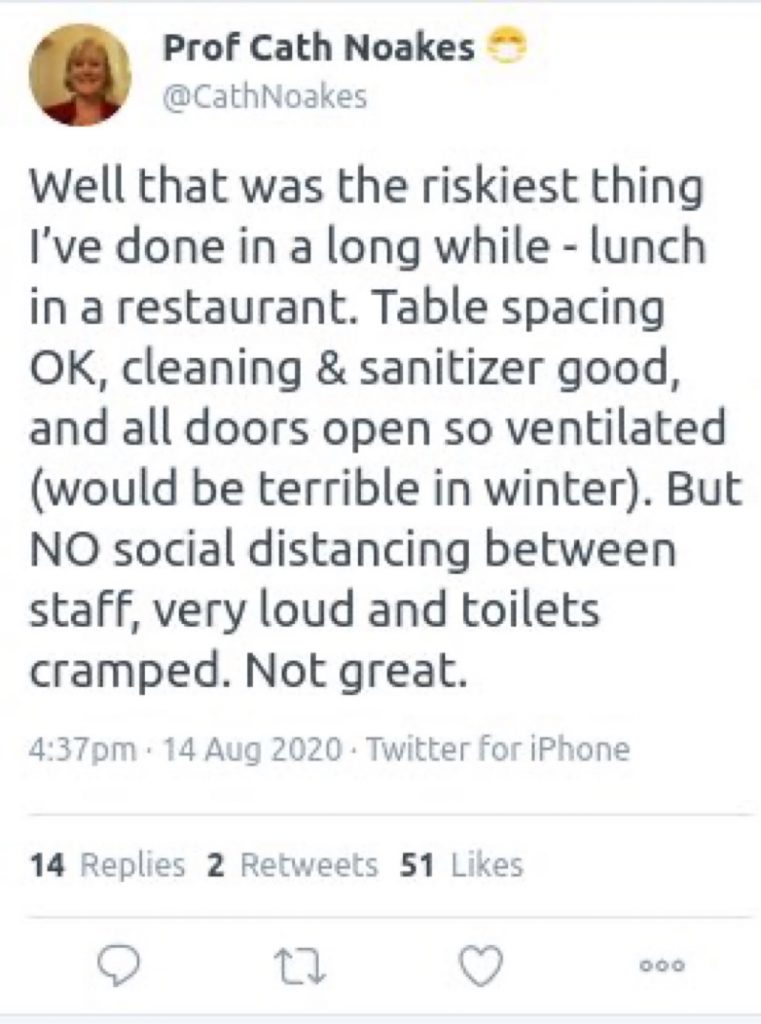 This tweet from Catherine Noakes, Professor of Environmental Engineering for Buildings at the University of Leeds, is revealing. Why? Because she's a member of SAGE. Surely, as a scientist, she should know that her chances of dying from COVID-19, given that she's under-65, are lower than dying in a road traffic accident? Indeed, people of all ages are six times more likely to die of flu or pneumonia at the moment, according to the ONS. Did Professor Noakes refuse to go to restaurants during the winter of 2017-18? There were 50,000 excess deaths that winter, likely due to seasonal flu and unusually cold weather. That's more deaths than there have been from Covid to date.
With bedwetters like this advising the Government, no wonder we're in such a pickle.
Head Teacher Orders Five Year-Old Children to Wear Masks
A head teacher in Milton Keynes is insisting that all children at his school, including those as young as five, wear masks or face shields when they return in September. The Milton Keynes Citizen has the story.
Warren Harrison, chief executive officer of the Premier Academy's Eaton Mill primary school in Bletchley, issued the order in a newsletter to parents on Monday.

He had previously warned parents that if they're not taking Covid-19 seriously they need to find another school, advising them to: "Maybe try Hogwarts".

In his newsletter, Mr Harrison slams the government for "doing everything on the hoof" and says the Premier Academy is acting with "common sense, logic and reason" in its face mask initiative.
This is against the UK Government's guidelines. Won't stop him, of course. Best hope is if a parent brings a lawsuit against the school.
Meanwhile, please sign this ThemForUs petition urging primary and secondary schools not to make face masks mandatory.
Windswept Testing Facilities
A reader has been in touch to tell me about his testing experience when he came back from his hols.
I returned this morning from a holiday in the United States with my family. We'd been staying in Vermont (1,533 total positive tests state-wide since mid-March; 58 deaths with Covid) and on the island of Nantucket (49 positive tests since March 16th; one death) so naturally as likely plague-carriers we're required to quarantine on our return to the UK.

When we got home I thought we might as well get tested in anticipation of the government finally seeing reason and changing the ludicrous rules currently in place and went online to see what testing options were available. The first search result was a drive-through NHS test down the road, and it said 'testing for all patients'. Not overly keen on tossing away six hundred quid unnecessarily, I called the number which rang through to a call centre in Northern Ireland. To my astonishment, after asking me why I wanted to test myself and family (I said because we'd been travelling), the operator said it was a waste of time but yes, even if we had no symptoms and were not essential workers we could have one. He then identified 3 drive-in test sites within 11 miles and offered an appointment at any of them for the same day. I chose the nearest, and he said we could have any time slot we wanted the same afternoon (I was calling a little after midday).

We drove to the site, which was the entire car park of a Leisure Centre – closed of course. There were 11 uniformed and nappied NHS-badged staff, two tents and not another soul the whole time we were there. Everything was deeply efficient and the staff were extremely nice – relieved to have something to do. It took about 20 minutes for the whole family to self-administer the tests in the car, and we drove off leaving them to the deserted car park. That's the way the money goes.
Round-Up
Theme Tunes Suggested by Readers
Just one today: "Comedy of Errors" by Joe Saunders.
Love in the Time of Covid
We have created some Lockdown Sceptics Forums that are now open, including a dating forum called "Love in a Covid Climate" that has attracted a bit of attention. We've also just introduced a section where people can arrange to meet up for non-romantic purposes. We have a team of moderators in place to remove spam and deal with the trolls, but sometimes it takes a little while so please bear with us. You have to register to use the Forums, but that should just be a one-time thing. Any problems, email the Lockdown Sceptics webmaster Ian Rons here.
Small Businesses That Have Re-Opened
A few months ago, Lockdown Sceptics launched a searchable directory of open businesses across the UK. The idea is to celebrate those retail and hospitality businesses that have re-opened, as well as help people find out what has opened in their area. But we need your help to build it, so we've created a form you can fill out to tell us about those businesses that have opened near you.
Now that non-essential shops have re-opened – or most of them, anyway – we're focusing on pubs, bars, clubs and restaurants, as well as other social venues. As of July 4th, many of them have re-opened too, but not all (and some of them are at risk of having to close again). Please visit the page and let us know about those brave folk who are doing their bit to get our country back on its feet – particularly if they're not insisting on face masks! If they've made that clear to customers with a sign in the window or similar, so much the better. Don't worry if your entries don't show up immediately – we need to approve them once you've entered the data.
"Mask Exempt" Lanyards
I've created a permanent slot down here for people who want to buy (or make) a "Mask Exempt" lanyard/card. You can print out and laminate a fairly standard one for free here and it has the advantage of not explicitly claiming you have a disability. But if you have no qualms about that (or you are disabled), you can buy a lanyard from Amazon saying you do have a disability/medical exemption here (now showing it will arrive between Oct 3rd to Oct 13th). The Government has instructions on how to download an official "Mask Exempt" notice to put on your phone here. You can get a "Hidden Disability" tag from ebay here and an "exempt" card with lanyard for just £3.99 from Etsy here.
Don't forget to sign the petition on the UK Government's petitions website calling for an end to mandatory face nappies in shops here (now over 29,500).
A reader has started a website that contains some useful guidance about how you can claim legal exemption.
And here's a round-up of the scientific evidence on the effectiveness of mask (threadbare at best).
Stop Press: Toulouse has become the first French city to insist on mandatory face coverings in all outdoor settings.
Shameless Begging Bit
Thanks as always to those of you who made a donation in the past 24 hours to pay for the upkeep of this site. Doing these daily updates is a lot of work (although I have help from lots of people, mainly in the form of readers sending me stories and links). If you feel like donating, please click here. And if you want to flag up any stories or links I should include in future updates, email me here. If you want me to link to something, don't forget to include the HTML code, i.e. a link.
And Finally…