8pm Curfew Imposed in Melbourne by Power-Crazed Premier
After reading yesterday's "Postcard From Melbourne" I didn't think things could get any worse in the capital of Victoria. But yesterday the power-crazed Premier of the state – Daniel Andrews, known as Kim Jong Dan – announced tough new "Stage 4" restrictions in metropolitan Melbourne, including an 8pm curfew. This looks like another instance of what I'll call the "collapsing skyscraper" rule of this unending catastrophe. Being in lockdown is like falling through a collapsing skyscraper. Every time you think you've come to the bottom and your feet have found solid ground, the floor gives way again.
Here is a list of the "Stage 4" measures introduced from 6pm yesterday and due to last for six weeks:
The "state of emergency" in Victoria has been upgraded to a "state of disaster", meaning police can now enter your home to carry out spot checks even if you don't give them permission and they don't have a warrant.
Between the hours of 8pm and 5am, you're not allowed to leave your homes except for work, medical care and caregiving.
Outside those hours, you may only leave your home for four reasons: shopping for food and essential items, care and caregiving, daily exercise and work. "We can no longer have people simply out and about for no good reason whatsoever," said Kim Jong Dan.
Daily exercise can only take place within a 5km radius of your home and cannot last longer than an hour.
You cannot exercise in groups of more than two, even if they're members of the same household.
Apart from daily exercise, you are only allowed to leave your home once a day for essential supplies and food.
In the whole of Victoria, you cannot buy more than two of certain essential items, including dairy, meat, vegetables, fish and toilet paper.
Schools have closed again, with all Victoria school students returning to remote learning from Wednesday (except for vulnerable children and children of permitted workers). Childcare and kindergarten will be closed from Thursday.
Golf and tennis venues, which were open, have now been closed.
Weddings will no longer be allowed from Thursday, and funerals will be limited to 10 people.
Face nappies anywhere outside your home have been mandatory for people in metropolitan Melbourne since July 22nd, but that rule has now been extended to the entire state of Victoria.
You cannot have visitors or go to another person's house unless it is for the purpose of giving or receiving care. However, you can leave your house to visit a person if you are in an "intimate personal relationship" with them, even during curfew hours. So no "bonk ban".
If you have a holiday home or were planning a holiday outside Melbourne, tough cheese. You must remain in the city for the next six weeks.
The maximum fine for breaching a health order currently stands at $1,652, but Kim Jong Dan said he would have more to say about penalties later today, i.e. he's going to increase them.
These measures were prompted by 671 new cases of coronavirus on Sunday and seven more deaths. That's up from 295 new cases last Wednesday, but down from 723 on Friday. It was that spike on Friday – the highest daily total in Victoria to date – that prompted Kim Jong Dan to unveil the new restrictions yesterday.
But could the increase be due to a corresponding increase in testing? It certainly looks that way.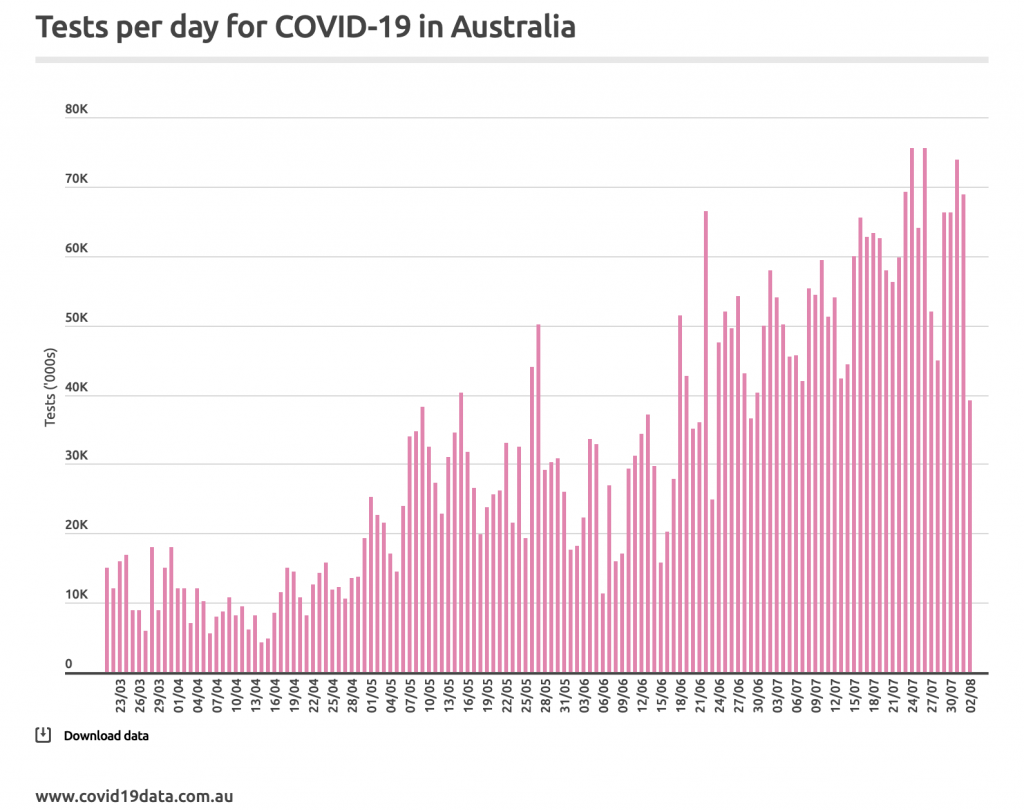 Victoria tested almost 43,000 on Sunday, July 26th, twice as many as on normal days, and the peak on Wednesday could be due to the few days delay before the results come through. In addition, a percentage of the positive results are likely due to the extensive contact tracing introduced in the past few weeks, with targeted testing of those who've been in contact with other infected people.
It looks like a familiar pattern: on the advice of public health officials, a political leader ramps up testing and introduces a track-and-trace programme, then, when the number of cases inevitably increases, the leader panics and introduces draconian new measures.
How long before bungling Boris introduces another new set of random restrictions here?
Stop Press: A "Major Incident" was declared in Greater Manchester yesterday in response to alleged increases in coronavirus infection rates across "multiple localities". (Almost certainly an artefact of increased testing, as explained below.) Major Incidents are typically declared after a terror attack or natural disaster and mean a region can access extra national resources if necessary, with the police able to draft in the army if they need support. Looks like Manchester is in the frame to be the Melbourne of the UK.
Oxford Professor: Covid Cases in England Are Not Rising
Carl Heneghan has struck again. The Professor of Evidence-Based Medicine at Oxford wrote a blog post yesterday in which he showed that the alleged increase in the number of infected people in England – the pretext for locking down four-and-a-half million people last week – is an artefact of increased testing.
First, he looks at the raw data which seems to show the number of positive cases in Pillar 1 (testing in healthcare settings) trending down and the number in Pillar 2 (community settings) trending up.
That alone is sufficient to demolish the case for imposing more restrictions – if an uptick in community cases isn't resulting in an uptick in healthcare cases, then it's nothing to worry about. But Prof Heneghan then goes on to show that the increase in the number of Pillar 2 positives is entirely a function of increased Pillar 2 testing.
However, what happens if you adjust for any change in testing over time? On July 1st – the seven day moving average of testing was 41,109 for Pillar 1 and 43,161 in Pillar 2. By July 31st, the Pillar, 1 seven day average for testing had increased to 49,543 (a 20% increase); while the Pillar 2 had risen by much more – by 82% to 78,522 tests.

The next graph shows what happens when you adjust for the number of tests done and then standardise to per 100,000 tests. Pillar 1 is seen to be still trending down, but Pillar 2 is now flatlining. The increase in the number of cases detected is likely due to the increase in testing in Pillar 2.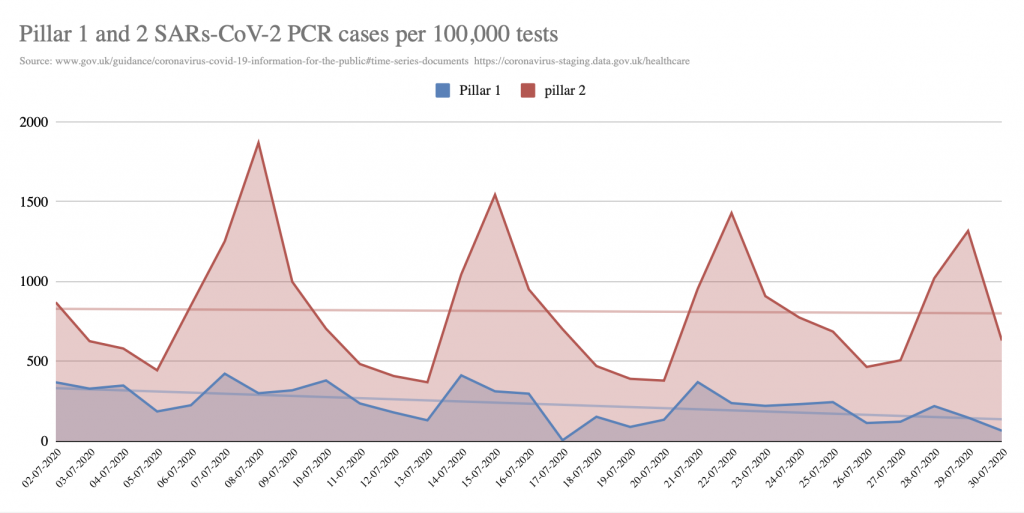 Prof Heneghan's conclusion – typically understated – is that the Government doesn't know its arse from its elbow.
Inaccuracies in the data and poor interpretation will often lead to errors in decisions about imposing restrictions, particularly if these decisions are done in haste and the interpretation does not account for fluctuations in the rates of testing.
Heneghan also gave an interview to the Telegraph's Science Editor Sarah Knapton yesterday in which he said the apparent increase in cases in Greater Manchester, East Lancashire and parts of West Yorkshire disappears if you control for: (a) the date the tests were taken rather than when the results came through; and (b) the increase in Pillar 2 testing.
"The northern lockdown was a rash decision," he said. "Where's the rise? By date of test through July there's no change if you factor in all the increased testing that's going on.

"As areas are tested, like Oldham, then there's a slight rise in detected cases, asymptomatics.

"It's not clear if these are false positives, or if these folk have viable virus or just RNA fragments detected by a test threshold that picks up minute traces of RNA.

"While you get these small clusters, which will have been occurring for some time, they have not led to an overall increase in cases

"The Government needs to allow the local public health teams to do their job when localised clusters emerge."

Mapping the coronavirus trend by result date appears to show a slight increase in cases over the past few weeks, but based on specimen date – a more reliable measure – cases appear to have plateaued and may even be falling.

Between July 22nd and July 29th the seven day rolling average of reported cases jumped between those two dates from 659 to 753 – 16.7%.

However, when judged by specimen date the seven day rolling average actually dropped from 641 to 442, a 31% decrease.

Any rise is also being skewed by a general increase in testing. The seven-day rolling average for tests carried out between July 22nd and July 29th jumped from 137,427 to 153,252 – an 11.5% increase, wiping out much of the increase.

"Why is no one checking this out at Government level?" added Prof Heneghan

"The specimen date is more reliable as the reporting data will be skewed by the delay in Pillar 2 testing reporting."
Northern Lockdown Going Down Like Bucket of Cold Sick
A reader in one of the areas flattened by Boris's "whack-a-mole" hammer has got in touch. Not quite as bleak as you'd think.
I'm in one of the areas recently "locked down" (BD20). We're actually nowhere near the city of Bradford, but presumably the Government couldn't be bothered to plot accurate maps so just lazily locked down the whole council tax area.

Some good news. Matt Hancock's plea for household distancing has gone down like a bucket of cold sick! Everyone I know – and I mean everyone – intends to take no notice of the new rules. Crucially, unlike in March, even the previous lockdown zealots are now jumping ship. I visited my mother-in-law's today with three generations of my family and it was totally different to March. No "sneaking around" needed. Gardens were full and people were happy to park cars outside and mingle freely as if nothing had been said. I think the penny is finally dropping. This will be forever if people go along with it this time.

The same can't be said for local businesses, unfortunately, who have one again been thrown under a bus by these measures.
Anti-Mask Protest in Central London
Missed this yesterday, but there was an anti-mask protest in Central London on Saturday. Russia Today has the story.
Activists took to the streets of London a day after the UK cabinet expanded its guidelines for mandatory face coverings. The demonstration comes amid growing skepticism worldwide over the efficacy of such policies.

A large group of demonstrators assembled in Hyde Park on Saturday, where they listened to speeches denouncing the government's anti-coronavirus measures. Piers Corbyn, brother of former Labour leader Jeremy Corbyn, was among the speakers.

Carrying placards reading "Stop the new normal, save lives,""Freedom over fear," and "Masks are muzzles," the protesters then marched towards Downing Street, stopping outside BBC headquarters along the way.
Question From Reader About Legality of Remote GP Appointments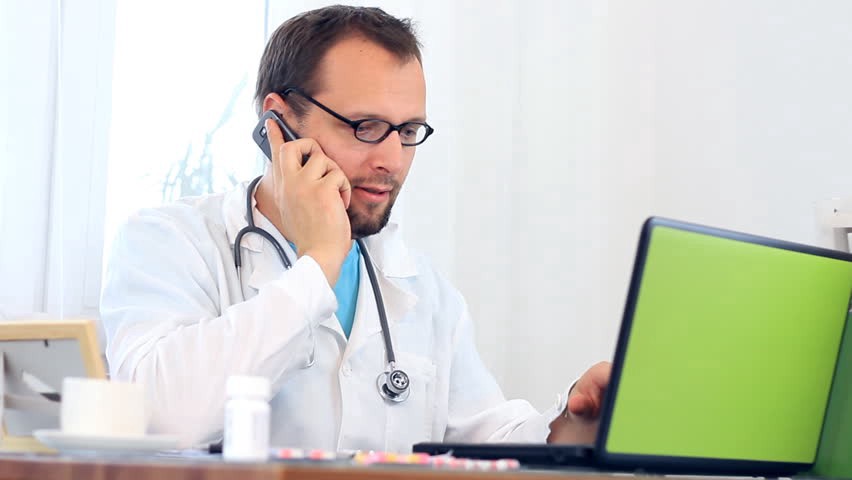 Can anyone answer these questions from a reader about the legality of restricting NHS care?
The Government revoked and replaced the Coronavirus Act 2020 with a pared down Part 2 on July 3rd. Matt Hancock announced that healthcare appointments would remain virtual/remote for the foreseeable future. I wondered if one of your clever readers might be able to explain what is and is not a legal requirement when it comes to the provision of NHS care? After all, when challenged, the Government said it never ordered schools to close, merely recommended it. Is this is a similar situation?

I ask because my elderly dad is 85 and his memory loss has rapidly accelerated under lockdown which is really affecting quality of life. He gets very flustered with technology – even phone calls make him anxious. We've had a specialist second opinion and the consultant wrote to the GP asking him to carry out some tests and to support my dad. His GP will not see him in person, only remotely, and only then when you've run the gauntlet of the terrifying receptionists to get a phone slot. We are in a small rural market town and in our county Covid cases and deaths have remained incredibly low – you're more likely to be trampled to death by a herd of escaped cattle.

It seems extraordinary to me that a 20 GP mega-practice which serves the town and its huge hinterland can just close its doors, and ration and suspend services in this way. I've heard anecdotally of patients being asked to take photos of body parts and email or text them to the surgery, as they can't be seen in person. Surely, that cannot be good medical practice, let along consistent with GDPR, or patients' rights to confidentiality, privacy and dignity? One would hope that the Public Sector Equality Duty still applies, and GP practices are obliged to properly equality impact assess any provision. One would assume they have to properly risk assess it too (Covid not being the only risk!). If your GP practice is over-reaching and presenting guidance as law, what recourse do patients have? I know we were told we had to protect the NHS, but my dad has paid his taxes all his life. It seems really unjust that he's getting such threadbare care.
If anyone knows the answers to any of these questions, please email here and I'll publish them in due course.
News From Cornwall
I may have taken news reports of locals reacting badly to tourists in Cornwall too seriously yesterday. One reader currently on holiday in Cornwall with her 14 year-old daughter and partner says it's actually not too bad.
In St Mawes all the guests, pubs and restaurants seem pretty sensible/chilled. We just had beers and chips at a pub and it was a mask-free zone even among staff, refreshingly. Posher joints such as Hotel Tresanton and the Idle Rocks are closing their restaurants to non-residents in the evenings, however… 🤷‍♀️
New Report Lays Bear Extent of Free Speech Crisis in Universities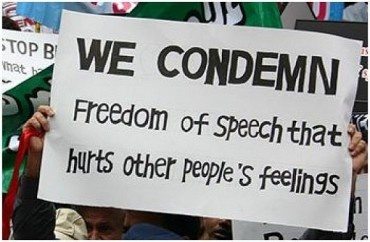 Policy Exchange has published a report today, written by three members of the Free Speech Union's Advisory Council, making clear the extent of the free speech crisis in Britain's universities. Among the findings, based on extensive polling, are:
Fewer than 20% of UK academics voted for right-leaning parties and about 75% voted for the Labour/Liberal Democrat/Green parties in 2017 and 2019.
Only 54% of academics said that they would feel comfortable sitting next to a known Leave supporter at lunch.
Just 37% would feel comfortable sitting next to someone who, in relation to transgender rights, advocates gender-critical feminist views.
A third of academics would seek to avoid hiring a known Leave supporter, and between a third and a half of those reviewing a grant bid would mark it lower if it took a right-wing perspective.
Among the small minority of academics who identify as "fairly right" or "right", 32% have refrained from airing their views in teaching and research.
Having identified the problem – structural discrimination against academics with right-of-centre views – the authors propose a solution: an Academic Freedom Bill. This would provide for the following:
Establish the position of a Director for Academic Freedom as a member of the senior team of the Office for Students, reporting to the Board of the OfS and appointed by the Education Secretary.
Establish that universities and other Higher Education Providers (HEPs) have a direct duty to protect academic freedom.
Establish that breaches of the duty of freedom of speech or of academic freedom are a tort in breach of a statutory duty, with HEPs being liable for damages for violating these duties.
Expand the scope of activities which are protected beyond those specified by existing academic freedom legislation.
Make it explicit in law that, in fulfilling both the public sector equality duty and the harassment provisions of the Equality Act 2010, HEPs are to have particular regard to the need to ensure academic freedom and freedom of speech.
Extend the existing statutory duty to ensure freedom of speech to include Student Unions.
There's much more in this excellent report. Worth reading in full.
And in case you're worried about your own speech rights being violated, you can join the Free Speech Union here.
Postcard From Belgium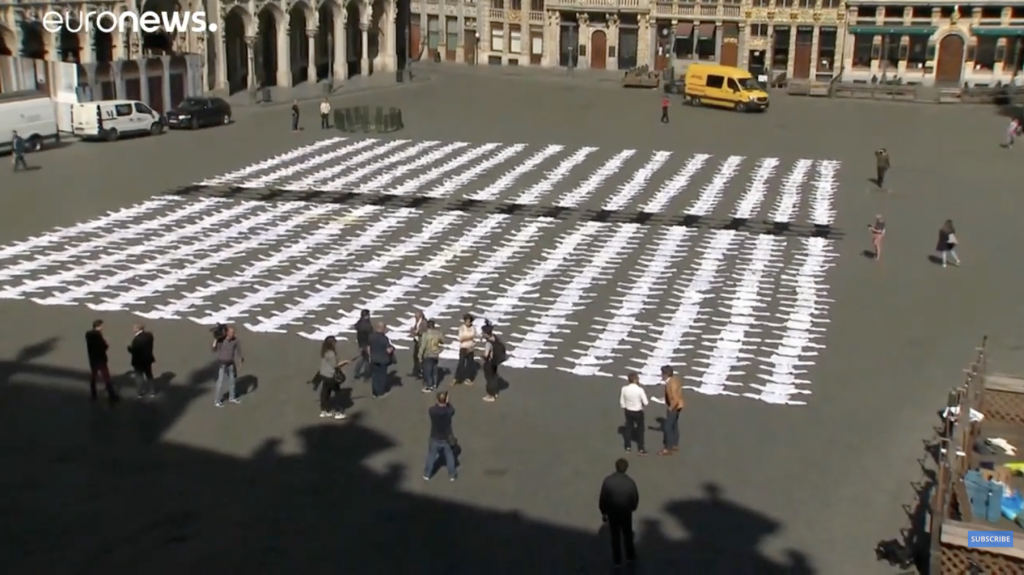 The postcards are coming in thick and fast. Yesterday, I published one from Melbourne – probably the bleakest yet, although it was written before the latest horrific "Stage 4" restrictions were imposed – and today I'm publishing one from Belgium. Sounds like it could give Melbourne a run for its money in the draconian lockdown stakes. Here's an extract:
The madness was ratcheted up even further on July 28th. Initially, a group of 100 town mayors ganged up to impose mandatory mask wearing for pedestrians within their town centres. On the street, walking alone, or in a park within their jurisdictions, masks are now mandatory. Doubtless, the remaining 200 town mayors will follow with breathless urgency to keep everyone "safe". Masks are now mandatory on beaches along the Belgian coast. And this, in a country that banned total or partial "face coverings" in 2011, the legality of which was upheld by the European Court of Human Rights when two Muslim women claimed it breached their "human rights". The irony is stark.

There is zero pushback to this nonsense in Belgium. The news is dominated by rising rates of infection in Antwerp and other hot spots, without any data on hospital admissions, or the condition or age profile of the "infected". A chemist, whom I had regarded as a sensible woman for over 20 years, told me mask wearing was important to "discipline the people". A night out with a banker friend, who could usually be relied on as a comrade in arms, made me realise Belgium is lost. He was genuinely concerned for his personal safety, believed what he was being told by the media, and happily complied with his overlords. The guy I had known for decades was no more.
Worth reading in full.
Round-Up
Theme Tunes Suggested by Readers
Two today: "Sons of Liberty" by Frank Turner and "Don't Believe a Word" by Thin Lizzy.
Small Businesses That Have Re-Opened
A couple of months ago, Lockdown Sceptics launched a searchable directory of open businesses across the UK. The idea is to celebrate those retail and hospitality businesses that have re-opened, as well as help people find out what has opened in their area. But we need your help to build it, so we've created a form you can fill out to tell us about those businesses that have opened near you.
Now that non-essential shops have re-opened – or most of them, anyway – we're now focusing on pubs, bars, clubs and restaurants, as well as other social venues. As of July 4th, many of them have re-opened too, but not all (and some of them are at risk of having to close again). Please visit the page and let us know about those brave folk who are doing their bit to get our country back on its feet – particularly if they're not insisting on face masks! Don't worry if your entries don't show up immediately – we need to approve them once you've entered the data.
Forums Back Up and Running
I enjoy reading all your comments and I'm glad I've created a "safe space" for lockdown sceptics to share their frustrations and keep each other's spirits up. But please don't copy and paste whole articles from papers that are behind paywalls in the comments. I work for some of those papers and if they don't charge for premium content they won't survive.
We have created some Lockdown Sceptics Forums that are now open. Initially, they became a spam magnet so we temporarily closed them. However, we've found a team of people wiling to serve as moderators so the Forums are back up and running. Any problems, email the Lockdown Sceptics webmaster Ian Rons here.
"Mask Exempt" Lanyards
I thought I'd create a new permanent slot down here for people who want to buy (or make) a "Mask Exempt" lanyard/card. You can print out and laminate a fairly standard one for free here (a bit like the one above) and it has the advantage of not explicitly claiming you have a disability. But if you have no qualms about that (or you are disabled), you can buy a lanyard from Amazon saying you do have a disability/medical exemption here (now showing it will arrive between August 20th and 29th). The Government has instructions on how to download an official "Mask Exempt" notice to put on your phone here. You can get a "Hidden Disability" tag from eBay here and an NHS exemption notice for just £2.99 from Etsy here (although when I last checked, it was no longer available).
And don't forget to sign the petition on the UK Government's petitions website calling for an end to mandatory face nappies in shops here.
Shameless Begging Bit
Thanks as always to those of you who made a donation in the past 24 hours to pay for the upkeep of this site. If you feel like donating, however small the sum, please click here. And if you want to flag up any stories or links I should include in future updates, email me here.
And Finally…