Face Mask Hell
I'm still not over yesterday's announcement that face coverings will become mandatory in shops from July 24th. Apart from everything else, the only coverings the Government is insisting on are cloth ones, which every man and his dog knows are COMPLETELY USELESS. As Allison Pearson says in her excellent comment piece in today's Telegraph, "anything other than tight-fitting, surgical-grade masks are utterly pointless – like trying to stop a bullet with a chain-link fence". I mean, the evidence that the gold-standard N95 masks are effective in non-healthcare settings is threadbare at best – and they have to be disposed of after a single use. There is literally no evidence that re-usable cloth masks are effective in community settings. None. It's like wearing a tin foil hat in case you get struck by lightening – an ineffective way to protect yourself from an almost non-existent risk. What has become of us?
I was busy trying to debunk this nonsense yesterday, doing an interview on TalkRadio with Mark Dolan and Iain Dale on LBC, and writing a piece for the Telegraph entitled "Mandatory masks are a matter of politics, not public health".
Face nappies were not the main focus of my ire in that article, but the absurd report by the Academy of Medical Sciences that just happened to be published on exactly the same day the Government announced it would be making masks mandatory.
It cannot be a coincidence that on the day the Government announces that face coverings in shops will be mandatory from 24 July, a group of scientists led by Sir Patrick Vallance has issued a dire warning about the risk of a 'second wave' unless we "get on top of things".

According to this group of 37 scientists from the Academy of Medical Sciences, 119,000 people will die from COVID-19 in hospital this winter. In fact, the death toll could be even higher, they warn, because they haven't factored in likely deaths in care homes. In the executive summary, the list of steps we need to take to "get on top of things" includes "wearing face coverings in settings where physical distancing is not possible", i.e. shops. You don't have to be David Icke to wonder if there are signs of collusion here.
Before getting into the shortcomings of this report, I allow that its 37 authors are probably right about one thing: the increase in demand for hospital care this winter resulting from all those patients turned away by the NHS this spring.
Hospitals suspended all surgery that wasn't "essential" during the crisis – due to fears of "the surge" – which means that millions of scheduled operations have been cancelled in the last four months, as well as screening programmes and outpatient care. Consequently, the NHS will be dealing with a huge backlog of patients this winter as a result of unnecessarily turning all those people away this spring. The Academy of Medical Sciences predicts hospital waiting lists could increase from 4.2 million to 10 million by the end of the year.
The rest of the report, though, is the usual scaremongering balls. For one thing, the scientists assume that between 90 and 95% of the UK population hasn't yet been exposed to the virus, based on the ONS's seroprevalence surveys. But as I was at pains to point out in my exchange with Dr Adam Rutherford on Monday, just because a person has no detectable IgG antibodies doesn't mean they haven't come into contact with SARS-CoV-2 or, if they haven't, that they'll be completely defenceless when they are. In other words, the boffins haven't taken account of T-cell mediated immunity, which significantly lowers the percentage of the population that's still vulnerable to the disease. Indeed, we may have achieved herd immunity by the time winter is upon us. (Australia is doing pretty well, in spite of it being winter there.)
Then there's the fact that the authors of the report have over-estimated the infection fatality rate, which they put at 1.1%. The CDC's recent "best estimate" was a quarter of that, and it will likely fall even further.
And finally, Sir Patric Vallance's merry men have inserted a ludicrously pessimistic assumption about the infection fatality rate in the absence of the soul-destroying precautions they're urging us to take, such as wearing face nappies in supermarkets.
The scientists' "reasonable worst case scenario" assumes the reproduction rate of the virus, absent special measures, will be 1.7, meaning that 10 people that are infectious with COVID-19 will go on to infect a further 17. But according to Professor Carl Heneghan and others, the R number had fallen to below one in the week leading up to the full lockdown on March 23 because the more modest social distancing measures that had been introduced already, which did not include mandatory face coverings, were effective. So why have these 37 experts assumed that the same more modest measures would mean the R number climbing to 1.7 this winter?
My conclusion is that these "experts" are a group of tame lapdogs doing the bidding of their political masters.
I'm afraid that this report looks suspiciously like a propaganda exercise to try and make compulsory face nappies appear more reasonable. The scientists are right about the stress that's likely to be placed on the NHS this winter from the backlog of patients who weren't able to access hospital care this spring. But they would do well to remember that the reason those patients were turned away was because of apocalyptic predictions about the "surge" in demand for critical care that turned out to be wildly inaccurate. Let's not repeat that mistake.
But I regret to say I missed something which a lecturer in mechanical engineering has flagged up to me. Which is that the report's authors haven't created their own model, but have relied on the notoriously flawed Imperial College model. Yup, their 119,000 number has been spat out by the same gimcrack computer model held together with sellotape and chewing gum that produced the 510,000 figure back in March.
My eagle-eyed informant writes:
Ignoring appropriate academic practice, the report's authors are not transparent about how the modelling was carried out. Following up references 42 and 46 on p.12 reveals that it is the Imperial College model, and Ferguson appears in the acknowledgements. A casual reader might assume that the report team did the modelling. They are claiming that "The modelling estimates 119,900… hospital deaths between September 2020 and June 2021" . Have these people learned nothing? Prediction 510k (or 250k, depending), 45k actual (for "with covid" deaths). To suggest that the number of deaths likely to occur is nearly three times greater than shoving the infectious elderly back into care homes is unfathomable. I assume that hospitals will not be repeating that calamity.
Sartre famously said "hell is other people", but I think I can improve on that. Hell is exactly the same people being wheeled out to provide cover every time the Government wants to take away another of our liberties.
Stop Press: I will keep you posted about the below, spotted on Twitter earlier.
Sceptic of the Week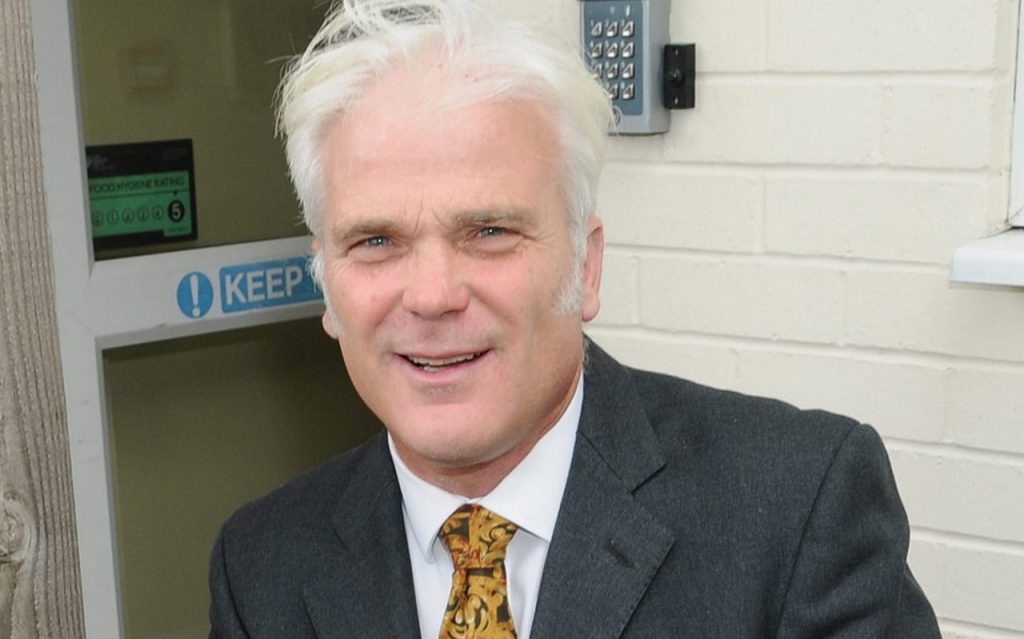 One voice spoke for the nation in the House of Commons yesterday – or, rather, that tiny part of it that is sceptical. And that man was Sir Desmond Swayne, Conservative MP for New Forest West.
"Nothing would make me less likely to go shopping, than the thought of having to mask up!" he bellowed across the chamber when Matt Hancock made his announcement.
I'll leave it to Michael Deacon, the Telegraph's parliamentary sketch writer, to tell the rest.
He was aflame with indignation. It was quite out of character. Normally in the Commons Sir Desmond prides himself on his calm concision, challenging himself to ask questions in the fewest words possible. His record is believed to be three, which he set in May 2018 following a promise by the then Transport Secretary to pursue a "digital railway strategy". Sir Desmond's question, in full, was: "What is it?"

Here, however, he was so enraged that he flung brevity to the wind. This was no time for holding back. An Englishman's face, after all, was his castle.

"Was this consultation with the police force," he fumed, "and in particular with the chief constable of Hampshire? For it is she who will have to enforce this monstrous imposition" – he spat out this phrase as if it were a maggot in a mouthful of apple – "this monstrous imposition against myself, and a number of outraged and reluctant constituents!"
Competition to Find Best Riposte to Crazy Masked Lady
A reader has been in touch with an interesting brain teaser:
I've just received a stern telling off for not wearing a mask on the tube by a crazy masked lady with a posh voice telling me she's lost six (I tell you six!) family members to the "virus". I must admit I was left a bit lost for words but obviously still mask free. What should my response have been?!
Please email your answers to me here. I'll publish the best tomorrow.
No Mask Enforcement in Supermarkets
Got an encouraging message from a reader who works for a high street supermarket chain.
This morning (14/07) we were told that employees would not be expected to wear face coverings, but customers would. However, we should also wait for further advice from head office.

This afternoon, further advice came. The present position is that we have been told "under no circumstances to try and enforce this rule on customers and put ourselves at risk".

I think everyone should be encouraged that enforcement may not occur at all. Certainly, most of my colleagues have said they won't be wearing one.
One in the Eye for Pravda
Good spot from regular Lockdown Sceptics contributor Guy de la Bédoyère yesterday morning:
The BBC's self-appointed role as the Government's Pravda slightly backfired this morning when Naga Munchetty interviewed the virologist Professor Jonathan Ball of the University of Nottingham at about half past eight. Her opening, loaded and leading, question was: "Can you explain why (her emphasis) it is important that face coverings are worn in particular environments such as shops and public transport?"

Ball obligingly explained the theory but went on… "the reality is that we know face coverings trap large droplets and therefore if somebody coughs or sneezes it will reduce the chances of them spreading those droplets but unfortunately when people go about their daily lives they often touch those masks; if they are infected they'll contaminate their hands and they'll go on to contaminate surfaces so I think that it's very important everybody understands that the evidence for mask wearing isn't great but also it may come with hidden risks that they may help spread the virus."

As ever the Government trope that somehow scientific opinion is a unitary force was exposed once more as nonsense. So now we face 100 quid fines for wearing things that might, in one scientist's view at least, actually have the potential to extend the virus's reach.

What's next then? Street corner marshalls accosting shoppers to inspect masks and how often they've been cleaned? Hazmat suits? Why not just dynamite every high street in the country to protect people from shops altogether?
Round-Up
And on to the round-up of all the stories I've noticed, or which have been been brought to my attention, in the last 24 hours:
Small Businesses That Have Re-Opened
A few weeks ago, Lockdown Sceptics launched a searchable directory of open businesses across the UK. The idea is to celebrate those retail and hospitality businesses that have re-opened, as well as help people find out what has opened in their area. But we need your help to build it, so we've created a form you can fill out to tell us about those businesses that have opened near you. Now that non-essential shops have re-opened – or most of them, anyway – we're now focusing on pubs, bars, clubs and restaurants, as well as other social venues. As of July 4th, many of them have re-opened too, but not all. Please visit the page and let us know about those brave folk who are doing their bit to get our country back on its feet – particularly if they're not insisting on face masks! Don't worry if your entries don't show up immediately – we need to approve them once you've entered the data.
Note to the Good Folks Below the Line
I enjoy reading all your comments and I'm glad I've created a "safe space" for lockdown sceptics to share their frustrations and keep each other's spirits up. But please don't copy and paste whole articles from papers that are behind paywalls in the comments. I work for some of those papers and if they don't charge for premium content they won't survive.
I know it becomes difficult to navigate the comment threads after 24 hours. One alternative to continuing to post below my updates is to move to the forum on Lockdown Truth. The creator of that site has extended a warm welcome to everyone here (and he's launching a crowdfunder to mount a legal challenge against the face mask edict which you can read about here).
Shameless Begging Bit
Thanks as always to those of you who made a donation in the last 48 hours to pay for the upkeep of this site. It usually takes me several hours to do these updates, which doesn't leave much time for other work. If you feel like donating, however small the amount, please click here. And if you want to flag up any stories or links I should include in future updates, email me here. I'll try and get another update done soon.
And Finally…
For those miscreants who haven't yet subscribed, here's a link to the latest episode of London Calling, mine and James Delingpole's weekly podcast. This week we discuss Prince Harry's hostage video, my looming holiday in Italy and the horror – the absolute horror! – of mandatory face masks.