Confused Man Wears Mask In Spite of Having Had Virus Months Ago
This picture really does take the biscuit. Why is Boris bothering to wear a mask when he cannot possibly be infectious or catch COVID-19, having had the virus and recovered. Like me, he has the antibodies. Nicola Sturgeon may have made mask wearing in shops mandatory in Scotland on Friday, but no such rule applies in Uxbridge. So what is the big man thinking? Is this a signal that he's about to follow in Sturgeon's footsteps? The Mail seems to think so.
In the early days of the outbreak the UK Government argued that scientific evidence that the masks reduced transmission of the airborne virus was "weak".

But rules requiring people to wear face masks on public transport in England came into effect on 15 June.

On Friday Mr Johnson said "the balance of scientific opinion seems to have shifted more in favour of them than it was, and we're very keen to follow that".

"I do think we need to be stricter in insisting people wear face coverings in confined spaces where they are meeting people they don't normally meet.

"We are looking at ways of making sure that people really do have face coverings in shops, for instance, where there is a risk of transmission," he said during a Facebook Q&A.
Gawd help us if he does decide to wet the bed over masks. One reader – let's call him Tony – has already been in touch to say the very thought of having to wear a nappy on his face every time he leaves the house is making him feel suicidal.
Send Tony some love in the comments.
Stop Press: There seems to be a great deal of confusion about whether face masks should be worn in some of Britain's most popular galleries and museums. You'll be required to wear one at the BFI Southbank when it re-opens on September 1st, as well as the Royal Academy, while the National Gallery merely "encourages" visitors to wear one and the Tate doesn't require them at all. Go figure.
When We Have Herd Immunity, Boris Will Face a Reckoning
I have a piece in the Telegraph today, arguing that the reason the virus is burning itself out in Britain, Europe and parts of America is because we're on our way to achieving herd immunity in those areas.
At the beginning of March, a lively debate took place about whether Britain should pursue a strategy of "herd immunity" – allowing coronavirus to spread until so many people had developed antibodies that it no longer posed a threat to public health – or place the entire country under lockdown. As is well-known, Boris Johnson initially embraced the former, saying the public needed to take the virus "on the chin", then performed a U-turn and imposed a full lockdown on March 23.

But recent data coming out of New York reveals that this was a false dichotomy. Sixty-eight per cent of people who took antibody tests at a clinic in the Corona neighbourhood of Queens received positive results, suggesting that, in this area at least, the population is already close to achieving "herd immunity". This is in spite of the fact that New York imposed one of the strictest lockdowns in the United States.

This fits with other data showing that the life cycle of the epidemic in each region or country where there's been a viral outbreak follows a very similar pattern, regardless of whether or not a lockdown was imposed or how severe it was. For instance, if you plot the rise and fall in the number of new cases in Sweden on a graph, and then compare it to the same data in the UK, the two lines are almost identical, in spite of the fact that Sweden never imposed a lockdown. The same is true if you compare the trajectory of the virus in the 43 US states that locked down with the seven that didn't.
The Telegraph wasn't able to reproduce the graph I had in mind because it appeared in the Spectator. But this is the one I was referring to, which was in an article by Lockdown Sceptics contributor Alistair Haimes.
The fact that the pattern is so similar, regardless of which non-pharmaceutical interventions were made, suggests the reason the R rate has fallen to below one in these areas has nothing to do with the lockdowns and everything to do with the fact that a majority of people have now been exposed to the virus and either had natural immunity or caught it and are now immune. As I point out in the article, that's good news because it means the chances of a 'second wave' happening are virtually nil. But it's bad news for Boris.
As it becomes clearer that the British population will soon achieve herd immunity, just as the population of Corona has, and the lockdown has done nothing to mitigate the impact of the virus, people will begin to ask tough questions of the Government. And Boris won't be able to say we only know this now with the benefit of hindsight because he recognised the wisdom of the "herd immunity" strategy back in March. Whatever his excuse is, it will have to be better than that if the Conservatives are going to survive the reckoning.
Worth reading in full.
Escape to the Costa Blanca
A Scottish reader has been in touch about his escape to Spain. Not quite the idyll he was expecting…
I thought I would give you a quick insight into life in the Costa Blanca, Spain. We escaped Nicola (Bane) Sturgeon a few weeks ago, thinking we were smart. We have had a great time here, but there are potential signs of things to come back in the UK:

1. The wearing of masks is obligatory in all shops. I watched a guy getting manhandled out of Lidl yesterday because he was attempting to cover his mouth with his T-shirt. My wife and I were smirking until I was approached by the same hit squad who had so efficiently dispatched him. I was wearing my usual bandanna, but this was obviously not up to the required standard for this supermarket and I was accompanied out faster than a lizard finds the shade. So now it appears masks have to be of a specific type. Could it happen in the UK next?

2. A new hotel and restaurant opened up on the waterfront in our town. Lovely job. Three days later it was closed down. All the furniture was removed and it was completely de-fumigated. Apparently, the owner was suspected of having Covid. Turned out, he didn't. He had had a car accident two days before and wasn't feeling too well. He got a complete decontamination exercise for his trouble. Hysterical. Not seen anyone in it since!

3. It's great that the shops are open, but it's becoming a health hazard for your hands. You have to disinfect on entry and exit. Visit five shops and that's a lot of chemicals. And how my hands are suffering. Dry and itchy. I tried to pretend to have a squirt on them the other day and the "doorman" reprimanded me for it. Scary…

4. It is becoming increasingly bizarre to see waiters having to wear masks in restaurants while the customers don't. In this heat (up to 40 degrees) it's downright dangerous. Most of them look completely pissed off wearing them. Will there be a health fallout from such intense mask wearing?

5. When we did a runner a few weeks ago we just about had the plane to ourselves flying out of Glasgow. We thought we were the smart ones. But Nicola's decided that we have to serve two weeks solitary when we return, e.g. quarantine. She can't be beaten, but we won't give up trying!
Perhaps it isn't all Wee Krankie's fault. One of her public health advisers, Professor Devi Sridhar, is a bedwetter par excellence. She took to Twitter recently to warn of "constant outbreaks" as lockdown restrictions ease across the country. She said the virus was likely to be present in the UK until at least the spring of 2021 and that if people returned to their normal patterns of behaviour "we will get an uptick for sure".
I know the economy is suffering and jobs are being lost. I recognise the toll that lockdown has taken and I'm not 'pro-lockdown' at all.

In fact my worry is about a second lockdown and how to avoid this happening. Lockdown/release cycles will destroy society and the economy.
That's a new one on me: I'm so worried about the toll the lockdown is taking that I think we should continue to strictly maintain it to avoid having to re-impose it.
Canaries in the Mine Update
I'm publishing a third article in Dr Rudolph Kalveks 'Canaries in the Mine' series today. Dr Kalveks, who has a PhD in theoretical physics, has used a standard tool in epidemiology – the Susceptible–Infected–Recovered/Resolved or ("SIR") model – to analyse the lifecycle of the virus in different countries and he concluded in the first article in the series that in Europe and America the pandemic was approaching the end of its life and a "second wave" was unlikely. He looked at the data again in the second article in the series and saw nothing to change his mind, and he's done the same in the third. Again, the data confirms his initial hypothesis:
Notwithstanding that populations are not homogeneous, so that there may remain local groups of vulnerable individuals who may continue to benefit from continued sheltering, the simple message for UK policymakers is that the historic data from the Coronavirus pandemic does not at present provide evidence to support the continuation of substantial restrictions on the normal functioning of our society and economy.
Worth reading in full.
Letter in Harpers Raising Alarm About the Intolerant Left Makes it Harder to Deny Cancel Culture
I appeared on Sky News earlier to debate Guardian columnist Owen Jones about cancel culture, following the letter that appeared in Harpers last week signed by 153 left-wing writers and intellectuals. Owen tweeted on July 5th that he didn't think cancel culture existed, in spite of the fact that a couple of weeks ago he led demands for Oxford University's Deputy Director of External Affairs to be fired "by the end of the day" because he'd tweeted something disobliging about Owen's friend Ash Sarkar.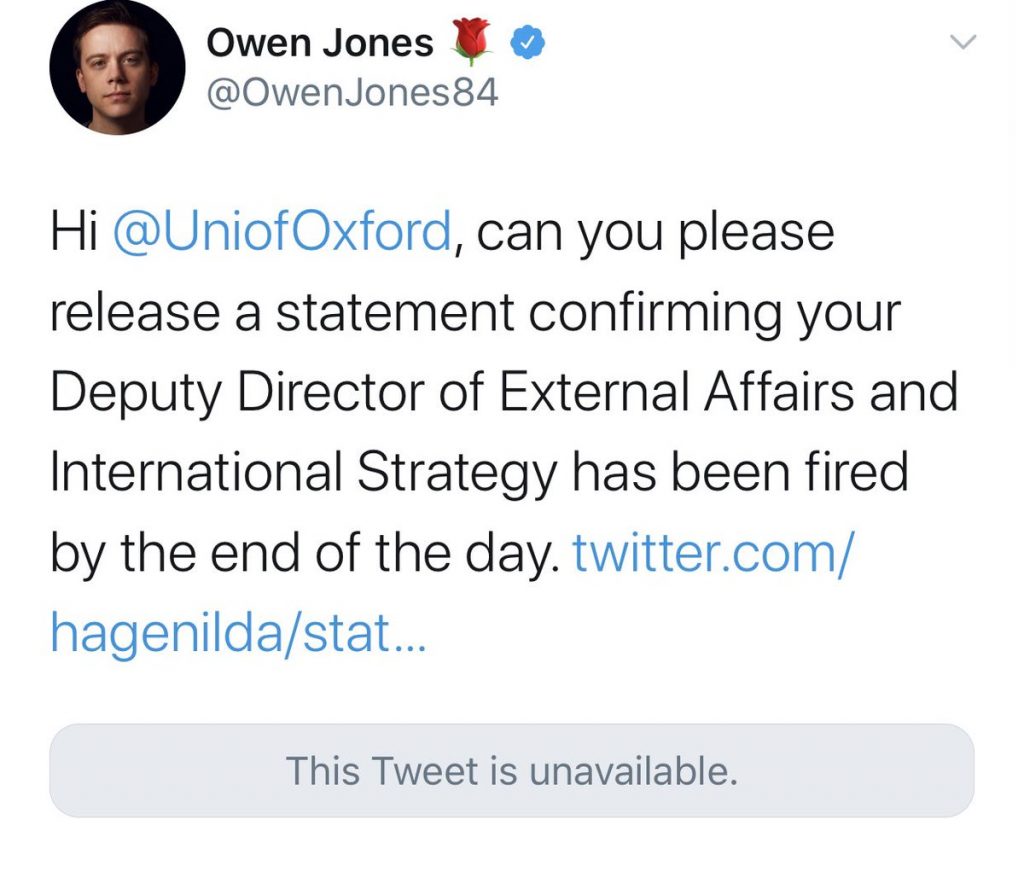 It's like the leader of the Red Guards at the height of the Chinese Cultural Revolution saying, "Struggle sessions? What struggle sessions?"
Round-Up
And on to the round-up of all the stories I've noticed, or which have been been brought to my attention, in the last 24 hours:
Small Businesses That Have Re-Opened
A few weeks ago, Lockdown Sceptics launched a searchable directory of open businesses across the UK. The idea is to celebrate those retail and hospitality businesses that have re-opened, as well as help people find out what has opened in their area. But we need your help to build it, so we've created a form you can fill out to tell us about those businesses that have opened near you. Now that non-essential shops have re-opened – or most of them, anyway – we're now focusing on pubs, bars, clubs and restaurants, as well as other social venues. As of July 4th, many of them have re-opened too, but not all. Please visit the page and let us know about those brave folk who are doing their bit to get our country back on its feet. Don't worry if your entries don't show up immediately – we need to approve them once you've entered the data.
Note to the Good Folk Below the Line
I enjoy reading all your comments and I'm glad I've created a "safe space" for lockdown sceptics to share their frustrations and keep each other's spirits up. But please don't copy and paste whole articles from papers that are behind paywalls in the comments. I work for some of those papers and if they don't charge for premium content they won't survive.
I know it becomes difficult to navigate the comment threads after 24 hours. One alternative to continuing to post below my updates is to move to the forum on Lockdown Truth. The creator of that site has extended a warm welcome to everyone here.
Shameless Begging Bit
Thanks as always to those of you who made a donation in the last 48 hours to pay for the upkeep of this site. It usually takes me several hours to do these updates, which doesn't leave much time for other work. If you feel like donating, however small the amount, please click here. And if you want to flag up any stories or links I should include in future updates, email me here. (Please don't email me at any other address.) I'll try and get another update done on Tuesday.
And Finally…