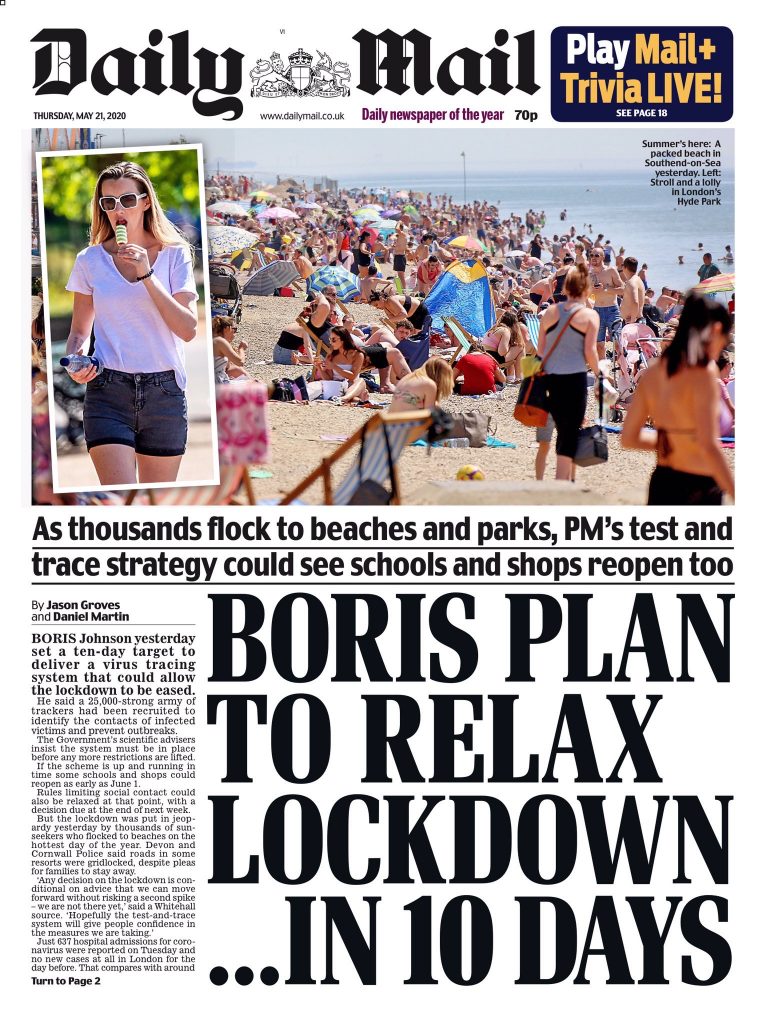 Good story on the Mail's front page today. But is it true? According to the paper, Boris has set a 10-day deadline to operationalise the Government's 'track-and-trace', programme. Once it's in place, he's promised to dial down the lockdown. On the plus side, the number of people tested yesterday hit a record of 177,216 and the Government has reportedly hired a 25,000-strong army of trackers. But if the NHS's contact-tracing app is part of the plan, we may be in for a longer wait. According to the front page of the Independent, it won't be ready by June 1st.
Simon Dolan Serves Papers on the Government
Lawyers acting for Simon Dolan, the aviation entrepreneur mounting a legal challenge against the lockdown, filed over 1,000 pages of legal documents with the High Court this morning. The proceedings are against Matt Hancock, the Secretary of State for Health and Social Care – whose name is on the lockdown laws – and Gavin Williamson, the Secretary of State for Education, who has presided over the closure of schools and universities. The aim of the court action is to lift the lockdown, restore our civil liberties, and allow schools, healthcare services and the economy to restart.
Due to its huge potential significance, the Court is being asked to deal with the matter urgently on a speeded-up timetable. Simon says he hopes to have the case heard in the first week of June. In a press release issued earlier, Simon says:
The number of people furloughed or unemployed stands at 10 million, and billions are being wiped off the economy with every passing day.

Those lucky enough to have jobs left at the end of this crisis could see income tax increase by up to 10p in the pound. The Government has spent £13,000 per household on the bailout so far.

A judicial review is the only effective means of challenging what the Government is doing and holding them properly to account. Boris Johnson and his crew have sleepwalked into this mess and are taking the nation over the cliff edge with them.

Our fight begins proper today!
You can read the press release in full here and contribute to Simon's crowdfunder here. He has already exceeded his fundraising target of £125,000 and increased it to £175,000. Thanks to all those readers who've contributed.
Economic News Just Keeps Getting Worse
Under the headline 'Sunak's £124bn virus bill', the Mail reports findings from the National Audit Office (NAO) showing that Government ministers made more than 500 announcements between January 31st and May 4th in response to the outbreak, amounting to £124.3 billion of spending. It includes £6.6 billion for health and social care measures, £82.2 billion for businesses, £19.5 billion to support individuals – such as via benefits – and £15.8 billion on other public services. It does not include £13.4 billion of NHS debt which has been written off, nor money which the NAO suggests may be lost to "fraud and error".
So that'll be another £10 billion.
An updated online version of the same story warns further that "[t]he grim consequences for UK plc of the coronavirus crisis are becoming clearer with every passing day – as GDP goes into free-fall, public debt soars past £2 trillion and millions become unemployed. Apocalyptic predictions from the Bank of England and others show the UK is on track for the worst recession in 300 years, when the Great Frost swept Europe."
The Guardian reports the Chancellor's plans to spend yet more borrowed money on extending the mortgage relief scheme beyond the end of June, and adds that the Bank of England may move to negative interest rates, a first in its 325-year history. Is the global economy in such a parlous state that the Bank of England thinks investors will pay the British Government to take their money?
On the heels of yesterday's news that 9,000 jobs are being lost at Rolls-Royce, the Times reports that current plans for relaxing the lockdown will not be enough to save many businesses.
Two-Metre Social Distancing Rule Unnecessary, According to NERVTAG Member
Downing Street said yesterday that it has no plans to change the "sensible and safe" two-metre social distancing rule, after Robert Dingwall, a member of the Government's New and Emerging Respiratory Virus Threats Advisory Group (NERVTAG), said the evidence that it is necessary is "fragile". This is despite the fact that many other countries, and even the the World Health Organisation, recommend just one metre. Britain and Spain are now the only European countries to apply the two-metre rule, says the Mail.
Professor Dingwall said on BBC Radio 4: "The World Health Organization recommends a one-metre distance, Denmark has adopted it since the beginning of last week.

"If you probe around the recommendations of distance in Europe you will find that a lot of countries have also gone for this really on the basis of a better understanding of the scientific evidence around the possible transmission of infection."
Iain Duncan Smith has also called for the two-metre rule to be scrapped, according to the Sun.
The Times reports that many businesses will go bankrupt if the rule isn't relaxed. Emma McClarkin, chief executive of the British Beer and Pub Association, told the paper that "at two metres you're probably looking at only 20 per cent of pubs being able to operate" but reducing it to one metre "would put the majority of pubs back in play". Other sectors have also raised concerns:
Richard Walker, boss of Iceland, the supermarket, said: "The reality is that many businesses will not survive if we are too zealous with the two-metre rule. If scientists and experts are comfortable with a way that we can relax it then we absolutely should, because it is critical to so many sectors."

Edwin Morgan, of the Institute of Directors, said that "maintaining two metres' distancing will be difficult for many firms, and impossible for some". He urged the Government to help industry find "innovative ways to adapt".
Some businesses, facing bankruptcy if they remain closed, "have taken it upon themselves to open up despite lockdown restrictions", says the Mail. Can we include them here, please?
Salons, butchers, florists and coffee shops are tentatively opening their doors to customers, by coming up with their own interpretations of the Government's social-distancing rules. In Alresford, Hampshire, eight high street businesses are now open, including a salon – despite the Government insisting hairdressers should not yet be open. And in Thame, Oxfordshire, the chocolatier, hardware store, florist and butcher have thrown open their doors for the first time since the lockdown started in March. Meanwhile in the capital, Broadway Market in Hackney was packed with Londoners lapping up the sunshine and grabbing disposal pints of beer from pubs which have opened up for takeaway refreshments.
The Easy Way to Get Through Lockdown
The Telegraph reports that Liberal Democrat peer Chris Fox is "milking" the taxpayer by furloughing himself from his business but continuing to claim his daily £162 House of Lords allowance for Zoom meetings.
A frontbench peer has furloughed himself despite having a £100,000 cash pot in his company and claiming the daily House of Lords allowance during lockdown, the Telegraph can reveal.

Lord Fox, who owns two homes worth more than £2 million, is the first Parliamentarian known to use the Government's wage subsidy scheme to pay himself. The 62-year-old Liberal Democrat frontbench spokesman for business is the owner and sole employee of Vulpes Advisory, a 'strategic communications' company. His decision to double dip into the taxpayers' pocket was criticised as "milking the taxpayer" by MPs, who said on Wednesday that he should pay the money back. Asked on Wednesday night whether having his private income paid by the state as well as taking the Lords stipend was "greedy", Lord Fox said: "I don't think conflating the two is even logical."

Accounts filed with Companies House show Lord Fox has access to more than £100,000 cash in his Vulpes bank account. Instead of using the money to tide the business over, he furloughed himself and has already received his first month's wage subsidy, of about £1,000, from the Government. Asked why he did not first use the £100,000, he said: "I'm hoping to tide the business over, I'm hoping to relaunch it properly when the scheme… when the virus lifts."

Lord Fox has a five-bedroom house in Windsor, which he reportedly bought in 1995 for £280,000 and which is now estimated to be worth up to £1.89 million, as well as a second home in east London. He sits on the Lords economic affairs committee, before which Rishi Sunak, the Chancellor, appeared as a witness this week. It has held four hearings over the past month, for which Lord Fox will receive £648. He also claims the daily allowance for his work as the Liberal Democrat spokesman for Business, Energy and Industrial Strategy.

Conservative MP Robert Halfon said: "It's incredible that, when my residents in Harlow are struggling to keep a roof over their heads, this peer seems to want to milk the taxpayer at both ends, for every penny – both through the Lords allowance and the furlough scheme. The Chancellor needs to nip this in the bud and make sure this is not allowed. The least he could do is pay the furlough money back."
The Sun splashes with the story that Labour Party supporter Steve Coogan – creator of Alan Partridge – has furloughed his gardener and housekeeper.
The wealthy comic, 54, has left the taxpayer to stump up 80% of the pair's wages. His two staff work full-time at his £4 million home in southern England, which boasts a swimming pool and tennis court.

Tory MP Andrew Bridgen said last night: "The furlough scheme is to protect businesses that are suspended and can't operate during the coronavirus pandemic. It'd be difficult to see how Steve Coogan's earning potential has been diminished."

TaxPayers' Alliance chief executive John O'Connell said: "Support should only be sought if it's really needed."
Day Trippers Defy Lockdown Orders
All the papers had pictures of people ignoring social distancing rules to enjoy Britain's hottest day of the year, with temperatures climbing to 82F – although the snappers know their pictures are more likely to be used if they make it look as if people are bunched more closely together than they are. According to the Mail, tens of thousands of sun seekers packed on to beaches up and down the country and traffic wardens ran out of tickets.
Needless to say, some local panjandrums have been harrumphing about the influx of visitors. According to the Telegraph:
When Boris Johnson announced on May 19th that from May 13th English residents would be allowed to drive to enjoy the outdoors for any length of time (as long as they do not stay overnight), local authorities in places like the Lake District were in uproar, telling travellers firmly to stay away.

In recent days the row has rumbled on, with placards and barricades appearing in parts of the Lakes. Messages scribbled onto boards include "no entry", "please stay away", and – in one specific case – "Keswick is still closed. Please come back when we are open". This "informal" lock-out has even included "impromptu" road blocks – with plastic barriers blocking routes to popular sites.

It's a welcome change then to hear Councillor Seán Woodward, Executive Member for Recreation and Heritage at Hampshire County Council, insisting the all responsible daytrippers are more than welcome.

He told Telegraph Travel: "Our country park car parks operated well over this last weekend and all within the 60% capacity limit imposed following a risk assessment. The vast majority of people behaved both sensibly and in a good humoured fashion, they were pleased to be able to visit, and appreciated the precautions being taken by our staff and the measures in place, which included clear signs and advance communications."
Case Numbers Keep Falling
Meanwhile, the number of cases keep falling. The Times quotes Stephen Powis, NHS England's Medical Director, saying there were 9,953 people in hospital with coronavirus on Tuesday, the first time this has been below 10,000 since March 29th:
No cases of coronavirus have been confirmed for Monday across London and eastern England, an area covering 15 million people, and just 79 have been recorded across England. While the number will rise as laboratories report more data, the figures underline the extent to which transmission has been brought under control.
The Telegraph says that new "surveillance data" suggests "those aged 17 to 29 are the most likely group to carry the infection – although they are far less likely than older people to fall seriously ill".
The sampling by Public Health England, which occurred as the epidemic approached its peak, showed that in early April, around 11% of those aged between 17 and 29 were infected with the virus. Those in their 30s were the age group with the second highest number of infections, at around 10%, with rates closer to 7% among those in their 60s.
Fewer People have Died in 2019-20 than in 2017-18
Interesting post on the COVID-19 In Proportion blog pointing out that the total number of deaths in England and Wales between November 29th and May 8th (275,044) was lower than the total number in the same period in 2017-18 (281,566), when there was an above-average number of deaths from seasonal flu. He also notes that the lockdown on March 23rd doesn't appear to have made any dent in the number of people dying from non-Covid flu and respiratory diseases in 2019-20: "If lockdown is effective at stopping the spread of infection wouldn't there be a drop in the rate of non-Covid flu and respiratory deaths?"
Worth reposting this from the same blog last month, comparing the coverage of deaths from COVID-19 with deaths from influenza in 2018 on BBC News. Needless to say, the 2017-18 influenza epidemic which killed more people than Covid got nary a mention.
Stop Press: COVID-19 In Proportion blog has now updated this post. If you add the second week of May, the total number of deaths in 2019-20 does now exceed those in 2017-18.
MPs "Must Go Back"
House of Commons Leader Jacob Rees Mogg says MPs "must physically return to Westminster if they want to participate in debates and vote on new laws", according to the Mail:
The House of Commons is currently using a 'hybrid' system which allows a maximum of 50 MPs to be present in the chamber while up to 150 can take part using Zoom video software. But Mr Rees-Mogg, the Commons Leader, said the current set-up dramatically curtailed the amount of time which could be spent debating legislation as he said all MPs should come back to London on June 2nd after the Whitsun recess which starts tomorrow. However, the decision sparked a furious backlash from some opposition MPs who said the 'hybrid' model is working and moving away from it would force them to make 'non-essential' journeys.
The Problem With Epidemiological Models
We've published a great piece on Lockdown Sceptics today by Hector Drummond entitled 'The Real Fault with Epidemiological Models'. Drummond, a former academic with a must-read blog called Hector Drummond Magazine, argues that critics of the computer modelling used by Neil Ferguson and his team at Imperial to show that half a million people would die from COVID-19 in the "do nothing" scenario shouldn't focus on the poor quality of the code because "any number of epidemiological modellers could have come up with similar analyses using impeccable code". Rather, the fault lies with epidemiological models in general:
Epidemiology seems to be one of those areas, like climate change, where model reliability matters far less than it should. This can happen to areas that become politicised and where the journals are controlled by strong-armed cliques. It can also be a consequence of modern academia, where the emphasis has shifted almost totally to funding success. Funding success in areas like epidemiology can depend on exaggeration to impress people with agendas and money to burn, like Bill Gates. In an objective field you would expect, after all, underestimates to be as prevalent as overestimates. Yet in this field, overestimates are rife. And the reason for this is the same as the reason why alarmism thrives in climate "science": it's because all the research money goes to those who sound the alarm bells.
This is a top notch piece from someone who understands how academia works. Well worth a read.
How Good is the University of Minnesota's Epidemiological Model?
A reader sent me a long email expressing his doubts abut the epidemiological model that was cobbled together by three grad students overnight at the University of Minnesota in March and then invoked to justify Minnesota's lockdown. This is the model that was unveiled with great fanfare by state officials last month and was relied upon by Minnesota Governor Tim Walz when deciding how to respond to the pandemic. According to an article on the University's website, the model was developed by three graduates students who were called by a professor at the University's School of Public Health on the evening of Friday March 20th and told the model needed to be ready to present to the Governor on Monday morning. "I don't think a lot of researchers get to work on something over the weekend and have public figures talk about it and make decisions based on it three days later," said Marina Kirkeide, who was on a gap year when she got the call.
The model predicted that 57,000 Minnesotans would die absent a lockdown and Governor Walz duly issued a stay-at-home order on March 25th, two days after the results of the simulation were presented to him.
So how shonky was the grad students' model? I asked "Sue Denim", the ex-Google engineer who reviewed Professor Ferguson's model for Lockdown Sceptics, to take a look.
I did a quick scan of the code, insufficient to thoroughly check for bugs, but enough to get a feel for the likelihood of their presence. Despite being the work of rushed grad students it's of a significantly higher quality than the Covid-Sim program from Imperial College – for example, the functions all have extensive comments explaining what they do, variables mostly have meaningful names, there are internal safety checks, and so on. It's written in R, instead of C. R is a language designed for mathematical and scientific use, so the code is a much closer match for what the developer really means and is thus much easier to read. R manages memory automatically and thus the sort of basic memory errors found in the ICL code aren't possible in this kind of program.

Model-wise, it explicitly takes into account hospital capacity, whereas Ferguson's model ignored beds and assumed constant capacity throughout the entire epidemic. It has 36 parameters vs the over 400 parameters found in the ICL code. This is still large, but more reasonable.

Professor Ferguson's team should sit through some lectures given by these students.

So that's the good news. Unfortunately, it's outweighed by the bad news. I agree with your reader's comments about the dodgy assumptions. It's obvious these models have severe theoretical flaws as different codebases keep generating predictions that are wrong, and always wrong in the same direction and magnitude. Beyond parametric difficulties and although this team doesn't seem to have made the same kinds of staggering coding errors found in the ICL codebase, this is still academic code so the critical structural and process problems identified in my first and second analysis of the ICL code are still present.

1. Like before, the history of this program is missing. Taxpayers being able to check the work that was actually used to change policy is seen as unimportant.

2. Although there are no Covid-specific assumptions in the code, it was written fresh for this problem instead of re-using a battle-tested infrastructure. This is something ICL theoretically did better: they re-used a previous codebase from years ago, so it had plenty of time to be thoroughly written and validated. Ferguson's team didn't in fact use the time to do this, but could have if they'd cared, whereas in this case the code was written from scratch in a rush. Even with the best intentions and practices it could never have been subjected to proper validation.

3. There are still no unit or regression tests of any kind. Although they were rapidly changing this program under pressure (exactly the situation where mistakes are most likely to occur) ,nobody bothered writing any code to verify sub-functions or that results of e.g. a single time step matched expectations. That's not surprising – in recent days scientists responding to comments by software engineers have explained that in academic science "if it looks right then it is right".

Given this attitude, is it any wonder that epidemiological models keep producing estimates that are wrong when compared to real world outcomes, yet this doesn't seem to bother anyone in the field ? And models appear no more accurate today than they were during the UK foot-and-mouth epidemic in 2001? Given the lack of any really Covid-specific assumptions that we're seeing here, it would make sense to use generic models that are extensively unit tested against prior-observed outcomes, but we don't see that.

Imagine if a piece of safety-critical software controlling a car were thrown together in a few days by some interns, sold into the market and then went wrong in some way that caused people to die. People would be incredibly angry. It would end up in court. In fact, we don't have to imagine, because the case of the Toyota engine control system gives an example of what happens when standard practices aren't followed. The code for the Toyota ECS looked very much like the code for Covid-Sim: written in C, many global variables, no working peer review process and other problematic practices. Although I think it was never proven that this led to unintended accelerations that killed people, there was also no way to convince a jury it didn't. Unlike in academia, where so far we've seen widespread denial that any problems exist at all, Toyota ended up recalling nearly 10 million cars and dealing with multiple lawsuits. In one of those the court heard testimony about code quality: Toyota settled after they realised the testimony was devastating and they couldn't win.

Bad code can be found anywhere. Markets and regulations can't stop bad code being written, but they do ensure that when the systems are working low quality has consequences and gets pushed to the bottom of the barrel. Those consequences can range from losing customers to losing court cases. If there's any academic equivalent of these outcomes it's unclear what they are. Students determining the fate of millions of people will continue to occur for as long as policymakers incorrectly believe that academic output is of trustworthy quality.
Note on Yesterday's Chart Showing UK Infections Peaked Before Lockdown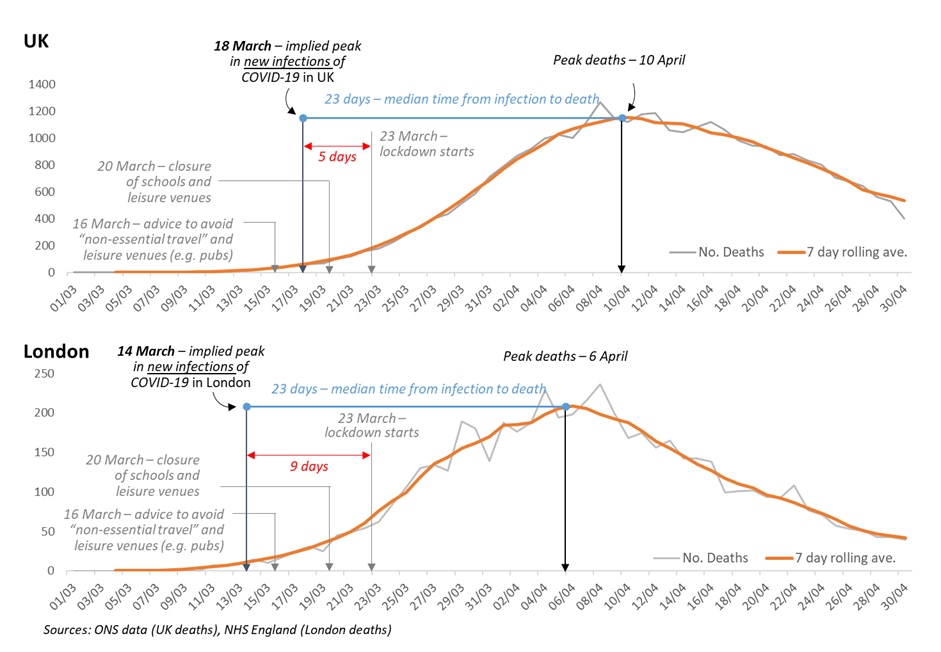 The chart I published yesterday provoked an interesting discussion in the comments, with several people asking where the author got his figure of a 23-day lag time between infection and death. After all, if the median lag time is significantly less than that, then the graph doesn't show that infections peaked before the lockdown was imposed. I asked the reader who sent me the graph to respond:
The source is one of the first studies in Wuhan which was widely reported.

I've read some of the comments it attracted on your site. It's a fair challenge that the time to death might be less than 23 days in the UK – for example, if the population is more elderly they might die quicker. But I don't think that answers why the time gap is different between the UK and London. The lockdown was imposed across the country on the same date, so if that was the cause of infections declining surely it would have happened at the same time in London and the rest of the country?

I've dropped an email to Kit Yates, a statistician who features on a BBC Sounds Podcast talking about this specific point (which one of your other readers pointed to), to see if he has an explanation for this – and also why the time gap from lockdown to peak deaths varies so much from country to country. That's the same point – if lockdowns work, you'd expect a consistent gap between the lockdown being imposed and deaths declining in each country where they've been imposed. But you don't.
Another Chart Showing Lockdowns Don't Work
This chart formed part of a presentation by JP Morgan to investors yesterday. It shows infections haven't increased in those US states that have ended their lockdowns. The JP Morgan analyst told investors: "This means that the pandemic and COVID-19 likely have its own dynamics unrelated to often inconsistent lockdown measures that were being implemented." NBC's Carl Quintanilla did a Twitter thread on the presentation yesterday.
Florida Governor Ron DeSantis's Anti-Media Rant
https://www.youtube.com/watch?time_continue=80&v=LXjQn4eGpi8&feature=emb_logo
This is worth a watch: Ron DeSantis, Governor of Florida, unleashes on the media for predicting he was conducting an experiment in "human sacrifice" by refusing to order a lockdown sooner than he did, and that Florida would be "the next Italy". He also faced criticism when he became one of the first Governors to start easing restrictions at the end of April. In fact, Florida has had one of the lowest number of deaths per 100,000 of any state in the union. This probably has nothing to do with the four-week lockdown and more to do with DeSantis making sure elderly people infected with the virus were removed from care homes. You can watch his rant here.
Continuing School Closures are #NotOk
A group of concerned parents called Us For Them have launched a campaign to try and persuade schools to reopen – and without the ludicrously excessive and potentially harmful social distancing measures that nearly all schools are planning. The campaign's hashtag is #NotOk. You can find out more about the #NotOk campaign, and sign a petition to show your support, here.
One of the people behind the campaign is Christine Brett, the market access consultant who wrote 'How at Risk Are Your Children From Coronavirus?' for Lockdown Sceptics last week. Worth a read if you missed it the first time.
Cambridge Clarification
The University of Cambridge has issued a clarification following yesterday's news that all lectures are moving online until the end of the next academic year. Turns out, face-to-face contact between students and academic staff will still take place, albeit from behind masks:
The University and the Colleges will welcome as many students as possible to Cambridge for the start of the next academic year, guided always by advice from Public Health England. We are committed to continuing to deliver high quality education to all our students and to delivering a rich student experience, while ensuring that we respond effectively to the challenges posed by the COVID-19 pandemic.

Small group teaching – supervisions, seminars or individual tuition – is at the heart of our educational provision and will continue in person as much as possible. Given the likely need for continued social distancing, we have decided to suspend mass lectures in person for the next academic year. Lectures will be available online; this system is already in place in some University Departments. Lectures are only one part of the rich education that Cambridge offers and freeing up space in lecture halls will allow us to concentrate on delivering small group teaching, language classes, lab work and practicals.

Colleges are planning to offer a wide range of activities, and will work hard to build up community life, even in the midst of social distancing.
Round-Up
And on to the round-up of all the stories I've noticed, or which have been been brought to my attention, in the last 24 hours:
Small Businesses That Have Reopened
Last week, Lockdown Sceptics launched a searchable directory of open businesses across the UK. The idea is to celebrate those retail and hospitality businesses that have reopened, as well as help people find out what has opened in their area. But we need your help to build it, so we've created a form you can fill out to tell us about those businesses that have reopened near you. Please visit the page and let us know about those brave folk who are doing their bit to get our country back on its feet. We're up to 500+ now – keep 'em coming.
Theme Tune Suggestions
Only one suggestion today, but it's a goodie: 'Deal Wiv It' by Slowthia and Mura Masa.
Shameless Begging Bit
Thanks as always to those of you who made a donation in the last 24 hours to pay for the upkeep of this site. I've now got two journalists helping out and I'd like to pay them something, so if you feel like donating please click here. And if you want to flag up any stories or links I should include in tomorrow's update, email me here. The site's total page views have now passed one million and it's averaging 54,000 visitors a day. We're making a difference!
And Finally…
Have a read of my latest column in the Spectator. Trigger warning: this probably won't appeal to left-wing readers of this site (and I hope you've noticed that I've tried to keep the partisan sniping to a minimum). Here are the opening two paragraphs:
It has become a commonplace among social psychologists that one of the characteristics that unites conservatives is our sensitivity to disgust. A succession of experiments carried out over the past ten years seems to show that a person's political views are linked to how disgusting they find the idea of, say, touching a toilet seat in a public lavatory. The more repulsed you are, the more likely you are to hold conservative positions on issues like gay marriage, immigration and abortion. These findings have been lapped up by liberal social scientists since they confirm their view of conservatives as uptight control freaks whose love of hierarchy and tradition is rooted in an irrational fear of contagion.

But like many findings in psychology, these experiments haven't always been easy to replicate and a meta – analysis of 24 studies in 2013 found that the relationship between conservative opinions and sensitivity to disgust was fairly modest. Today, I wouldn't be surprised if people on the left are more easily repulsed than those on the right. It is liberals who seem to be gripped by a horror of contamination, not conservatives. How else to explain the enthusiasm with which they've welcomed the quarantining of whole populations as a way of managing the outbreak of coronavirus?