The Telegraph's Business section leads on Rishi Sunack's warning to the House of Lords Economic Affairs Committee yesterday that the country is facing "a severe recession, the likes of which we haven't seen". That red line shooting beyond Sunack's nose is the number of unemployment claims triggered by different financial shocks dating back to 1970 – and the 857,000 new claimants in shown on the graph for 2020 is just for the month of April. The Telegraph points out this is the biggest surge in benefit claims since 1947.
The same point was made more bluntly on Channel 4 News last night by former Conservative leader Iain Duncan Smith. "The longer we stay on lockdown, the more companies will go bankrupt," he said.
The Express has the same story, as does the FT, which quotes the Chancellor warning the Committee that the economy may not "immediately bounce back".
No shit, Sunack.
Excess Cancer Deaths Likely to Increase as Result of Lockdown
The Edinburgh Evening News looks at just one of many human tragedies caused by the response to the virus – the story of Dalkeith mother-of-one Karen Hilton, whose life expectancy has been cut from 12 months to six after cancer trials were halted as doctors prioritised patients with COVID-19.
Karen, 48, who has already had to cancel her wedding due to the lockdown, spoke out as UK charity Breast Cancer Now launched a campaign to help thousands of secondary breast cancer patients who fear their lives could be shortened due to changes to treatment, scans and trials:
At the moment I'm on chemotherapy, but because of the nature of my disease, which is triple negative and very aggressive, there are only so many options that I can get. After you've exhausted all of the chemotherapies… my only options left are trials. Trials haven't been happening, they're not going to be focusing on research, and there's already 450 cancer patients dying every day – but you don't see those figures published along with the stats for Covid. It's heart-breaking and sanity must prevail, in that you can't just cut off the lifelines of all these hundreds of thousands of patients. Obviously they're diverting attention away from breast cancer trials on to Covid and our issue is that it's just another disease. Covid is going to be around for a long time but cancer patients won't if we don't get access to these trials. It just feels like they're cutting off the stage 4 cancer patient's lifelines – so it's literally life or death.
The Guardian deals more fully with the impact of the lockdown on cancer patients, saying "thousands of people… could die early because so many hospitals have suspended surgery for the disease while the NHS battles the coronavirus".
Schools' Out For Summer
In its online edition, the Telegraph reports that "[t]he country is heading for a divide on the reopening of schools, with Government minister Robert Buckland this morning conceding a 'uniform' start from June 1st is unlikely."
The Justice Secretary told Sky the "picture is a mixed one", with at least 11 councils now refusing to open schools on the date set by the Prime Minister. He insisted conversations were ongoing but admitted there was "not a long time to go" to persuade teachers, unions and councils it was safe.
This is in spite of the paper's splash, in which the British Medical Association now says schools can reopen on June 1st, or earlier, as long as it is "safe to do so", and – in what is described as "an apparent softening of its stance regarding pupils returning to the classroom" – admitting that there is "growing evidence that the risk to individual children from COVID-19 is extremely small". Today's Telegraph also includes a comment piece by Dr Peter English, Chair of the British Medical Association's Public Health Medicine Committee, pointing out that even though sending children back to school is not "risk free", keeping them at home isn't either.
The Guardian reports that "up to 1,500 primary schools in England are expected to remain closed on June 1st after a rebellion by at least 18 councils forced the Government to say it had no plans to sanction them". And the Telegraph reveals that Scottish pupils may only return part-time when schools there reopen in August.
The Mail exposes what it calls the "cynical tactics" of a teacher's union trying to stop schools reopening. It reports on Zoom video footage available on the National Education Union's (NEU) YouTube account which shows leaders discussing how to "threaten" headmasters who try to get their staff back to work:
In a further sign of their hardline approach, they described their opposition to the date as a "negotiating position". Mary Bousted, the NEU's joint General Secretary, was even shown accusing children of being "mucky", spreading germs and "wiping their snot on your trousers or on your dress".
The paper says parents and teachers are at war over the issue:
At least 13 mainly Labour councils are actively opposing Boris Johnson's plans to open schools in England on June 1st as parents who want their children back in class claim they have been branded "teacher bashers".

Extraordinary rows have broken out on WhatsApp groups and online forums as it was revealed that up to 1,500 English primary schools are now expected to remain closed in 12 days' time despite millions of children being at home for more than eight weeks.

On Mumsnet today a thread suggested that "parents aren't allowed to criticise teachers anymore" and sparked outrage among those in the teaching profession. One parent wrote: "I've seen a lot of parents genuinely concerned about the teaching who were immediately accused of 'teacher bashing' and being 'too lazy to teach their own children'. It's ridiculous'"
Cambridge: No Face-to-Face Contact With Students For a Year
Cambridge University has announced all lectures will be online for the duration of the next academic year. Cambridge didn't close during World War Two – and didn't close during any of the recent influenza pandemics with a higher death toll than SARS-CoV-2, such as 1968-70. But the University's administrators have decided that the risk posed by the current virus is simply too great.
"Given that it is likely that social distancing will continue to be required, the University has decided there will be no face-to-face lectures during the next academic year," a press release announced.
This follows the disclosure from Manchester University that all its lectures will be online next term. Neither university has offered to reduce tuition fees as a consequence, which may be an oversight if they want to persuade students who've accepted places this year not to defer.
In truth, that will probably be less of a problem for Cambridge and Manchester than for low tariff institutions. If you've got a place at De Montfort University, for instance, why would you pay £9,250 a year to take an online course when there are cheaper, better-designed online courses out there? Even private schools have reduced their fees while pupils are taught from home (although not by much).
In a story in today's paper, the Guardian lays bare the scale of the problem facing British universities, saying they face a £760 million hole in their finances from deferrals alone:
A survey of students applying for undergraduate places found that more than 20% said they were willing to delay starting their courses if universities were not operating as normal due to the coronavirus pandemic, which would mean there would be 120,000 fewer students when the academic year begins in autumn. The results, released by the University and College Union, come as universities are wrestling with how to reopen campuses for students while protecting them from COVID-19.
British universities are facing a perfect storm going into the next academic year: lots of students who were supposed to be starting this autumn will defer; applications for the following year will decline; EU students will have to pay full fees for the first time, meaning fewer will apply; and foreign students in general will stay away due to travel restrictions and fear of contagion. The sector is clearly hoping the Government will bail it out, but that may be naive. As the Guardian reported on May 3rd: "University leaders had asked the Government for a bailout running into billions of pounds to make up for lost international student and research revenue. But the plea on behalf of the sector was said to have 'landed badly' with the Treasury."
If Britain's universities don't radically rethink their plans for the next year and the Treasury continues to play hardball, at least one third of them will end up going under. Clayton Christensen, a Harvard Business School professor, predicted last year that up to 50 percent of America's colleges and universities will go bankrupt in the next 10 to 15 years. I think the same is true of the UK, except that Covid has speeded up the process.
Gerard Degroot, a former member of the St Andrew's History Department, sums up the situation in UnHerd:
Many universities were teetering on the edge of bankruptcy. A lingering dispute over pensions had corroded morale. The over-emphasis on research, imposed largely by the Government, had warped priorities, leading to a decline in teaching quality everywhere. Mounting student debt led many young people to question whether the 'ivory tower experience' is worth the investment.

The virus is ruthless: it exposes and punishes those weaknesses. Over the long term, some institutions might be forced to close, while others will have to radically transform the product they offer.
Is COVID-19 a Nosocomial Disease?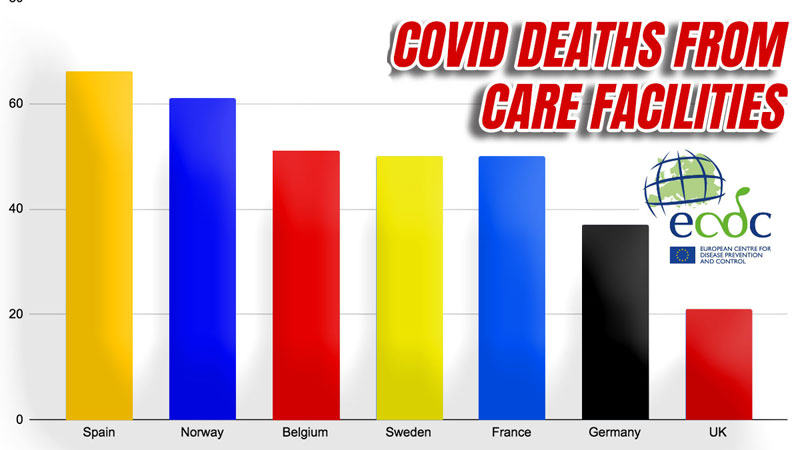 There's an interesting graph on Guido today showing the percentage of all Covid deaths that have occurred in care homes in different European countries. The data is from a new report from the EU's Centre for Disease Prevention and Control (ECDPC) on the prevalence of COVID-19 in long term care facilities, including care homes. I've looked at the report and the data in Guido's graph is correct.
Guido highlighted this to show that the UK has fared better at protecting its care home residents than other European countries, but it points to something else, too, which is the degree to which COVID-19 is primarily a nosocomial disease. This is a theme taken up in a Medium post by the banker Jonathan Tepper called 'Ground Zero: When the Cure is Worse than the Disease'. The post includes lots of interesting facts and quotes pointing to hospitals and care homes as the main vectors of transmission:
Data from five European countries suggest that care homes accounted between 42% and 57% of all deaths related to COVID-19.
A group of doctors from the Papa Giovanni XXIII hospital in Bergamo warned of nosocomial infections in the New England Journal of Medicine: "We are learning that hospitals might be the main COVID-19 carriers. They are rapidly populated by infected patients, facilitating transmission to uninfected patients."
Nearly 14% of Spain's reported COVID-19 cases are medical professionals.
The ECDPC has warned hospitals: "It is likely that nosocomial outbreaks are important amplifiers of the local outbreaks, and they disproportionately affect the elderly and vulnerable populations."
Today, almost all new cases in Spain are in hospitals and retirement homes.
Tepper asks whether many of these deaths could have been avoided if politicians and their scientific advisors had realised sooner that COVID-19 was primarily a nosocomial disease, as does a leader in today's Telegraph. He also discusses the fact that people under 60 in good health are at minimal risk of dying from COVID-19 and draws the obvious conclusion:
If hospitals and retirement homes are one of the main transmission vectors and the disease and the virus overwhelmingly affects the very old and sick who have multiple existing conditions, shutting the entire economy will not solve the problem.
Government Stocks Up on Hydroxychloroquine
While the chattering classes on both sides of the Atlantic continue to mock Trump for disclosing he takes a daily dose of hydroxychloroquine – and social media companies are busy removing any content that promotes it as a possible treatment for COVID-19 – the British Government is planning to buy the anti-malarial drug in bulk. According to the Guardian, ministers are seeking 16 million tablets in packets of up to 100 as part of a £35m contract put out to tender last Friday:
A Whitehall source said the purchase of hydroxychloroquine was related to current clinical trials to evaluate it as a treatment for people with COVID-19, adding that it should only be taken on prescription or as part of a controlled clinical trial.
It's worth pointing out that the Government's purchasing of a drug is no guarantee that it's effective. Britain spent £424 million stockpiling Tamiflu, hoping it could be used to treat both bird flu and swine flue. This was partly on the advice of Liam Donaldson, then the Chief Medical Officer for the UK, who had seen the modelling from Neil Ferguson's team at Imperial College predicting that bird flue could kill up to 200 million people worldwide and swine flu could kill 65,000 in the UK alone. AT the time, Roche, the manufacturer of Tamiflu, was refusing to release all the data from its clinical trials and only agreed to do this in 2013, long after the money had been spent. This followed sustained pressure from the lockdown sceptic Carl Heneghan, among others. When Heneghan and his team were able to review the Tamiflu data, they concluded the drug is marginally useful in shortening a bout of flu by half a day, but does not prevent complications, keep people out of hospital or reduce the spread of infection and does have side-effects, some of which are alarming. The Guardian has more.
I've discussed the evidence surrounding hydroxychloroquine, both as a prophylactic against and as a treatment for COVID-19, in the page entitled 'What Are the Most Effective Treatments' on the right-hand side. For what it's worth, I started taking chloroquine when I thought I had COVID-19, but stopped after three days when I started getting heart palpitations. It may or may not have contributed to my own speedy recovery.
Lawyers Turn on Lord Gumption
There was an article in the Law Society Gazette yesterday by Jonathan Compton chastising Lord Sumption for straying into the political arena. In particular, he takes issue with Sumption's civil liberties argument that it should be up to individuals to assess whether they want to take the risk of leaving their homes, not the Government:
The risk of exposure to the COVID-19 is indeed an individual risk. But it does not follow – as Lord Sumption suggests – that it must be solely in the hands of the individual to decide to take that risk or not. The "individual risk" argument risks underplaying, indeed ignoring, what we may call the "societal risk" argument.

The "societal risk" argument may be put thus: if we leave it in the hands of individuals to decide whether they choose to run the exposure risk, then we run the risk that infection levels will increase to the point where basic supply chains start to break down, less/no food in shops, less people/no one on the tills, fewer/no petrol deliveries, no imports of medicines, food stuffs, critical levels of agricultural workers, bus, rail and tube drivers. By this time, of course, the NHS would have been over-run some time ago. This is a risk to the fabric of society itself. A risk to society poses grave risks to the individuals in it, surely?
I'll save Lord Sumption the trouble of having to respond to the "societal risk" argument and do so myself. If we end the lockdown tomorrow, there is zero risk of basic supply chains breaking down, shops running out of food, check-out clerks leaving tills unattended, petrol deliveries stopping, or any of the other calamities the lily-livered Compton envisages. None of those things have happened in those countries that have ended their lockdowns, nor have they happened in those countries and US states that never locked down in the first place. As Sumption has repeatedly said, the burden falls on those who want to suspend our liberties to show that not doing so would be catastrophic – for instance, that not doing so will cause a net loss of life. To date, the British Government has come nowhere near meeting that threshold.
Luckily, not all lawyers hold their manhoods as cheap as Jonathan Compton. There's a robust comment below his article which has got more thumbs-up than any other:
I support Lord Sumption. He doesn't mince his words, and he has no time for high-emotion, low-intellect, entitled muppets who demand protection from everything. I am confident that those cowering behind their sofas, demanding that they be wrapped in cotton wool at the expense of others, are quite happy to accept NHS treatment and to shop at supermarkets – workers there aren't cowering at home: you're not better than them.
Graph Porn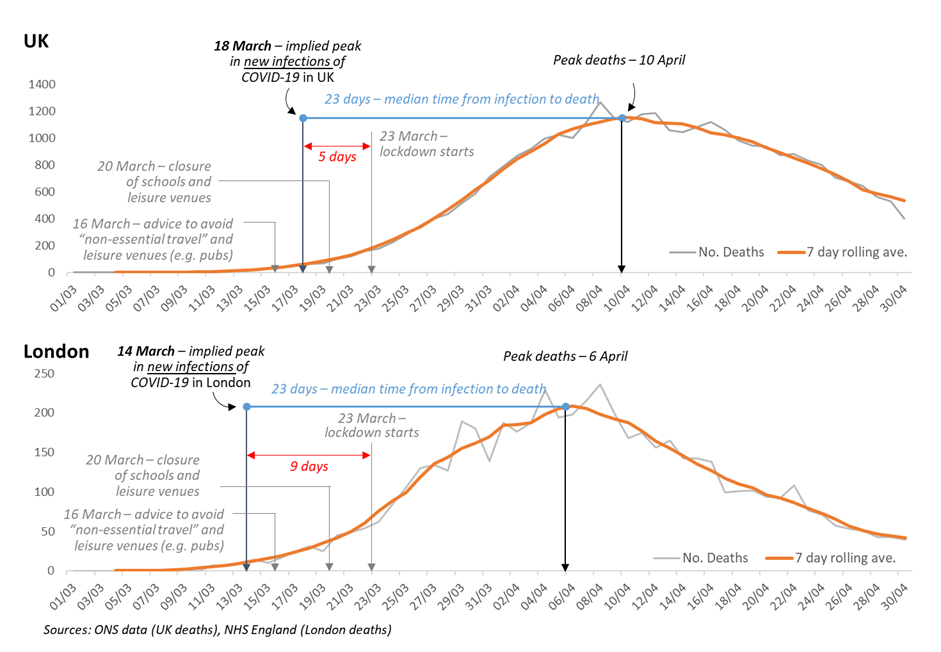 A reader has compiled this graph showing that infections peaked in both London and the country at large on March 14th and 18th respectively – nine days before the lockdown in one case and five days in the other. He also sent me the source for all his data, which look robust to me. In other words, placing more than 66 million people under virtual house arrest wasn't necessary to "Save Lives" or "Protect the NHS".
Round-Up
And on to the round-up of all the stories I've noticed, or which have been been brought to my attention, in the last 24 hours:
Small Businesses That Have Reopened
Last week, Lockdown Sceptics launched a searchable directory of open businesses across the UK. The idea is to celebrate those retail and hospitality businesses that have reopened, as well as help people find out what has opened in their area. But we need your help to build it, so we've created a form you can fill out to tell us about those businesses that have reopened near you. Please visit the page and let us know about those brave folk who are doing their bit to get our country back on its feet. We're up to 500+ now – keep 'em coming.
Theme Tune Suggestions
More suggestions from readers about theme tunes for this site: "The Distance" by Cake, "Every Day Should Be A Holiday" by the Dandy Warhols and, of course, "School's Out" by Alice Cooper.
Shameless Begging Bit
Thanks as always to those of you who made a donation in the last 24 hours to pay for the upkeep of this site. I've now got two journalists helping out and I'd like to pay them something, so if you feel like donating please click here. And if you want to flag up any stories or links I should include in tomorrow's update, email me here. The site's total page views have now passed one million and it's averaging 54,000 visitors a day. We're changing hearts and minds…
And Finally…
A reader has dug up a picture from an Italian magazine that published a story in 1962 about what the the world might look in 2022. The illustration is uncanny…