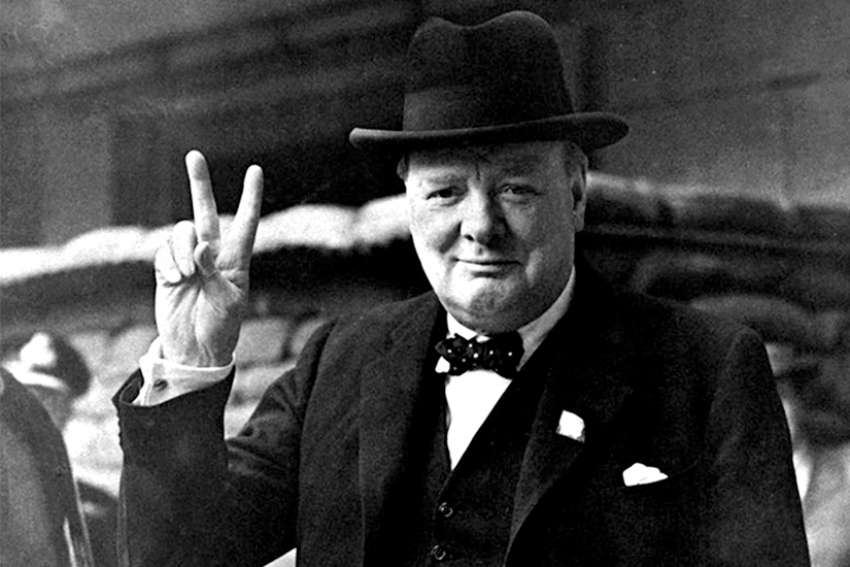 Today is Victory in Europe Day, the 75th anniversary of the day the Allies accepted the unconditional surrender of Nazi Germany. To mark the occasion, I've decided to replace the usual newspaper front page with a picture of Winston Churchill.
Many readers of this site will be aware of the disconnect between the victory we're celebrating today and the ongoing restrictions on our liberty that we're expected to endure without complaint for the foreseeable future. One particular reader – a distinguished journalist and author who cannot say what he really thinks about the lockdown without jeopardising his career – has sent me what he'd like to say publicly. I'm sure many of you will share his sentiments. I know I do.
There's a horrible irony that the 75th-anniversary of VE Day should fall during the lockdown. The British nation fought the Nazis to preserve our ancient freedoms, so that future generations would be able to live without fear. At this moment, Parliament is no longer properly functioning, jury trials have been suspended (perhaps permanently), technology giants appear to be censoring free speech, protest is deemed a dangerous activity and the citizens of this country remain under indefinite house arrest. A Government adviser, Professor Dingwall, of Nottingham University, today admits (in the Telegraph) that the Government has created a "climate of fear" that has "terrorised" Britons. Fear has replaced hope and an untrammelled statel has replaced limited government. A year before VE-Day, Friedrich Hayek published The Road to Serfdom. Never before has our nation progressed so far down that route. What in the hell is there to celebrate?
The Telegraph article referred to above quoting Professor Dingwall is here. In addition to being a Professor of Sociology at the University of Nottingham Trent, Rupert Dingwall is a member of the New and Emerging Respiratory Virus Threats Advisory Group, aka NERVTAG. He also featured in a report broadcast by Newsnight last night by Deborah Cohen, a BBC reporter with a background in medical journalism. This was the first time I've seen a senior BBC journalist properly scrutinise the advice the Government was relying on when it decided to place the entire country under virtual house arrest in March. It includes an interview with Dame Deirdre Hine, author of The 2009 Influenza Pandemic, the official inquiry into the Swine Flu outbreak. Hine is pretty scathing about the quality of the predictions generated by computer models in 2009 and although she doesn't mention Neil Ferguson by name we know that his modelling helped guide Gordon Brown's response. You can watch the 12-minute report here. Deborah Cohen is my Sceptic of the Week.
The Telegraph's Camilla Tominey reports that Boris Johnson is alarmed by the hares that have been set running by newspaper headlines proclaiming the lockdown will end on Monday. Yesterday, a spokesman for the Prime Minister tried to lower expectations, saying "we will advance with maximum caution" and Number 10 insiders have warned that any "easements" to the current Government guidelines will be "very limited". The same tone is struck on the front page of the Times, which reveals Boris is planning to keep the country locked down until June. One close ally of the Prime Minister is quoted using the phrase "baby steps" to describe the easing of restrictions. Meanwhile, Mark Drakeford, the First Minister of Wales, has announced Wales is dropping the limits on outdoor exercise from today and garden centres and libraries can reopen from Monday. Looks like England, the birthplace of liberal democracy, is going to be one of the last countries in the world to set its people free.
Another 'we, the undersigned' letter has been published and it reads like a reply to yesterday's letter in Le Monde signed by Madonna, Robert De Niro and others urging us not to return to normal. This one is co-authored by three Catholic Cardinals and an Archbishop and signed by more than 80 people, including prelates and theologians, doctors, lawyers, journalists and intellectuals. It contains many of the standard Catholic objections to vaccination programmes, but large parts of the letter will appeal to all lockdown sceptics, not just anti-vaxxers. Here's one of the opening paragraphs, setting out the argument:
The facts have shown that, under the pretext of the COVID-19 epidemic, the inalienable rights of citizens have in many cases been violated and their fundamental freedoms, including the exercise of freedom of worship, expression and movement, have been disproportionately and unjustifiably restricted. Public health must not, and cannot, become an alibi for infringing on the rights of millions of people around the world, let alone for depriving the civil authority of its duty to act wisely for the common good. This is particularly true as growing doubts emerge from several quarters about the actual contagiousness, danger and resistance of the virus. Many authoritative voices in the world of science and medicine confirm that the media's alarmism about COVID-19 appears to be absolutely unjustified.
Yesterday, I mentioned a new piece of research the University of East Anglia (UEA) had done that the Mail picked up on. I've now found out a bit more about it and it's definitely worth a closer look. Researchers from EUA's Norwich Medical School examined the impact of different social distancing measures used in 30 European countries using data from the European Centre for Disease Control, analysing how effective they've been in reducing the number of COVID-19 infections and fatalities. They concluded that the most effective measures are closing schools, banning mass gatherings and closing some non-essential businesses, particularly in the hospitality industry. However, some measures, such as compulsory face masks, have not been effective. In particular, indiscriminate stay-at-home measures are ineffective.
According to Dr Julii Brainard of UEA's Norwich Medical School: "We found that banning mass gatherings, closing some non-essential businesses, and closing educational facilities are most strongly associated with reduced incidence after a certain lag period. But widespread closure of all non-essential businesses and stay-at-home policies do not appear to have had a significant effect on the number of Covid-19 cases across Europe." You can read a summary of the report's findings here and read the preprint here.
For a layman's view of "the science" that sat behind the Government's decision to lock down the country, I recommend this excellent piece sent in by a reader that I've published alongside the review of the code that powered Professor Ferguson's computer model. Lot's of meat to get your teeth into. You can read it here.
Andy Shaw, Spectator Life's resident satirist and the co-host of Comedy Unleashed, the monthly politically incorrect comedy night in Bethnal Green, has written an amusing piece about his phrase of the week: "Herd Immunity." Andy also co-hosts a weekly podcast for the Spectator called That's Life with Benedict Spence in which they interview different commentators and comedians. This week, I was the guest on the podcast, which you can listen to here. And in case you missed it, James Delingpole and I recorded a regular episode of London Calling on Tuesday, along with a "shagadelic" special about the resignation of Neil Ferguson on Wednesday. You can listen to the normal one here and the special here.
I flagged up a new anti-lockdown petition on the UK Government website yesterday which I said had got past the gatekeepers. Turns out, I jumped the gun. After receiving enough signatures to get over the first hurdle, it has now disappeared to be processed. Will it ever re-emerge? Who knows. Apologies for the bum steer (and thanks to the 256 people who emailed me to point out my mistake).
Latest data from Germany's Robert Koch Institute suggests no "second spike" in infections as a result of the country easing its lockdown. Here's a graph that illustrates the point nicely:
A reader tells me about an encounter with a doctor on his daily bike ride this morning:
I bumped into a neighbour cycling with her daughter. Her daughter is a doctor at a large hospital in the East of England. The mother has been an assiduous lockdown observer but has had enough. So has her daughter who has been working in a Covid ward, and she's come home for a week's rest, driving across country to do so. The neighbour's elderly grandmother died a week or so ago (not from the virus) and will be buried at a funeral with five mourners next week, which will include the profoundly traumatised neighbour's mother who was unable to see her mother (the grandmother) in her last weeks. The neighbour says she wished she'd arranged the funeral to be in B&Q since on a click-and-collect trip the other day there were so many people in there it was obvious a full wake could have been surreptitiously arranged.
In spite of the polling showing the majority of Britons don't want the lockdown to end, there is a growing minority of sceptics out there. The driver of this van is one of them: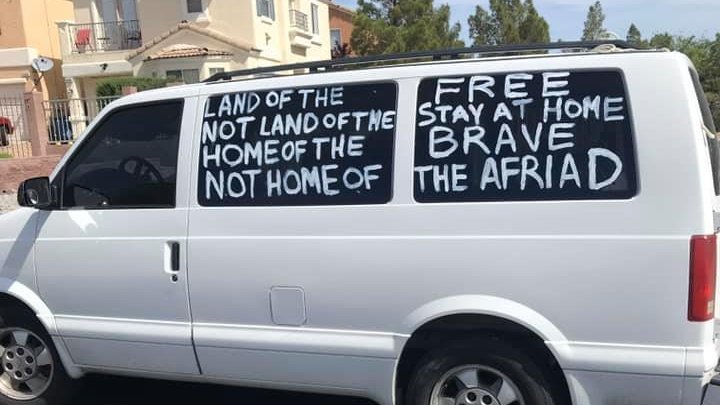 Avaaz, the US campaign group that Neil Ferguson's girlfriend works for, has published a letter calling for even more censorship on social media of anyone who dissents from Covid orthodoxy. Perhaps Antonia Staats could get a job as a member of what the Mail describes as "Facebook's new thought police". According to today's paper, an oversight board has been set up which will be the ultimate court of appeal for those people whose posts are removed from the platform or those who've been banned outright. Members include Alan Rusbridger, ex-editor of the Guardian, and Helle Thorning-Schmidt, the wife of Labour MP Stephen Kinnock and the former Prime Minister of Denmark.
Great letter in the Telegraph this morning from Virginia Ironside, a reader of this site, abut exactly what Professor Lockdown did wrong – and it wasn't breaking the rules:
SIR – When I heard about Professor Neil Ferguson's slip-up and resignation (report, May 6) I felt like clapping on my balcony. I've distrusted him and his advice from the start. And yet wasn't he just doing what we're all doing – sticking to the rules, but only up to a point?

I've caught the most law-abiding of my friends arranging get-togethers in their gardens or streets, or meeting friends for walks when it's not strictly allowed – simply because they realise there's no logic to doing otherwise.

What Professor Ferguson did wasn't wrong. If only his edict could have been: "Be as sensible as you possibly can." Wouldn't that have caused less misery?

His sin was to think that he knows when the rules can be bent, but everyone else is too much of an idiot to do the same. The idea that there's an oikish and irresponsible "them" and a responsible and upright "us" is one that pervaded the Brexit argument. It's patronising and reprehensible.

Virginia Ironside, London W12
A round-up of all the stories I've noticed, or which have been been brought to my attention by readers, in the last 24 hours:
Song suggestions for today: 'Wake Up Everybody' by the Blue Notes, 'Rabbit' by Chase and Dave, 'Trapped in My Flat' by Reeves and Mortimer, 'Release the Bats' by The Birthday Party and, in anticipation of Sunday's lockdown announcement, 'Five Years' by David Bowie.
Thanks as always to those who made a donation in the last 24 hours to pay for the upkeep of the site. If you feel like donating, you can do so by clicking here. (Every little helps!) And if you want to flag up any stories or links I should include in tomorrow's update, you can email me here.