By the turn of the millennium there was concern about the number of people applying for asylum in the U.K. Then-Prime Minister Tony Blair promised to reduce the number of asylum seekers, and by April 2005 he could proudly announce that he had supposedly 'succeeded' when he claimed: "Asylum applications have fallen from over 8,000 a month to just over 2,000. The next set of statistics will show that monthly application are back to their lowest level since March 1997."
How did Blair accomplish this apparent miracle of effective Government? As the chart below (from my 2008 book Squandered: How Gordon Brown is wasting over one trillion pounds of our money) shows, Blair did it by showering migrants with British citizenships provided they didn't try to seek asylum.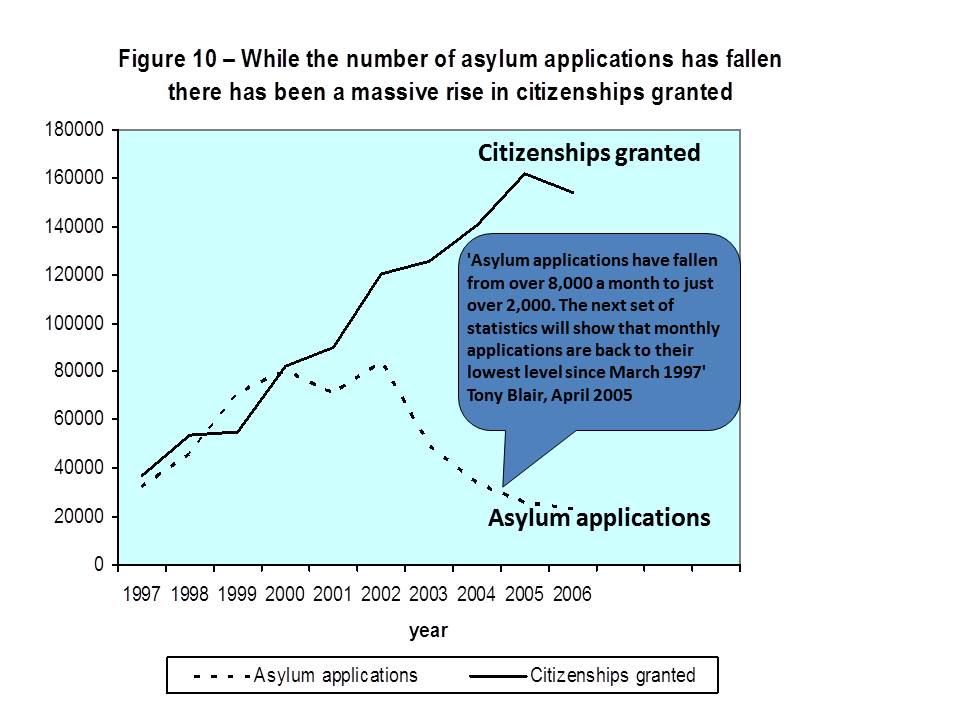 Our current Prime Minister Rishi Sunak has promised to "stop the boats" and to cut the 175,000 or so backlog of asylum seekers currently costing us probably more than £10m a day in accommodation, security, medical care, pocket money and other costs. I hardly need to comment on how successful Mr. Sunak has been in stopping the boats. So let's look at how Rishi Sunak is cutting the backlog of asylum claimants.
First, here's a chart of the percentage of asylum claimants granted asylum by country in the EU: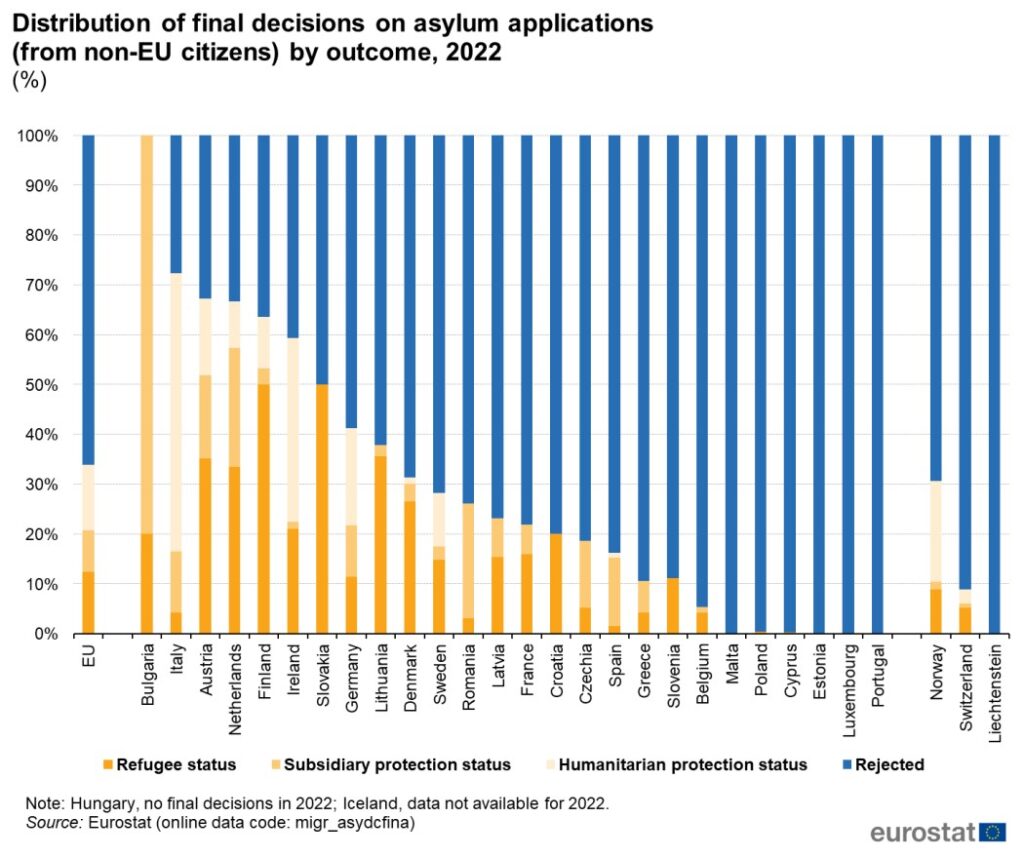 You'll see that the EU average approval rate is just over 30%.
Some countries like Bulgaria have a high rate of approvals. But that's probably because the country has so few asylum claimants: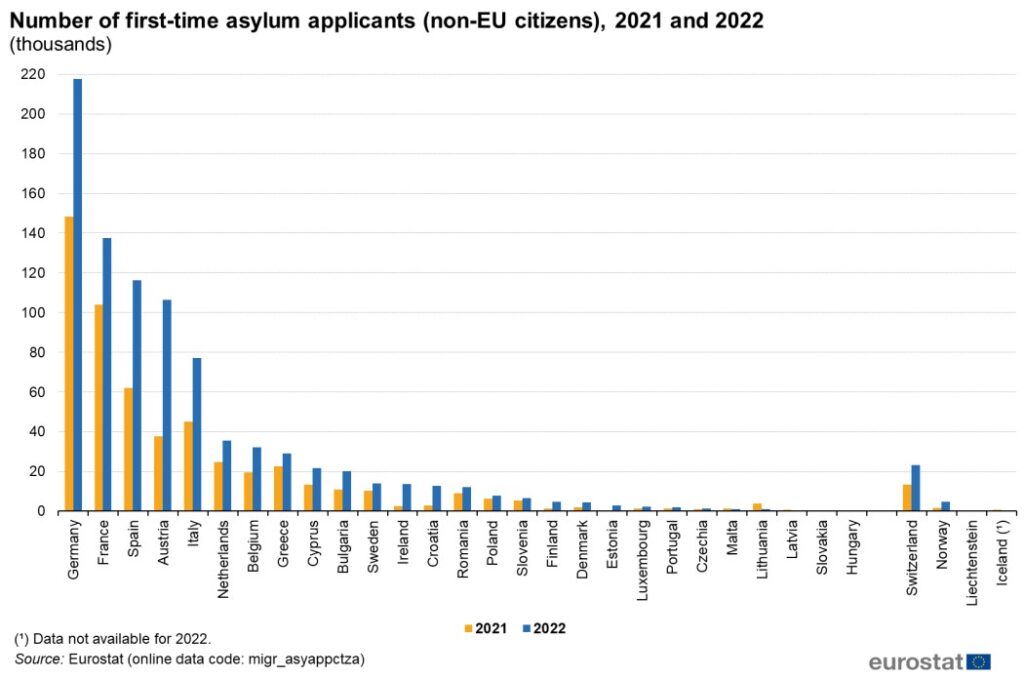 As for Italy – the country with the second highest rate of asylum approvals – probably most asylum claimants in the EU originally land in Italy, but not that many want to stay there. Though I haven't found an explanation why so many who do stay in Italy gain the right to remain.
So, if the approval rate for the EU is just over 30%. What do you think the approval rate for the U.K. is? About 30% – the same as the EU? Perhaps 40% – a little higher than the EU? Or maybe even 50% – well above the level for the EU?
Well, the U.K. rate of asylum approvals is actually around 76%.

But even worse, most of those refused asylum are never deported and so remain in the country anyway.
I wonder if the fact that the U.K. has an asylum approval rate of twice the EU average is going to dissuade Third World migrants from coming to Britain or will this act as an irresistible magnet? And I wonder whether the fact that very few of those refused asylum ever get deported will dissuade Third World migrants from coming to Britain or will this act as an irresistible magnet?
Our current political leaders' policy of showering approvals on any illegal migrant arriving in Britain will no doubt help give the impression that they are clearing the backlog of asylum claimants. Then Sunak and his gang will, like Blair's New Labour before them, claim a stunning 'success'.
The other advantage of approving asylum applications for almost all illegal migrants is that this will also appear to reduce the daily cost of housing them. Because, once their applications are approved, it will be the duty of local authorities, rather than central Government, to provide housing and other services for the new arrivals. This will allow the useless 'New Labour' Tories to claim another 'success' by having supposedly reduced the daily cost of asylum claimants.
Our rulers lied to us about controlling the number of asylum seekers under New Labour and they're pulling the same tricks under the Tories. Please, don't get fooled again.
David Craig is the author of There is No Climate Crisis, available as an e-book or paperback from Amazon.