Disney is said to be delaying its upcoming Snow White remake in a bid to avert a "financial disaster", with producers reportedly fearing its woke makeover will bomb at the box office and "cripple" any chance of future spin-offs. The Mail has the story.
Last week, the studio announced it had pushed back the film's release until March 2025 – a whole year after the scheduled date – citing the ongoing SAG-AFTRA strike as the driving force behind the decision. 

But an insider has exclusively told DailyMail.com that Disney is said to be "figuring out what to do" after making a $330 million turkey – and is looking to Tom Hooper's widely panned Cats as a guide on what to avoid.

The decision comes after Rachel Zegler, 22, who plays the titular princess, launched a woke tirade at the original "weird" plot with a "stalker" Prince – despite having only watched the 1937 animation once as a child.

"Disney had to delay Snow White because they have spent so much money on it, and if it is a financial disaster at the box office, it might single handedly cripple future remakes and potential Snow White sequels that they have planned," the insider claimed.

"They also have to remove themselves from the bad taste in the mouths of online critics and want to instead deliver a great film and get to a point where they get it right.

"They realise that they were overthinking things and are now reining it all in a little bit more."

The upcoming production – the latest in a long line of Disney remakes – has been mired in controversy. 

Bosses first came under fire for casting Colombian-American Zegler as the lead, despite the story being about a traditionally "fair" German princess with "skin as white as snow".

They then announced that "magical creatures" would replace the seven dwarves to "avoid reinforcing stereotypes" after Game of Thrones actor Peter Dinklage criticized the "f***ing backwards story". 

Earlier this year a mix of men and women of different ethnicities, with a real dwarf among their number, were pictured filming [above] – but they appear to have now been replaced by seven CGI dwarfs [below].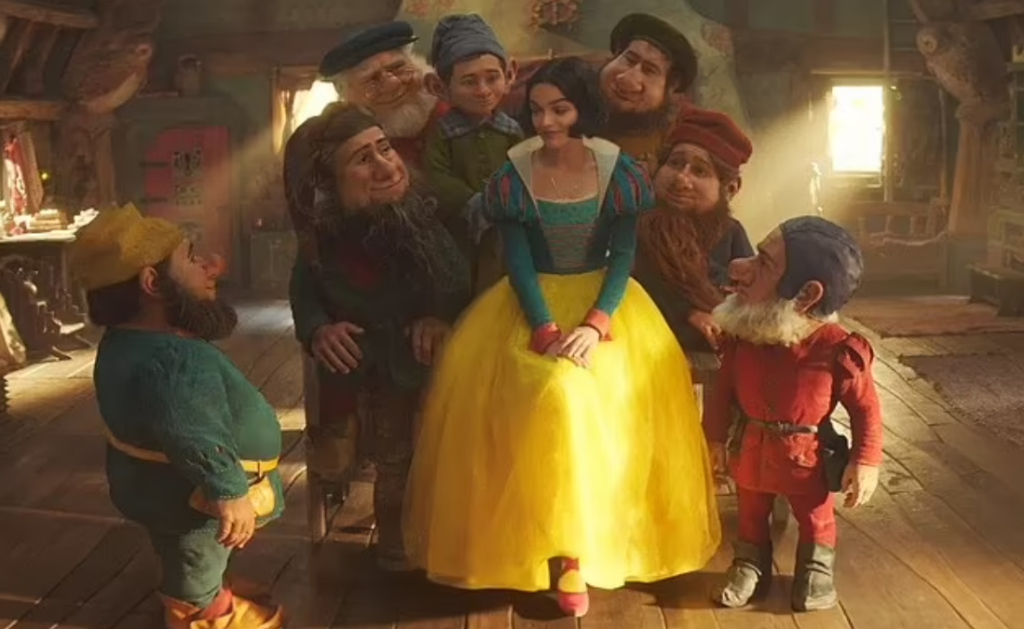 Once again: go woke, go broke…
Worth reading in full.