Why do so many now identify as LGBT, especially among younger generations? The statistics from a recent U.S. Gallup poll for such identification are stark:
Generation Z (1997-2003): 20.8%
Millennials (1981-1996): 10.5%
Generation X (1965-1980): 4.2%
Baby boomers (1946-1964): 2.6%
Traditionalists (before 1946): 0.8%
It's been suggested that the main explanation for this massive shift in identities and behaviours is a change in cultural attitudes, put into overdrive in the last two decades by the internet, social media and smartphones. According to the poll, a record 7.1% of adults in the U.S. now identify as LGBT, a figure that has doubled since 2012. Gallup Senior Editor Jeff Jones said that "population change is what is driving this".
However, some scientists have suggested that there may be a biological cause and not just a social one. In particular, certain hormones found in the contraceptive pill have been found accumulating in drinking water supplies and may be affecting human sexual functioning and psychology. The hormones appear primarily in the form of oestradiol (EE2), the most potent form of oestrogen, and these hormones enter the water via the sewage system. Researchers found this potent hormone in 80% of the water at the 50 sites they tested.
One study carried out by the Environment Agency showed that oestrogenically active substances discharged into the environment had led to the feminisation of male fish, causing them to effectively switch sexes. According to Water for Health, many fish have been found with both male and female sexual organs, and the fertility of male fish has declined to such an extent that some freshwater fish species have been extinguished. At this stage, experts worry more about hormones than general pharmaceuticals, because while highly concentrated levels of medication are required before our bodies are affected, small amounts of hormones can have an impact.
"EE2 is a very potent chemical," said Professor Susan Jobling of Brunel University. "It is designed to have effects in the human body at very low levels. That means it will also have a significant impact in the environment."
While medical researchers may understand the effects of a one-off prescribed dose, they do not yet understand the effects of a permanent presence of the drugs in our bloodstream.
Unsurprisingly, neither the British Government, the pharmaceutical companies nor the water suppliers are keen on any clean-up effort, and the pharmaceutical industry is actively lobbying against it over fears that it would have to contribute to the £30 billion bill.
"The question we have to ask ourselves is straightforward," said Professor Richard Owen, a former Head of Environment and Health at the U.K. Environment Agency. "Are we willing to pay up or would we rather settle for environmental damage associated with flexible fertility?"
Separately, studies have suggested that gender dysphoria may have biological causes associated with the development of gender identity before birth. According to Dr. Ananya Mandalay:
Gender dysphoria usually means a difficulty in identifying with the biological sex in an individual. Now there is evidence that the disease may not have origins in the brain alone. Studies suggest that gender dysphoria may have biological causes associated with the development of gender identity before birth. Although there is no research that shows that males or females exposed to synthetic progesterone in the womb or other oestrogenic drugs, such as diethylstilbestrol (DES) may have a raised risk of gender dysphoria, there may be an association in some atypical aspects of gender role behaviour.
In recent years, scientists have found evidence that the brains of women on the pill look fundamentally different. Compared to women who aren't taking hormones, some regions of their brains seem to be more typically 'male'.
"Synthetic progestins are related to the chemical structure of testosterone. All the derivatives came out to levonorgestrel, which is the most used or known of the progestins," says Regine Sitruk-Ware, a reproductive endocrinologist at the Population Council, New York. "It is still androgenic by itself, by the fact that it can bind to the androgen receptors."
More recently scientists have developed versions made from synthetic progesterone that have the opposite effects and are feminising and these too can have undesirable side-effects involving hormonal imbalance. Medical advice is to stop taking the pill whilst pregnant "as a precaution".
At this stage there is not enough research to be able to draw firm conclusions about the role these chemicals might be playing in the recent explosion in LGBT identities and behaviours. But the known impacts of the hormones on the women taking them, as well as on fish in the wild, suggest there may be an issue here. How long do you think we'll have to wait before our Government takes it seriously and investigates properly?
Dr. Mark Shaw is a retired dentist.
Stop Press: The percentage of students at Ivy League universities identifying as LGBTQ+ is way above average – with the exception of Penn. Is it an attempt to enhance social status by claiming victimhood points? Or do these colleges have an above average amount of oestrogenically active substances in their water supplies?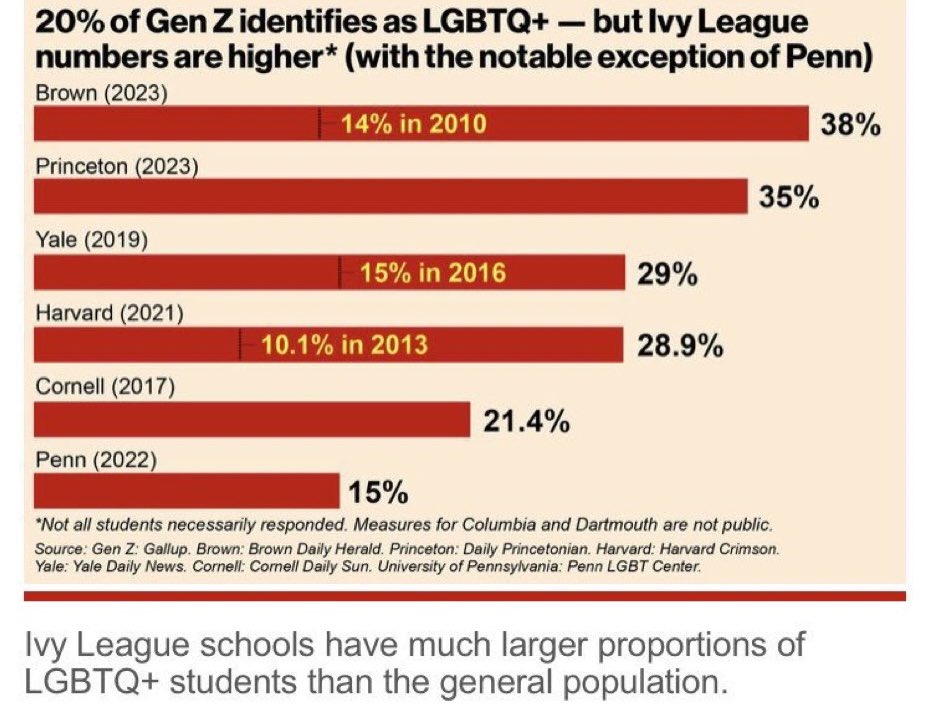 Correction: An earlier version of this article incorrectly attributed the words "While medical researchers may understand the effects of a one-off prescribed dose, they do not yet understand the effects of a permanent presence of the drugs in our bloodstream" to Professor Jobling. Professor Jobling has asked, via her university press office, for it to be made clear that she deems it "incorrect to extrapolate beyond her 1998 aquatic research in a way that supports hypotheses about other animals, including humans. She adds that from the scientific literature there is no evidence to suggest that being LGBT is caused by contraceptive pill hormones in the water."