The United Kingdom is likely to have barely a quarter of the energy in 2050 promised by the Government and its Climate Change Committee if all the legal obligations of Net Zero are followed. This shocking news is forecast by the latest energy review recently published by U.K. FIRES. Government-funded U.K FIRES writes that the "whole excitement" of its project has been to recognise that such a shortfall is close to a certain reality. Excitement is not perhaps a word that comes immediately to mind when contemplating Britain's almost certain economic and societal collapse.
As we have noted before in the Daily Sceptic, UK FIRES bases its recommendations on the brutal, and many would argue, honest reality of Net Zero. It does not assume that technological processes still to be perfected, or even invented, will somehow lead to minimal disturbance in comfortable industrialised lifestyles. Speaking to architects in 2021 at a RIBA climate conference, UK FIRES leader, Cambridge-based Professor Julian Allwood, said the UK Net Zero strategy is as unrealistic as "magic beans fertilised by unicorn's blood".
It can be argued that the £5 million of taxpayer funding to UK FIRES is money well spent since its honest Net Zero appraisals contrast with the fanciful stories and deceit that surround many other claims by Net Zero promoters.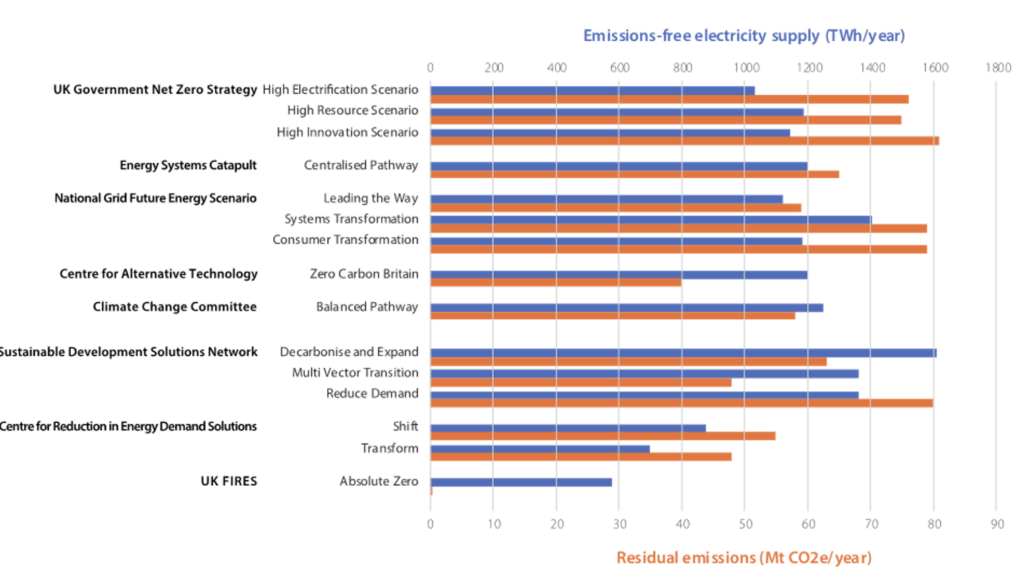 The above graph shows how UK FIRES expects only one quarter of electrical power to be available in 2050, compared with all other forecasts. By 2050, electrical power will be the primary source of all energy. It notes that all other scenarios depend on negative emissions technologies such as carbon capture to deal with 'residual emissions' – shown in the graph in orange. UK FIRES notes that it reflects the reality that to date no such technologies are operating in the UK, and therefore it states that by 2050, "we should continue to anticipate that they would not exist".
Allwood, and his colleagues from a number of universities including Oxford and Imperial College, are dismissive of many of the proposed Net Zero mitigation technologies, noting, for instance, that biofuels are unsustainable since they threaten biodiversity. In 2021, Allwood observed that delivering Net Zero by 2050 "will require governments to utilise all available abatement opportunities, yet current policy largely ignores socially-driven mitigation in favour of technological innovation in the energy sector"
In plainer English, these government driven social "abatement opportunities" might reference the World Economic Forum's advice that you will eat bugs, own nothing, and, it need hardly be added, be happy. As we have previously reported, UK FIRES promotes a world with no flying and shipping by 2050, drastic cuts in home heating, bans on beef and lamb consumption, and a ruthless purge on traditional building materials such as bricks, glass, steel and cement, to be replaced with materials such as "rammed earth".
The UK Government is committed to reducing emissions by 68% from 1990 to 2030. Most of the easy cuts have been made with a switch from coal to gas, and the offshoring of a great deal of British manufacturing capacity. But the easy cuts, and the ubiquitous virtue signalling that goes with them, have ended. To comply with legal requirements going forward a massive ramp up of green energy is required, and there is little evidence that it is occurring.
The above graph from Atkins 'Engineering Net Zero' is referenced by the UK FIRES energy report. It analyses the build rates required to deliver the energy infrastructure predicted by the Climate Change Committee. There has, of course, been some building of renewable power sources in the last ten years, – wind and solar taxpayer subsidies of £12 billion a year for providing about 5% of total energy needs, attests to that – but nothing to suggest the build can ramp up to the required levels to even try to keep society functioning. Allwood notes that the correct interpretation of this graph is that it isn't going to happen. "There is no possibility of this level of energy infrastructure being built by 2035, and if anything approaching this rate of construction is to happen beyond then, the public financing commitment needs to be made right now, before the next election."
Mainstream media is very keen on horrific climate stories, but UK FIRES predictions are more or less ignored – presumably on the grounds they are the wrong type of Net Zero scares. But UK FIRES seems keen to scare the horses, noting that in articulating and promoting what it calls "opportunities", it is aiming to open up "a more credible pathway to delivering zero emissions in reality".
Chris Morrison is the Daily Sceptic's Environment Editor.