As you'll have probably heard by now if you tend to stay up to date with the nonsense spewed out by this asinine culture, the Tom Jones song 'Delilah', highly popular amongst Welsh rugby fans, will no longer be performed at matches.
The song has been banned by the Welsh Rugby Union on the grounds that its murderous theme will leave Welsh sports fans with no other option but to go on a wild killing spree directly after the game. And if Wales lose it will be even worse.
Halfwit Labour politician Chris Bryant has applauded the decision, an almost cast-iron guarantee that it's a bad idea.
Quarter-wit Chief Constable Dr. Richard Lewis also weighed in with the following tweet: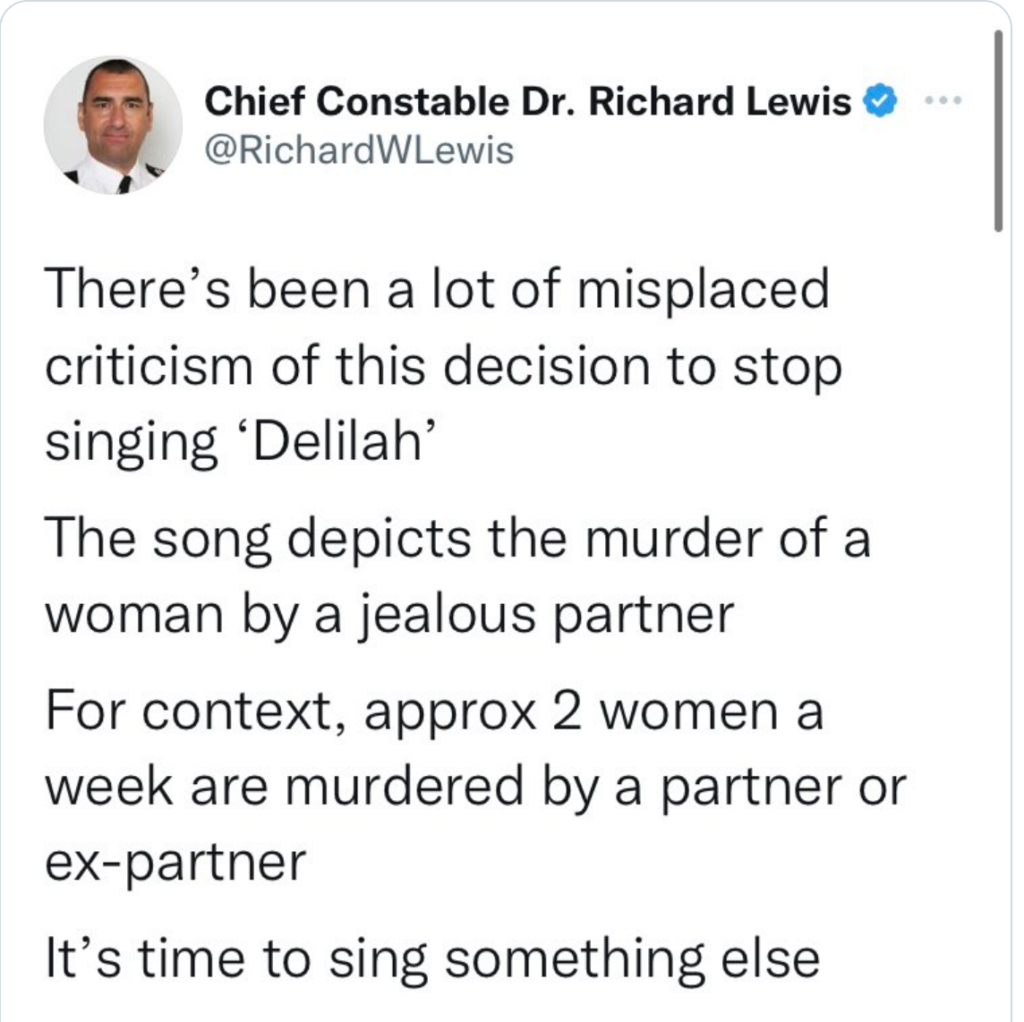 To which I couldn't help but reply with a tweet of my own: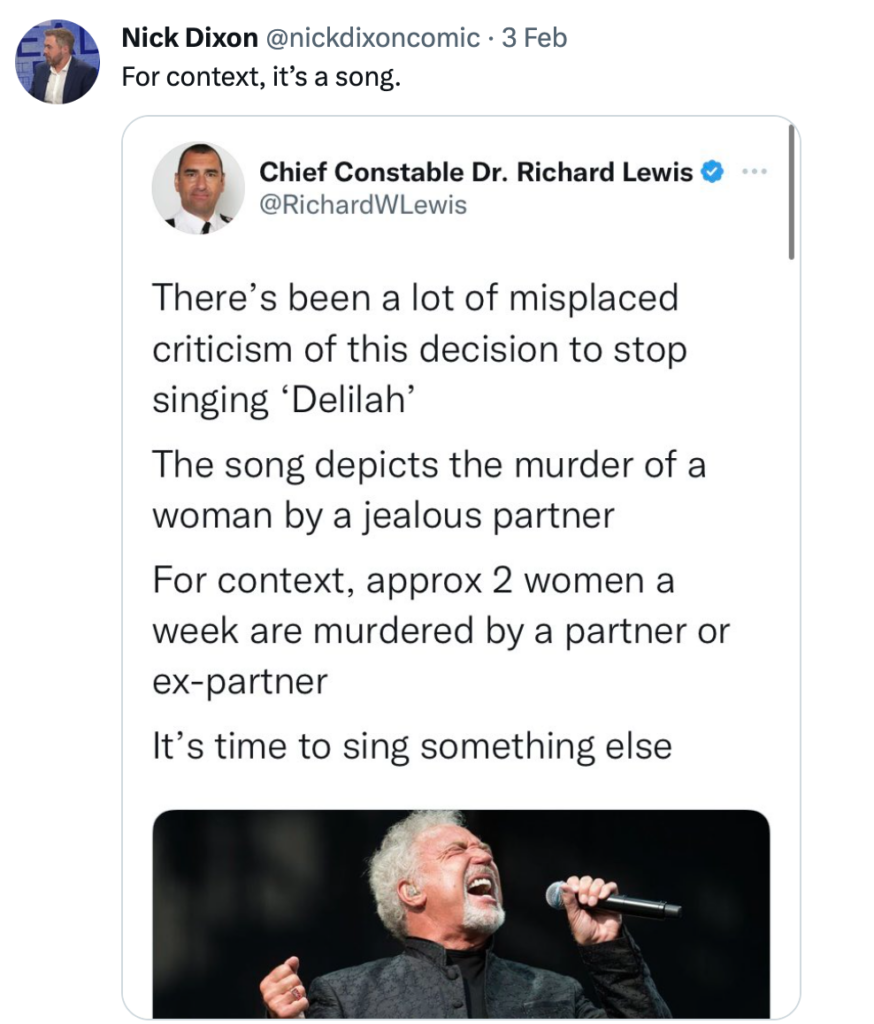 This, then, is the latest development in the the war against context. Previous skirmishes include Zara Sultana bizarrely claiming that famous professional comedian Jimmy Carr's famous professional joke was in fact a mere 'joke'. The deadly inverted commas intended to condemn Carr to the role of racist commentator rather than comedian.
Jeremy Clarkson suffered a similar fate, when we were all supposed to be believe his crude Game of Thrones joke about Meghan was an incitement to violence – and not just against Meghan, but women in general.
In this same depressing vein, 'Delilah' is assumed to be a terrorist manifesto for murdering wayward Welsh women.
Aside from the mind-numbing stupidity, and the unfathomable implications of choosing to take all art literally, one also detects, in this grim policing of community spirit, a suspicion of the organic bonds that naturally develop between the good people of Britain during national pastimes like rugby matches.
The same thing happened recently in football, with the Mirror claiming: "The start of 2023 has seen an explosion in homophobic incidents throughout the game."
What seemed an unlikely assertion about the least homophobic year on record turned out to be simply a new level of concern over a song fans have been singing for decades, regarding Chelsea players and their mythical affection for male prostitutes. Perhaps not the most edifying of fan songs, but the goalposts had clearly moved.
I tend to put such cases down to the woke middle class sneering at working class culture. A culture depicted with mournful beauty by Morrissey in his song 'We'll Let You Know'. "And the songs we sing, they're not supposed to mean a thing," Moz reminds us. And in this case we actually can take his song at face value, even as he implores us not to do the same when it comes to terrace chants.
With rugby union it's a bit more complicated, as it's a sport mainly played by large posh men whose ancestors hogged all the nutritional resources. But essentially it is the same thing.
These songs, whether 'Swing Low Sweet Chariot' or 'Delilah', both of which have now failed to meet woke purity standards, take on new meanings when sung in a sporting context.
Rather than a proclamation by rugby fans that they're going to murder their cheating girlfriends somewhere in Wales, 'Delilah' is an anthem of togetherness, shared values, and ancient bonds. As well as a conduit for the benign playing out of rivalries, so that we no longer have to poke each other to death with swords.
Ultimately, the conflict over these harmless songs is the same one we see happening across global politics. On one side the quirks of a nation – what a friend of mine calls our "tribal gods" – that strange, unrepeatable, yet undeniable communal magic that emerges over generations. On the other, the 'Davos man'. The rationalist top-down planner in his Maoist tunic, banning all the weird little things you like, because they don't fit into his utopian schemes.
"Why, why, why, Delilah?" the central planner asks.
Because we like singing it, we reply. And that is enough.
Stop Press: Welsh rugby supporters sent a clear message to the Welsh Rugby Union on Saturday, belting out 'Delilah' as Wales took on Ireland in Cardiff. The Telegraph has more.