This week brought welcome news that some of the purse-lipped, finger-wagging puritans who've been at the forefront of cancel culture – such as Gary Lineker, Frankie Boyle, and Dara Ó'Briain – are now at risk of being cancelled themselves. Those who live by the sword…
Lineker's sin was to tweet the following after the victory of the England women's football team on Sunday: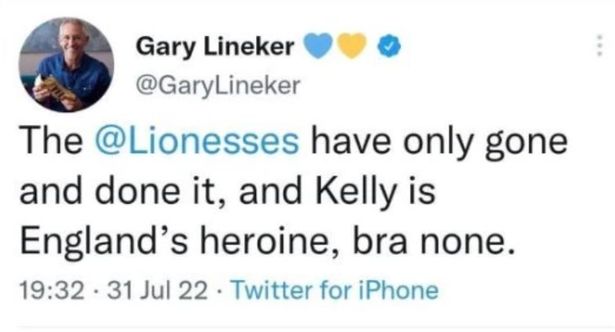 Not anything a normal person would object to – it was obviously a reference to the fact that Chloe Kelly removed her shirt to celebrate scoring a goal in added time – but the woke mob Gary has spent the last six years pandering to immediately turned on him. MailOnline has more.
The pun backfired and Lineker, 61, faced an immediate backlash on Twitter, not least from people who hadn't seen how Kelly marked the historic goal.

He was accused of making a "puerile sexist joke'"and of "casual sexism". One reply said: "Women did what you couldn't and you reduce their victory to a bra joke! Your misogyny and jealousy betrays you!!"

Lineker swiftly deleted his tweet and explained: "It was just a play on words given the celebration. I do rubbish like that constantly on here, including on men's football.

"I've deleted it as many people didn't see the game so missed the context."
Needless to say, deleting the tweet did little to placate his furious critics. For instance, Karen Ingala Smith, who describes herself as a 'feminist' in her Twitter bio, replied: "Please apologise for and condemn the sexist responses to your now deleted badly judged tweet."
Poor Gary. This is his second misstep in so many months, his previous one being to say in a podcast that he knew what it was like to be racially abused because of his own "darkish skin", despite being "as English as they come". He didn't intend to say that non-white people weren't properly English, but since when was intention taken into account by the woke Witchfinder-Generals? Only the Guardian came to Gary's defence: "Lineker's comments were important and insightful – giving us a glimpse of how race and racism can work," wrote Jason Okundaye. You'd have to have a heart of stone not to laugh at the poor, hapless Lineker.
Readers of the Daily Sceptic probably won't have heard of Frankie Boyle – and I envy them that. Boyle is a Scottish stand-up comic, much beloved by the BBC, who attracted some notoriety about 10 years ago by being as offensive as he possibly could – jokes about Down Syndrome, Katie Price's blind son, etc. But he then reinvented himself as a progressive scold, lashing out at other comedians such as Andrew Lawrence for being insufficiently woke.
Boyle got into difficulty last week for reverting to type during a set at the Latitude Festival in Suffolk, telling the following 'joke' about the GMB presenter Holly Willoughby: "I'd obviously kill her and rape her afterwards. I'm joking – I'd rape her first." Not surprisingly, this 'joke' wasn't greeted with much enthusiasm by his army of right-on fans. MailOnline takes up the story.
Boyle, 49, defended the remarks on Friday when questioned by an audience member at a Waterstones launch event for his new novel.

"Can I just say, my routine about raping and f***ing Holly Willoughby was part of a very long routine about whether or not it's OK to do a joke about that, and I look at it from both sides, there are pluses and minuses," he said.

Boyle added that comedy was in "the eye of the beholder" and that he considered himself to be a "mainstream" comedian.
A bit rich for someone who's been so quick to condemn his fellow comedians for making politically incorrect jokes to plead 'context' in his own defence. If only he'd granted others the same latitude.
Boyle's main claim to fame is that he used to be a regular on Mock the Week, the long-running BBC 'satirical' show in which overweight, middle-aged, white men – and a few token women – make 'jokes' about how racist and xenophobic Nigel Farage and Boris Johnson are. It's been churning out anti-Tory propaganda every week since 2005. But yesterday the BBC said that the next season would be the last.
BBC Two comedy panel show Mock the Week, hosted by Dara Ó'Briain, is to end after 17 years, the BBC has announced.

The satirical show, created by Dan Patterson and Mark Leveson, has featured Ó'Briain and team captain Hugh Dennis since 2005.

"That's it folks, the UK has finally run out of news," Ó'Briain said. "It couldn't go on".

The final eight episodes will be broadcast in the autumn.

Ó'Briain added: "The storylines were getting crazier and crazier – global pandemics, divorce from Europe, novelty short-term prime ministers. We just couldn't be more silly than the news was already."
Yes, Ó'Briain, I'm sure thats't the reason the programme has been literally cancelled. Absolutely nothing to do with the fact that your anti-Brexit 'jokes' are about as funny as a cup of cold sick and the BBC has finally woken up to the fact that if it doesn't at least make a pretence of being politically neutral its annual £159 licence fee is in grave danger.
Patrick West has written a savage piece about the ghastly Mock the Week for the Spectator, in which he points out that the admission of women to the ranks of the 'comics' on the seven-person panel has done little to improve the humour.
As a long-time viewer, and erstwhile huge fan of the show who still partly enjoys repeats of older episodes on Dave, I can tell you why viewers started to switch off in the last decade. The cause came in two waves. First, in 2014, the BBC issued the injunction that its comedy panel shows could no longer have all-male line-ups. The result, as with all anti-meritocratic mandates, was that the quality was compromised, and consequently, in this case, the humour.

This is not to say that women aren't intrinsically as funny as men. It's just that the specific form of comedy that Mock the Week embodies, stand-up, is particularly suited to the masculine temperament: it's competitive, aggressive, cruel, rude, crude and offensive. And to be fair, Mock the Week had no choice but to change with the times. Even ten years ago it would routinely feature seven white males. That would be unthinkable today.

Indeed, a sign of changing mores has been the humour of Frankie Boyle himself, the comedian who was the face of Mock the Week at the height of its powers, the man once held in infamy for his spectacularly offensive jokes. But hurting people's feelings has since become the worst social transgression one can make. Boyle has accordingly had a volte-face: in his stand-up he's now a pious guardian and solemn scolder of others. No wonder he's also not funny any more.

The second event was the Brexit referendum of 2016, when, in unison, the makers, guests and whooping audience of the show exposed their snobbish Remainer tendencies. Every week that year, and for some years afterwards, there were jokes about Nigel Farage (and Donald Trump) and how moronic and ill-informed the British unwashed masses were. It became tedious. Relentless, partisan, moralising comedy is risible – and not in the good sense of that word.

The Brexit vote was not a one-off. The mid-2010s witnessed an overclass, and indeed woke, emergent tendency that was enveloping comedy, culture in general, and this programme in particular. So cliquey and chummy had Mock the Week become towards the end of the last decade, and smug in its liberal grandstanding, that when the Brexit-voting conservative comedian Geoff Norcott appeared in an episode in 2018, his exceptional opinions became a source of nervous humour itself. A programme with this level of complacency, so blasé to its own bias, was evidently in trouble.

Television comedy by the beginning of this decade had already become consumed by conformist, left-wing politics, with obligatory jokes about the Daily Mail being a signifier. Have I Got News For You and Live At The Apollo have gone much the same way as Mock the Week, with their second-rate hosts and guests often there, everyone knows, to satisfy the diversity imperative. No wonder conservative comedians like Andrew Doyle or Simon Evans have increasingly shifted away from stand-up, and towards journalism, writing and broadcasting, using these platforms to speak out against today's conformist cultural hegemony.
That's bang on. BBC-approved 'comedians' like Boyle and Ó'Briain have followed exactly the same trajectory as 'anti-Establishment' publications like Private Eye and the Guardian and enthusiastically embraced the liberal-left ideology that is the official moral code of the ruling class – whether in connection with lockdowns, climate change or 'social justice' – and have done everything in their power to cancel anyone who challenges the mainstream narrative on these issues. The only genuinely subversive British comedians nowadays, apart from the legendary Ricky Gervais, are the ones who've been pushed out to the margins and appear on GB News and Comedy Unleashed. Not just the two mentioned by Patrick West – Andrew Doyle and Simon Evans – but also Andrew Lawrence, Leo Kearse, Dominic Frisby, Mark Dolan and our very own Nick Dixon, as well as several others. They are the true heirs to Lenny Bruce and Bill Hicks.
Will the fact that the BBC's Red Guards are getting a taste of their own medicine make them think twice before going after the next person guilty of wrongthink? You'd like to think so, but I doubt it. Our only hope is that they end up on the cultural scrapheap they've consigned so many others to.