Don't You Dare Enjoy the Sunshine
Yesterday, the R Rate was as low as it has ever been; infections, hospitalisations and deaths were continuing to drop; and Brits were told not to relax. MailOnline has the details.
Jonathan Van-Tam tonight urged Britons not to "relax" as the UK heads into a glorious weekend with the first warm weather for months, warning that "this is not a battle that we have won yet".

The Deputy Chief Medical Officer for England brought stern warnings to tonight's Downing Street press conference when he told the public: "Do not wreck this now."

Coronavirus cases are rising in dozens of parts of England, around one in five and mainly in the Midlands and the North, Professor Van-Tam said, and people must continue to follow lockdown rules for as long as they are in place.

He called for the UK to "hold our nerve" and added: "I do worry that people think it's all over. The more they think that when it's not, the greater the headwind they're going to give to the vaccine programme and the more at risk will become the milestones set on the road map."

His "sobering" warnings came as data show that Britain's Covid outbreak is still firmly in retreat, with a catalogue of official figures today piling even more pressure on Boris Johnson to relax lockdown sooner.

Department of Health bosses recorded another 8,523 coronavirus infections and 345 deaths – with both measures down by roughly a third week-on-week. More than 520,000 vaccines were also dished out, with nearly 19.2 million Britons now vaccinated.

No 10's top scientific advisory panel SAGE estimated the R rate – the average number of people each Covid patient infects – is still at the lowest level since records began in June, staying between 0.6 and 0.9.

Separate statistics from one of the country's most respected surveillance studies showed England's outbreak has nearly halved in size over the last fortnight. Office for National Statistics experts estimated 373,700 people would test positive for the virus on any given day in the week ending February 19th, or one in 145 residents. In comparison, the figure was almost 700,000 two weeks ago.

But a weekly report from a symptom-tracking app today warned daily cases had risen 3% in a week, to 9,545 in the seven-day spell ending February 21st. SAGE also estimated the R rate has crept up slightly in the South East, North West and the Midlands but insisted the figure is still below the crucial level of one.

Despite the troubling trend, one leading scientist today urged Britons "not to panic" because hospitalisations and Covid deaths were still falling – and said Number 10 was still on track to lift restrictions "sooner rather than later" because the UK is in a similar position to last May.

Professor Tim Spector, the King's College London epidemiologist who is behind the app, added: "The difference this time is, while the variants may be more infectious, we have a vaccine that works and the older age groups are largely protected."
Worth reading in full.
Over in the Spectator, Ross Clark comments on the deceleration in the decline of infections reported at the press conference.
But why should the decline in new infections be slowing down? There are several possible explanations. It is likely that people are beginning to tire of lockdown and are beginning to circulate, even to break the rules, a little more than they were in January. Then there is the weather: the week before last was especially cold; it may be that the virus was better able to spread in those conditions.

Today's instalment of the Office of National Statistics' infection survey seems to confirm that the prevalence of Covid infection has fallen in recent weeks. However, it only goes up to February 19th. Over the seven days to that date, it estimates that 373,000 people in England were infected with Covid – equating to 0.69% of the population. In the previous week, it estimated that 0.88% were infected. During the worst week – January 3rd to 9th– it was 2.08%.

Overall, the decline in deaths and hospitalisations seems to be much faster during the second wave than it was during the first wave. As far as infections are concerned, it is much harder to tell, because there was a huge ramp-up in the number of tests being performed last April. There is nothing in the figures so far to suggest that the Government's plans for lifting lockdown and reopening society should be at risk.
Could it be that people are beginning to break the rules a little more? The Telegraph reports new ONS data on compliance with Social Distancing rules.
People are less likely to adhere to social distancing measures as increasing numbers are vaccinated, Government figures suggest.

Office for National Statistics (ONS) data analysing the social impact of Covid during the period from February 17th to 21st found compliance with most measures to stop the spread remained high, with the proportions reporting always or often washing their hands after returning home (89%) and using a face covering (96%) unchanged from the previous week.

However, researchers found that 86% of adults reported always or often maintaining social distance when meeting people outside their support bubble – lower than last week, when it stood at 91%.

The lower compliance comes as personal happiness levels have begun to increase and a growing number of people receive Covid jabs amid a decline in vaccine scepticism.
Worth reading in full.
Stop Press: Tim Spector makes a good point about the slowing decline in cases.
What is the Truth About Covid Deaths?
The Daily Mail has splashed on mounting concerns about doctors wrongly putting "novel coronavirus" as the cause of death on death certificates when it's blindingly obvious to the relatives of those who've died that their death had nothing to do with Covid.
Grieving families last night said deaths had been wrongly certified as COVID-19.

Demanding an inquiry, top medical experts and MPs also insisted they were "certain" that too many fatalities were being blamed on the virus.

One funeral director said it was "a national scandal". The claims are part of a Daily Mail investigation that raises serious questions over the spiralling death toll.

More than 100 readers wrote heartbreaking letters following a moving article by Bel Mooney last Saturday. She revealed the death of her 99-year-old father, who suffered from dementia and chronic obstructive pulmonary disease, was recorded as coronavirus.

Dozens expressed similar frustrations that the causes of death of elderly and already-unwell relatives had been wrongly attributed. Eight of the families who wrote to the Daily Mail have successfully urged doctors to change causes of death previously recorded as COVID-19.

Layla Moran, the Liberal Democrat MP who chairs the all-party parliamentary group on coronavirus, said: "The Government should call a public inquiry into the handling of the pandemic immediately with an interim investigation into all Covid deaths that should report as soon as possible."

Tory MP Paul Bristow, a member of the Commons health committee, said: "It's almost certain that a number of deaths have been wrongly attributed to COVID-19.

"Not only has this skewed figures when data has been so important in deciding how we respond to the pandemic, it has caused distress and anxiety for relatives.

"Whether we have received the most appropriate figures should definitely be considered in any future inquiry."

A funeral director in the North West told the Mail: "The way Covid has been recorded and reported is a national scandal and a thorough enquiry should be opened immediately."

Medical experts have cited pressure on doctors to include COVID-19 as a cause of death because it was last year ruled a 'notifiable disease', meaning any case needs to be reported officially.

Professor Clare Gerada, former chairman of the Royal College of GPs, said: "When this all comes out in the wash, we will find out we have over-recorded COVID-19 as a cause of death."

Richard Vautrey, who chairs the British Medical Association's GP committee, said the toll may have been overstated at the beginning of the pandemic when testing was not widely available and "cause of death would have been based on best judgement of clinical symptoms".

A Department of Health spokesman said: "We are confident the death statistics are robust and provide an accurate picture of those who have sadly died from the virus. The guidance to doctors completing a medical certificate of cause of death explains they are expected to state cause of death to the best of their medical knowledge and belief."
Worth reading in full.
It's great to see a national newspaper finally digging into this story.
Why Has Boris Thrown the Hospitality Sector to the Wolves?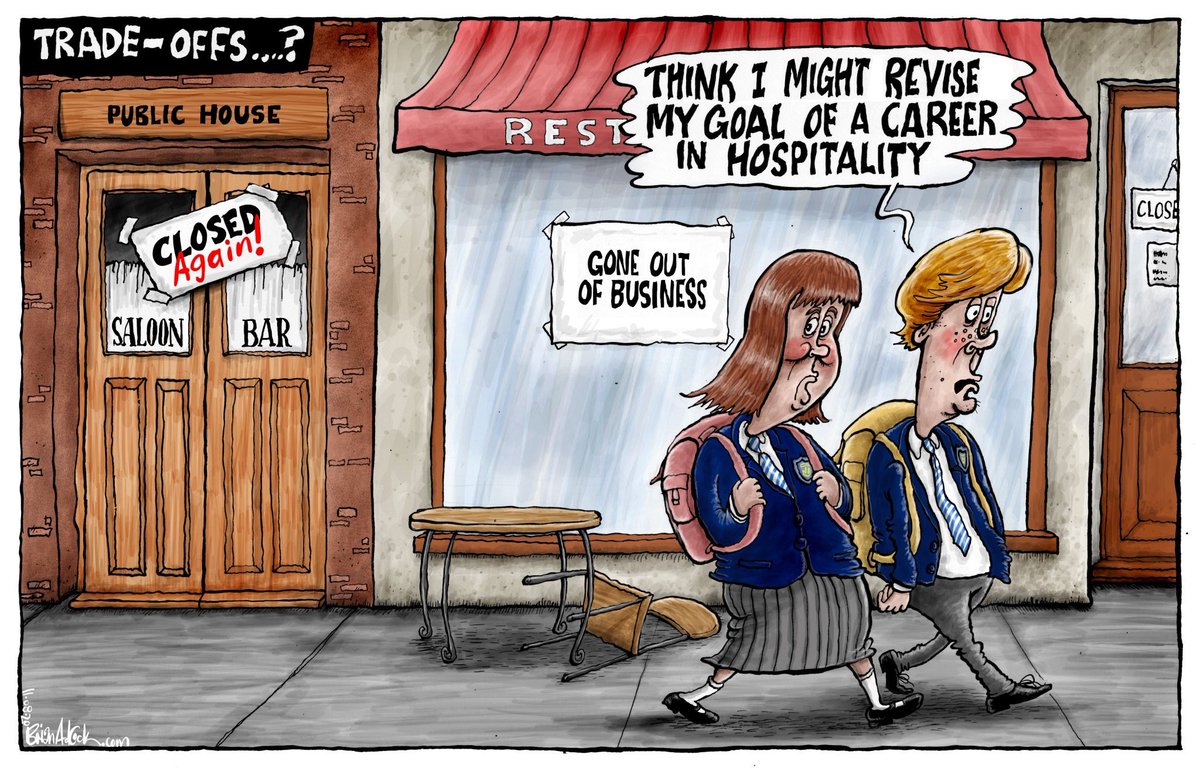 As with the lockdown, so with the Roadmap: few industries can have suffered more than hospitality from the Government's cack-handed attempts to minimise the COVID-19 death toll. Pubs will not be allowed to open until April 12th, and even then only to offer an outdoor service. Johnnie Arkwright, who runs a visitor attraction called Hatton Country World in Warwick – as well as a local pub – feels that the sector has been thrown to the wolves. This is his statement to the local media,
Not being allowed to open the 'Outside' areas of rural attractions and pubs at the end of March in time for Easter is a major financial blow for many desperately stretched small hospitality businesses; and it's down to serious anomalies in the PM's Roadmap to Lift Lockdown.

It must be a nonsense to let playgrounds in public parks stay open throughout Lockdown, after-school activities to proceed from March 8th, amateur contact sports like football with 22 players to start on March 29th and then to continue to ban family groups from the 'Outside' areas of rural attractions and pubs until the middle of April.

Under the proposals, the Great Outdoors, with all its fresh air and space to socially distance, can only open at the same time as higher risk 'Enclosed Areas' like non-essential shops and gyms in the middle of April.

Even drive-in Cinemas are banned till then, despite the fact that families never even get out of their cars – surely, no reason for them not to be open now!

And, actually, why on Earth keep shops closed for another seven weeks when Garden Centres have remained open throughout the current lockdown?

None of us want another false dawn again, but when we at Hatton Country World were allowed to open last summer, we entertained well over a thousand people a day without a single COVID-19 case by taking sensible precautions – pre-booking so we could Track and Trace, restricting numbers, maximum family groups of six, not opening enclosed areas, taking temperatures, installing social distance markers, hand sanitiser points, and so on .

That, of course, was before the more vulnerable elements of our society were all vaccinated in the brilliant initiative that has put the UK at the forefront of the Western world.

Frankly, the chances of small family groups catching COVID-19 in an outdoor environment is minimal anyway.

As for pubs and restaurants – we all understand why packed boozers and boogying nightclubs need to wait. But keeping the inside of food-led pubs and restaurants with table service closed for another three months – really?

The hospitality sector has been closed for eight of the last 12 months – we're all right on the edge. The detail of this blanket plan has not been properly thought through, and more businesses will close completely unnecessarily unless changes to the plan are made.

With closures come, of course, job losses – mostly the under-25s and school leavers who staff the hospitality sector, the same young people who have already been hit so hard by the pandemic for which they will also be paying most of their lives.

Let's pray that Parliament makes the Government see sense.
The More Stringent the Lockdown, the Higher the Covid Death Toll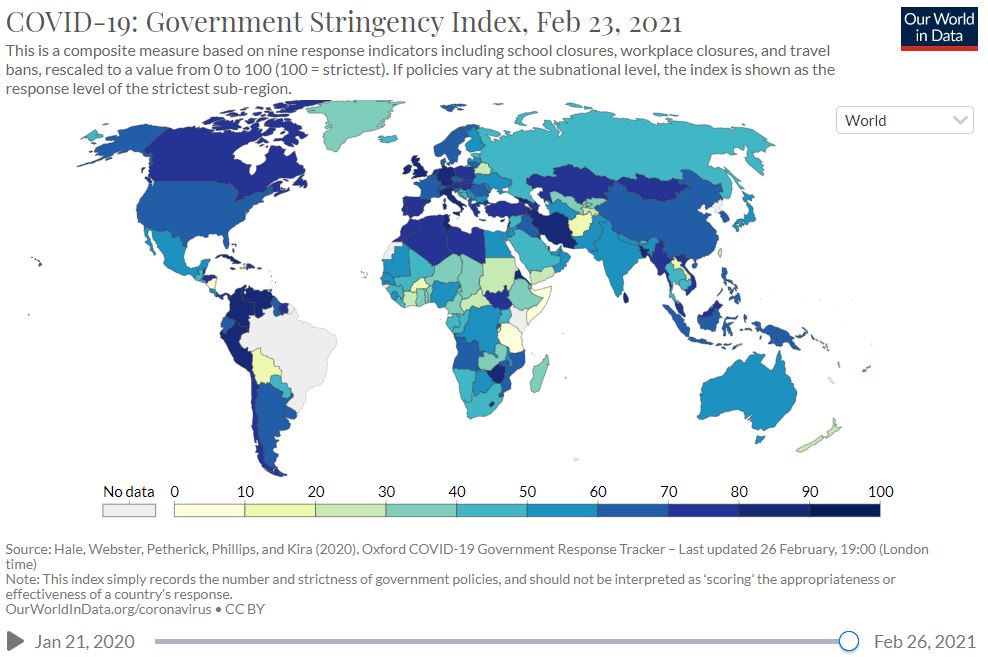 Last week brought the news that Britain's Covid response was ranked among the toughest in the world by researchers at the University of Oxford's Blavatnik School of Government. Only two countries ranked higher on the school's stringency index – Lebanon and Venezuela. What does that tell us about the effectiveness of our national response? One Lockdown Sceptics reader with a head for numbers has analysed this data against their reported cases and deaths and made a striking observation:
Anecdote is not data, so the recent revelation that the UK has among the harshest anti-Covid policies but also among the highest Covid case and death rates does not prove that lockdowns (and the other fun response measures) are useless. It's more meaningful actually to look at the whole of the data on national policy responses and COVID incidence/harm.
The Oxford University Blavatnik School's index of COVID-19 policy 'stringency' (comprising 18 policy indicators) covers over 180 countries, ranking stringency on a scale 0 to 100. The UK was 81 on February 23rd. At worldometers there are data on Covid cases, deaths and tests for 220 countries or so.
By aligning these two data bases together – mainly leaving out countries where the Blavatnik School doesn't have policy data – the correlation between policy rigour and Covid cases/deaths can be calculated. Now, we all know "correlation isn't causation". Indeed, the British Journal of Medicine only goes so far as saying correlation "is used in everyday life to denote some form of association". And the 'correlation coefficient' measures the strength of this association, on a scale from -1 (perfect negative; one variable moves opposite the other perfectly) to +1 (perfect positive; one variable moves in tandem with the other perfectly).
The correlation coefficients I calculated are also 'good' for only one point in time – I'm simply looking at the association of the latest known data we have on Covid harm and anti-Covid policy. This could be improved by looking at average values since Covid began, but it's a good enough place to start.
Now you'd expect, if you'd been listening to 'the science' for a whole year, that the association between Covid harm and policy response would be negative, wouldn't you, i.e., the more draconian the policy, the better the Covid outcome. You'd be wrong.
The correlation coefficients with policy stringency are: +0.35 with COVID cases and +0.38 with COVID deaths! On the face of it – data remember, not anecdote – the harsher the anti-Covid regime the worse the Covid harm.
Is this significant? Well, in a purely statistical sense, yes. There are tables to check, and on the basis of a sample size of 170 countries used here, correlations of 0.35 and 0.38 are indeed 'significant' (handsomely so).
A couple of pictures might save a thousand or two words. Quite clearly 'the experts' have deployed a scatter gun to fight Covid. Policy stringency varies from Somalia at 2.8 (413 cases per million, 14 deaths per million according to Worldometers) to Lebanon at 93 (54,324 cases per million and 677 deaths)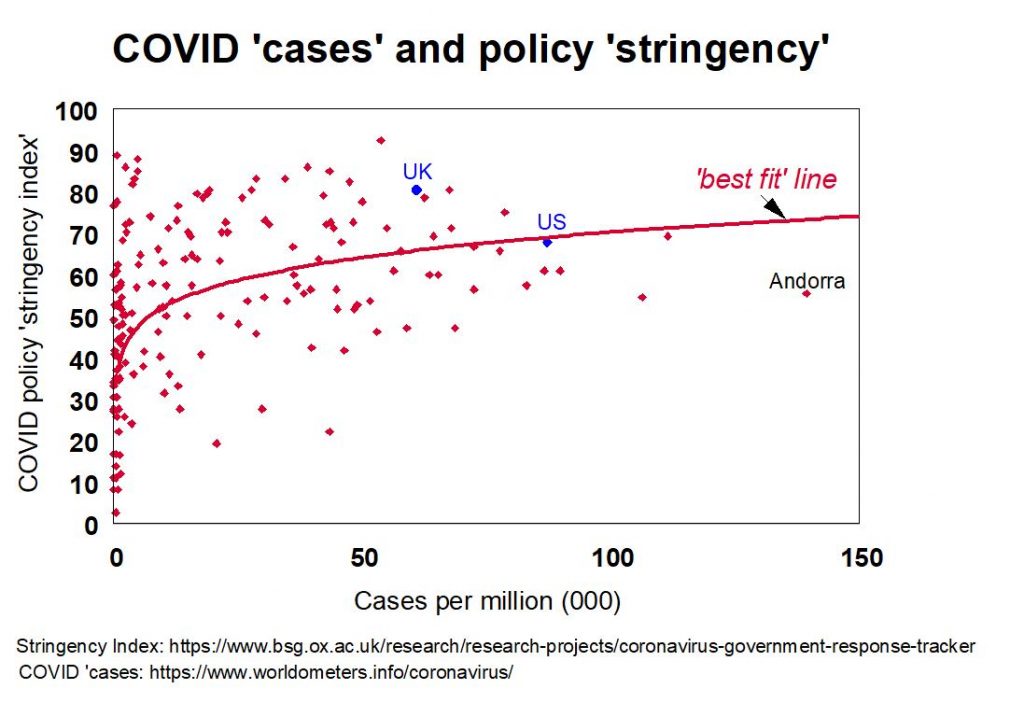 But through this scatter, the 'association' between policy and COVID harm is not 'linear'. Above stringency of around 60, increases in policy bloody-mindedness are associated with faster rises in Covid cases and deaths.
The takeaway, as it were, is demand 'cold turkey'; let's do a Somalia and watch Covid cases and deaths go zero-wards.
A Response to Ian Dunt's Anti-Sceptic Screed by a Law Professor
Yesterday's round-up linked to a piece by Ian Dunt, arguing, that lockdown scepticism is "an ethical abyss". There follows a response by Dr David McGrogan, Associate Professor of Law at Northumbria Law School
Ian Dunt describes lockdown scepticism as "an ethical abyss" in a recent article – "a testament," he puts it, "to how certain commentators and politicians will allow their need for attention to overrule even the most rudimentary of moral standards."
This is, of course, kneejerk mainstream opinion: lockdown sceptics are immoral because they don't care about grannies dying. It is also complete nonsense on its face, as we all know: one could just as readily respond that lockdown zealots are immoral because they don't care about children's futures or about cancer patients or about the death of liberal democracy. That doesn't ultimately get us very far. It has been my argument since March 2020 that the main argument against lockdowns is that they actually make ethical conduct impossible. Indeed, they deprive human beings of that most fundamental characteristic of humanity: the ability to make ethical choices of one's own. In that sense, they represent the complete absence or negation of 'ethics' properly understood. So the phrase "ethical abyss" is absolutely on the money – the perfect descriptor of the lockdown movement.
Michel Foucault once said that "freedom is the ontological condition of ethics". That is a fancy French post-structuralist's way of saying that ethics cannot exist without freedom. What does this mean? Very simply, if you are being forced to 'do the right thing', or you just do so to comply with the law or social expectation, then you can hardly be said to be acting ethically. You are just doing what you're told, or what you're 'supposed' to do, and that isn't the exercise of any genuine sort of ethics. The only time you can properly be described as acting ethically is when you have a choice to do two or more things, and you make that choice in reference to ethical standards of your own. To simplify things rather, Adam and Eve were not acting ethically in the garden of Eden – until they had the choice to eat the forbidden fruit or not.
Foucault did not dismiss the difficulty of all of this. How does one generate one's own ethical standards, and exercise choice on that basis? How does one cultivate in oneself the propensity to act ethically? These are not easy questions to answer, but they are not impossible ones, and indeed Foucault was attempting to chart a path to genuine self-actualising ethics before his untimely death. What he was clear about was that the whole enterprise was contingent on acting freely. "Freedom is a practice," he once said in an interview. You have to do it. In doing it, in acting freely, and in reflecting on what it is doing, one can develop within oneself the propensity to act in light of ethical standards of one's own. The two things go hand in hand: ethics do not exist without freedom; freedom is ethics' ontological condition.
The lockdown movement is responsible for many great crimes but the greatest might be depriving people of their moral agency – depriving them of the capacity to make ethical choices. Our ethics have been determined for us. In taking our freedom away from us, the Government has taken away our capacity to develop ethically, indeed to act ethically at all. We do not exercise our own judgment about risk and the harms we might do to others – choosing to stay at home, choosing to limit social interactions, choosing to wear a mask if we think it important. We act mostly only in reference to 'the rules'.
Lockdown zealots like Ian Dunt will say that this is all to the good, because people can't possibly be trusted to behave ethically (or at least with the 'right' ethics) if left to their own devices. They will have parties, they will hug their grannies, they will watch football matches, and they will kill people as a result. Maybe, maybe not, but what we can really be sure of is that their capacity to exercise genuine ethical conduct, on Foucault's terms, will wither and die on the vine the longer lockdownism prevails. They will become ever more dependent on predetermined ethical standards, selected for them, and ever less able to develop that most essential of human capacities, the ability to determine one's own moral fate. How, when this lockdown is over, will people ever revert to the position of acting, not in reference to what the government says is permissible, but in reference to their own ethical standards? How will children grow into fully formed adults if they can't exercise ethical choices of their own? How will our society recover when the State has imposed its own ethics in between every single one of us in such an intrusive way, and for so long?
This is the real enormity of what lockdowns are doing. This is the real ethical abyss.
The Ne Plus Ultra of Zero-Zealotry
In an article for the New Statesman, Professor Gabriel Scally argues that it is not too late to pursue a Zero Covid strategy. Guy de la Bédoyère, historian and Lockdown Sceptics regular, felt that this prime example of Zero Covid absurdity required a response on these pages, and so here it is.
Those of us contribute to and read Lockdown Sceptics have had the opportunity to consider a wide range of views. There's been a healthy debate. I've tried to steer something of a middle course in an effort to find common ground that might help us get out of this mess.

I'll lay my cards on the table. I am going to be vaccinated as soon as I can. That is my choice, and I am glad that it is my choice.

I accept for example that in order to protect other people I needed to learn to drive and to have a driving licence to prove it. Similarly, I accept the normal passport as a means of proving who I am and protecting me and everyone else from maniacs and others not entitled to come to this country. I also accept that there are consequences of making choices. If I choose not to have a driving licence, then I would have to accept I cannot drive on a public road. And I doubt if anyone would want me to. If I chose freely not to have a passport then I would not be allowed to travel. So, I have no problem with the notion of vaccine choice as another facet of choice with consequences. I grew up at a time when large numbers of children had polio, a disease that gradually dwindled away as a result of the vaccine program.

That is all about freedom of choice. However, occasionally something pops up that is so horrifying it sends a chill down my spine, and freedom of choice is at the heart of it.

I have just opened the latest edition of New Statesman and found myself reading an article by Professor Gabriel Scally, President of the Epidemiology and Public Health section of the Royal Society of Medicine. The article, which extols the virtues of Zero Covid, is a portal into the level of insanity evolving behind closed doors among some of the scientific community.

In this extraordinary piece of zero-zealotry Scally is pleased to point out that many of the countries which have dealt with the pandemic 'effectively' are islands. Oblivious to the vastly differing population sizes and profiles, and geographical locations, he lumps them together with the success achieved by one-party states in other geographical settings like Thailand and Vietnam (where the median age is lower, and the incidence of obesity is also lower). One has an instant sense of where this is going.
Worth reading in full.
Stop Press: It was reported yesterday that the UK's Coronavirus 'alert' level has been lowered from level five to four, as the risk in all four nations that the NHS could be overwhelmed has receded. One reader posed an interesting question: Given that Zero Covid is apparently not the policy of the British Government, one must assume that it is accepted that there will continue to be some transmission. Does that mean that the alert level can never sink below 'two' and that there will therefore forever be some level of minimal social distancing and enhanced tracing?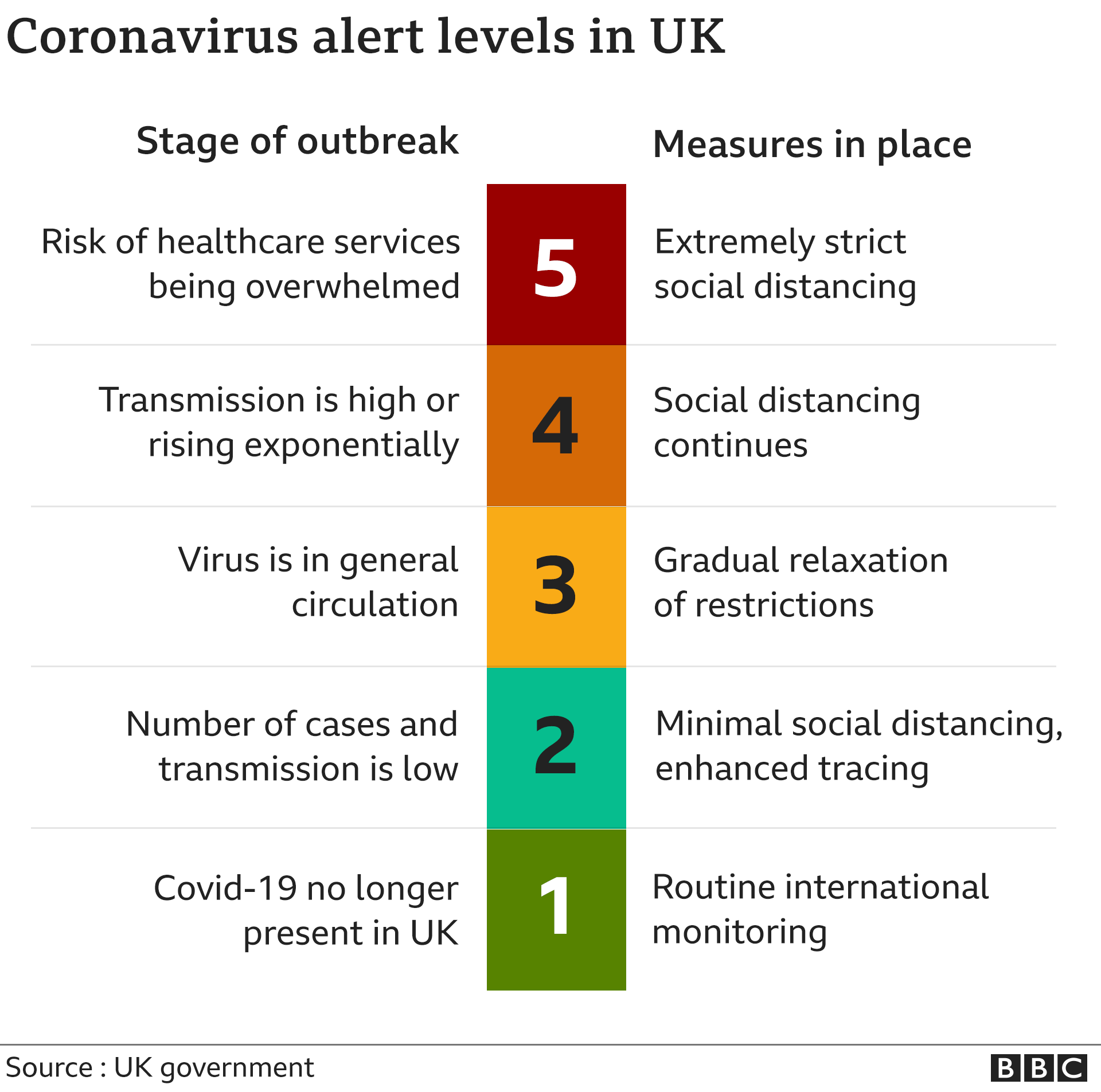 An Incredible Berk of Staggering Ignorance
Today we're publish a new essay by Dr Sinéad Murphy, a Research Associate in Philosophy at Newcastle University and regular contributor to Lockdown Sceptics. Here she responds to a recent video by Owen Jones, whose title "The Deniers" tells you everything you need to know about its contents. Dr Murphy sees in Jones's supreme confidence and unmannerliness, an illustration of the 'Covid Differend', a concept devised by Michel Foucault to describe an impasse between two sides in a dispute that is irresolvable.
Over a week ago, the journalist Owen Jones posted a video on his YouTube channel. Its title: "The Deniers."

I have not been a reader of Jones's writings nor a viewer of his videos, but I have been aware of his relatively high profile as an opinion columnist and an interviewer. Nothing could have prepared me for his performance in "The Deniers".

Jones's demeanour in this video is that of a bad-tempered child who, from the safety of his mother's skirts, entertains himself by taunting his chosen targets – he pulls faces, he calls names, and he mocks the objects of his petulance with hand gestures and sarcasm of the most puerile variety.

Jones's victims are professional people – just like him. Among them: Professor Karol Sikora, former Chief of the Cancer Programme of the World Health Organisation; Professor Sunetra Gupta, Chair of Theoretical Epidemiology at University of Oxford; Professor Carl Heneghan, Director of University of Oxford's Centre for Evidence-Based Medicine and Editor-in-Chief of the British Medical Journal's Evidence-Based Medicine provision; and Dr Michael Yeadon, former Head of Allergy and Respiratory Research at Pfizer Global.

These are the people – the 'Deniers' – at whom Jones makes his faces and levels his taunts. More than once, he uses his hands to place notional quotation marks around Karol Sikora's academic title. What is this to suggest? That Karol Sikora is not a professor, or not a real one, or not a good one? Jones all but spits the word "oncologist" in his description of Sikora's area of scientific practice, with the caveat that there's "nothing wrong with that" and that "we all have our opinions". Nothing wrong with world-renowned expertise in the treatment of cancer? The medical opinions of a leading cancer specialist, neither better nor worse than those of anyone else?

The ignorance of Jones's opinionating, let alone its unmannerliness, is staggering. That any one of his targets would address him in this way is inconceivable – every convention of professional conduct is against it.

So as to rise to something better than mere scorn at this degrading display, I began to consider the question: What is it that has given Owen Jones such assuredness, such an implicit sense of immunity from censure, that he puts himself abroad in this way – so full of his own opinions, so lacking in respect, so unmoderated, so misjudged? If it is the style of a mean-spirited child sticking out his tongue from behind his mother's skirts, then from what does Jones's extraordinary sense of security stem? Whence his heady experience of standing on ground that is so protected from counter-argument or criticism that he can throw aside established forms of reasonable and respectful exchange of ideas and indulge himself in childish antics?
Worth reading in full.
COVID-1984
We are continuing to get some great slogans for COVID-1984. Here are a few of the best.
ISOLATION IS COMMUNITY
LOVE IS FEAR
SILENCE IS ELOQUENCE
DISTANCE IS CLOSENESS
BREATHING IS SELFISHNESS
SANITY IS ACCEPTING ABSURDITY
TO LEAD IS TO FOLLOW
TO HUG IS TO HATE
MASKS ARE FREEDOM
VACCINATION IS LIBERATION
And one reader thought Shakespeare said it all
FAIR IS FOUL AND FOUL IS FAIR
Round-up
Theme Tunes Suggested by Readers
Eleven today: "Minority" by Subhumans, "If The Kids Are United" by Sham 69, "Questions" by Manfred Mann, "Same Old Blues" by Captain Beefheart and His Magic Band, "Shadow of a Doubt" by Sonic Youth, "On My Radio" by Selecter, "Everything's Ruined" by Faith No More, "Down Down" by Status Quo, "Hey Hey Bad News" by Bad News, "Virtual Insanity" by Jamiroquai and "Help!" by the Beatles.
Love in the Time of Covid
We have created some Lockdown Sceptics Forums, including a dating forum called "Love in a Covid Climate" that has attracted a bit of attention. We have a team of moderators in place to remove spam and deal with the trolls, but sometimes it takes a little while so please bear with us. You have to register to use the Forums as well as post comments below the line, but that should just be a one-time thing. Any problems, email Lockdown Sceptics here.
Sharing Stories
Some of you have asked how to link to particular stories on Lockdown Sceptics so you can share it. To do that, click on the headline of a particular story and a link symbol will appear on the right-hand side of the headline. Click on the link and the URL of your page will switch to the URL of that particular story. You can then copy that URL and either email it to your friends or post it on social media. Please do share the stories.
Social Media Accounts
You can follow Lockdown Sceptics on our social media accounts which are updated throughout the day. To follow us on Facebook, click here; to follow us on Twitter, click here; to follow us on Instagram, click here; to follow us on Parler, click here; and to follow us on MeWe, click here.
Woke Gobbledegook
We've decided to create a permanent slot down here for woke gobbledegook. Today, we bring you la langue française, which, if some of the woker voices in France have their way, will become even harder for us rosbifs to get our tongues around. Happily this looks unlikely. Anthony Peregrine has the details for the Telegraph.
In some dim and distant future, leisure travel to France might once again become possible. Those wishing to take advantage in order, among other things, to brush up their French should be holding their breaths right now. They should be hoping that France's simmering campaign to promote "inclusive writing" falls flat, and falls flat fast. Irregular French verbs are, they will know, enough of a challenge already, without the added headache of tangling with a woke revision of the language.

Granted, the signs are promising. More than 60 French MPs have this week tabled a proposition to stop France's vast, heaving public administration from using "gender inclusive" words. Former PM Edouard Philippe had already ordered something along these lines, but it seems the message needs ramming home more firmly. The MPs, drawn both from Emmanuel Macron's party and the conservative Republicans, are to have the draft law debated in the French parliament in coming weeks…

Standard French – you know, a world language for a couple of millennia and still spoken by more than 300 million people in France and beyond – holds that a group of neighbours be termed by the masculine "voisins". That is the case even if the vast majority are women, even if they are all women except for one man. The feminine version of the word, "voisines", is only used if there's no male among the group. L'écriture inclusive would correct this gender "imbalance" with things apparently called middots. The word would thus be rendered "voisin.e.s", thus covering masculine and feminine. Yes. Really. Everyone would be happy. Or, to put it another way, half a dozen zealots would be very happy indeed.

Apart from being visibly bonkers, and unpronounceable, the change would mangle the language into incomprehensibility. Among very many objections, one concerns adjectives. In France, as you know, these agree with the gender of the noun they describe. Thus we wouldn't be stopping at vandalising the word "voisins". We'd have to corrupt any accompanying adjective, too. So "kind neighbours" – presently "voisins gentils" – would become "voisin.e.s gentil.le.s". Good luck with getting your tonsils round that. And you can imagine how great it's going to look on the pages of a novel. It will improve Flaubert no end.

A further complication is that France has no neutral "they". The third person plural pronoun is gender sensitive. If you want to say "they", you have to specify whether the people or things indicated are masculine or feminine: in other words, "ils" or "elles". Take the neighbours. Having established they're kind, we now learn they are organising a street party. How do we tackle that? "I.elle.s organisent une fête de rue"? Is that even sayable ?
Worth reading in full.
Stop Press: Douglas Murray takes a look at the 'cancellation' of Professor Gregory Clark in UnHerd, who was unable to give a lecture at Glasgow University's Adam Smith Business School because of its title: "For Whom the Bell Curve Tolls: A Lineage of 400,000 Individuals 1750-2020 Shows Genetics Determines Most Social Outcomes." What is the woke mob so scared of, asks Murray?
Stop Press 2: "Putin has weaponised western wokery – and Amnesty has been fooled," says John Lloyd in CapX, referring to the case of Alexei Navalny, and the way attention was drawn to his Nationalist views.
"Mask Exempt" Lanyards
We've created a one-stop shop down here for people who want to obtain a "Mask Exempt" lanyard/card – because wearing a mask causes them "severe distress", for instance. You can print out and laminate a fairly standard one for free here and the Government has instructions on how to download an official "Mask Exempt" notice to put on your phone here. And if you feel obliged to wear a mask but want to signal your disapproval of having to do so, you can get a "sexy world" mask with the Swedish flag on it here.
A reader has started a website that contains some useful guidance about how you can claim legal exemption. Another reader has created an Android app which displays "I am exempt from wearing a face mask" on your phone. Only 99p.
If you're a shop owner and you want to let your customers know you will not be insisting on face masks or asking them what their reasons for exemption are, you can download a friendly sign to stick in your window here.
And here's an excellent piece about the ineffectiveness of masks by a Roger W. Koops, who has a doctorate in organic chemistry. See also the Swiss Doctor's thorough review of the scientific evidence here and Prof Carl Heneghan and Dr Tom Jefferson's Spectator article about the Danish mask study here.
Stop Press: At the press conference yesterday, Dr Susan Hopkins, the Chief Medical Advisor to Public Health England, warned against forcing primary school children to wear masks, the Daily Mail reports.
A top Public Health England adviser said experts were "very strongly" against advising coverings for primary-age youngsters.

Dr Susan Hopkins told last night's Downing Street press conference: "This is for two reasons.

"One is that they can have difficulties wearing them and keeping them on all day.

"The second part is that it is really important that they can see facial expressions in order to develop their communication and language skills."

Dr Hopkins added that other risk-reducing measures were in place instead, as well as plans to test the families of primary school pupils when they return to class.
Stop Press 2: At the CPAC conference in Florida, hosts were booed for asking guests to wear masks.
The Great Barrington Declaration
The Great Barrington Declaration, a petition started by Professor Martin Kulldorff, Professor Sunetra Gupta and Professor Jay Bhattacharya calling for a strategy of "Focused Protection" (protect the elderly and the vulnerable and let everyone else get on with life), was launched in October and the lockdown zealots have been doing their best to discredit it ever since. If you googled it a week after launch, the top hits were three smear pieces from the Guardian, including: "Herd immunity letter signed by fake experts including 'Dr Johnny Bananas'." (Freddie Sayers at UnHerd warned us about this the day before it appeared.) On the bright side, Google UK has stopped shadow banning it, so the actual Declaration now tops the search results – and Toby's Spectator piece about the attempt to suppress it is among the top hits – although discussion of it has been censored by Reddit. In February, Facebook deleted the GBD's page because it "goes against our community standards". The reason the zealots hate it, of course, is that it gives the lie to their claim that "the science" only supports their strategy. These three scientists are every bit as eminent – more eminent – than the pro-lockdown fanatics so expect no let up in the attacks. (Wikipedia has also done a smear job.)
You can find it here. Please sign it. Now over three quarters of a million signatures.
Update: The authors of the GBD have expanded the FAQs to deal with some of the arguments and smears that have been made against their proposal. Worth reading in full.
Update 2: Many of the signatories of the Great Barrington Declaration are involved with new UK anti-lockdown campaign Recovery. Find out more and join here.
Update 3: You can watch Sunetra Gupta set out the case for "Focused Protection" here and Jay Bhattacharya make it here.
Update 4: The three GBD authors plus Prof Carl Heneghan of CEBM have launched a new website collateralglobal.org, "a global repository for research into the collateral effects of the COVID-19 lockdown measures". Follow Collateral Global on Twitter here. Sign up to the newsletter here.
Judicial Reviews Against the Government
There are now so many legal cases being brought against the Government and its ministers we thought we'd include them all in one place down here.
The Simon Dolan case has now reached the end of the road. The current lead case is the Robin Tilbrook case which challenges whether the Lockdown Regulations are constitutional, although that case, too, has been refused permission to proceed. There's still one more thing that can be tried. You can read about that and contribute here.
The GoodLawProject and three MPs – Debbie Abrahams, Caroline Lucas and Layla Moran – brought a Judicial Review against Matt Hancock for failing to publish details of lucrative contracts awarded by his department and it was upheld. The Court ruled Hancock had acted unlawfully.
Then there's John's Campaign which is focused specifically on care homes. Find out more about that here.
There's the GoodLawProject and Runnymede Trust's Judicial Review of the Government's award of lucrative PPE contracts to various private companies. You can find out more about that here and contribute to the crowdfunder here.
Scottish Church leaders from a range of Christian denominations have launched legal action, supported by the Christian Legal Centre against the Scottish Government's attempt to close churches in Scotland for the first time since the the Stuart kings in the 17th century. The church leaders emphasised it is a disproportionate step, and one which has serious implications for freedom of religion." Further information available here.
There's the class action lawsuit being brought by Dr Reiner Fuellmich and his team in various countries against "the manufacturers and sellers of the defective product, PCR tests". Dr Fuellmich explains the lawsuit in this video. Dr Fuellmich has also served cease and desist papers on Professor Christian Drosten, co-author of the Corman-Drosten paper which was the first and WHO-recommended PCR protocol for detection of SARS-CoV-2. That paper, which was pivotal to the roll out of mass PCR testing, was submitted to the journal Eurosurveillance on January 21st and accepted following peer review on January 22nd. The paper has been critically reviewed here by Pieter Borger and colleagues, who also submitted a retraction request, which was rejected in February.
And last but not least there was the Free Speech Union's challenge to Ofcom over its 'coronavirus guidance'. A High Court judge refused permission for the FSU's judicial review on December 9th and the FSU has decided not to appeal the decision because Ofcom has conceded most of the points it was making. Check here for details.
Samaritans

If you are struggling to cope, please call Samaritans for free on 116 123 (UK and ROI), email jo@samaritans.org or visit the Samaritans website to find details of your nearest branch. Samaritans is available round the clock, every single day of the year, providing a safe place for anyone struggling to cope, whoever they are, however they feel, whatever life has done to them.
Shameless Begging Bit
Thanks as always to those of you who made a donation in the past 24 hours to pay for the upkeep of this site. Doing these daily updates is hard work (although we have help from lots of people, mainly in the form of readers sending us stories and links). If you feel like donating, please click here. And if you want to flag up any stories or links we should include in future updates, email us here. (Don't assume we'll pick them up in the comments.)
And Finally…
The World Economic Forum has released a video celebrating the impact of the lockdowns on cities. No, you didn't read that wrong. The WEF likes the fact that there are fewer cars driving round, fewer planes in the sky and fewer people on the street. Oh, and less "ambient noise".
They really are psychopaths, aren't they?