It's Roadmap Day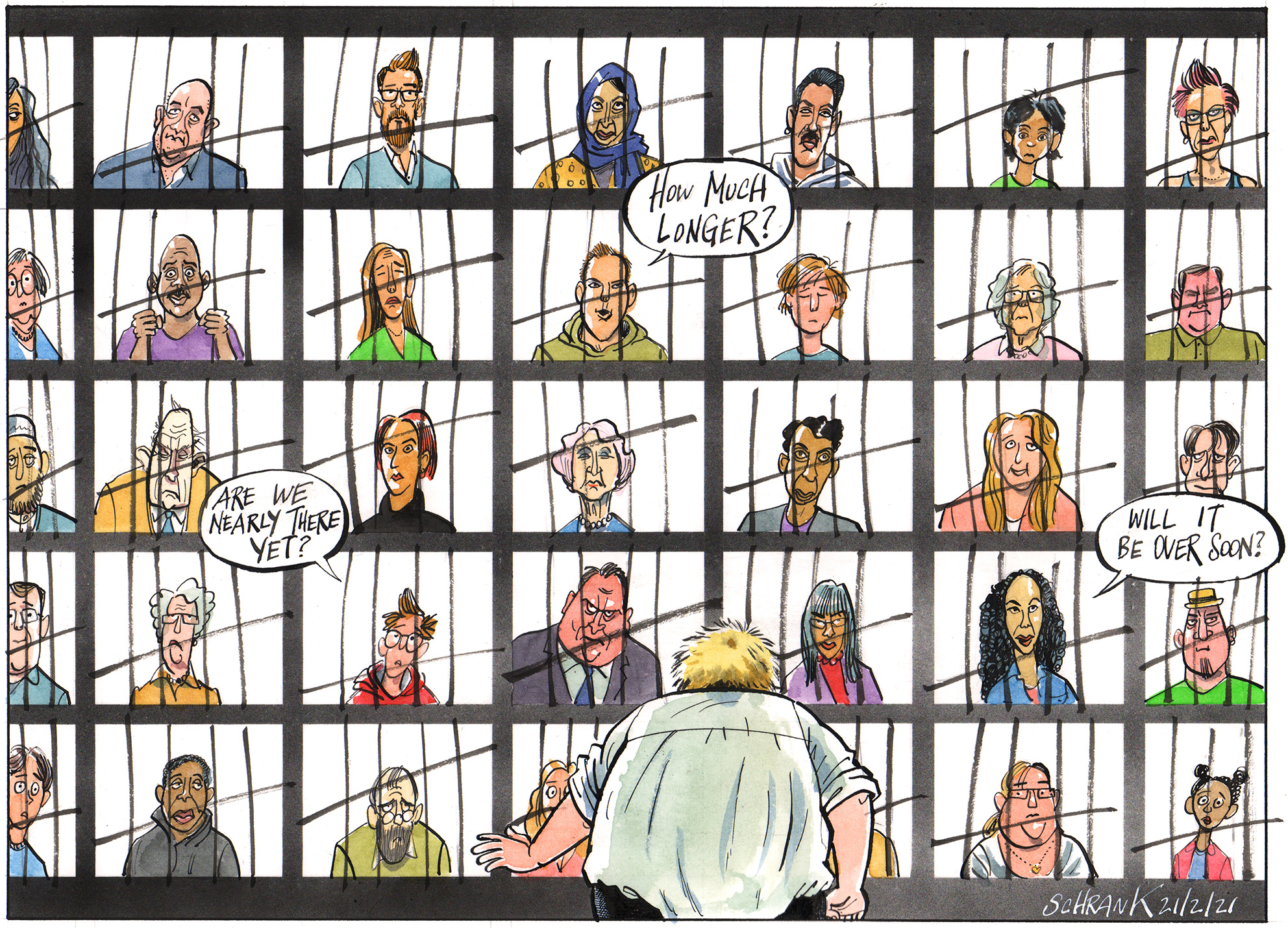 Today is the big day. First in the House of Commons then later in a Downing Street Press Conference, Boris is expected to unveil the long-awaited roadmap, which will detail the route out of lockdown. The Daily Mail has something of a preview.
The first steps to freedom from lockdown will prioritise reopening schools and reuniting families, Boris Johnson said last night.

In two weeks, on March 8th, you will be able to meet one friend or family member in the park for a coffee or a picnic.

On the same date, all pupils will return to the classroom as part of the first of four steps towards getting the country back on its feet.

Unveiling his long-awaited roadmap today, the Prime Minister will announce that on March 29th, outdoor gatherings of either six people or two households will be allowed – enabling families and friend groups to meet properly for the first time in months.

That date will also see the reopening of tennis courts and golf courses and the return of grassroots football.

But in a blow to many families, they will not be allowed to take holidays over the Easter weekend. And shops, hairdressers and pubs are all likely to remain closed until mid-April at the earliest.
Still a fair amount of time left to spend watching Netflix then. Why so slow? Katy Balls has some analysis in the Spectator. It seems that being criticised in the media and elsewhere for coming out of the spring and autumn lockdown too quickly – and for being prematurely optimistic that each lockdown would be the last – has made Boris ultra-cautious. He wants to avoid any more U-turns if he possibly can.
When Boris Johnson stands at the despatch box on Monday afternoon to unveil his roadmap for ending the lockdown, those hoping for a big bang moment in ending restrictions will be left disappointed. Instead, the Prime Minister will announce a very gradual easing of the lockdown stretching to the summer – with Johnson reserving the right to make it even slower should the data go the wrong way. Having been stung by previous promises to avoid further lockdowns, the roadmap will be more cautious than members of the Conservative party's Covid Recovery Group would like…

When it comes to the timescale, should deaths and hospitalisations plummet the Prime Minister is still keen to have a period of a few weeks between each easing to see the effect it has on the data. As a result, even if things appear to be going better than expected, it could be a long wait for a full reopening. There will be four tests for easing the lockdown at each stage: 1. Vaccine rollout going as planned 2. The vaccine is driving down deaths and hospitalisations in the way expected 3. The infection rate is one that doesn't risk the NHS being overwhelmed 4. New variants do not change the risk assessment.
So one bit of good news: the number of infections doesn't appear to be one of the tests, provided there's no risk of the NHS being overwhelmed. Does this mean the Zero Covid fanatics have been shown the door? We can but hope.
Worth reading Katy's piece in full.
The Telegraph has interviewed some of the people most badly affected by the lockdown and they are in no doubt that it must end ASAP.
Lifting lockdown can't come soon enough for many across the country. While the tragic cost of the pandemic in terms of lives lost has frequently been foregrounded, the cost of the ongoing restrictions has been harder to quantify and often overlooked.

Business owners, mental health and education experts, families, sport coaches and care home managers are now pleading with the Prime Minister to recognise this toll and allow safe reopening as soon as possible.

Michael Caines, chef/patron of Lympstone Manor, Devon

I don't think it's extreme, nor is it scaremongering, to say that the hospitality industry is teetering on the edge.

My flagship is Lympstone Manor, a contemporary hotel within an historic country manor house in East Devon, with a vineyard and Michelin-starred restaurant. I'm all set to open another, in Exmouth, which is ready to go. I'm just waiting for the nod from the Government. So much depends on what measures the Prime Minister unveils in his roadmap on Monday…

Sarah Lloyd, 40, mother-of-two from in Farnborough, Hampshire

I have hit absolute burnout. My husband works full-time from home and I run my own business, Indigo Soul PR, while we simultaneously try to homeschool our two daughters, aged seven and five.

It has affected all four of us badly. My two girls are just so pent up and angry all the time, and at one point were even refusing to go out for a walk because they were so upset. They usually get on so well, but at the moment it's constant tantrums and fights because they just feel so pent up. I really worry about the long-term impact on their mental health…

Sarah Gillow, owner, Galio jewellers, George Street, St Albans

Sarah Gillow opened her high street jeweller in the midst of a recession in 1992. Neither that nor the ups and downs of the intervening years could have prepared her for the brutality of lockdowns, however.

"It's hit us really hard," she said, having had to cut staff and watch her sales slide over the latest year…

Business was good between June and November, but lockdown number three came as a major blow. "I never dreamt in a million years that the Government was going to shut us down just before Christmas," she said.
Worth reading in full.
Come on Boris. The vaccine roll out is going better than anyone could have expected. The weather is good. Foot to the floor!
Stop Press: The Telegraph has a detailed overview of when the different stages of the roadmap are likely to occur.
Derek Winton Responds to Neil Ferguson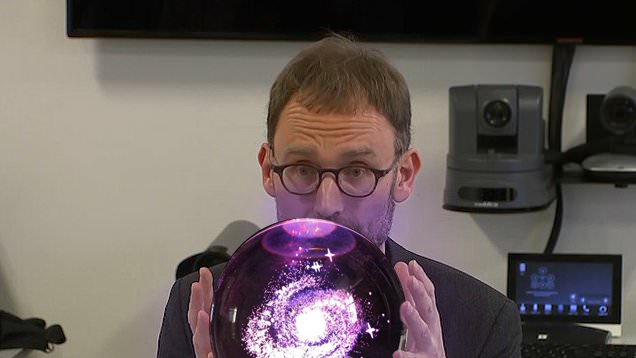 Yesterday, we published Professor Neil Ferguson's reply to a reader who sent him Derek Winton's critique of the Imperial College modelling. Derek sent us this response.
I'm not sure of the protocol for responding to an email from a third party to another third party but given that the initial article was published on Lockdown Sceptics perhaps it's appropriate for the follow up to be published there too.
I should start by saying I don't suspect any sinister intent on the part of Professor Ferguson or believe he's part of a conspiracy. As someone with a background in the hard sciences who also got their start in the heyday of British 'bedroom coders' I even feel a certain amount of kinship.
To me this is a governance issue. Decisions on pandemic response strategies affect millions of lives and in my (hopefully not unreasonable) opinion should be based on the very highest quality of information and subject to the highest level of scrutiny.
In my article I made eight substantive claims, summarised below:
The Imperial model was influential in the decision to pursue a lockdown strategy.
The research for 'Report 9' was not peer reviewed.
The model was not documented.
Professor Ferguson apparently has no formal training in computer modelling, medicine or epidemiology.
Projections of death tolls from the same team in previous epidemics had been out by several orders of magnitude.
The code was of poor quality from a legibility stand point.
The model is an attempt to model a highly complex (and therefore highly sensitive) system but omits at least one key variable.
Projections based on the Imperial model for Sweden were out by a factor of seven and therefore the model was not fit for purpose.
Leaving aside the link to The Conspiracy Theory Handbook, Professor Ferguson does not appear to dispute any of these points. Instead, he points out that other models made equivalent predictions and the report I cite for predictions on Sweden did not in fact use the Imperial model. It's tempting to say at this point that the prosecution rests but of course we should allow Professor Ferguson the chance to rebut any of the above points.
Professor Ferguson does raise some points though that raise even more questions. Taking them in turn:
1) The Imperial model was influential in the decision to pursue a lockdown strategy
Other Models
Professor Ferguson points out that several other models, upon which the Government relied "all agreed".
The models written by LSHTM, Warwick University and Institut Pasteur Paris all agreed with "the" Imperial model. All used different code bases.

And in fact, there was never "one" Imperial model, but several. We now have 4 different COVID models, again which all agree.
Where are the code bases, designs, documentation and assumptions for these models? Given that the Imperial model was considered the gold standard, couldn't we be forgiven for having concerns about these models too?
What exactly is meant by the term 'agree'? Do they predict the same death tolls in all of the scenarios modelled in Report 9? If not, by how much do they vary?
The 'reality'
Professor Ferguson also states that:
Government responses… were driven by the reality that any disease which generates epidemics which double every 3-4 days and for which over 2% of those infected require hospitalisation will overwhelm any health system that exists."
[Emphasis mine]
This is what philosophers would call question begging, i.e., assuming what we are trying to prove. Of course if we assume the epidemic doubles every 3-4 days indefinitely, any health service would be overwhelmed. The critical question for the Government was to determine whether the epidemic would continue to double every 3-4 days and for how long, and it was this question that the computer modellers purported to answer.
8) Projections based on the Imperial model for Sweden were out by a factor of seven
Professor Ferguson claims that "no-one ran the Imperial model for Sweden (other than us)". Here he is absolutely correct. Indeed, it is impossible for anyone outside of the Imperial team to run the exact model (used to generate Report 9) as the original source code was never released.
It's surely reasonable to ask then: If the team did indeed model Sweden, what did they find?
We have created a separate page for Derek Winton's response and stuck it on the right-hand side beneath Prof Ferguson's response filed under "How Reliable is the Modelling?"
Other Readers' Responses
A number of Lockdown Sceptics readers were intrigued by Professor Ferguson's reply, and indeed by his inclusion of a link to The Conspiracy Theory Handbook. One reader, who has been published here before, even went so far as to send us a line by line analysis of his email.
I was interested to see Professor Neil Ferguson's reply to one of your readers. I was surprised he had replied, but no less surprised that anyone had bothered to write to him.

Now, I think it's a bit unfair to write to someone and then publish that person's reply, especially if it hadn't been made clear the reply would be published. However, it has been, and I suppose anyone in public life would have to be naïve to believe that anything they say is immune to being disseminated more widely.

I thought it would be interesting therefore to analyse the reply.

"I presume you sent me this because you feel upset, angry, that no-one is listening, want to hurt me or change my mind. Or all of the above."

Here we have an assumption of motive. The writer, who is a woman, is depicted as having become emotional ('angry, upset'), seeing herself as a frustrated victim ('no-one is listening'), aggressive ('want to hurt me') and manipulative ('want… to change my mind'). Therefore, the original email is dismissed as having come from someone who is behaving irrationally and antagonistically. This is not an especially surprising opening gambit because it is designed immediately to create the impression that the original writer has lost control in some way and therefore by implication that Professor Ferguson is in contrast a rational being who is still in control of himself.

What is odd is that the email he's responding to just asked him whether he'd seen Derek Winton's article, but Professor Ferguson, at this point, makes no mention of that. He has responded initially only by seeking to diminish the sender. However, he has only just started.

"I and my colleagues and friends (John Edmunds, Jeremy Farrar, Marc Lipsitch, Christian Drosten, Patrick Vallance, Chris Whitty,…) get so many of these sort of emails that we barely notice anymore. Most get dumped into junk mail folders automatically nowadays."

This is an interesting paragraph. Firstly, it involves telling the sender that he, Professor Ferguson, is a member of a strong gang consisting of "colleagues and friends". This means that the sender is attacking the gang, and here he reinforces the idea that the sender is talking rubbish by referring to the way that such emails normally get "dumped into junk folders". The implication is therefore that even email client algorithms are able to detect such emails as automatically worthless.

Secondly, the listing of gang members is designed to be intimidating, reminding the writer that his assault is against a powerful cabal of highly-qualified people who by being "friends'"will therefore act together to protect each other. Such is their status that they don't even "notice [these emails] any more". This is an important way of maximizing the distance between the writer and Professor Ferguson.
We thought this fisking of Ferguson's email was so good we've stuck it in the right-hand menu, where you can read it in full.
Other readers got in touch with additional matters they'd like to see put to Professor Ferguson's comments. One, for example, flagged up the question of seasonality, which as Nottingham University Student Glen Bishop recently wrote in Lockdown Sceptics, was not considered by the Imperial Model.
He has four models and they all agree, as do various other academic models. Well, colour me convinced. I would however bet a meal for four at the Fat Duck that they all assume NPIs work and that none of them model either seasonality or partial pre-existing immunity.
Our reader also pointed out that Ferguson…
wrote about "epidemics that double every 3-4 days". I'm not aware of any time-point where SARS-CoV2 was doubling that fast, whether in positive tests, hospitalisations or deaths.

In any event, if the epidemic had doubled every 3.5 days and starting with one case, then everyone in the UK would be infected in three months (and the entire world population around 24 days later). Since we probably started with at least 1,000 imported cases that falls to 56 days for the UK population to succumb in its entirety.
Another reader got in touch with a straightforward point about the inaccuracy of the modelling.
I suggest that someone email Mr. Ferguson and ask if he can thus explain why all of the models presented on October 31st failed to match what really happened, as shown in the graph presented and update daily in the Spectator.
Neil Ferguson's Original Correspondent Responds – and He Responds Again!
The reader who originally wrote to Prof Ferguson has herself replied to his email – and he, in turn, replied to her, and she then replied to that.
Here is their exchange in full.
Dear Professor Ferguson,
I was surprised to get a reply to my email – but frankly amazed to read the content of the link you sent me. Is that really the best you can do? Do you respond to other scientists' theories by shutting them down by yelling 'conspiracy theorist'? Instead of engaging with the central tenet of the argument, that your/Imperial/LSHTM/Warwick University/Institut Pasteur Paris model might be wrong, you call me a conspiracy theorist. That is very odd and suggests to me it's you that have developed a very warped sense of reality and that maybe you do not understand what is going on in people's lives. We look at ONS/NHS data every day on cases/hospitalisations/deaths, not wild theories.
So let me speak from personal experience. I have 21 year-old twins, studying at Bristol (Economics) and Montpellier (Year abroad) respectively. Their lives are relatively rubbish at the moment, no enjoyment of the university life for which my daughter at Bristol is paying £18K a year. My son is living under a curfew. But I accept, not a disaster. Their friend killed himself while incarcerated as a student last year. He was in despair.
Just this week we heard of the suicide of a lovely man my husband met at the gym, a Tunisian. He worked as a waiter, so I guess he had financial worries.
We help a Syrian Refugee family in the town. Two children, aged six and 12. In the summer we realised that all the progress they had made at their excellent primary school was slipping away and that the 12 year-old was losing his English (they speak Arabic at home) so we started doing lessons at our house for the mum and the two children. We realised that the boy was virtually illiterate. His parents had been so terrorised by the fear porn churned out by the government (acting on your/Imperial/LSHTM/Warwick University/Institut Pasteur Paris models) that they would not send the children back to school even though they were 'allowed', being in Years 1 and 6. He then started at the local High school, has got into fights, been bullied and I fear for his future. His life chances have been damaged by having his education denied to him by this government relying on the models mentioned above. Of course our weekly lessons had to stop. Online learning started. The family did not have a laptop. The Government agencies that get paid handsomely to do so could not provide a laptop, so we set up a charity to recycle laptops to deprived children.
We've helped him and 178 other children in our nice leafy middle-class Stratford-on-Avon. I wonder what it's like in Middlesborough, Fleetwood, Great Yarmouth? Multiply my young Syrian friend's experience by literally millions and you start to approach the truth (not a conspiracy theory!) of the world that you have been key in ushering in (and of course LSHTM, Warwick University and the Institut Pasteur Paris). So many young people's lives will be poorer, in so many ways. My point is this is real world stuff, not theory (either your theory or a conspiracy theory).
Me and my husband both have widowed mothers. His mum is 94 – one of the last years of her life has been lived in almost total isolation. She has 14 grandchildren who are (should read, were) very involved in her life, regularly travelling 2.5 hours+ to visit her in Suffolk. All stopped. She's living life as a husk. Both her and my mother's mobility have seriously declined, because they do not go out any more, due to lockdown (not the virus). My mum is I'd say typical of a lot of 87 year-olds. She's reasonably intelligent, used to be a teacher. She lives alone in the house she's lived in for the last 63 years. It is completely in the 'back of beyond'. The house sits atop a sea wall and the nearest land mass looking west is Ireland. The Irish Sea hits the house at high tide. She is miles from anywhere and has no part of community life. She isn't online and gets all her news from the BBC (refusing a newspaper in case "it's on it"– the virus). The house is for sale as it's a mad place for an 87 year-old to live in but she won't allow any viewings – you can guess why. Her mobility is also much reduced and she is desperately lonely. I haven't seen her in over a year. This isn't a conspiracy theory. It's my mum's life. She lives like this because of the messaging from the Government, acting as a result of modelling by you/Imperial/LSHTM/Warwick University/Institut Pasteur Paris. The aim of the Government was to terrify the population. I do hope you of all people do not think that this is a conspiracy theory. I've read the relevant minutes from Behavioural Insights Team (BIT) on March 22nd 2020 which says among other things:
A substantial number of people still do not feel sufficiently personally threatened

The perceived level of personal threat needs to be increased among those who are complacent using hard-hitting emotional messaging

Use media to increase sense of personal threat
Perhaps you think the 47 signatories to this petition are also conspiracy theorists? The BIT feeds into SAGE – so count yourself as part of all this – and together they have set out to terrorise us – and you've done such a brilliant job that people like my mum (who has had her first vaccine) is unlikely ever to resume normal life again. Her house won't sell and we'll have the same horrendous problems trying to get carers for her as we did for my dad four years ago – except that unlike him, he had mum, she'll be alone. Just telling you what real life looks like.
Do you get it? You might live a nice comfortable life as an academic. I too want for nothing (apart from normality). I am sufficiently well off to shield my three children from the coming, shall we call them, difficulties. It's the 'left behind', the marginalised, the poor, the lonely elderly, the millions upon millions of dirt poor people in the developing world that keeps me awake at night. So yes, I'm angry. But you call me the conspiracy theorist! Do you not see reports like this: 270 million marching towards starvation (perhaps they too are infected with conspiracy theories?). This isn't the virus that's caused this, it's lockdowns. First World lockdowns have a terrible impact on the the Third/Developing world – I don't think that's in contention. Surely you can see that? Even if you didn't foresee it as a consequence.
Or this in the Lancet: 94 million children at risk of not getting their measles vaccine (perhaps the Lancet is in on the conspiracy?)
Maybe if you, Whitty, Valance, Drosten, Farrar and Edmunds are all merrily putting communications in your junk folder you really are totally unaware of what is happening in the real world? Pause: think: what if they are right? What if only half of what I say is right? I thought scientists were supposed to welcome their theories being challenged? I thought that's how they are tested. You describe me as being "sucked into" an "alternate reality" – and that is precisely my beef – you are the one living in a land of modelled theories – I am the one asking you to look at my reality – the 'on the ground Real World' data. What has happened in countries which didn't/couldn't lock down? Yes, look at Sweden, though it obviously pains you do to do so. How to explain its death rate? Or Texas? Or Brazil? Or Belarus? How is that a conspiracy? Is the FT in on the conspiracy? Worldometers? Perhaps the health reporting agencies are in on it too!
I might not be an epidemiologist but it's fairly obvious to me that your model (and that of Imperial/LSHTM/Warwick University/Institut Pasteur Paris) is out by several orders of magnitude and the fact that you resort to calling people who disagree with it "conspiracy theorists" only serves to illustrate how far down the rabbit hole you have fallen. Oh, and what is wrong in pointing out that you have made the self-same error with Swine Flu, Bird Flu, Foot and Mouth? Or do you dispute those figures when you say I'm quoting the "same old misinformation"? Are all those reporting your past predictions v the actuality also in on the conspiracy?
I loathe this Government and its key players in this, the worst mistake the world has ever made. You – I would say that you are obviously a decent human being and I wonder if you do not see that you are going to be hung out to dry by those chancers running this operation. Just look at their record – the failed Test and Trace, the corruption, the care home deaths, the infection rate in hospitals – you have hitched your star to the worst Government we have ever had but unfortunately it will forever be your name attached to 'The Science' that drove them. If you can't see that then you are not as clever as we all were led to believe. You and Imperial/LSHTM/Warwick University/Institut Pasteur Paris have made the biggest mistake of all time and in my view the sooner you accept it and try and proffer some sort of explanation the better. The truth might be able to be suppressed in our society now so bereft of free speech, but it will come out – starting in other countries.
I find it unfathomable that you/Imperial/LSHTM/Warwick University/Institut Pasteur Paris were listened to, the Pandemic Preparedness Plan thrown away and we embarked on lockdowns, with the rest of the world following. Perhaps you could do some good at this late stage by trying to get the mass-testing/False Positive Rate sorted out (by following the WHO's guidelines, for instance) otherwise we are never going to get out of this mess. My husband drew this up – from Government data.
Sorry for the long email. The conclusion I've reached that it's you that is living in some parallel universe if you think that I am the conspiracy theorist. The world lies in tatters because of your/Imperial/LSHTM/Warwick University/Institut Pasteur Paris theory.
If you've got this far, thanks for reading.
XXXX
Surprisingly, Neil Ferguson replied.
Dear XXXX
I would start by asking whether you really think I and my colleagues are unaware of the social and economic consequences of societal restrictions? Every life lost is a tragedy, whatever the cause. And I absolutely agree that this pandemic – and the measures adopted – have hit the poorest hardest.
But I wonder what you think motivates me and my (many hundreds of) fellow scientists who have been working on this pandemic for over a year? It certainly isn't publicity or a desire to impose draconian rules on society. Nor do I have any love of lockdown restrictions myself, personally or ideologically. I don't know anyone who does. Rather, we are trying to learn as much as possible about the epidemiology of this virus and how best to limit its health impacts.
The judgement call on the balance between compulsory measures and voluntary recommendations is a political one, but the effectiveness of each is likely culturally specific. Sweden made one set of choices, Denmark and Norway another. The result is that Sweden has had fewer restrictions overall, but has had 3-4x the per capita death toll of its neighbours. Our death toll is higher still not because we over-reacted, but because we introduced measures too late last March, and then repeated the mistake last autumn. And because of factors which were just bad luck – the level of seeding last February and the new variant last November.
As for the UK, what are you really suggesting the Government should have done back in December in response to the new variant and the overwhelming levels of hospital demand seen in London and elsewhere? Let people continue to go about their normal business as thousands died at home or on hospital corridors, as is happening in Mexico?
And to reassure you, we track the pandemic globally. And have a significant research programme comparing how different countries have responded. I am a bit surprised you point to Brazil as a success story though. And if you highlight Belarus, why not China?
I am also aware that there is a continuum between scepticism and outright conspiracy theory craziness. But some of the "facts" you and the lockdown sceptics throw out are tending towards the latter category. Remember the claims that there would be no second wave and that we were just experiencing a "casedemic"?
False positive rates are not a major issue at present. We are aware they will need to be accounted for more in future though. Also, while every suicide is tragic, there is no evidence that the suicide rate has increased in the last year. I am actually much more worried about all the cancer diagnoses and treatments which were postponed in the last few months due to Covid-related NHS demand.
I certainly agree there are many lessons to be learned from this pandemic – including regarding test and trace (especially early on) and care homes. I do not see myself as a Government cheerleader. Indeed, one of the depressing aspects of the discourse around this pandemic is the politicisation of science.
Best,
Neil
Our reader then replied to Prof Ferguson.
Dear Neil,
Thank you for your considered response.
I suspect you epidemiologists are told that there will be economic and other consequences of the lockdowns but I, and many others, think you have got the balance wrong. The precautionary principle has overtaken acceptable risk. I was quite taken aback by your link to the conspiracy theory website, which does make me worry that reasonable suggestions are being rebuffed by you and people like you as "crazy conspiracy theories". I hope you would concede that I have made some valid points to you about the outcomes of lockdowns.
You asked in your first reply what would I have done, dealing with a disease that would see 2% in hospital. Nowhere in the world have cases continued to grow "exponentially", regardless of the level of NPIs imposed. My point is (and I rely on real world data to support it) that you and your colleagues have concentrated on the 2% to the enormous disbenefit of the other 98% and society in general. We might argue what the IFR is but whether it's 10 in a 1,000 or two in a 1,000, the BBC and government ministers have focused too much on the (let's settle for four in 1,000) fatalities rather than 996 recoveries. The result is a terrorised population, lacking the ability to get the risks into perspective and the very real long term threat that people will never get back to normal for fear of flu or other seasonal illnesses. We can't all live forever.
How can you argue against the fact that other countries do illuminate what could happen if a different approach to NPIs were taken? That NPIs (or lack thereof) made very little difference to Covid health outcomes and that the disease didn't grow exponentially in those countries, such as Vietnam, India and Japan? Are you suggesting all the data I've been looking at – Euromomo, the FT, Worldometers – are somehow presenting false information? How does that make me and other sceptics (not deniers, obviously!) conspiracy theorists? It does rather suggest an over sensitivity on your part.
Yes, I overlooked the cancers/other missed health treatments (so many other horrors to mention). A year down the line, do you not consider that the cure is going to be worse than the disease, in cancer/missed treatments alone, quite apart from the other societal/economic/libertarian damage
By the way, which 'fact' in my email makes you think I am on the side of conspiracy theory craziness? I think that we should have lived with a greater degree of risk and that in fact you have opened a Pandora's Box of fear and risk aversion which is going to be a constant plague. Though with a trashed economy, I'm not sure how it's going to be paid for, if we are to have annual lockdowns. I think that we should have dealt with it differently, by following the Pandemic Preparedness Plan, by shielding the vulnerable (think: Great Barrington Declaration). It might have seemed an impossible task but it is nothing compared to what we have done. We'll never agree that the NPIs delivered a step change in outcome – but as I said, those who disagree with you can point to countries which didn't use them/used them lightly and observe that the death rates were much the same as those who did lock down. I guess my point is that if your (and all the other institutions you mention) model were to be tested against these countries, your modelled response would be very far apart from what actually happened. Is that calling it wrong? Or just out by several factors.
We've infantilised the population, created an enormous health crisis and trashed the economy. We've turned a once-in-40-years health crisis into a cataclysmic health/economic/political/societal disaster. I agree I don't know what part your input played in these decisions, but I know that you are so frequently on our airwaves some people think you were pretty instrumental.
But thank you for your time in engaging with me.
Best wishes
XXXX
COVID-19 UK Strategy: Have We Got It Wrong and at What Cost?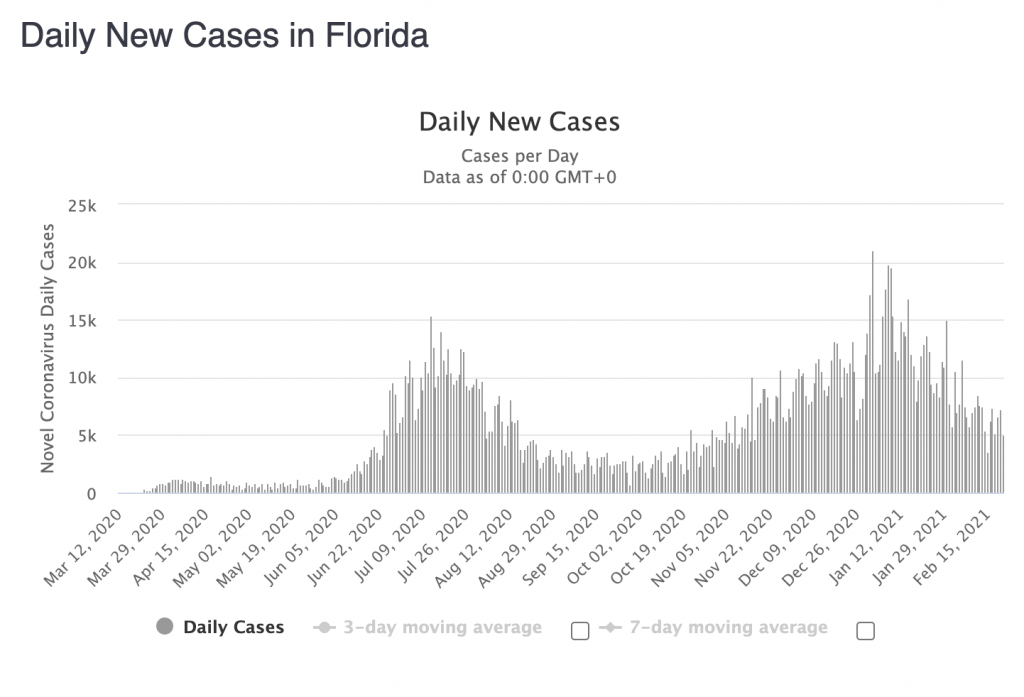 Today we're publishing an original essay by Sarah Williamson BSc Dip ION (Dist.), a nutritional therapist with a degree in economics. Now that nearly a year has passed since the country adopted the strategy described at the time as "three weeks to flatten the curve", Sarah investigates why we did what we did, the key factors that truly explain the peak in cases that we saw in Spring 2020, and crucially whether lockdowns actually stop or slow the infection (Spoiler alert: not really). Finally, she takes a look at the cost.
Coronavirus, a year ago, seemed like something peculiar to Wuhan in China – Oh! How we might long for those days. Since then, like most countries across the world, the UK has pursued a strategy that began with "three weeks to flatten the curve" and has stretched out to restrictions for the best part of a year?

The aim of the UK strategy was to postpone COVID-19 deaths until an effective vaccine became available and to reduce the likelihood of the NHS becoming overwhelmed, allowing surgeries and treatments to continue. The mantra has been "Save lives; protect the NHS". The real question now is did we save lives and protect the NHS? The question we need to answer is not are the hospitals busy, but did our strategy help reduce hospitalisations and deaths?

Our aim should be saving the most lives, not just COVID-19-positive lives and reducing NHS admissions.

What did the WHO guidelines for a pandemic recommend and why did we do something else?

In October 2019, the WHO guidelines for a respiratory pandemic suggested the following – regular hand washing, respiratory etiquette (i.e. don't cough or sneeze on people), face masks for symptomatic people, regular cleaning of surfaces, open windows and doors and isolate the sick.

Contact tracing, once the disease has taken hold, was not recommended. The quarantine of exposed individuals was not advised. Border closures were not recommended. School closures were advised only under extreme circumstances and only after careful consideration of the consequences for the wider community. Lockdown of healthy individuals was not mentioned.

So where did the idea come from? Did we import the idea from the Chinese, who exported pictures of a ghostlike Wuhan? Was it this, coupled with the fear generated by the press stories of a 'killer virus' spreading uncontrolled throughout the world? No longer in far off China, but now here, in Europe. With reports of deaths in all age groups – no-one was safe. The 'three weeks of restrictions to flatten the curve' seemed at least reasonable to most, whilst hospitals geared up.

Who did it affect and why did we have such a peak in spring 2020?

SARS-CoV-2 is recognised as a seasonal virus, like many other corona viruses responsible for the common cold. In the UK in the spring the virus spread rapidly killing the vulnerable, particularly those in care homes, causing a highly unusual spike in deaths.

Notably the viral transmission rate, from the moment we started charting it, appears to have already been decelerating (this was highlighted by Nobel prize winner Sir Michael Levitt). This is a mathematical proof, one that is easy to reproduce, for example plotting the difference in the natural logarithm of the weekly fatal infections in London.
A good summary of the sceptics' case. Very much worth reading in full.
Postcard from Bali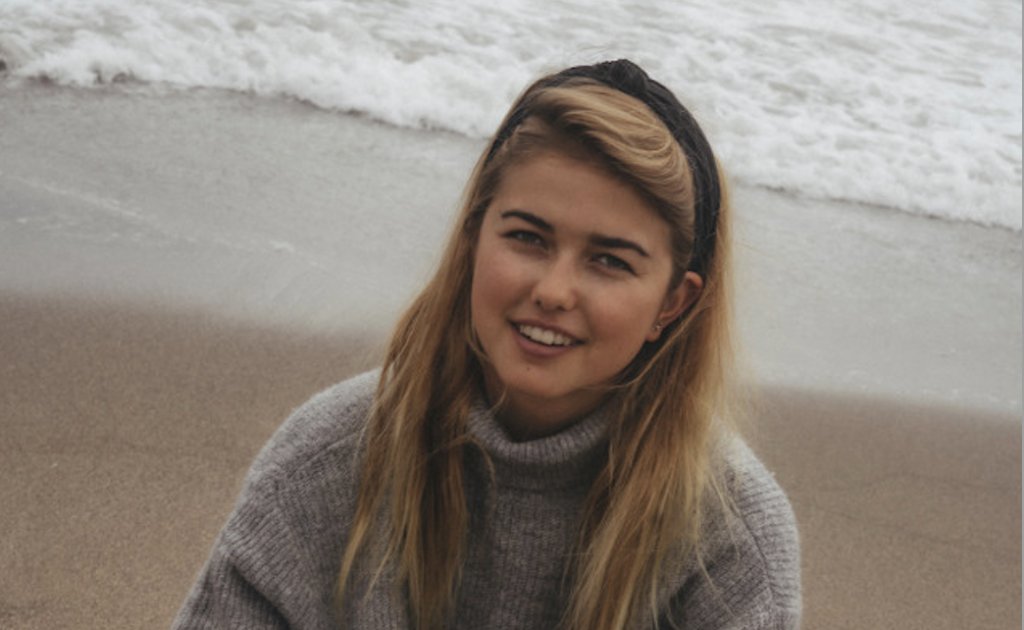 We have a new addition to our collection of postcards from around the world to add to the growing number on the right-hand side. We originally called this "Around the World in 80 Lockdowns" but at this rate we'll end up with more than 80 postcards. This one comes to us from Georgie Day, a digital nomad who is now "stuck" in Bali. The Covid world has intruded somewhat on Indonesia's Paradise Island – it's brought masks, curfews and widespread temperature checks – and yet Bali still seems like a very nice place to be.
Despite this global pandemic, widespread anxiety and fear, I do feel out here that my life has become incredibly uncomplicated and very simple and I'm not sure if it's the Bali Effect. My mental load feels exceedingly stripped back I seem to have found clarity and direction in the stillness of allowing myself to not be stressed, pushing, doing, thinking.

The Bali lifestyle can be frustrating at times. But the 'expat' community, to date largely comprised of 'digital nomads' – a new term referring to the nomadic (non-locals) with digital occupations (jobs/work/income that relies almost entirely on functioning wi-fi and a laptop) – maintain the buzz of a semi-Western 'societal norm' in this eclectic fusion of creative, tropical paradise Neverland. The traditional Balinese culture sings through in the beautiful acts of faithful devotion, frequent ceremonies at the religious temples, daily offerings to the spirits, respectful dress and appropriate uniform. However, the beautiful third-world nature during this time can sometimes miss the mark, as in order to dodge a hefty monetary fine, we can do push-ups or sing a song if caught by the Banjar (local mafia/police) driving around without a mask on.

I'm still not sure what to make of my current reality. Despite needing to wear a mask, sanitise hands and temperature check at the entrance of every establishment, to have access to the amazing world created for transient Bali holiday-makers here in this tourist town, with no traffic, queues, and at discounted rates and daily food deals as businesses battle to maintain their customer flow off the remaining Westerners of Bali. Currently, lockdown laws also enforce a 9pm (just moved from 8pm) curfew, where everything must close, hence the early to bed, early rise routine (yes, happy hours now just start at 2pm!).

I have to often pinch myself, as Bali right now really is a scene in itself. Only here could I be sitting in a Swedish inspired and owned cafe sipping an almond Matcha latte whilst cows roam the streets and the neighbouring plot of land, or driving my motorbike across the island to a New Moon ceremony after shooting for a bikini label on the beach all day. Where I get my need-to-know news updates from Instagram profiles and Tinder is obsolete if you have an Amo Spa or Body Factory membership.

I must admit it continues to surprise me that despite all the creative talent residing here currently (photographers, videographers, designers, branding and marketing creatives, models), and all the #content available, that there has not yet been a Netflix Originals reality series created on The Life of a Digital Nomad in Bali during COVID-19. (Any takers? I'll hook you up!)
Worth reading in full.
Round Up
Theme Tunes Suggested by Readers
Eighteen today: "Unhappy Anniversary" by Vitamin C, "Follow the Yellow Brick Road" by Judy Garland, "Into The Light" by Mariana Bell, "Plan B" by Kevin Rowland and Dexy's Midnight Runners, "I Can Hardly Stand It" by the Cramps, "Take Me Home Country Roads" by Toots and the Maytals, "Hit The Road Jack" by Ray Charles, "Bewitched, Bothered, and Bewildered" by Ella Fitzgerald, "I Wanna Rule The World" by 10cc, "Wastelands" by Suede, "Bad Day" by R.E.M, "In A Rut" by the Ruts, "Hole in My Life" by the Police, "Strange World" by Iron Maiden, "2+2=5" by Radiohead, "Everyday Is A Winding Road" by Sheryl Crow and "The Final Countdown" by Europe.
Love in the Time of Covid
We have created some Lockdown Sceptics Forums, including a dating forum called "Love in a Covid Climate" that has attracted a bit of attention. We have a team of moderators in place to remove spam and deal with the trolls, but sometimes it takes a little while so please bear with us. You have to register to use the Forums as well as post comments below the line, but that should just be a one-time thing. Any problems, email Lockdown Sceptics here.
Sharing Stories
Some of you have asked how to link to particular stories on Lockdown Sceptics so you can share it. To do that, click on the headline of a particular story and a link symbol will appear on the right-hand side of the headline. Click on the link and the URL of your page will switch to the URL of that particular story. You can then copy that URL and either email it to your friends or post it on social media. Please do share the stories.
Social Media Accounts
You can follow Lockdown Sceptics on our social media accounts which are updated throughout the day. To follow us on Facebook, click here; to follow us on Twitter, click here; to follow us on Instagram, click here; to follow us on Parler, click here; and to follow us on MeWe, click here.
Woke Gobbledegook
We've decided to create a permanent slot down here for woke gobbledegook. Today, we bring you a recent paper in the British Dental Journal which seeks to address racial inequalities in dental education. How should we do that? By decolonising the dental curriculum, obviously.
Like other healthcare professions, dentistry has a historical legacy of being conceptualised as a 'white' profession. Despite a growing population of students in higher education including medicine and dentistry, there are stark ethnic disparities in UK academic employment and approximately 76% of academic faculty and staff members identified as white, 9% as Asian and 2% as Black. This is also reflected in the low proportion of minority ethnic dental academics in senior posts in UK dental schools.

Ethnic disparities in turn may influence the power relations and academic hierarchies in dental schools and pose an impediment to proportional representation of minority ethnic staff and students in institutional strategy and decision-making processes. Data from medical schools also highlight that students tend to accept that career progression may be dependent on their capacity to tolerate intimidation and they may not feel confident in questioning the underlying power relations and rules of engagement…

Decolonisation of dental curricula needs to be considered in a psychosocial context. Racial inequalities in dental education have a negative impact on the educational experiences of students from minority ethnic groups and may contribute to poor educational experiences and attainment gaps, and pose barriers to career progression. Lack of representation of minority ethnic groups in dental curricula can also translate into disparities in patient care for minority ethnic groups, with far-reaching implications for their health and wellbeing. If dental schools are to make meaningful progress on decolonisation of curricula, it would require: a systematic review of the existing governance structure; appropriate representation and empowerment of minority ethnic staff and students in existing committee memberships; and treating decolonisation as a strategic priority

Decolonisation of the dental curricula is also fundamental to improve the cultural competence of dental graduates and warrants a review of curriculum content and delivery, provision of dental care in community settings and promotion of reflective practices…
Get your teeth into it here.
Stop Press: The Wall Street Journal has an an interview with Professor John Staddon who, following a brush with anti-racism and anti-bias training, is speaking out against woke dogma in American universities. "When we lower our standards to pretend we know what we don't know, we diminish the work and misinform society," he says.
Stop Press 2: If you thought being a vegan was sufficient to win you plenty of brownie points with the woke left, think again. You may be suffering from "white veganism", which is only one step away from being a white supremacist.
"Mask Exempt" Lanyards
We've created a one-stop shop down here for people who want to obtain a "Mask Exempt" lanyard/card – because wearing a mask causes them "severe distress", for instance. You can print out and laminate a fairly standard one for free here and the Government has instructions on how to download an official "Mask Exempt" notice to put on your phone here. And if you feel obliged to wear a mask but want to signal your disapproval of having to do so, you can get a "sexy world" mask with the Swedish flag on it here.
A reader has started a website that contains some useful guidance about how you can claim legal exemption. Another reader has created an Android app which displays "I am exempt from wearing a face mask" on your phone. Only 99p.
If you're a shop owner and you want to let your customers know you will not be insisting on face masks or asking them what their reasons for exemption are, you can download a friendly sign to stick in your window here.
And here's an excellent piece about the ineffectiveness of masks by a Roger W. Koops, who has a doctorate in organic chemistry. See also the Swiss Doctor's thorough review of the scientific evidence here and Prof Carl Heneghan and Dr Tom Jefferson's Spectator article about the Danish mask study here.
Stop Press: The South Wales Argus reports that those with mask exemptions are experiencing increasing amounts of discrimination.
Stop Press 2: Dr Fauci has confirmed that it may be necessary for Americans to wear masks in 2022, WYMT news reports.
Washington (CNN) Dr. Anthony Fauci said Sunday that it's "possible" Americans will still need to wear masks in 2022 to protect against the coronavirus, even as the U.S. may reach "a significant degree of normality" by the end of this year.

Asked by CNN's Dana Bash on State of the Union whether he thinks Americans will still need to wear masks next year, Fauci replied: "You know, I think it is possible that that's the case and, again, it really depends on what you mean by normality."

The comments from Fauci come as the US COVID-19 death toll approaches 500,000 and the country nears a full year in its fight against the virus. And though the US is now steadily rolling out vaccines to fight the pandemic, the nation's top infectious disease expert underscored the importance of mitigation measures to fight the aggressive virus and its emerging variants as many Americans express pandemic fatigue.

Fauci told Bash that while he can't predict when the US might return to operating as it did before the pandemic took hold, he thinks that by the end of this year "we're going to have a significant degree of normality beyond the terrible burden that all of us have been through over the last year".
The Great Barrington Declaration
The Great Barrington Declaration, a petition started by Professor Martin Kulldorff, Professor Sunetra Gupta and Professor Jay Bhattacharya calling for a strategy of "Focused Protection" (protect the elderly and the vulnerable and let everyone else get on with life), was launched in October and the lockdown zealots have been doing their best to discredit it ever since. If you googled it a week after launch, the top hits were three smear pieces from the Guardian, including: "Herd immunity letter signed by fake experts including 'Dr Johnny Bananas'." (Freddie Sayers at UnHerd warned us about this the day before it appeared.) On the bright side, Google UK has stopped shadow banning it, so the actual Declaration now tops the search results – and Toby's Spectator piece about the attempt to suppress it is among the top hits – although discussion of it has been censored by Reddit. In February, Facebook deleted the GBD's page because it "goes against our community standards". The reason the zealots hate it, of course, is that it gives the lie to their claim that "the science" only supports their strategy. These three scientists are every bit as eminent – more eminent – than the pro-lockdown fanatics so expect no let up in the attacks. (Wikipedia has also done a smear job.)
You can find it here. Please sign it. Now over three quarters of a million signatures.
Update: The authors of the GBD have expanded the FAQs to deal with some of the arguments and smears that have been made against their proposal. Worth reading in full.
Update 2: Many of the signatories of the Great Barrington Declaration are involved with new UK anti-lockdown campaign Recovery. Find out more and join here.
Update 3: You can watch Sunetra Gupta set out the case for "Focused Protection" here and Jay Bhattacharya make it here.
Update 4: The three GBD authors plus Prof Carl Heneghan of CEBM have launched a new website collateralglobal.org, "a global repository for research into the collateral effects of the COVID-19 lockdown measures". Follow Collateral Global on Twitter here. Sign up to the newsletter here.
Judicial Reviews Against the Government
There are now so many legal cases being brought against the Government and its ministers we thought we'd include them all in one place down here.
The Simon Dolan case has now reached the end of the road. The current lead case is the Robin Tilbrook case which challenges whether the Lockdown Regulations are constitutional, although that case, too, has been refused permission to proceed. There's still one more thing that can be tried. You can read about that and contribute here.
The GoodLawProject and three MPs – Debbie Abrahams, Caroline Lucas and Layla Moran – brought a Judicial Review against Matt Hancock for failing to publish details of lucrative contracts awarded by his department and it was upheld. The Court ruled Hancock had acted unlawfully.
Then there's John's Campaign which is focused specifically on care homes. Find out more about that here.
There's the GoodLawProject and Runnymede Trust's Judicial Review of the Government's award of lucrative PPE contracts to various private companies. You can find out more about that here and contribute to the crowdfunder here.
Scottish Church leaders from a range of Christian denominations have launched legal action, supported by the Christian Legal Centre against the Scottish Government's attempt to close churches in Scotland for the first time since the the Stuart kings in the 17th century. The church leaders emphasised it is a disproportionate step, and one which has serious implications for freedom of religion." Further information available here.
There's the class action lawsuit being brought by Dr Reiner Fuellmich and his team in various countries against "the manufacturers and sellers of the defective product, PCR tests". Dr Fuellmich explains the lawsuit in this video. Dr Fuellmich has also served cease and desist papers on Professor Christian Drosten, co-author of the Corman-Drosten paper which was the first and WHO-recommended PCR protocol for detection of SARS-CoV-2. That paper, which was pivotal to the roll out of mass PCR testing, was submitted to the journal Eurosurveillance on January 21st and accepted following peer review on January 22nd. The paper has been critically reviewed here by Pieter Borger and colleagues, who also submitted a retraction request, which was rejected in February.
And last but not least there was the Free Speech Union's challenge to Ofcom over its 'coronavirus guidance'. A High Court judge refused permission for the FSU's judicial review on December 9th and the FSU has decided not to appeal the decision because Ofcom has conceded most of the points it was making. Check here for details.
Samaritans

If you are struggling to cope, please call Samaritans for free on 116 123 (UK and ROI), email jo@samaritans.org or visit the Samaritans website to find details of your nearest branch. Samaritans is available round the clock, every single day of the year, providing a safe place for anyone struggling to cope, whoever they are, however they feel, whatever life has done to them.
Shameless Begging Bit
Thanks as always to those of you who made a donation in the past 24 hours to pay for the upkeep of this site. Doing these daily updates is hard work (although we have help from lots of people, mainly in the form of readers sending us stories and links). If you feel like donating, please click here. And if you want to flag up any stories or links we should include in future updates, email us here. (Don't assume we'll pick them up in the comments.)
And Finally…
Vaccine sceptics will enjoy this – "mRNA" by our favourite band Media Bear. Worth a watch. Some of the lyrics cut to the quick. And all sung to the tune of "YMCA" by the Village People.