15 Million People Vaccinated. Time to Re-open?
Yesterday the Prime Minister formally confirmed that 15 million people had received the first dose of the vaccine.
That's two days ahead of schedule. So now what? The announcement of a 'road map' out of lockdown is expected next Monday, with restrictions set to be eased from March 8th. Hints of what this easing might look like continue to be reported. The Telegraph highlights the prospect that Grandparents will be allowed to hug their grandchildren.
Grandparents would be able to see their grandchildren again from as early as March under plans to ease lockdown being considered by the Government…

"If grandparents had had the vaccine, that would be likely to be okay. Given that people will have immunity, that would be a fair assumption, but nothing has been decided," said a Government source.
MailOnline suggests high street shops may reopen and some limited self-catering holidays at Easter my be allowed.
It is thought that this could mean the re-opening of High Street shops within weeks as well as the easing of restrictions on outdoor exercise and socialising.

Ministers are also said to be considering plans to allow for families of a single household to travel across the UK for an Easter holiday in self-catered accommodation.
However, there remains a fair degree of official nervousness about the prospect of reopening leading to increased infections, according to MailOnline.
It is thought that due to the vaccine rollout success ministers are currently looking at plans that would allow families that live in the same household to go away for self-catered staycations as soon as the Easter holidays.

This has raised fears that letting people travel long distances to their destinations could lead to "big movements" across the UK – potentially leading to a spike in coronavirus cases once again…

But the Prime Minister said: "Thanks to the efforts of the British people, the lockdown, plus possibly the effect of the vaccine, we're going to see the rates coming down more sharply.

"They're falling at the moment, we want to be in a position where we can begin to open up."

In the interview with US television network CBS, Mr Johnson continued: "What people want to see is clarity about the way forward, and taking steps to unlock, which you don't then have to reverse."
Readers will well remember his cautiousness in his announcement of Lockdown 3.0 on January 4th.
If we succeed in vaccinating all those groups, we will have removed huge numbers of people from the path of the virus.

And of course, that will eventually enable us to lift many of the restrictions we have endured for so long.

I must stress that even if we achieve this goal, there remains a time lag of two to three weeks from getting a jab to receiving immunity.

And there will be a further time lag before the pressure on the NHS is lifted.
Come on Boris. Screw your courage to the sticking place!
Stop Press: St Austell Brewery and other industry leaders have written a strong letter to the Prime Minister urging him to allow pubs to reopen.
We must be allowed to reopen in an economically viable manner – not with ill conceived, unworkable restrictions that confuse the public, limit our financial viability and are questionable in terms of mitigating public health risk.
Stop Press 2: The Telegraph points out that the vaccine data is not quite so clear cut. Fifteen million doses have been administered, but out-of-date figures and blind spots in the publicly available statistics make it difficult to assess who has had the jab with complete certainty.
Hotel Quarantine Opens for Business
Today is the day the new rules for entry in the United Kingdom come into force. Unsurprisingly, chaos is expected at ports of entry. The Telegraph has more.
Heathrow has warned of quarantine chaos that could lead to passengers queueing for up to five hours and flights being suspended as the Government's new border controls come into force on Monday.

The airport warned ministers the extra checks needed on arrivals and shortages of Border Force staff could "compromise" the safety of up to 8,000 passengers a day flying into Heathrow to quarantine either in Government-approved hotels or at home.

Border Force officials estimate the checks on whether passengers have come from one of the 33 red list countries and paid for their quarantine hotels and Covid tests could double the time taken to 15 minutes per arrival. E-gates have been shut because of the need for face-to-face checks….

A Heathrow spokesperson said: "Our key concern remains the ability of Border Force to cope. Queues at the border in recent days of almost five hours are totally unacceptable."
From today, anyone heading for England must now undergo at least three tests. The first in the three days prior to travel, and the second and third during their 10-day quarantine. These latter two tests must be purchased at a cost of £210 as a "Covid Testing Package".
That's just for those arriving from a country that isn't one of the 33 that have been red-listed. Anyone arriving in England from one of those must book a 10 day (11 night) "Managed Quarantine Package" which includes hotel stay, food and beverages, transfers, security and two COVID-19 tests at a total cost of £1,750. Failure to do so may mean a fine of £10,000 or 10 years in jail – or possibly both. Heathrow, according to the Telegraph report, is pleading for some leniency.
Heathrow is also urging the Government not to issue £4,000 fines to red list passengers who have failed to book their hotels in recognition of the technical problems that crashed the official booking website for 24 hours last week. The airport has offered facilities for them to make the bookings.
The booking portal is here should any overseas readers really want to come to England at the moment. CityAM reports that contracts have been secured with 16 hotels close to airports and sea ports, a total of 4,600 rooms. Grant Shapps estimates that the number coming in from the relevant countries "probably comes to less than 1,000 a day". Better hope so, or he will be needing more rooms. Some fear that these hotels might turn into infection hotspots, according to the Mail on Sunday.
Ahead of the new rules being introduced at midnight, Meher Nawab, chief executive of the London Hotel Group, warned that many airport hotels rely on central air flow systems.

Pointing to Australia's system – which is currently under review amid an outbreak linked to quarantine hotels – he warned such systems could increase the risk of the virus spreading between guests and hotel staff.

Mr Nawab also warned that airport hotels often use central air conditioning systems – rather than individual units – and sometimes have windows that cannot be opened.

The warning comes as passengers were seen making a desperate dash to return to the UK before the rules come into force.

Union chiefs meanwhile warned that the quarantine measures were not enough to prevent Covid variants spreading in the UK.

The GMB union also raised concerns about its members interacting with arrivals from 'red listed' countries which are included in the quarantine hotel scheme.
Who Decided Which Countries Should be on the 'Red List' and Why?
How do they choose which country's visitors should go into quarantine? Lockdown Sceptics contributor Jonny Peppiatt has taken a close look at the 'red list' and can't see the logic.
With hotel quarantine coming into effect on Monday, I think it's time we did some armchair sleuthing into the countries on our red list, because when I saw the list it struck me, on first impression, as a broadly random selection of countries that, if anything, seemed more anti-African and anti-South American than anything else.
Of course, South Africa and Brazil feature in there because of the two now world-renowned "Variants of Concern" (VOC) named after those countries – 501Y.V2 (of which, the UK has more cases than all other countries combined bar South Africa) and P.1, respectively. Other than these two "VOCs", it is difficult to see what explanation could be offered for adding other countries to the red list (seeing as there are no other major nationally branded "VOCs"), other than their case rates rising rapidly, or staying at a very high level.
The explanation often cited is that we are defending our borders against unknown variants. But if that is the case, why highlight individual countries and not just shut our borders to everyone? Are some countries more likely to create "VOCs" than others? If so, why? I'm not sure that's a line of questioning anyone on SAGE would be happy to be taken down…
Perhaps it's a case of restricting travel from countries around SA and Brazil. There's an argument to be made here, with every country on mainland South America on the red list, along with Panama. But if Panama is on the list, why not Trinidad and Tobago, or Curacao, or Aruba, or Grenada, and so on and so on.
Of course, you also have all countries south of the Democratic Republic of Congo on the list. But why would you add Mauritius but not Madagascar? Or the Seychelles, or Cape Verde? These seem more like holiday destinations the Government is seeking to dissuade travel to than genuine threats.
So, other than broadly being countries near SA or Brazil, the infection rate must be a factor. So, let's take a look at that. But, before we do, maybe it would be helpful to have the list of 33 countries to hand:
Angola, Argentina, Bolivia, Botswana, Brazil, Burundi, Cape Verde, Chile, Colombia, Democratic Republic of the Congo, Ecuador, Eswatini, French Guiana, Guyana, Lesotho, Malawi, Mauritius, Mozambique, Namibia, Panama, Paraguay, Peru, Portugal (including Madeira and the Azores), Rwanda, Seychelles, South Africa, Suriname, Tanzania, United Arab Emirates (UAE), Uruguay, Venezuela, Zambia, Zimbabwe
Let's start with the ludicrous: four of these countries (French Guiana, Mauritius, Tanzania, and Zimbabwe) recorded no cases on February 11th. None. It's worth worth noting that Tanzania hasn't recorded a single case since May 8th when their Matt Hancock was sacked after a positive test being obtained from a papaya.
Another 14 countries have case rates per million in double figures. These are Angola, Burundi, DR of Congo, Lesotho, Rwanda, Malawi, Venezuela, Mozambique, Namibia, Suriname, Eswatini, Guyana, Zambia and South Africa – yes, South Africa, that terrifying country that is rife with mutant variants. The highest of these is 56 cases per million.
For reference, the UK, despite having fallen by 80% since the peak of daily reported cases on the 8th January, has 199 cases per million.
And sure enough, another nine of our 33 red listed countries, while having triple-figure case rates, still have lower case rates than us. These nine are Cape Verde, Bolivia, Ecuador, Colombia, Uruguay, Paraguay, Argentina, Panama, and Chile. Have we missed any South American or southern African countries?
Oh yes, of course, Brazil, home to VOC P.1, Peru, Botswana and the Seychelles.
Let's look at these in more detail.
Peru
Cases reported: 11th February: 6,724
Case rate per million: 204
Trend: Seems to be reaching a peak, but the cases curve looks different to any other I've seen.
Variants of concern: Indeterminable from my armchair.
Conclusion: If you're applying the precautionary principle, including Peru on the red list seems fairly reasonable, I suppose.
Botswana
Cases reported: 11th February: 491
Case rate per million: 209
Trend: Nothing has really changed since the middle of October.
Conclusion: What on earth is happening in Botswana? Why has nothing changed for four months? That seems very weird. Yes, let's keep them out. Thanks.
Brazil
Cases reported: 11th February: 54,742
Cases per million: 258
Trend: Broadly unchanged since early January.
Trend of neighbouring countries: Argentina has fallen 47% since peak on 12th January; Panama has fallen 84% since peak on 6th January; Colombia has fallen 63% since peak on 14th January; Bolivia has fallen 53% since peak on 27th January; Suriname has fallen 77% since peak on 12th January; Uruguay down 63% since peak 14th January; Venezuela has been low since mid-October; Paraguay has been broadly unchanged since September; Guyana low since August; Ecuador hasn't really changed since April.
Conclusion: There just doesn't appear to be a hugely concerning variant of concern ripping through South America right now…
The Seychelles
Cases reported: 11th February: 73
Cases per million: 745
Trend: Cases appear to be growing.
Conclusion: Surely, having a sample size of less than 100,000 (i.e. their entire population) means that cases per million will just be distorted. I'm not sure a comparison here is worthwhile at all.
We have two countries left on our list: Portugal and UAE – the only two countries on the list not in Africa or South America. With cases per million of 341 and 356 respectively, you could almost accept these two being on the red list, but Portugal has seen a decline of 79% daily cases reported since its peak on January 28th, and UAE appears to have peaked on January 29th, although it isn't coming down as quickly as some other countries on this list.
If I were to speculate as to how the Government had come up with this list, I would say that Grant Shapps has drawn a big circle around Brazil and South Africa on a big map, and thrown any countries that appear in those circles on to the list without bothering to look at individual case rates in any of these countries.
However, they forgot to include all the little countries around the north coast of Venezuela. They also forgot Madagascar.
Then, they did a quick google search for high cases per million which spat out Seychelles, Portugal, and UAE, so they added them to the list without even bothering to look at the fact that Portugal's cases are plummeting at the same rate as ours, UAE's cases are coming down fairly quickly, and Seychelles' cases per million are simply an artefact of having such a small population.
All in all, I would struggle to conclude that this red list has been carefully thought out, carefully planned, or carefully investigated. But then, I'm just an armchair epidemiologist, aren't I?
Stop Press: New Scientist is similarly unimpressed by the new quarantine rules.
"In the case of Australia, the goal is to eliminate the risk of international travellers bringing COVID-19 into an environment where we have no community spread," says Nancy Baxter at the University of Melbourne. "But when your country has one of the world's biggest outbreaks, I'm not really sure what you're gaining by having hotel quarantine – other than being ready for when you do get your numbers to the point where international travellers pose a greater risk to your community than just going to the grocery store," she says.

"I think it might very well be too late," says Beverley Paterson at the University of Newcastle in Australia.

Hancock has said that the border rules are needed to "secure the nation against new variants of coronavirus".

However, given that the new quarantine rules will be enforced only for passengers returning from red-listed countries, many researchers think they are unlikely to be effective. "Clearly there are political reasons that countries are or aren't on that list. It's not a risk-based plan," says Baxter.

For instance, the US isn't on the red list, despite the rapid spread of a new virus variant in California. "The likelihood of something being introduced from America is just enormous," says Paterson. There is a huge number of cases in the US, and it is probable that many more new variants will arise there, she adds.
Stop Press 2: Labour leader Sir Keir Starmer wants all international travellers to be herded into quarantine hotels, while the Scottish Government has put that rule in place. This has given rise to the prospect of checks on the Scottish-English border.
Stop Press 3: In case anybody believes rigid border controls are a guarantee of Zero Covid, there's been an outbreak of three local cases in Auckland, New Zealand, plunging the city into a 'level 3' lockdown for three days. The Guardian has more.
People should work from home where possible, and schools will be open only to the children of essential workers. Public venues such as libraries, museums, cinemas, food courts, gyms, pools, playgrounds and markets will close, as will businesses that cannot ensure physical distancing.
The rest of the country is in 'level 2'. Travellers to New Zealand from any country must complete a 14-day stay in managed isolation or quarantine.
The Shocking Backlog of Cancer Patients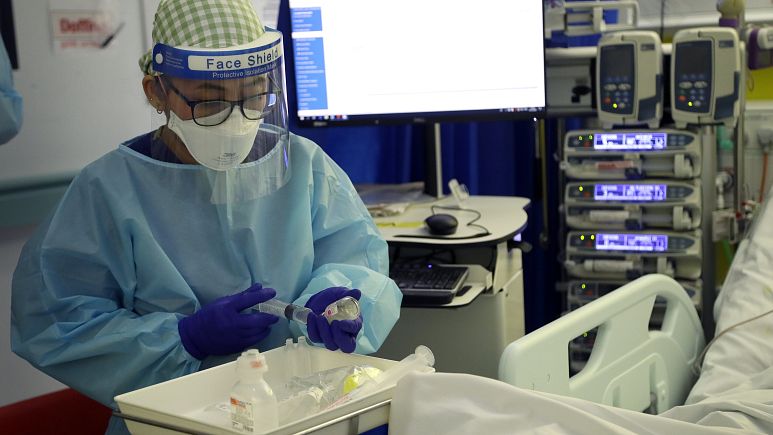 An increase in deaths from cancer is a well known side-effect of the lockdowns, with screening programmes and treatments being delayed by hospitals and people being reluctant to turn up for appointments for fear of catching the virus. Turns out, 2020 was the worst year on record when it comes to the number of people being diagnosed with cancer, i.e. fewer were diagnosed than at any time since records began. Euronews has the details.
In December 2020, there were 200,940 urgent cancer referrals made by doctors in England, compared with 187,811 the year prior – something believed to be caused in part by lockdown coronavirus.

"We had the initial first wave of the pandemic and at that point a lot of the routine work was actually paused while we tried to cope with the first wave of COVID-19," said Dr Julian Elford, a clinical radiologist.

"We can't get patients through the pathway as quickly as we'd like. There are lots of different reasons for that, but it is frustrating and that is leading to some delays in diagnosis and treatment."

According to Elford, that backlog is also due to patients' fears of catching COVID-19 in the hospital setting. Plus, fewer clinicians are able to refer patients as they are helping to fight COVID-19 themselves.

Meanwhile, England's National Health Service has said 350,000 patients in England had been waiting for more than six weeks for a key diagnostic test in December 2020.

They added a total of 345,664 patients were waiting for one of 15 standard tests, including an MRI scan, non-obstetric ultrasound or gastroscopy.

In December 2019, the equivalent figure was 41,906.

"There's a long backlog, a large backlog of cases waiting for CT and MRI scans as the first part of their diagnostic pathway, at the moment there are more than 72,000 patients waiting longer than six weeks for a CT or MRI scan," Elford said.
The Telegraph says that the backlog of cancer patients waiting more than 100 days has doubled since last year.
NHS England data show the staggering challenge hospitals have to save the lives of cancer patients.

At the start of February, the backlog of cases already at more than 15 weeks had hit 6,109, compared to 3,000 at the same point in 2020. National targets state cancer patients should be treated within 62 days of being referred…

In the North West, the backlog has nearly tripled over the same time period, from 289 to 831.
It adds:
In a statement, NHS England said Covid has put the services under huge pressure, but the vast majority of cancer care is continuing and more people were treated and referred in Dec 2020 compared to the same month in 2019.

It added: "The NHS message is clear, people should continue to come forward for routine screening or get checked if they have a worrying symptom."

Professor Neil Mortensen, president of the Royal College of Surgeons of England, said the growing backlogs were "very worrying", adding: "Life-saving, emergency surgery has continued through the pandemic, however, as hospital beds have filled up with COVID-19 patients, many thousands of patients have been forced to wait for cancer and other types of NHS treatment
Not every case of cancer is fatal, of course, but prompt diagnosis improves the chances of survival. According to Cancer Research, there are more than 166,000 cancer deaths every year.
Stop Press: A Lockdown Sceptics reader has flagged up a paper published by the Nuffield Department of Health which investigated the impact on colorectal cancer specifically.
As compared to the monthly average in 2019, in April, 2020, there was a 63% reduction (from 36,274 to 13,440) in the monthly number of two-week referrals for suspected cancer and a 92% reduction in the number of colonoscopies (from 46,441 to 3,484)…

By October, 2020, the monthly rate had returned to 2019 levels but did not exceed it, suggesting that, from April to October, 2020, over 3,500 fewer people had been diagnosed and treated for colorectal cancer in England than would have been expected.
Imperial's Prediction of a June-July Spike is Implausible, says Prof
There follows a guest post from David Livermore, Professor of Medical Microbiology at the University of East Anglia, responding to Glen Bishop's article on February 12th and the contributions of others since.
I read with great interest and some astonishment Glen Bishop's article and subsequent correspondence on Lockdown Sceptics, indicating that the Imperial group has omitted seasonality effects in its modelling of COVID-19 trajectories.
Seasonality is a feature of respiratory viruses in general, at least in the northern and southern temperate zones, including Europe. This is well illustrated in the review and meta analysis by Li and colleagues of Edinburgh University, published last July in Journal of Infectious Diseases
This has easily-understood heat maps illustrating how seasonal (i.e. non-Covid) coronaviruses, respiratory syncytial virus and influenza virus all peak in December to February in the Northern hemisphere and in July to August in New Zealand. Their patterns are erratic in the tropics. The only exception is China, where 'seasonal' coronaviruses seemed to be less seasonal. Maybe that, and patterns of arising cross-immunity, contribute to the different trajectories of SARS-CoV-2 in China and elsewhere?
That, though, is a topic for another day.
What matters now is the recent (January) modelling by Imperial (which is likely influencing Government policy). This seeks to predict COVID-19's trajectory as vaccine is deployed and non-pharmaceutical interventions are eased up to July. All its models show a spike in hospitalisations in June and July (see its figure 5). The height of this varies according to the speed of vaccine roll out and the R number, but it is widely projected to exceed hospital capacity.
Imperial writes:
Our results highlight the importance of speeding-up vaccine roll-out, and suggest that a more cautious approach to gradually lifting NPIs may need to be considered than the ones modelled in this report.
Yet if we accept the obvious seasonality of coronaviruses, a June-July spike is simply implausible. We know this not only from Li et al.'s review of other respiratory viruses but also from experience with SARS-CoV-2 itself. COVID-19 became infrequent in summer 2020 in unrestricted Sweden. It did not rise swiftly in the UK summer despite mass summer protests and 'Eat out to Help Out'. In the Czech Republic, which largely evaded the spring pandemic and then relaxed completely, even a Covid-naïve population was not seriously hit until the Autumn.
In short, Imperial's January modelling is deeply flawed by ignoring seasonality and should not be used as an excuse to delay releasing lockdown. The test of vaccines will, in reality, come next winter, not in the summer.
Have the Young Really Suffered More than the Old?
Today we are publishing a new piece by Lockdown Sceptics regular, Guy de la Bédoyère. Written in response to Dr Alberto Giublini's article, which we published on Saturday, Guy argues that everyone in lockdown is in this together. Everyone has been damaged somehow, and we must now act together in our collective interest of coming to terms with the disease and return to a manageable normality. Here are the opening paragraphs:
I wonder how helpful at this stage Dr Alberto Giubilini's article really is. It belongs to a range of claims that one group or another has suffered more or less than others either from lockdowns or other Covid-suppression measures. In this case, he argues that the young have been hit more than anyone else in the Government's quest to make us all pay the price for Covid in the interests of ideological moralism.

Some of what he says is true. I certainly agree with him that the media's obsession with trying to find unrepresentative stories about younger people dying from Covid in an attempt to make a false extrapolation that "we're all in it together" is grossly misleading. The data, as he says, speaks for itself and only in this last week we have learned the sad fact that 60% of Covid-related deaths in the last year in the UK have occurred to the disabled, confirmed by the ONS. And it is absolutely correct that young people's lives and prospects are being devastated for the sake of something that barely affects them. With four adult children of my own, all in their thirties, I am painfully aware of the impact of lockdowns and other restrictions on their lives and those of their own children.

But it is not that simple.

In the most recent edition of New Statesman, the resident medic Dr. Phil Whitaker, paints in his weekly column a sentimental and self-regarding picture of elderly 'survivors' coming for their vaccines and drowning him and his colleagues in effusive thanks. Reinforcing the notion that there is an unfair conflict of interest at play, he says of his elderly patients who have arrived to be vaccinated:

They must be all too aware of the strand of opinion that bemoans what society has borne in order to protect them. The vaccine offers the chance to leave such commentary behind. They have survived a year of Covid – unlike the 110,000 who have, to date, succumbed.

The disparaging tone in the reference to "the strand of opinion" is all too obvious. We should all have willingly sacrificed everything.

What both Whitaker and Giubilini overlook is that it will be a long time, especially with the young, before we can really assess the relative impact of all the measures. It would be more constructive at this point, especially with our concerns about the impact of Government measures, to consider how lockdowns have affected everyone but in very different ways, including – crucially – the elderly.
Worth reading in full.
Round-up
Theme Tunes Suggested by Readers
Twenty-one today: "Something Better Change" by The Stranglers, "Trapped in a Box" by No Doubt, "Somebody to Love" by Dicepeople, "We've Heard It All Before" by Freak Kitchen, "I Can't Get Next To You" by the Temptations, "We Live as We Dream, Alone" by Gang of Four, "Rules And Regulations" by Public Image Limited, "Breaking the Rules" by the Fall, "Shake The Disease" by Depeche Mode, "Day In Day Out" by XTC, "Change The World" by Eric Clapton, "Mad World" by Michael Andrews and Gary Jules, "Do They Owe us a Living" by Crass, "Police On My Back" by the Clash, "It's In Our Hands" by Björk, "Road to Nowhere" by Talking Heads, "Heaven Knows I'm Miserable Now" by The Smiths, "This Mess We're In" by P. J. Harvey, "We're In This Together" by Nine Inch Nails, "Nappy Love" by the Goodies and "Rock the Boat" by Hues Corporation.
Love in the Time of Covid
We have created some Lockdown Sceptics Forums, including a dating forum called "Love in a Covid Climate" that has attracted a bit of attention. We have a team of moderators in place to remove spam and deal with the trolls, but sometimes it takes a little while so please bear with us. You have to register to use the Forums as well as post comments below the line, but that should just be a one-time thing. Any problems, email Lockdown Sceptics here.
Sharing Stories
Some of you have asked how to link to particular stories on Lockdown Sceptics so you can share it. To do that, click on the headline of a particular story and a link symbol will appear on the right-hand side of the headline. Click on the link and the URL of your page will switch to the URL of that particular story. You can then copy that URL and either email it to your friends or post it on social media. Please do share the stories.
Social Media Accounts
You can follow Lockdown Sceptics on our social media accounts which are updated throughout the day. To follow us on Facebook, click here; to follow us on Twitter, click here; to follow us on Instagram, click here; to follow us on Parler, click here; and to follow us on MeWe, click here.
Woke Gobbledegook
We've decided to create a permanent slot down here for woke gobbledegook. Today, it is the Labour party, from whom two stories of wokery have emerged over the weekend. First, from the Mail On Sunday, the shadow minister who wants to see 'Mx' being used more widely.
'Mx' should be used as a gender-neutral alternative to titles such as Mr and Mrs on forms, a member of Keir Starmer's team has suggested.

Alex Sobel, a shadow Culture, Media and Sport Minister, wants the Government to tell public bodies and private companies to start using 'Mx' on forms and documents.

Mr Sobel has also supported contentious trans-rights reforms including the abolition of single-sex changing rooms, toilets and prisons.

Women who object are bigots who should not vote Labour, the MP declared.

But some Labour MPs worry that issues such as this show that Sir Keir, a former human rights lawyer, is unable to connect with the many working-class voters the party lost in the last Election.

Labour HQ has already embraced 'Mx'. A form used for job applicants since last year offers titles including 'Mx', 'Ind' and 'Misc'.

However, Equalities Minister Kemi Badenoch indicated that the Government had no plans to push for the compulsory use of 'Mx'.
Second, according to the Express, the party has released a report calling on Britain to make financial reparations to countries pillaged by the British Empire.
The 234-page document, titled 'Remaking Of The British State: For The Many, Not The Few', lays out a programme for Government should Labour win a general election…

The report stated: "In recognition of the past wrongdoings of the British state, the new constitution should make an unreserved apology to all of the countries of the world that the Empire invaded and negatively impacted.

"In addition, the British state should set up a reparations fund as part of the constitution, which offers financial assistance to communities across the world that can show loss and detriment as a result of the actions of the British state."

Financial payments should be made from taxpayers' money if "the British state owed the claimants in question a duty of care" according to the document.
Stop Press: Rod Liddle says taking the knee is a divisive, pantomime act that has run its course.
Stop Press 2: Satirical news site the Babylon Bee reports that Gina Carano, recently fired from The Mandalorian for being a Trump supporter, has been rehired by Disney after she identified as an abusive male director.
"Mask Exempt" Lanyards
We've created a one-stop shop down here for people who want to obtain a "Mask Exempt" lanyard/card – because wearing a mask causes them "severe distress", for instance. You can print out and laminate a fairly standard one for free here and the Government has instructions on how to download an official "Mask Exempt" notice to put on your phone here. And if you feel obliged to wear a mask but want to signal your disapproval of having to do so, you can get a "sexy world" mask with the Swedish flag on it here.
A reader has started a website that contains some useful guidance about how you can claim legal exemption. Another reader has created an Android app which displays "I am exempt from wearing a face mask" on your phone. Only 99p.
If you're a shop owner and you want to let your customers know you will not be insisting on face masks or asking them what their reasons for exemption are, you can download a friendly sign to stick in your window here.
And here's an excellent piece about the ineffectiveness of masks by a Roger W. Koops, who has a doctorate in organic chemistry. See also the Swiss Doctor's thorough review of the scientific evidence here and Prof Carl Heneghan and Dr Tom Jefferson's Spectator article about the Danish mask study here.
Stop Press: The Winsford and Middlewich Guardian has a story about a man being banned from his local branch of Asda for a year for refusing to wear a mask in spite of being exempt.
Mr Martin said he entered the store at around 12.30 and after being asked by a member of staff at the entrance if he had a mask, replied that he was exempt from having to wear one…

"At approximately 12.45 I vacated the store and upon exiting was approached by the security guards who pulled me up in front of other customers to ask what my issue was."

Upon returning home, Mr Martin went on to explain how he made a call to Customer Services to make a complaint about his ordeal, but said how he was kept on hold for around 20 minutes before the call was ended.

"I phoned again and upon speaking to the next contact was told that I had now been banned from the store for a year for apparently abusing workers, yet this event never happened," he said
Stop Press 2: Business Today reports that scientist are working on a new kind of face mask with an antiviral coating that will kill coronavirus in just one hour.
The Great Barrington Declaration
The Great Barrington Declaration, a petition started by Professor Martin Kulldorff, Professor Sunetra Gupta and Professor Jay Bhattacharya calling for a strategy of "Focused Protection" (protect the elderly and the vulnerable and let everyone else get on with life), was launched in October and the lockdown zealots have been doing their best to discredit it ever since. If you googled it a week after launch, the top hits were three smear pieces from the Guardian, including: "Herd immunity letter signed by fake experts including 'Dr Johnny Bananas'." (Freddie Sayers at UnHerd warned us about this the day before it appeared.) On the bright side, Google UK has stopped shadow banning it, so the actual Declaration now tops the search results – and Toby's Spectator piece about the attempt to suppress it is among the top hits – although discussion of it has been censored by Reddit. In February, Facebook deleted the GBD's page because it "goes against our community standards". The reason the zealots hate it, of course, is that it gives the lie to their claim that "the science" only supports their strategy. These three scientists are every bit as eminent – more eminent – than the pro-lockdown fanatics so expect no let up in the attacks. (Wikipedia has also done a smear job.)
You can find it here. Please sign it. Now over three quarters of a million signatures.
Update: The authors of the GBD have expanded the FAQs to deal with some of the arguments and smears that have been made against their proposal. Worth reading in full.
Update 2: Many of the signatories of the Great Barrington Declaration are involved with new UK anti-lockdown campaign Recovery. Find out more and join here.
Update 3: You can watch Sunetra Gupta set out the case for "Focused Protection" here and Jay Bhattacharya make it here.
Update 4: The three GBD authors plus Prof Carl Heneghan of CEBM have launched a new website collateralglobal.org, "a global repository for research into the collateral effects of the COVID-19 lockdown measures". Follow Collateral Global on Twitter here. Sign up to the newsletter here.
Stop Press: France24 has a video report from the German City of Tübingen which has implemented something approaching Focussed Protection to avoid another lockdown and it appears to be working.
Judicial Reviews Against the Government
There are now so many legal cases being brought against the Government and its ministers we thought we'd include them all in one place down here.
The Simon Dolan case has now reached the end of the road. The current lead case is the Robin Tilbrook case which challenges whether the Lockdown Regulations are constitutional, although that case, too, has been refused permission to proceed. There's still one more thing that can be tried. You can read about that and contribute here.
Then there's John's Campaign which is focused specifically on care homes. Find out more about that here.
There's the GoodLawProject and Runnymede Trust's Judicial Review of the Government's award of lucrative PPE contracts to various private companies. You can find out more about that here and contribute to the crowdfunder here.
Scottish Church leaders from a range of Christian denominations have launched legal action, supported by the Christian Legal Centre against the Scottish Government's attempt to close churches in Scotland for the first time since the the Stuart kings in the 17th century. The church leaders emphasised it is a disproportionate step, and one which has serious implications for freedom of religion." Further information available here.
There's the class action lawsuit being brought by Dr Reiner Fuellmich and his team in various countries against "the manufacturers and sellers of the defective product, PCR tests". Dr Fuellmich explains the lawsuit in this video. Dr Fuellmich has also served cease and desist papers on Professor Christian Drosten, co-author of the Corman-Drosten paper which was the first and WHO-recommended PCR protocol for detection of SARS-CoV-2. That paper, which was pivotal to the roll out of mass PCR testing, was submitted to the journal Eurosurveillance on January 21st and accepted following peer review on January 22nd. The paper has been critically reviewed here by Pieter Borger and colleagues, who also submitted a retraction request, which was rejected in February.
And last but not least there was the Free Speech Union's challenge to Ofcom over its 'coronavirus guidance'. A High Court judge refused permission for the FSU's judicial review on December 9th and the FSU has decided not to appeal the decision because Ofcom has conceded most of the points it was making. Check here for details.
Samaritans

If you are struggling to cope, please call Samaritans for free on 116 123 (UK and ROI), email jo@samaritans.org or visit the Samaritans website to find details of your nearest branch. Samaritans is available round the clock, every single day of the year, providing a safe place for anyone struggling to cope, whoever they are, however they feel, whatever life has done to them.
Shameless Begging Bit
Thanks as always to those of you who made a donation in the past 24 hours to pay for the upkeep of this site. Doing these daily updates is hard work (although we have help from lots of people, mainly in the form of readers sending us stories and links). If you feel like donating, please click here. And if you want to flag up any stories or links we should include in future updates, email us here. (Don't assume we'll pick them up in the comments.)
And Finally…